Easy savory mashed sweet potatoes with thyme and garlic. Perfect quick side for busy weeknights or special occasions! Plus, my lighter version swaps out the butter and heavy cream in favor of extra virgin olive oil and a little whole milk.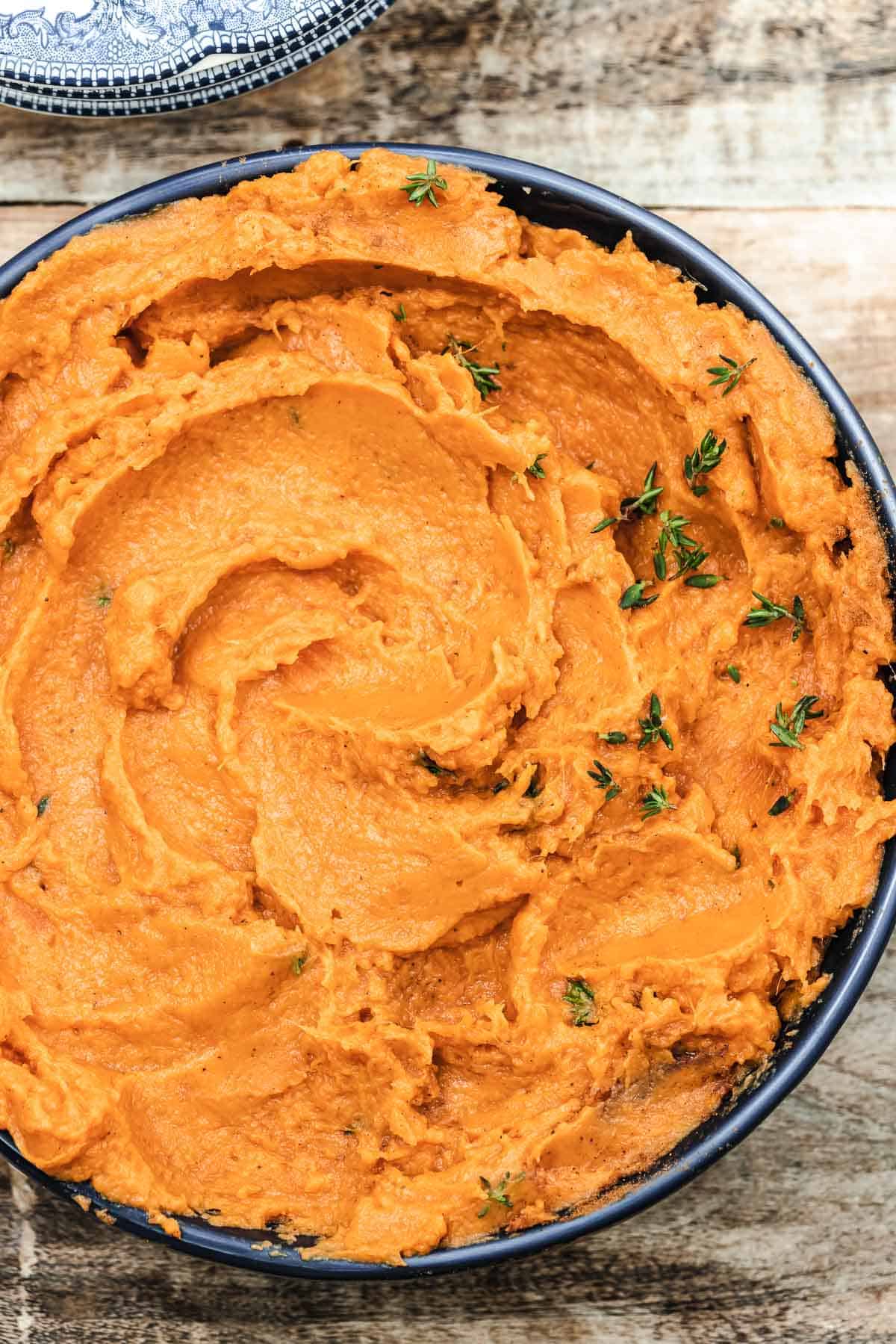 There's certainly a time and place for mashed sweet potatoes with a little sweetness, but sometimes, only a savory version will do! Enter my recipe for mashed sweet potatoes with garlic and thyme — quick, easy, and oh-so delicious. Serve it as a side dish on any old weeknight, or wow your guests at your next dinner party, perhaps pairing it with roasted Cornish hens or baked cranberry chicken.
This is a lighter, healthier mashed sweet potato recipe because I use extra virgin olive oil and a splash of whole milk instead of butter and cream. Don't worry, we don't lose any of that creamy decadence that we expect from sweet potato mash! Bonus: It's ready in under 30 minutes!
Table of Contents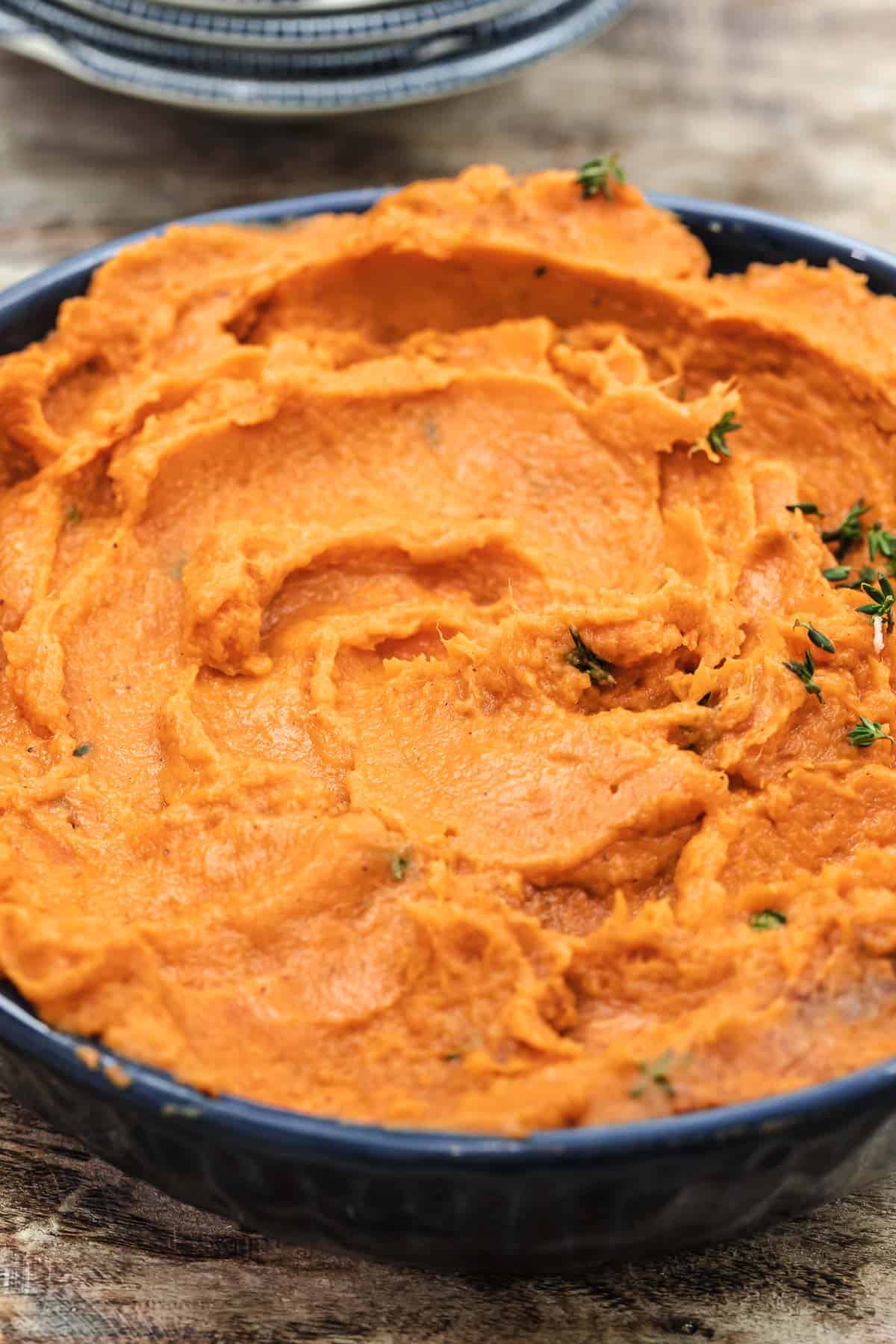 How to season mashed sweet potatoes
Sweet potatoes are special because they take on sweet and savory flavors equally well. Here are some ideas for how to season mashed sweet potatoes:
In my roasted mashed sweet potatoes, I sweetened the mash with molasses and added walnuts for garnish. It's so decadent — almost like eating a dessert!
In this recipe, I went the savory route, relying on garlic, fresh thyme, and black pepper for flavor. And let me tell you, my family ate it up! The slightly spicy bite of fresh garlic coupled with minty, earthy flavor of fresh thyme works so well with sweet potatoes.
If you want more warmth and cozy vibes, add ½ teaspoon each nutmeg (which you can find at our online shop) and cinnamon.
Not a fan of the spicy bite of raw garlic? Swap it out for roasted garlic instead, like we do in our roasted garlic mashed potatoes. You'll have a nutty, almost sweet flavor coming through from the soft roasted garlic.
How to Roast Garlic
We've got all the tips!
For more information about the ins and outs of how to roast garlic, check out our complete guide! It's so much easier than you might think!
How long to boil potatoes for mash?
Sweet potatoes quickly become tender when you boil them, especially when cut into cubes. They will take around 15 to 20 minutes to soften, depending on how large the cubes are.

To check whether they are tender enough to mash, simply pierce them with a fork or a sharp knife. If it slides in easily, your sweet potatoes are ready.
How to make savory mashed sweet potatoes
Making this mashed sweet potato recipe is as easy as boiling a few pounds of sweet potatoes, mashing them, and lastly adding seasoning. Such a simple side dish, but sure to delight your guests at holiday parties! Here's how to make it:
Cook the sweet potatoes. Add 4 pounds of peeled, cubed sweet potatoes to a saucepan and fill with water until the potatoes are covered with about 2 inches of water. Add 1 teaspoon kosher salt and bring to a boil. Once the water is boiling, reduce the heat and let the potatoes simmer. After about 15 minutes, they should be cooked through and very tender.



Mash the sweet potatoes. Drain all the water using a colander and return the potatoes to the pot. Mash the sweet potatoes well with a potato masher or a fork.
Season the sweet potato mash. Add a good pinch of kosher salt and black pepper, 2 teaspoons fresh thyme leaves, 1 clove minced garlic, ¼ cup whole milk, and a drizzle of extra virgin olive oil. Stir to combine.
Serve. Spoon the sweet potato mash into a serving bowl and use the back of a smooth to smooth out the surface of the mash to make it pretty. Garnish with fresh thyme and serve.


Serving suggestions
Sweet potato mash is one of my favorite side dishes to serve at dinner parties or to take along to potlucks. It's easy, pretty to look at with that vibrant orange hue, and so tasty. Here's some ideas of festive main dishes to serve it with:
Vegan mashed sweet potato recipe
This recipe is vegetarian-friendly as written, and it's so easy to make it vegan-friendly, too! All you need to do is either swap out the whole milk for your favorite vegan alternative, or omit it altogether. Leaving out the milk will give you mash that is a bit less creamy, but it will still taste fantastic.

If you want to keep that irresistible velvety texture, I've had good results replacing whole milk with an equal amount of unflavored, unsweetened almond milk. For a creamier option, you could also try unsweetened, unflavored oatmilk.
How to store leftovers
Leftover mashed sweet potatoes will keep well in an airtight container in the refrigerator for up to 4 days. This means you could even prepare it well in advance!
I love eating leftovers for breakfast: Just fry up an egg and lay it on some warmed mash! Add a side of mixed greens, and you have yourself a filling, nutritious breakfast that will keep you going for hours!
More sweet potato recipes
Browse all Mediterranean recipes.

Visit Our Shop.
Get your copy of The Mediterranean Dish Cookbook!
120 Bold and Healthy Recipes You'll Make on Repeat
Suzy brings cross-culturally inspired dishes from throughout the Mediterranean into American home kitchens, using easy-to-find ingredients and easy-to-follow, tested-to-perfection recipes to make your meals more vibrant, delicious, and yes — even a little healthier, too!
Mashed Sweet Potatoes with Garlic and Thyme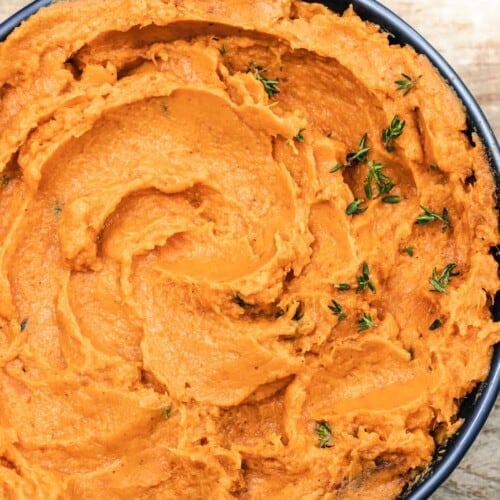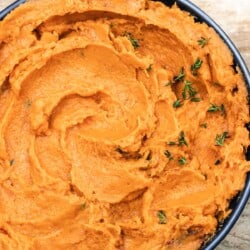 Easy savory mashed sweet potatoes with thyme and garlic is a delicious side that works for busy weeknights or special occasions! This lighter sweet potato mash has no butter or cream, and is so easy to make vegan-friendly. Ready in under 30 minutes!
Ingredients
4

pounds

sweet potatoes,

about 4 to 5 large sweet potatoes, peeled and cubed

Kosher salt

2

teaspoons

fresh thyme leaves,

more for garnish

1

garlic clove,

minced

Black pepper

¼

cup

whole milk
Instructions
In a medium saucepan, put the cubed sweet potatoes and cover with cold tap water by about 2 inches. Season with about 1 teaspoon kosher salt. Bring to a boil then reduce the heat and allow the potatoes to simmer for about 15 minutes or until very tender.

Drain the potatoes well then return them back to the pot. Using a potato masher or a fork, mash the sweet potatoes until creamy.

Season with a good pinch of kosher salt. Add the thyme, garlic, milk, a good pinch of ground black pepper, and a generous drizzle of extra virgin olive oil. Toss to combine.

Transfer the potatoes to a serving bowl, and using the back of a spoon, smooth the surface a bit and garnish with some more fresh thyme. Serve!
Notes
You can keep the mashed sweet potatoes savory, or, if you'd like to add a little sweetness, try a drizzle of warmed honey or molasses.
Serve it with:

Roast rack of lamb

,

Pomegranate chicken thighs

,

Juice garlic and herb roasted turkey breast

,

Beef tenderloin

,

Roasted branzino

Vegan option: Omit the whole milk, or replace it with unflavored, unsweetened almond milk.
How to store leftovers: Leftover sweet potato mash will keep in an airtight container in the fridge for up to 4 days.
Visit Our Shop for quality Mediterranean ingredients including extra virgin olive oils, spices, lentils, and grains.
Nutrition
Calories:
200.7
kcal
Carbohydrates:
46.2
g
Protein:
3.9
g
Fat:
0.4
g
Saturated Fat:
0.2
g
Polyunsaturated Fat:
0.04
g
Monounsaturated Fat:
0.1
g
Cholesterol:
0.9
mg
Sodium:
127.7
mg
Potassium:
780.3
mg
Fiber:
6.9
g
Sugar:
9.9
g
Vitamin A:
32211.7
IU
Vitamin C:
6.4
mg
Calcium:
80.1
mg
Iron:
1.5
mg