It doesn't get better than fall apart tender lamb shanks, braised in a luxurious sauce with red wine and piney rosemary! Add in carrots and potatoes for the perfect one-pot meal.
You don't need much else, but this saucy lamb is perfect over a bed of plain couscous, rice or orzo. Or just grab a little warm pita to sop up all the goodness! Be sure to read through for my step-by-step tutorial with tips and a quick video below.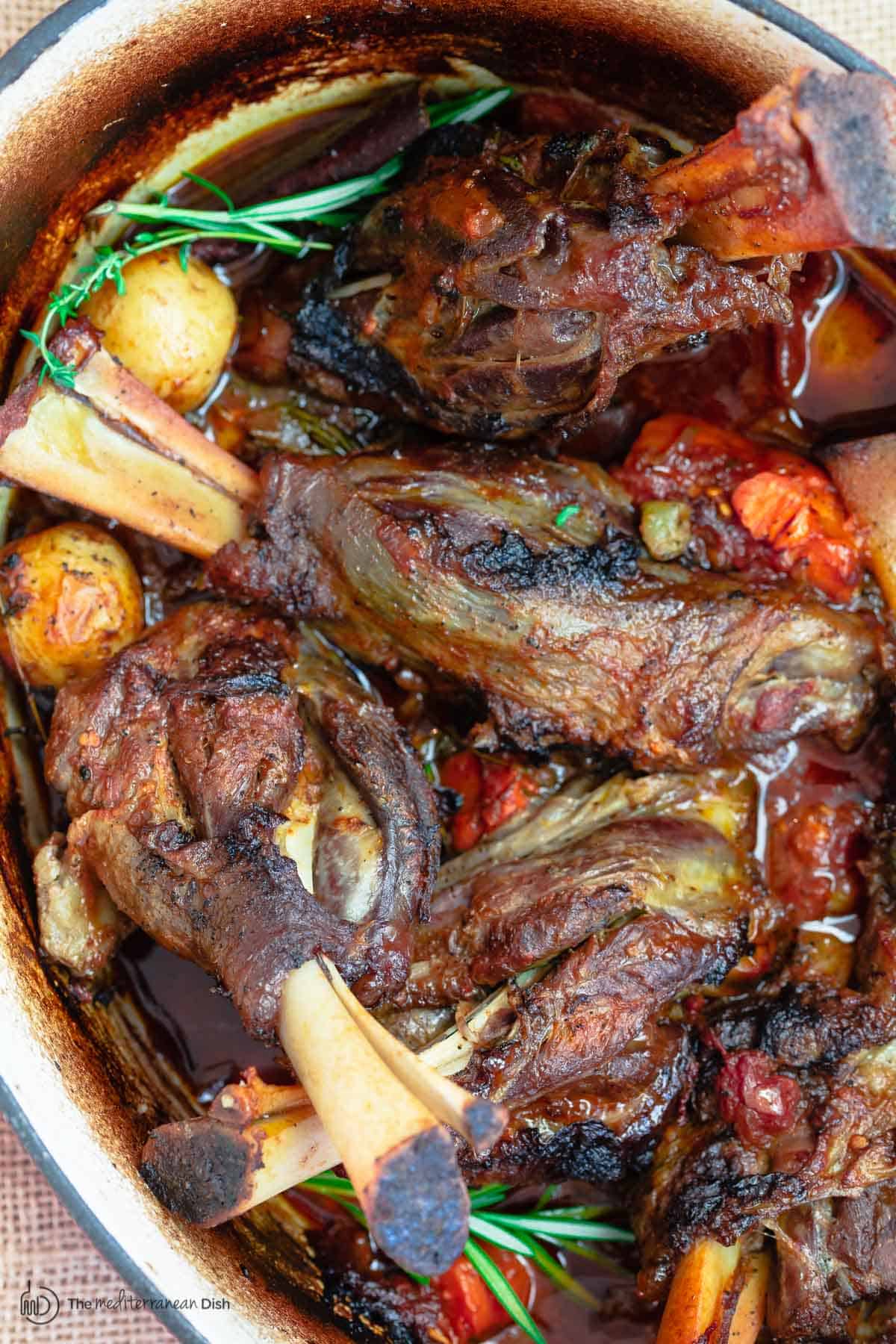 There are few meals I find as inviting and comforting as lamb. And with the variety of cuts, you can make anything from lamb stew to spice-scented kofta skewers or quick lamb chops.
I recently shared my family's big leg of lamb roast, which is my show-stopper for Easter or when I host a large crowd I need to impress.
I'm almost afraid to reveal this secret: a cheaper and less intimating cut that is equally impressive is lamb shank.
Honestly, it can't get any better than succulent oven braised lamb shanks with potatoes and carrots all in one pot. The lamb is literally melt-in-your-mouth tender and infused with great flavor thanks to piney rosemary, garlic, and a couple warm spices.
And this recipe is as easy as:
Season
Sear
Braise for a couple of hours
Bonus, while you enjoy the aroma of the simmering oven braised lamb, sip on a glass of your favorite wine and maybe sample some cheese--the perfect Sunday afternoon activity!
What is lamb shank?
If you're not familiar, this is a cut that comes from the well-exercised lower section of the lamb leg. Lamb shanks are a more budget-friendly part, but they are a tougher cut of meat that's basically begging to be braised or cooked slowly.
Sure, you can braise the meat on stove-top. But, simmering in the oven, where the heat fully surrounds the pot, is a sure way to coax lamb shanks into flavorful succulence. The oven will do all the hard work of melting the lamb shanks until they fall apart. Plus, the meat has a good amount of time to absorb all the delicious flavors.
To braise the lamb shanks in the oven, it will take just over a couple hours and a large oven-safe pot like a Dutch oven (affiliate link). But you can make this lamb recipe in the slow cooker (I've included instructions below).
Either way you chose to braise your meat, you will start with searing before you add the meat to the liquid in which it will simmer.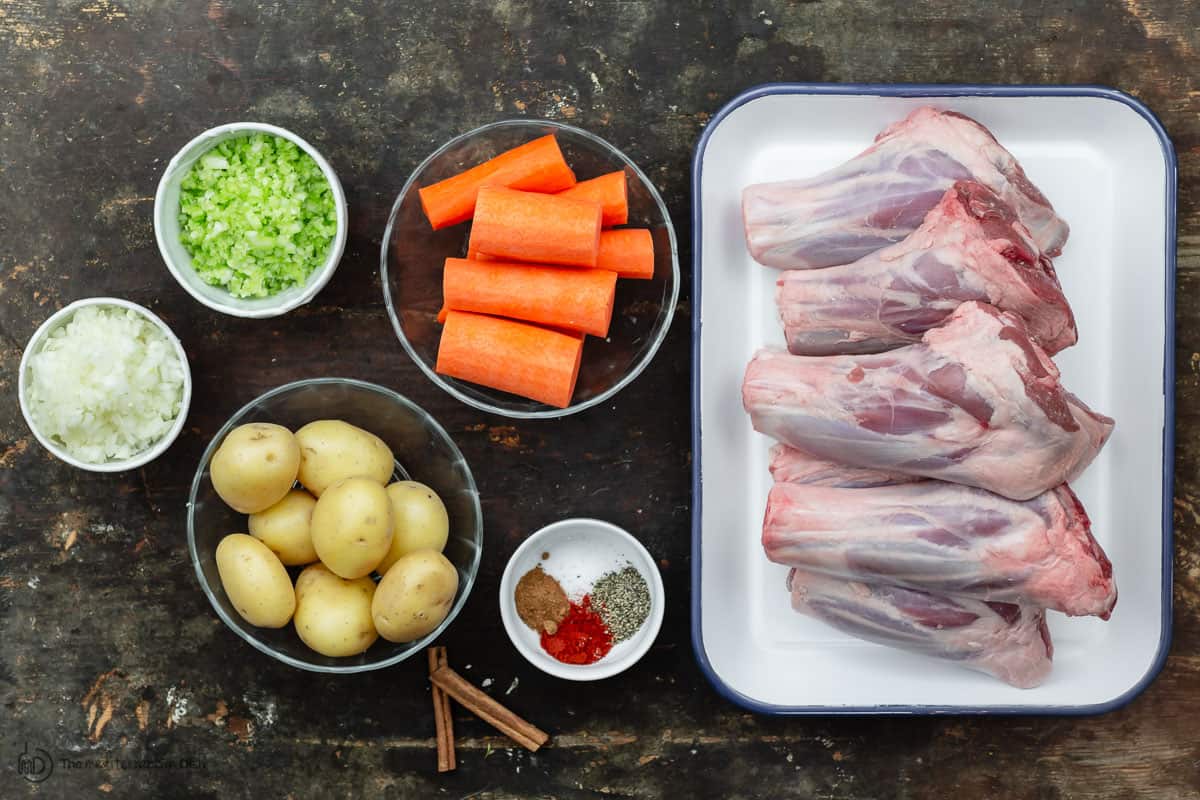 Ingredients
Here's what you'll need to make this oven braised lamb shank recipe:
Spices- Remember that lamb meat is rich and can be a bit gamy, so giving it a quick spice rub before cooking can help the flavor a lot. But it doesn't need to be complicated. In this recipe, we have a simple spice mixture of: paprika, all-natural garlic powder, nutmeg, kosher salt and black pepper. (More flavor makers are added to the braising liquid).
Lamb shanks
Vegetables- Onions, celery, carrots, potatoes, and peeled tomatoes from a can. All the veggies add more flavor and heartiness to this one-pot dish.
Braising liquid-beef broth (or vegetable broth), dry red wine
More Flavor Makers-fresh rosemary, fresh thyme and cinnamon sticks
What kind of wine to use in the braising liquid
Does it matter if you use an expensive or a cheap wine in this recipe? It's not really about the cost of the wine as it is about what kind of wine to use. Choose a dry red wine. Merlot is a safe bet, it's relatively soft fruity and will work well to enhance this dish.
How to Cook Lamb Shanks
Step 1: Season Heat your oven to 350 degrees F.
In a small bowl, mix together the all-natural garlic powder, paprika, nutmeg, kosher salt and black pepper. Season the shanks on both sides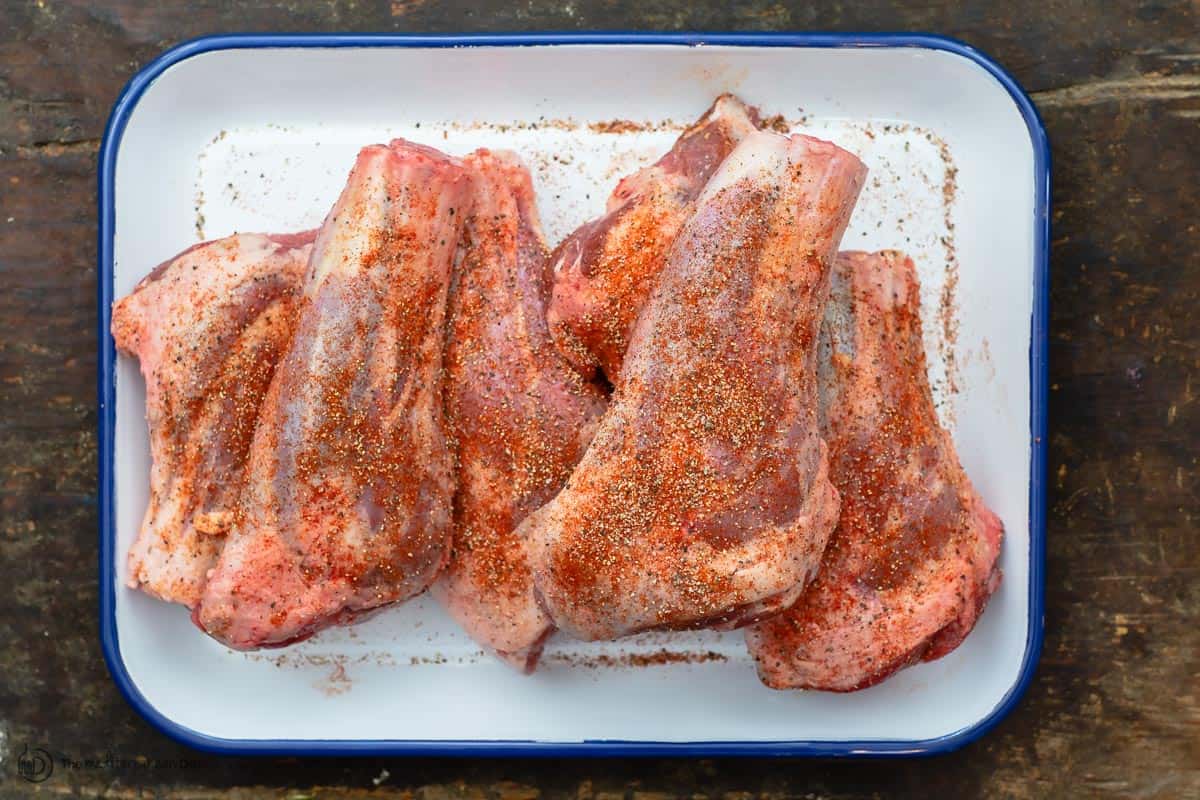 Step 2: Sear the shanks
In a large oven-safe pot (you'll be using this same pot later to simmer in the oven) heat a bit of extra virgin olive oil. Add in the shanks and brown on all sides. You may have to do this in batches to get a good sear on all the shanks. Remove from the pot and set aside for the time-being.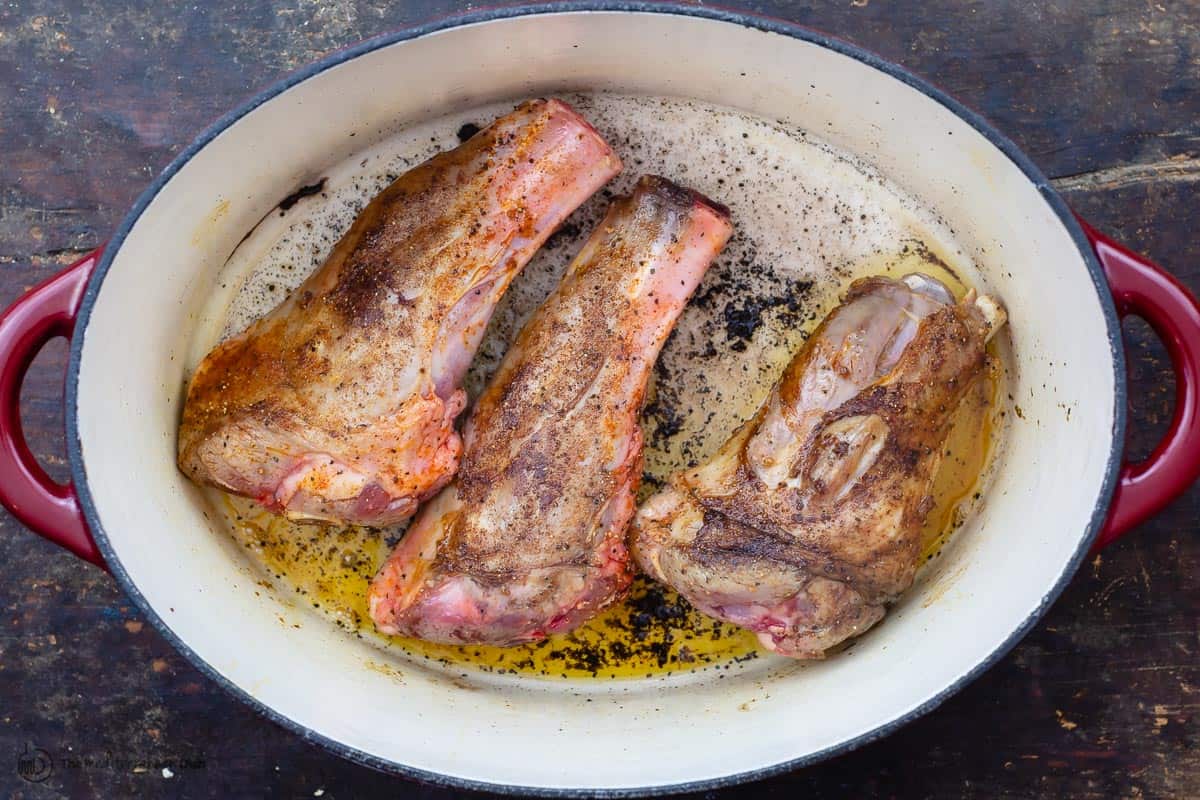 Step 3: Add vegetables and wine
In the now empty pot, add the onions, celery and chunks of carrots and gold potatoes. Toss the veggies in extra virgin olive oil for a bit.
Now, add red wine and cook to reduce by about ½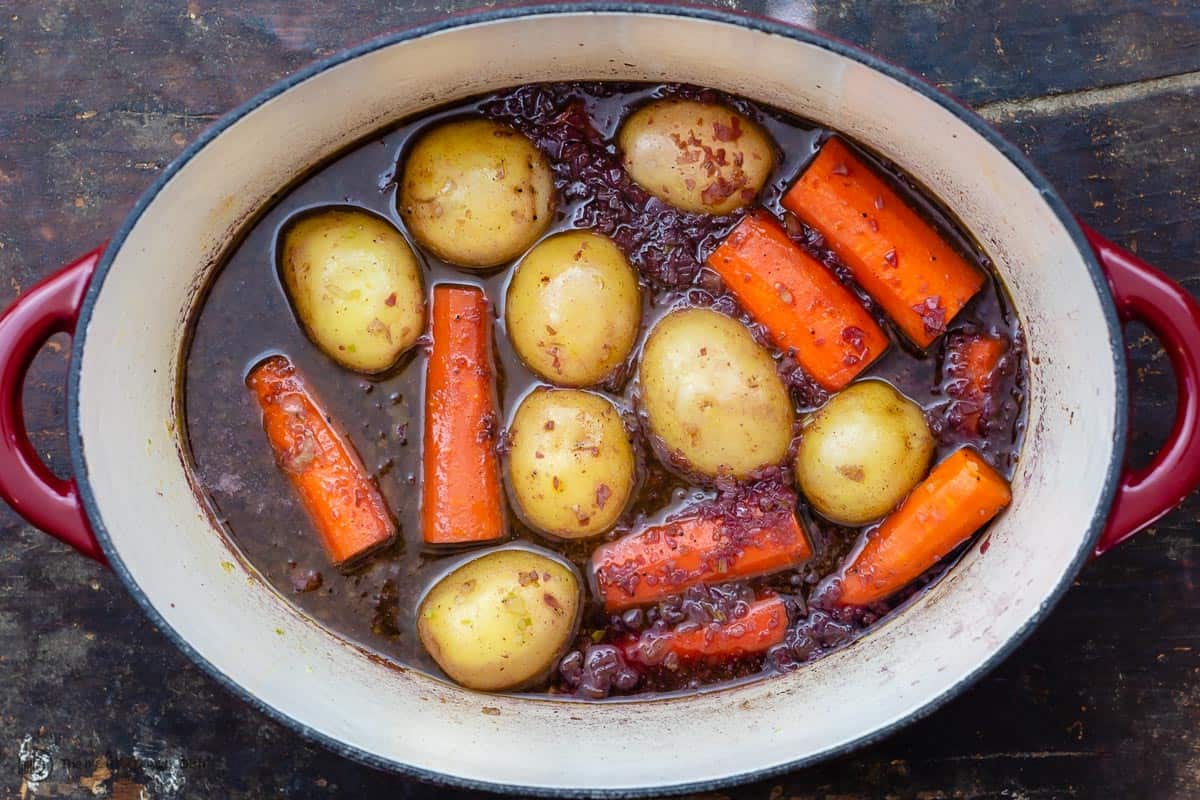 Step 4: Add the rest and bring to a boil
Now add canned tomatoes and beef broth. Add in the lamb shanks you seared earlier. Add thyme, rosemary and 2 cinnamon sticks. Sprinkle with a little kosher salt and black pepper.
Bring everything to a boil for about 10 minutes.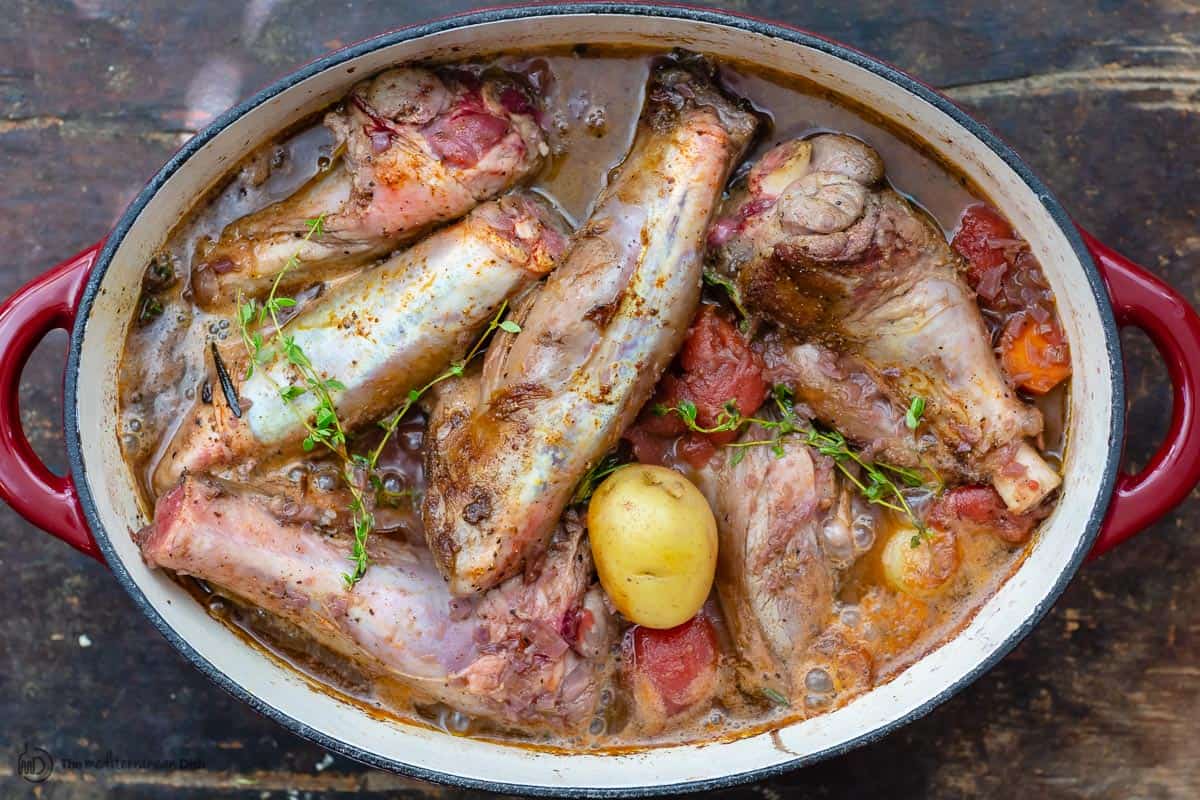 Step 5: Braise in the oven
Cover the oven-safe pot and transfer to 350 degrees F heated oven. Cook in the oven for about 2 ½ hours. Be sure to occasionally check, and you need to, add more liquid so that the lamb shanks do not dry out.
Tip: when the lamb shanks are done cooking, the liquid will reduce to ⅓ of what you started with when you put them in the oven.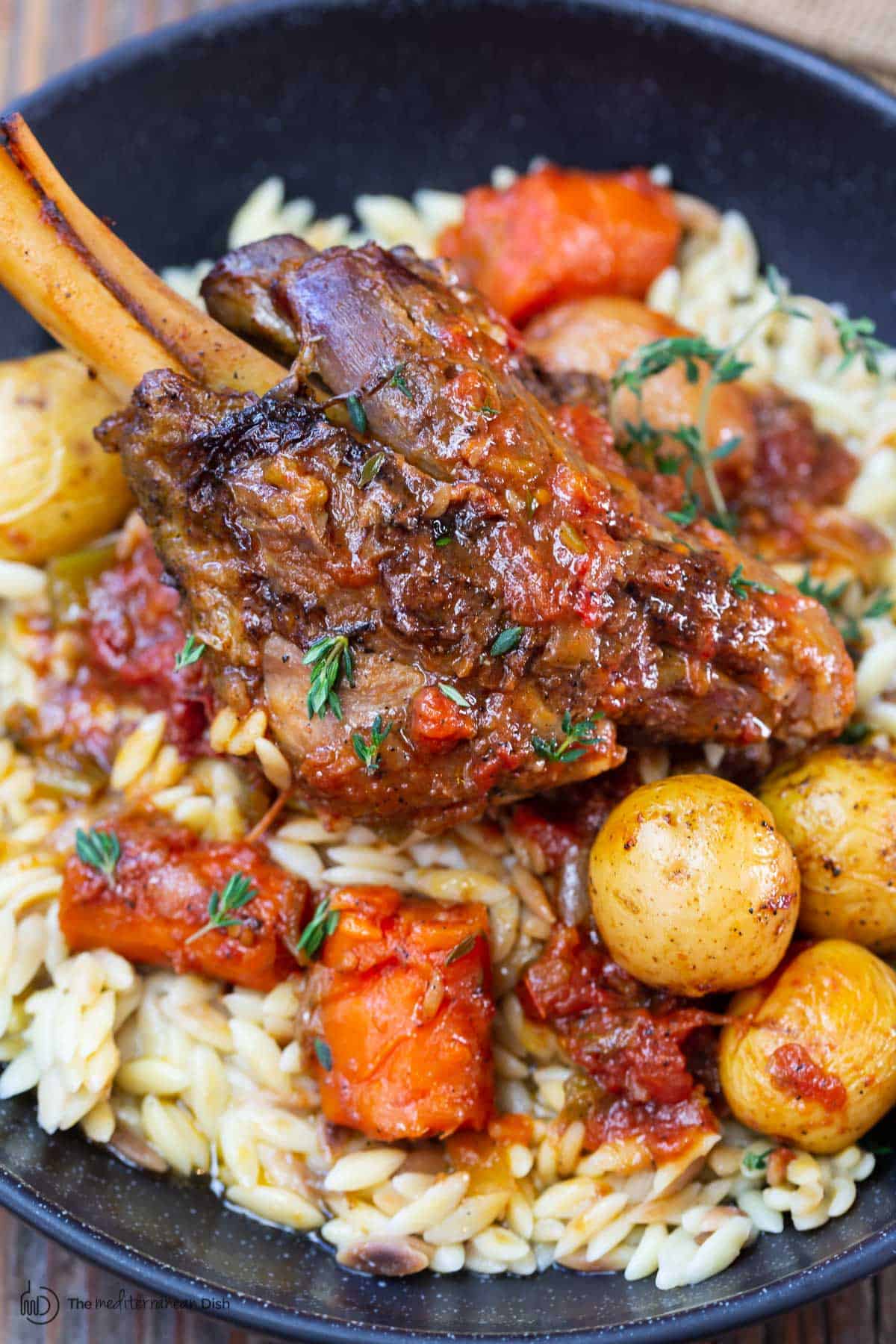 Slow Cooker Option
If you'd rather slow cook the lamb shanks in your crock pot, here is how:
Season and sear the lamb shanks on stove-top per recipe instructions (just as we did above)
Transfer the lamb shanks to a large crock pot or slow cooker
Add the vegetables, only 1 cup of wine instead of 2, beef broth and the remaining ingredients.
Cover and set the crock pot to low for 8 hours or high for 5 to 6 hours or until the lamb shanks are cooked through to tender
Serve with
There is very little needed to complete this feast. Because I like to use up the delicious wine braising sauce in this lamb shank recipe, I think a bed of plain couscous or Lebanese rice is a good idea. And if nothing else, a piece of warm pita or your favorite bread.
And because this is a rich, meaty dinner, I recommend you start with a big bright salad such as: lemony arugula salad, white bean salad, or tabouli.
Watch the video to make these lamb shanks
For all recipes, visit us here. Check out our Mediterranean diet recipes.
JOIN MY FREE E-MAIL LIST HERE.
SHOP OUR ONLINE STORE FOR QUALITY OLIVE OILS, ALL-NATURAL SPICES AND MORE.
Print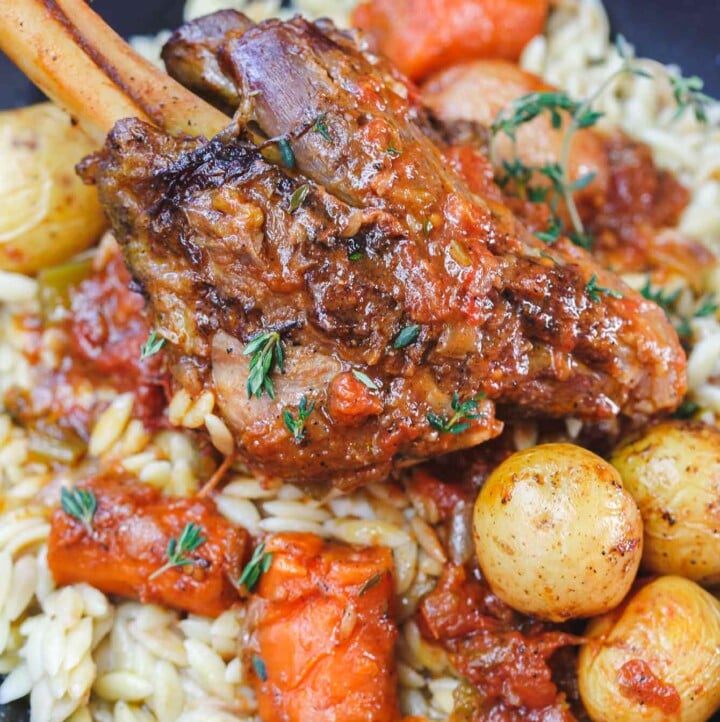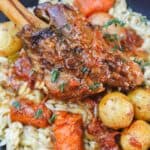 Braised Lamb Shanks Recipe with Vegetables
---
Author:

Suzy Karadsheh

Total Time:

3 hours

Yield:

6

lamb shanks

1

x

Diet:

Gluten Free
Description
Mediterranean-spiced braised lamb shanks, cooked in a red wine and tomato sauce with vegetables, aromatics, and fresh herbs! Perfect for Easter or your next special dinner.
---
For Spice Mix
For Lamb
6

American Lamb Shanks

2 tbsp

extra virgin olive oil (I used Private Reserve EVOO)

1

medium yellow onion, roughly chopped

2

celery ribs, chopped

3

large carrots, peeled and cut into large pieces

1

lb baby potatoes, scrubbed

2 cups

red wine like Merlot

3 cups

low-sodium beef broth
28-oz can peeled tomatoes

2

cinnamon sticks

4

springs fresh thyme

2

springs fresh rosemary
---
Instructions
Preheat the oven to 350 degrees F.
In a small bowl, add all the spice mix ingredients and mix to combine.
Pat the lamb shanks dry and season with the spice mix on all sides.
In a large Dutch oven pot like this one, heat 2 tablespoon olive oil over medium-high heat. Working in batches, brown the lamb shanks on all sides (about 8 mins or so). Transfer the lamb shanks to a large tray or bowl for now. Carefully dispose of extra fat in a separate heat-safe bowl, and return the pot to heat.
Now add the onions, celery, carrots and potatoes. Saute for 5-7 minutes on medium-high, or until the vegetables gain some color. Add red wine, scrape the pot of brown bits. Cook briefly so that the wine reduces a bit.
Add the broth, tomatoes, cinnamon sticks, thyme, and rosemary. Sprinkle a little salt and pepper. Return lamb shanks back to the pot; press down to submerge. Boil for 10 minutes. Turn heat off.
Cover the pot and transfer to the 350 degrees F-heated oven. Cook in the oven for 2 ½ hours (It's a good idea to check periodically through cooking just in case you need to add a little more liquid. When the shanks finish cooking, the liquid will have reduced to about ⅓ of what it was when you started.)
While the lamb shanks are cooking, prepare rice according to this recipe, or prepare 2-3 cups of orzo pasta according to package instructions.
Serve the lamb shanks hot with a little of the veggies and braising sauce on top of rice or orzo pasta. You might also like to prepare a side salad like this 3-ingredient Mediterranean salad or Fattoush. Enjoy!
Notes
Slow Cooker Option: Follow the recipe instructions for seasoning and browning the lamb. Transfer the lamb to a large slow cooker. Add the vegetables, then add 1 cup wine (instead of 2), add broth and remaining ingredients. Cover the slow cooker. Set on low and cook for 8 hours or on high and cook for 5 to 6 hours or until the shanks are fully cooked to fall-apart tender.
Leftovers Storage: Allow leftover lamb to cool completely before storing. Store in the fridge in tight-lid glass containers for 3 days or so. Warm through over medium heat, adding a little liquid if needed.
Visit our Online Shop to browse quality Mediterranean ingredients including spices and olive oil used in this recipe.
Prep Time:

30 mins

Cook Time:

2 hours and 30 mins

Category:

Entree

Method:

Braised

Cuisine:

Mediterranean
Keywords: Lamb shank, how to make lamb shanks, lamb and vegetables
*This post first appeared on The Mediterranean Dish in 2017 and has been recently updated with new media and information for readers' benefit.