Churro chips dusted with cinnamon and sugar are an easy to make sweet treat. All you need is about 5 minutes and a few ingredients. Make them with pita or tortillas.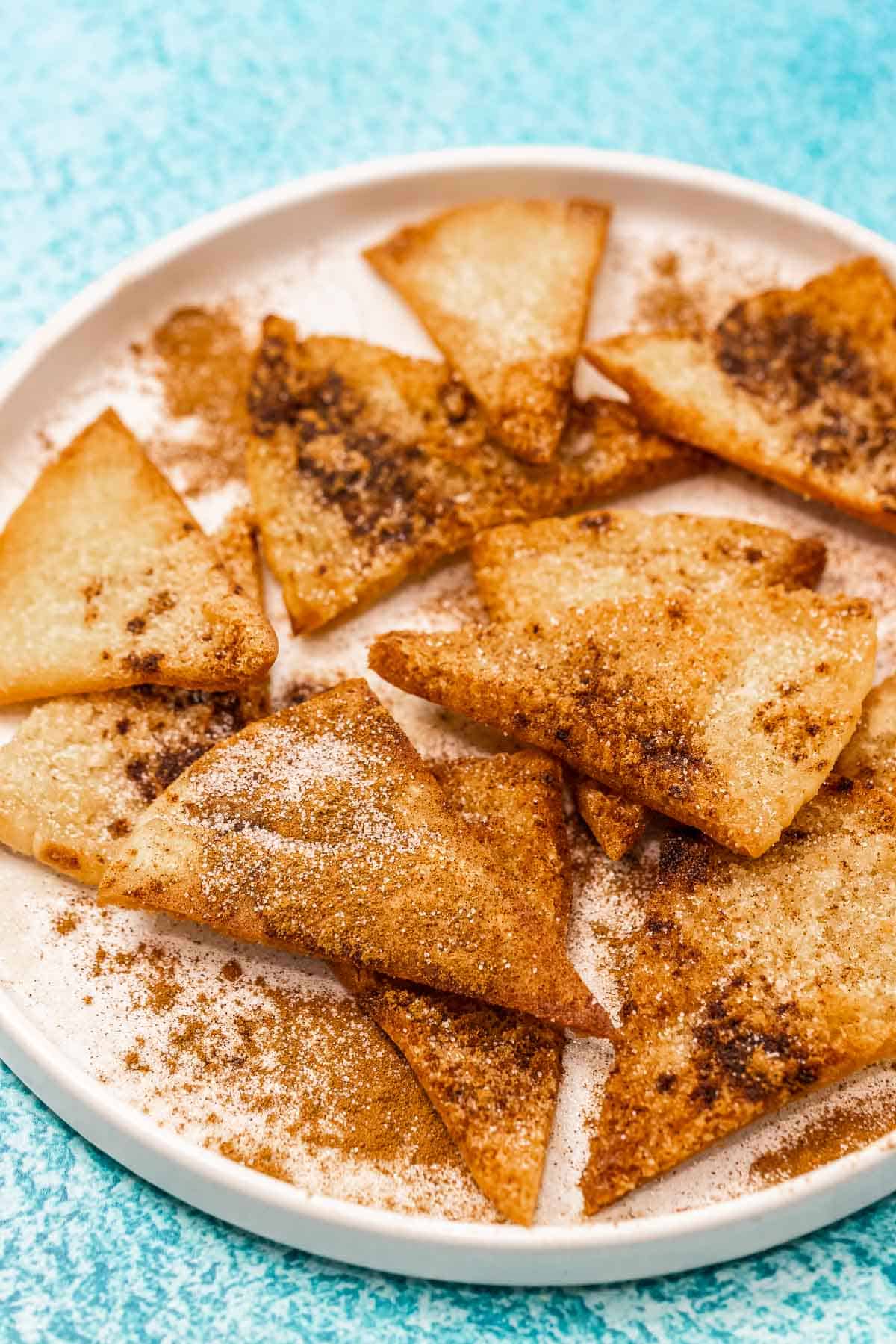 I'm a big fan of simple sweet goodies, be it a rich pumpkin parfait or a batch of beautiful chocolate-covered dates — and I'm adding churro chips to the list.
Traditional Churros are a popular treat, and it's easy to see why. They're essentially ropes of dough that are fried and then coated in cinnamon sugar.
Churro chips are a perfect snack to make when you crave the delicious cinnamon-y sweet taste of churros but don't want to make a total mess of the kitchen. They're also crispy and just sweet enough; basically a treat you'll be making over and over! I also share two ways to cook them, either frying them in oil or baking them in the oven!

You can make them with flour tortillas or pita bread — no surprise here, I went with pita since I always have it on hand. Think of these yummy, crispy chips as a sweet cousin of my homemade pita chips.
In this post
Table of Contents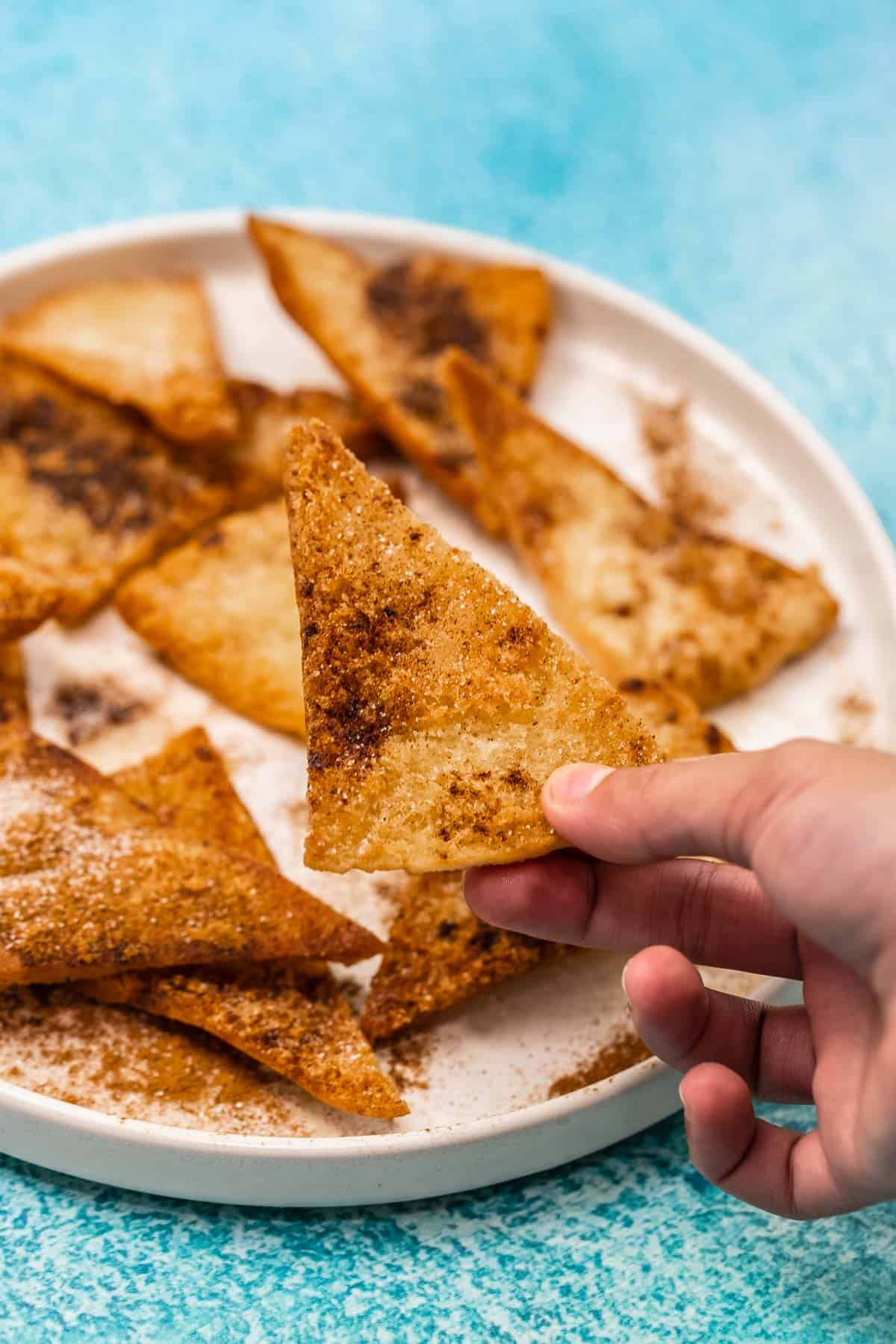 What are churros?
The origins of the beloved churro are a tad murky. Depending on who you ask, churros were invented in Spain, Portugal, or China — youtiao is a very similar Chinese fried dough fritter — before being introduced to other parts of the world.

Today, churro popularity continues to grow worldwide, with people unable to resist the charm of a cinnamon-y, sweet, deep-fried tube of dough, often served with a side of rich dipping chocolate.
What are churro chips made from?
Typically, churro chips are made from flour tortillas, which are cut up into triangles and then fried. I decided to go with pita bread instead, since I always have it on hand. You could use any kind of thin flatbread, though.
To prepare pita bread for frying, here's what you need to do:
Grab a whole pita and slice it in half at the seam, so you end up with two flat pita rounds. You can use either homemade pita or store-bought, whichever you prefer.



Cut each half into 8 triangles, so you end up with a total of 16 pita triangles. You can use a sharp knife or kitchen shears to do this.



Repeat with as many pitas as you like, depending on how many people you are serving. (Two cut-up pitas will serve about 8 people.)
How to make churro chips
You can either fry or bake the churro chips. While I usually fry them since it's so quick, baking is a wonderful option if you want something lighter but equally delicious. Here's how to do both:
How to make fried churro chips
Fry the pita triangles. After you cut your pita or tortillas into triangles, heat ¼ cup extra virgin olive oil in a medium frying pan until it shimmers. Without crowding the pan, add the pita or tortilla triangles. Do this in batches for best results. Fry until one side becomes medium brown and then carefully turn. Cook for just a few more seconds. It will only take about a minute to fry each batch of churro chips.
Drain. Line a large plate or platter with paper towels. Place the chips on top and allow them to sit for a few minutes to get rid of any excess oil.
Season. Dust with sugar and cinnamon while the chips are still hot. Serve and enjoy!
How to make baked churro chips
Prepare the pita: After you cut the whole pita into two flat rounds, brush both sides with extra virgin olive oil. Then, cut each half into 8 triangles.
Bake the pita triangles: Arrange the triangles on a large sheet pan and bake in an oven heated to 425°F for 5 to 10 minutes. Turn them over occasionally and bake until the chips are nicely browned and crispy.
Serve. While the baked churro chips are still hot, dust with cinnamon and sugar and serve.
Curious about olive oil??
Get all the information you need about cooking with olive oil in our comprehensive guide.
How to serve churro chips
While churro chips are amazing on their own, they also go really well with a variety of dips and toppings. Here are some ideas:
Serve them with a sweet dip: Try the chips with a caramel dip, chocolate dip, or something a bit tangy like Greek yogurt sweetened with a little honey.
Try churro chip nachos: Pile the chips onto a plate and load them up with toppings, like chopped up fruit, berry compote, and a generous drizzle of vanilla or chocolate tahini. You can find my favorite flavored tahini in our online shop!
Add a scoop of ice cream: Serve pita churro chips in a bowl along with a scoop of your favorite ice cream. (I tend to go with vanilla ice cream.)
How to store churro chips
Churro chips are best eaten right away for maximum crunchiness. But if you have leftovers, store them on the counter or in your pantry in an airtight container or a Ziploc bag. They will keep for about 2 days.
More easy sweet treats
Browse all Mediterranean recipes.

Visit Our Shop.
Get your copy of The Mediterranean Dish Cookbook!
120 Bold and Healthy Recipes You'll Make on Repeat
Suzy brings cross-culturally inspired dishes from throughout the Mediterranean into American home kitchens, using easy-to-find ingredients and easy-to-follow, tested-to-perfection recipes to make your meals more vibrant, delicious, and yes — even a little healthier, too!
Easy Churro Chips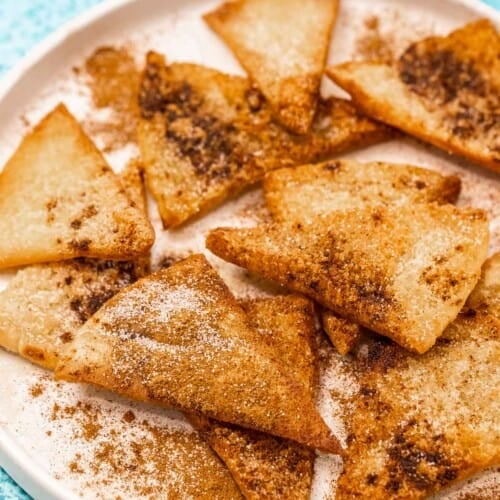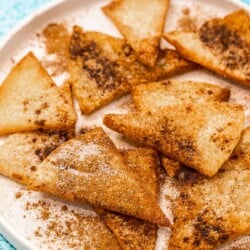 Beyond easy churro chips recipe made with pita bread! I'm not kidding when I say you can have a batch ready in about 5 minutes -- and they'll serve around 8 people! Dust the freshly fried churro chips with cinnamon and sugar and you'll have an addictive sweet treat. (See instructions for Baked Churro Chips in the Notes section.)
Ingredients
2

Pita bread pockets or tortillas or another thin flatbread of your choice

¼

cup

granulated white sugar,

more to your liking

2 to 3

tablespoons

ground cinnamon,

more to your liking
Instructions
Split the pita pockets in half to make single rounds of pita: Place your pita bread flat on a cutting board and split it in half from the seam with a sharp knife (you should end up with 2 single layers of pita). If you're using tortillas or a single ply flatbread, you do not need to split them.

Cut each flatbread into 8 triangles: Using a sharp knife, or a pair of kitchen shears, cut each pita or tortilla into 8 triangles.

Fry in extra virgin olive oil: In a medium frying pan, heat about ¼ cup extra virgin olive oil over medium-high heat until shimmering. Add the pita or tortilla triangles (do this in batches so you do not crowd the pan). Fry, watching for one side to turn medium brown and quickly turn the chips over on the other side for a few seconds (it should take less than 1 minute until crispy and golden brown on both sides).

Drain: Prepare a large plate and line it with paper towels. Transfer the fried chips to the prepared platter and allow them to sit briefly over the paper towels to drain any excess oil.

Season and serve: While the chips are still nice and hot, dust them with sugar and ground cinnamon. Enjoy!
Notes
For baked churro chips: Heat your oven to 425°F. Follow the first step as written then brush the pita or tortilla on both sides with extra virgin olive oil. Cut each into 8 triangles and arrange them on a large sheet pan. Bake for about 5 to 10 minutes, turning the chips over occasionally until crispy and golden brown. Remove the chips from the oven, dust them immediately with sugar and cinnamon and serve!
How to serve churro chips: The easiest option is to serve them alongside a dip like caramel, chocolate, or Greek yogurt sweetened with honey. You can also serve them with vanilla ice cream, or make churro chip "nachos", by loading them up with fruity and sweet toppings!
How to store leftovers: Leftovers will keep in an airtight container of Ziploc bag for up to 2 days. Store them on your kitchen counter or in a pantry.
Visit Our Shop for quality Mediterranean ingredients including extra virgin olive oils, spices, lentils, and grains.
Nutrition
Calories:
67.5
kcal
Carbohydrates:
15.6
g
Protein:
1.4
g
Fat:
0.2
g
Saturated Fat:
0.03
g
Polyunsaturated Fat:
0.1
g
Monounsaturated Fat:
0.02
g
Sodium:
75.3
mg
Potassium:
25.5
mg
Fiber:
1.4
g
Sugar:
6.3
g
Vitamin A:
5.9
IU
Vitamin C:
0.1
mg
Calcium:
32.1
mg
Iron:
0.4
mg