This apple cake with olive oil has it's origins in the coastal region of Liguria, Italy. A simple and delicious olive oil cake recipe with sweet chunks of fresh apples and plump raisins with hints of cinnamon. Perfectly moist and dense with just enough crumble. It's sweet, but not overly sweet (and the perfect carrier for a little warmed honey or caramel, if you like!)
You'll love how easy this cake is! It's the kind of no-fuss treat I imagine Italian nonnas whipping up on a regular basis. Be sure to see the video for how to make this olive oil cake below.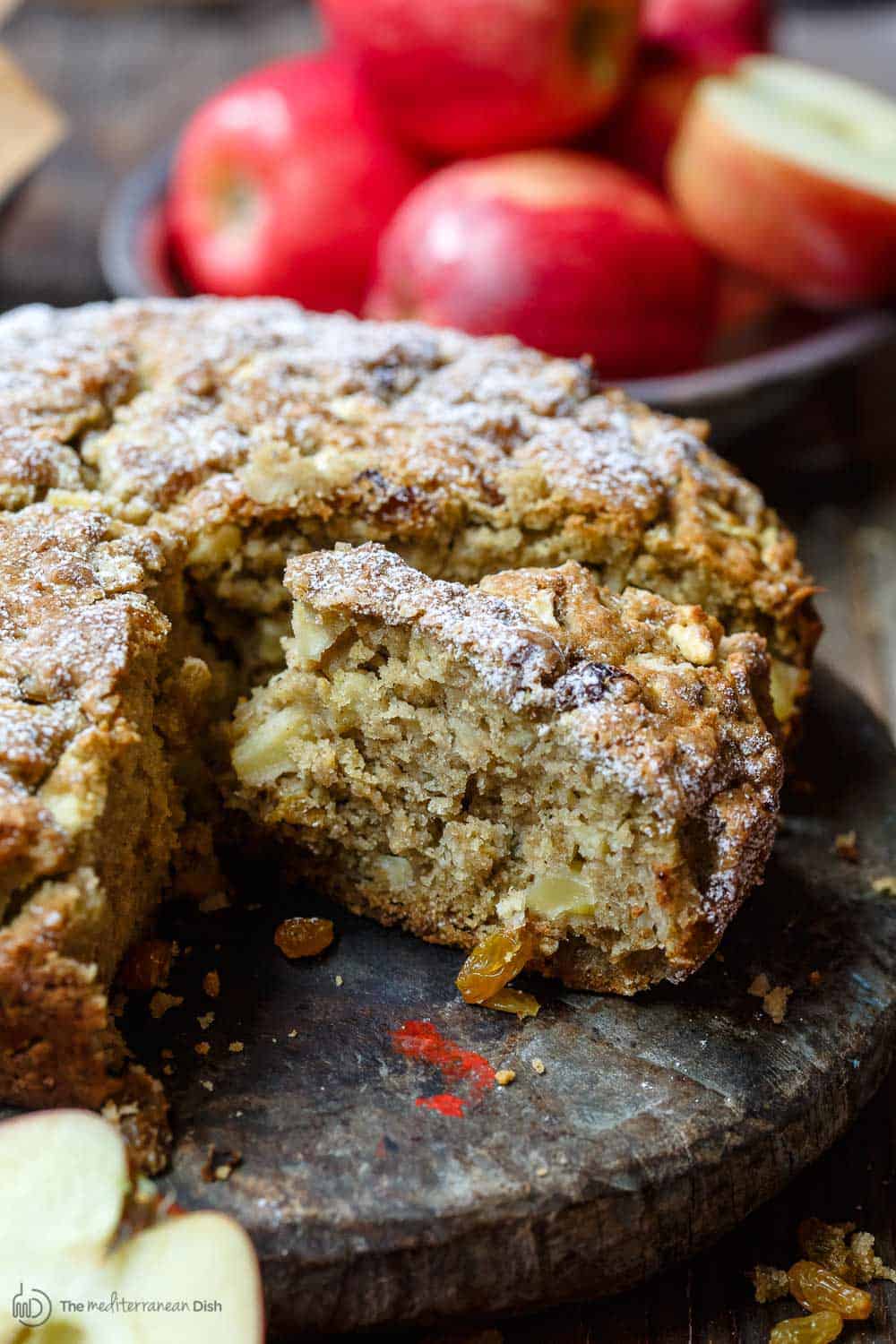 People of the Mediterranean, at least the part I grew up in, love their tea time.
I don't want you to picture an English high tea situation, as lovely as that sound, but a more casual affair. Just time with friends and family to catch up on life over a cup of tea (no special china needed.)
At my parents' home, it was black tea with some dried fruits and nuts on the side, and, on occasion, a little strudel or a simple cake much like today's apple cake recipe.
Whether you're into afternoon tea or morning coffee with friends, this Italian apple olive oil cake--with chunks of sweet apple and plump raisins--will fit the bill!
And if you're looking for something sweet enough, but not too sweet, this olive oil cake is just that! But sweet-toothed folks can easily add a drizzle of warmed dark honey or caramel, maybe even a scoop of your favorite vanilla ice cream, if you're feeling indulgent.
This apple cake is easy to make, and you'll love the little Italian twist, borrowed from Liguira, Italy!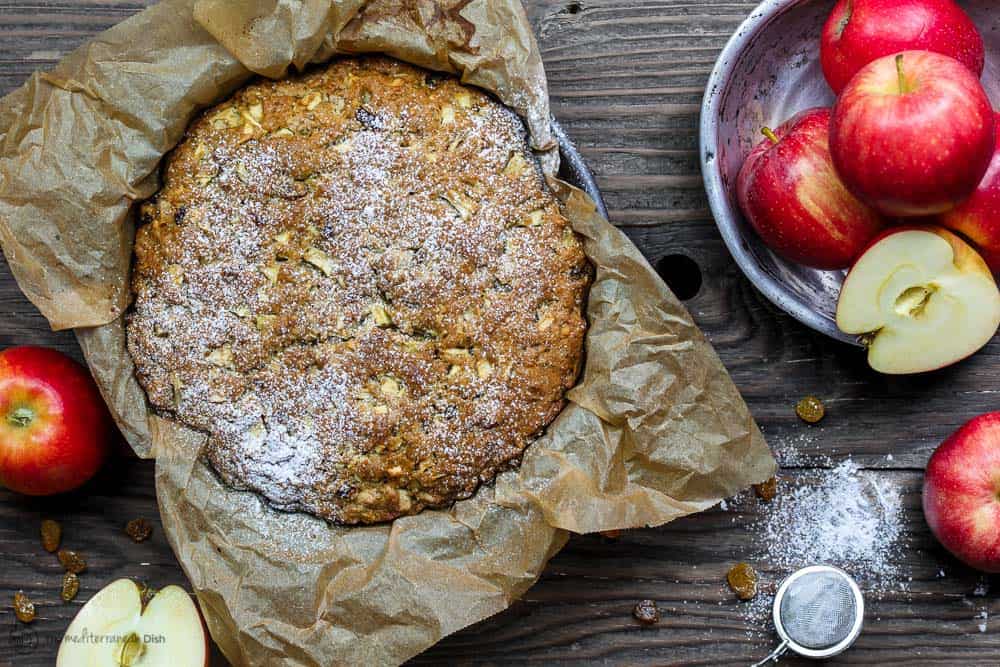 Italian Apple Olive Oil Cake
This olive oil cake is a modern version of one from the coastal region of Liguria, Italy. It's a no-frosting and no-fuss type cake, the kind Italian nonnas might whip up on short notice!
Here's the gist. Simple rustic olive oil cake with chunks of sweet fresh apple and plump raisins with warm hints of cinnamon and nutmeg. It's dense with just enough crumble.
Extra virgin olive oil is obviously key in this cake, it lends great moisture and tenderness and provides a layer of complexity and richness to this rustic cake. (I used this Private Reserve EVOO, by the way.)
Can I Use Olive Oil in Cake?
People of the Mediterranean have been baking with olive oil for years (even in things like banana bread!) But the question may still pop up, "can I use olive oil in cake?"
The short answer is: yes! Even die-hard butter fans agree that olive oil makes exceptionally good cakes.
Here are three reasons why olive oil is great in cakes:
1. At room temperature, olive oil is liquid, so it does add superior moisture overtime even with leftovers.
2. Using quality extra virgin olive oil in place of butter is a great way to cut saturated fats and add more monosaturated fats, which promote good cholesterol.
3. Very simply, a good extra virgin olive oil, like this one I used, will add a wonderful, rich and nounaced flavor to your cake without calling too much attention to itself.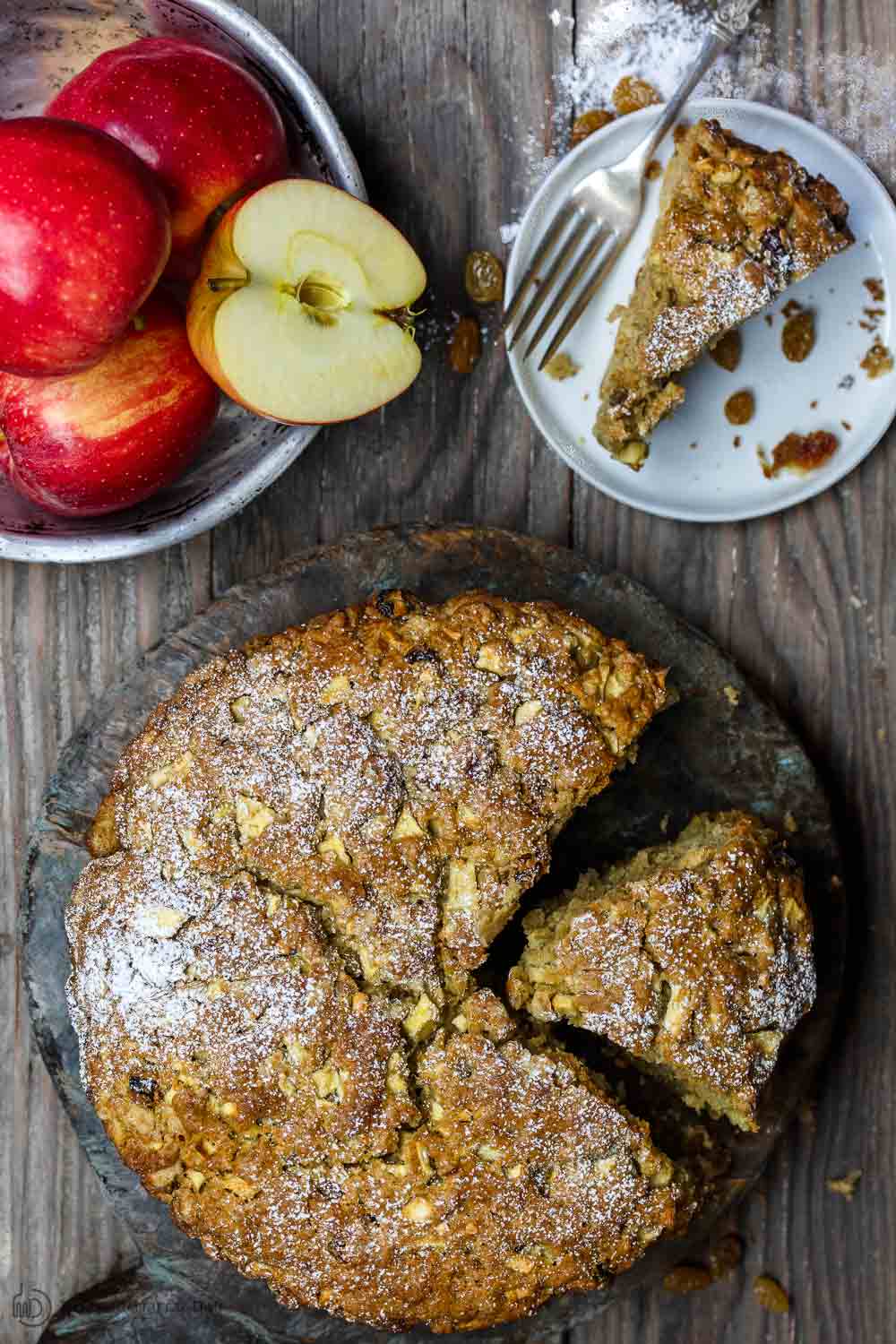 TIPS FOR THIS OLIVE OIL CAKE RECIPE
Three important tips for making this cake:
1. The batter for this particular olive oil cake will be thick. Trust me, it's meant to be. Resist the urge to add water or anything else to loosen it.
2. What kind of apples to use and how to cut them for this recipe? This time I used gala apples, but you can use other baking apples you like (Honey Crisp Apples or Pink Lady Apples. It's even better if you use a couple apple varieties for a more complex flavor. For example, instead of just gala apples, you can mix in Granny Smith apples, which have a more tart, subtly acidic flavor.
I prefer to chop the apples to a fairly small chop/dice for a more rustic texture. That way, they won't completely disappear in the cake, instead you get some sweet apple bites in each piece.
3. Use Quality Extra Virgin Olive Oil. As the name implies, this is an olive oil cake, and you should be able to detect some olive oil notes. Don't worry, it will not be overwhelming, but the slightly savory notes of extra virgin olive oil will lend an appealing flavor complexity.
My best advice to you is to use only quality extra virgin olive oil or you may end up with less than describable flavor. Worse, rancid!
I used our Private Reserve extra virgin olive oil from organically grown and processed Koroeniki olives. An exquisite cold extracted and unfiltered oil with a delicate intensity, vivid color, and low acidity of 0.4%. Read more about this oil here.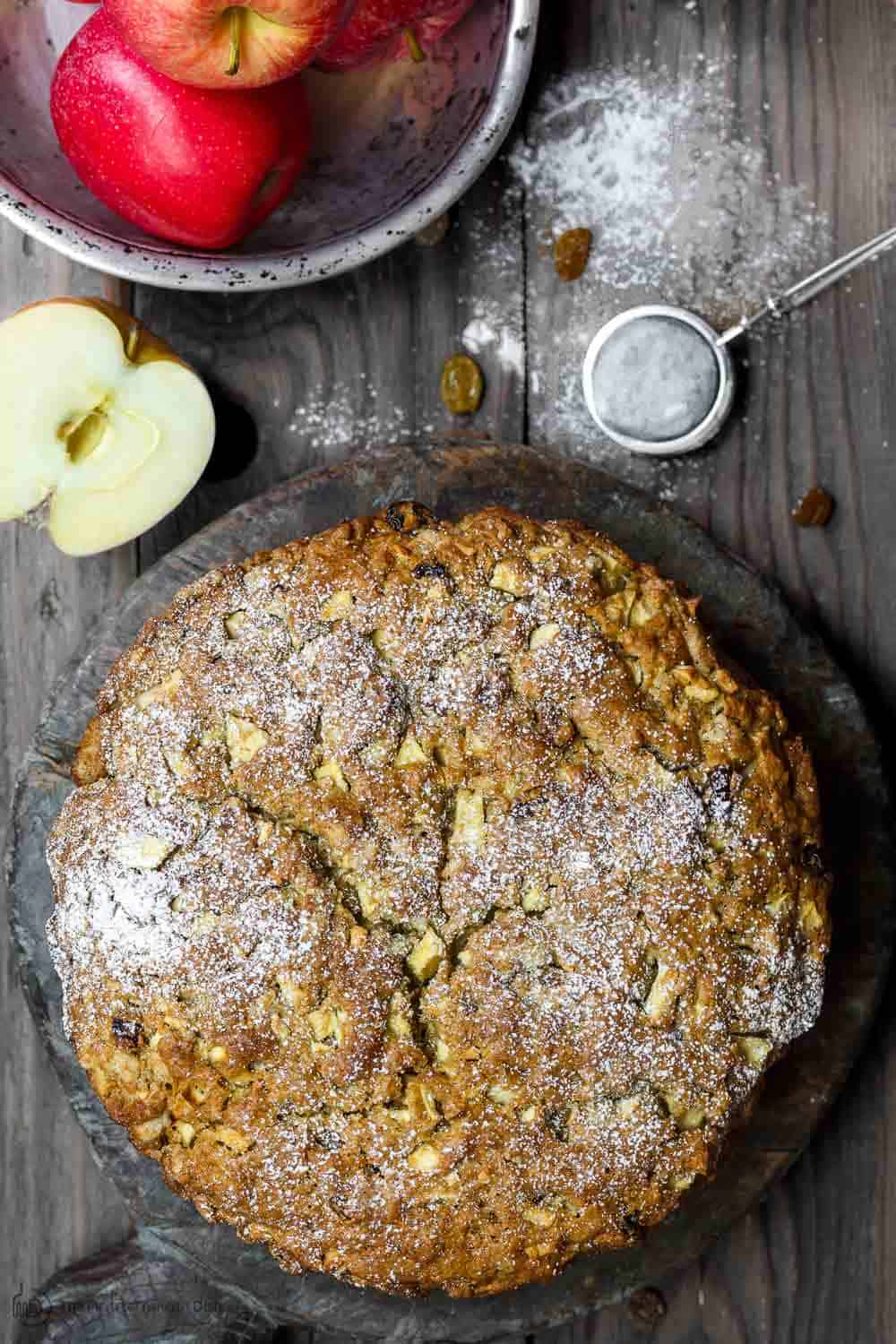 Can this be a Vegan cake?
It's quite simple to make a vegan version of this Italian apple olive oil cake. Obviously, the one ingredient you need to replace is the eggs.
While I have not personally tried it, one awesome reader, Elena, just wrote in to share her vegan take on this apple olive oil cake: "I used about 1 cup of coconut milk (in which I soaked the raisins) and 1 cup of orange juice , to replace the 2 eggs. I also added a handful of walnuts, so delicious!"
Watch How to Make this Apple Olive Oil Cake
Looking for more desserts? Browse more of my Mediterranean-style desserts here (baklava is a big fan-favorite.And this Pumpkin Parfait is epic for the fall!)
NEVER MISS A RECIPE! JOIN MY FREE E-MAIL LIST HERE.
SHOP OUR ONLINE STORE FOR QUALITY OLIVE OILS, ALL-NATURAL SPICES AND MORE!
Print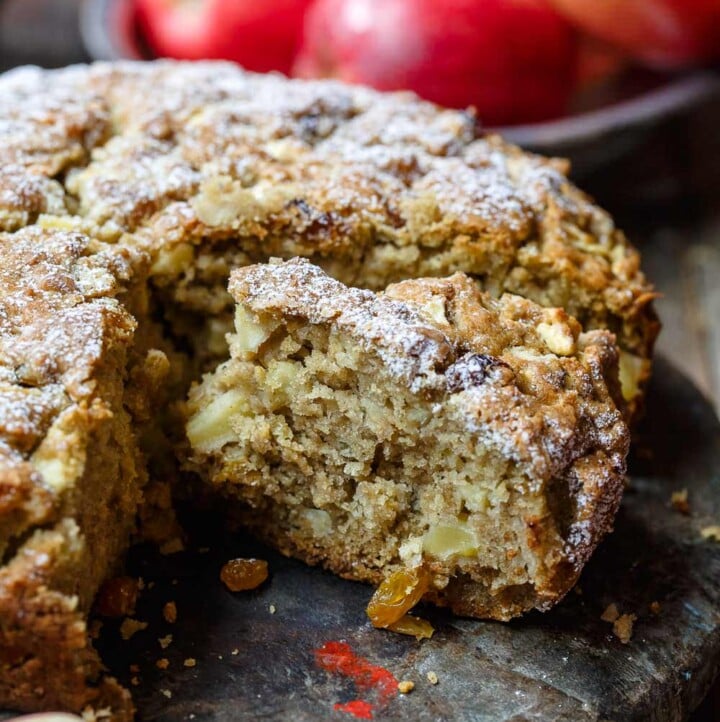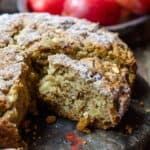 Italian Apple Olive Oil Cake
---
Author:

The Mediterranean Dish

Prep Time:

20 minutes

Cook Time:

45 minutes

Total Time:

1 hour 5 minutes

Yield:

1

cake

1

x
Description
Simple and rustic Apple Olive Oil Cake with chunks of apple, raisins and the perfect combination of spices. The kind of no-fuss olive oil cake you'll love.
---
2

large Gala apples, peeled and chopped as finely as possible
Orange juice to soak apples in

3 cups

all-purpose flour

½ tsp

ground cinnamon

½ tsp

ground nutmeg

1 tsp

baking powder

1 tsp

baking soda

1 cup

sugar

1 cup

Private Reserve extra virgin olive oil

2

large eggs

⅔ cup

gold raisins, soaked in warm water for

15

minutes and then drained well
Confectioner's sugar for dusting
---
Instructions
Preheat oven to 350 degrees F.
Place the chopped apples in a bowl and add orange juice; just enough juice to toss and coat apples so as to prevent browning.
In a large mixing bowl sift together the flour, cinnamon, nutmeg, baking powder and baking soda. Set aside for now
In the bowl of a stand mixer fitted with a whisk, add sugar and extra virgin olive oil. Mix on low for 2 minutes until well-combined
While mixer is on, add the eggs, one at a time, and continue to mix another 2 minutes until mixture increases in volume (it should be thicker but still runny)
In the large bowl with the dry ingredients, make a well in the middle of the flour mixture. Add the wet mixture (the sugar and olive oil mixture) into the well. Using a wooden spoon, stir until just blended; it will be a thick batter (do not add anything to loosen it).
Drain raisins (which have been soaking in water) completely; and rid apples of excess juice. Add both raisins and apples to the batter and mix with spoon until well-combined. Again, batter will be fairly thick.
Line a 9-inch cake pan with parchment paper. Spoon thick batter into the pan, and level the top with the back of your wooden spoon.
Bake in 350 degrees F for 45 minutes or until an inserted tooth pick or wooden skewer comes out clean.
Cool completely in pan. When ready, simply lift parchment up to transfer cake into a serving dish. Dust with confectioner's sugar. Alternatively, heat some dark honey to serve on top (those with a sweeter tooth like this option.)
Notes
Important Tip using excellent extra virgin olive oil makes the biggest difference in this cake. Inferior olive oils will produce less than desirable taste. We use our Private Reserve extra virgin olive oil, Or Early Harvest extra virgin olive oil for deeper flavor.
Can this be Vegan? While I have not personally tried the vegan version of this cake, one of our readers, Elena just wrote in to share her vegan take on this apple olive oil cake: "I used about 1 cup of coconut milk (in which I soaked the raisins) and 1 cup of orange juice , to replace the 2 eggs. I also added a handful of walnuts, so delicious!"
Storage This cake is best consumed within 2-3 days or so. Store it in an airtight class container for 2-3 days in a cool and dry place. You can refrigerate, but bring to room temperature before serving.
Recommended for this Recipe Private Reserve Greek extra virgin olive oil (from organically grown and processed Koroneiki olives); all-natural ground nutmeg
SHOP OUR BUNDLES EVOO Bundle ; Ultimate Mediterranean Spice Bundle
Visit The Mediterranean Dish store for more!
Cuisine:

Italian/Mediterranean
Keywords: olive oil cake, apple cake
*Note: This post first appeared on The Mediterranean Dish in 2017 and has been recently updated with new content and media for readers' benefit. Enjoy!