This all-star freekeh recipe turns the ancient Mediterranean superfood into a festive vegan side dish or a Thanksgiving stuffing! If you haven't tried smoky, nutty freekeh before, you're in for a treat. With cranberries, apples, warm Mediterranean spices and fresh herbs, this freekeh will surprise your taste buds in the best way possible. (Vegan)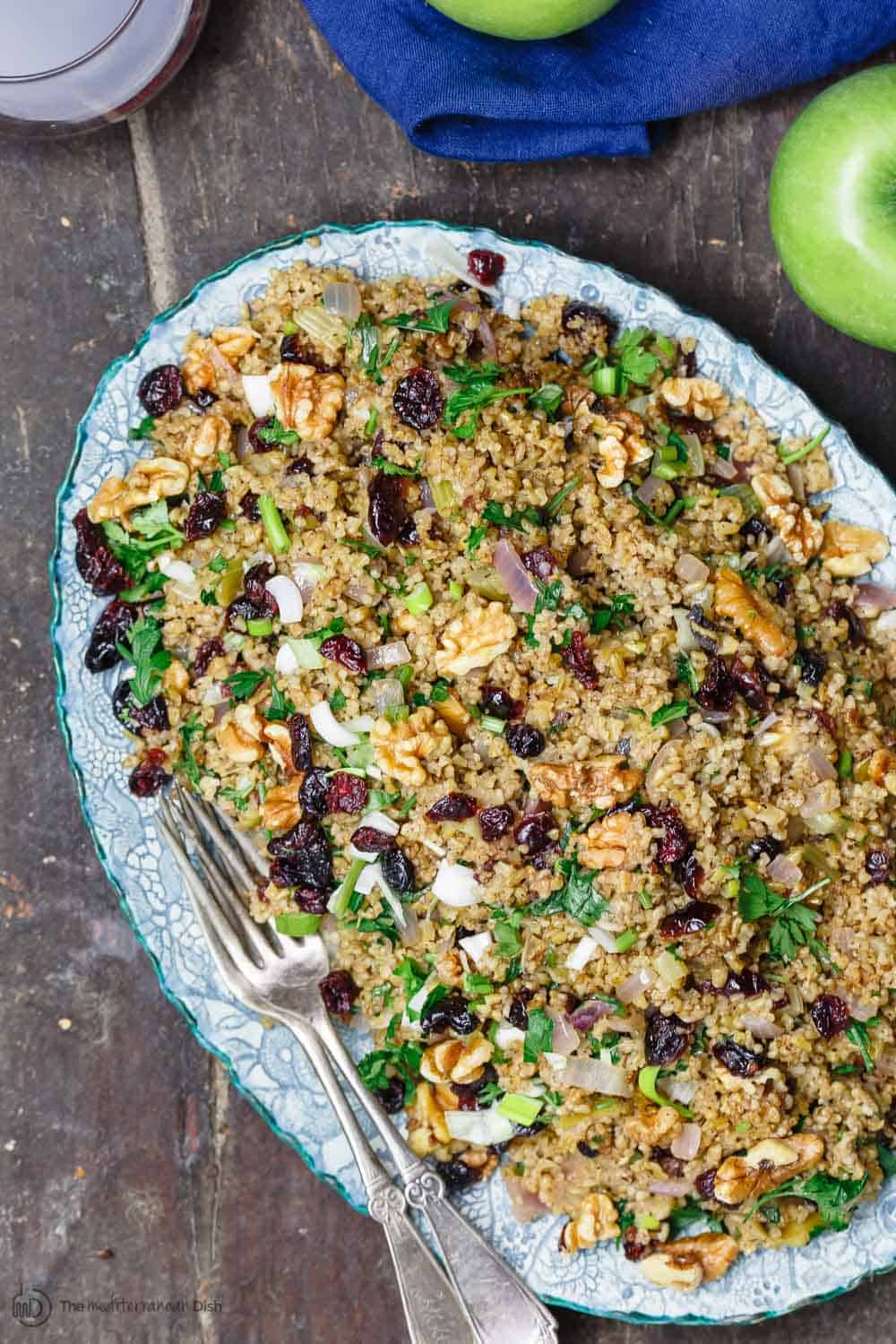 When it comes to special dinners and holiday events, sides are as important as the turkey or leg of lamb. Don't you agree?
It's hard to choose, but here are some of my holiday go-to sides: Greek Potatoes; Lebanese Hashweh Rice; Roasted Beet Salad; Olive Oil Brussles Sprouts; Italian Roasted Vegetable.
And if we're talking Thanksgiving, then we must add a Mediterranean stuffing of sorts to this list, right?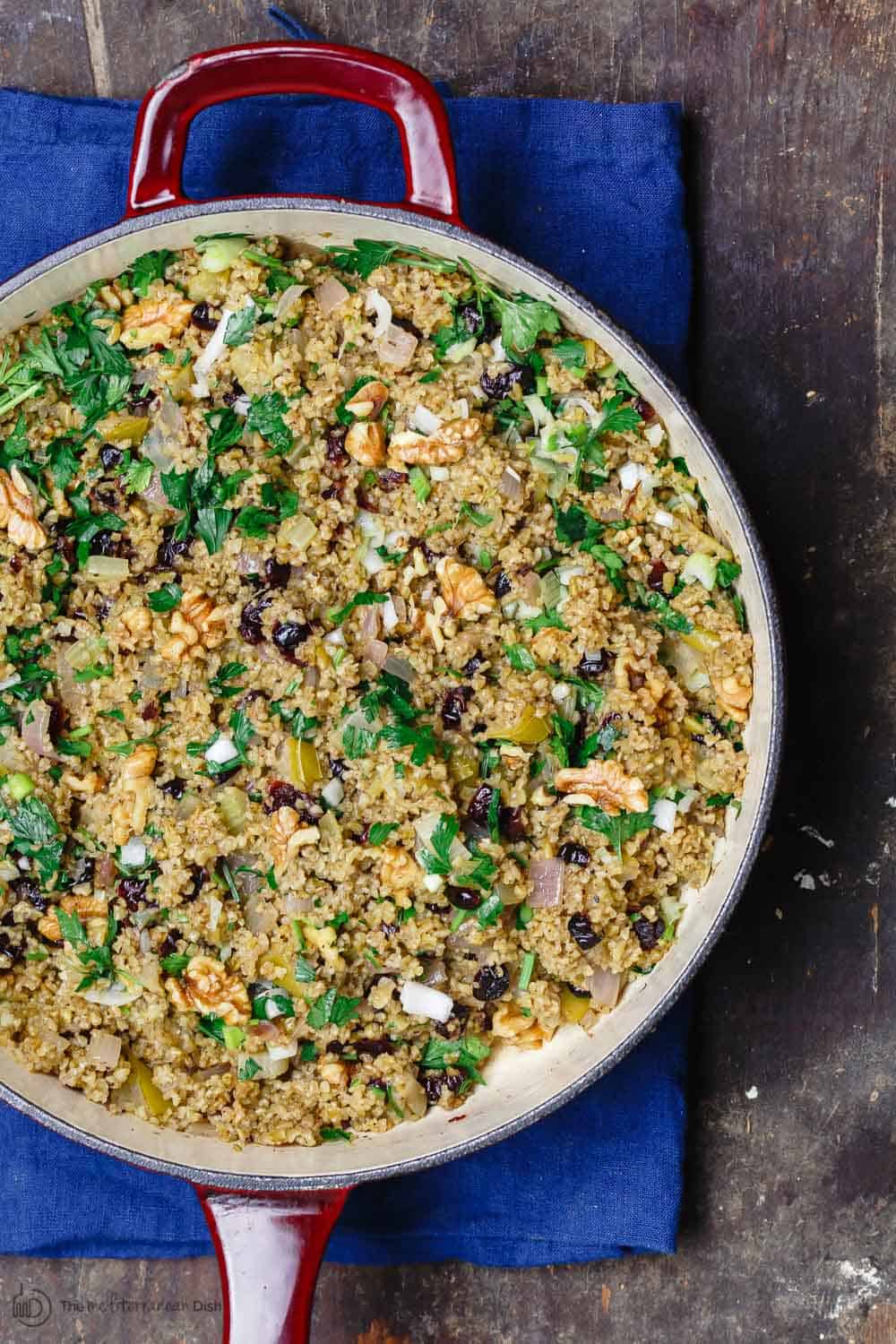 Growing up in Egypt, our holiday turkey--typically a Christmas dish--was served with a savory freekeh stuffing. And a kid, I frankly ignored the actual turkey and went for the freekeh.
What Is Freekeh and Where To Buy It?
Okay, before we go any further, I know you may be thinking, "What the heck is freekeh?!"
Freekeh, pronounced "free-kah" is an ancient Eastern Mediterranean grain made from green, unripe wheat that's been parched and roasted to burn off the husk. And because it's harvested so young, freekeh retains more protein, fiber and minerals than quinoa and other super grains.
You will find freekeh in specialty grocery stores in the grains section (look near quinoa, farro and rice.) I often purchase freekeh online (I've used Freekeh Foods and Ziyad Freekeh so far.)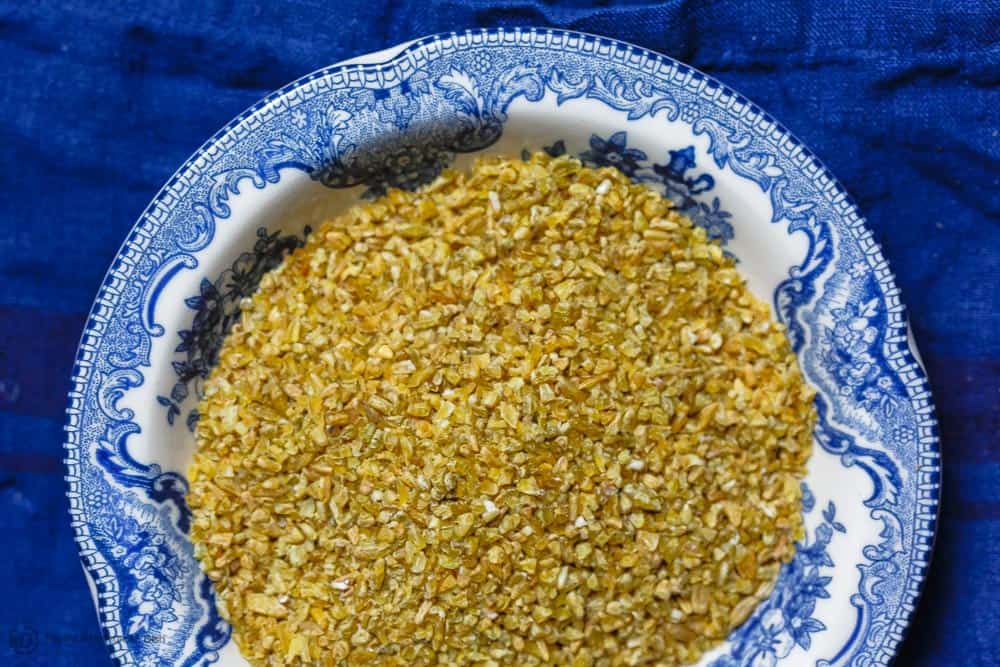 What does Freekeh taste like?
As far as taste, freekeh it has a wonderfully rich, smoky, nutty flavor, and it mixes so well with fresh herbs and warm spices. Freekeh will surprise your taste buds in the best way possible.
Freekeh can easily replace pasta or any grain you wish. But in this recipe, I'm using freekeh to replace bread for a wholesome, delicious twist on a vegetarian Thanksgiving stuffing. And the addition of granny smith apples and sweet dried cranberries is the perfect balance to freekeh's smoky flavor.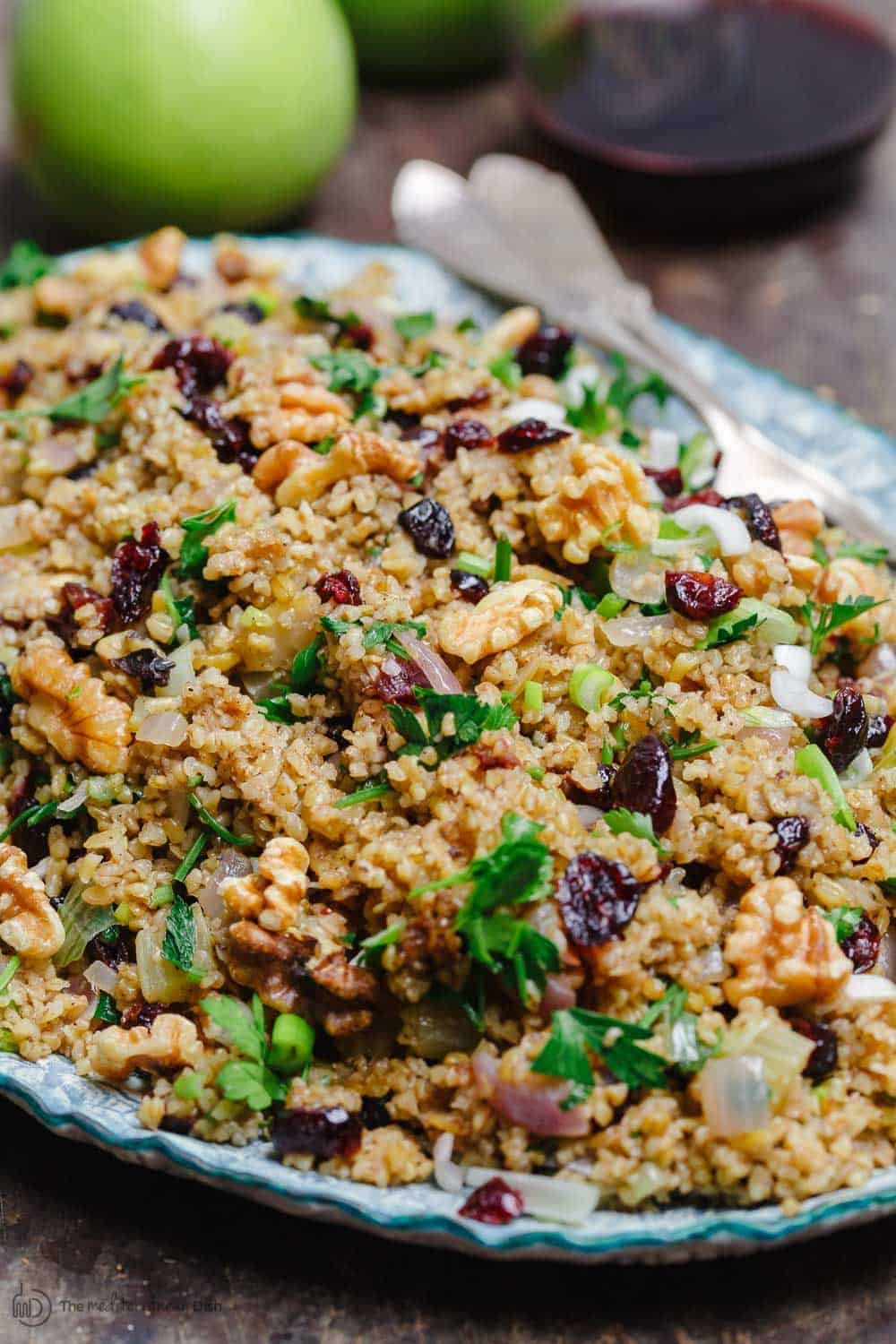 How to Make this Freekeh Recipe
This freekeh stuffing recipe is a simple one-pot recipe, requiring only a few steps:
1. Soak freekeh. Freekeh does not require soaking typically, but for this recipe, soaking the cracked freekeh for a short time softens it enough that we don't need to use as much liquid. It also cooks more quickly that way.
2. Saute apples with onions and celery in some excellent extra virgin olive oil (your kitchen will smell like heaven!)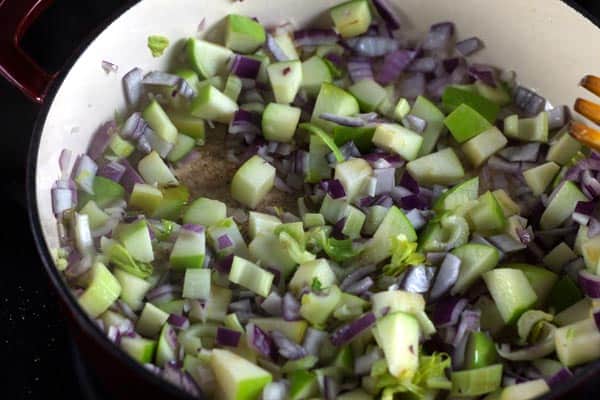 3.Toss in freekeh and spices. Here, I chose to play up the warm, earthy notes by using sweet paprika, allspice and cinnamon.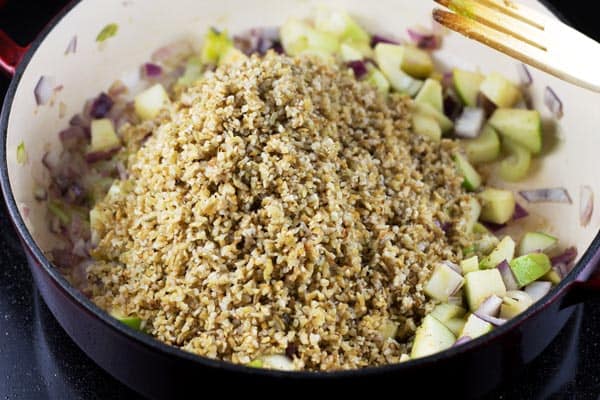 4. Add liquid and cook part-way, then stir-in cranberries, and let simmer until freekeh is fully cooked through. How do you know if it's cooked through? Freekeh should not be hard, nor too sticky. It will have a slightly chewy bite.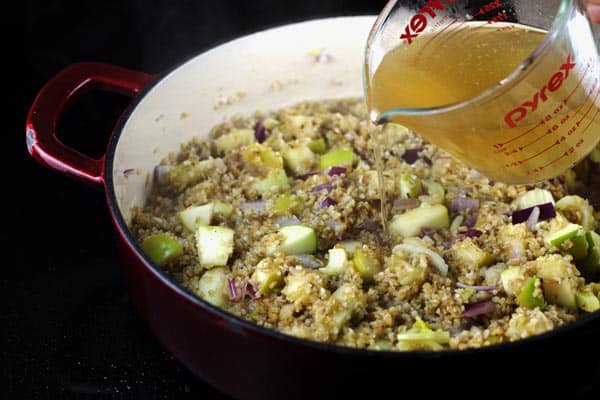 5. Finally add chopped scallions and fresh parsley. Garnish with toasted walnuts.
Variations for this Freekeh Recipe
Say you want to try freekeh, but you really don't need the holiday twist. You can certainly play around with other ingredients. Ditch the apples and cranberries, no problem! Use chopped carrots, bell peppers, or even mushrooms.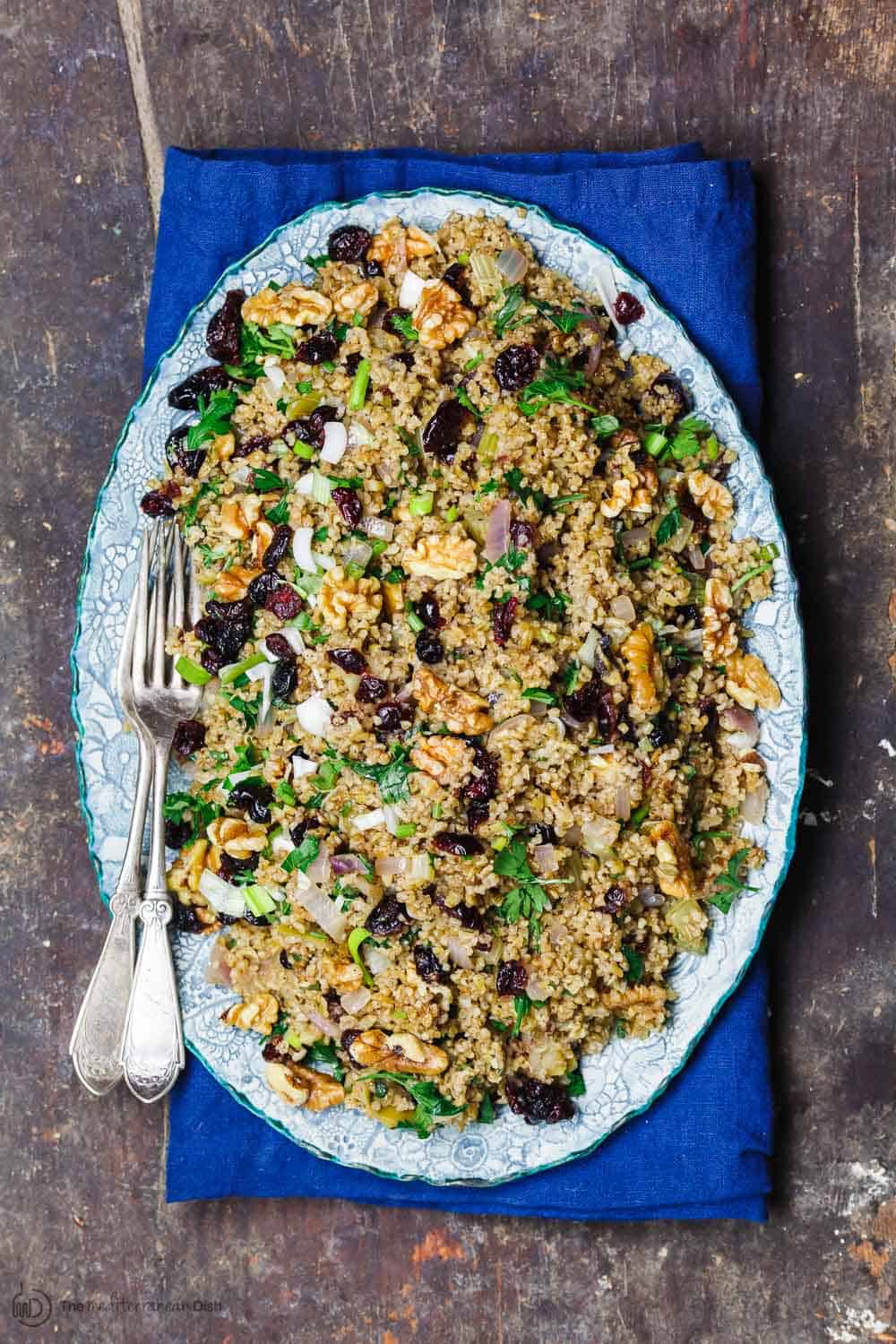 You also change up the herb choice, adding mint or dill in place of parsley...or in addition to parsley. Or use toasted slivered almonds in place of walnuts.
If you have any leftovers, you can store freekeh in the fridge for 2-3 days in a tight-lid glass container (see recipe notes for prepare-ahead instructions as well.) Turn it into an amazing lunch bowl by adding shredded turkey breast or rotisserie chicken!
More Recipes to Try:
Butternut Squash with Lentils and Quinoa
Mediterranean-style Zucchini Casserole
Print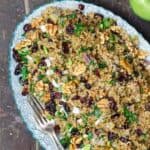 Cranberry Apple Freekeh Stuffing
---
Description
All-star freekeh recipe turns a superfood grain into a festive vegan "stuffing" or side dish. Tons of flavor from Mediterranean spices and fresh herbs. Be sure to read the recipe notes for important tips.
---
8 oz

/226.796 g freekeh
water
Private Reserve Greek extra virgin olive oil

1

medium red onion, chopped

2

celery sticks, chopped

2

medium Granny Smith apples, cored and chopped

2

garlic cloves, chopped
Kosher salt and black pepper

1 tsp

sweet Spanish paprika

1 tsp

ground allspice

½ tsp

ground cinnamon

2 cups

/ 473 ml low-sodium vegetable broth

2 cups

/ 240 g dried cranberries (or another dried fruit)

3

scallions, trimmed and chopped (both white and green parts)

1 cup

/ 25 g parsley leaves, washed, dried, stems removed

1 cup

/ 125 g shelled walnut halves, chopped (optional)
---
Instructions
Soak freekeh in water for 15 minutes. Rinse and drain. Set aside.
In a large and deep skillet like this one, heat 2 tablespoon extra virgin olive oil until shimmering but not smoking. Add chopped red onions, celery, apples and garlic. Saute for about 3-4 minutes on medium heat, tossing regularly.
Add drained freekeh. Season with kosher salt and pepper. Add spices. Mix to combine.
Add broth and raise temperature. Bring to a boil and continue to cook on medium-high until broth has reduced, about 3 minutes. Turn heat to low, cover and simmer for 7 minutes or so.
Stir in dried cranberries. Cover again and let cook for another 7-10 minutes or until freekeh is fully cooked through (moisture should be fully absorbed.)
Remove from heat, and mix in scallions and fresh parsley.
Transfer to a serving platter and garnish with toasted walnuts. Enjoy!
Notes
Make-Ahead Tip: You can make this freekeh recipe the night before you need to serve it. Follow the recipe through step #5. Let cooked freekeh cool completely before storing in glass container with a tight lid. Refrigerate. When ready, warm over medium heat, tossing. If needed, add a tiny bit of broth or water to help the freekeh as it warms through. Finish steps #6 and #7.
To store leftovers: You can store freekeh again in the fridge in tight-lid glass container for 2-3 days (depending on when you prepared it.) Add shredded turkey or chicken for a great lunch!
Recommended for this Recipe: Private Reserve Greek extra virgin olive oil (from organically grown and processed Koroneiki olives.) Makes all the difference in flavor. SAVE! Try our Greek EVOO Bundle.
Recommended for this Recipe: from our all-natural spice collection, Spanish paprika and allspice. SAVE! Try our Ultimate Mediterranean Spice Bundle; our Mediterranean Essentials Bundle; or create your own 6-pack or 3-pack with spices of your choosing!
Where to Buy Freekeh? If it's not available in the grains section at your local grocery store, you can buy it online. Here are two kinds we've tried that you can purchase on Amazon: Freekeh Foods and Ziyad Freekeh.
Prep Time:

15 mins

Cook Time:

25 mins

Category:

Side Dish/Vegan Entree

Method:

Stovetop

Cuisine:

Mediterranean
Keywords: Freekeh, Freekeh Recipe, Stuffing, Grains
*This post was recently republished with new information for readers' benefit.