You'll love this light and flavor-packed Mediterranean shrimp soup with a tomato-based broth, vegetables, baby spinach, and loads of fresh herbs! I used whole wheat pasta to add texture and heft to this one-pot dinner. A generous splash of fresh lemon juice brings everything together.
A couple of tips make all the difference in cooking the shrimp just right for this shrimp soup. Be sure to read through!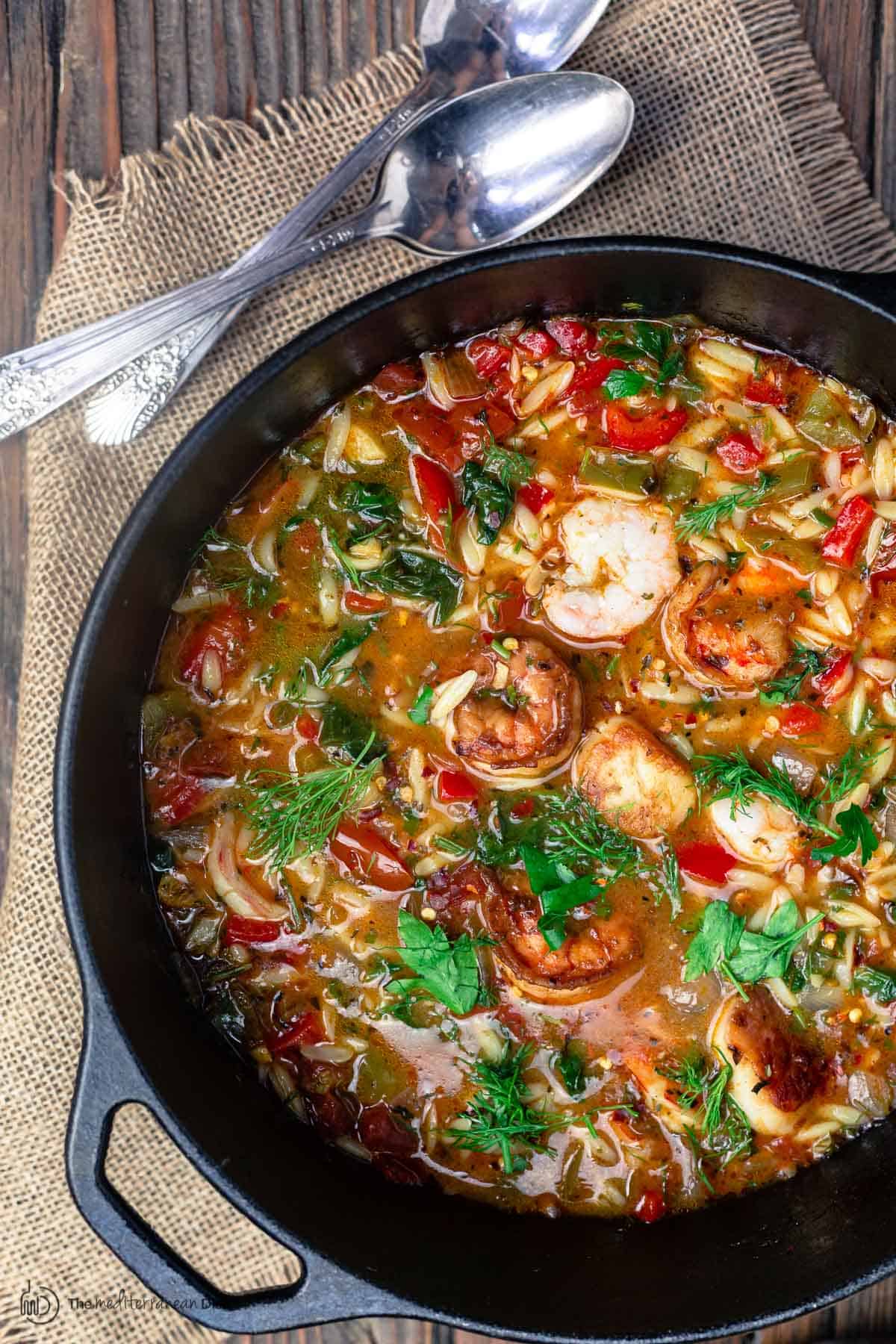 I am a soup/stew lover all the way. They come together fast, are made in one pot, and are filling and hearty. What's not to love?!
Particularly during the cooler months, comforting pots from Greek avgolemono to sweet potato stew or chunky lentil soup are a part of the regular rotation.
But when I'm feeling a little more fancy, I turn to seafood...either my Nonna-approved Sicilian fish stew or something like today's shrimp soup.
To me, a comforting, protein-packed soup that doesn't leave you feeling heavy is an absolute win! And this Mediterranean shrimp soup fits the bill on all levels--loads of veggies, fresh herbs, bold spices, lean protein, and even a little whole wheat pasta!
Adding shrimp to soup may be the last protein of choice on your mind, but I'm here to tell you it's the perfect addition, especially when you are following a Mediterranean diet.
This particular shrimp soup feels fancy and special, but could not be simpler to whip together any night of the week!
Here is more about what you can expect from this shrimp soup...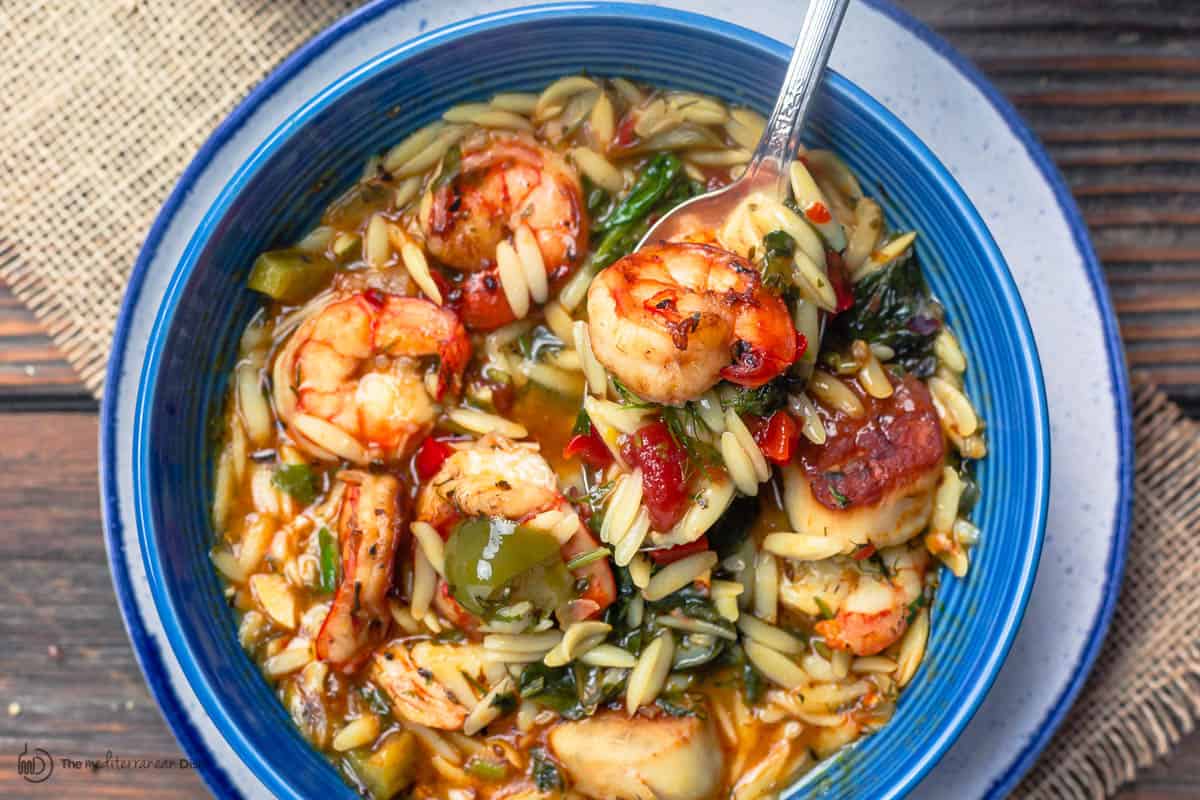 Mediterranean Shrimp Soup
At first glance, this soup looks like a shrimp and noodle soup, which it is, but it's so much more! We do the Mediterranean thing--sneak in veggies, some fresh herbs, tangy lemon, and a little kick, if you'd like, with a sprinkle of chili flakes.
First, shrimp gets a quick sear in the skillet, then takes on the flavorful tomato-based broth that's loaded with garlic, onions, and chopped green peppers.
About 10 minutes or so before the soup is finished, throw in a bit of whole orzo pasta (whole wheat preferred.) If you're avoiding carbs, you can omit the orzo, but it does add heft, making this soup a complete meal.
The final additions to this shrimp soup are just as important: a handful of baby spinach, fresh parsley, and dill. Never enough green!
I know you're familiar with parsley, but if you're tempted to skip the dill, please don't (unless, of course, you can't eat it for some reason.) I think dill can be somewhat forgotten as a flavor maker, but this fresh and grassy herb packs serious flavor and can compliment many meals far beyond potato salad!
And we can not forget about one last but very important flavor maker that finishes this orzo and shrimp soup: fresh lemon juice. It really makes this soup come alive!
How long should you cook shrimp in soup?
One of the biggest issues with seafood generally is overcooking it. But it becomes a particular issue when we're talking about seafood in soup. So if you're wondering, "how long to cook shrimp in soup?" That is a very valid question.
It is easy to overcook delicate shrimp in a boiling pot of soup. Shrimp can go from juicy and tender to a rubbery chewy mess in minutes.
Even the largest of shrimp can cook in 4 to 5 minutes. To avoid overcooking the shrimp in our soup, we do the cooking in stages.
First, the shrimp first hits a hot skillet of olive oil to sear the shrimp until JUST pink (2 minutes or so.) Then we set it aside while we work on the various components of the soup, adding the shrimp back to the pot of soup toward the very end as the soup is finishing (about 2 more minutes or so.)
In general, shrimp cooks in about 4 to 5 minutes in tot So in this recipe, we sear it for 2 minutes and finish cooking it in the hot soup for another couple minutes. Keep in mind that shrimp will continue to cook in the pot, even as your remove it from heat. For this reason, shrimp soup is best served immediately.
For more great shrimp cooking tips, be sure to check out our Guide to Buying and Cooking Shrimp.
How to make this shrimp soup (step-by-step)
Step 1: Sear shrimp briefly
This shrimp soup starts by preparing the seafood portion. I am adding scallops, which is totally optional. You will first give the scallops a quick sear in a hot pan – if you choose to use scallops. Next, you will sear your shrimp in the same pan for about 2 minutes, you want to see some pink but don't worry about fully cooking it yet.
Remember, you will be adding the seafood to the hot soup later, so don't overcook the shrimp.
Both are set aside and sprinkled with some dry oregano.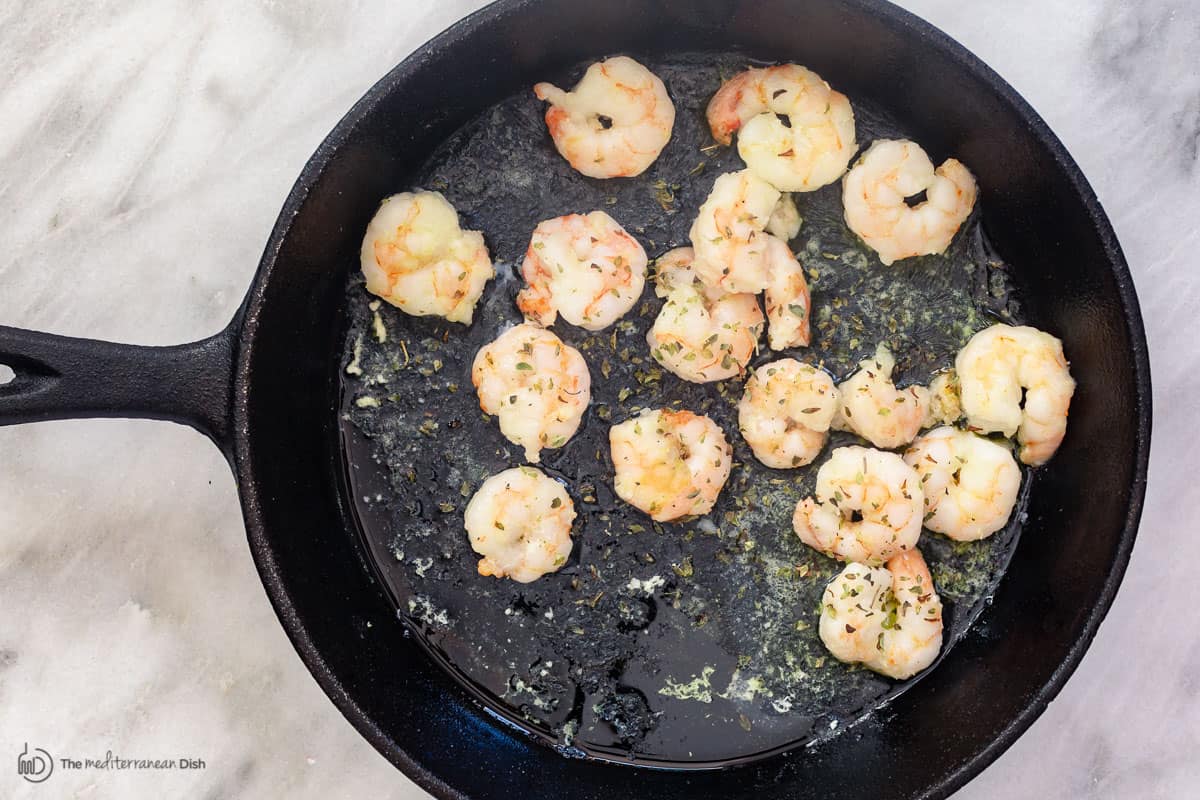 Step 2: Begin to build the soup
From there, you will take your favorite large soup pot, add a drizzle of extra virgin olive oil and begin sauteing bell peppers, onions, garlic with a bit of tomato paste. Add pinch of kosher sat and oregano. Lots of flavor building already!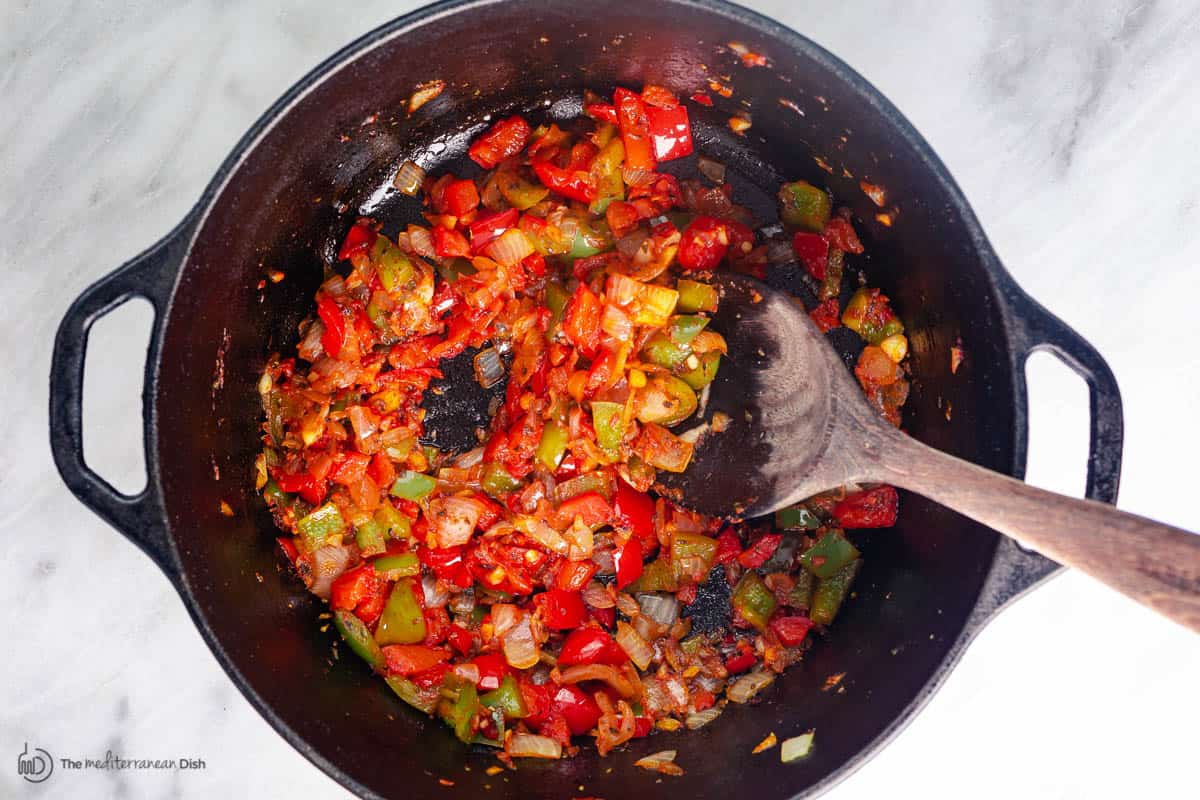 Step 3: Add liquid and bring to a simmer
Follow with broth and diced tomatoes (and by the way, if fresh tomatoes are not available, diced tomatoes from a can will work!)
Bring to a boil for 5 minutes. Add orzo (whole wheat for Mediterranean-diet friendly option.) Cook another 8 to 9 minutes until orzo is done.
Step 4: Finish with greens, seafood, and fresh lemon juice
To finish, stir in spinach, fresh parsley, dill, and lemon juice. Stir in shrimp and scallops that you had sauteed earlier. Give things about a minute for seafood to warm through. Transfer to serving bowls and enjoy! If you like heat, add a pinch of hot red pepper flakes!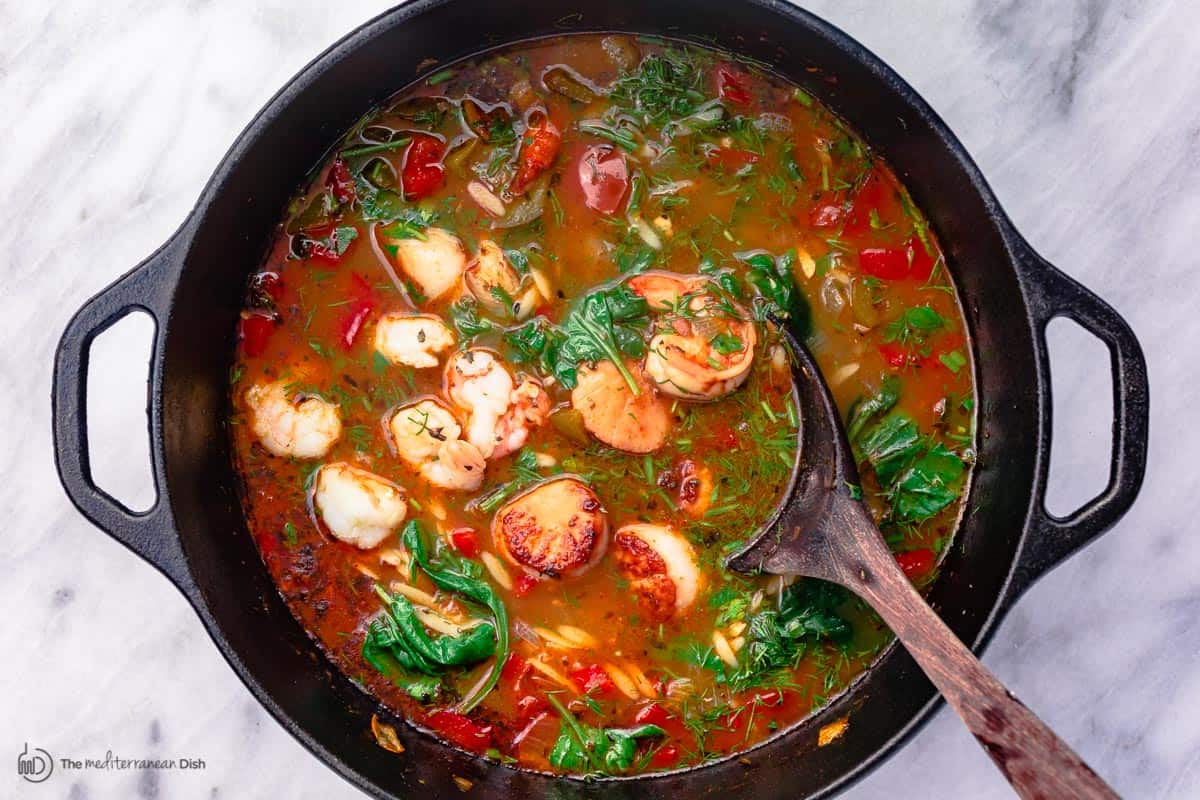 Mediterranean Shrimp Soup Variations
This Medierranean shrimp soup is wonderful as is, but if you want to make some changes, you totally can. Here are a couple of ideas!
1. Add fish
I mentioned earlier that I added a few scallops to this shrimp soup. You can also try adding other seafood options. While I definitely recommend keeping the shrimp, it would also be fun to add fish fillet as well.
If you'd like to add fish, don't be intimidated. You will want to pick a firm fish that can hold up to cooking in a soup.
To cook the fish in this shrimp soup, here is what you do:
Pat your fish dry, cut into smaller chunks, and lightly season with salt and pepper.
Gently insert your chunks of fish into the soup liquid – you will do this after you add in the orzo and the orzo has cooked for 4 minutes – cook the fish until opaque, about 4 to 5 minutes.
Finish the soup with fresh spinach, herbs, lemon juice etc. as indicated.
2. Swap Out Herbs and Veggies
Another easy swap is to switch up your herbs and veggies! Use what you have on hand or what looks fresh at the supermarket that week.
I used fresh green bell peppers and fresh diced tomatoes. You can also use yellow squash, frozen or fresh corn, peas, celery, or kale would be some delicious swaps or additions. Add the veggies early on with the onions and garlic and give everything a good saute as you start building the soup.
As far as fresh herbs go, you can also try cilantro, chopped chives, or a handful of basil to this easy shrimp soup.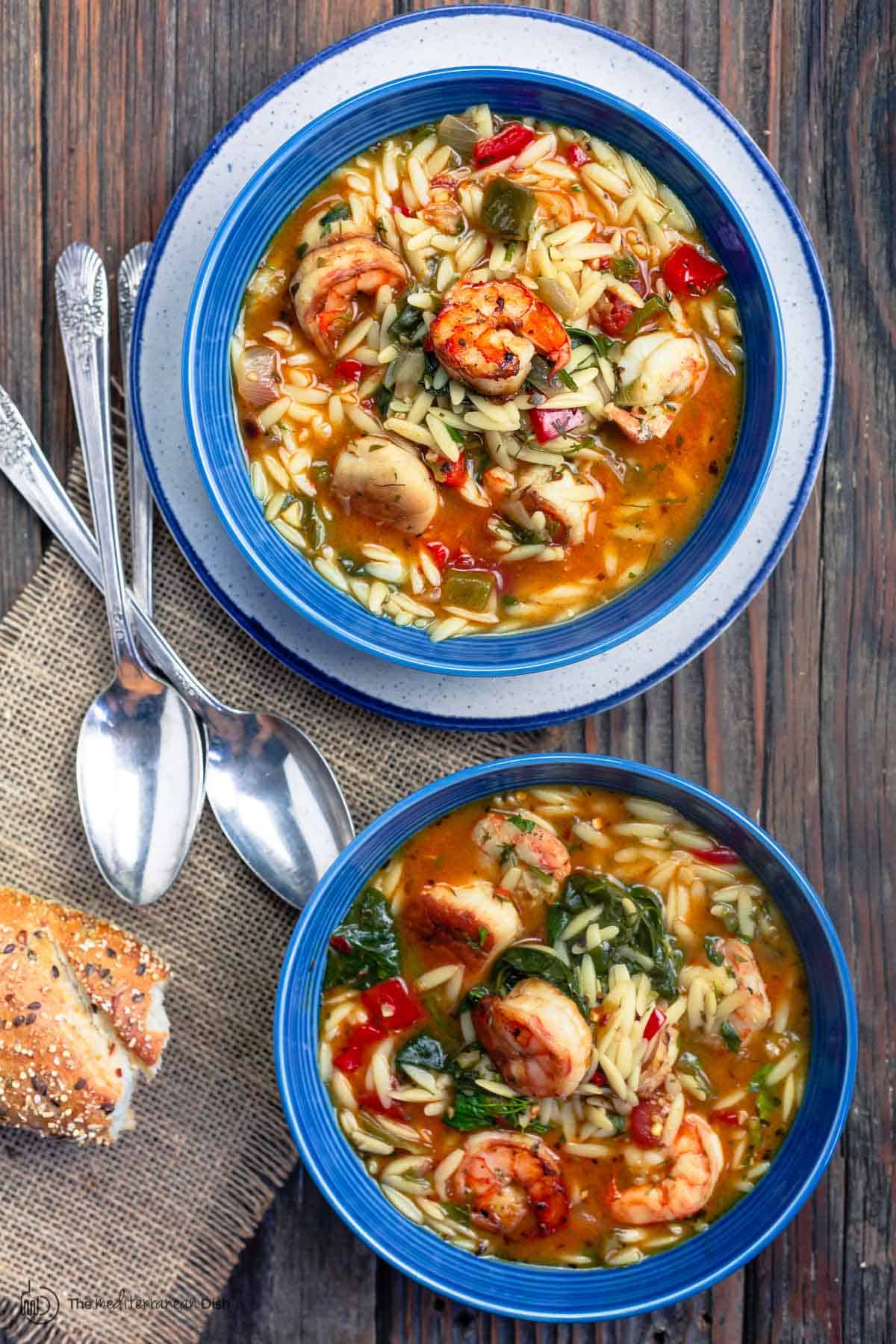 How long will this shrimp soup keep?
Whenever I make this soup, there is barley any leftover. But if you do end up with some, you can store it in the fridge in airtight glass containers for 2 days. I don't like to keep seafood in the fridge past this point.
When you are ready to heat it up, put the soup in a pot and heat over medium heat until warm. You may like to add a little more broth if the orzo had absorbed most of it. It may help a bit to remove the shrimp from the soup while it heats, then stir it in last minute to avoid overcooking it. Don't let the soup simmer too long, or you will overcook the shrimp (or other seafood you may have used.)
Find more Mediterranean fish and seafood recipes here. Definitely check out our Mediterranean diet recipes. For all recipes, visit us here.
NEVER MISS A RECIPE! JOIN MY FREE E-MAIL LIST HERE.
SHOP OUR ONLINE STORE FOR QUALITY OLIVE OILS, ALL-NATURAL SPICES AND MORE.
Print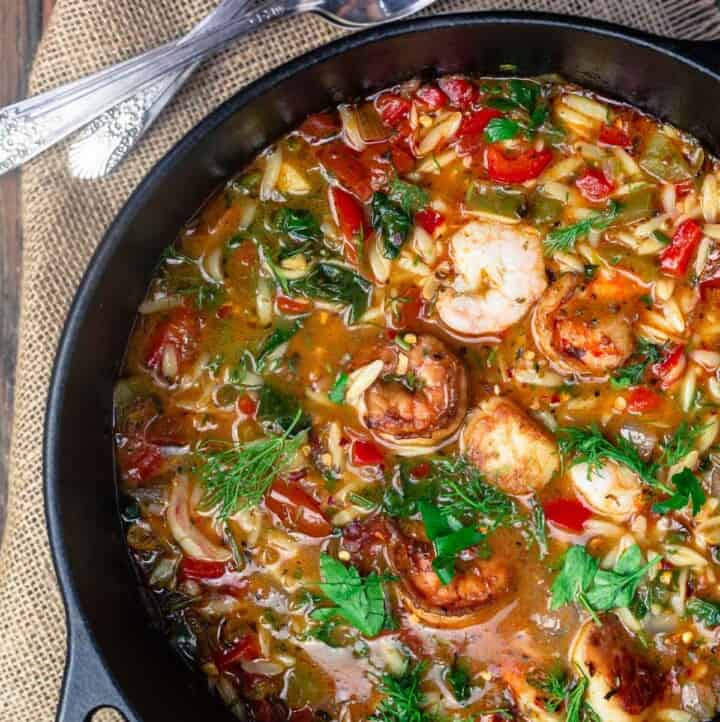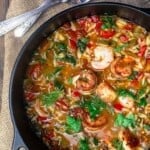 Mediterranean Shrimp Soup
---
Description
You'll love this quick and easy Mediterranean shrimp soup with vegetables, aromatics, and fresh herbs, including parsley and dill! Fresh lemon juice is the perfect finishing touch to this flavor-packed shrimp soup.
Be sure to read the post for tips and additional information.
---
8 oz

Sea Scallops, side muscles removed (optional)
Salt and black pepper
Extra virgin olive oil (I used Private Reserve Greek extra virgin olive oil)

1 ½

lb shrimp, peeled and deveined

1

green bell pepper, cored, chopped

1

red bell pepper, cored, chopped

1

medium yellow onion, chopped

6

garlic cloves, peeled, minced

3 tbsp

tomato paste

1 tbsp

dried oregano, divided

7 cup

low-sodium broth (vegetable or chicken)

3

large tomatoes, diced (canned diced tomato will work as well)

1 cup

orzo pasta (whole wheat pasta preferred)

6 oz

baby spinach

1 cup

chopped fresh parsley leaves

1 cup

chopped fresh dill, stems removed

1

lemon, juice of
Crushed red pepper flakes, optional
---
Instructions
If using scallops, pat them dry and season with salt and pepper.
In a cast iron skillet, heat 1 tablespoon olive oil over medium-high heat until shimmering. Gently add the sea scallops. Sear for about 1 ½ minutes on each side. Scallops should form a golden brown crust. Sprinkle a large pinch of dried oregano. Transfer to a dish and set aside for now.
To the same cast iron skillet, add a little more extra virgin olive oil if needed. Again heat over medium-high until shimmering but not smoking. Add the shrimp; sear for about 2 minutes on both sides. You want to see some pink, but don't worry about fully cooking it (you will finish cooking it in the soup.) Remove from the heat and sprinkle a generous pinch of dried oregano.
In a medium heavy cooking pot, heat 1 tablespoon extra virgin olive oil on medium-high. Add the chopped peppers, onions, garlic, tomato paste, salt and the remaining dried oregano. Cook for 5 minutes, stirring occasionally.
Add the vegetable broth and bring to a boil. Add the diced tomatoes. Cook on medium-high for 3-5 more minutes.
When the liquid returns to a boil, add the orzo pasta. Turn heat down to medium and cook for 8 minutes until orzo is tender.
Stir in the baby spinach, parsley, dill, and lemon juice.
Finally, stir in the scallops and shrimp to warm through (about 1 to 2 minutes.) Taste and adjust seasoning to your liking. Add crushed red pepper flakes for some heat, if you like. Serve with your favorite crusty bread.
Notes
Shrimp Soup Variations: You can make a few changes to this recipe such as adding a fish of choice. I like cod, halibut or sea bass fillet. Cut the fish into smaller chunks and add it into the soup about 4 minutes or so after you add the orzo, and let the fish cook for 4 to 5 minutes until firm, then finish the soup as indicated. You can also change up the herbs (basil and chives will work well.) Use additional veggies like diced zucchini or yellow squash (you'll want to add those earlier with the bell peppers, onions and garlic.)
Leftovers and Storage: If you end up with leftovers, keep refrigerated in a tight-lid glass container for 2 days. When it comes to seafood, best to eat fresh. To reheat, you may need to add more broth to the pot as the orzo will have likely absorbed a lot of the liquid. Heat on stovetop over medium heat till warmed through. It may help a bit to remove the shrimp from the soup while it heats, then stir it in last minute to avoid overcooking it. Don't let the soup simmer too long, or you will overcook the shrimp (or other seafood you may have used.)
Recommended for this Recipe: Our Private Reserve Greek extra virgin olive oil (from organically grown and processed Koroneiki olives!)
Visit our shop to browse our spices, olive oils and bundles!
Prep Time:

10 mins

Cook Time:

25 mins

Category:

Entree

Method:

Stove-top

Cuisine:

Mediterranean
Keywords: Mediterranean shrimp soup, shrimp soup,
*This post first appeared on The Mediterranean Dish in October 2016 and has recently been updated with new information and media for readers' benefit. Enjoy!