Aleppo pepper, also known as halaby pepper, is made of deep red, mild chile flakes with a complex flavor – fruity, tangy, and a tiny bit spicy all at once! A dash of our Aleppo-style pepper is all it takes to elevate everything from chicken, fish, and eggs to dips, grilled vegetables, and more! (Check out the ideas below.)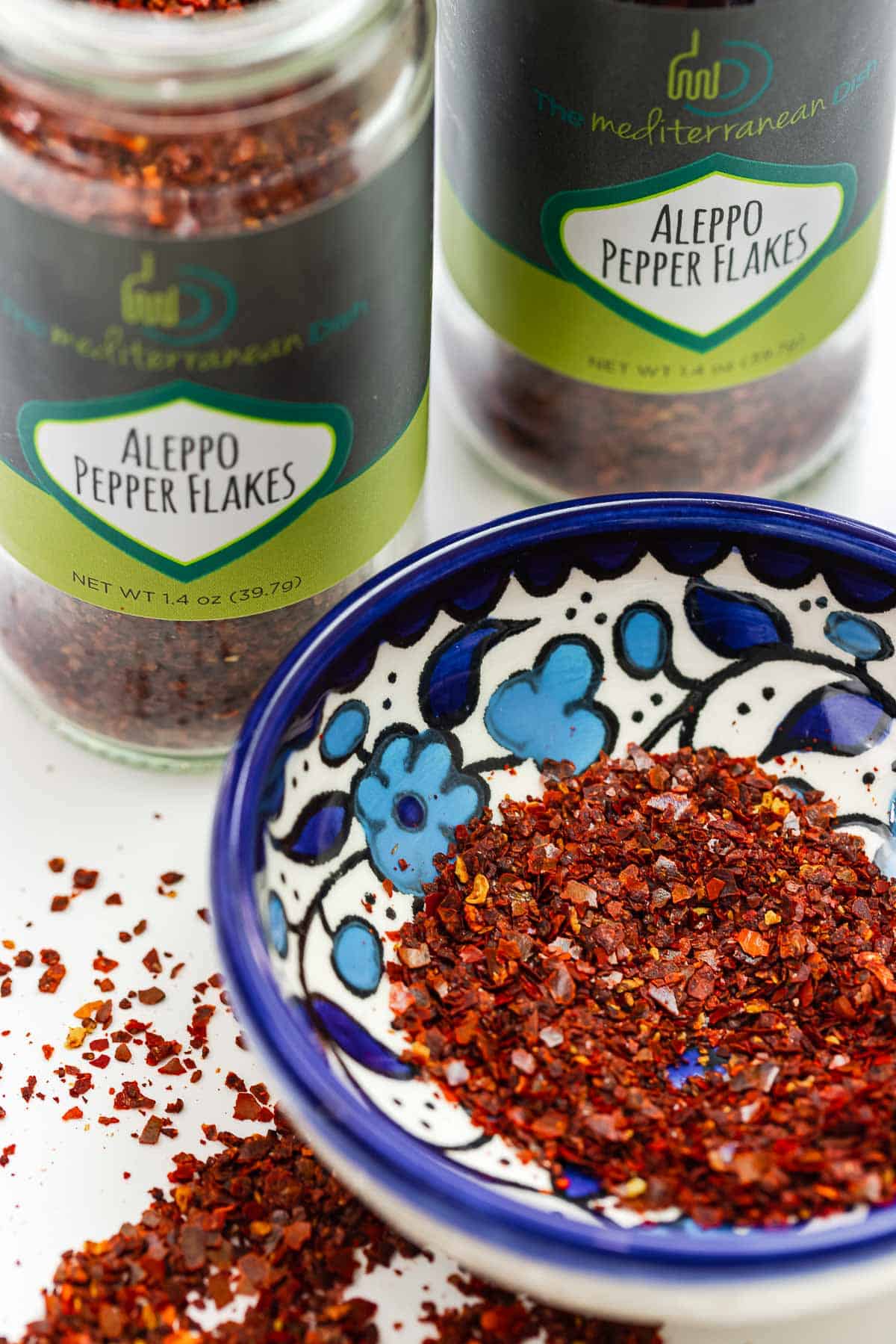 Aleppo pepper is one of the most versatile seasonings in my Mediterranean pantry, and it's one I reach for almost on a daily basis be it to flavor a marinade for some chicken, to season a summer salad, or even to jazz up snacks like popcorn and grilled watermelon (oh, have you tried that yet?).
Every so often, I get to highlight a special pantry ingredient. Earlier, I wrote a little guide about extra virgin olive oil, and today we dive into everything you need to know about Aleppo pepper. And I promise, once you start using it, you'll come back for more of the delicious burgundy-hued chile flakes!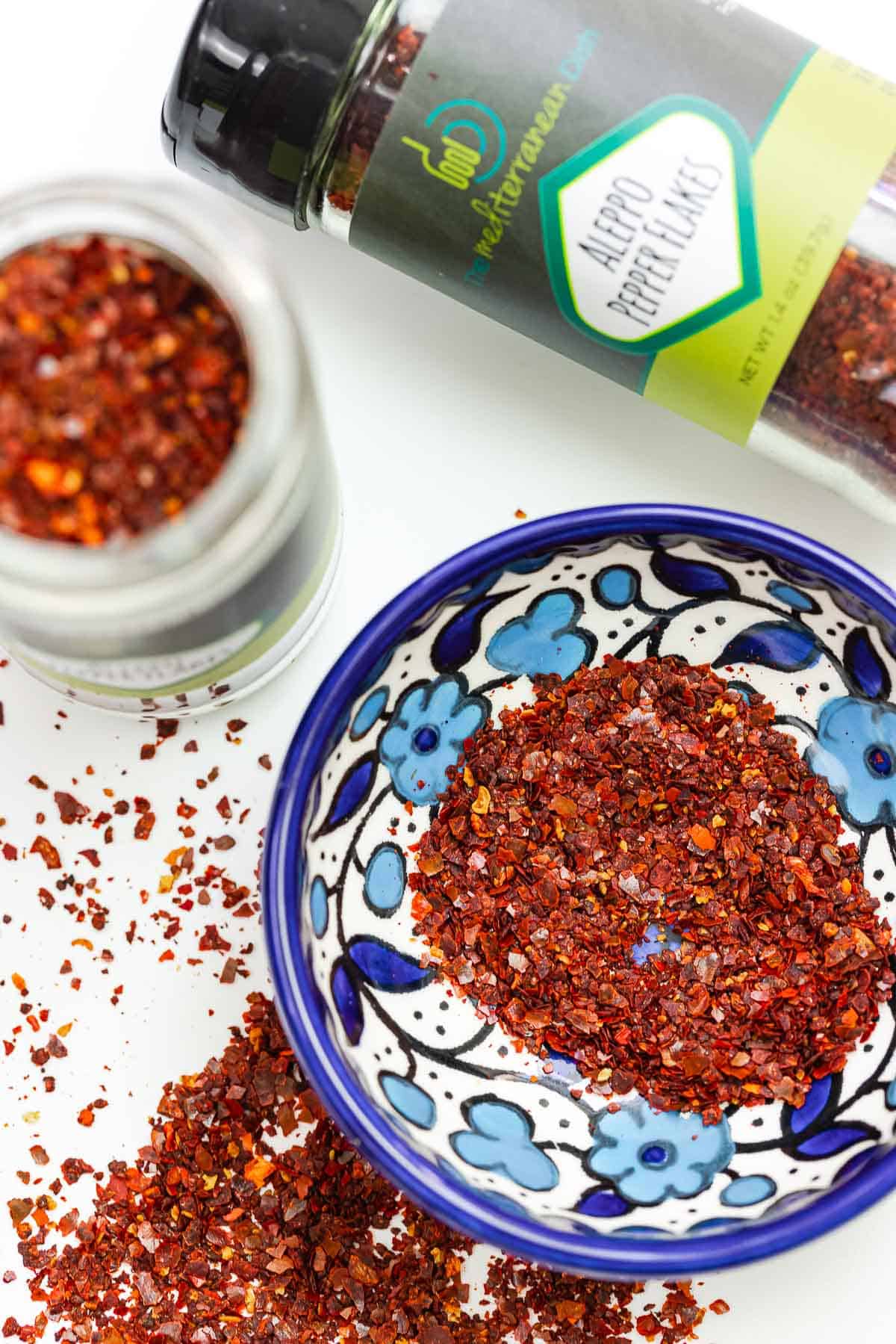 What is Aleppo pepper?
Aleppo pepper is made from deep red Halaby chile peppers, which hail from Syria. Unlike other chile pepper flakes, it is fairly mild, slightly tangy with a fruity finish that is akin to sundried tomatoes. The spice is named for the Syrian city of Aleppo, where the peppers were once grown in abundance. Now, however, the chile peppers are mostly grown in Turkey, some using Syrian seeds.
How are Aleppo pepper flakes made?
Once ripe, the naturally oily peppers are cut lengthwise, de-seeded, and then partly dried in the sun. Then, they're coarsely ground and mixed with salt and olive oil. Lastly, the pepper flakes are allowed to dry completely before being packaged.
Once processed and packaged, the pepper flakes have a rich, deep red color, very similar to the color of sumac, in fact! The coarse pepper flakes might look a little oily, and this is normal because Halaby peppers are slightly oily, plus they've been finished with olive oil.
Where to buy it
You can find my favorite Aleppo pepper flakes via our online shop here. our Aleppo-style pepper is an all-natural seasoning, fresh and bold-flavored, and you'll love the mild heat and subtle tangy-sweet flavor that gives off hints of raisins or, like I said earlier, sun-dried tomatoes!
Unless you're lucky enough to find some at a trusted grocer near you where the spices haven't been sitting on the shelf too long, you'll want to grab a bottle of our Aleppo-style pepper (or get it with our exotic 6-pack).
How hot or spicy is it?
Aleppo pepper is not the same as red pepper flakes. If you taste a little Aleppo or halaby pepper, you'll find it mildly spicy–it has a little kick, but it is not at all unbearably hot like other chile peppers. (For reference, it is about half as spicy as other red pepper flakes you have in your spice cabinet.) It's also slightly sweet and tangy with a pleasant fruity aroma and subtle hints of cumin and vinegar. This makes halaby pepper such a complex spice that is pleasing to most palates, especially since its heat won't make you tear up.
While other chile peppers such as cayenne are primarily used to add heat, Aleppo-style pepper flakes are more of a flavor enhancer, kind of like salt. It's the perfect way to add a little something special to your meals.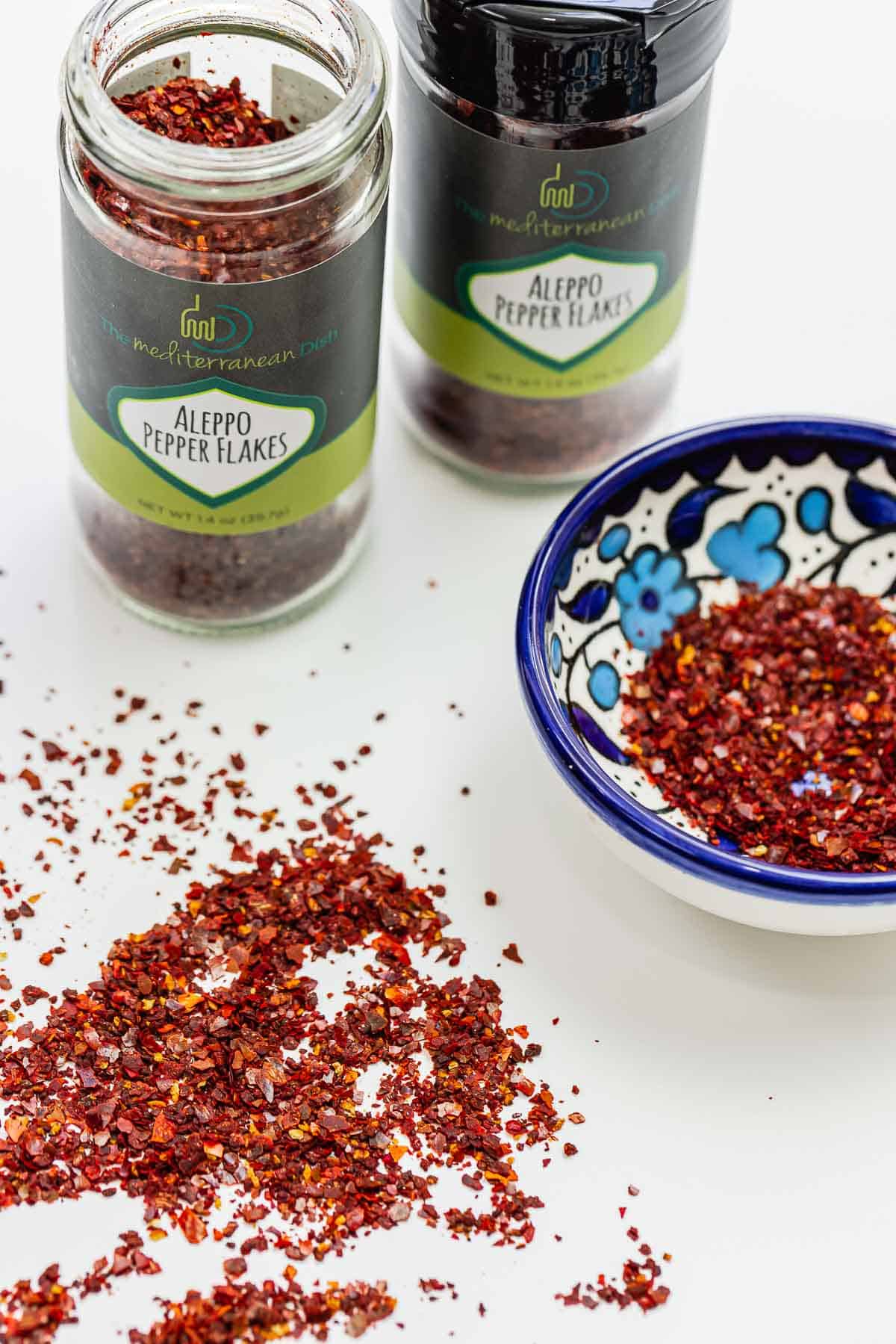 What can I do with Aleppo pepper?
Aleppo chili pepper is one of the most versatile ingredients in my Mediterranean pantry. With its robust, multi-faceted flavor, it brings so much depth!
It adds a nice kick when used to season grilled chicken wings, and it adds color and a slightly zesty, sun-dried tomato type of flavor to marinades. I also love using it as a simple finishing touch on appetizers and dips (especially Muhammara dip – it's a key ingredient!). Just a pinch adds an effortless "wow" factor!
A few favorite Aleppo pepper recipes to try
When trying out a new spice, it can be confusing to figure out how to use it. So, I put together a short list of a few of my favorite recipes that use Aleppo pepper flakes. But there are loads more on the site, too. Just use the Search function to find more tasty recipes!
Chicken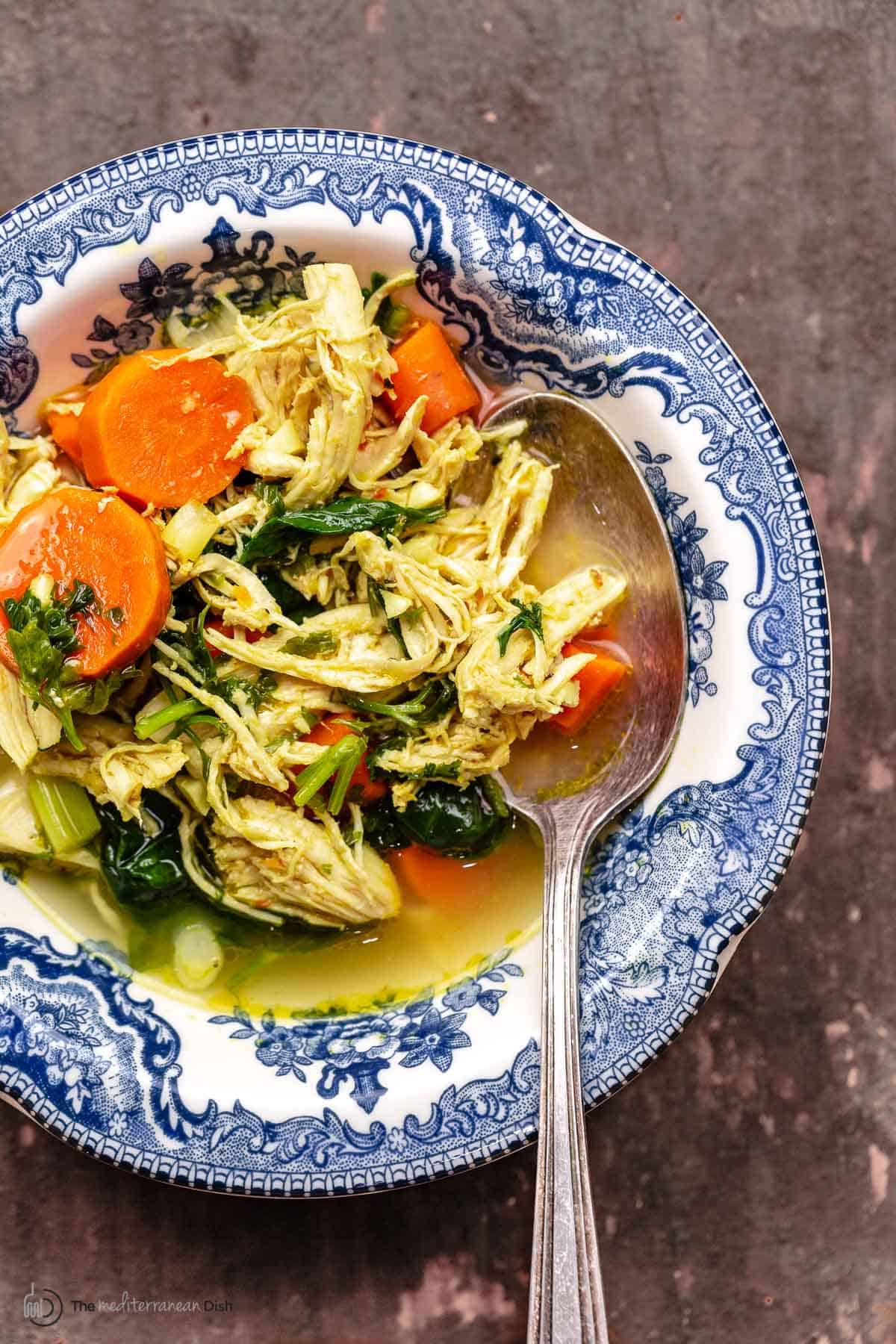 Vegetarian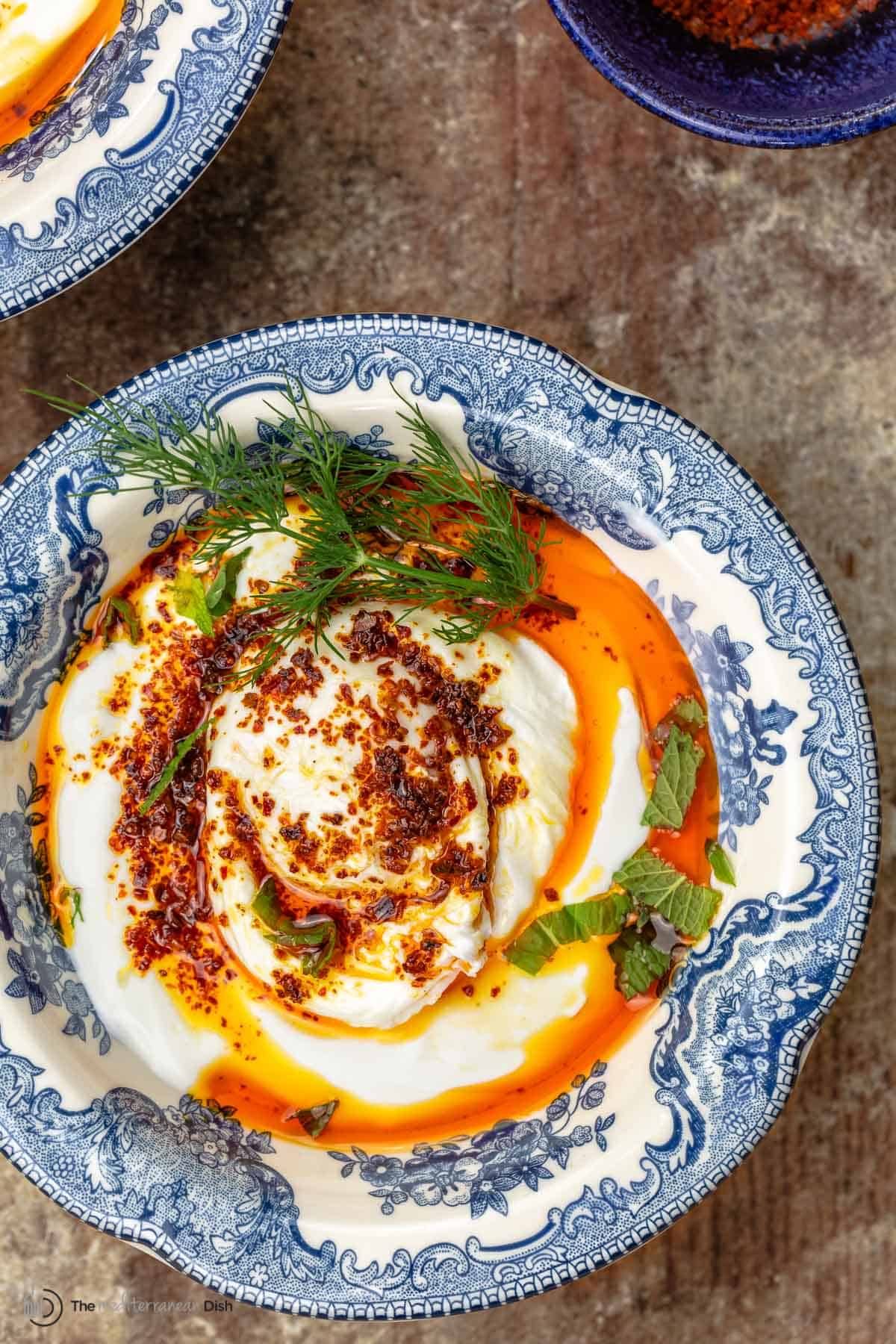 Fish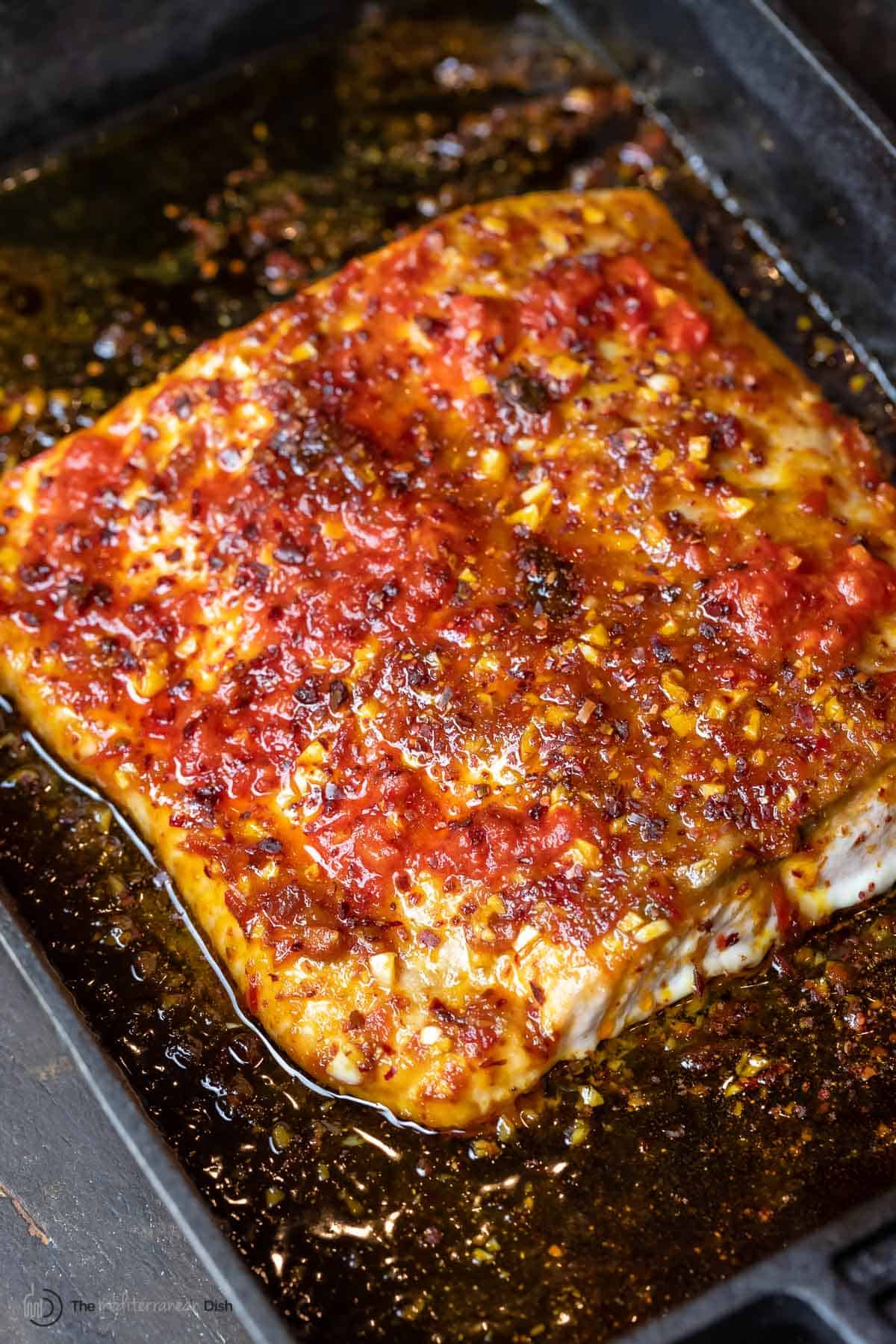 Dips and sauces
Muhammara (Roasted Red Pepper Dip) - Aleppo pepper is a key ingredient in this savory, smoky, slightly spicy dip.
Whipped Feta Dip - I love adding a generous dash of Aleppo pepper at the end to add vivid color and an extra kick of flavor.
Baba Ganoush - Aleppo-style pepper flakes add a very subtle heat to this smoky eggplant dip.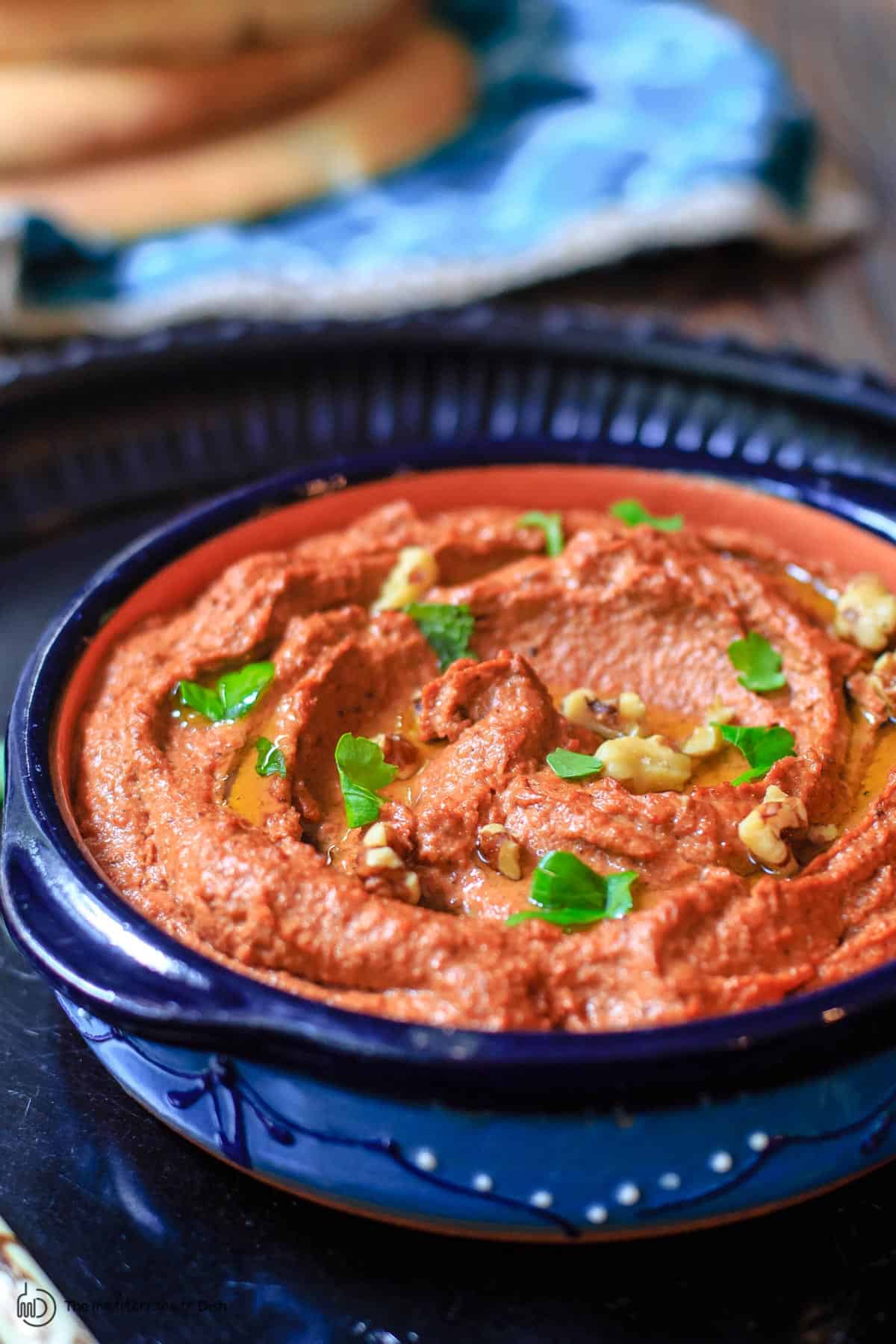 Aleppo pepper substitute
Because it is such a complex pepper, substituting it can be a little difficult. But if you must use something else, I have a couple of options.
For a DIY version, the best substitute for Aleppo pepper is a mixture of sweet paprika and cayenne pepper. Since Aleppo pepper has a mild heat, use about 4 times as much paprika as cayenne pepper. You can then add more cayenne if you need more of a kick.
I've also seen people use a mixture of red pepper flakes, cumin, and salt. This is a good option if you are looking for more earthy flavor and heat. Its Turkish cousin, Urfa biber, is another great substitute. You can read all about Urfa biber in our guide, and source it from our shop.

You could also try Marash or Antebi peppers instead, which are probably the closest substitutes. Both hail from Turkey, with Marash peppers carrying more heat and smokiness than Aleppo-style pepper, and Antebi being milder and fruitier. They aren't widely available, though, and can be tricky to find.
Storage tips
Like other spices, when stored properly, Aleppo pepper can last for about 3 years! Store it in an airtight container away from light and heat – an unheated pantry is a fantastic option.
If you don't use it very often, consider storing the crushed peppers in your freezer. This will extend its shelf life beyond 3 years.
You may also like
Visit Our Online Shop to find this spice and more quality Mediterranean ingredients!