Easy Pan Seared Sea Bass Recipe, flavored Mediterranean-style. Don't skip the garlic and bell pepper medley on top! This is  a quick and healthy weeknight meal (low-carb, low-calorie, and gluten free!)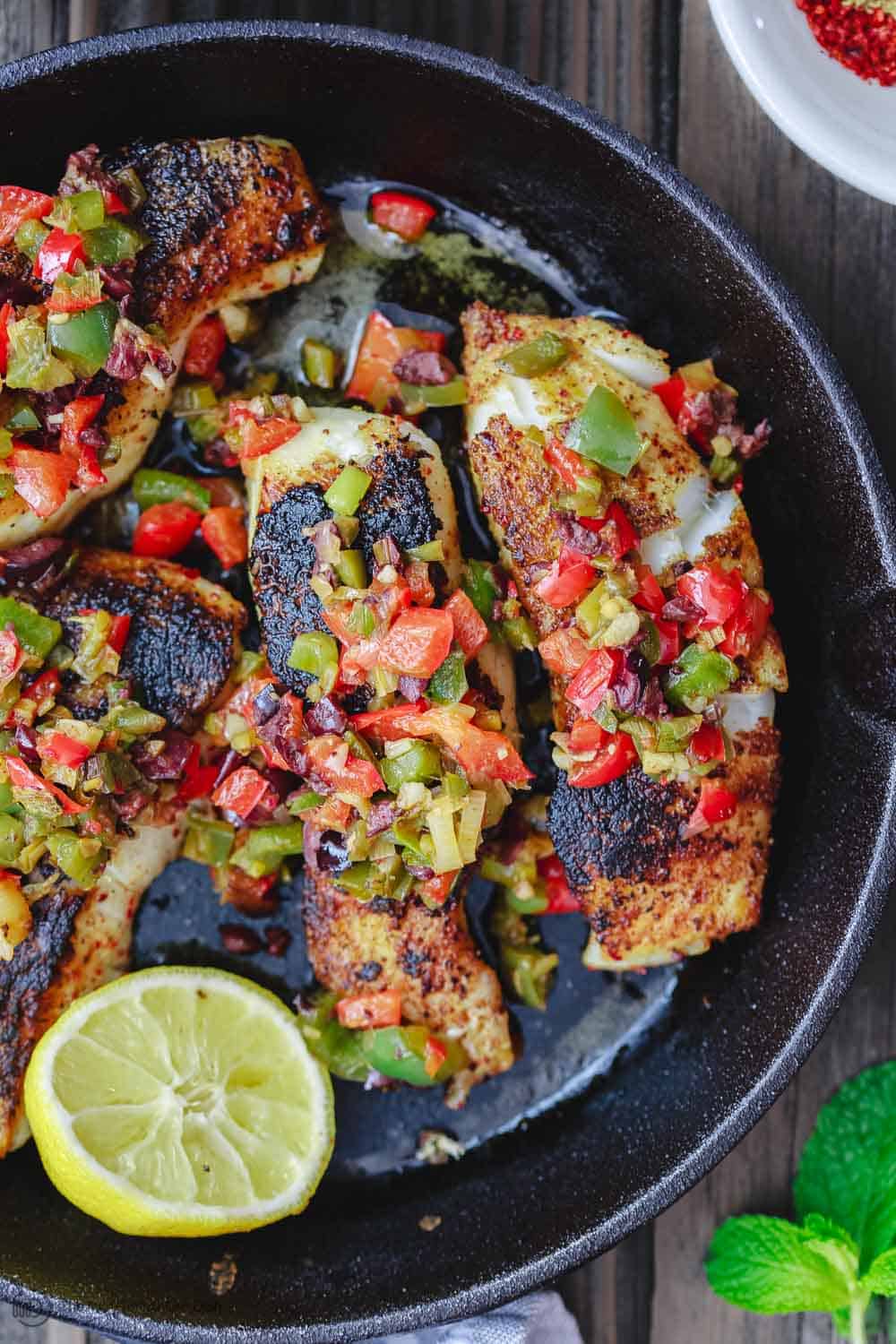 The other day, I went to check out the fish selection at my local grocery store, initially looking for salmon to make my baked salmon with garlic-cilantro sauce. I was excited to find sea bass, which I hadn't seen in a while!
It didn't take long for me to switch sides, deciding in favor of this easy pan seared sea bass recipe as a quick weeknight meal.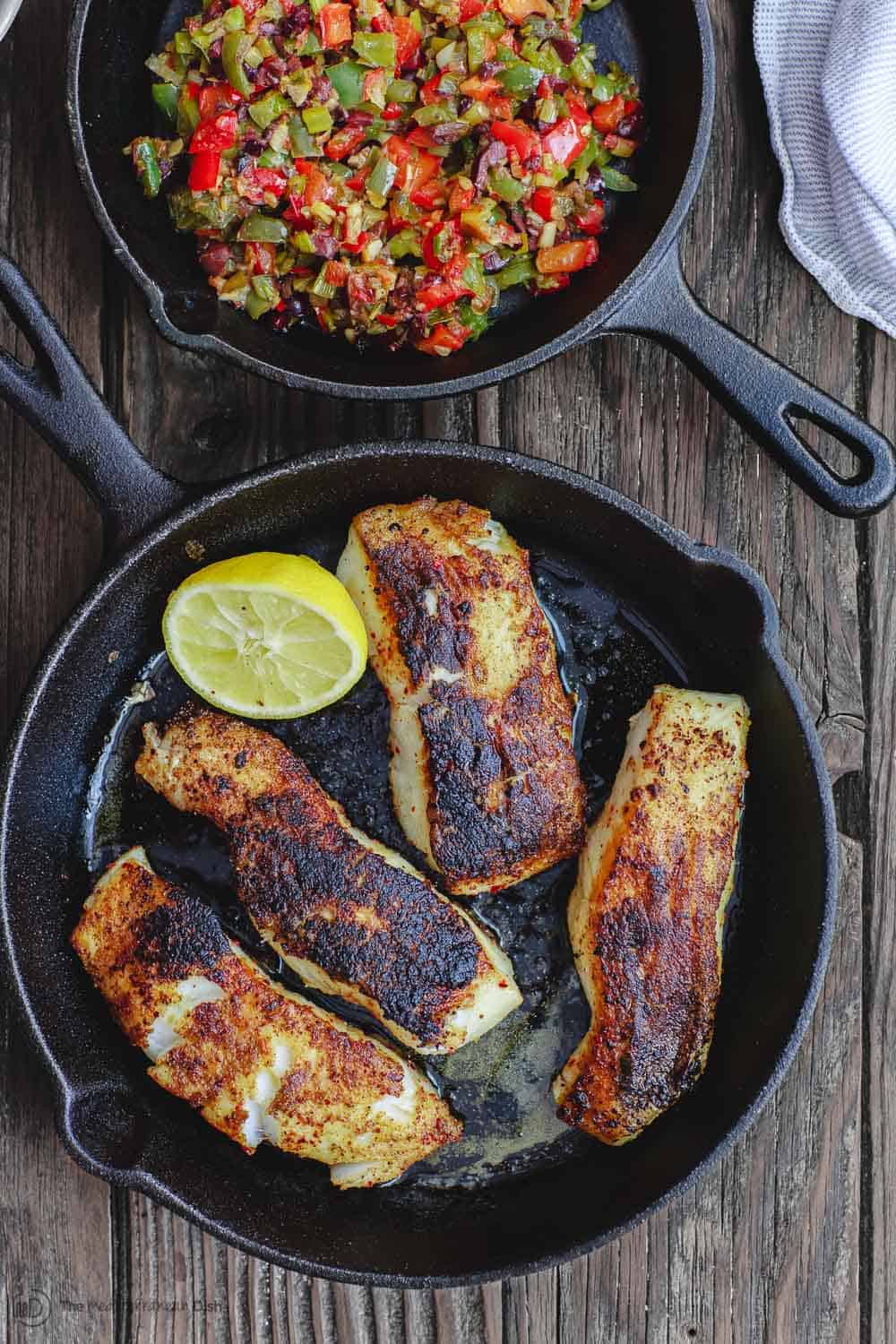 Sea bass is apparently such a broad family, and white sea bass is actually a type of fish called a Drum, which not technically/scientifically a bass.
But, to this eater, what matters is that it's one of my favorite fish. It's white-fleshed. Meaty. Moderately low in fat. And mild-tasting, which makes it the perfect flavor carrier.
Why this Pan Seared Sea Bass Recipe Works
Other than the fact that it's a quick cooking method, the object of pan-searing here is to produce a flavorful crisp exterior, which acts as a little barrier allowing the fish to remain tender on the inside as it cooks.
I always prefer a large cast iron skillet (or a pan made of a heavy-gauge metal) which does well in transmitting heat evenly.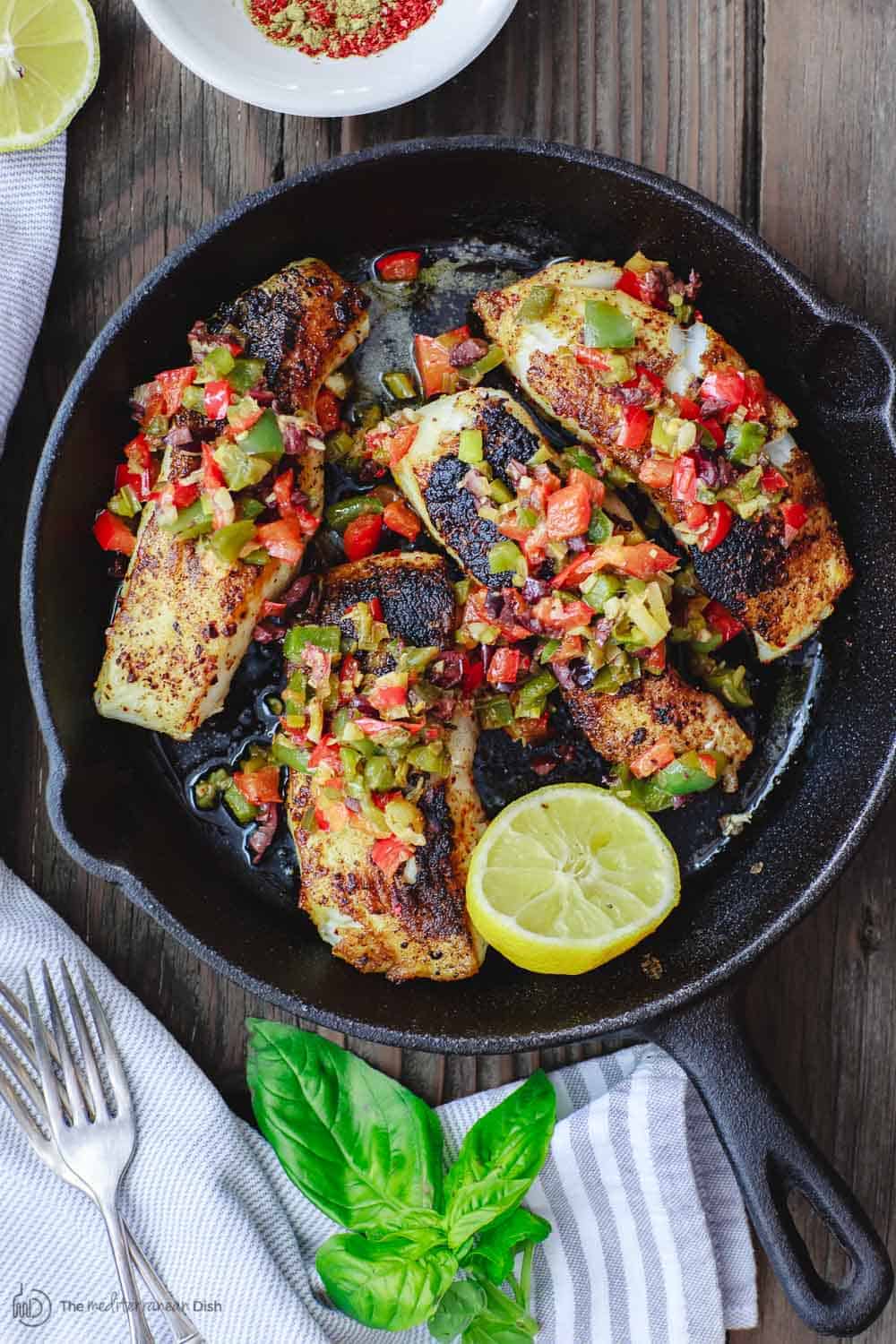 No surprise to you, before searing in olive oil, I first gave the sea bass a quick coating of Mediterranean spices–ground coriander, cumin, and sweet Aleppo pepper. The spice mixture imparted flavor and acted as a thin crust to my skinless sea bass fillets.
What to serve with this sea bass recipe
My part-Italian, part-Greek addition here is a bright garlic and bell pepper medley.  Not just a pretty embellishment, trust me. The sweet peppers, combined with the salty Kalamata olives are the tastiest compliment in this sea bass recipe.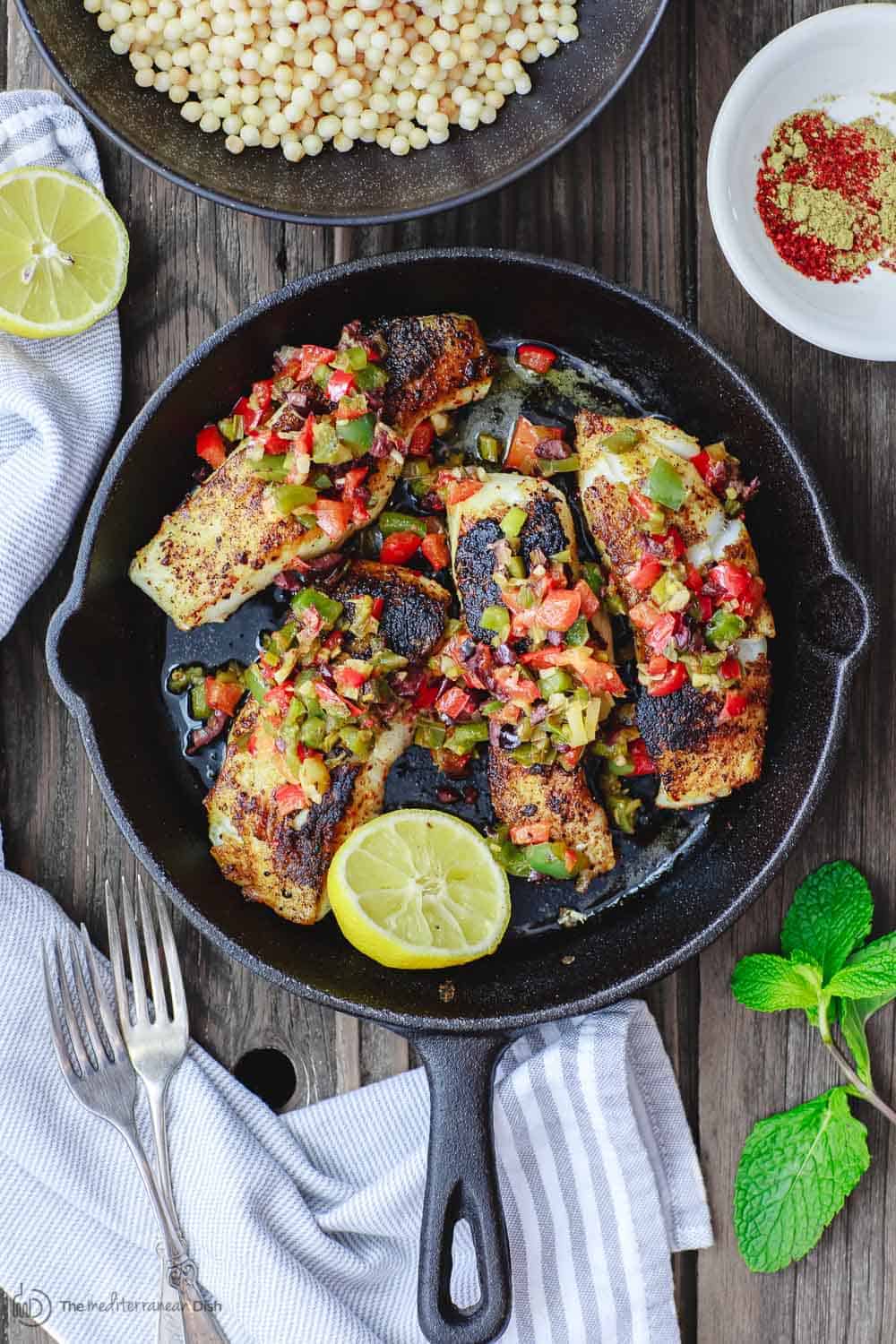 I served this sea bass and pepper medley with plain pearl couscous. But it's also wonderful with this Lebanese rice. I'm not shy about adding yet more color in the form of fattoush salad to start.
One last note, if sea bass is not available to you, you can use halibut or cod fillet instead.
Print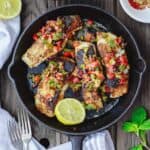 Mediterranean Pan Seared Sea Bass Recipe with Garlic Bell Pepper Medley
---
Author:

Prep Time:

15 mins

Cook Time:

20 mins

Total Time:

35 minutes

Yield:

4
More Recipes to Try
One-Pan Baked Halibut with Vegetables 
Greek-Style Baked Cod with Lemon and Garlic
Mediterranean Power Grain Bowls Recipe