Creamy whipped labneh dip, topped with a warm olive oil sauce, plump cherry tomatoes and delicious, briny Pearls Olives. This crowd pleaser takes 10 minutes or less to make, but it will go even faster!
This post is sponsored by Pearls Olives. All opinions are my own.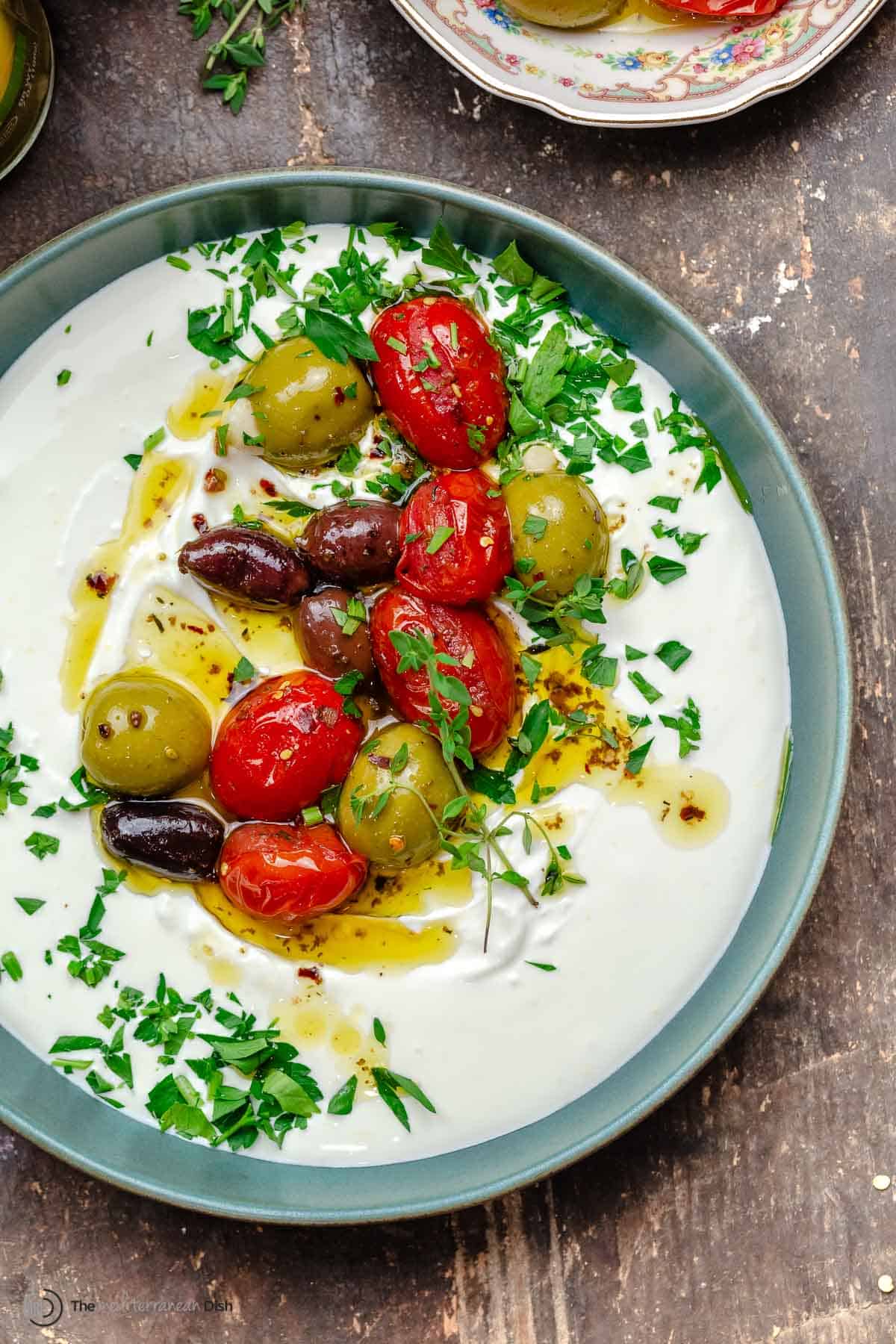 Mediterranean whipped labneh dip, the new favorite party dip!
If you're looking for another quick, no-stress appetizer or party dip, that will wow everyone's tastebuds like my baked brie with jam, you've come to the right place!
Homemade labneh is whipped to fluffy perfection with zesty lemon, then topped with a warm, garlicky, somewhat spicy olive oil sauce with tomatoes and two kinds of my favorite Pearls Specialties Olives (crunchy garlic-stuffed green queen olives and Greek Kalamata olives).
I was first turned on to the idea of warmed olives at a local Italian pizzeria where they serve woodfire-baked olives as an appetizer. Brilliant on their own, but even better when I tried them on top of labneh (or a very thick and creamy Greek yogurt of your choice).
This festive, next level labneh dip takes less than 10 minutes to put together, but let me tell you, it will be devoured even faster!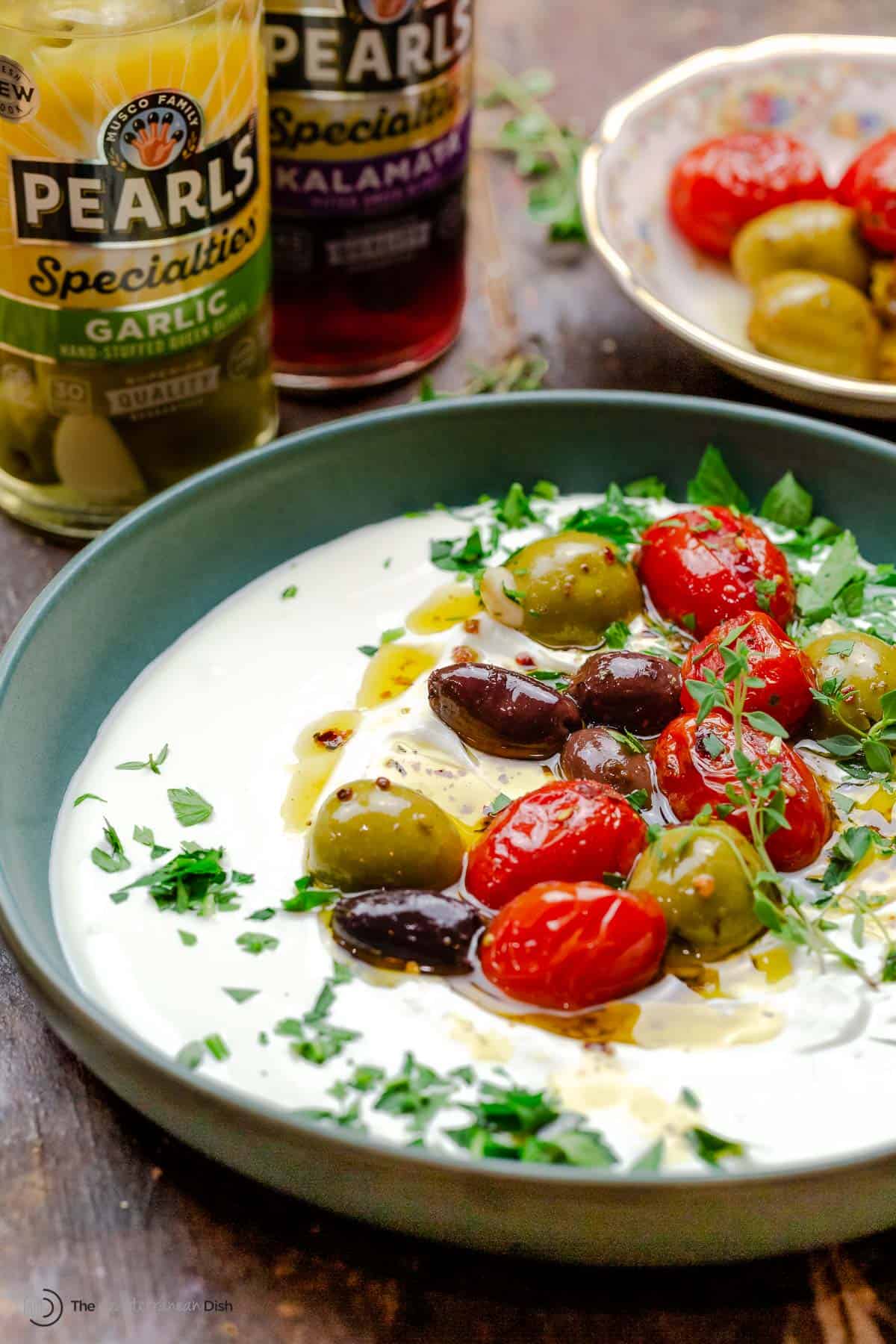 You all know I'm obsessed with homemade labneh, which really takes only two ingredients to make: yogurt and salt. But if you want to try this recipe with store-bought labneh or even a quality really thick Greek yogurt it will work! The topping is what makes it extra special.
Pearls Olives over labneh!
For this labneh dip recipe, I reached for my stash of Specialties Pearls Olives. I love Pearls Olives because they're always so flavorful and firm. I wanted two different flavors in this recipe, so I used both the garlic hand-stuffed Queen olives, and pitted Kalamata Greek olives. The Queen olives are firm and crunchy, and the addition of garlic cloves means they're simply bursting with flavor. Pearls Specialties Kalamata Greek olives are buttery and have a wine-like, fruity flavor.
Combined with the creamy whipped labneh, the warmed olive oil with olives, tomatoes, and a dash of za'atar add depth of flavor and a beautiful festive look with very little effort.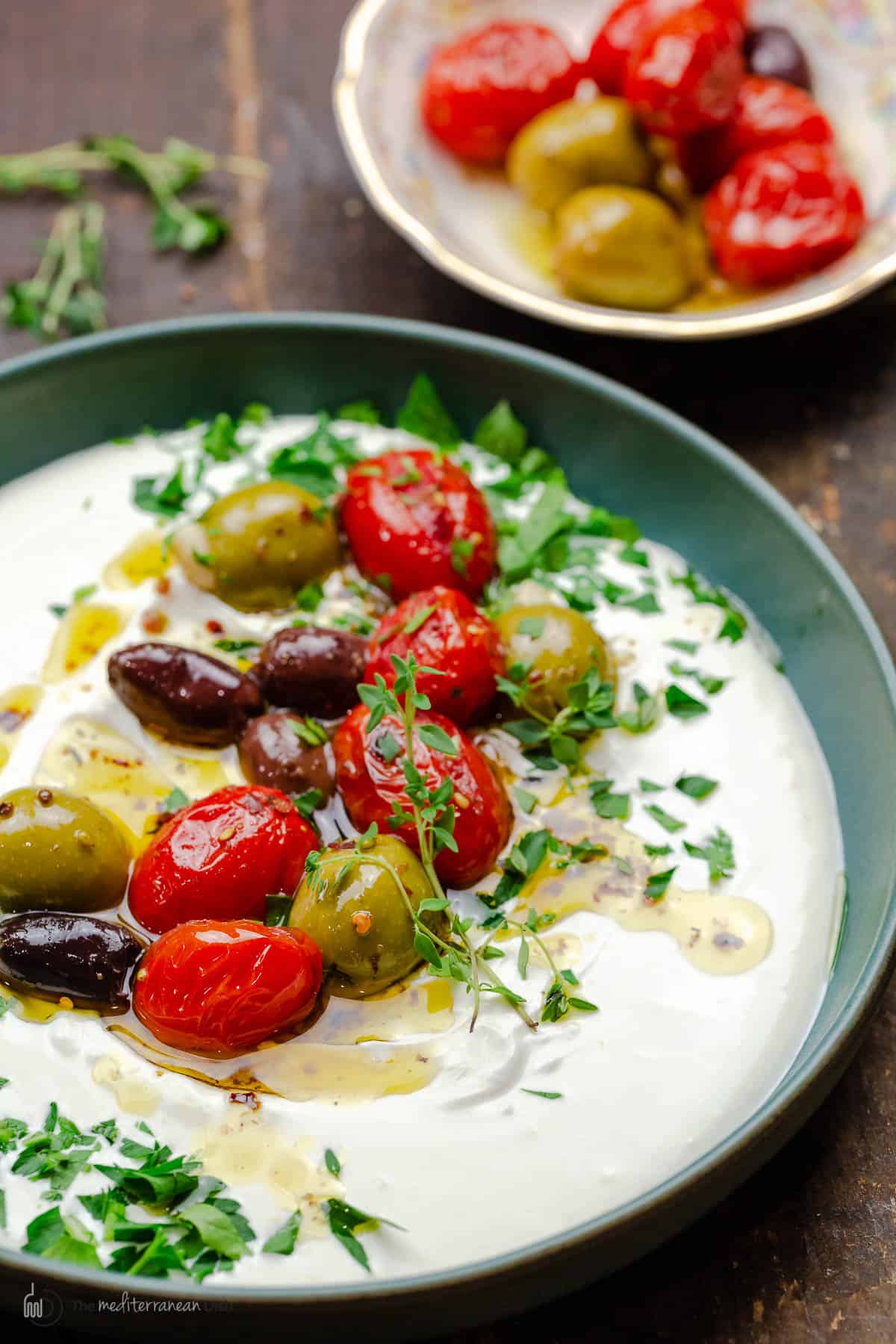 Ingredients you'll need to make this homemade dip
Labneh, homemade or store-bought
Lemon zest
Extra virgin olive oil
Fresh garlic
Fresh thyme
Cherry tomatoes
Za'atar
Crushed red pepper flakes
Pearls Olives (I used Specialties Garlic Stuffed and Kalamata, but feel free to use whatever olives you have on hand)
Fresh parsley, for garnish
How to make this whipped labneh dip with tomatoes and olives
This simple labneh dip takes three key steps to make:
Whip the labneh. Combine 2 cups of labneh with zest of one lemon and season with kosher salt. Whisk gently and drizzle just a little bit of olive oil until as you whisk until the labneh is creamy and fluffy.



Make the warmed olive oil, tomatoes, and olive sauce. In a skillet, warm about ⅓ cup of good extra virgin olive oil. Add some sliced garlic and fresh thyme and cook briefly over medium-low heat. (Garlic should be just golden). Remove the garlic and discard. Then, turn up the heat to medium and add the tomatoes and a good pinch of za'atar and red pepper flakes. Add the Pearls Specialties Olives (the garlic hand-stuffed queen olives and the Greek kalamata olives) and cook briefly until the olives are warm.



Assemble the labneh dip. Spoon the whipped labneh into a serving bowl and top with the warmed olive oil, tomatoes, and olives. Garnish with a sprinkle of parsley and more fresh thyme. Serve with your favorite crackers of pita chips!
Labneh vs. Greek yogurt
Homemade labneh is yogurt cheese that can be made ahead of time by straining plain whole milk yogurt until thick and creamy. If Greek yogurt is strained yogurt, then labneh is extra strained yogurt, if that makes sense.
Like I mentioned earlier, you can make this dip with quality, very thick Greek yogurt. Using Greek yogurt as a substitute for labneh in this recipe will have a different consistency, but the idea will still work.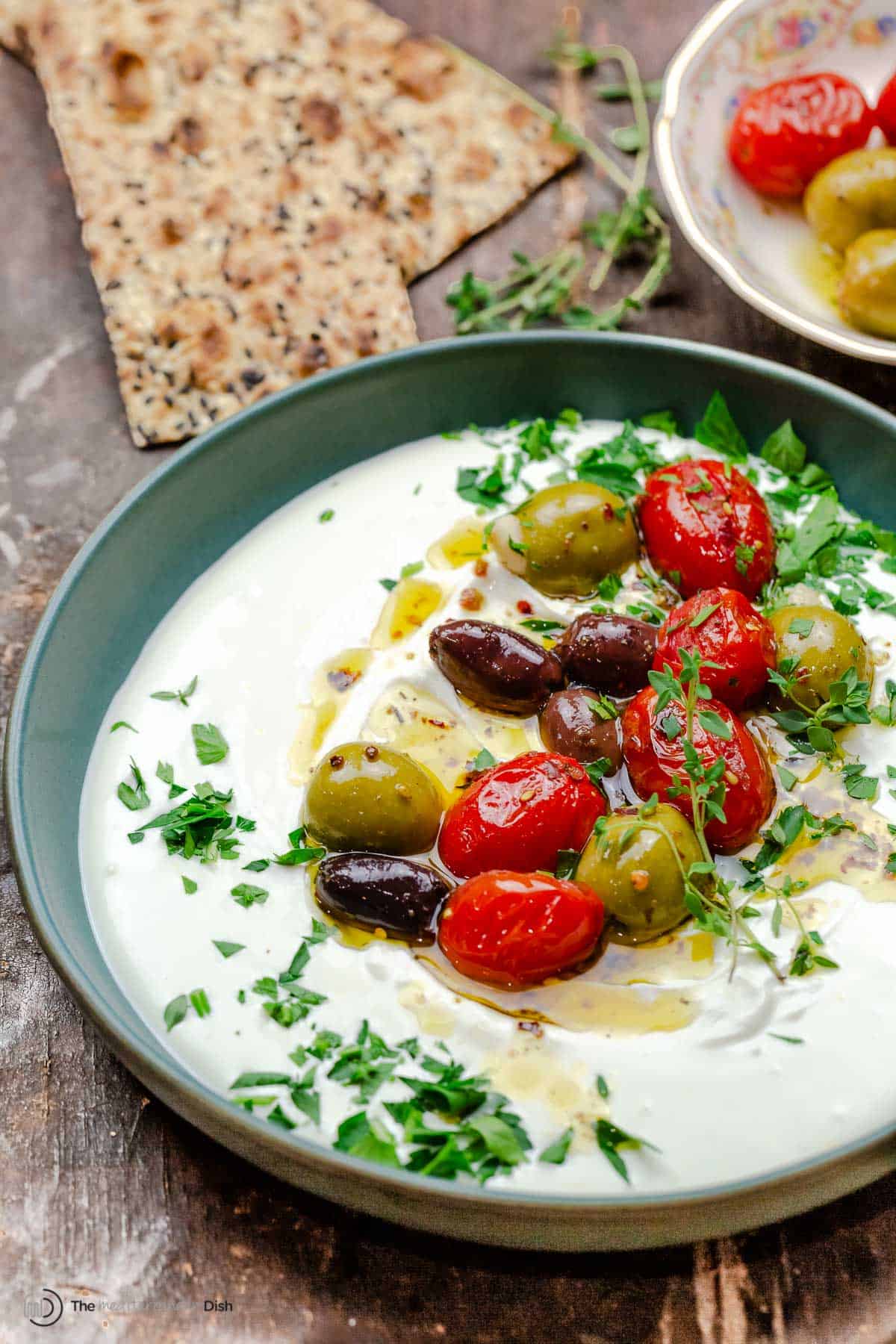 Leftovers and storage
Once dressed in the warmed olive oil sauce, this whipped labneh is best enjoyed immediately, but leftovers will keep in an airtight container for two to three days (vs. plain homemade labneh, which can be stored in the fridge for a couple of weeks).
More Mediterranean dips and sauces to try:
Hungry for more? Here are all our Mediterranean Recipes!
Whipped Labneh Dip Recipe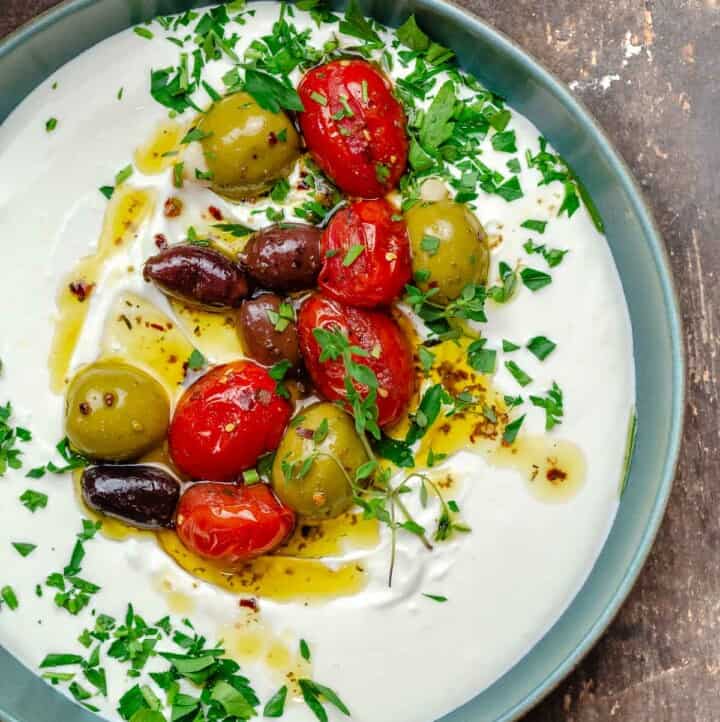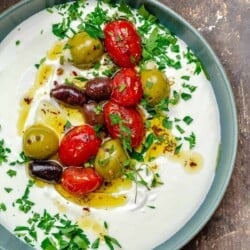 Creamy whipped labneh dip is a special appetizer that takes plain labneh to new heights. Dressed with a warm olive oil sauce with plump cherry tomatoes and Pearls Olives, this tangy dip is ready in just 10 minutes!
Ingredients
2

cups

labneh,

homemade or store-bought

zest of one lemon

Kosher salt

1

clove

garlic

2 to 3

sprigs fresh thyme

1

cup

cherry tomatoes

1

teaspoon

Za'atar

Crushed red pepper flakes

½

Cup

Pearls Specialties Olives,

I used Garlic Stuffed and Kalamata olives

Fresh parsley,

for garnish
Instructions
In a mixing bowl, combine the labneh and lemon zest. Season with a large pinch of kosher salt. Whisk gently, and as you do so, slowly, drizzle extra virgin olive oil (about 1 tablespoon). (The labneh mixture should be creamy and fluffy). Set aside or refrigerate for later.

In a small skillet, warm ¼ cup extra virgin olive oil over medium-low heat. Add the garlic and thyme sprigs. Cook for a brief minute, watching the garlic to turn just golden. Remove the garlic.

To the warmed oil, add the tomatoes to the skillet. Turn the heat to medium, watching for the tomatoes to burst a little as they cook. Season with za'atar and crushed red pepper flakes. Add the Pearls Specialties Olives and cook for 30 seconds or until warmed through.

Assemble the dip. Spread the whipped labneh in the bottom of a serving bowl. Top with the warmed olive oil, tomatoes, and olives. Finish with a sprinkle of parsley and more fresh thyme, if you like.
Notes
For best results, start with homemade labneh. Labneh can be stored in the fridge for up to 2 weeks. Quality store-bought labneh is okay to use also.
Labneh substitute. If you don't have labneh, you can also try a thick whole milk Greek yogurt instead.
Leftovers will keep once dressed with the spicy olive oil sauce with tomatoes and olives, this labneh dip is best enjoyed immediately. Leftovers will keep for 3 days or so in the fridge.
Visit Our Shop for quality Mediterranean ingredients including extra virgin olive oils and spices.
Nutrition
Calories:
61.7
kcal
Carbohydrates:
4.2
g
Protein:
7.2
g
Fat:
2
g
Saturated Fat:
0.3
g
Monounsaturated Fat:
1.3
g
Cholesterol:
3.3
mg
Sodium:
202
mg
Potassium:
158.3
mg
Fiber:
0.7
g
Vitamin A:
190.5
IU
Vitamin C:
6.4
mg
Calcium:
87.3
mg
Iron:
0.5
mg