Bold and comforting in the best way, puttanesca sauce is made of simple pantry staples including canned tomatoes, garlic, anchovies, olives and capers. Throw in some spaghetti for the perfect pasta puttanesca any night of the week!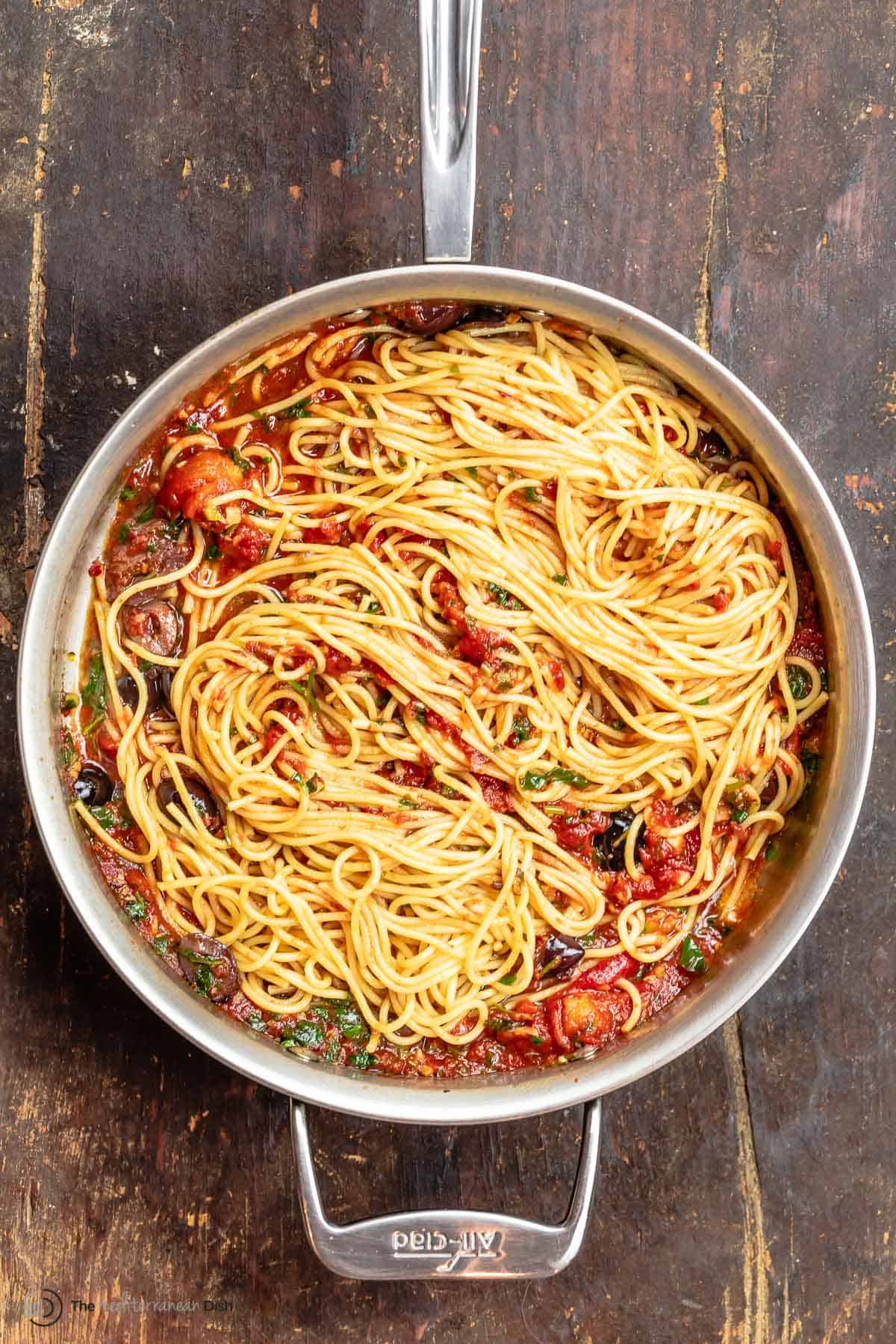 What is puttanesca?
Sugo alla puttanesca (or puttanesca sauce) is a Neapolitan pasta sauce dating back to the early 20th century, made with pantry staples like tomatoes, garlic, anchovies, olives and/or capers.
The word "puttanesca" literally translates to, "in the style of the prostitute," pointing to one of the theories of how this tangy sauce was invented by prostitutes to entice and lure potential clients in with its bold aroma. Tell me, are you blushing? Others think it was created by a chef who, for lack of fresh ingredients, was able to design this comforting dish with a handful of pantry items he had on hand.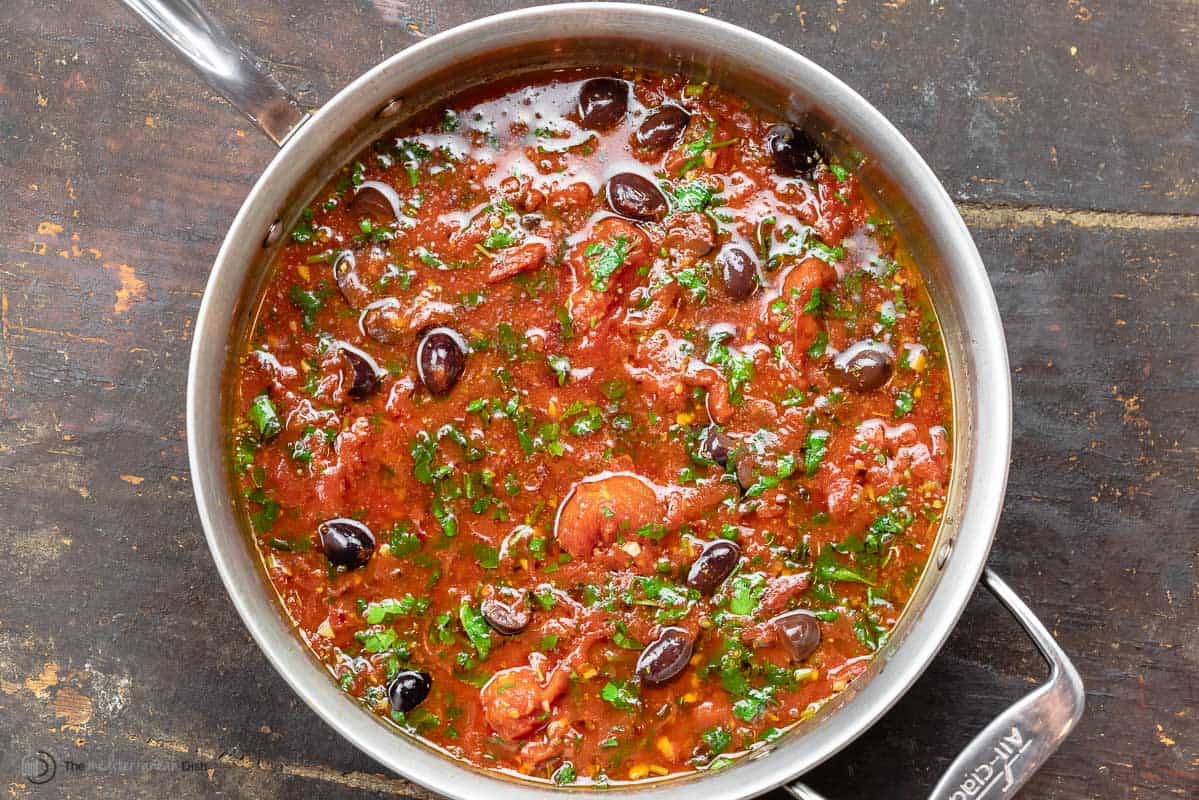 What's so special about puttanesca sauce?
While I love the added briny flavors from kalamata olives and capers in this tomato-based pasta sauce, I consider anchovies to be the secret ingredient. They're what distinguishes puttanesca from any other red sauce you may be familiar with.
To make puttanesca sauce, you'll start by warming some anchovies (anywhere from 4 to 8 fillets) in a bit of extra virgin olive oil. The anchovies melt in the oil to infuse the sauce with deep umami flavor. The sauce won't necessarily taste too strong or fishy, and you can start with less anchovy fillets if you're unsure. Four fillets add plenty of umami while still being quite subtle. But if you want the full effect, go for eight anchovy fillets to truly turn the volume up on this bold tomato sauce.
Ingredients for puttanesca sauce:
Puttanesca can be made entirely with pantry items you may already have on hand. Here is what you need to make it:
Extra virgin olive oil – For this classic Italian recipe, our Nocellara Italian EVOO is the ideal choice! This medium intensity oil has aromas of freshly picked tomatoes, accenting the tomato-based puttanesca sauce perfectly.
Anchovy fillets – Use 4 to 8. Just 4 anchovies melt into the sauce and add layers of deep flavor, while 8 anchovies take the umami vibes to the next level! Adjust the amount based on your taste.
Red pepper flakes – This is optional, but I don't recommend skipping it! You'll add just a teaspoon, which adds a subtle spiciness without knocking your socks off.
Fresh garlic – Mince 4 to 5 large cloves to infuse the olive oil with garlicky goodness.
Canned whole San Marzano tomatoes – 1 28-ounce can of good San Marzano tomatoes, which are known for their sweetness and mild acidity.
Pitted kalamata olives, sliced – Olives add brininess to the puttanesca sauce. You can also use black olives.
Capers – Capers work with kalamata olives to add more flavor and tang.
Dried oregano – For pungent earthiness.
Fresh parsley – A generous ½ cup of chopped parsley is the finishing touch to add color and bright flavor.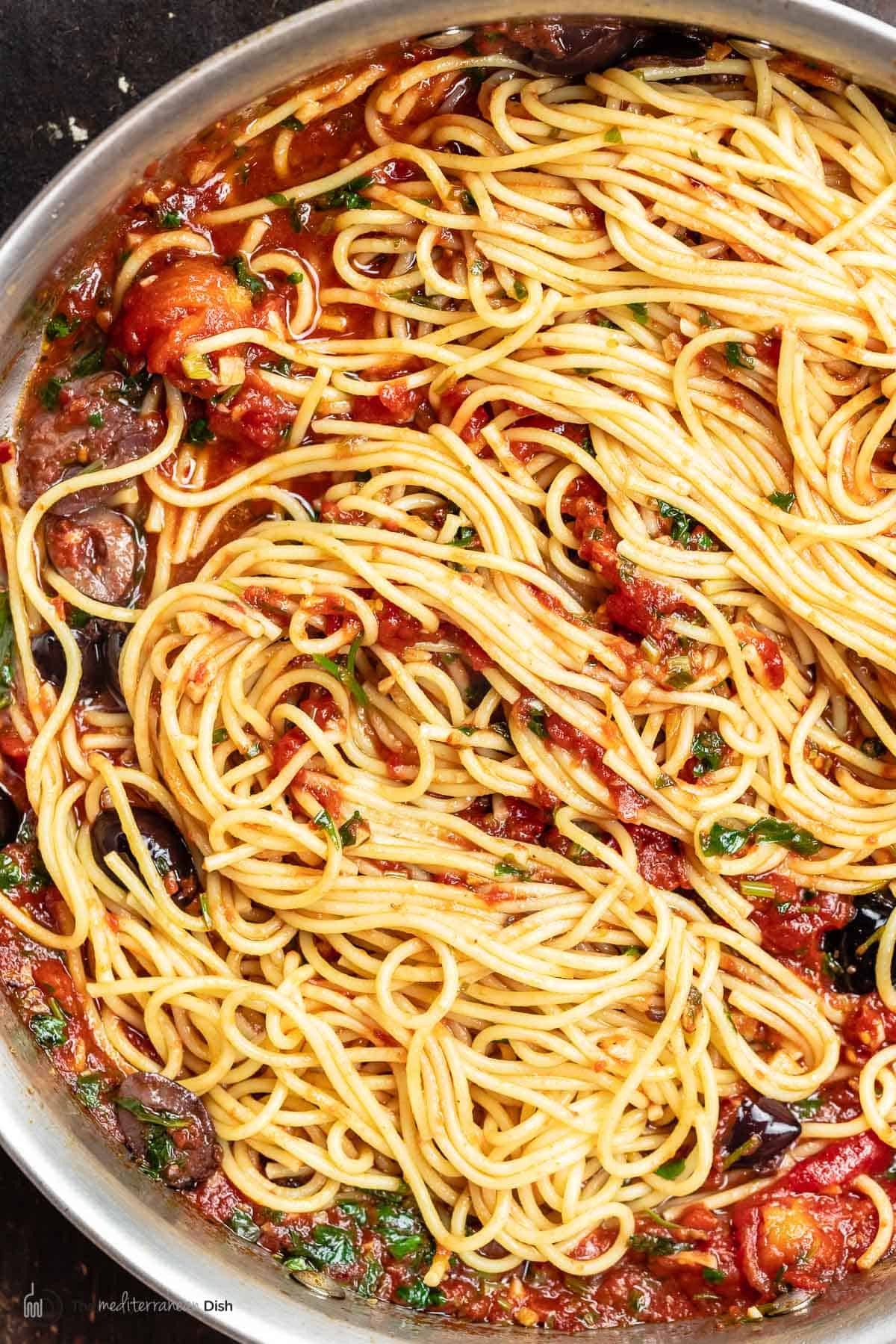 What kind of pasta to use?
A popular pasta choice for pasta puttanesca is spaghetti, and that is what I used in this recipe – in fact, common names for this dish are spaghetti alla puttanesca or spaghetti puttanesca.
However, any long, thin noodle will do (like linguine, vermicelli, and bucatini). I've also seen recipes that use penne with good results!
How to make pasta puttanesca
In around 30 minutes, you can have a delicious pasta dinner bursting with tang and umami. Here's how to make it (printer-friendly version below):
Make the puttanesca sauce. Over medium heat, warm around ¼ cup good extra virgin olive oil in a large, deep pan. Once the oil begins to shimmer, add 1 teaspoon red pepper flakes and 4 to 8 anchovy fillets.

Don't skip the anchovies! They're truly the secret to a tantalizing puttanesca. Your sauce will not taste fishy, trust me! Cook the pepper flakes and anchovies for around 2 minutes, tossing so that the anchovies begin to melt into the oil.

Add 4 to 5 cloves minced garlic and cook until fragrant (around 30 seconds). Then, add 1 28-ounce can of San Marzano tomatoes with their juices, ¼ cup pitted kalamata olives that have been sliced, 1 ½ tablespoons capers, and 2 teaspoons dried oregano. Use a spoon to break up the tomatoes a little, and allow the sauce mixture to start to simmer.

Once simmering, lower the heat and cover the pan partly. Allow to cook for 20 to 30 minutes or until thick enough for your preference.



Cook the pasta. While the sauce is cooking, cook ¾ pound spaghetti (or long, thin pasta of your choice) in a pot of water until al dente. Save about a cup of starchy pasta water before draining. Similar to many other pasta sauce recipes here on the site, like my lemon pasta sauce, pasta cooking water is a key ingredient for a silky sauce!



Combine the pasta sauce and spaghetti. Add the cooked pasta to the tomato sauce and toss well. If you like, you can add a little pasta cooking liquid to help the sauce emulsify and cling to the spaghetti. Start with a ¼ cup. Because of the salty ingredients in pasta puttanesca, you may not need to add any additional salt. But taste the sauce and add some kosher salt if necessary. Top with olives and capers, and garnish with ½ cup chopped fresh parsley. Serve and enjoy!


Tuna or chicken puttanesca
Not necessarily traditional, but chicken and tuna are some popular additions to puttanesca. This is a great opportunity to use up any leftover chicken you may have. Simply shred it directly into the cooked sauce. Or, if you've noticed cans of tuna lurking in the dark corners of your pantry, drain a can and add it to the sauce. Let the chicken or tuna simmer in the sauce for a couple minutes.
If you don't have cooked chicken or canned tuna on hand, you can also use puttanesca sauce as an extra-flavorful poaching liquid, as I do with my chicken puttanesca recipe.
Make-ahead tips
You can prepare puttanesca sauce one or two nights ahead of time and store it in the fridge in a tight-lid glass jar. When you're ready, warm up the sauce over medium heat and cook some spaghetti, then toss the cooked pasta in the sauce for a quick spaghetti puttanesca.
What to serve with pasta puttanesca
Pasta puttanesca is an enticing, filling meal all on its own, and doesn't really need a side. Garlic bread is never a bad start to this comforting meal, and for me, I like to add a big salad such as Panzanella salad, arugula salad, or Mediterranean bean salad.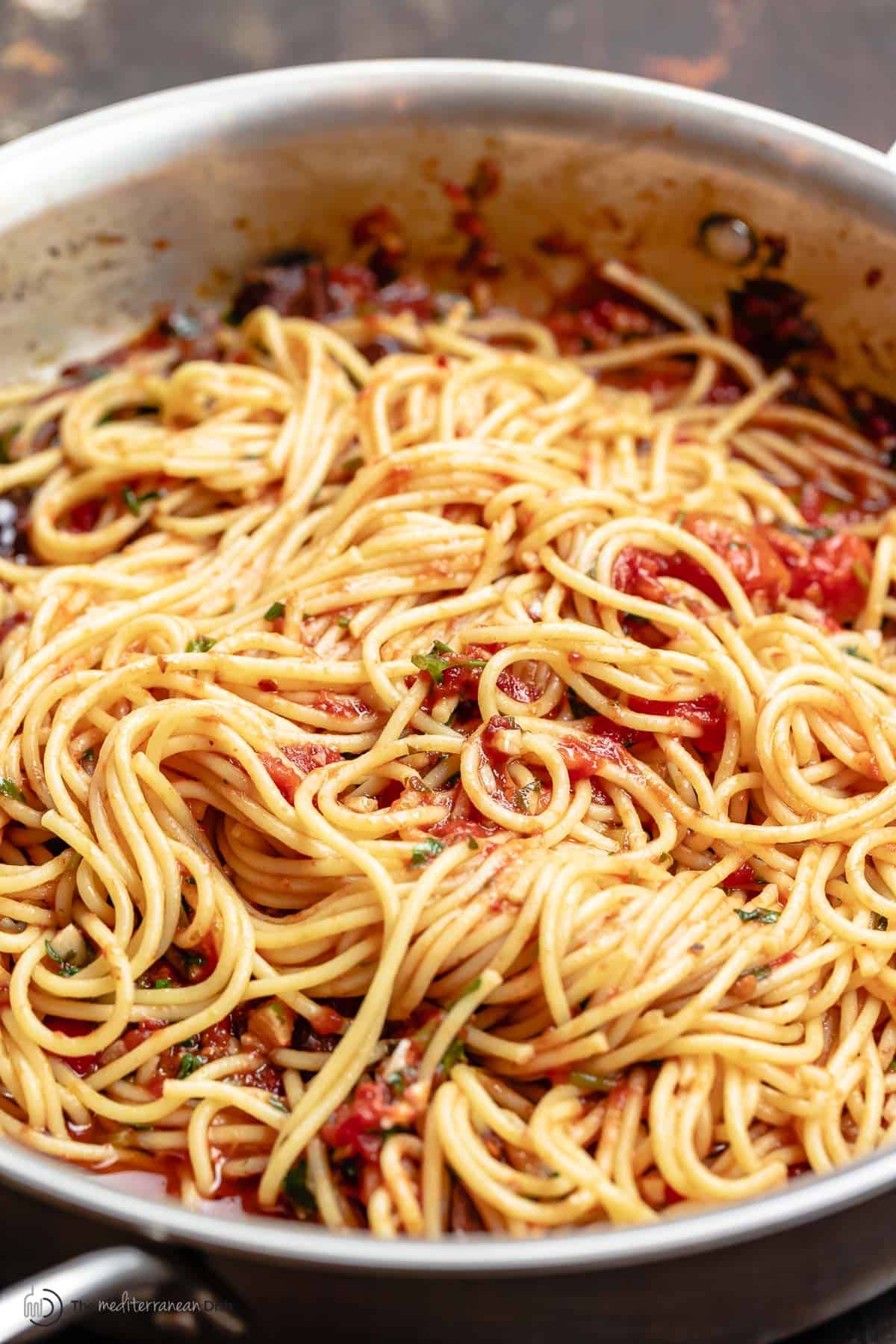 How to store spaghetti puttanesca leftovers
For best flavor and texture of the pasta, only mix enough pasta and sauce that can be eaten in one sitting. Leftover puttanesca sauce can be stored in the fridge in an airtight container for 4 to 5 days.

To reheat, transfer the sauce to a pan on the stove and warm over medium heat. If the sauce looks dry, add a little water to help loosen it. Make a fresh batch of pasta and serve.
More pasta recipes with red sauce
Browse more Mediterranean recipes

Visit Our Shop
Easy Pasta Puttanesca Recipe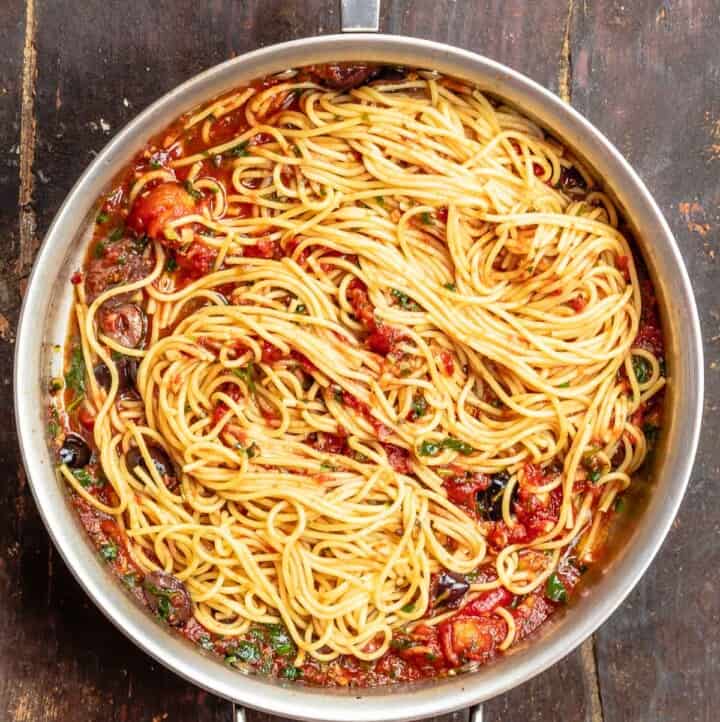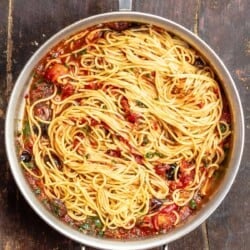 Bold and comforting in the best way, puttanesca sauce takes a few pantry staples including: canned tomatoes, garlic, olives, capers, and anchovies. Spaghetti is a popular choice for pasta puttanesca (and it's what I used in this recipe), but any long, thin pasta would work -- like linguine or vermicelli. Serve with a big salad like Panzanella salad, arugula salad, or Mediterranean bean salad.
Ingredients
¾

pound

thin spaghetti

Kosher salt
For the sauce
¼

cup

extra virgin olive oil,

I often use Italian Nocellara EVOO for this one

4 to 8

anchovy fillets,

use to your liking

1

teaspoon

red pepper flakes,

optional

4 to 5

large garlic cloves,

minced

1 28-

ounce

can whole peeled San Marzano tomatoes

½

cup

pitted kalamata olives,

sliced

3

tablespoons

capers

2

teaspoons

dry oregano

Kosher salt

½

cup

chopped parsley
Instructions
In a large, deep pan, heat a good ¼ cup or so extra virgin olive oil. Warm the oil over medium heat and add the anchovy fillets and red pepper flakes. Cook for about 2 minutes or so, tossing the anchovies around (they will somewhat melt into the oil infusing it with flavor).

Add the garlic and cook for a brief 30 seconds until fragrant, then add the tomatoes, ½ of the olives and capers, and the dried oregano. Bring the mixture to a simmer, while using your cooking utensil to break up the tomatoes.

Lower the heat and cover the pan part-way. Allow the sauce to cook for a good 20 to 30 minutes or until thickened to your liking.

While the sauce is cooking, cook the pasta in boiling salted water to al dente, according to package instructions (mine took about 9 minutes).

When the pasta is ready, transfer it to the pan with the sauce and toss well. If you need to, add a little of the pasta cooking water. Taste and adjust the salt, if needed.

Garnish with the remaining olives and capers and fresh parsley. Serve!
Notes
What pasta to use: I used spaghetti, but any long, thin pasta (like vermicelli, linguine, or bucatini) would work. Some recipes also use penne!
Tuna or chicken puttanesca: If you like, you can add some cooked shredded chicken or drained canned tuna to the sauce. Allow it to simmer in the sauce for a few minutes.
Serve it with a big salad like Panzanella salad, arugula salad, or Mediterranean bean salad.
Leftovers and storage: Mix only enough pasta and puttanesca sauce that can be eaten in one sitting. Store the leftover sauce in an airtight container in the fridge for 4 to 5 days. Reheat on the stove over medium heat. Serve with a new batch of cooked pasta.
Visit our shop to browse quality Mediterranean ingredients, including extra virgin olive oils (like our Nocellara Italian EVOO).
Nutrition
Calories:
343.5
kcal
Carbohydrates:
50
g
Protein:
9.8
g
Fat:
12.2
g
Saturated Fat:
1.7
g
Polyunsaturated Fat:
1.6
g
Monounsaturated Fat:
8.1
g
Cholesterol:
2.3
mg
Sodium:
592.4
mg
Potassium:
455.6
mg
Fiber:
4.3
g
Sugar:
5
g
Vitamin A:
742.7
IU
Vitamin C:
20.2
mg
Calcium:
90.4
mg
Iron:
3
mg