Here's your ultimate guide for how to make the perfect falafel bowl at home! Loaded with protein-packed falafel patties, hummus, fresh vegetables, olives and pickles, these Mediterranean bowls are a delicious and satisfying vegetarian meal that you can prepare ahead! Variations and time-saving shortcuts included.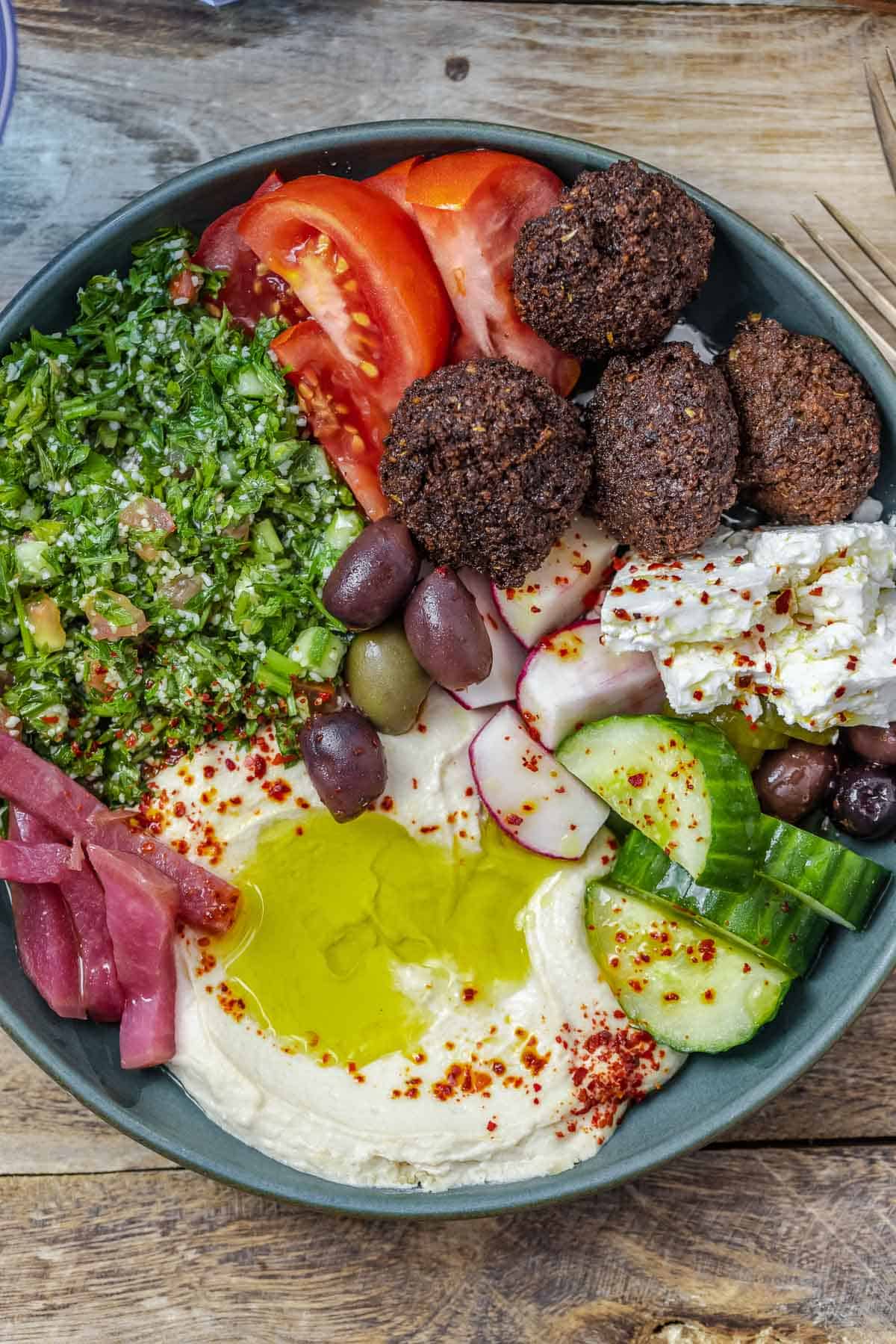 Falafel are crispy vegetarian patties made of chickpeas or fava beans, lots of fresh herbs, and warm spices. They are the quintessential Middle Eastern street food and one of my favorite foods of all time!
As someone who grew up in Egypt, I don't remember a day without falafel. It's true! I wrote all about it in my cookbook and when I shared my family's authentic falafel recipe, which makes a big batch of mouthwatering crispy patties--so worth a try!
Now I'm back to brag on my falafel bowl creation. These Mediterranean bowls are a delicious and nutrition-packed vegetarian meal that you can prepare ahead and have ready any night of the week. This is so simple to put together, which is has quickly become one of the top recipes on the site!
Like I did with my grain bowls guide, let me give you all the details on how to make the perfect falafel bowl!
Table of Contents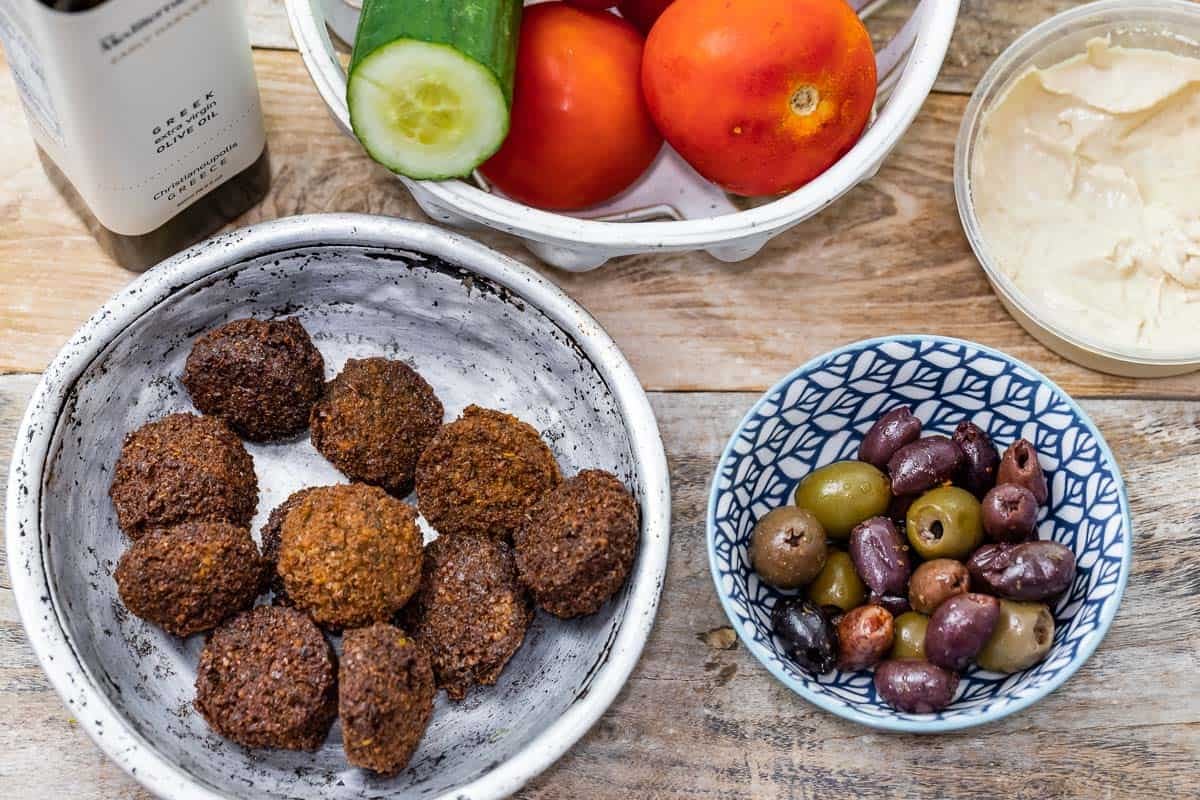 What to serve with falafel?
There are many options to serve with falafel. You can serve them as a snack or a small meal with nothing more than a bowl of tahini sauce to dunk them in. You can serve them the more traditional way in pita pockets with a simple tomato and cucumber salad. Or, top your favorite fresh salad with a few falafel patties as your protein (really, they can be your protein next to some leftover roasted vegetables).
But, what if you can't decide and want a little bit of everything with your falafel? Then falafel bowls is your answer!
How to make a falafel bowl
Here is my loose guide to making these healthy bowls. And I say "loose guide" because I want you to have fun and make these your own. You'll need a wide and shallow dinner bowl to build your Mediterranean falafel bowls. Now, here is what goes it in:
Start with a dip. Classic, plain hummus is my go-to dip here, but roasted red pepper hummus or avocado hummus are also great options.
Add a salad. Tabouli, fattoush salad, and shriazi salad go well with falafel, but nearly any fresh green salad with a light olive oil dressing will work.
Don't forget the olives and pickles! Add a handful of pitted kalamata olives and pickled cucumbers. They will both add delicious briny flavor and good texture to your bowls. If you've made a jar of preserved lemons or pickled turnips, throw some in.
More fresh veggies. Slice up some ripe tomatoes and some crunchy veggies like cucumbers, red onions, and radish.
Finish with good extra virgin olive oil and a dash of seasoning. Top the hummus and the rest of the bowl with a drizzle of some rich olive oil like our Greek Early Harvest EVOO or Spanish Hojiblanca EVOO and a dash of sumac or Aleppo-style pepper for color and flavor.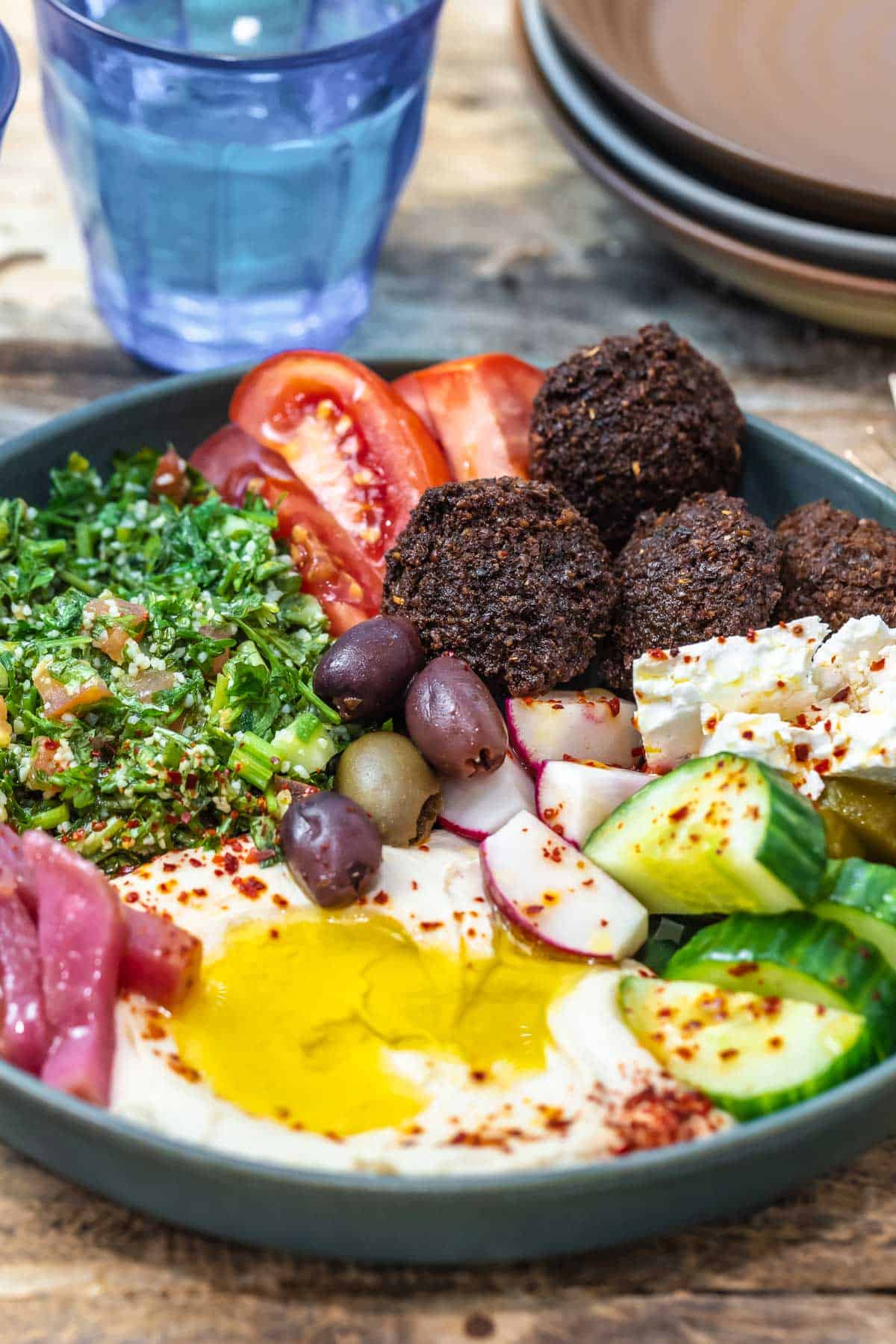 More variations
These Mediterranean bowls are a great way to use up whatever you have on hand. I also love to try and use leftovers. A few more variations and substitution ideas for you:
Shortcuts and meal-prep tips
With just a little bit of prep, these bowls can be ready in a snap. Go ahead and slice your vegetables, prepare your salad (don't dress it), and mix your dip. Keep them in the fridge in separate, tightly closed containers. They can keep well for 3 to 4 days if properly stored in the fridge.
Prepare the falafel mixture and form the patties ahead of time then freeze them to use whenever (no need to thaw ahead of time, you can cook falafel from frozen).
What about shortcuts? I say it's totally fine if you want to use a store-bought dip or a quick salad made of mixed greens that you like. As far as the falafel goes, please do not use a store-bought falafel mix. But if you do live near a good Middle Eastern restaurant, pick up some freshly cooked ones there (and any other accompaniments you like).
More Mediterranean bowls to try
Looking for quality Mediterranean ingredients? Visit Our Shop
Mediterranean Falafel Bowls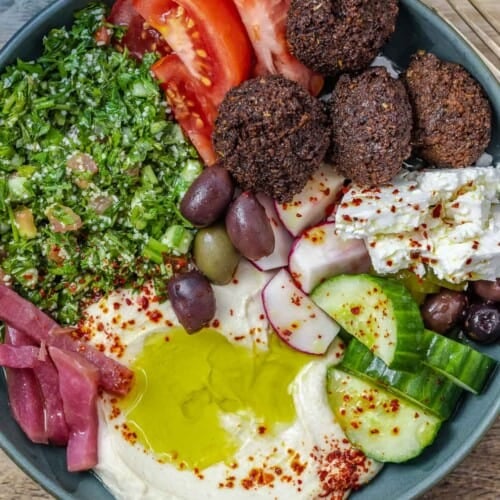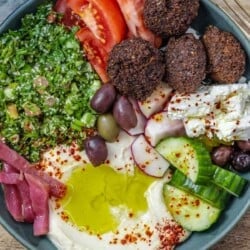 These healthy dinner bowls are loaded with delicious falafel and other Mediterranean favorites like hummus, tabouli salad, feta, and fresh vegetables. With a little bit of prep ahead of time, this falafel bowl dinner is to assemble any night of the week.
Ingredients
Hummus,

homemade or store bought (other dip options in the notes)

16

Falafels, prepared ahead from this authentic falafel recipe or air-fryer falafel recipe, or store-bought from your favorite Middle Eastern restaurant

2

Medium Vine-Ripe Tomatoes,

halved and sliced

1

English Cucumber,

halved and sliced

6

Radishes,

halved and sliced

½

Medium Red Onion,

thinly sliced

4

ounces

Feta Cheese,

sliced

Extra virgin olive oil, for drizzling, try our rich and peppery Early Harvest or Spanish Hojiblanca EVOO
Sumac,

optional for seasoning
Instructions
Using shallow dinner bowls, start by spreading about 3 to 4 tablespoons of hummus on one side. Next, add the salad, then add 3 to 4 falafel patties.

Fill the empty spots in your bowls with the fresh vegetables, olive and pickles, and sliced feta cheese.

Finish each bowl with a generous drizzle of extra virgin olive oil and a dash of sumac to season (optional).
Notes
Prepare ahead tips: You can make the falafel mixture and form into patties according to this recipe ahead of time and refrigerate or freeze until you are ready to cook them. You can cook falafel from frozen. You can also prepare the salad of your choice and hummus and keep them refrigerated in separate containers for 2 to 3 days.
Variations: Omit the feta cheese to keep these dinner bowls vegan. You can use other fresh vegetables in your fridge such as carrots, celery, bell peppers, or cauliflower. Swap the hummus for another Mediterranean dip. Add rice or grain of your choice, or substitute the salad for some leftover cooked vegetables like sautéed zucchini or roasted cauliflower. Review the full post for more ideas!
Visit Our Shop to browse quality olive oils, spices, and other ingredients for Mediterranean cooking!