Ready to give your meals a bold Mediterranean twist? This roundup of Best Mediterranean Recipes of the year will give you all the inspiration you need. This selection is updated with the top 25+ recipes of this year as voted by fans of The Mediterranean Dish! Also be sure to see our collection of top Mediterranean Diet Recipes.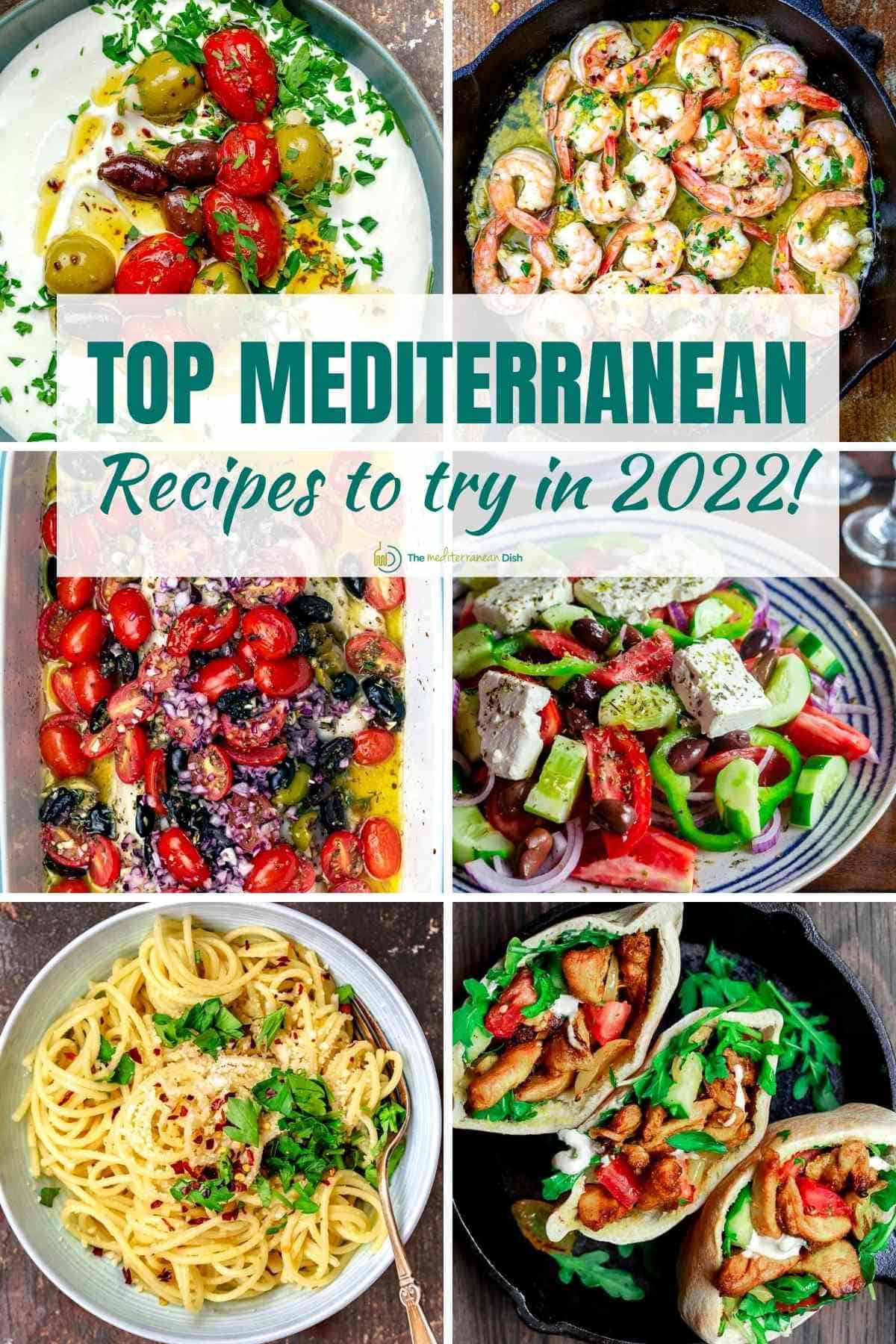 One of the fun rituals I look forward to every December is updating my list with the very BEST Mediterranean recipes of the year! I love looking back to see which recipes everyone loved most. And this year's list is a good mix between easy modern recipes like whipped labneh, mushroom pasta or marinated grilled chicken wings, and tried-n-true Mediterranean classics like falafel, moussaka, and hummus (my all-time favorites).
Whether you've stumbled here looking to follow the world's best diet or just looking for healthier dinners with big, bright flavors, there is something for you on this list of top 25+ Mediterranean recipes to try this year!
You can also see our top Mediterranean diet recipes and hundreds more here. And join my e-mail list for FREE weekly meal plans!
What does eating the Mediterranean way (or the Mediterranean Diet) Look Like?
I should point out that this post is not necessarily about the Mediterranean diet. You should review this post: what is the Mediterranean diet and how to follow it for more information. But, the majority of the recipes in this roundup do follow the Mediterranean way of eating and are a great place to start as well.
And the good news is, you can easily cook colorful Mediterranean recipes you can feel good about, and the list of recipes below is a great start! So if you're wondering what eating the Mediterranean way (or the Mediterranean diet) looks like, here is my super quick-n-dirty summary...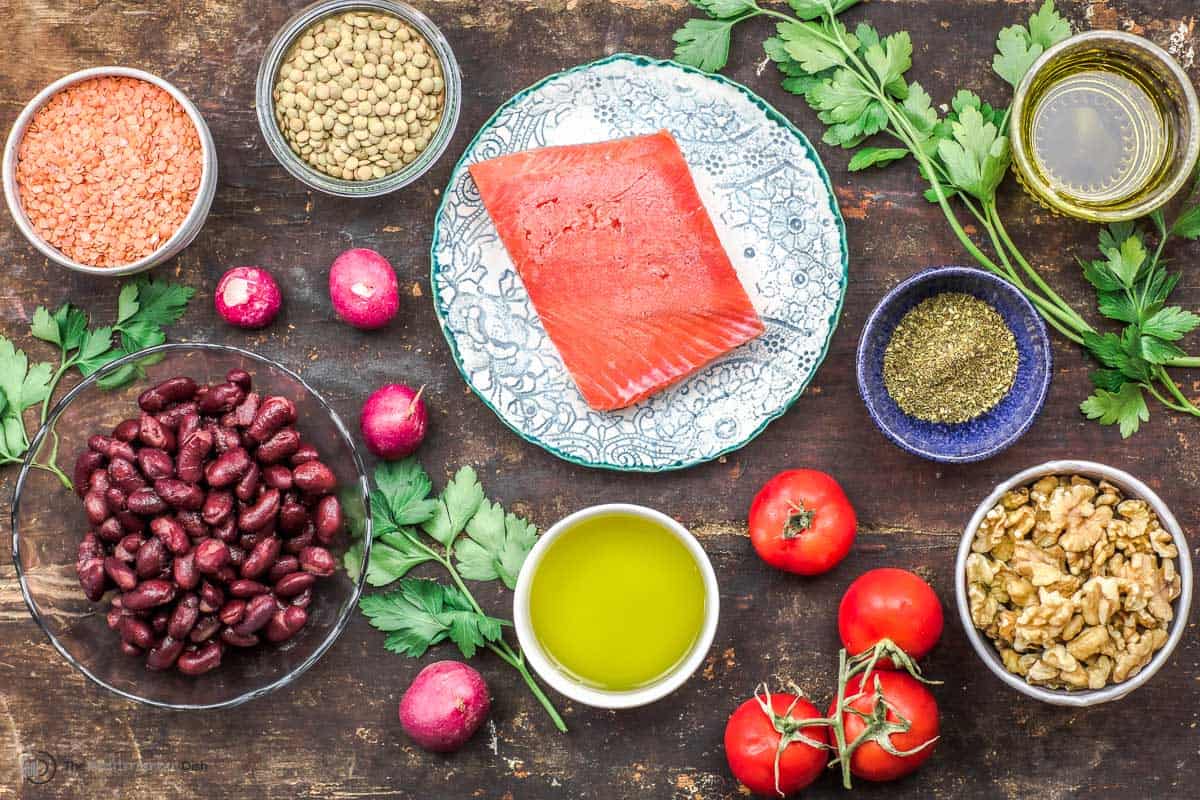 What to eat on the Mediterranean diet
Use quality extra virgin olive oil regularly. I use these two: Greek Early Harvest extra virgin olive oil and Greek Private Reserve extra virgin olive oil
Eat MORE: fruits, veggies, whole grains, beans, nuts, and legumes.
Eat MODERATELY: Lean proteins from fish and some poultry.
Eat LESS: Red Meats and Sweets (sweets are often eliminated if you're following a stricter Mediterranean diet.)
For Flavor: Reduce salt and use more fresh herbs, garlic, citrus, and spices.
This shopping list should help you grab what you need to start cooking the Mediterranean way.
And now, let's get to our top Mediterranean recipes of this year as decided by lovely readers and followers of this site! For your convenience, I've divided the list of recipes into two sections: Mediterranean dinner recipes and entrees (main dishes), and Mediterranean salads, sides and sauces. Here we go...
Best Mediterranean Recipes to Try in 202

2
To see each recipe, simply click on the recipe name highlighted in blue.
Mediterranean breakfast
There is no shortage of Mediterranean breakfast recipes here on the site, but this year, two breakfast recipes won everyone's heart:
15-Minute Mediterranean Breakfast Bowls. Instagram went nuts for these easy breakfast bowls with eggs, hummus, and delicious sauteed veggies. This is a good one that you can prep ahead and assemble any day of the week!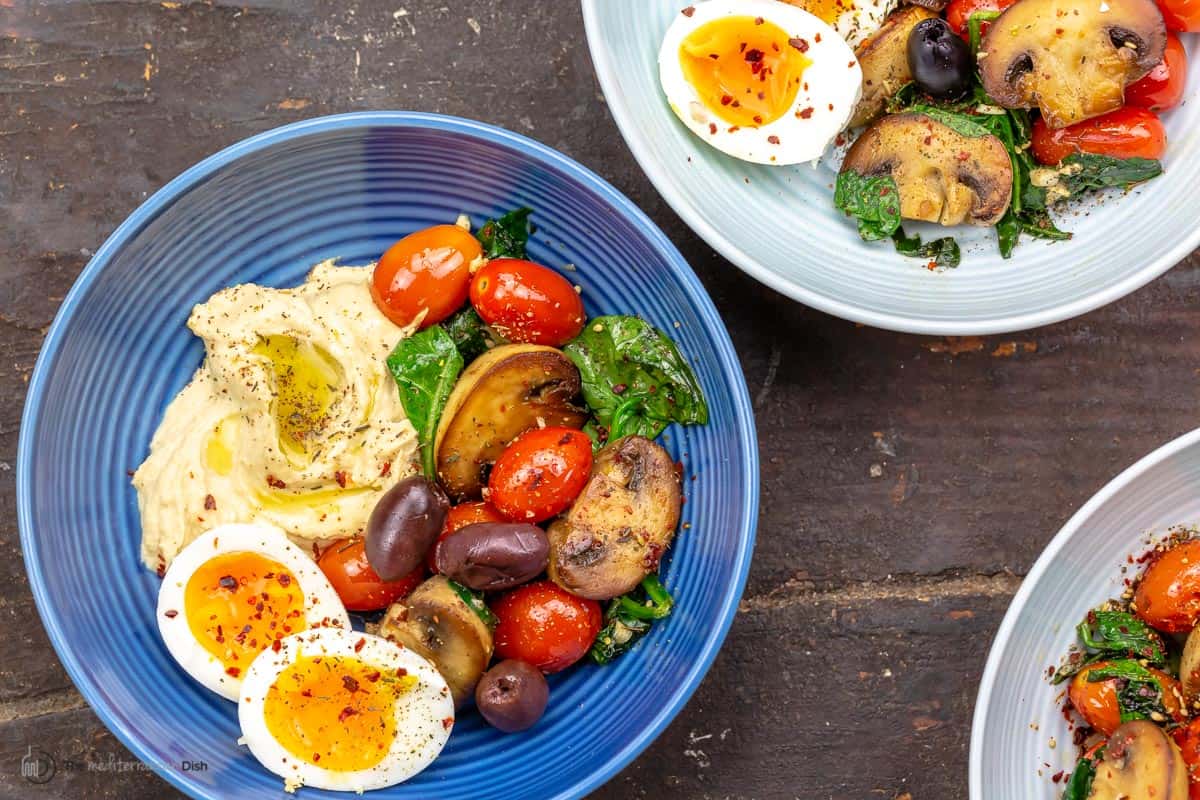 Turkish Cilbir (Poached Eggs). Savory poached eggs over garlicy yogurt and finished with a warm spicy olive oil sauce. Enjoy it with your favorite chunky bread!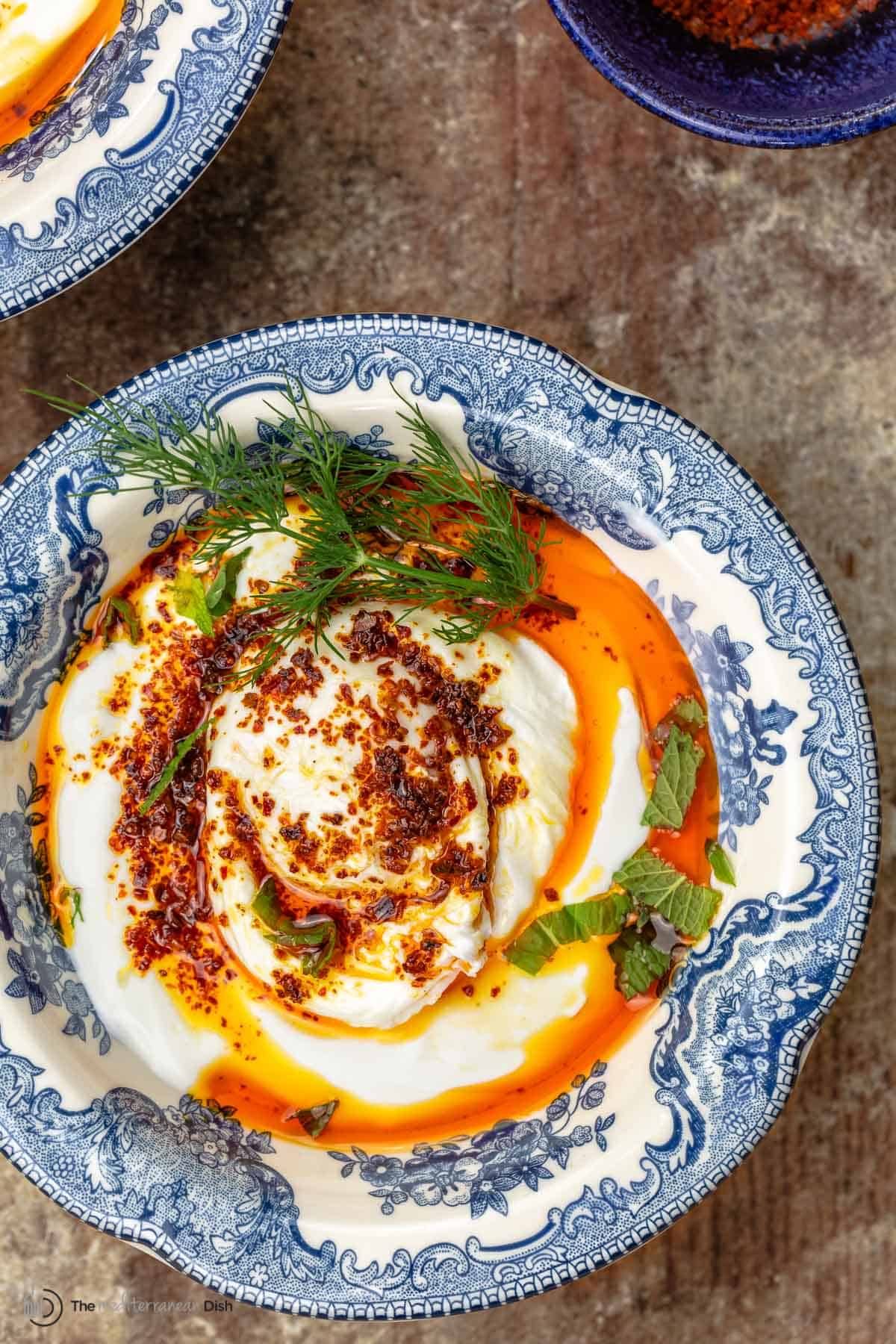 Mediterranean Dinner Recipes & Mains
Baked Chicken Thighs. Can't go wrong with comforting juicy chicken, coated in a bold Mediterranean rub and baked in a high-heated oven.
Garlic Mushroom Pasta. Loads of mushrooms, garlic, shallots, and a little parmesan, tossed with perfectly cooked pasta, and a lighter silky-smooth sauce! Rich and velvety mushroom pasta recipe WITHOUT any cream.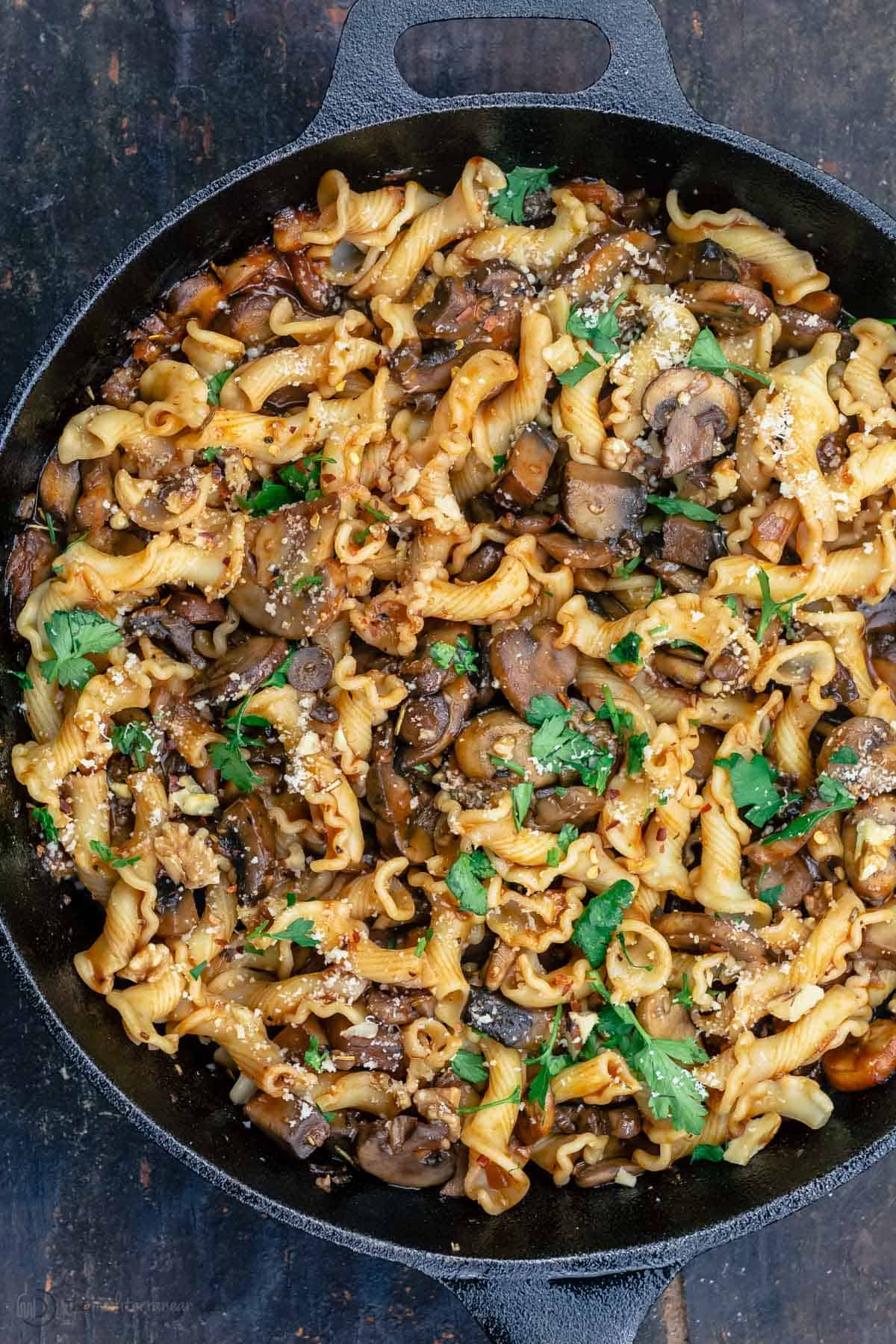 Shrimp Scampi. Skip the restaurant and make this easy shrimp recipe right at home in less than 20 minutes! And if you're a garlic lover, you might even double the sauce so you have plenty to toss this shrimp with your favorite pasta!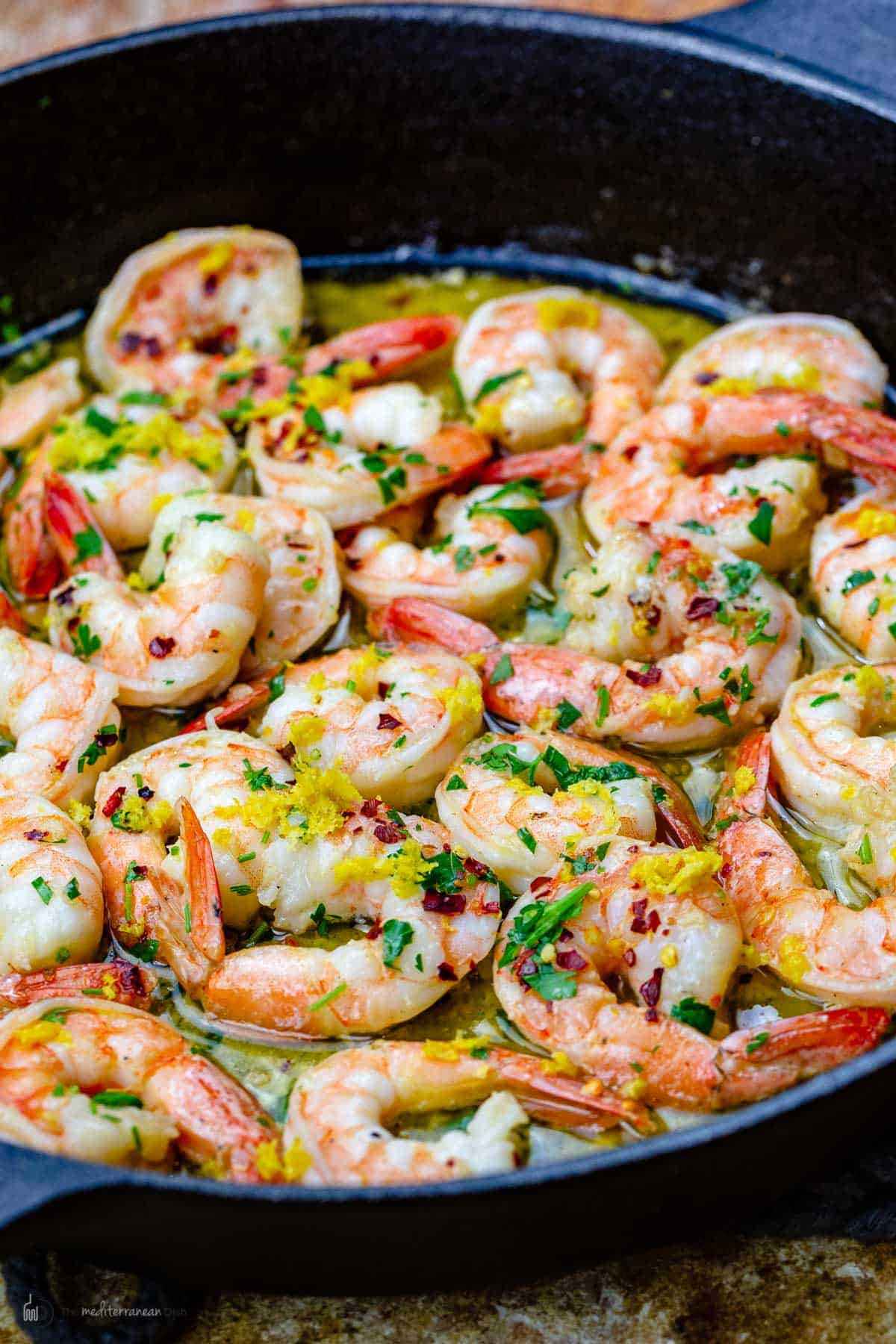 Baked White Fish with Tomatoes and Olives. Such a simple fish recipe that is so worth a try! You'll love the bright tomato and olive topping.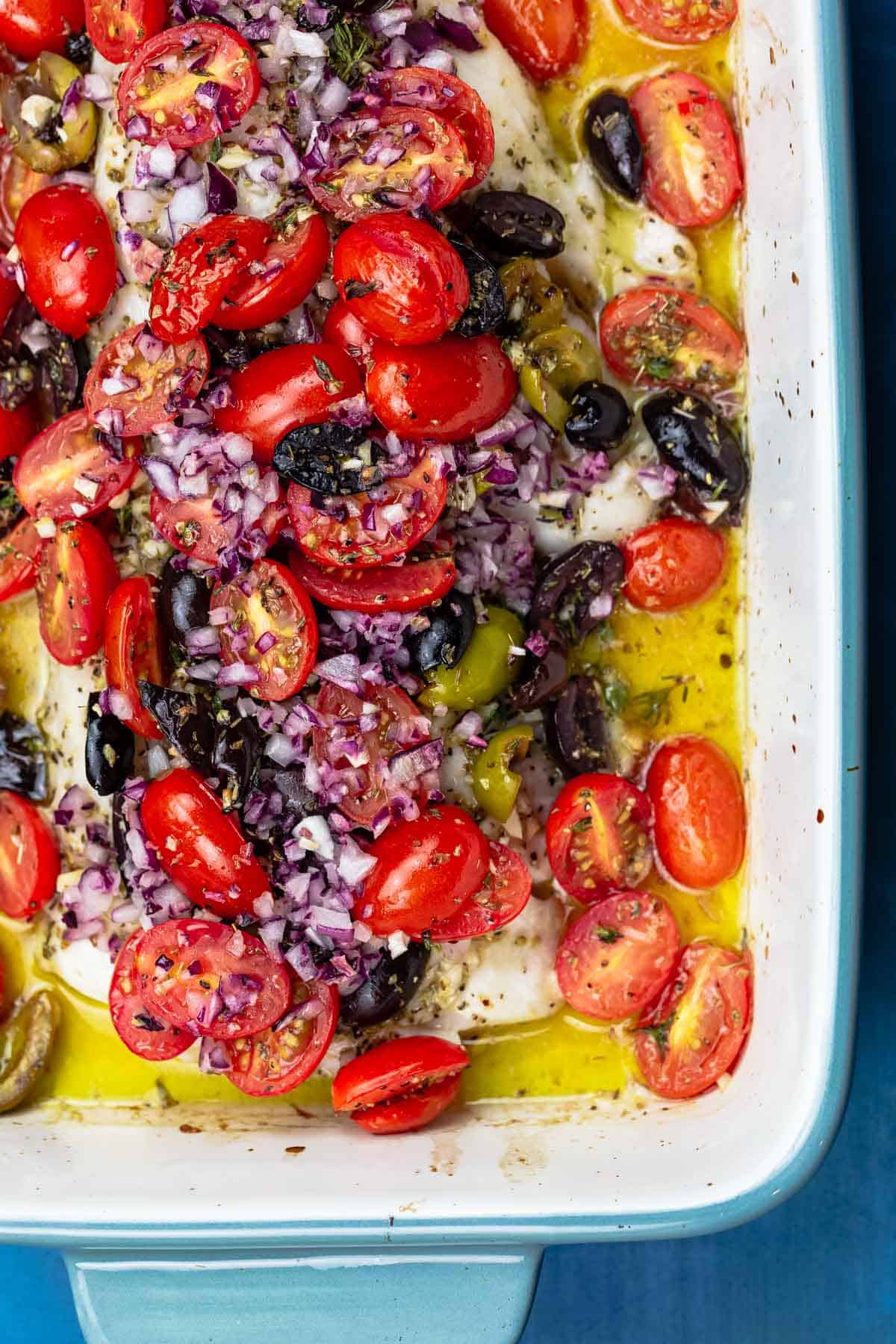 Greek-Style Eggplant Recipe. This simple vegan eggplant stew with chickpeas and tomatoes is all the comfort. And you'll love the Greek flavors thanks to a little extra virgin olive oil and a combination of warm spices including oregano, paprika, and a pinch of cinnamon.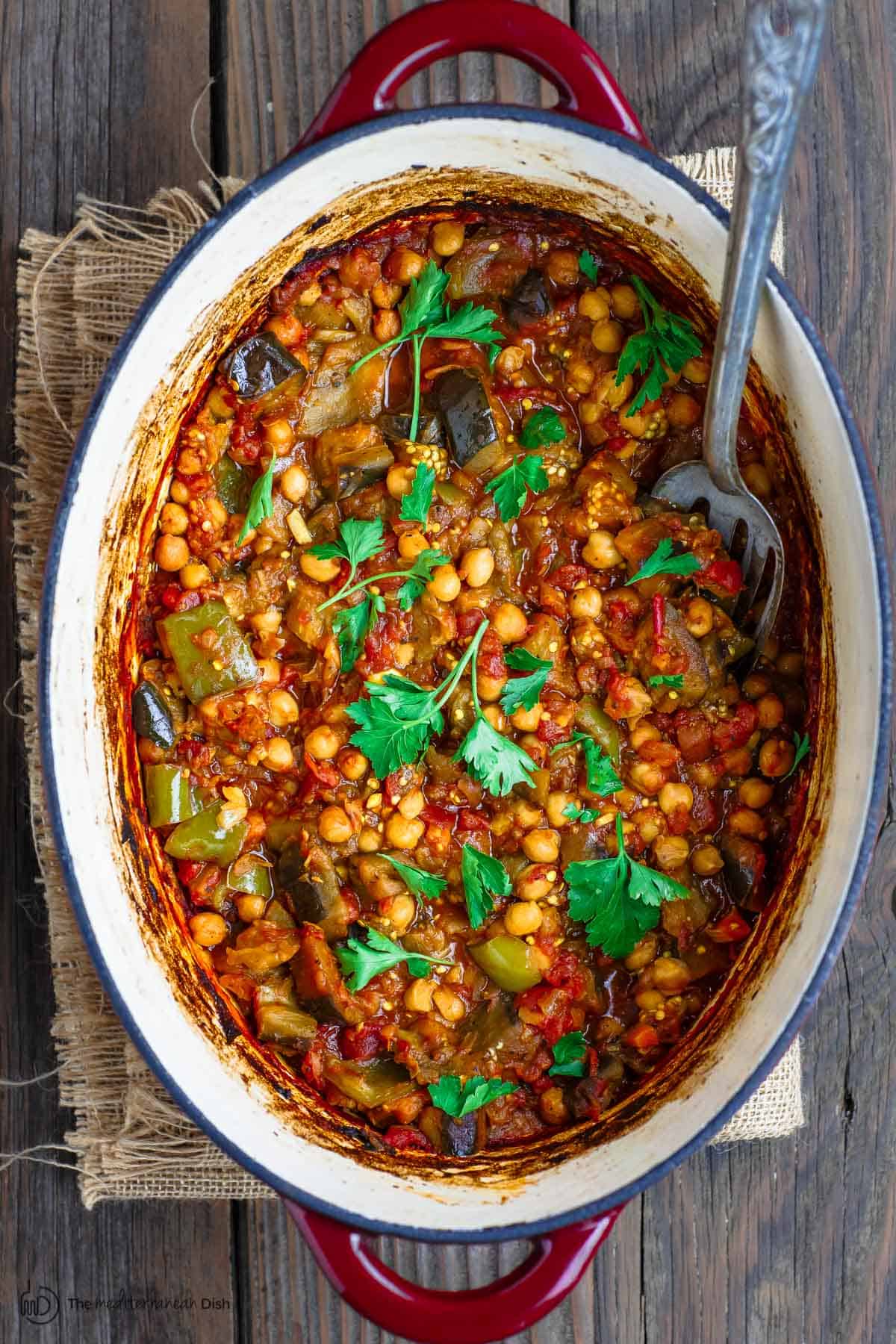 Roast Lamb Rack. My girls call these lamb lollipops because they are perfect hand-held meat! I give them a simple Mediterranean garlic marinade and they cook in just 15 minutes or so in a high-heated oven.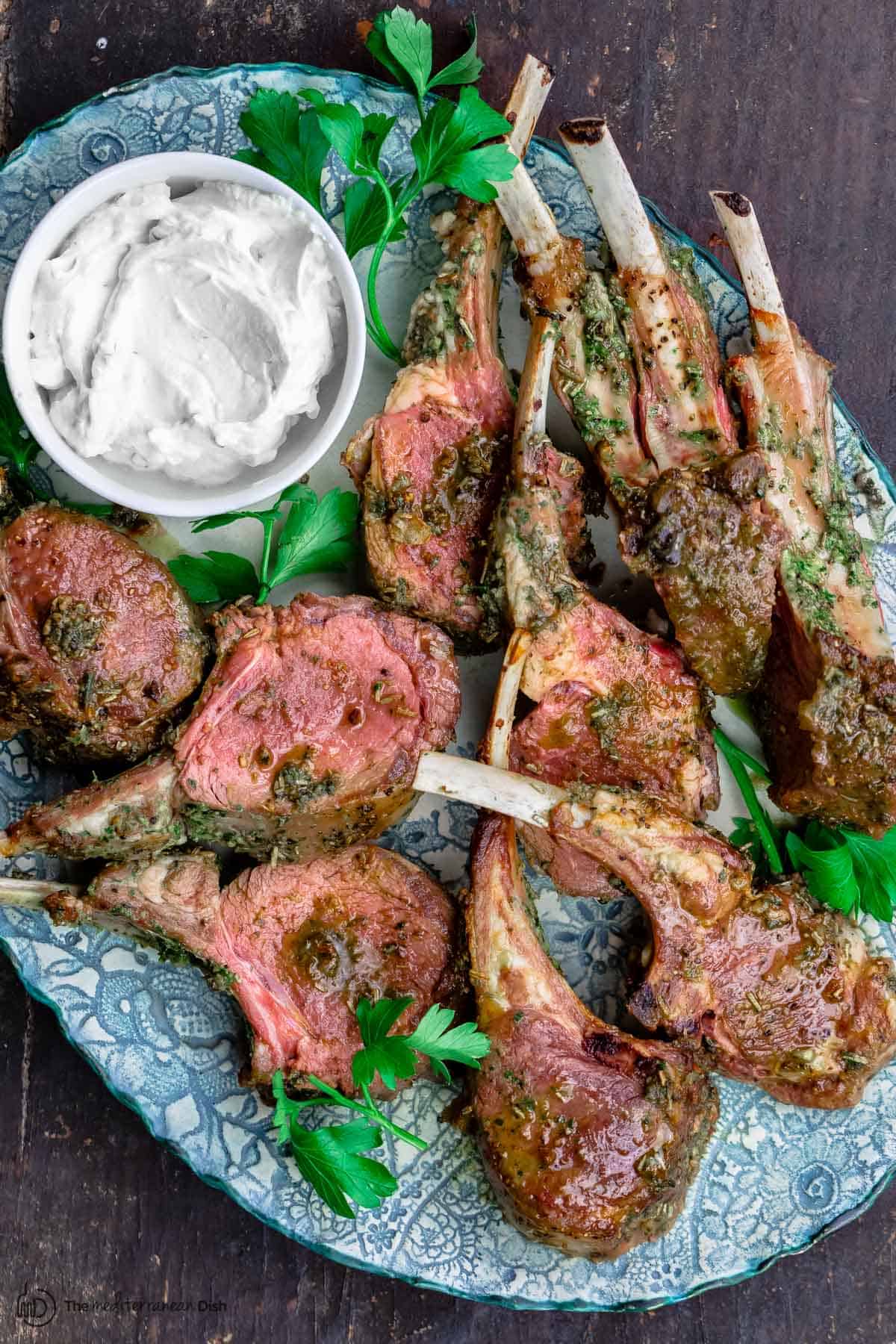 Chicken Shawarma. This easy baked chicken shawrama will transport you to the streets of the Middle East! Loads of flavor. The secret is in the simple homemade shawarma spice mixture. Recipe comes with a step-by-step tutorial and video show you exactly how to make this delicious chicken.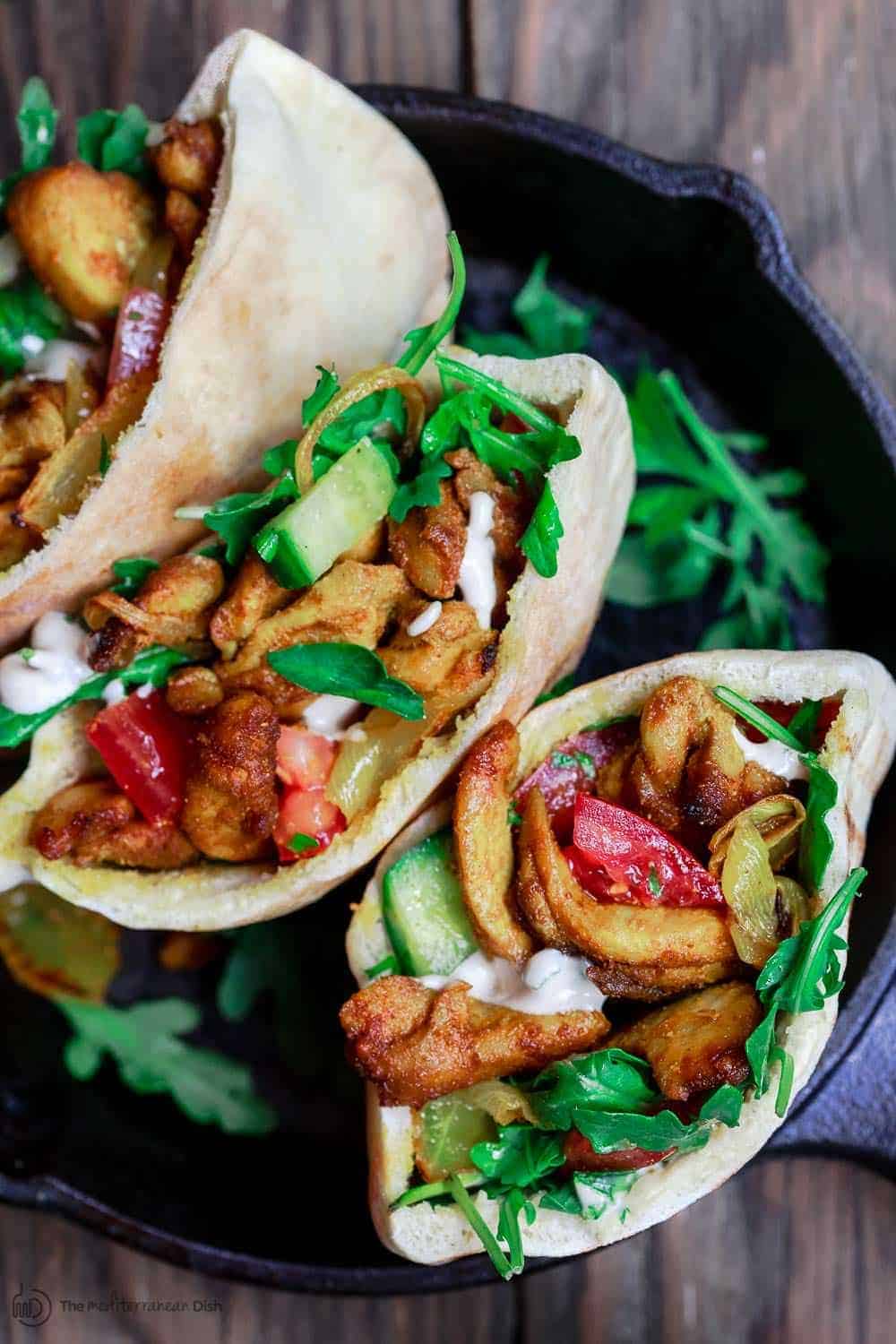 Spaghetti Aglio e Olio. Classic Italian pasta with garlic and olive oil, takes only 5 ingredients and less than 20 minutes to make!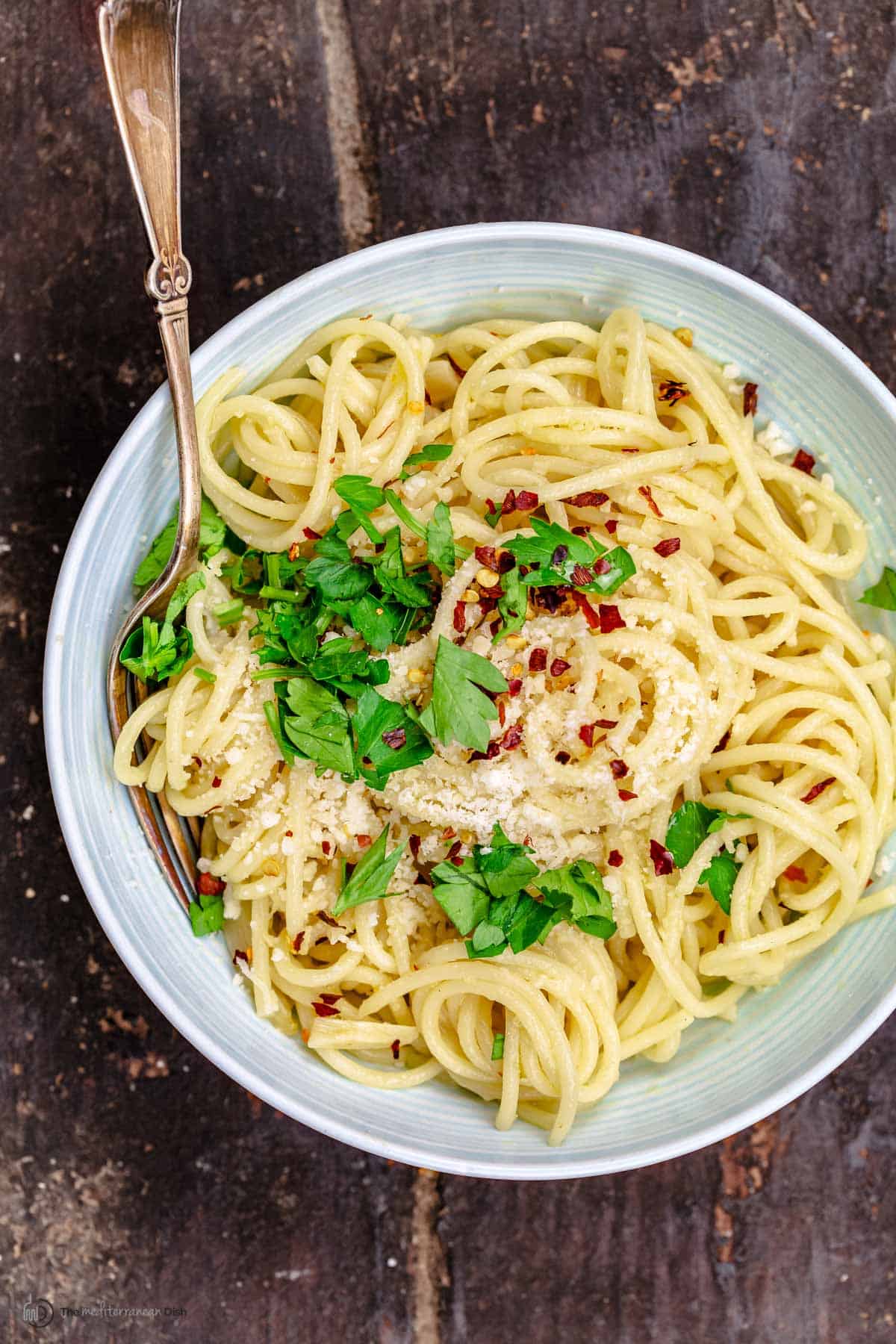 Baked Lemon Garlic Salmon. Perfectly tender, flaky baked salmon with a homemade lemon and garlic sauce. This recipe takes very little prep and less than 20 minutes to cook.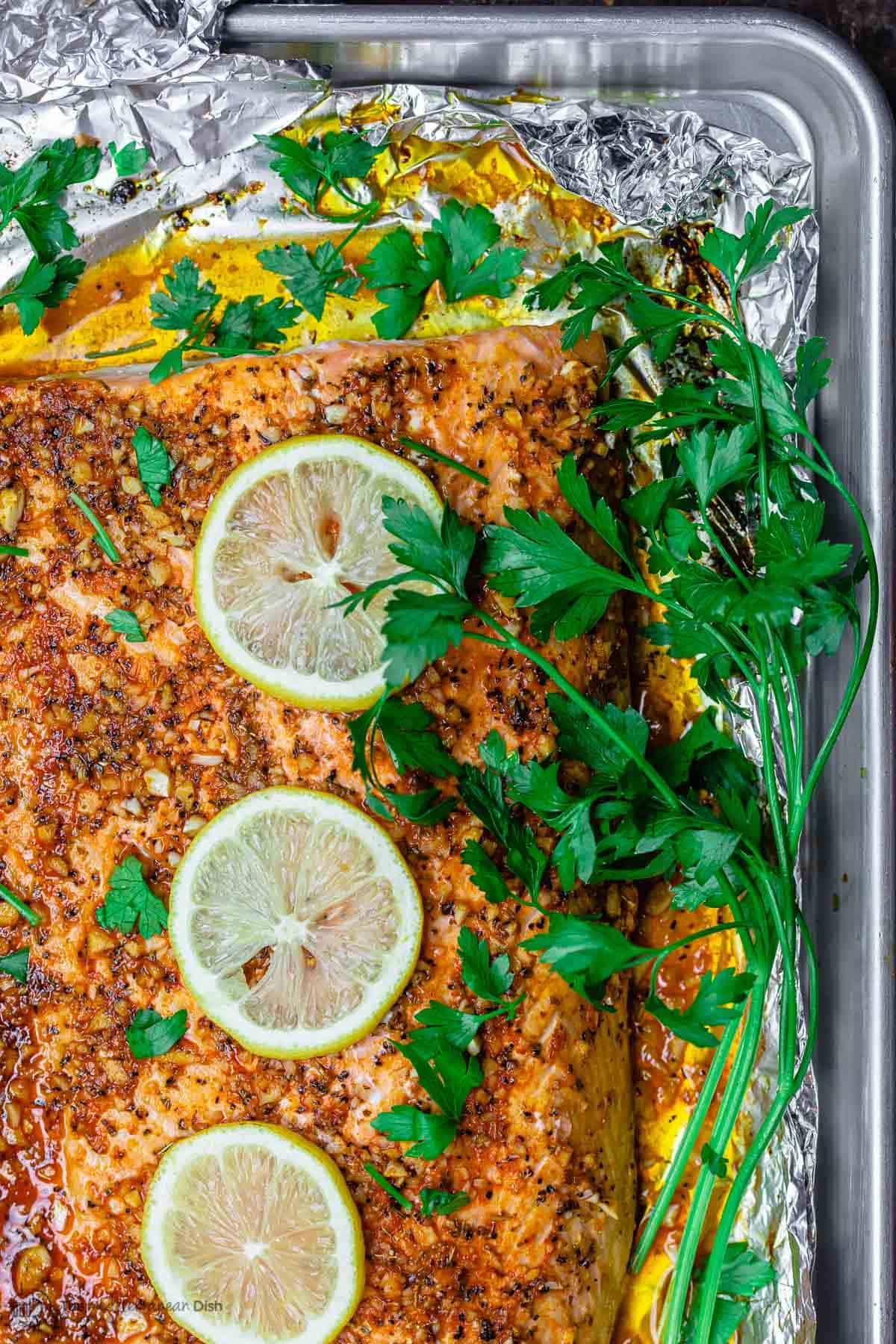 Falafel. If you've ever wanted to try homemade falafel from scratch, my tutorial is all you need! Hearty and healthy vegan patties made of ground chickpeas, garlic, and fresh herbs. An authentic falafel recipe just as they serve on the streets of the Middle East. And I show you how to fix the BEST falafel sandwiches.
Italian Baked Chicken Breasts. Boneless skinless chicken breasts prepared with a simple spice mixture, garlic and extra virgin olive oil, and finished with fresh parsley and basil!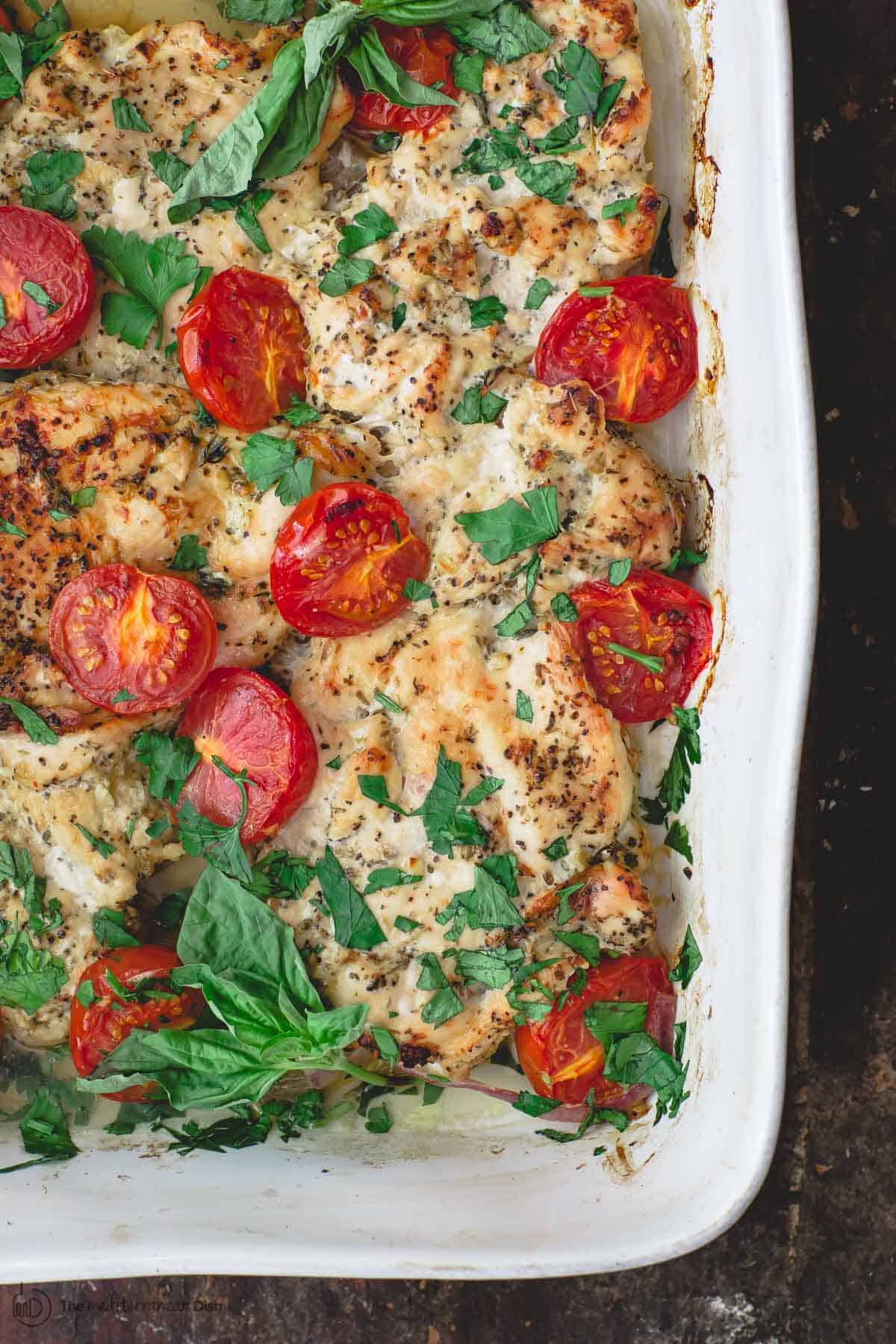 Spanakopita. Savory Greek pie made of perfectly flaky phyllo dough with a warm spinach and feta cheese filling. It's easier to make than most people think. Check out the recipe and tutorial.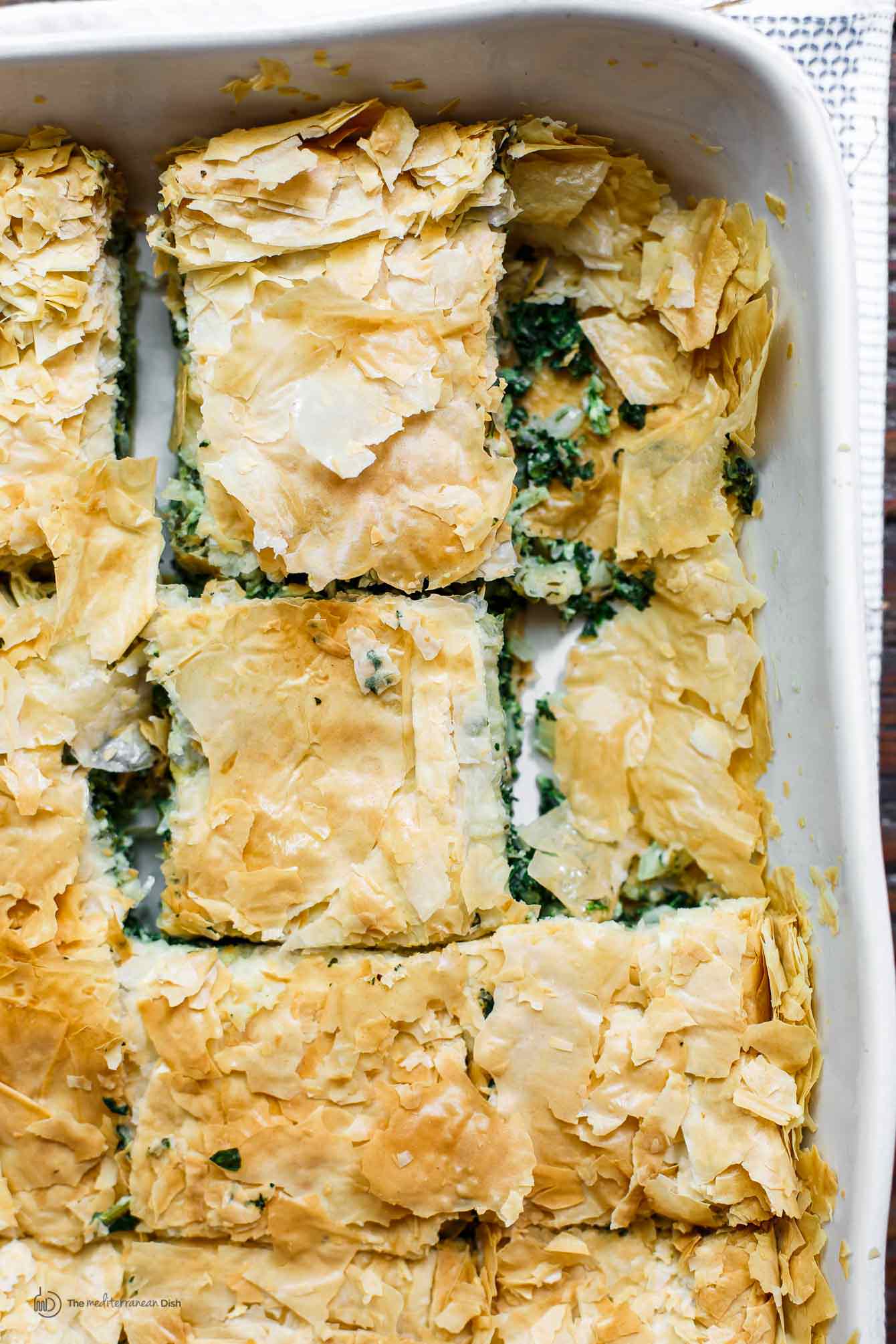 Mediterranean fish soup. Eastern Mediterranean spices like cumin, coriander, and turmeric, along with fresh herbs and lemon juice, take your average fish soup to a new level of delicious. You'll want to serve it with some good bread to mop up the delicious, extra herby broth!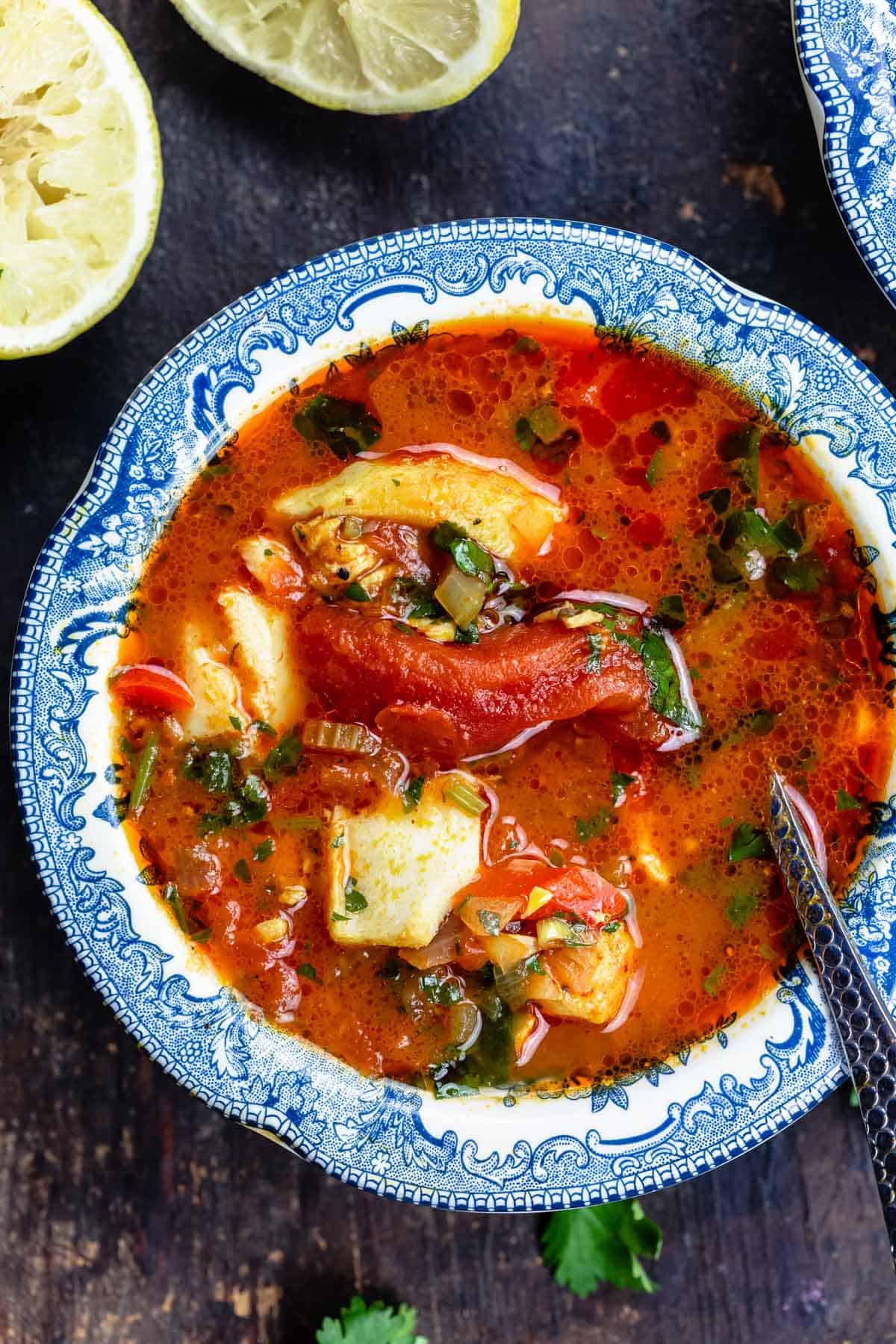 Mediterranean Salads and Sides
Greek Salad. A classic that everyone loves made with the perfect combination of garden veggies and finished with blocks of feta cheese and kalamata olives. If you like, you can use my ladolemono dressing on this delicious salad.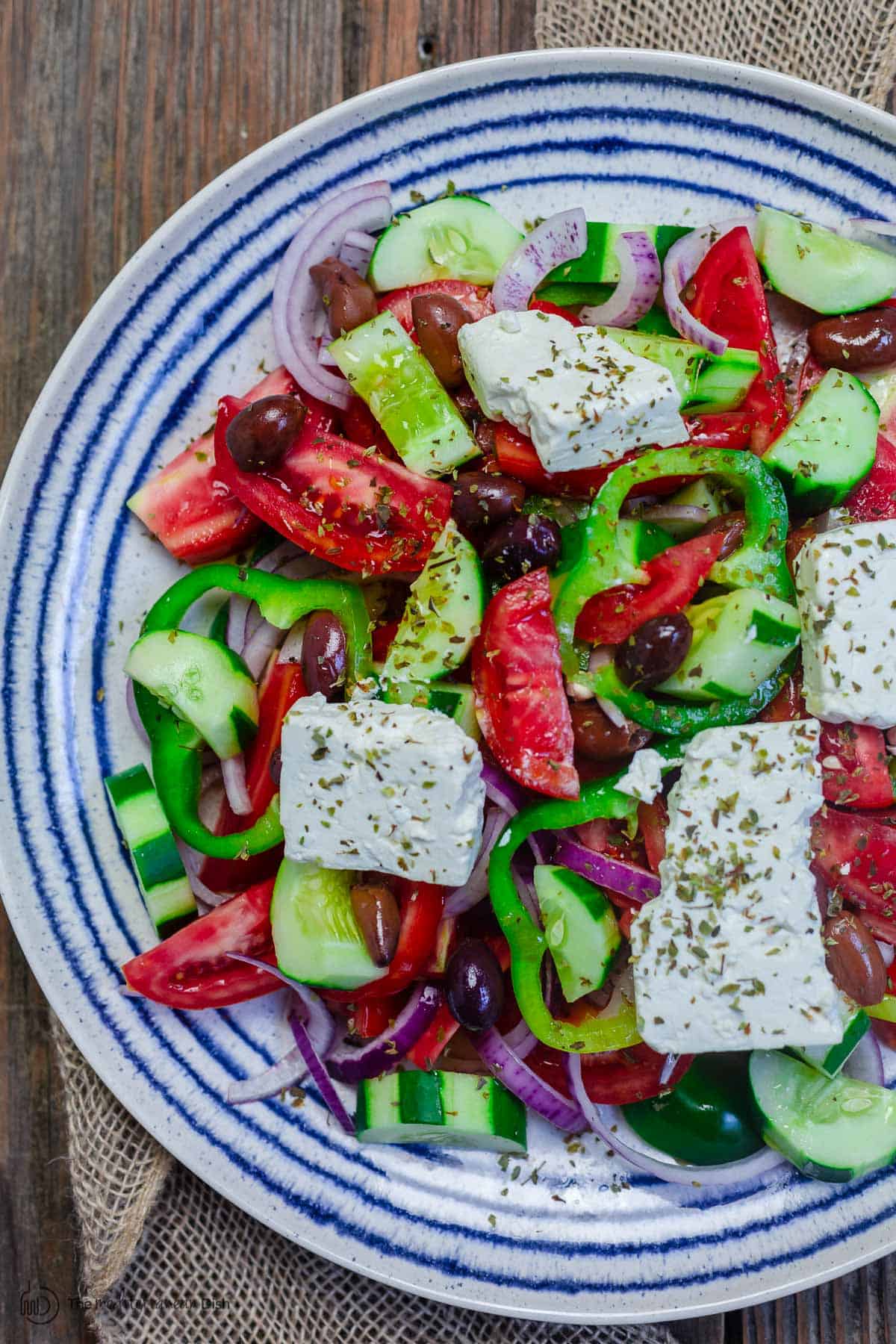 Italian Pasta Salad. Curly pasta, tossed with crunchy veggies, salami or ham, and a light homemade Italian dressing. I love this dish for a large party or pot-luck dinner.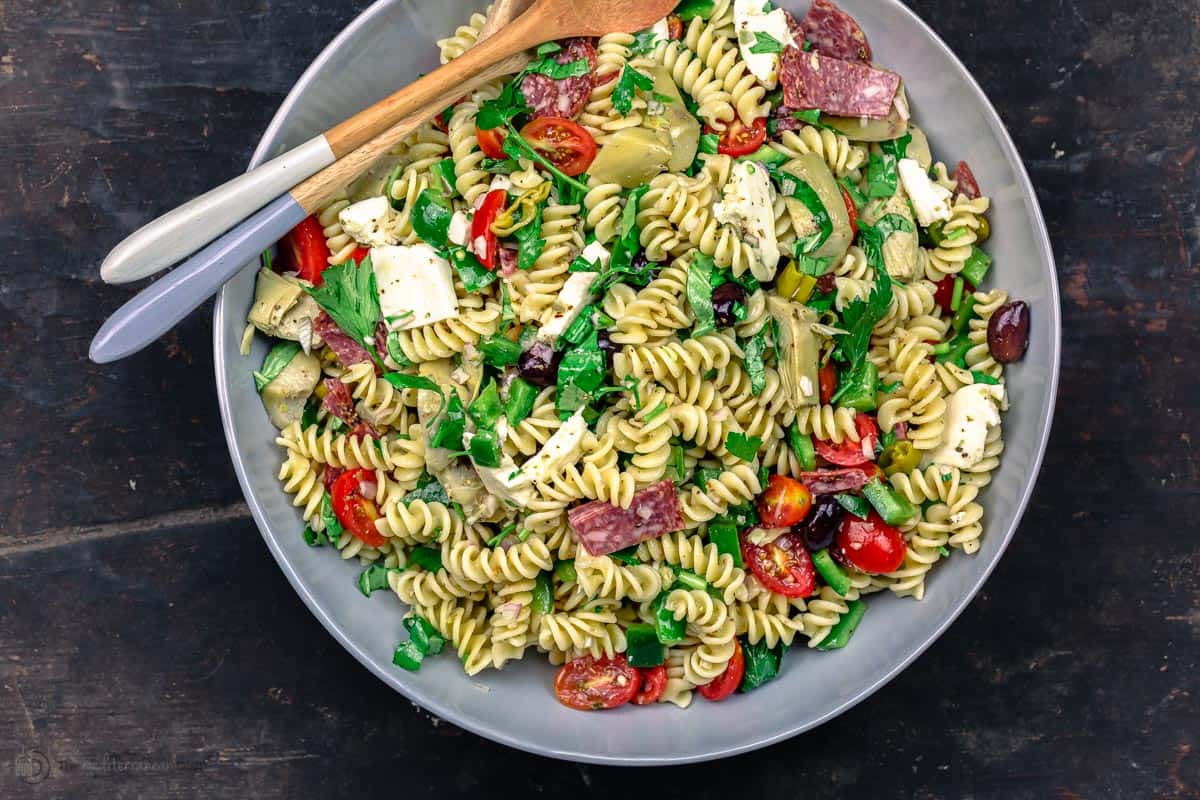 Lemon Roasted Broccoli. Instagram went crazy for this sexy broccoli with just the right amount of char!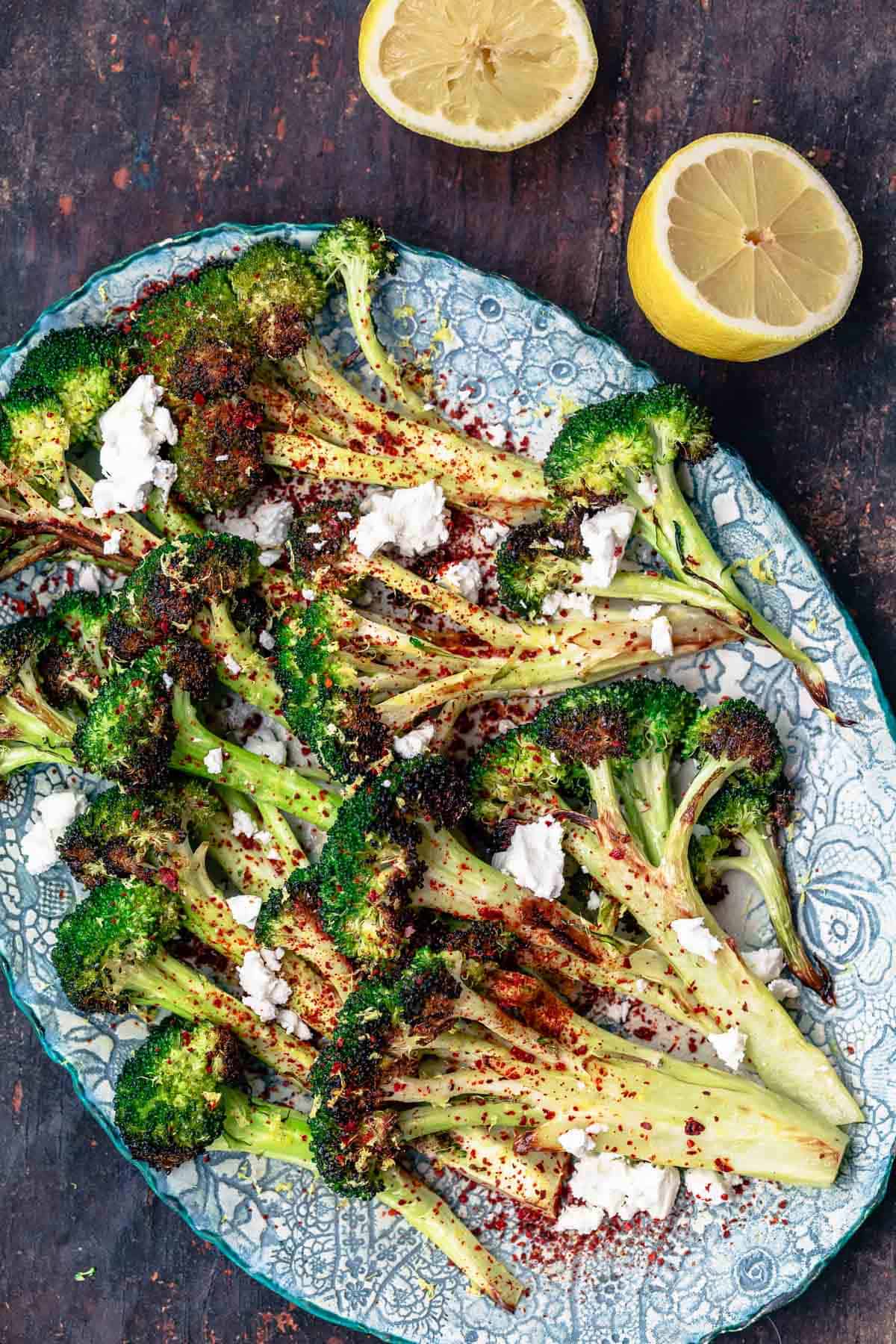 Toasted Orzo Pasta. Another one that Instagram went nuts for is this simple toasted orzo recipe with Parmesan and Sun-dried tomatoes. This side dish goes with nearly any entree you pick!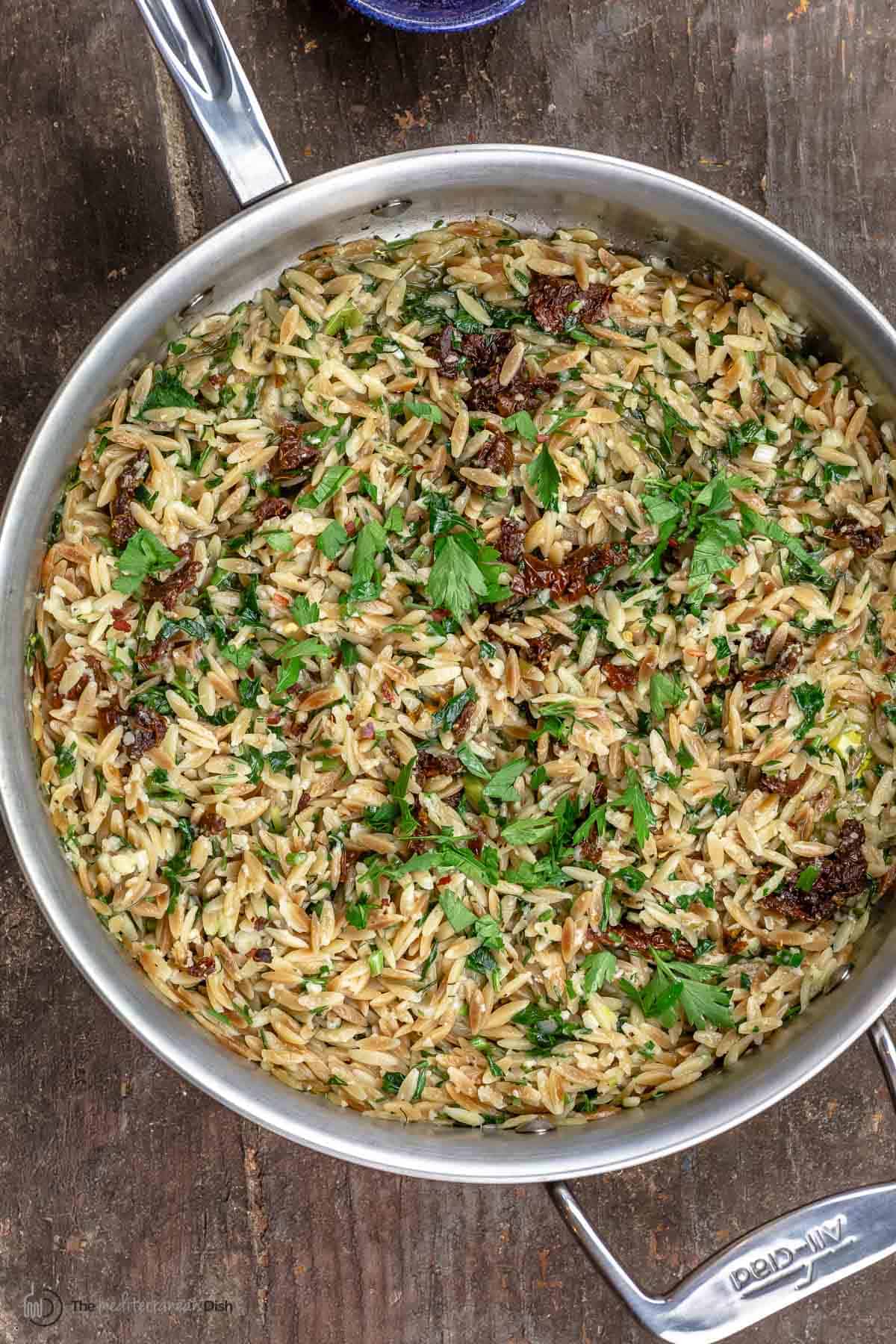 Tabouli. If there is ever a classic Mediterranean salad, it is hands-down tabouli (or tabbouleh). Made of finely chopped vegetables, lots of fresh parsley and bulgur wheat, then tossed with lime juice and extra virgin olive oil. For me, I like adding cucumbers to my tabouli for extra crunch!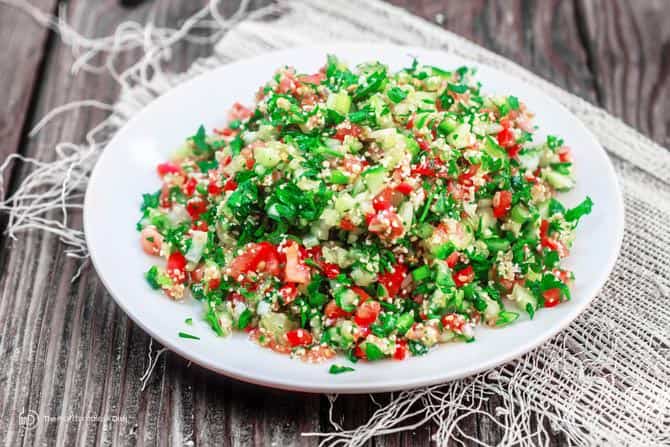 Appetizers and Mezze
I have the largest selection of Mediterranean mezze and small plates, it is my favorite way to eat! But here are a few reader favorites for this year:
Greek Baked Feta. I was first introduced to warm, creamy, and luscious baked feta many years ago in Greece, and it is still one of my favorite things to serve with a good drizzle of extra virgin olive oil and crusty bread.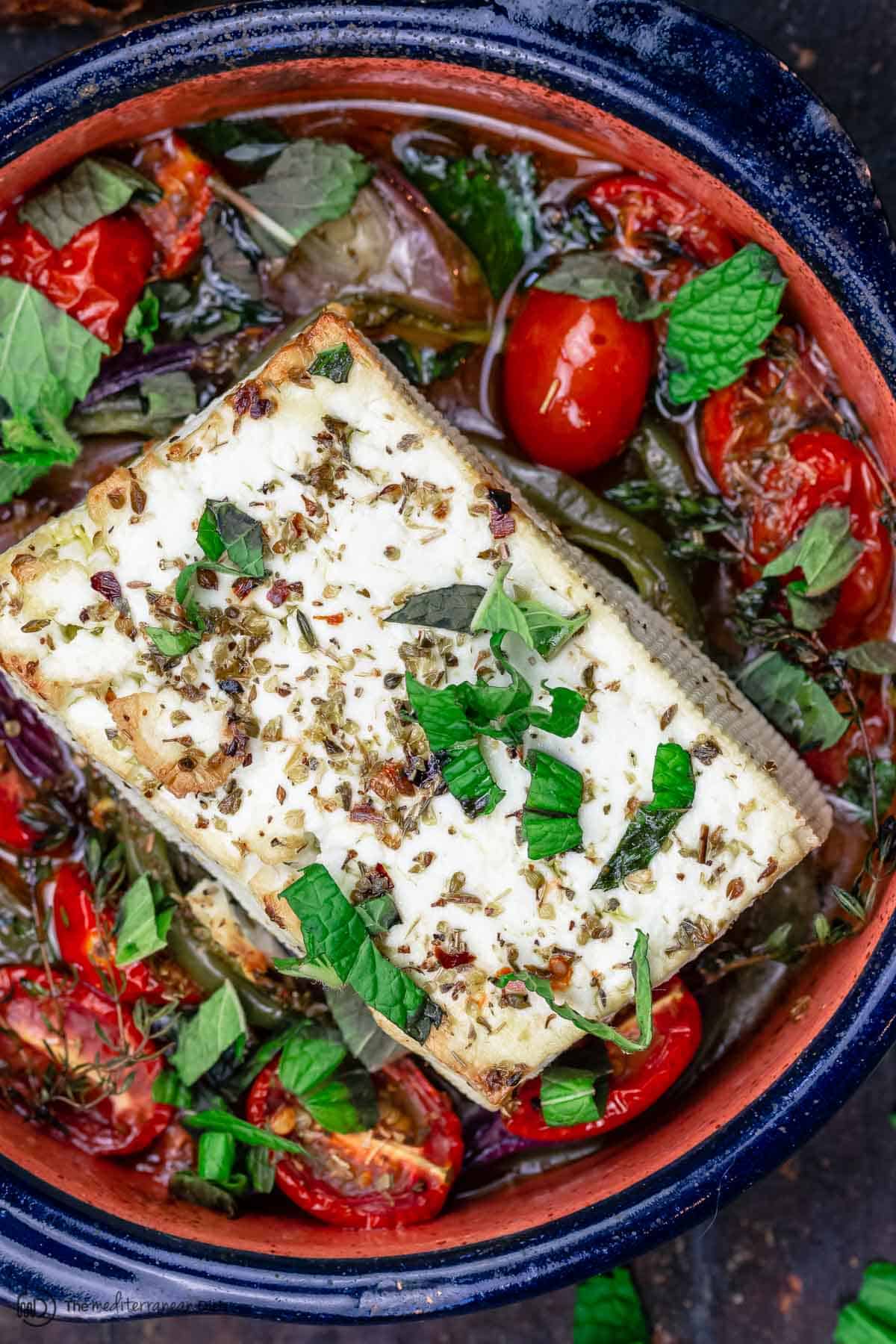 Fried Calamari. Crispy fried calamari finish with lemon juice is a classic Mediterranean appetizer that is now loved world-wide. A few tips make all the difference in getting your calamari just right so that it is never rubbery.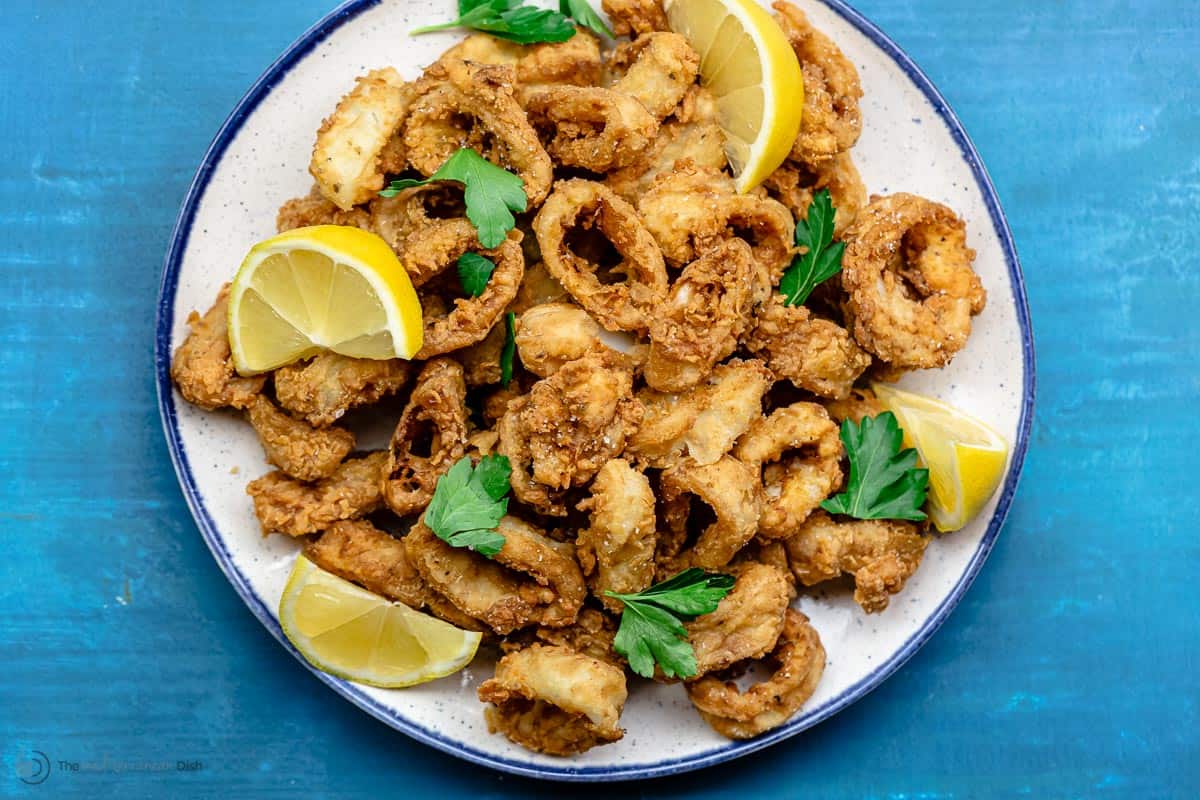 Grilled Chicken Wings. Yes, it is totally possible to give your chicken wings a Mediterranean twist! The secret to these delicious wings is in the onion marinade that is loaded with warm spices.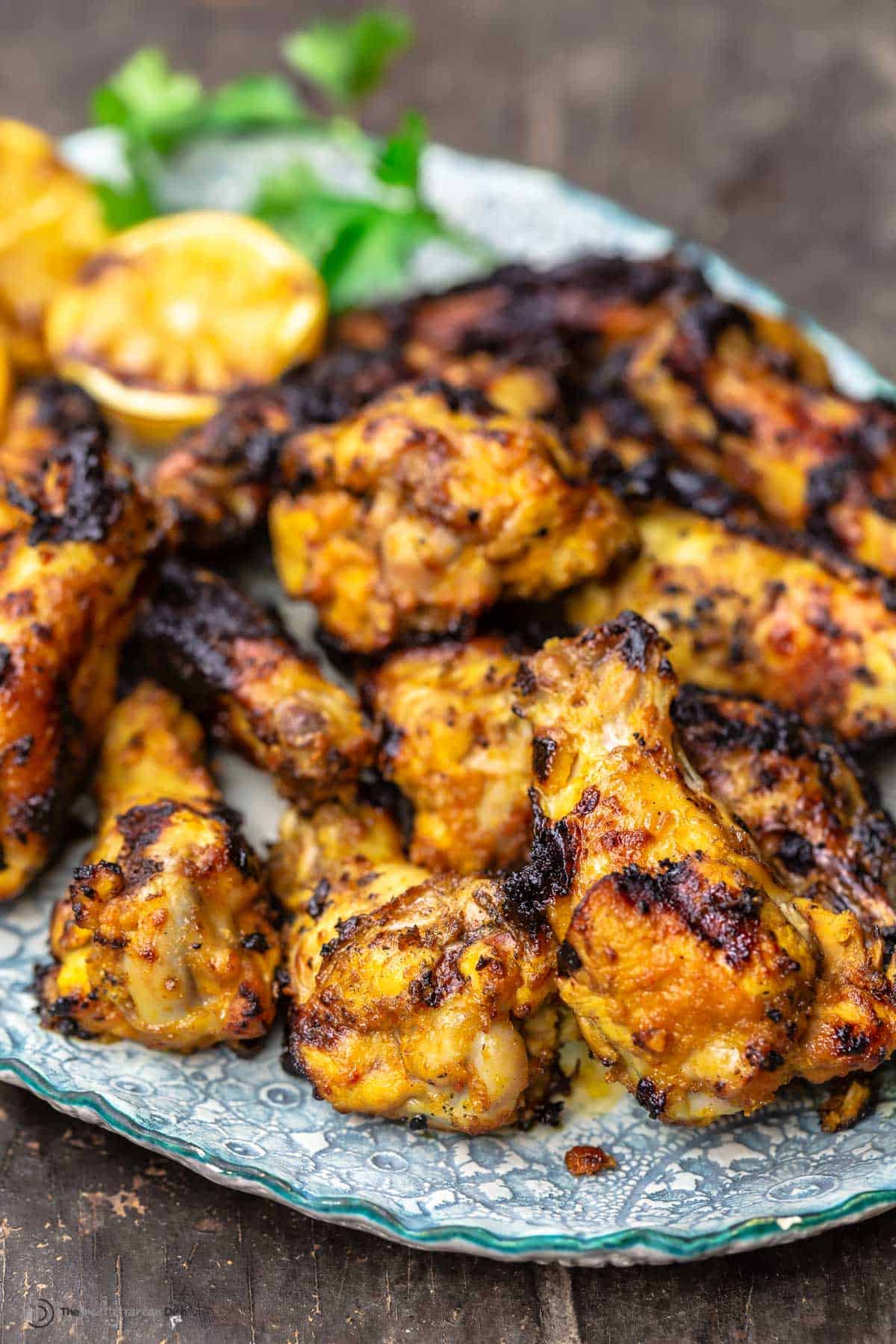 Whipped Labneh Dip. This easy dip starts with my basic labneh recipe which takes very little effort to make using plain whole milk yogurt and salt. From there, you'll whip the creamy labneh with a bit of lemon zest and finish it with a warmed olive oil sauce with olives, tomatoes, and a good dash of za'atar. I'm not surprised this one made the top recipes list, it is a simple appetizer that brings the wow factor every time.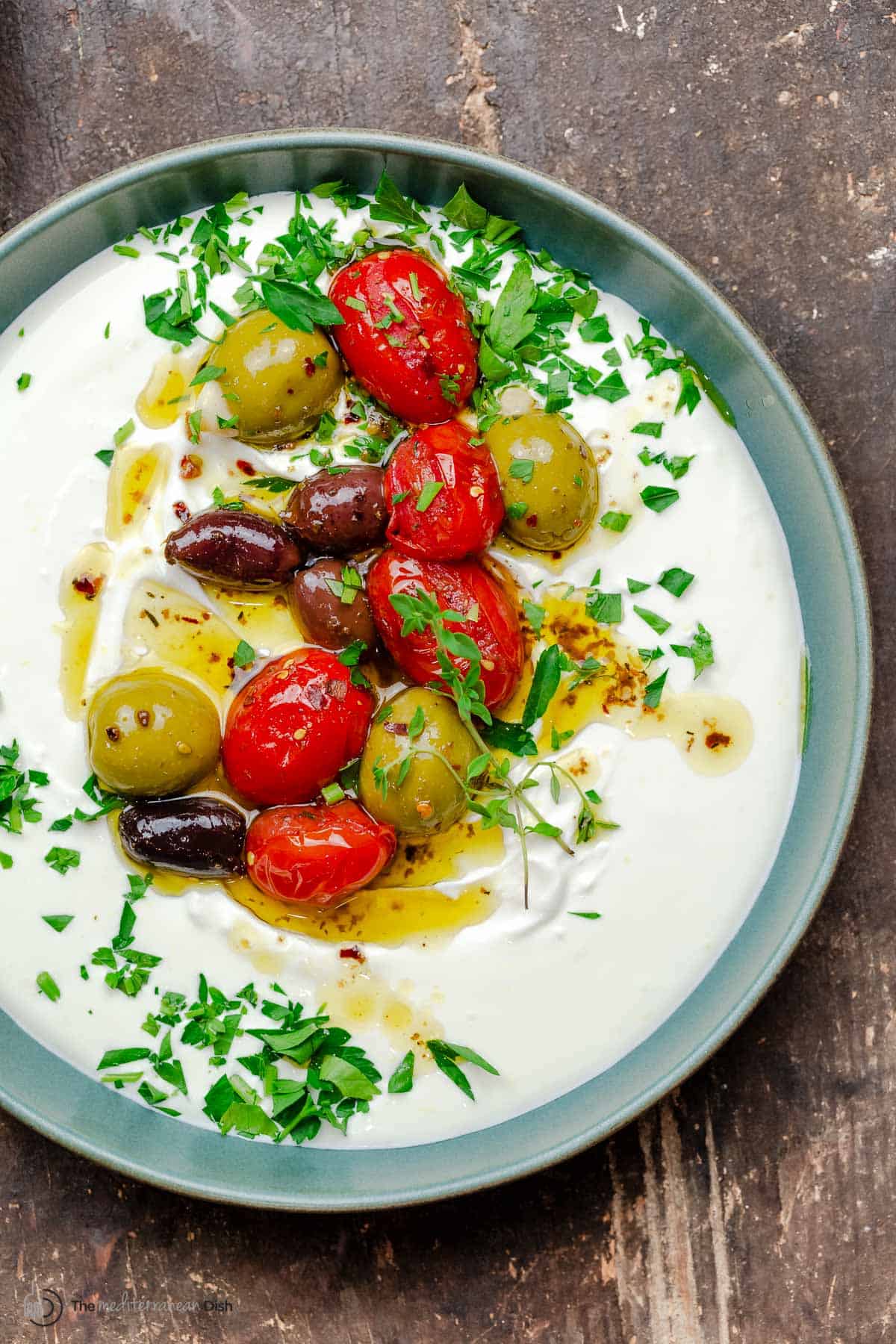 Gabmas al Ajillo. Spanish garlic shrimp in the tastiest wine sauce! This quick appetizer is best served immediately with crusty bread.
Greek Tzatziki Sauce. Greek yogurt sauce with cucumbers and fresh garlic. This is a versatile sauce that is the perfect accompaniment to many Mediterranean dishes. I love it with souvlaki or even salmon kabobs.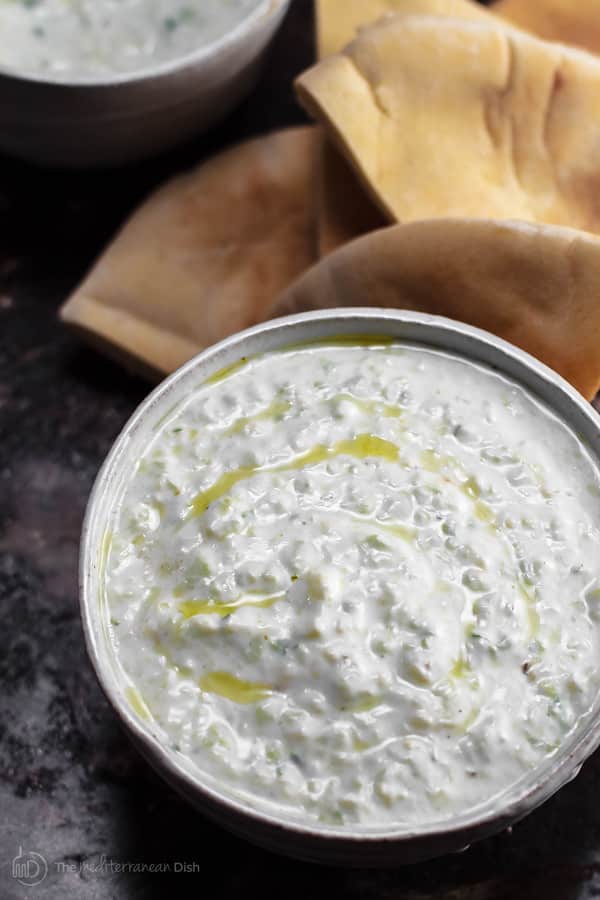 And if you're wondering about the baked goods for the year, again, they were non other than pita bread and baklava!
*This post is updated every year to reflect readers' choices and top Mediterranean recipes for the given year.
Hungry for More? Join my e-mail list for FREE to receive new recipes and my weekly dinner plan!
VISIT OUR ONLINE SHOP