Greek lamb kleftiko is a traditional Greek dish of slow-roasted lamb cooked in parchment with potatoes and vegetables. This easy recipe shows you how to make fall-apart-tender Greek lamb roast, an impressive dish to feed a crowd!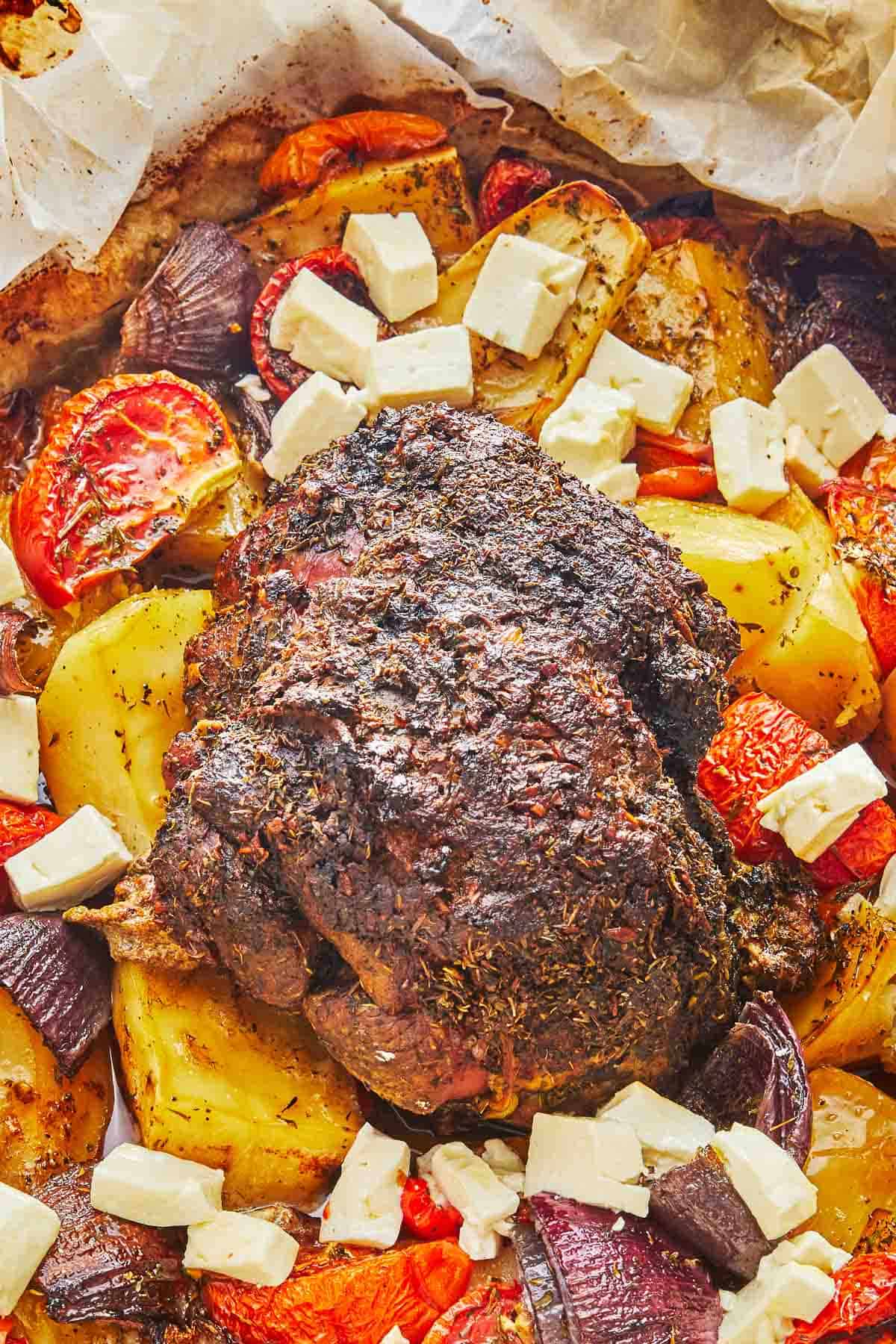 I'm not new to cooking leg of lamb or lamb roast, but it is something I save for special occasions when I want to bring the "wow factor" to dinner. If you're looking for something to impress your dinner guests, this Greek lamb kleftiko recipe delivers on both taste and presentation.
This foolproof method will give you perfectly tender lamb every time regardless of whether this is your first or 50th time making lamb. The secret to succulent lamb and tender vegetables is cooking everything wrapped in parchment paper. And to make it even easier, I use boneless leg of lamb.
This is is the ultimate in one-pot cooking! I always like a big Greek salad to start the meal. The fresh crisp vegetables are a great way to ease into the rich lamb meat. But kleftiko really is a meal in one so if you don't want to add a salad or don't have time. Don't worry about it; there will still be plenty to eat. I promise!
Table of Contents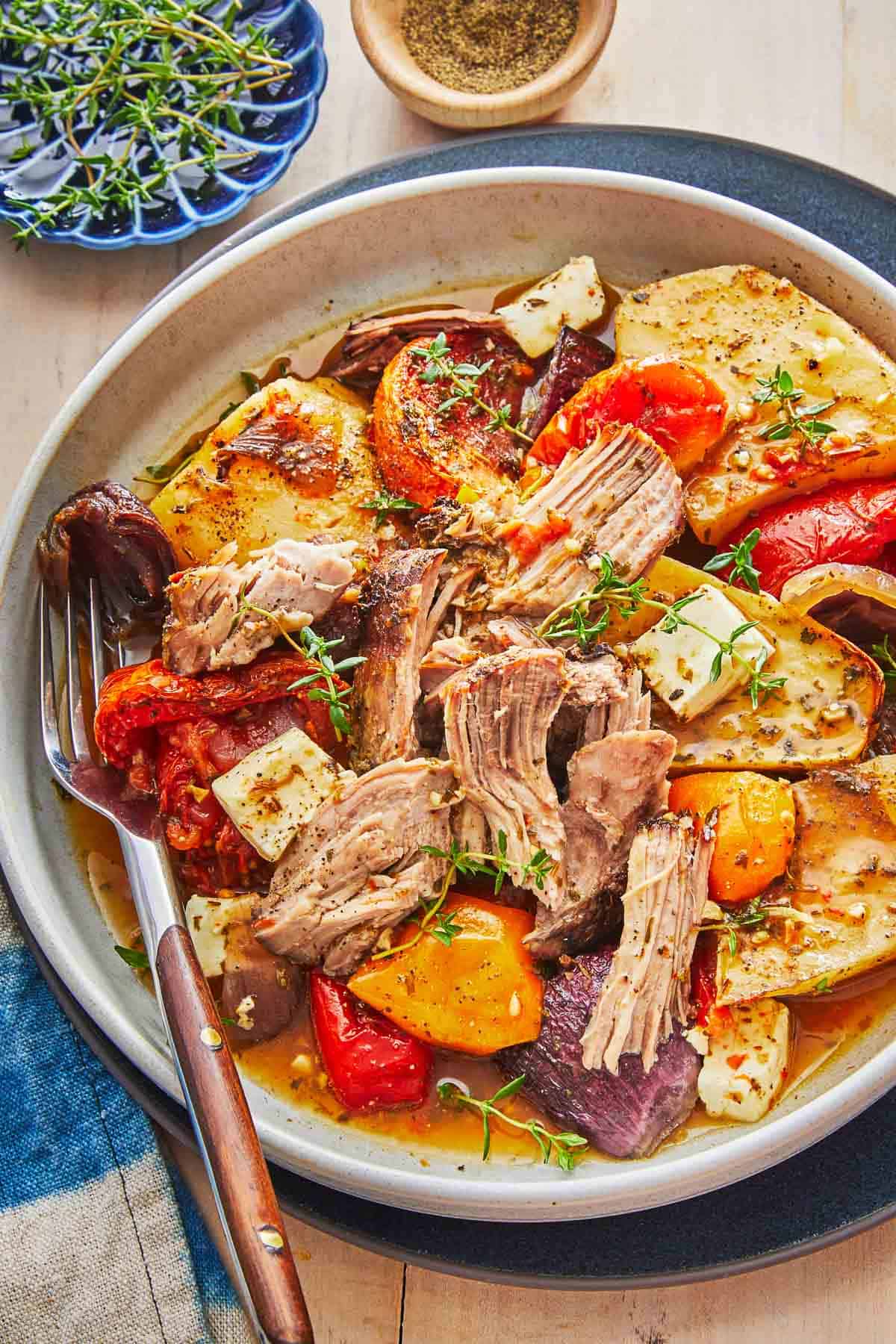 What is Kleftiko?
Kleftiko (or klephtiko) is a celebratory Greek dish of slow-roasted lamb with potatoes and vegetables cooked together in parchment paper until meltingly tender.

In my research, I learned that lamb kleftiko is named for the kelphts, a group of bandits who hid in the mountains of Greece some 500 years ago.
The klephts, according to Encyclopedia Americana, carried on a perpetual war against Turkish rule during the Greek war of independence from 1821 to 1832. During this time, they considered everything belonging to a Turk a "lawful prize" — including food.
The name of this recipe, "lamb kleftiko," literally means stolen lamb. Traditionally, mountain klephts (or klefts) in rural Greece cooked their meat in makeshift earthen ovens. These ovens were basically holes in the ground with branches set over embers. The design trapped the smoke and smell of the food underground so the klefts could go about their business undetected.
Needless to say, slow-roasting meat in an enclosed small space where the steam and heat are trapped for hours will produce the most meltingly tender lamb. Genius! Nowadays, kleftiko is cooked in parchment parcels in the oven.
Parchment Paper is Your Secret Weapon
Not only does parchment protect your pan and for easy clean-up, but when you envelop meat in parchment paper before roasting, it traps the heat and moisture, creating a steam pocket that helps the meat cook gently from the inside. The result is meltingly tender lamb that is never dry!

(If you've tried my fish en papillote recipe, this is the same concept).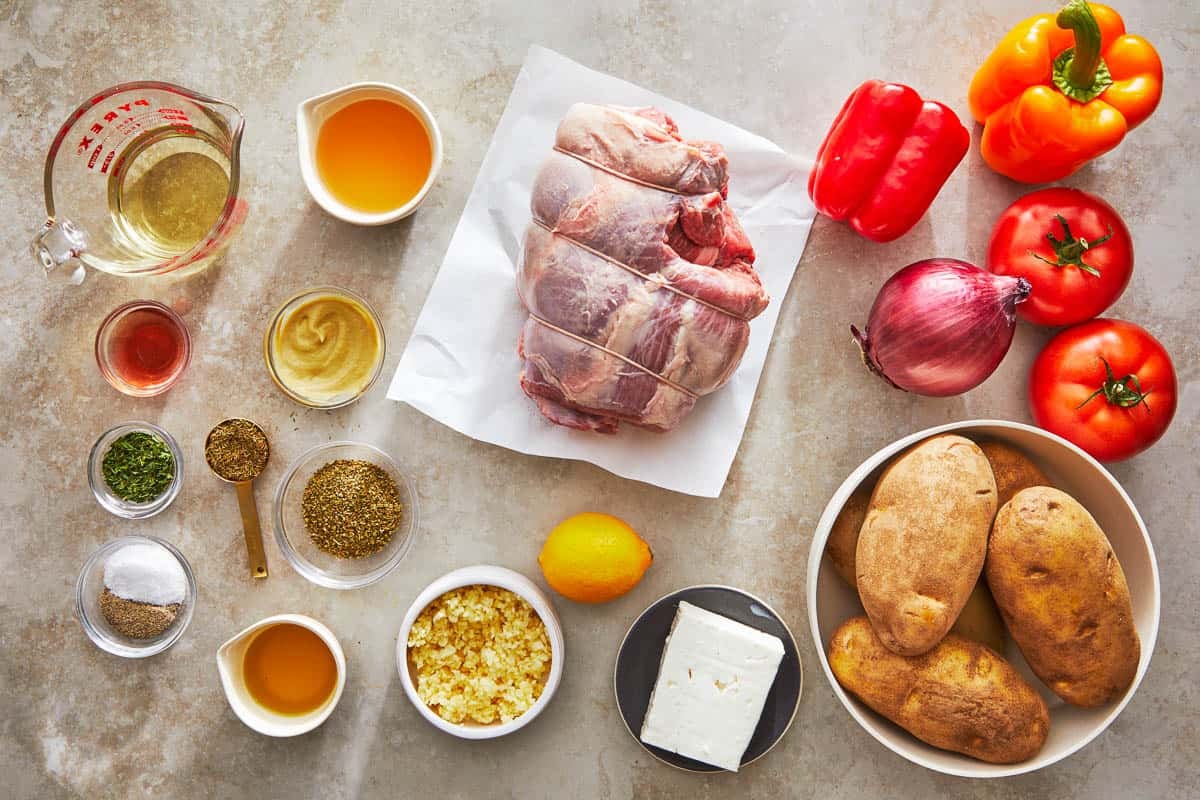 What's in Lamb Kleftiko?
Lamb, vegetables, and the marinade (including seasoning) make up this rustic Greek lamb recipe. As a finishing touch, cheese, such as blocks of feta, is often added. Let's walk through what you need to make this recipe:
Lamb: In this recipe, we use boneless leg of lamb. It's available in most grocery stores and a bit easier to work with. You can also use bone-in leg of lamb and allow a bit more time for cooking. Lamb shank or lamb shoulder pieces are also fine options here.
Vegetables: Large chunks of potatoes, tomatoes, bell peppers, and onions. Remember, the vegetables and lamb will cook for hours, that's why size matters.
Seasoning and marinade: Garlic, dried oregano, dried thyme, dried parsley, and Dijon mustard with good extra virgin olive oil, white wine, lemon juice, and some broth (vegetable or beef broth is best here). You can also replace the herbs I used with homemade Italian seasoning.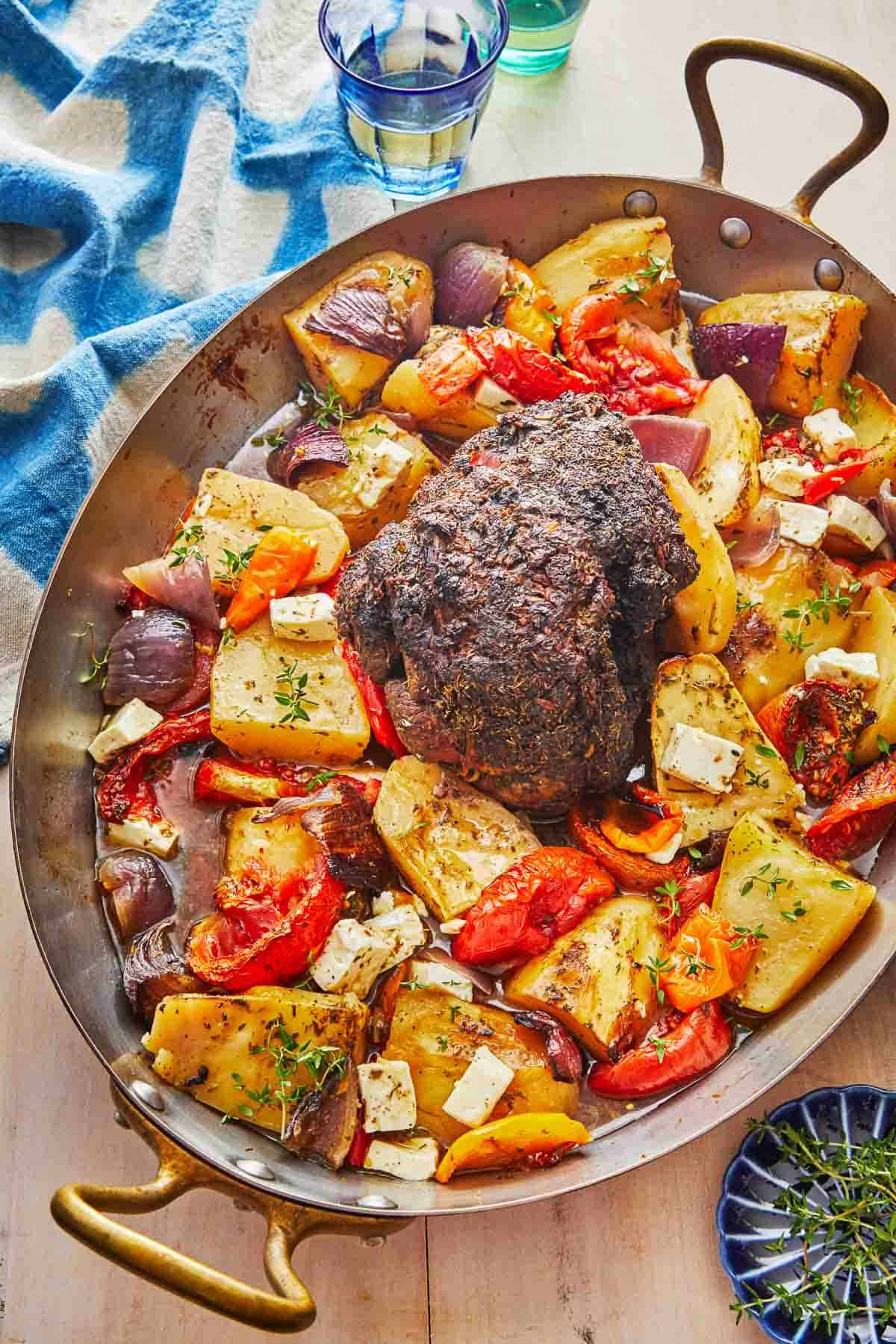 How to Make Kleftiko
Here is the step-by-step tutorial for how to make this lamb recipe (the print-friendly recipe with ingredient measurements is just below).
Season and marinate the lamb. First, remove the fat cap (the top layer of fat off the lamb). From there, your job is to make sure you give the lamb a ton of flavor! Rub the lamb all over with a good bit of fresh garlic and the dried herbs (oregano, thyme, and parsley) with a good pinch of kosher salt and black pepper and about 1 tablespoon of Dijon mustard. I like to make slits all over the leg of lamb to push the seasoning in. Put the lamb in a big bowl and add a generous drizzle of good olive oil, lemon juice, red wine vinegar, and ½ cup white wine (this is the marinade in which the lamb will cook). Set the lamb aside for a few minutes while you work on the vegetables.


Prepare and Season the Vegetables. Cut the potatoes, red onions, bell peppers (any color you like), and tomatoes into large chunks or wedges. Keep the veggies in big pieces so they can withstand the long cooking time. Seasoned the veggies with the same dried herbs used for the lamb and a good pinch of kosher salt and black pepper.


Enclose the veggies and lamb in parchment. You'll need a large roasting pan lined with parchment paper. Make sure the parchment paper lines the bottom of the pan with a big overhang on all sides. Add the veggies. Place the lamb on top of the vegetables then pour the marinade from the bowl over all of it. The vegetables act as a bed for the lamb. Add a little broth, then wrap everything tightly with the parchment. The goal is to fold the parchment over and close tightly to trap the veggies and lamb on all sides.


Roast in 375°F heated-oven. Tender lamb kleftiko can take a good 3 ½ to 4 hours in the oven. You can very carefully check with a fork (it should fall apart easily ). Once the lamb is fully cooked, fold the parchment into the inside of the pan and put it under the broiler briefly. This is optional, but it will give the lamb a little more color. This is also when you might add some slabs of feta cheese.
REST! Remove the lamb from the oven and let it sit for a good 20 to 30 minutes before serving.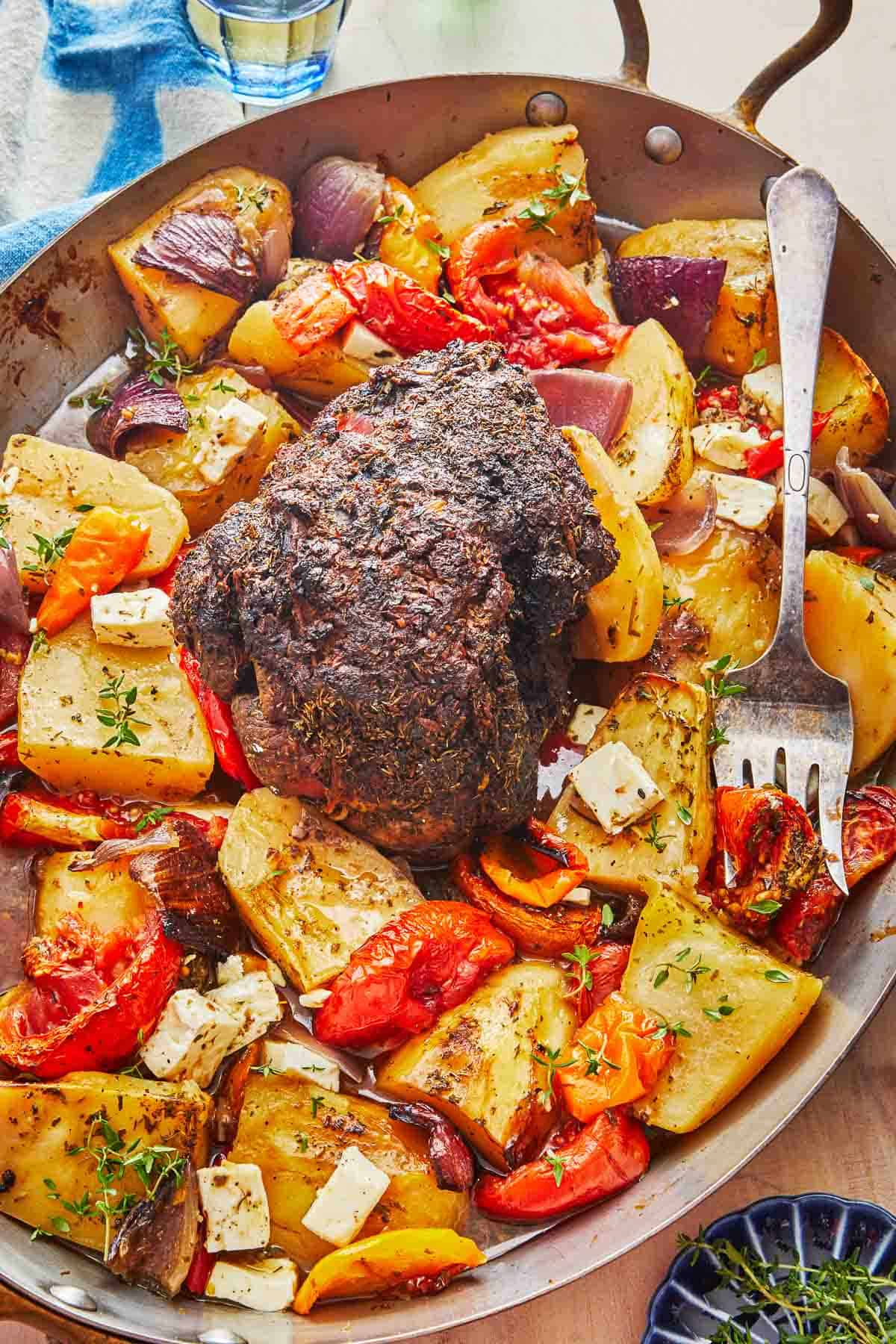 What to Serve with Kleftiko
What I love most about this lamb and vegetable recipe is that it's a whole meal all in one pan. Nothing else is needed unless you want some crusty bread to go with the tender veggies.
However, if you're hosting a large party and want to add a couple more sides next to your kleftiko, Greek lemon rice and a big salad would not hurt. But you can browse our Greek recipe collection for more ideas!
How to Serve and Store Leg of Lamb
This is a great make-ahead recipe that will keep in the fridge for a good 4 to 5 days. Allow leftovers to cool before refrigerating in a glass container with a tightly-closed lid.

More Lamb Recipes
Browse all Mediterranean recipes.

Visit Our Shop.
Our Private Reserve EVOO is perfect for Kleftiko!
Fruity with a peppery finish, this EVOO comes from the Hinaris Family Estate in Kyparissia, Greece. Grown and processed from 100% native Koroneiki olives!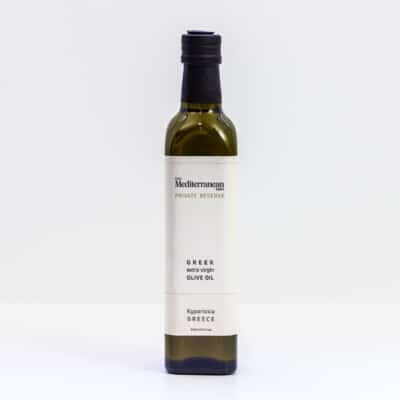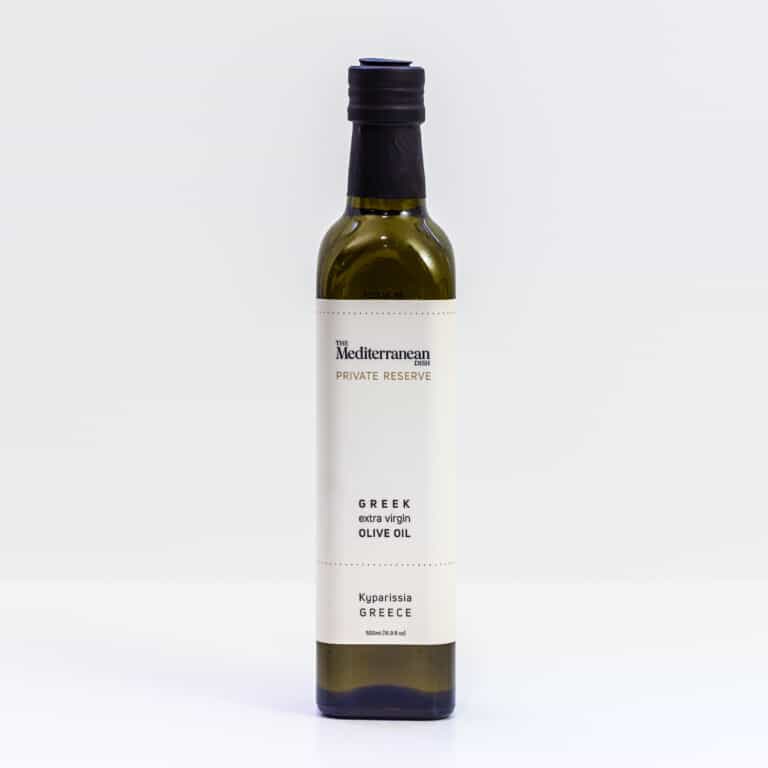 Kleftiko Recipe (Greek Lamb Cooked in Parchment)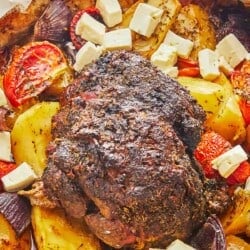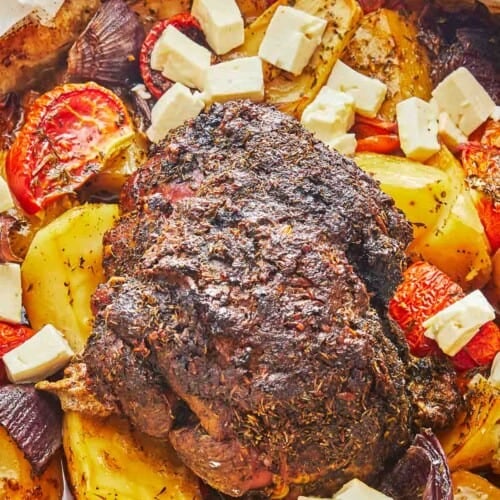 This recipe is all you need to make the best fall-apart tender lamb kleftiko! This traditional Greek lamb roast is easy to make and perfect for a small crowd.
Ingredients
1

boneless leg of lamb,

about 3 ½ pounds, trimmed of excess fat

2 ½

tablespoons

dried oregano,

divided

1

tablespoon

dried thyme,

divided

1

tablespoon

dried parsley,

divided

Kosher salt and black pepper

1

tablespoon

Dijon mustard

10

garlic cloves,

minced

Juice of 1 lemon

1

tablespoon

red wine vinegar

½

cup

white wine

Extra virgin olive oil,

I used Greek Private Reserve EVOO

4 to 5

large Russet potatoes,

about 3 pounds, peeled and quartered

2

large sweet bell peppers,

cored and cut into large chunks (I used red and orange sweet peppers)

2

large tomatoes,

cut into thick wedges

1

large red onion,

cut into large chunks

½

cup

vegetable or beef broth

4

ounces

feta cheese,

cut into blocks, optional
Instructions
Season and marinate the lamb. Place the boneless leg of lamb in a large bowl. Using a sharp knife, make a few slits in the boneless leg of lamb. Rub the lamb all over with 2 tablespoons dried oregano and ½ tablespoon each dried thyme and dried parsley. Season well with kosher salt and black pepper on all sides. Then rub with the mustard and the majority of the garlic (reserving 1 tablespoon of the garlic for the vegetables). It's important to push some of the garlic and seasoning into the slits you've cut earlier for best flavor. Transfer the lamb to a large bowl and add the lemon juice, red wine vinegar, white wine and about ¼ cup of extra virgin olive oil, turning the lamb in the bowl to make sure it is well coated. Set the lamb aside for a few minutes while working on the vegetables. (But if you do have the time, cover the bowl and refrigerate for a couple hours or up to one night).

Preheat the oven to 375°F. And position a rack in the middle.

Prepare the roasting pan and parchment paper. Line a large roasting pan with two very large pieces of parchment paper, making a cross shape so that you have long pieces of parchment overhang on all sides of the pan (I like to have about 8 inches of parchment overhang on all sides of the pan).

Assemble the vegetables and lamb in the pan. Spread the potatoes, bell peppers, tomatoes, and onions in the bottom of the pan over the parchment. Season with a good pinch of kosher salt and black pepper and the remainder of the dried oregano, thyme, and parsley. Sprinkle the remainder of the garlic on top and drizzle with a little olive oil. Add the lamb on top of the vegetables and pour the broth in from the side of the pan.

Fold the parchment to cover the lamb and vegetables. Pull parchment paper sides together and tightly crimp them up to fully encase the lamb and vegetables in the parchment parcel.

Roast. Place the roasting pan on the center rack of your heated oven and cook for about 3 ½ to 4 ½ hours or until the meat is tender and falls apart easily at the touch of your fork (you can check partway through and add more broth or water, if needed).

Brown. Uncover the meat and veggies and fold excess parchment paper into the inside of the pan. If using, add the feta cheese at this point. Raise the heat to 425°F and return the pan to the oven (uncovered) for a few more minutes until the lamb and vegetables gain some color (about 15 to 20 minutes) to 425°F to allow the meat and veggies to brown).

Let rest. Once ready, allow the lamb kleftiko to sit for about 20 to 30 minutes before serving.

Serve. Pull the meat apart using two forks to shred. Serve the lamb in bowls over the vegetables!
Notes
To work ahead and for best flavor, marinate the lamb in the fridge for a couple of hours or up to one night in advance. Bring it closer to room temperature before cooking.
Bone-in leg of lamb will take longer to cook
Visit our shop to browse quality Mediterranean ingredients including olive oils, honey, jams and spices.
Nutrition
Calories:
327.1
kcal
Carbohydrates:
27.6
g
Protein:
31.3
g
Fat:
9.1
g
Saturated Fat:
4
g
Polyunsaturated Fat:
0.8
g
Monounsaturated Fat:
3
g
Cholesterol:
92.6
mg
Sodium:
403.1
mg
Potassium:
1030.8
mg
Fiber:
3.7
g
Sugar:
3.7
g
Vitamin A:
1332.3
IU
Vitamin C:
51.6
mg
Calcium:
146.5
mg
Iron:
4.9
mg