Give your breakfast an upgrade with this easy Mediterranean-inspired sweet potato hash recipe featuring fresh veggies, poached eggs, and warm spices!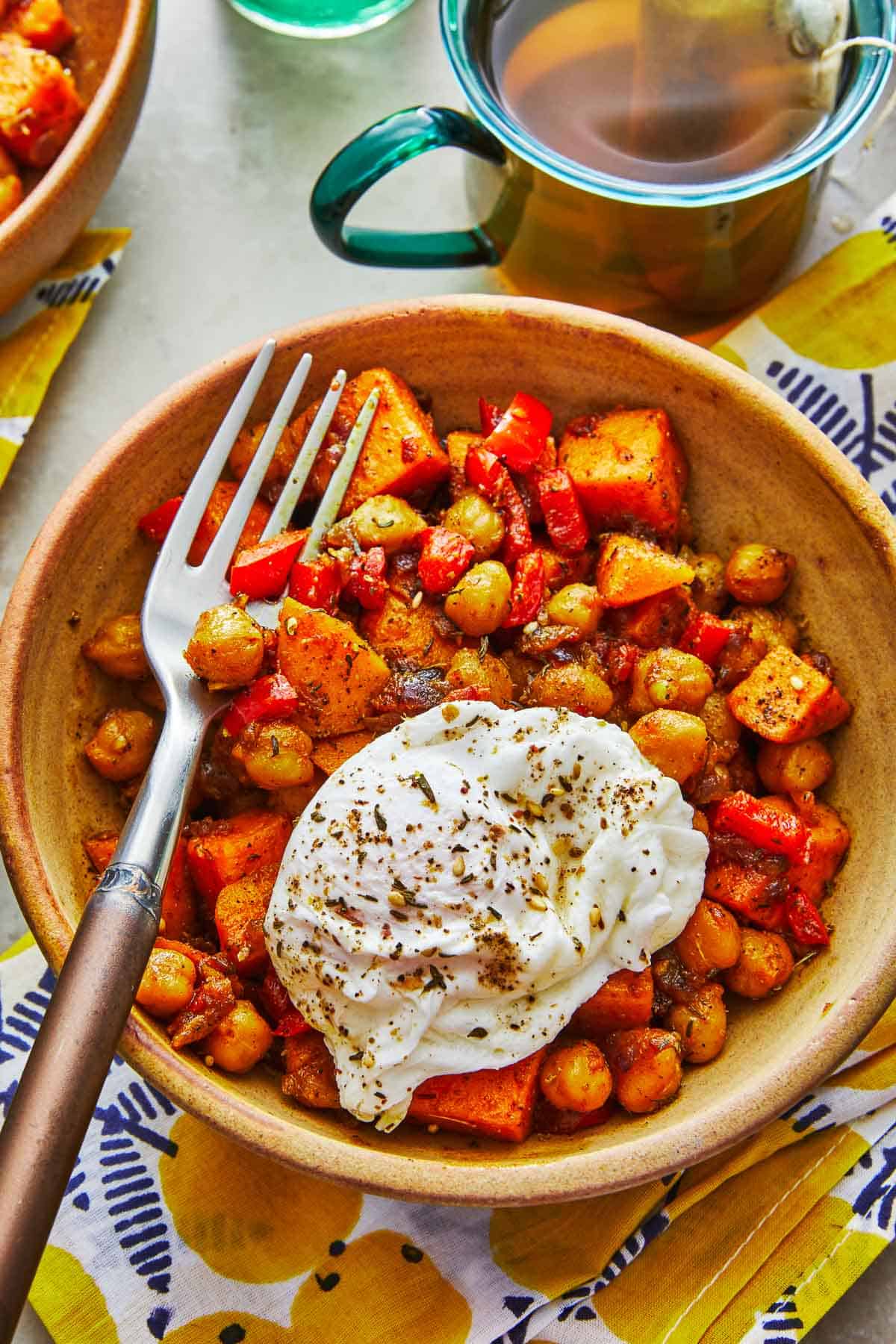 This sweet potato hash recipe takes the classic American dish up a notch with fresh veggies, chickpeas, and warm Mediterranean spices. Top it off with poached eggs for a savory breakfast, brunch, or dinner that can't be beat!
There's nothing better than a hearty breakfast to start the day! From Egg Toast with Vegetables to 15-Minute Mediterranean Breakfast Bowls, and Easy Breakfast Stuffed Peppers, I love it all. However, one dish that always hits the spot is a warm potato hash.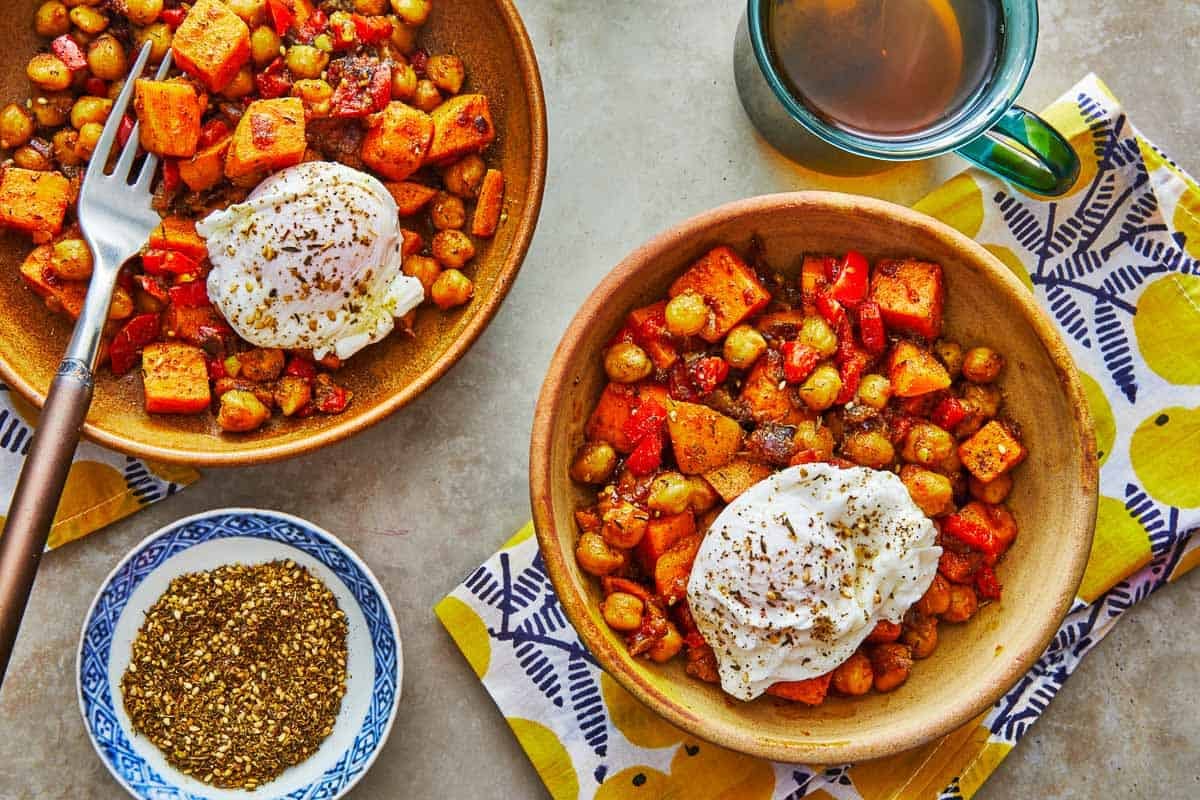 A classic American dish, I have a deep love and appreciation for its humble and comforting flavors. However, as delicious as the classic recipe is, I decided to recreate my own version at home with a bit of a Mediterranean twist!
Every bit as satisfying as the original if not more so, this vegetarian sweet potato hash features sautéed onions and peppers along with chickpeas and warm Mediterranean spices. Then, I top it all off with perfectly poached eggs! I first developed this recipe for my book, The Mediterranean Dish: 120 Bold and Healthy Recipes You'll Make on Repeat and now I'm sharing it with my loyal readers on the site.
Super filling and so quick to make, it's the best breakfast or brunch for holidays, weekends, and more. One bite, and you'll be hooked!
Table of Contents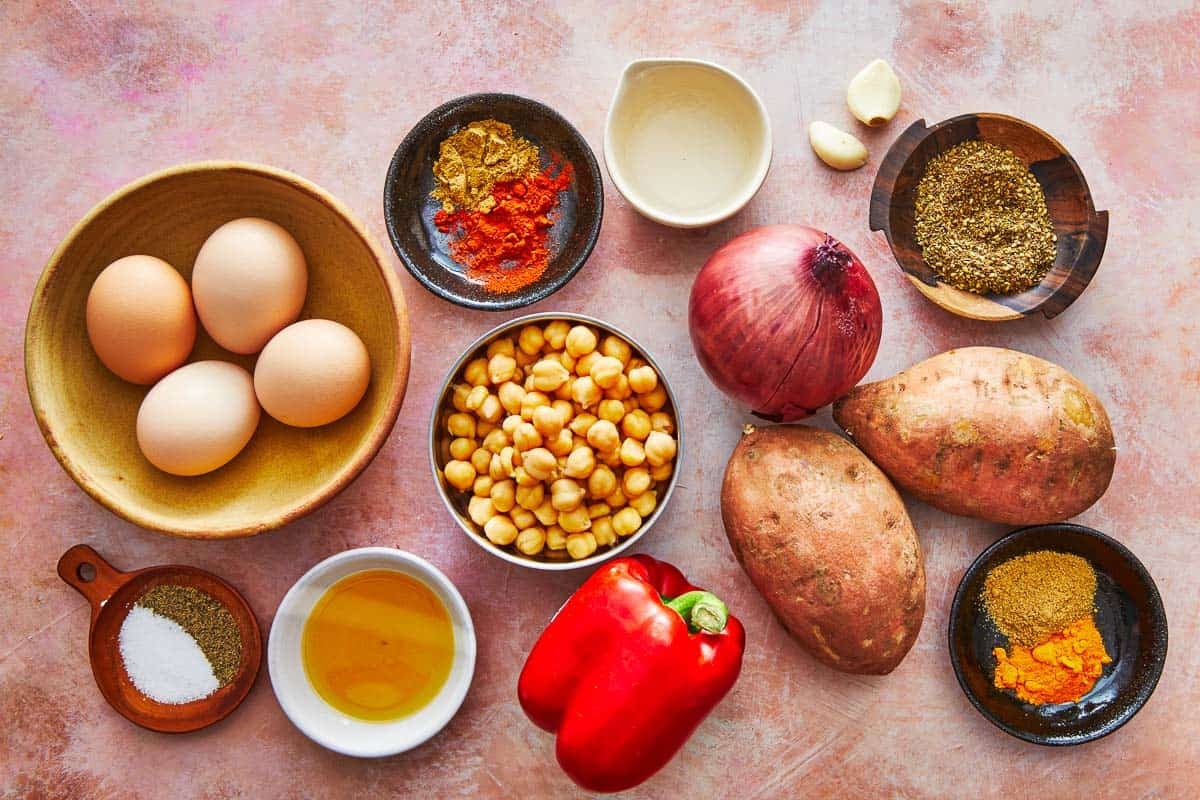 Ingredients You'll Need
Fresh veggies, warm spices, and a few pantry staples are all you'll need for this sweet potato hash recipe. Here are the details:
Extra-virgin olive oil: Any EVOO can be used here, but I prefer a medium-intensity like our Italian Nocellara oil or California Arbequina oil.
Red onion: White or yellow onion can be used, but once caramelized, red onions provide a sweet tangy flavor that makes this sweet potato hash out-of-this-world incredible.
Sweet potatoes: Used to form the base of this dish and provide a good source of vitamins, nutrients, and fiber, sweet potatoes create the perfect balance of flavors when combined with warm spices.
Chickpeas: These add protein and work to replace the sausage or meat found in many sweet potato hash recipes. Just one can will be more than enough, but be sure to save the leftovers to make crispy roasted chickpeas! Or, cook your own chickpeas to ensure you have just the right amount for this recipe.
Spices: Salt, pepper, coriander, cumin, sweet paprika, turmeric, and za'atar are all staples in Mediterranean cooking and provide an earthy, warm base with just a hint of spice.
Garlic: Make sure your garlic is fresh and finely chopped! No one wants to bite into a large clove.
Red bell pepper: Used to add a pop of color and extra sweetness. Yellow or orange peppers would work, too! However, I would recommend staying clear of green peppers for this recipe as they have a slightly more bitter or spicy taste.
Distilled white vinegar: This is crucial to help the poached eggs keep their shape. If you don't have vinegar on hand, lemon juice will help achieve the same effect.
Eggs: I love a good runny yolk, but you can prepare your eggs any way you'd like for this sweet potato hash.
How to Make Sweet Potato Hash with Za'atar and Chickpeas
I'm all about no-fuss recipes, and this sweet potato hash is no exception. Quick and easy, it requires just two dishes and makes enough for the whole family. Here's what to do:

Start cooking the potatoes: Heat the olive oil in a 12-inch cast-iron skillet over medium heat. You want it to be shimmering and hot but not smoking. Otherwise, your food will burn! Add the red onion, sweet potatoes, and chickpeas along with a big pinch of salt and pepper. Follow that up with the coriander, cumin, paprika, and turmeric, and don't be afraid to have a bit of a heavy hand! We love spice around here! Continue to cook, stirring frequently until the onion is beautifully caramelized and the potatoes are soft.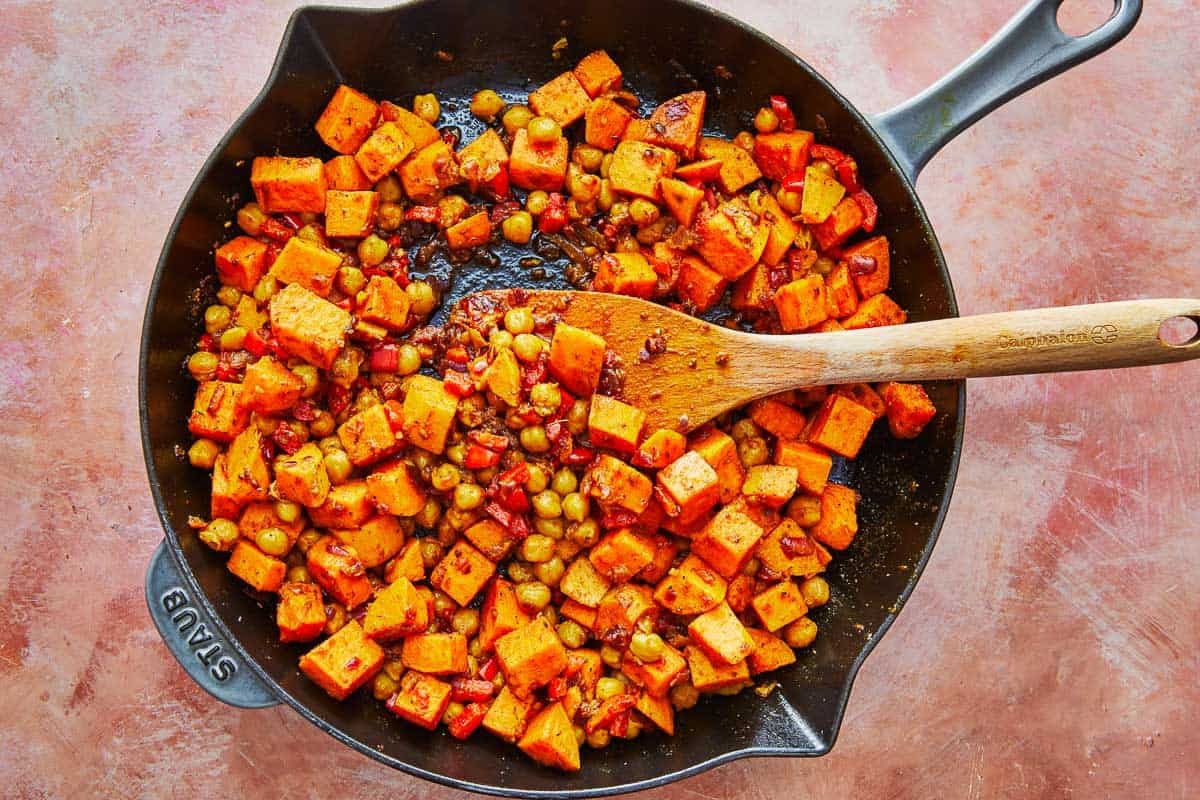 Add the peppers: Reduce the heat to medium, and stir in the garlic and bell pepper. Once the peppers have softened and the potatoes are totally cooked through sprinkle the za'atar on top. Don't forget to give them a taste test for good measure. You know you want to!
Poach the eggs: While the veggies cook, go ahead and poach your eggs. To do so, boil water over medium-low heat, and add the vinegar. Then, carefully so you don't break the yolk, crack each egg into a small bowl. Stir the water, and gently slide the eggs in. Set a timer, and cook for exactly 3 minutes before using a slotted spoon to transfer them to a paper towel to drain. Sprinkle seasonings on top for extra flavor.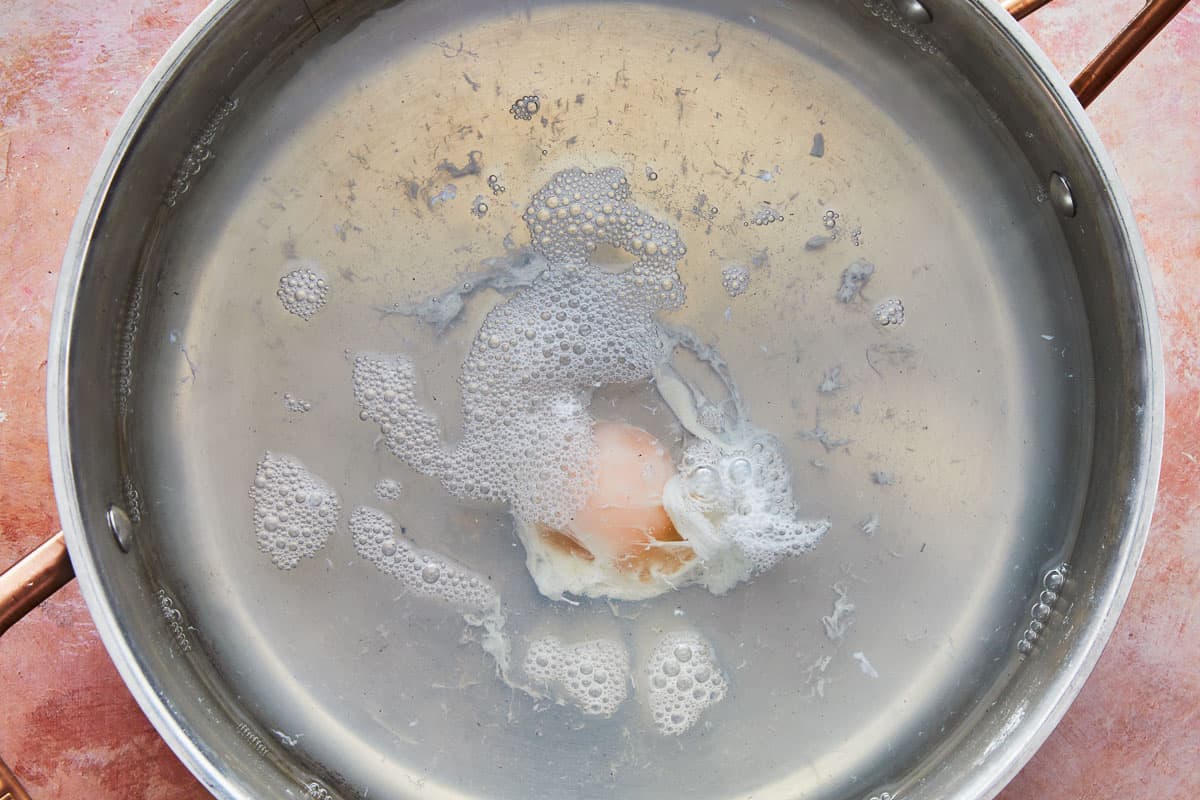 Serve: If you're willing to share, divide the sweet potato hash among 4 bowls, and top them all with a poached egg. Then, finish the dish by adding any extra toppings or condiments you want, and dig in!
Why We Love Sweet Potatoes Around Here
If you haven't jumped on the sweet potato train yet, now is the time! We adore them for a host of different recipes like our Simple Vegetarian Sweet Potato Stew, Roasted Pearn and Sweet Potato Gratin, Baked Sweet Potato Fries with Za'atar and Tahini, and so many more! We don't just like them for their sweet flavor, though. They're also absolutely bursting with vitamins and nutrients, too! Did you know: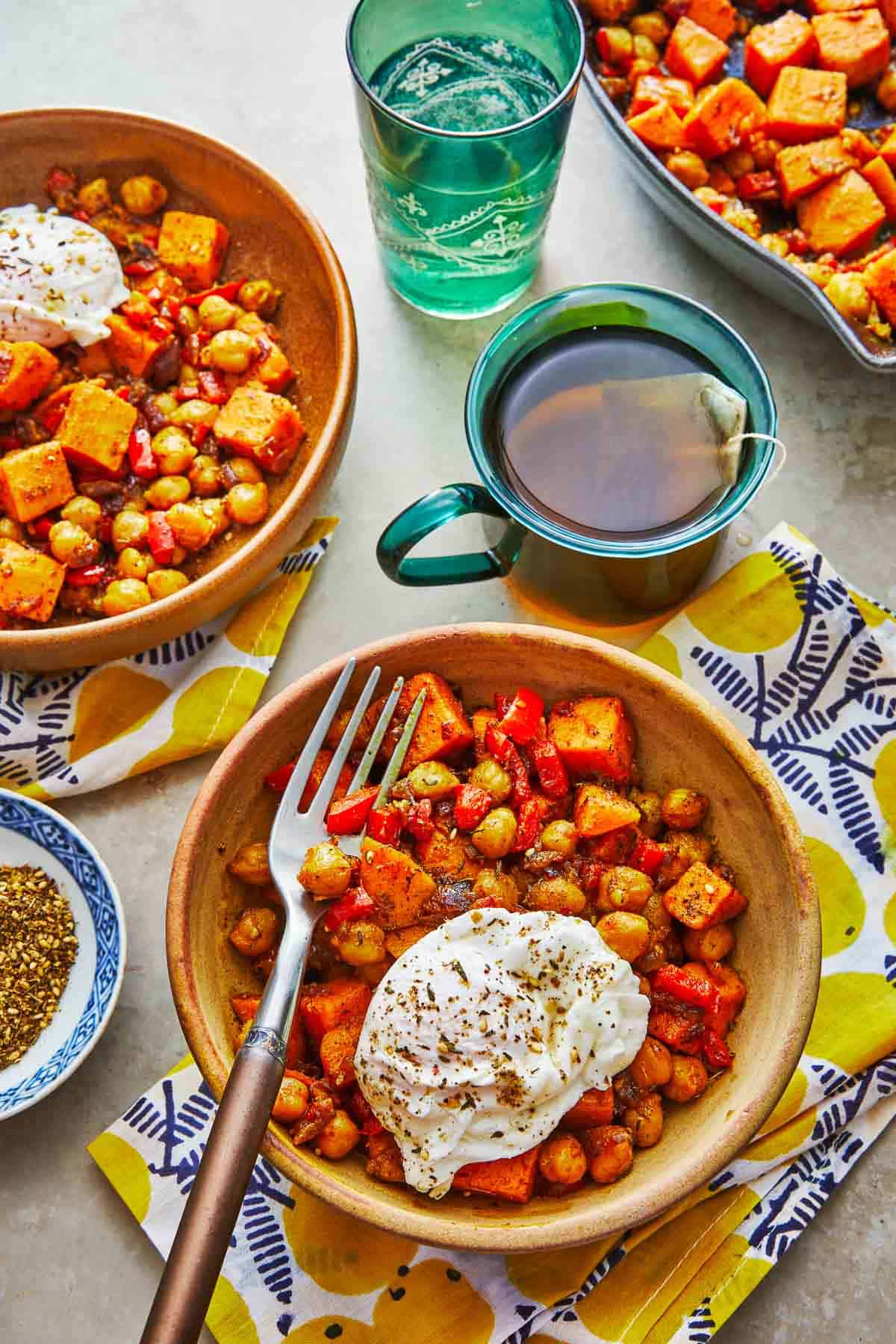 Swaps and Substitutions
As usual, don't stress if you don't have everything you need to make this sweet potato hash recipe! With endless variations, you really can't go wrong. Here are some ideas:
Potatoes: If you don't have sweet potatoes, Russet or Yukon Gold work just as well. Just note that the flavor profile will change slightly as these alternatives aren't quite as sweet.
Veggies: If you don't have bell peppers or just want to use up some leftover veg you have laying around, feel free to incorporate anything you have on hand like mushrooms, spinach, or kale.
Meat: If you really want to include meat in this dish, mix in ground sausage, turkey, beef, or even ham.
Beans: Replace chickpeas with black beans for a similar taste and texture while maintaining a good source of plant-based protein.
Vegan Option: Omit the eggs completely to make this sweet potato hash fully plant-based.
Make It a Feast
This sweet potato hash recipe is plenty filling on its own. However, if you're having company or just like a big breakfast, go ahead and serve it alongside all your favorite dishes for a tasty breakfast feast! Some of my favorite pairings include Challah French Toast with Orange Honey Syrup, Easy Homemade Jerusalem Bagels, Easy Challah Bread, and our Smoked Salmon Appetizer Platter. Yum!
More Amazing Breakfast Recipes
Browse all Mediterranean recipes.

Visit Our Shop.
Jazz up your Sweet Potato Hash with Za'atar!
This exotic blend of wild thyme, toasted sesame seeds, sumac and a dash of oregano will transform your cooking. There are so many delicious ways to use it!
Sweet Potato Hash Recipe with Za'atar and Chickpeas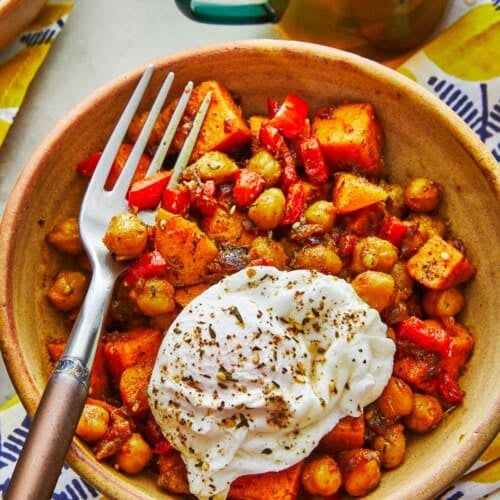 Potato hash is a very American thing that I love and appreciate for the humble and comforting dish that it is. This hash takes on a Mediterranean twist: cubed sweet potatoes are cooked in extra-virgin olive oil with red onion, bell pepper, and chickpeas, and are well seasoned with coriander, paprika, za'atar, and other warm spices. You can prepare the eggs any way you like to serve on top of the hash, but for me, cutting into a perfectly poached egg and allowing some of that yolk to run over the sweet potatoes is just magic.
Ingredients
3

tablespoons

extra-virgin olive oil

1

medium red onion,

chopped

2

small sweet potatoes,

about 1 ½ pounds total, peeled and cut into ½-inch cubes

1

cup

canned chickpeas,

drained and rinsed

Kosher salt

and ground black pepper

1

teaspoon

ground coriander

½

teaspoon

ground cumin

½

teaspoon

sweet paprika

½

teaspoon

ground turmeric

2

large garlic cloves,

minced

1

large red bell pepper,

cored, seeded and chopped

1

tablespoon

za'atar,

plus more as desired

1

teaspoon

distilled white vinegar

4

large eggs
Instructions
In a 12-inch cast-iron skillet, heat the olive oil over medium-high heat until shimmering but not smoking. Add the red onion, sweet potatoes, and chickpeas. Season with a big pinch of salt and black pepper (about ½ teaspoon each). Add the coriander, cumin, paprika, and turmeric. Stir to combine. Cook, stirring frequently, until the onion is nicely caramelized and the sweet potatoes have softened quite a bit, 10 to 15 minutes.

Reduce the heat to medium. Add the garlic and bell pepper. Continue to cook, stirring frequently, until the pepper has softened and the potatoes are now cooked through, another 5 to 10 minutes. Sprinkle with the za'atar.

Meanwhile, bring a medium pot of water to a steady simmer over medium-low heat and add the vinegar. Break each egg into a small bowl or ramekin. Stir the simmering water gently and carefully slide each egg in; the egg whites should wrap around the yolk. Cook for 3 minutes exactly, then remove the eggs from the simmering water using a slotted spoon and put them on a paper towel to drain briefly. Season with a pinch of salt, pepper and a little more za'atar.

Divide the sweet potato hash among 4 bowls and top each with a poached egg. Serve immediately.
Nutrition
Calories:
317
kcal
Carbohydrates:
34.8
g
Protein:
10.3
g
Fat:
15.9
g
Saturated Fat:
3
g
Polyunsaturated Fat:
2.4
g
Monounsaturated Fat:
9.6
g
Trans Fat:
0.02
g
Cholesterol:
163.7
mg
Sodium:
242.8
mg
Potassium:
640.6
mg
Fiber:
7.1
g
Sugar:
7.4
g
Vitamin A:
17371.5
IU
Vitamin C:
44
mg
Calcium:
110
mg
Iron:
3.9
mg