If bottled supermarket Italian giardiniera is your only reference, you are in for a happy surprise! Enticingly tangy and crunchy, this colorful Italian pickle of carrots, cauliflower, peppers, and other vegetables is surprisingly easy to make at home. Once you've had this homemade giardiniera recipe, you'll never use store bought again.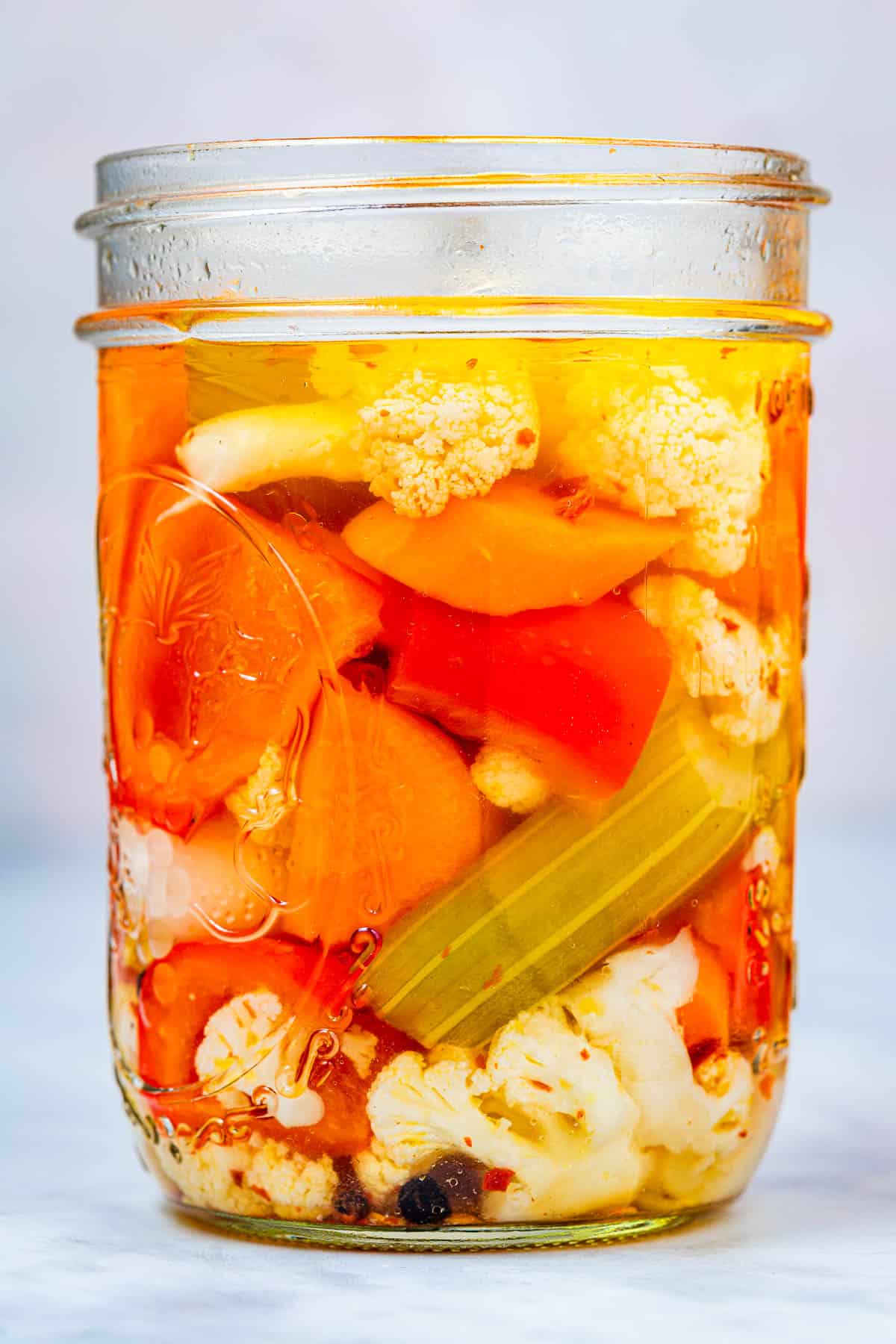 Giardiniera, a popular Italian pickle made from a mix of vegetables, is the perfect addition to a sandwiches, an antipasto platter, tuna or egg salads, or as a jazzy side to grilled sausages, roasts, or frittatas.
If you've ever perused the shelves of an Italian supermarket, you'll know there is often an entire aisle devoted to pickled vegetables. It's hard to miss those big jars, filled with colorful carrots, peppers, cauliflower and more.
But did you know there are many homemade versions of giardiniera as well? In fact, there are probably as many giardiniera recipes as there are Italian cooks! Some cooks like to finely chop the mix of vegetables, others prefer large pieces. While some add sugar to the vinegary brine, others prefer it spiked with hot pepper. Some versions are bathed in olive oil, others are straight vinegar.
My mom made giardiniera every summer, and, not surprisingly, her version is my favorite. I love the mix of crisp, colorful vegetables that she chose, and the addition of spices like peppercorns, cloves, and juniper berries to punch up the flavor of the brine.
I included my mom's giardiniera recipe in my book, Preserving Italy, where I wrote about Italian preserving traditions in the kitchen. And I'm sharing this beloved family recipe with you here so you can enjoy it too. You'll love the bracing crunch of these colorful Italian pickled vegetables!
Table of Contents
What is Giardiniera?
The word "giardiniera" comes from the Italian word "giardino," which means garden. Italians are avid gardeners, and they especially love vegetable gardening. Why take up space with a lawn when you can grow your own produce instead?
Giardiniera typically contains a mix of vegetables that you might find in an Italian garden: carrots, cauliflower, celery, green beans, peppers, and onions. At the end of harvest season, it was traditional to preserve these vegetables, so that they could be enjoyed during the winter months.
In the 19th Century, Italian immigrants brought their giardiniera recipes with them to the U.S., and giardiniera has since become an essential condiment for everything from hot dogs and burgers to Chicago's famed Italian beef sandwiches and New Orleans' muffuletta.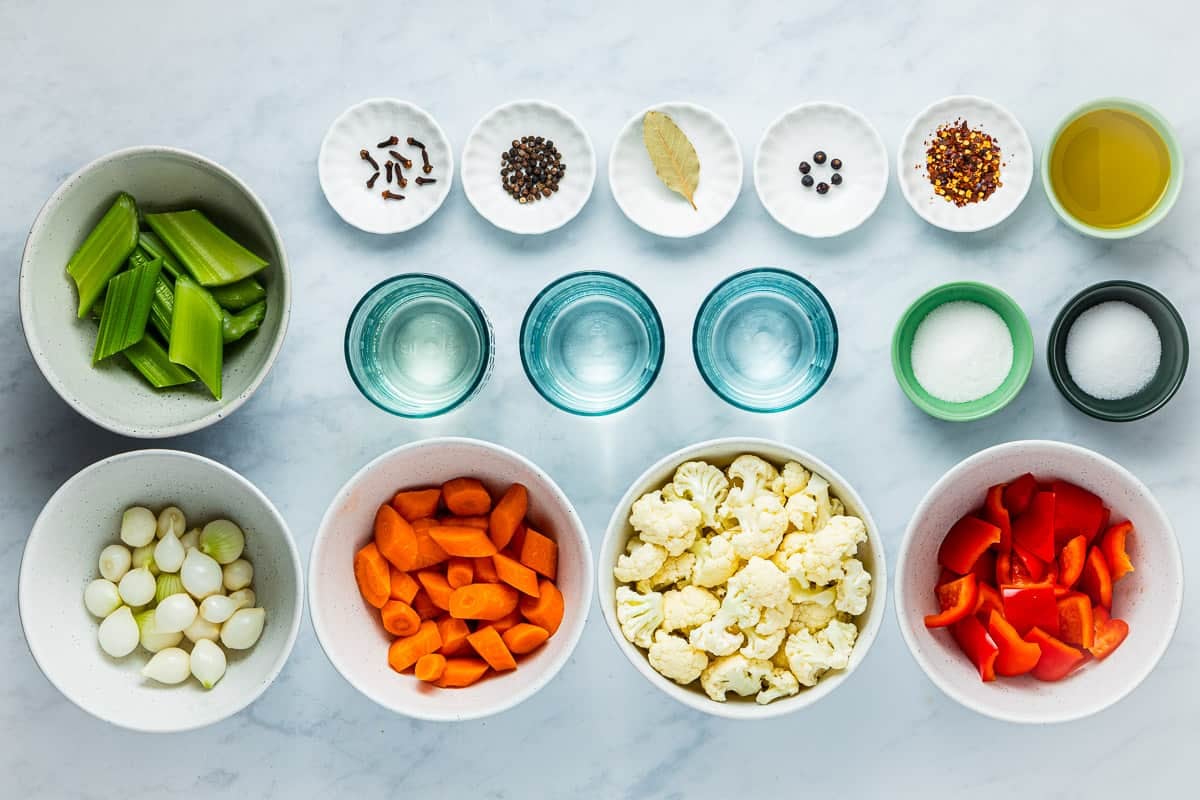 What's in this Giardiniera Recipe?
Great giardiniera is all about bold flavors, crunchy textures, and bright colors. Here's what you'll need to make Italian pickled vegetables:
The Vegetables
A colorful mix of vegetables is a must, but it's also important that the flavors pair well together. Here's my favorite mix.
Carrots: Bright orange carrots add color and snap to giardiniera, plus a touch of sweetness.
Cauliflower: Pretty florets of cauliflower soak up the flavor of giardiniera brine and add a welcome crunch. In spring, I use a whole small head (about 12 ounces). When the larger cauliflower start hitting the shelves, I use half a head.
Celery: No giardiniera recipe is complete without the juicy crunch of celery.
Green beans: You can use just green beans or a mix of green beans and lemon-yellow wax beans.
Onions: Small is the way to go here. Use whole peeled pearl or cipollini onions.
Sweet bell peppers Add an assertive touch. Just one whole red bell pepper does it, or for a little extra color use ½ red pepper and ½ yellow bell pepper.
The Brine
I prefer a mostly sour brine, with lots of spices and just a touch of sugar, for my giardiniera.
White wine vinegar: Gives the giardiniera a pleasing fruity undertone.
Distilled white vinegar: More neutral in flavor than wine vinegar, distilled vinegar adds a crisp acidity to the giardiniera brine.
Water: Spring water or filtered tap water cuts the acidity of the brine.
Kosher salt: Brings out the vegetables' flavors.
Sugar: Brings balance and enhances the vegetables' natural sweetness.
Spices: Whole black peppercorns, crushed red pepper, whole cloves, juniper berries, and dried bay leaf add an aromatic, warming quality to the brine, infusing the vegetables with flavor.
Extra-virgin olive oil: Topping off the jars with just a few tablespoons of olive oil adds a touch of richness to mellow the bracing vinegar brine. Use a smooth, flavorful olive oil, like our Italian Nocellara.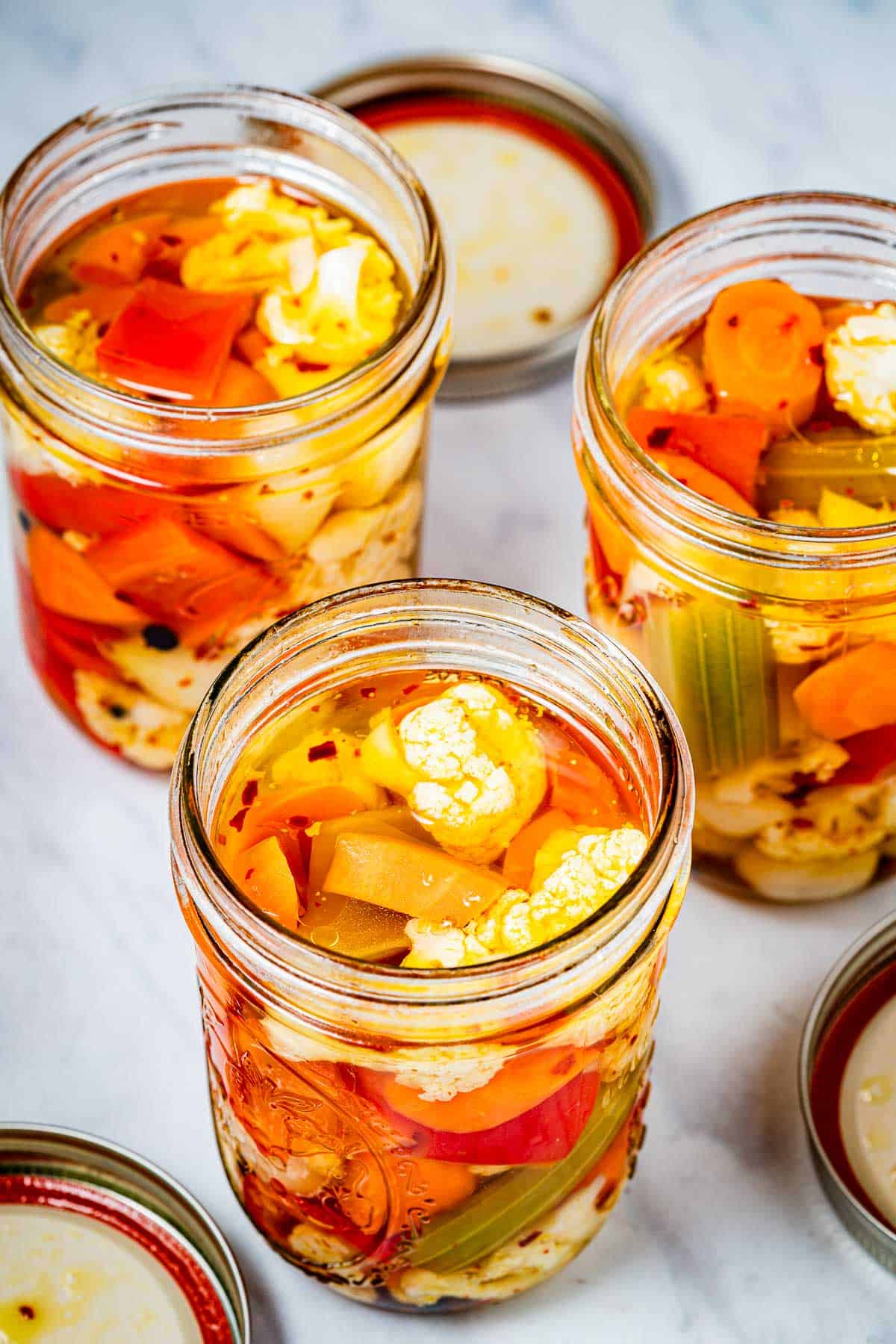 How to Make this Giardiniera Recipe
You can make homemade giardiniera in under an hour, including vegetable prep! I cut the vegetables into large bite-sized pieces, rather than finely chopping them. It makes for a prettier presentation and it's better for snacking.
Make the brine. Combine the vinegars, water, salt, and sugar in a pot large enough to hold the vegetables. Heat on medium, stirring to dissolve the sugar, then raise the heat to medium-high and bring the brine to a boil.
Steep the vegetables. Put all the vegetables together in a bowl near the stove. Once the brine is boiling, turn off the heat and plunge all the vegetables straight into the brine. Cover the pot and let them steep for just 1 minute, no longer or they will lose their crunch! Then scoop them up with a spider or skimmer and place them in a clean bowl. Save the brine! You'll need to pour it over the vegetables.
Add the spices. Combine the peppercorns, crushed red pepper, whole cloves, and juniper berries in a small bowl. Crush in the bay leaf. Divide the spice mixture among 3 clean pint-sized jars, spooning it into the bottom of each jar.
Fill the jars. Pack the vegetables into the jars, taking care to add a mix into each jar. Pour the brine over the vegetables, leaving about ½- to ¾-inch of space at the top. Spoon a tablespoon of olive oil into each jar and seal. Gently turn the jars upside-down and upright again to encourage the ingredients to mingle.
Set aside, then enjoy. Let the jars rest at room temperature for 24 hours; then transfer them to the refrigerator. Ideally, let the giardiniera cure for about 1 week before opening a jar.
Variations on Giardiniera
As you may already know, there are lots of variations to giardiniera. Here are some ways you can switch it up.
Pepperoncini: A lot of Italian-American recipes call for adding those pickled green hot peppers known as "pepperoncini" to the mix. To me, their flavor dominates the fresh flavors of the other vegetables so I leave them out, but that's a personal preference. If you would like to add them, just tuck a few into each jar, either sliced or whole.
On the other hand, if you prefer mild giardiniera, skip the pepperoncini and even leave out the crushed red pepper flakes that I use in my version.
Olives: In New Orleans, green olives are a must-add to giardiniera, which is also called olive salad. It is the key ingredient in a muffuletta sandwich, which combines layers of deli meat and olive salad on sesame bread. For New Orleans-style giardiniera, add some sliced green olives to your veggie mix after the vegetables have had their short steep in brine.
Chopped Giardiniera: Before packing the vegetables into jars, chop them up coarsely with a chef's knife. This gives you a better texture for spooning the giardiniera onto burgers or sandwiches.
Olive oil: For a richer version of giardiniera, add more oil at serving time. Spoon the giardiniera into a serving bowl and drizzle a few spoonfuls of olive oil on top. Toss and serve.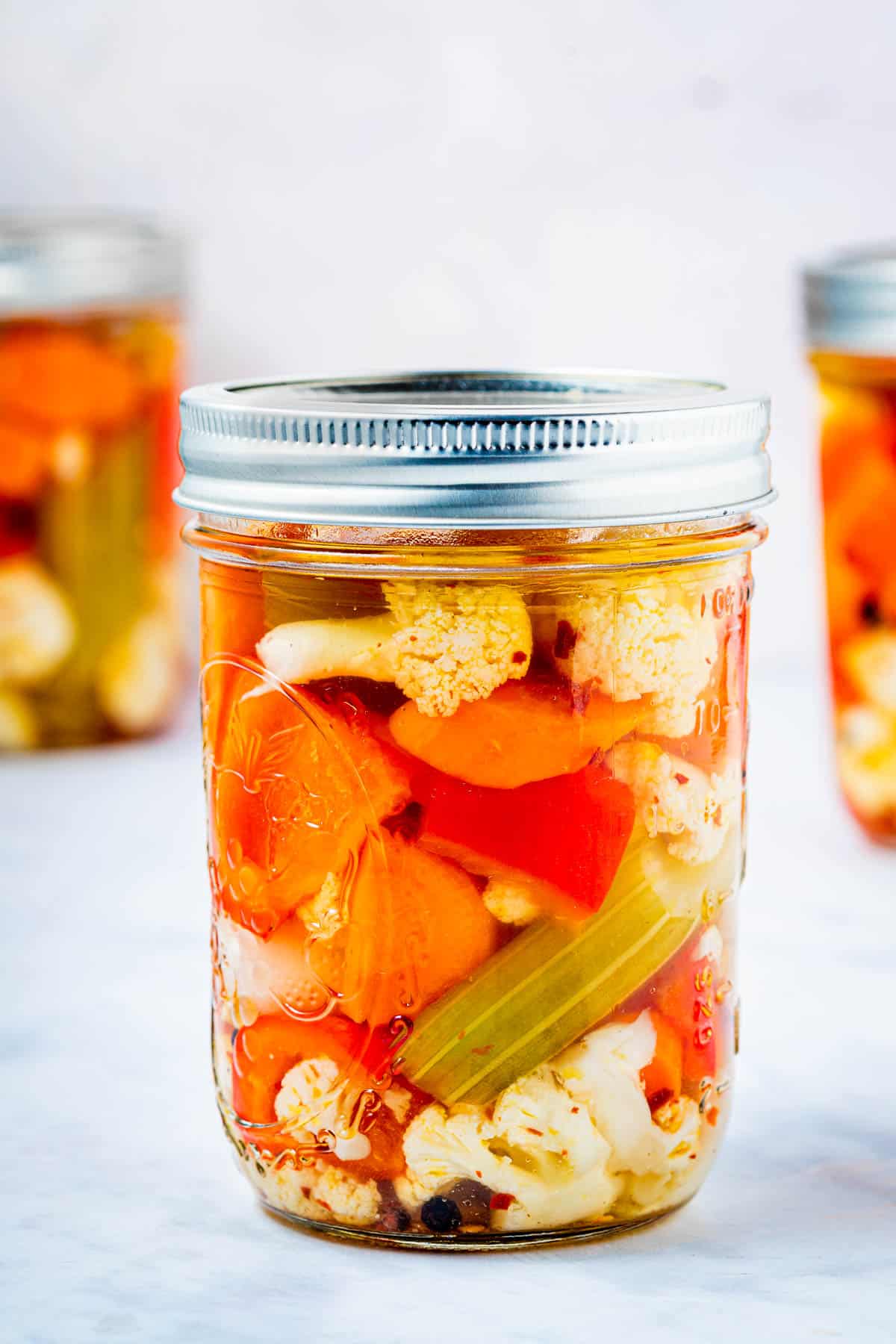 Ways to Enjoy Giardiniera
One of the best features of giardiniera is how versatile it is. In spite of its bold flavors, it goes with a lot and can be served in a variety of ways. Here's how to enjoy it.
Serve as part of an Antipasto Platter. Spoon it into a bowl and place it in the center of a large board or platter. Fill the board with your favorite cured meats, such as prosciutto, salami, soppressata, and a mix of cheeses like mozzarella, Asiago, Gorgonzola, and provolone. Check out our Antipasto Platter recipe for more recommendations.
Add brightness to your favorite sandwiches. Chopped giardiniera is great on all kinds of sandwiches, not just a typical Chicago beef sandwich. Try it on a ham sandwich or chopped up into tuna salad, chicken salad, or egg salad. Try it if you haven't already.
Make it into a simple side dish. When I'm pressed for time, I pull a jar of giardiniera out of the fridge and use it as a quick side dish. Try it with these juicy Pork Chops with Bay Leaf and Lemon Slices or this Mediterranean Vegetable Frittata.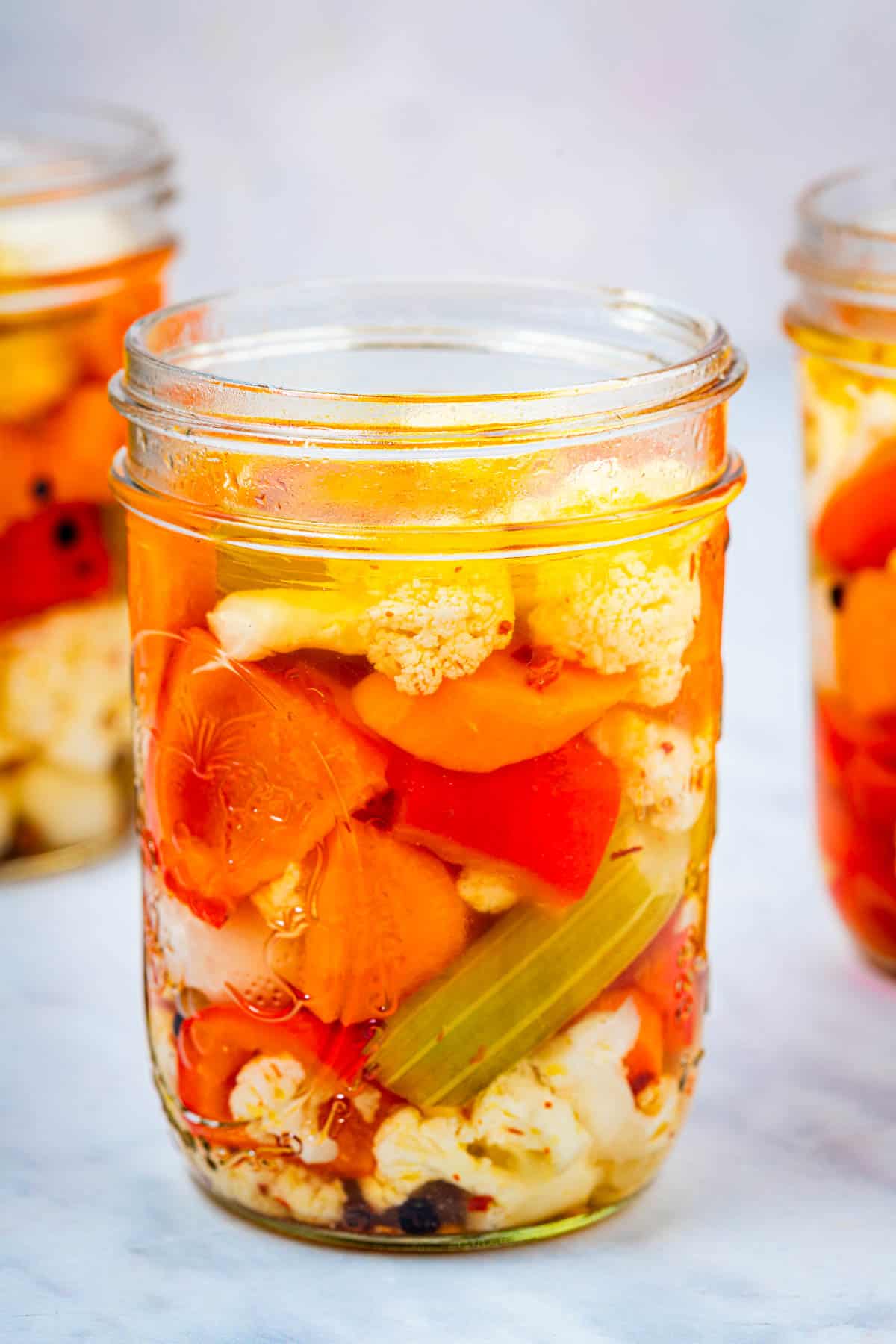 How to Store Giardiniera
You can hot water bath can Giardiniera, however, in this simplified version, I skip the canning process and refrigerate the jars instead. They keep a good long while—up to 3 months if stored properly.
Always keep giardiniera stored in the fridge
Use a clean spoon or fork whenever you want to dip into a jar.
Close the jar tightly before returning it to the fridge.
For longer storage at room temperature, process the jars of giardiniera in a boiling water bath for 10 minutes to properly seal the lids and do not add additional oil. I include specific instructions for water bath canning in my book Preserving Italy. Heat sealed jars of giardiniera will keep for up to a year, though the vegetables will begin to lose their crunch after about six months.
More Crunchy-Punchy Pickles
Browse all Mediterranean recipes.
Visit Our Shop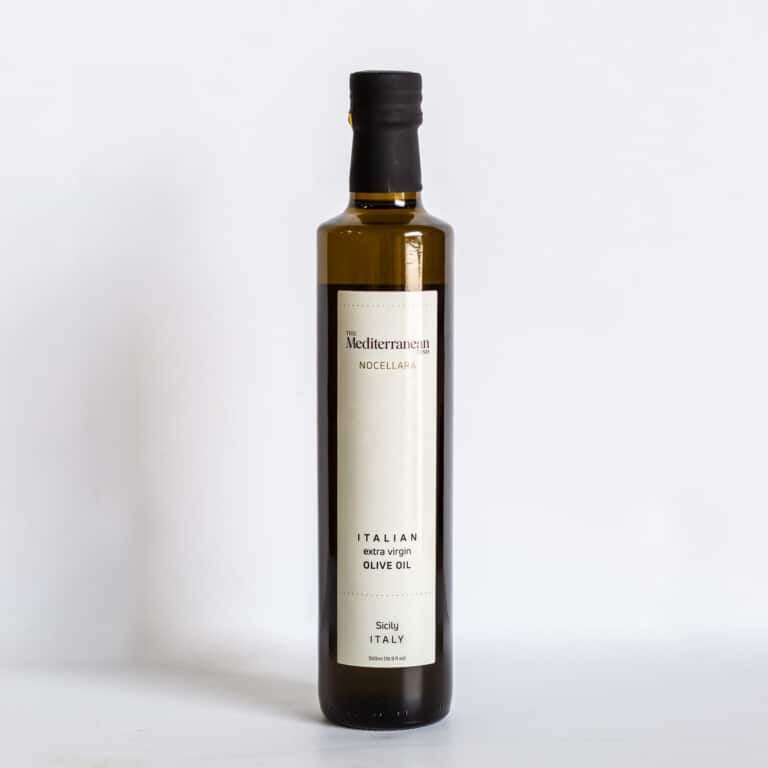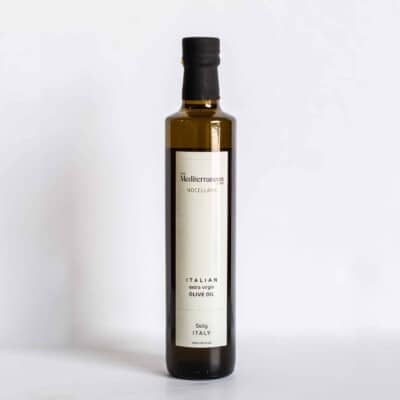 Make Authentic Giardiniera with Italian EVOO
Extra Virgin Olive Oil from hand-picked, cold-extracted Nocellara olives.
Giardiniera (Italian Pickled Vegetables)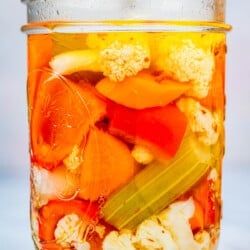 Enticingly tangy and crunchy, classic Italian giardiniera pickles are easy to make and so handy to keep on hand. I love them as a bright and refreshing side dish to grilled or roast meat, chopped up into tuna salad or egg salad, and, especially as a colorful addition to a savory antipasto platter for a casual dinner party.
Equipment
3 clean pint-sized jars with screw-top lids
Ingredients
¾

pound

cauliflower

(about 1 small or ½ medium head), separated into bite-sized florets

½

pound

firm carrots

(about 2-4), sliced on the bias into big bite-sized pieces

2

firm celery stalks,

sliced on the bias into 2-inch pieces

¼

pound

pearl or small cipollini onions,

peeled and left whole

1

red bell pepper,

sliced into strips or 1-inch rectangles

1

cup

white wine vinegar

1

cup

distilled white vinegar

1

cup

spring water or filtered tap water

1

tablespoon

kosher salt

1

tablespoon

sugar

½

teaspoon

whole black peppercorns

½

teaspoon

red pepper flakes

¼

teaspoon

whole cloves

¼

teaspoon

whole juniper berries

1

dried bay leaf

3

tablespoons

extra-virgin olive oil
Instructions
Get ready. Place the washed, sliced vegetables in a large mixing bowl.

Make the pickling liquid. In a saucepan or pot large enough to hold all the vegetables, combine the white wine vinegar, distilled vinegar, and water. Stir in the salt and sugar and set the pot over medium heat. Once the salt and sugar have dissolved, raise the heat to medium-high and bring the brine to a boil. Let the liquid boil for 3 full minutes.

Briefly hot-pickle the vegetables. Turn off the heat and carefully add the vegetables. Cover and let steep for 1 minute. Then use a large spider or skimmer to scoop the vegetables back into the mixing bowl. Reserve the brine.

Ready your seasonings. In a small bowl, add the peppercorns, red pepper flakes, cloves, juniper berries. Crumble in the bay leaf with your hands and toss to combine. Divide the spice mix among the three pint-sized jars.

Add the vegetables. Pack the vegetables into the jars. Take care to add a mix of each vegetable to each jar and pack them in as tightly as you can. Pour the brine over the vegetables, leaving about ½-inch to ¾-inch of space at the top. Spoon 1 tablespoon of olive oil into each jar and screw the lids on tightly. Gently turn the jars upside-down and upright again once or twice to encourage the ingredients to mingle. Let the jars sit upright at room temperature for 24 hours.

Store: Place the jars in the refrigerator and enjoy for up to 3 months. For maximum flavor, let the giardiniera sit for a week before using.
Notes
Giardiniera keeps fresh for up to 3 months if stored properly. Always use a clean utensil whenever you want to dip into a jar and close the jar tightly before returning it to the fridge.
Feel free to mix things up with your favorite vegetables or other additions, like pepperoncini or olives.
Visit our shop to browse quality Mediterranean ingredients including olive oils, honey, jams and spices.
Nutrition
Calories:
51.8
kcal
Carbohydrates:
4.8
g
Protein:
0.8
g
Fat:
3
g
Saturated Fat:
0.4
g
Polyunsaturated Fat:
0.3
g
Monounsaturated Fat:
2.1
g
Sodium:
487
mg
Potassium:
155.5
mg
Fiber:
1.2
g
Sugar:
2.6
g
Vitamin A:
2797.9
IU
Vitamin C:
22.6
mg
Calcium:
16.3
mg
Iron:
0.3
mg