With crunchy vegetables, fresh herbs, and a zesty Dijon dressing, this no-mayo Mediterranean tuna salad is loaded with flavor and nutrition. Once you try it, you will never go back to those heavy deli-style tuna salads!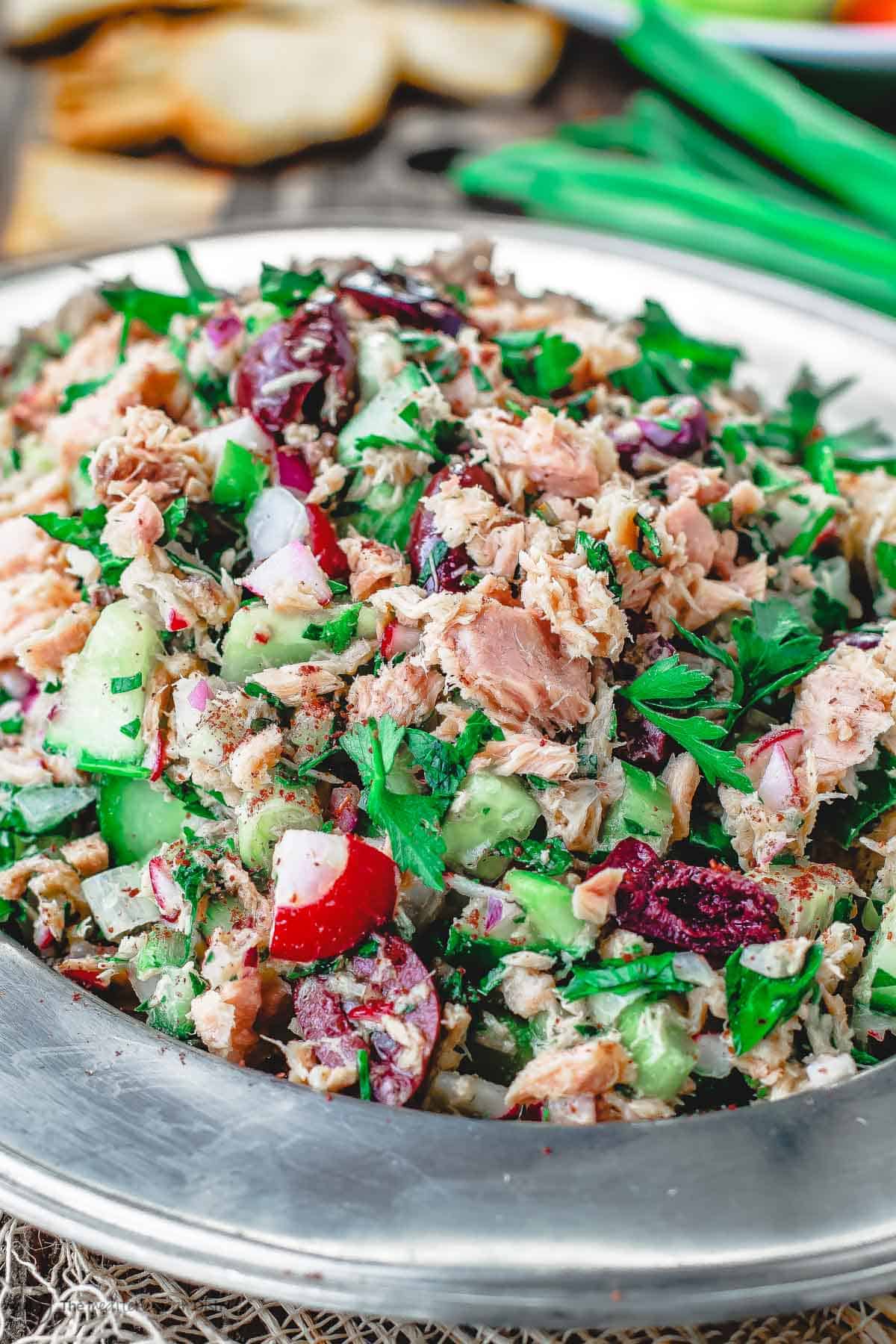 Unlike classic tuna salad, this recipe is completely mayo-free and it takes on a delicious Mediterranean twist, thanks to loads of crunchy veggies, fresh herbs, and a bright Dijon dressing with lime juice and good extra virgin olive oil.
I often make this healthy tuna salad stuffed in pita pockets for the perfect sandwich night. But you can also serve it as an appetizer with pita chips or over sliced tomatoes for a lower-carb option.
What kind of tuna to use?
Tuna on its own can be a wonderful protein option. It is also nutrition rich, containing B-6, B12, vitamin A, iron, zinc, magnesium, potassium and omega-3 fatty acids.
There are a couple kinds of tuna out there, white albacore and chunk light. Some packed in olive oil, and some packed in water.
I try to use wild-caught Yellowfin or Albacore tuna as much as possible. And if you're concerned about the fat content, your best bet will be tuna packed in water. I've used both in the past, but I do prefer to add my own extra virgin olive oil so I can control the flavor and the amount used. I like Early Harvest Greek olive oil with tuna, it is rich and has a good peppery finish.
Mercury levels in tuna can be a health concern, which is why my family consumes tuna no more than once every two weeks. (Talk to your healthcare provider if you have concerns about eating canned tuna)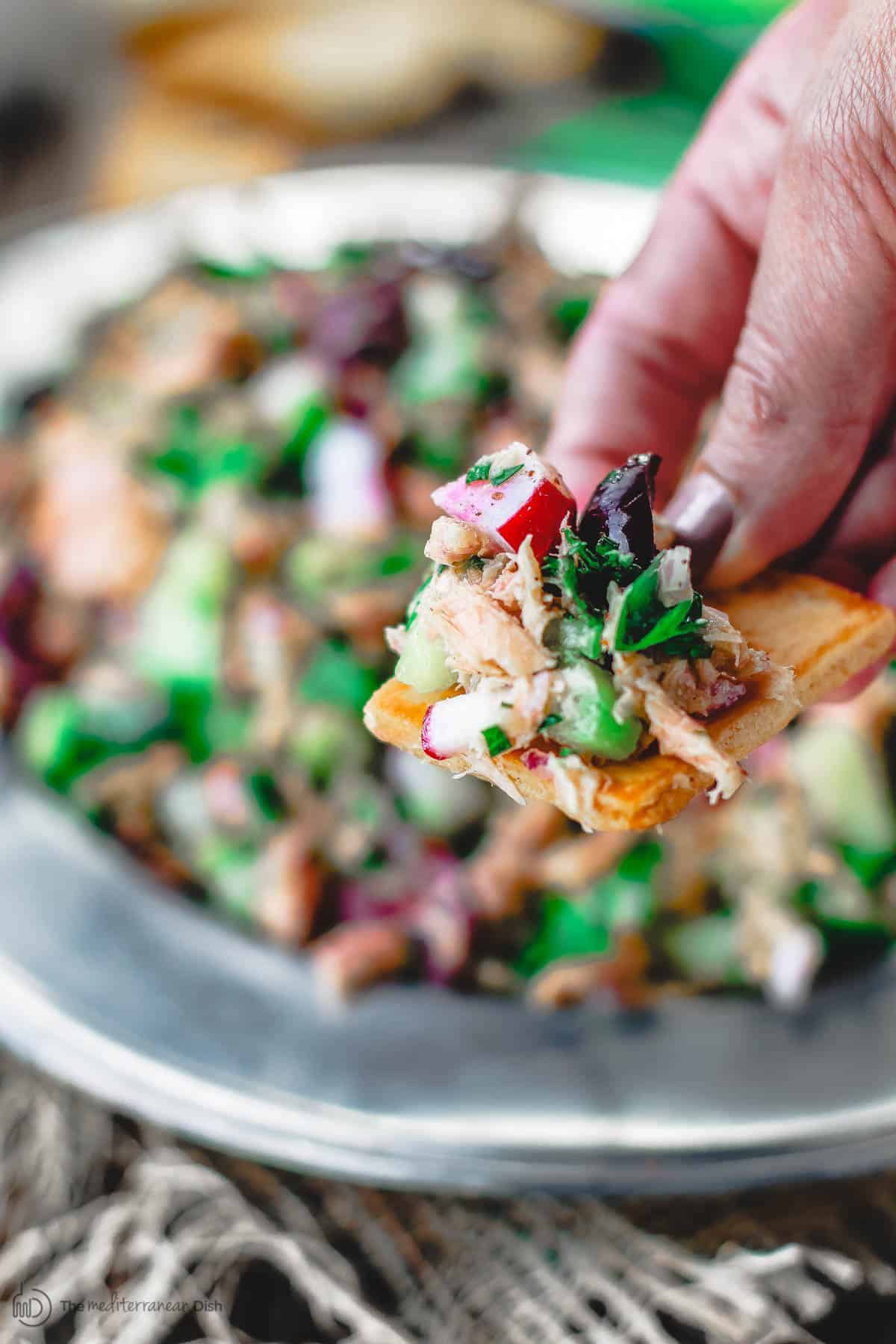 Ingredient notes for this recipe
Tuna. You'll need 2 to 3 cans of quality tuna, packed in water or olive oil. I use responsibly-caught Yellowfin Albacore tuna (look for the dolphin-safe label).
Vegetables and Herbs. Cucumbers, celery, radish, onions, parsley and min, chopped into small bits will add crunch and great fresh flavor!
Olives, Capers, or Pickles. Pitted and sliced kalamata olives or a handful of drained capers will add a nice briny and slightly salty flavor to this tuna salad recipe. This is a very Mediterranean thing to do, and if you're not a fan of olives or capers, you can chop up some pickles instead.
Tuna salad dressing
For the perfect tuna salad without mayonese, I make a zesty Dijon dressing using:
Dijon mustard
Lime juice and Lime Zest
Salt and pepper
Sumac and crushed red pepper flakes, optional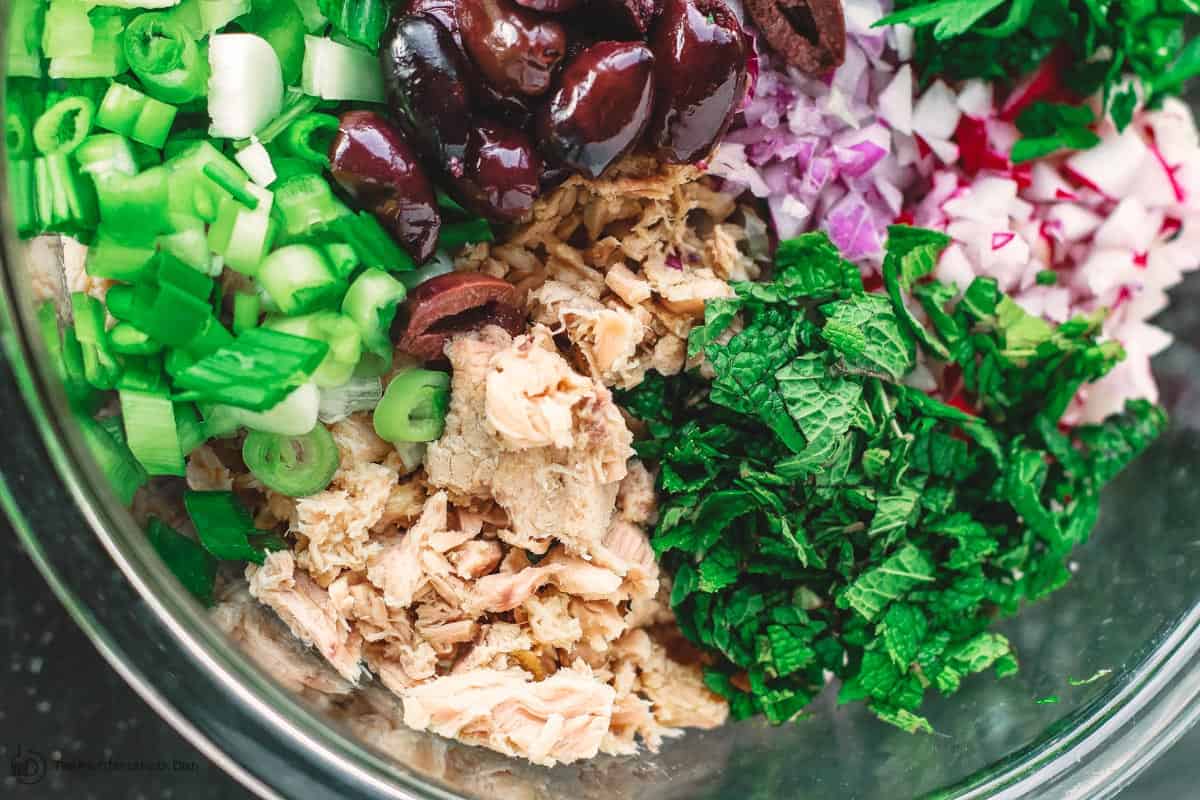 Tuna salad instructions
Make the dressing by whisking the Dijon mustard with the lime juice, olive oil, salt and pepper, sumac, and red pepper flakes (if you like a bit of heat). By the way, you can make the dressing a day or two in advance and keep it in the fridge in a tight-lid mason jar.
Drain and add the tuna to a large bowl.
Add in the remaining ingredients including chopped celery, English cucumber, radish, green onions, and red onions. Add in the olives (or capers).
Pour the dressing all over the tuna and mix well.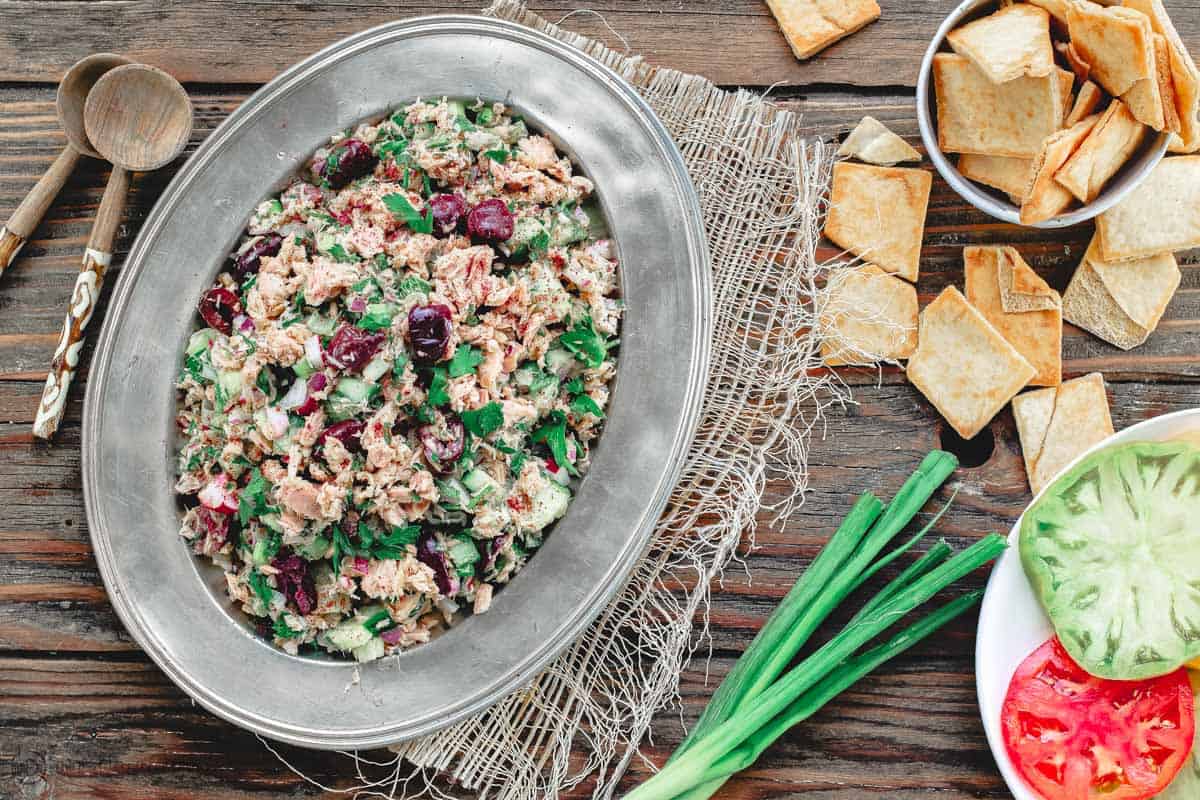 Leftovers and Prepare-Ahead Instructions
This Mediterranean tuna salad will keep well in the fridge, stored in tight-lid glass container, for about 2 days or so.
If you're looking to try and make it ahead, you can make the dressing a day or 2 ahead of time and save it in the fridge in a tightly closed mason jar. You can also chop the vegetables and fresh herbs etc. and store them in the fridge in separate zip-top bags. When you are ready to serve, add the tuna and chopped items in one large mixing bowl and combine with the dressing.
Other tuna recipes & more to try:
Mediterranean White Bean and Sardine Salad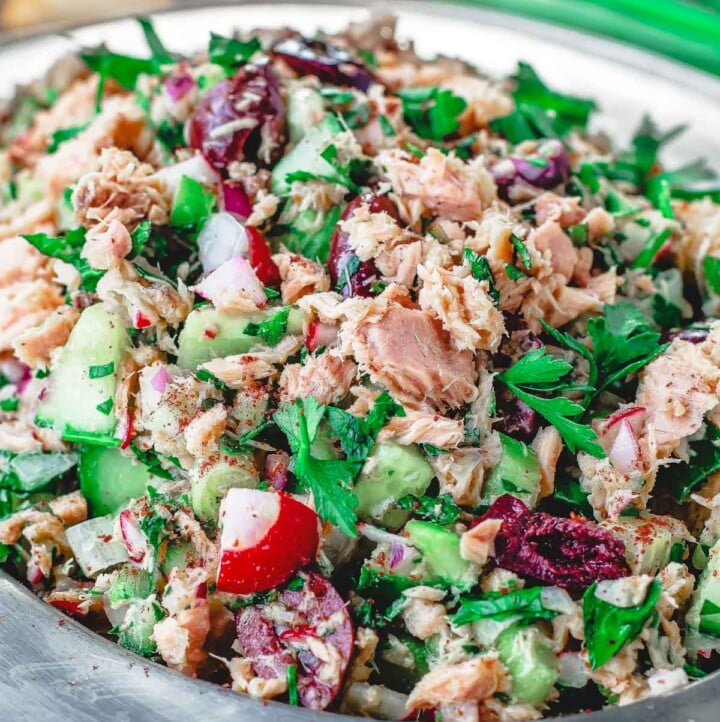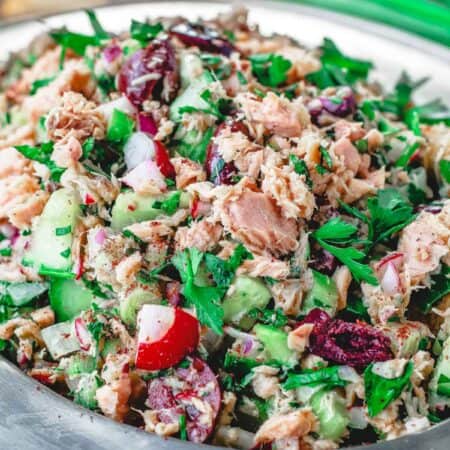 Mediterranean Tuna Salad with Dijon dressing
Healthy tuna salad recipe with no mayo, prepared the Mediterranean way with lots of crunchy vegetables, fresh herbs, and a zesty Dijon dressing!
Ingredients
For the Zesty Dijon Mustard Dressing
2 ½

teaspoon

good quality Dijon mustard

Zest of 1 lime

1 ½

limes

juice of

⅓

cup

Early Harvest extra virgin olive oil

½

teaspoon

sumac

Pinch

of salt and pepper

½

teaspoon

crushed red pepper flakes,

optional
For the Tuna Salad
3

cans tuna,

5 ounces each (use quality tuna of your choice)

2 ½

celery stalks,

chopped

½

English cucumber,

chopped

4-5

radishes,

stems removed, chopped

3

green onions,

both white and green parts, chopped

½

medium red onion,

finely chopped

½

cup

cup pitted Kalamata olives,

halved

1

bunch parsley,

stems removed, chopped (about 1 cup chopped fresh parsley)

10-15

fresh mint leaves,

stems removed, finely chopped (about ½ cup chopped fresh mint)

Six slices heirloom tomatoes for serving,

optional

Homemade Pita chips or pita pockets for serving,

optional
Instructions
To make the zesty mustard vinaigrette, in a small bowl, whisk together the Dijon mustard, lime zest, and lime juice. Add the olive oil, sumac, salt and pepper, and crushed pepper flakes (if using), and whisk again until well-blended. Set aside briefly.

To make the tuna salad, in a large salad bowl, combine the tuna with the chopped vegetables, Kalamata olives, chopped fresh parsley and mint leaves. Mix gently with a wooden spoon.

Pour the dressing over the tuna salad. Mix again to make sure the tuna salad is evenly coated with the dressing. Cover and refrigerate for half an hour before serving. When ready to serve, toss the salad gently to refresh.

Serve in pita pockets for a sandwich dinner. Or to serve as an appetizer, transfer to a serving platter and add

pita chips

and sliced heirloom tomatoes on the side. If you like, serve a portion of the tuna salad over the sliced heirloom tomatoes. Enjoy!
Notes
Leftovers & Storage: You can refrigerate this tuna salad in the fridge for up to 2 days. If you want to try and prepare it ahead, you can chop up the fresh ingredients and refrigerate in a tight-lid glass containers, but do not mix with the tuna and dressing until ½ hour before serving.
Recommended for this Recipe: Early Harvest Greek extra virgin olive oil. And from our all-natural spice collection, Sumac.
Visit our online shop to browse our olive oil bundles and all-natural and organic spices, including our Ultimate Mediterranean Spice Bundle and the Exotic 4 Bundle
Nutrition
Calories:
121.6
kcal
Carbohydrates:
4.2
g
Protein:
0.5
g
Fat:
12.1
g
Saturated Fat:
1.7
g
Monounsaturated Fat:
8.8
g
Sodium:
7.5
mg
Potassium:
97.7
mg
Fiber:
1
g
Sugar:
1.3
g
Vitamin A:
151.7
IU
Vitamin C:
7.8
mg
Calcium:
18
mg
Iron:
0.4
mg
*This post first appeared on The Mediterranean Dish in May 2015 and has been recently updated with new information and media for readers' benefit. Enjoy!