Today is all about how to make tuna salad the Mediterranean way…with lots of crunchy chopped vegetables, fresh herbs and absolutely no heavy mayonnaise!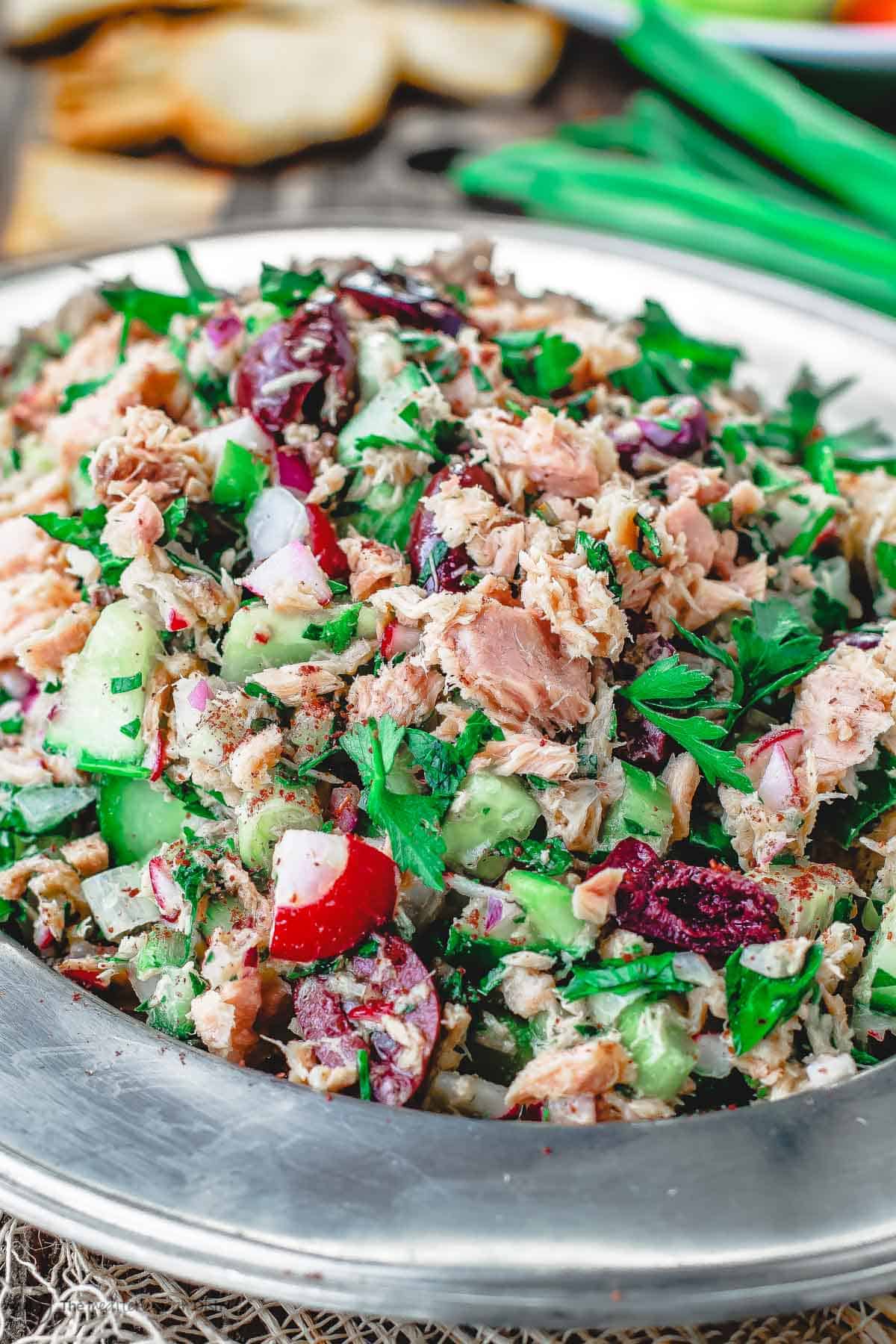 Among the cheer and celebrations brought on by the warmer weather, the month of May also marks international Mediterranean diet month. Did you know that?
Some of us celebrate the Mediterranean diet every month of the year. And for good reason!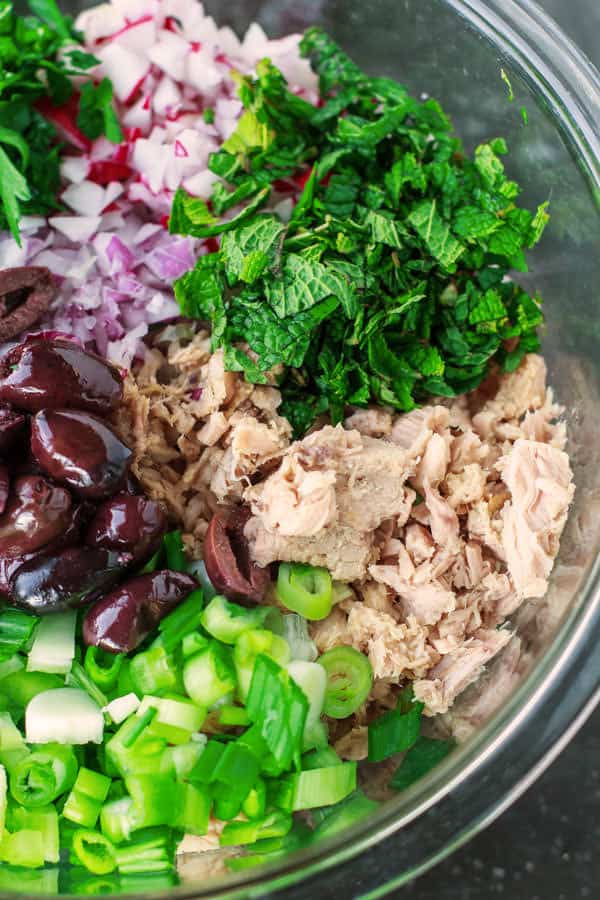 You see, the Mediterranean diet is not a fad nor is it so much a "diet," as in, "I am going on a diet." It's a lifestyle.
It does begin with a balanced "poor man's" diet that focuses more on grains; vegetables; dairy; proteins from nuts, seafood and lean meats, and far less on fatty meats. And yes, thank goodness, it allows a daily glass of wine!
But it is also a lifestyle that emphasizes daily physical activity, and a balanced social calendar with frequent meals in the company of family and friends.
If I really had to choose my favorite parts of a Mediterranean lifestyle, I'd have to say: fish and large family gatherings.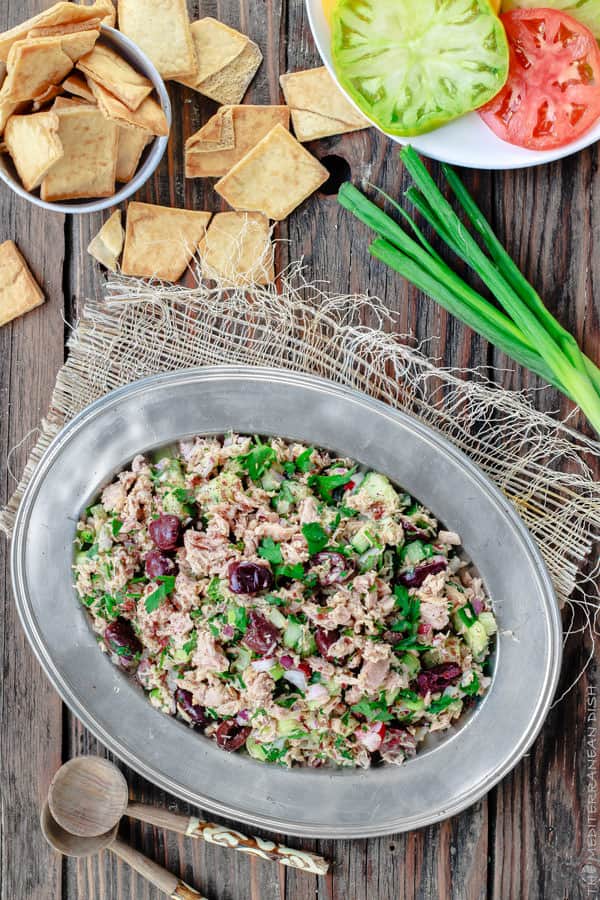 According to the Harvard School of Public Health, consuming something like 6 ounces of fish each week reduces the risk of heart disease by 36%! When I don't really  have time to make a big fish dinner, quality canned tuna is a convenient way to meet one's fish intake.
Years ago, when I was working too many ungodly hours, I would hit midweek with exhaustion. At times, it sent me straight to bed–no dinner necessary.  Enter "tuna night," a healthy and super quick solution that became a family favorite. And the happy tradition of tuna night continues today.
For tuna night this time, I decided to create a Mediterranean-style tuna salad that is packed with fresh crunchy vegetables, herbs like parsley and mint, and a special zesty Dijon mustard vinaigrette.
Since the tuna I have here is slightly flavored with a dash of salt and olive oil, there is really no need to go overboard with spices. Besides, the vinaigrette, fresh herbs, Kalamata olives, and a little peppery bite from chopped radish and onions, provide more than enough of the Mediterranean flavor I enjoy.
If you are entertaining a group, this tuna salad would make a great addition to your table of small plates or appetizers. Be sure to  have some bread or pita chips to serve alongside.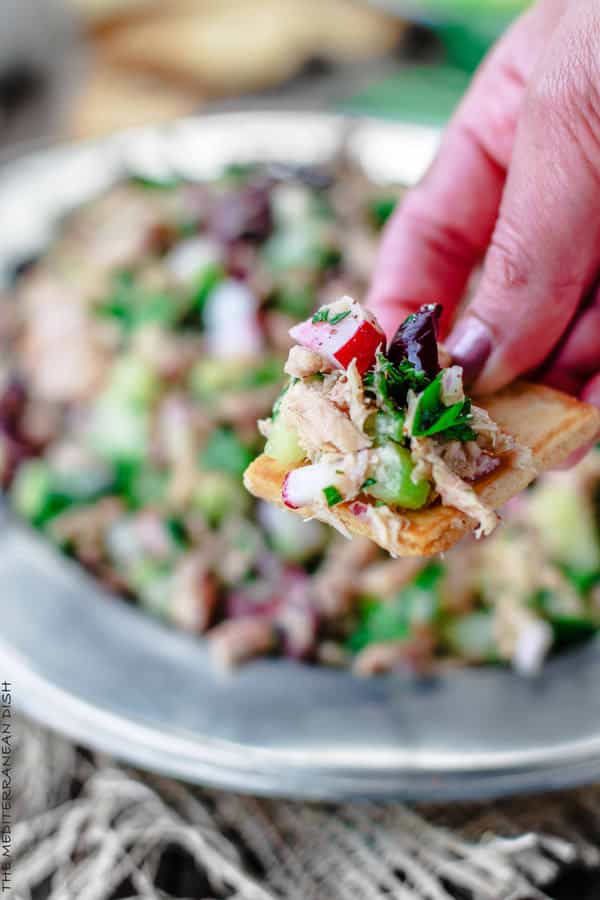 Print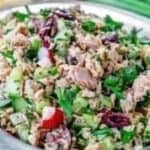 Mediterranean Tuna Salad with a Zesty Dijon Mustard Vinaigrette
---
Author:

Prep Time:

15 mins

Total Time:

15 mins

Yield:

6-8

Category:

Salad

Cuisine:

Mediterranean
Ingredients
For the Zesty Dijon Mustard Vinaigrette
2 1/2 tsp good quality Dijon mustard
Zest of 1 lime
1 1/2 limes, juice of
1/3 cup Early Harvest extra virgin olive oil
1/2 tsp sumac
Pinch of salt and pepper
1/2 tsp crushed red pepper flakes, optional
For the Tuna Salad
3 5-ounce cans Genova tuna in olive oil
2 1/2 celery stalks, chopped
1/2 English cucumber, chopped
4-5 whole small radishes, stems removed, chopped
3 green onions, both white and green parts, chopped
1/2 medium-sized red onion, finely chopped
1/2 cup cup pitted Kalamata olives, halved
1 bunch of parsley, stems removed, chopped (about 1 cup chopped fresh parsley)
10-15 fresh mint leaves, stems removed, finely chopped (about 1/2 cup chopped fresh mint)
Six slices heirloom tomatoes for serving
Pita chips or pita pockets for serving
---
Instructions
To make the zesty mustard vinaigrette, in a small bowl, whisk together the Dijon mustard, lime zest, and lime juice. Add the olive oil, sumac, salt and pepper, and crushed pepper flakes (if using), and whisk again until well-blended. Set aside briefly.
To make the tuna salad, in a large salad bowl, combine the 3 5-oz cans of Genova tuna with the chopped vegetables,Kalamata olives, chopped fresh parsley and mint leaves. Mix gently with a wooden spoon.
Dress the tuna salad with the zesty mustard vinaigrette. Mix again to make sure the tuna salad is evenly coated with the vinaigrette. Cover and refrigerate for half an hour before serving.
When ready to serve, toss the salad gently to refresh. Transfer to a serving platter with a side of pita chips or pita bread and sliced heirloom tomatoes. If you like, serve a portion of the tuna salad over the sliced heirloom tomatoes. Enjoy!