This vegetarian eggplant rollatini recipe uses a delicious part-skim ricotta cheese filling with basil pesto and parsley, then baked to perfection in a bubbly red sauce! It takes a few simple steps to make for the perfect vegetarian meal or side next to your favorite protein.
Read on for tips and be sure to check out the video below!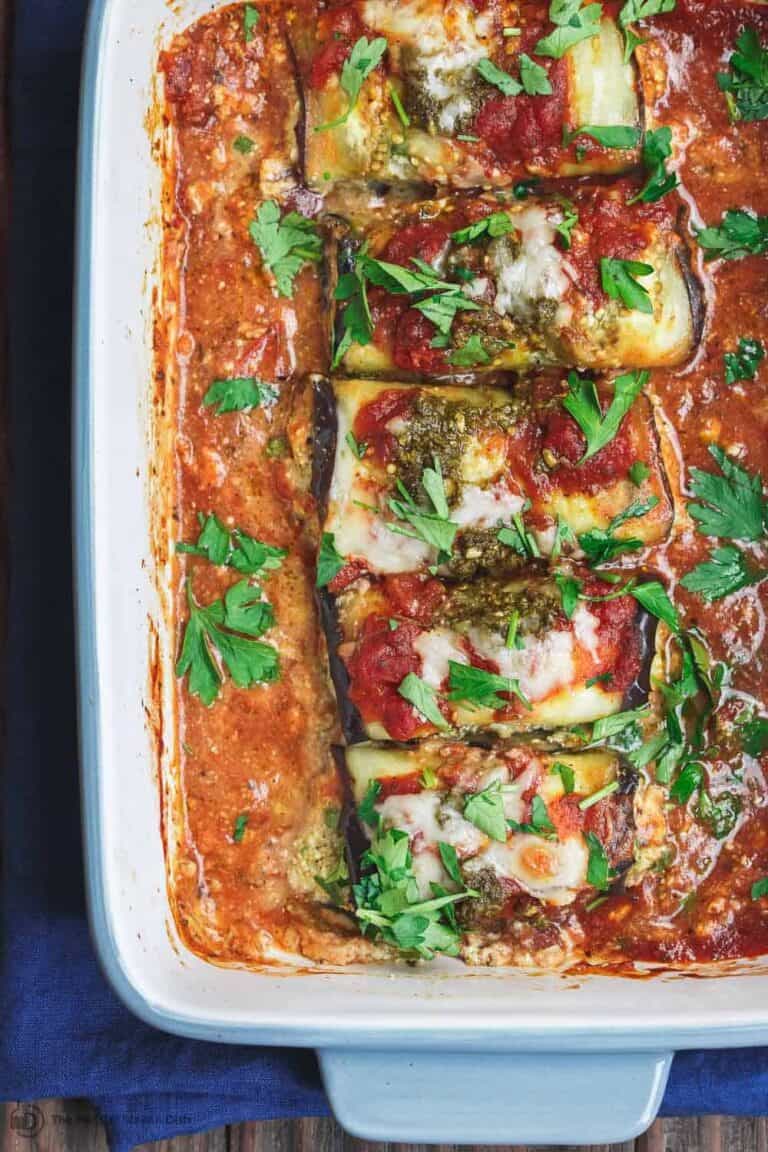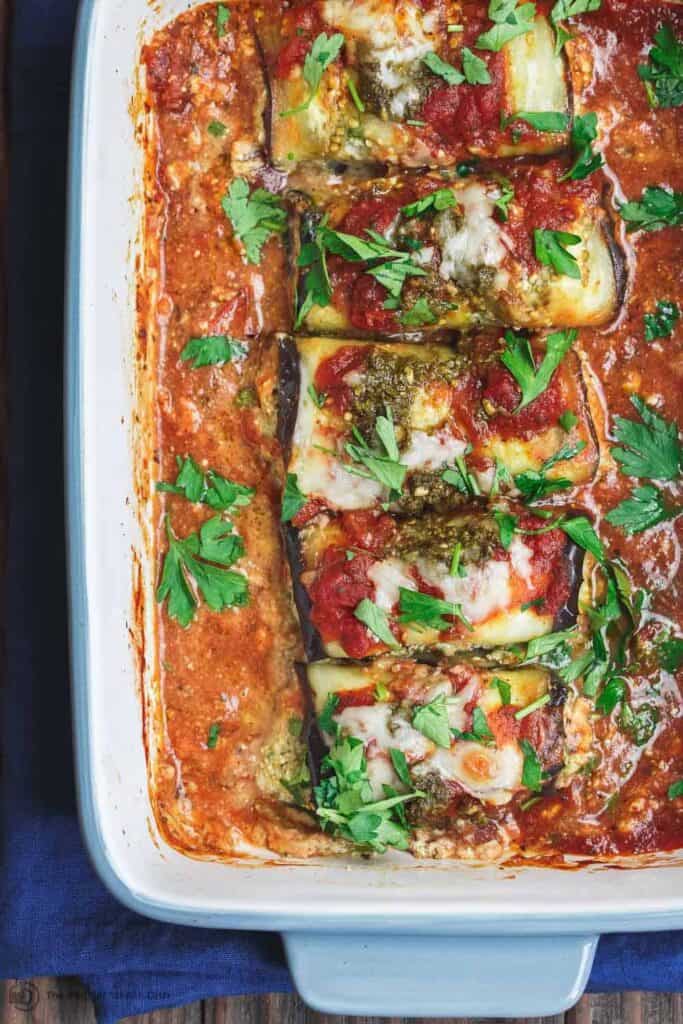 We have fun with eggplant around here. We enjoy it in many forms—Couscous stuffed eggplant; yiayia-approved moussaka; simply roasted eggplant with a drizzle of tahini on top…and more.
I served this eggplant rollatini recipe for a simple Italian dinner the other night.
I started with a tangy tomato Panzanella then these warm and bubbly rollatini. And because I had half a loaf of ciabatta left from the salad, I sliced it up, brushed it with olive oil and toasted it in the oven--the perfect side to these rollatini!
When the girls requested an encore, I knew we've got a winner!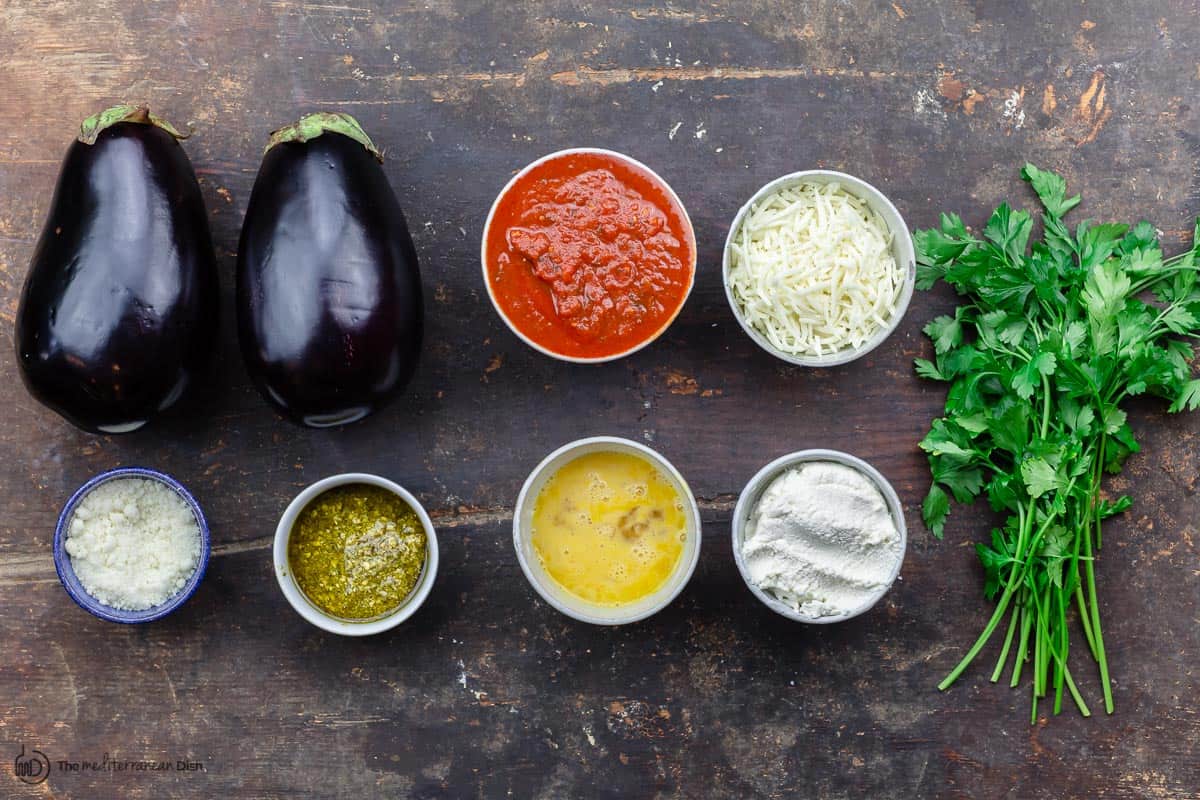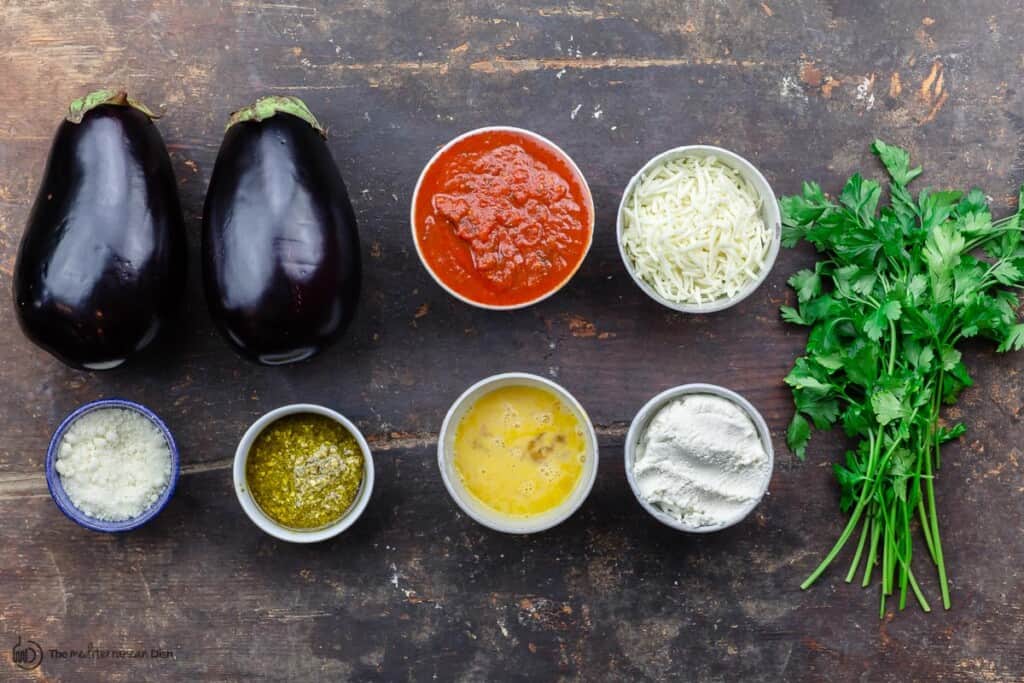 What is eggplant rollatini? And what is the difference between eggplant parm and eggplant rollatini?
Both rollatini and eggplant Parmesan are two Italian comfort foods that make a star of globe eggplant. And they both deserve a try!
Eggplant parm is a baked casserole featuring layers of breaded and fried eggplant slices with Parmesan, fresh mozzarella, basil, and red sauce. Some eggplant Parmesan recipes will call for meat, but I keep mine vegetarian.
You can think of eggplant rollatini as an elegant cousin to eggplant parmesan with a bit of a lasagna twist given the use of ricotta.
This eggplant rollatini recipe is made of thinly sliced, par-baked eggplant slabs rolled up with a delicious ricotta mixture that is flavored with parsley and basil pesto and baked with red sauce and a little bit of mozzarella cheese.
No breading. No frying. No layering.
And I kept my filling lighter by using part-skim cheese, still this eggplant rollatini manages to enlist the comforts of eggplant parm with less effort and a fun and elegant presentation.
How do you cut eggplant for rollatini?
This recipe starts with 2 large globe eggplants, which are easy to work with and provide enough flesh for rollatini.
Choose two medium eggplants that are more straight-sided, you will get more uniform long slices from them. If you can only find eggplants that are fat and too curvy, buy an extra eggplant just in case.
And here is how to cut eggplant for rollatini:
Remove the eggplant stems and trim the ends
Cut the eggplant lengthwise into slabs (not in rounds or rings). You want to create length to easily roll the eggplant to contain the cheese mixture. Keep short or odd sized pieces for another use like ratatouille.
Cut thinly and evenly. Eggplant slabs should each be about ¼ -inch in thickness. The best way to do this is by using a mandolin slicer like this one (affiliate link)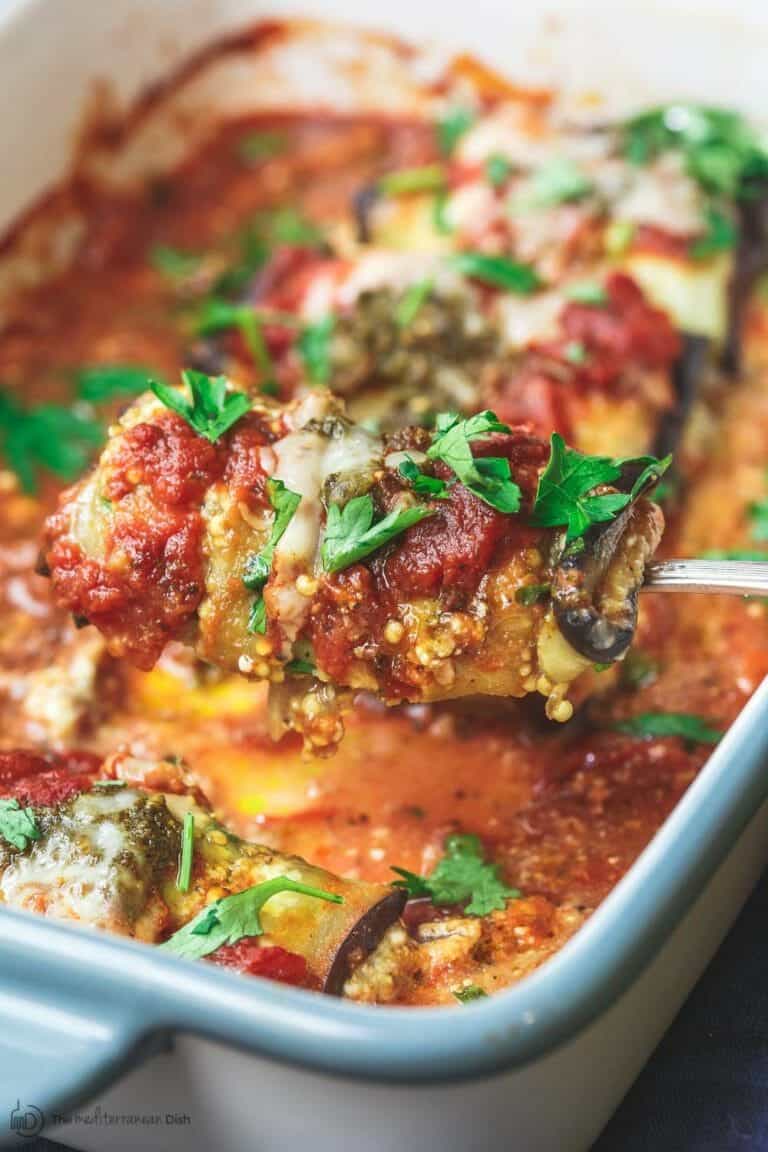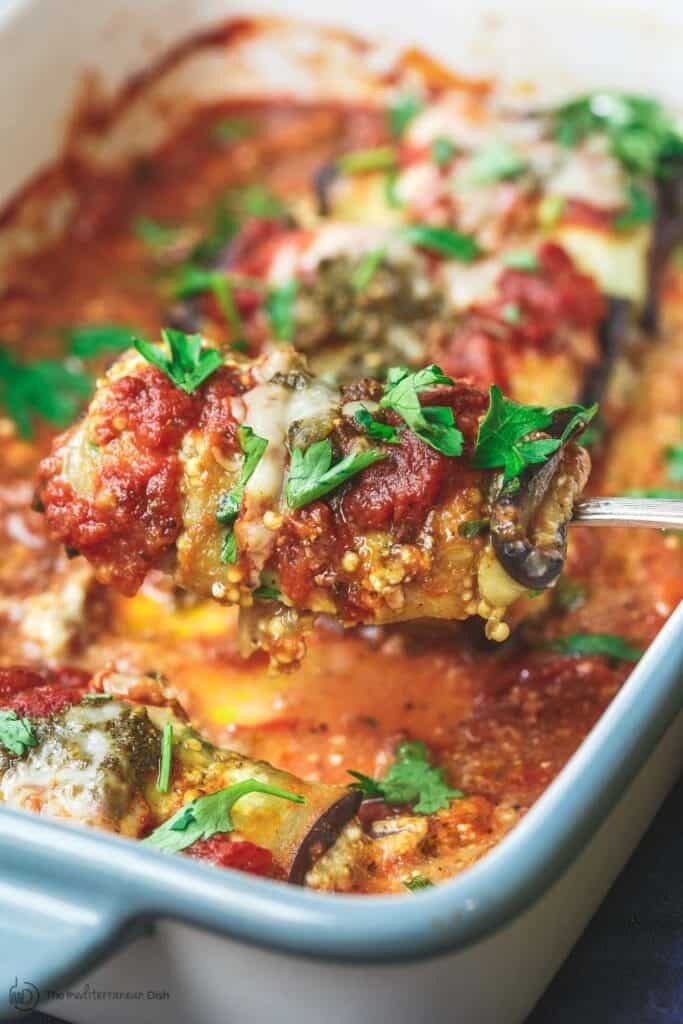 Tips for how to make eggplant rollatini recipe
Salt the eggplant and let it sit for 20 minutes or so before using. This will help draw out the moisture so your rollatini isn't too watery. Salting also allows the eggplant to "sweat out" its bitterness, meanwhile, breaking down its spongy texture.
Par-Bake the eggplant. Some rollatini recipes call for lightly flouring and then frying the eggplant slabs, but par-baking is a healthier and easier option that will make the eggplant pliable and easy to roll. And what I mean by par-baking here is simply roasting the eggplant slices in the oven for a few brief minutes (mine took 8 minutes or so) until they are soft and easy to use. Just be sure the eggplant is cool enough to handle before you begin rolling.
To lighten up the cheese mixture I use less cheese and mainly a combination of part-skim ricotta, low-fat mozzarella cheese, and some Parmesan along with 2 eggs (which bring the mixture together), basil pesto and fresh parsley.
To roll the eggplant. Place an eggplant slice with the short end facing you. Scoop about 1 ½ tablespoons of the filling and spread it evenly on the eggplant then roll away from you.
Arrange the eggplant rolls in one single layer on your baking dish. Prepare a baking dish with a bit of the red sauce (marinara sauce) on the bottom and arrange the eggplant rolls on top. The rollatini need to be in one layer with a little bit of space between each roll up; if you need to, use two baking dishes. Be sure to top them with the remaining sauce so they cook well and don't dry up, and I like to add a bit more of the basil pesto and a sprinkle of mozzarella cheese on top.
Bake covered for 20 to 30 minutes or until the rollatini are super tender and the cheese mixture is bubbling.
Rest for 10 minutes before serving. As with many cheesy or creamy dishes, allowing the rollatini some time to cool will help the filling firm up a bit so it is easier to serve.
A small variation on the rollatini cheese mixture
Need more heft to the cheese mixture? Add spinach!
I did not use spinach in today's recipe, but I have on occasion, and it does add nutrition and more volume to the filling. If you like, use 1 package of frozen spinach that has been thawed and very well drained (you do not want added water to the mixture).
Can you freeze eggplant rollatini?
You can prepare eggplant rollatini in advance and freeze it before baking in a freezer-safe baking dish. Or, you can fully bake it and freeze any leftovers.
Leftovers-You can store leftover baked rollatini in the fridge for 4 days or so in a tight-lid container. Reheat, covered, in the oven at 350 degrees F.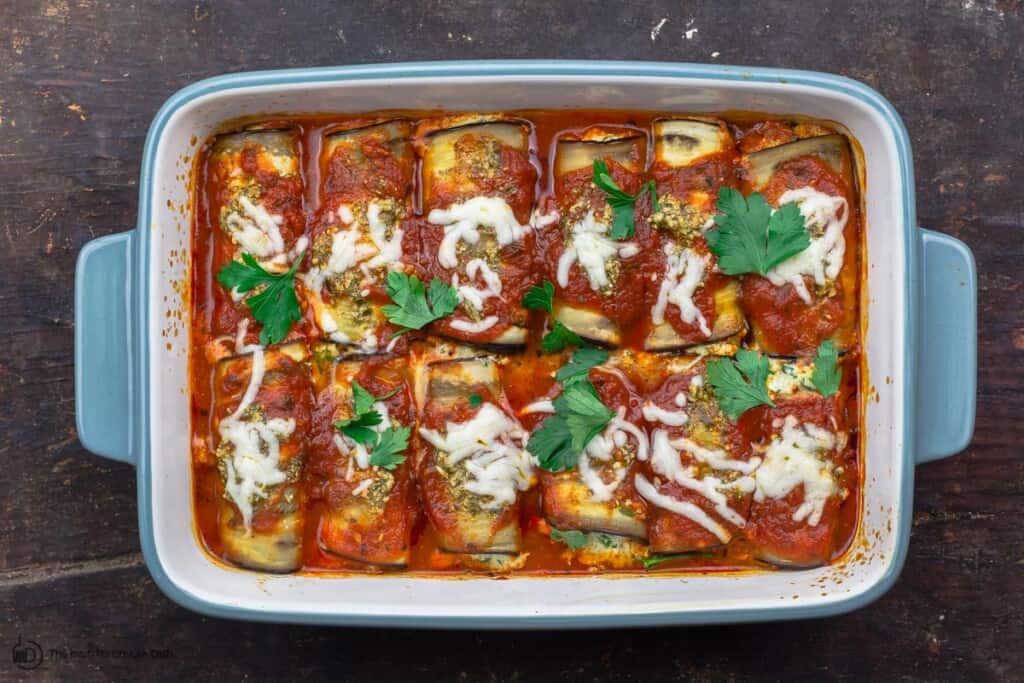 You may also like
Greek-Style Braised Eggplant Recipe with Chickpeas
You may also enjoy 50+ Top Mediterranean diet recipes. For all recipes, visit us here. JOIN MY FREE E-MAIL LIST HERE.
Eggplant Rollatini Recipe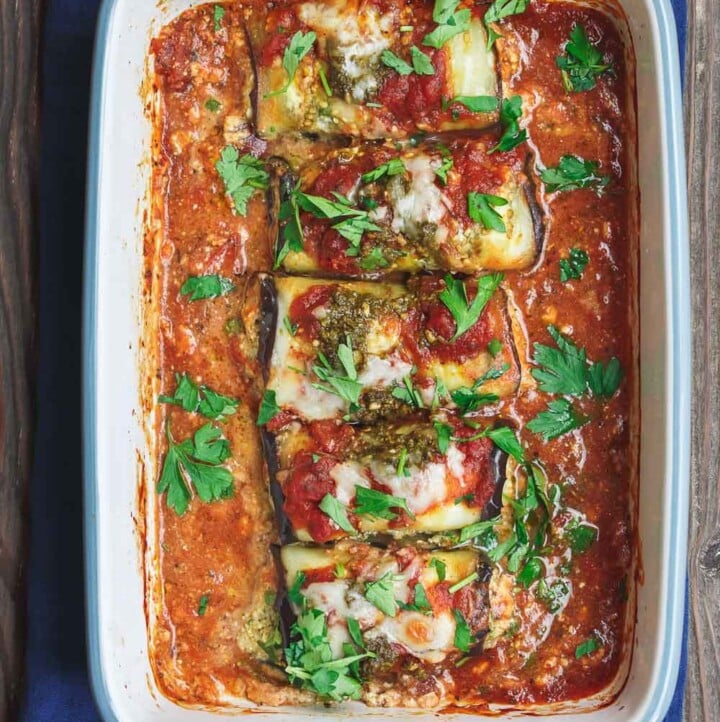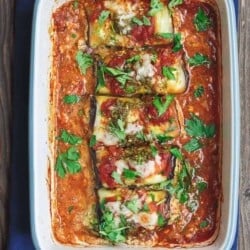 All-star, easy eggplant rollatini recipe, made with a lighter cheese filling, basil pesto and fresh parsley.
Ingredients
For filling
2

eggs

beaten

1

cup

part-skim ricotta cheese

½

cup

part-skim shredded Mozzarella

more for later

3

tablespoon

grated Parmesan

2

tablespoon

basil pesto

homemade or store-bought, more for later

1

cup

chopped fresh parsley leaves
Instructions
Slice eggplants length-wise into ¼-inch thin slices (it's easier to do this using a mandolin slicer like this one. affiliate link) You should have about 12 slices of similar size (reserve end pieces that are shorter or odd-shaped for another use).

Sprinkle eggplant slices with salt and set aside on paper towel for 20 minutes. This will help the eggplant sweat out any bitterness. Pat dry. Rinse with water, then dry again.

Heat oven to 375 degrees F.

Brush a large baking sheet with extra virgin olive oil. Arrange eggplant slices in one layer on baking sheet. Brush the tops of the eggplant slices with more extra virgin olive oil. Bake in heated oven for 8 minutes or so until soft enough to fold (do not overcook.) Remove from oven and set aside briefly to cool. (Leave the oven on for the rollatini)

Meanwhile, prepare the filling. In a bowl, add eggs, ricotta, Mozzarella, grated Parmesan, basil pesto, and fresh parsley. Mix until well-combined.

Spread about ¾ cup marinara sauce on the bottom of a 9 ½" x 13" baking dish.

Spoon about 2 tablespoon of the filling onto one end of each eggplant slice, and spread. Starting from the short end, roll up eggplant slices tightly and arranged on prepared baking dish.

Top eggplant rollatini with the remainder of the marinara sauce, more basil pesto, and a sprinkle of mozzarella. Bake in heated oven for 30 minutes or until the eggplant rollatini are fully cooked and tender.

Remove from oven and let sit for 10 minutes or so before serving.
Notes
Prepare-ahead and Freezing Instructions: You can prepare eggplant rollatini in advance and freeze it before baking. Or you can fully bake it and freeze any leftovers. When ready to use, simply reheat frozen rollatini, covered, in the oven at 350 degrees F.
Variation. Add spinach to your cheese mixture for more heft. I did not use spinach in today's recipe but I have on occasion, and it does add nutrition and body to the filling. Use 1 package of frozen spinach that has been thawed and very well drained (you do not want added water to the mixture).
Visit our Online Shop to browse quality Mediterranean ingredients including extra virgin olive oils, all-natural and organic spices and more.
Nutrition
Serving:
2
rollatini
Calories:
193
kcal
Carbohydrates:
17
g
Protein:
12.9
g
Fat:
9.2
g
Saturated Fat:
3.5
g
Potassium:
754.7
mg
Fiber:
6.2
g
Vitamin A:
1635.5
IU
Vitamin C:
22.4
mg
Calcium:
267.3
mg
Iron:
2.2
mg
This post first appeared on The Mediterranean Dish in 2018 and has been recently updated with new information and media for readers' benefit. Enjoy!