This easy homemade vegetable soup is a textbook Mediterranean diet recipe and a delicious way to amp up your veggie intake! It's loaded with zucchini, carrots, mushrooms, chickpeas and fresh herbs. It's cozy, comforting, vegan and gluten-free, but trust me, meat eaters will love this vegetable soup as much as veggie lovers do.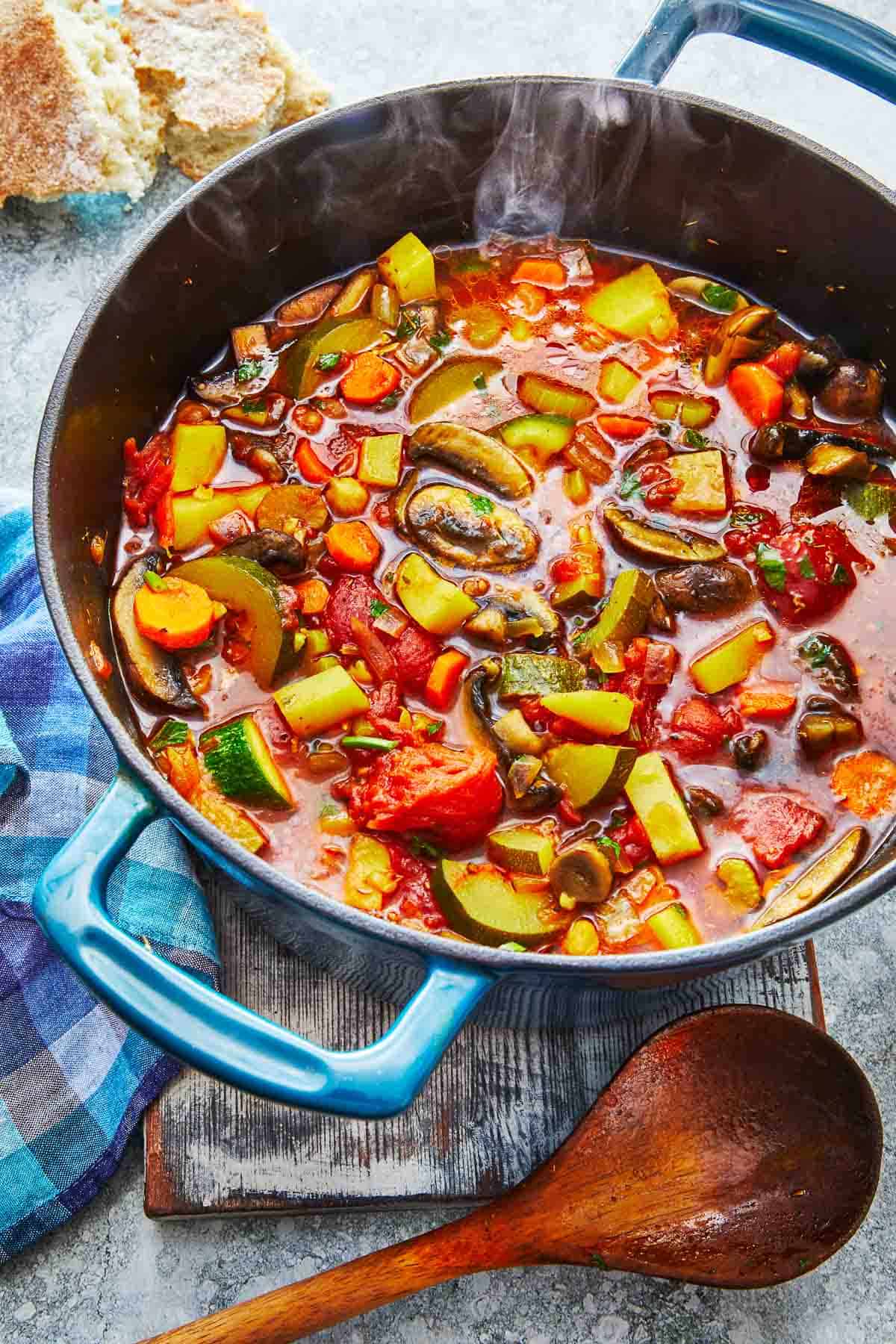 As a child I didn't appreciate Mom's homemade vegetable soup, but now as an adult I am all about a hearty bowl of vegetable soup and the bigger the bowl the better!

This soup recipe is an amped up version of my mother's healthy vegetable soup with a host of nourishing ingredients like garlic, onions, whole tomatoes, zucchini, mushrooms, carrots, potatoes and chickpeas.

Fresh herbs, lime juice, and a good dash of warm spices (turmeric, coriander, and paprika) give this soup a Mediterranean twist.

Just add your favorite crusty bread or even pita! Lately, we've had it on rotation for soup night along with Cioppino, Greek lentil soup, Minestrone, and Avgolemono soup. Once you learn how to make vegetable soup at home, it will be on your rotation too!
Table of Contents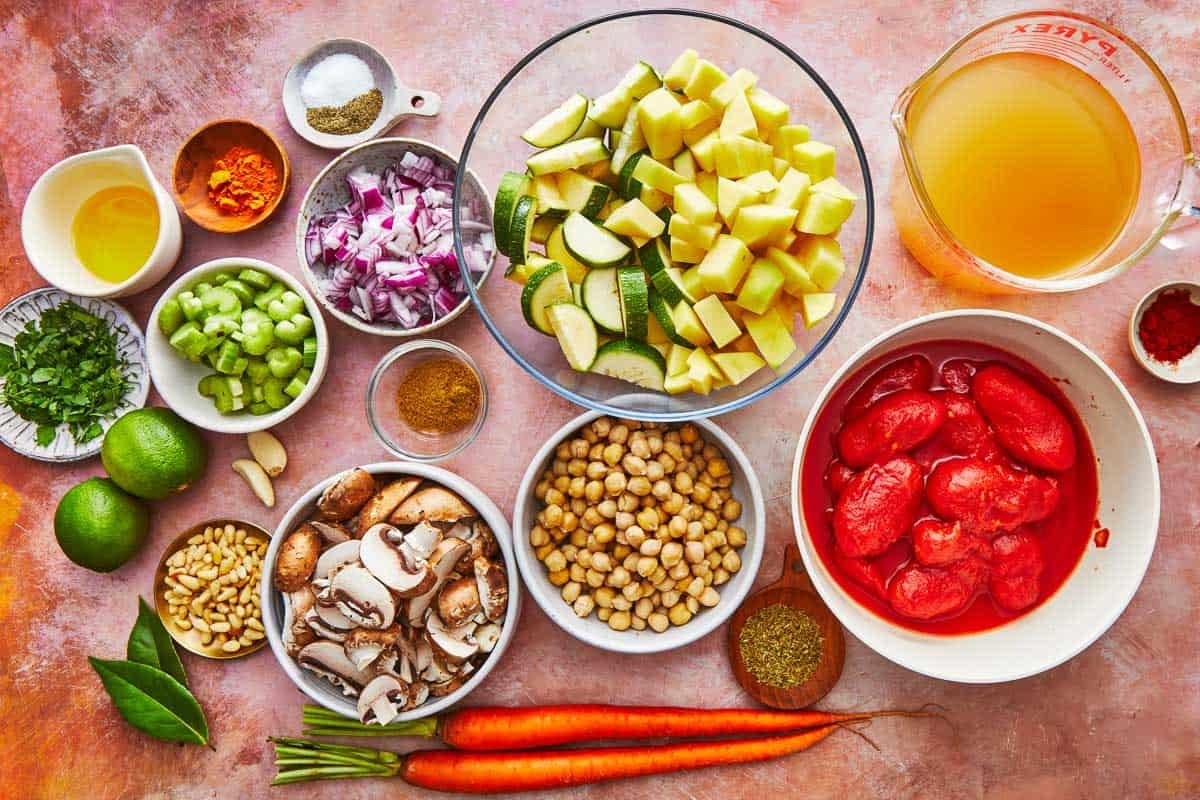 Ingredients for Vegetable Soup
Aside from broth (vegetable, chicken, or bone broth), this easy vegetable soup has two main components: hearty chunky vegetables and flavor makers in the form of fresh herbs, spices and a squeeze of lime. This soup recipe is similar to Italian minestrone soup, minus the pasta.

Here's what you need:
Vegetables
Mushrooms
Zucchini
Onions
Garlic
Carrots
Celery
Whole tomatoes: I like to use canned tomatoes because they are easy, add depth and body to the soup.
Legumes
Chickpeas: Canned chickpeas work great here because they are easy and add plant-based protein to our vegetable soup
Flavor Makers
Fresh parsley: I use both the finely chopped parsley stems and the leaves. The stems have more flavor, and I add them earlier in the cooking process. The leaves add color and freshness so I add them later.
Spices and dry herbs: a combination of warm spices and dry herbs give this soup depth. I used dry thyme, coriander, turmeric, and sweet paprika.
Lime: citrus goes a long way in adding brightness and rounding out the flavor in this soup. I used lime zest and lime juice here, but you can also use lemon, if that's what you have.
How to Make Homemade Vegetable Soup
Learning how to make homemade vegetable soup is pretty easy. It's really about cutting vegetables so they cook evenly and adding layers of flavor.
Sauté mushrooms: Toss the mushrooms in a bit of extra virgin olive oil in a large cooking pot. This will help the mushrooms release their moisture and concentrate their natural sugars. Remove the mushrooms and set aside till later. You don't want them to overcook in the soup.
Sauté remaining vegetables and aromatics: In the same pot, sauté finely chopped parsley stems. (We're building on flavor here!) Add onions, garlic, carrots, celery, and remaining vegetables. Stir in the spices and season with salt and pepper to taste. Cook for about 7 minutes, stirring regularly until the veggies soften some.
Add tomatoes, chickpeas, and broth: I used canned whole tomatoes and canned chickpeas. Canned tomatoes are already peeled and will add flavor and color to the soup, while the chickpeas add protein. If you don't have chickpeas, use white or kidney beans in their place. Top it off with vegetable or chicken broth.
Boil and simmer: Bring to a boil, then lower heat and cover part-way. Let the soup happily simmer for about 15 more minutes.
Return the mushrooms to the pot and finish: To finish the soup, stir in sautéed mushrooms and fresh parsley leaves, lime zest and lime juice.
Serve: Serve with your favorite crusty bread or piece of pillow focaccia! If you feel like it, add a few toasted pine nuts or a pinch of crushed red pepper flakes.
Ways to Make Vegetable Soup Your Own
Homemade vegetable soup is a great way to use up what veggies you have on hand.

Remember that virtually all vegetables will work in an everyday vegetable soup recipe like this one.

Vegetable Swaps: Sweet potatoes, squash, carrots, cabbage, zucchini, cauliflower, broccoli, mushrooms, celery, and even frozen peas, corn and green beans.

Legume Swaps: Replace the canned chickpeas with white beans such as navy or cannellini beans or kidney beans. If you typically make chickpeas from dried and have some hanging around you can use those too.

You can still use the flavors and spices used in this recipe to give your soup a bold Mediterranean twist.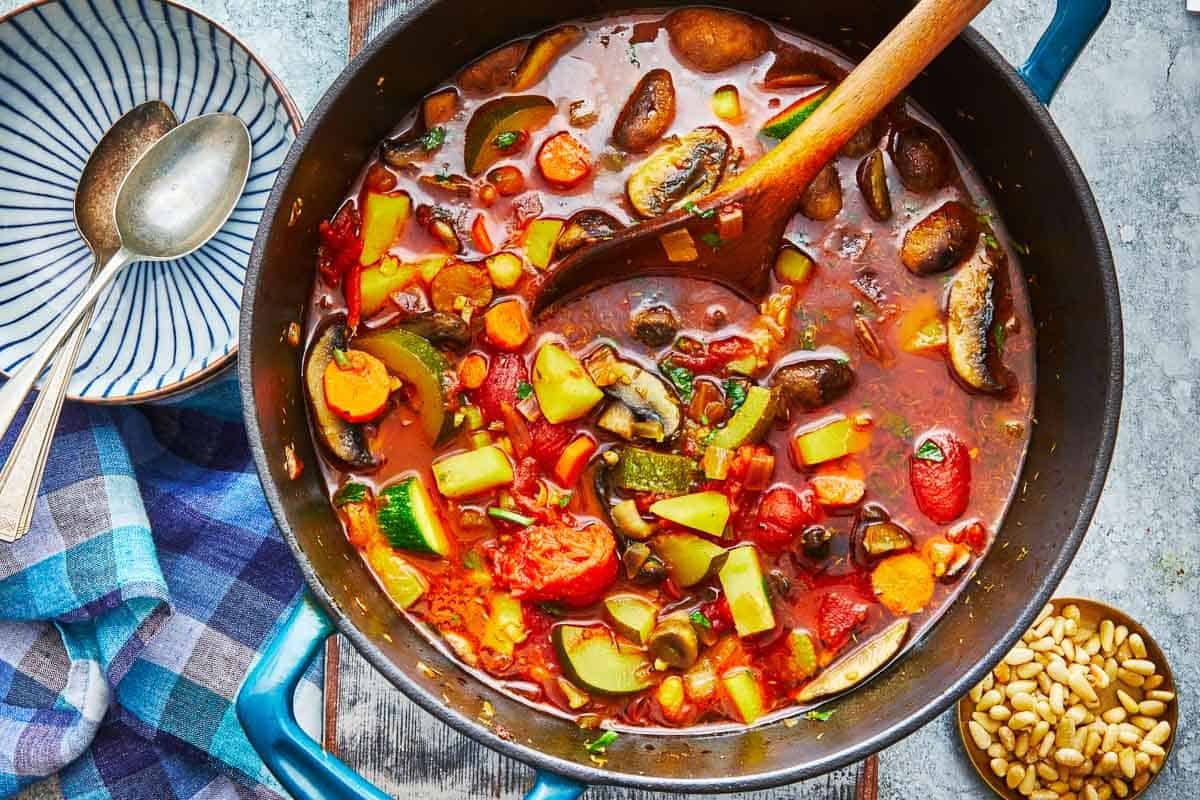 How to Freeze and Store Soup
Whether you're keeping this soup in the fridge for a couple of days or freezing it for a rainy day the first step is to cool it to room temperature. Once it's cool, transfer it to a container you can seal with a lid.

To Store: Leftover homemade vegetable soup will last a good 3 to 4 days in the fridge.

To Freeze: The liquid in the soup will expand when frozen to leave an inch headspace between the lid and the soup before placing it in the freezer. I prefer to use airtight containers or heavy-duty freezer bags.
More Vegetable Soup Recipes
Browse all Mediterranean recipes.

Visit Our Shop.
Sweet Spanish Paprika
Add an extra layer of warmth to your vegetable soup with our organic Sweet Spanish Paprika. Exceptional flavor and quality!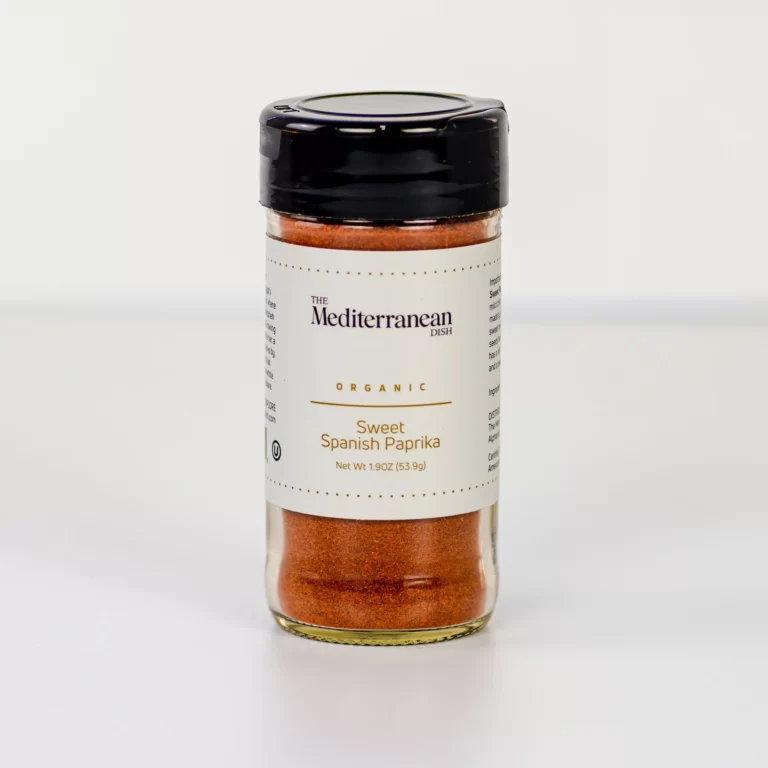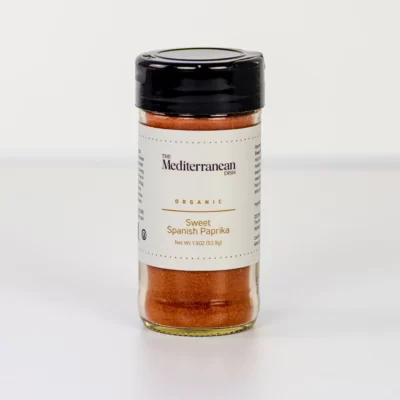 Homemade Vegetable Soup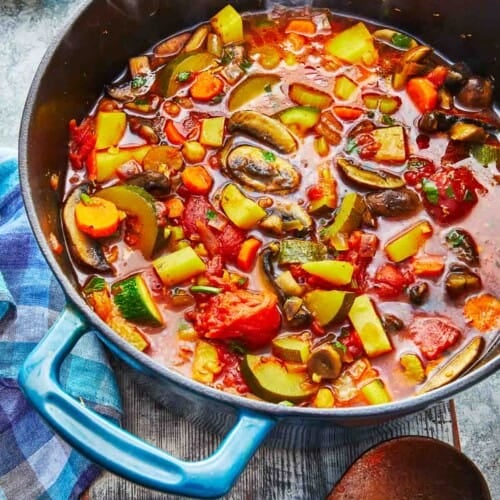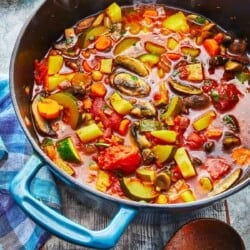 You'll love this easy homemade vegetable soup, prepared Mediterranean-style with loads of vegetables, including zucchini, carrots, and mushrooms, and fresh herbs. A little lime juice finishes this soup to add brightness and round out flavor.
Ingredients
8

oz

sliced baby bella mushrooms

1

bunch flat leaf parsley,

washed, dried, stems and leaves separated, then each chopped

1

medium-size yellow or red onion,

chopped

2

garlic cloves,

chopped

2

celery ribs,

chopped

2

carrots,

peeled, chopped

2

medium zucchini,

tops removed, sliced into rounds or half-moons or diced

2

golden potatoes,

peeled, small diced

1

teaspoon

ground coriander

½

teaspoon

turmeric powder

½

teaspoon

sweet paprika

Salt and pepper

1

(15-ounce) can chickpeas,

rinsed and drained

1

(32-ounce) can whole peeled tomatoes

2

bay leaves

½

teaspoon

dry thyme

6

cups

low-sodium vegetable or chicken broth

Zest of 1 lime

Juice of 1 lime

⅓

cup

toasted pine nuts,

optional
Instructions
Sauté Mushrooms: In a large pot heat 1 tablespoon olive oil over medium-high until shimmering but not smoking. Add the mushrooms and cook for 3-5 minutes, stirring regularly. Remove from the pot and set aside for now.

Add fresh veggies and spices: Add more olive oil, if needed and heat. Add the chopped parsley stems, (save the leaves for later), onions, garlic, celery, carrots, zucchini and small diced potatoes. Stir in the spices, and season with salt and pepper. Cook for about 7 minutes, stirring regularly, until the vegetables have softened a bit.

Add the chickpeas and tomatoes: Now add the chickpeas, tomatoes, bay leaves, thyme, and broth. Bring to a boil for 5 minutes, then turn the heat down to medium-low. Cover partially and cook for 15 more minutes.

Return mushrooms to the pot: Uncover and add the sauteed mushrooms. Cook for just a few more minutes until mushrooms are warmed through.

Add finishing touches: Finally, stir in the parsley leaves, lime zest, and lime juice.

Enjoy! Remove from the heat. Remove bay leaves. Transfer the vegetable soup to serving bowls and top with toasted pine nuts, if you like. Add a side of your favorite crusty bread or pita along with extra lime wedges and crushed red pepper. Enjoy!
Notes
Cook's Tip for Storing: Leftover homemade vegetable soup will last a good 3 to 4 days in the fridge, stored in a tight-lid glass container. Make sure the soup is completely cooled before you store it. If you're making this soup for meal prep and want to freeze it, you can! Again make sure soup is fully cooled before storing and freezing in in covered airtight containers or heavy-duty freezer bags. Be sure to leave room in the containers for soup to expand as it freezes.
Lower Carb Option: You can omit the potatoes for a lower carb option
Like a spicy soup? This soup is plenty flavorful, but if you're one for spicy, add a pinch of red pepper flakes.
Visit our online shop to browse quality Mediterranean ingredients such as Private Reserve extra virgin olive oil and spices like coriander, and paprika!
Nutrition
Calories:
236.4
kcal
Carbohydrates:
37.3
g
Protein:
10.4
g
Fat:
7.3
g
Saturated Fat:
0.7
g
Polyunsaturated Fat:
3.5
g
Monounsaturated Fat:
1.8
g
Sodium:
634.1
mg
Potassium:
1073.7
mg
Fiber:
9.4
g
Sugar:
9.5
g
Vitamin A:
3826.2
IU
Vitamin C:
41.1
mg
Calcium:
109.8
mg
Iron:
4
mg
*This post has recently been updated with new information for readers' benefit.