Easy, flavor-packed jeweled couscous recipe with pomegranate, lentils, mushrooms, nuts and raisins! A gorgeous little Mediterranean feast in one dish! Perfect warm or at room temperature. Best part, you can make this ahead for holidays and big dinners. Step-by-step tutorial photos below the recipe.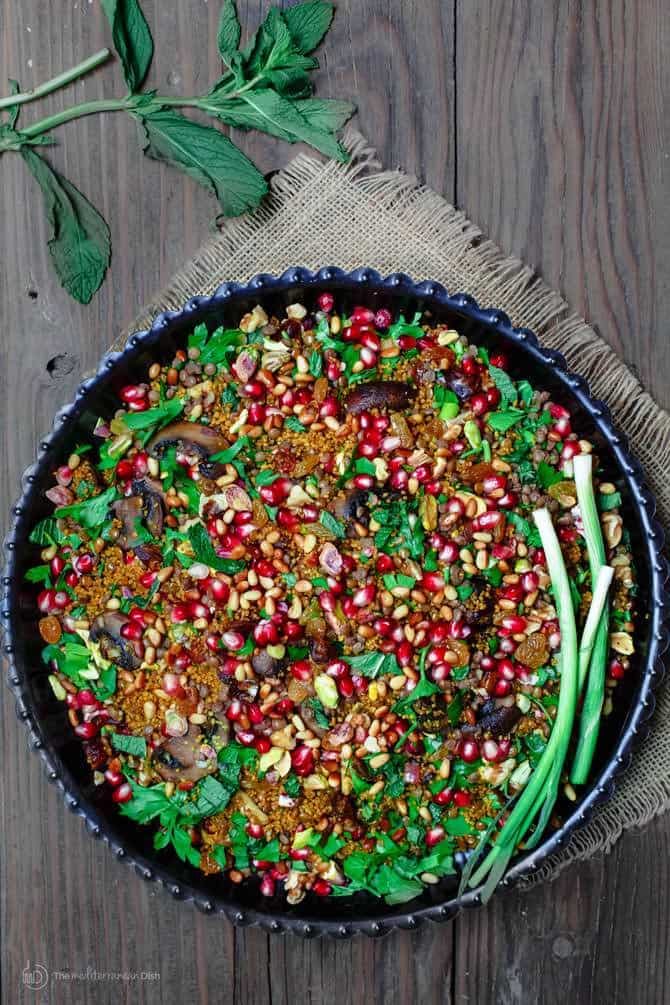 Jeweled couscous is a special dish that you find in Persia and parts of the Mediterranean. It's traditionally served to mark big occasions, like weddings and holidays.
I mean…doesn't it look holiday-worthy?!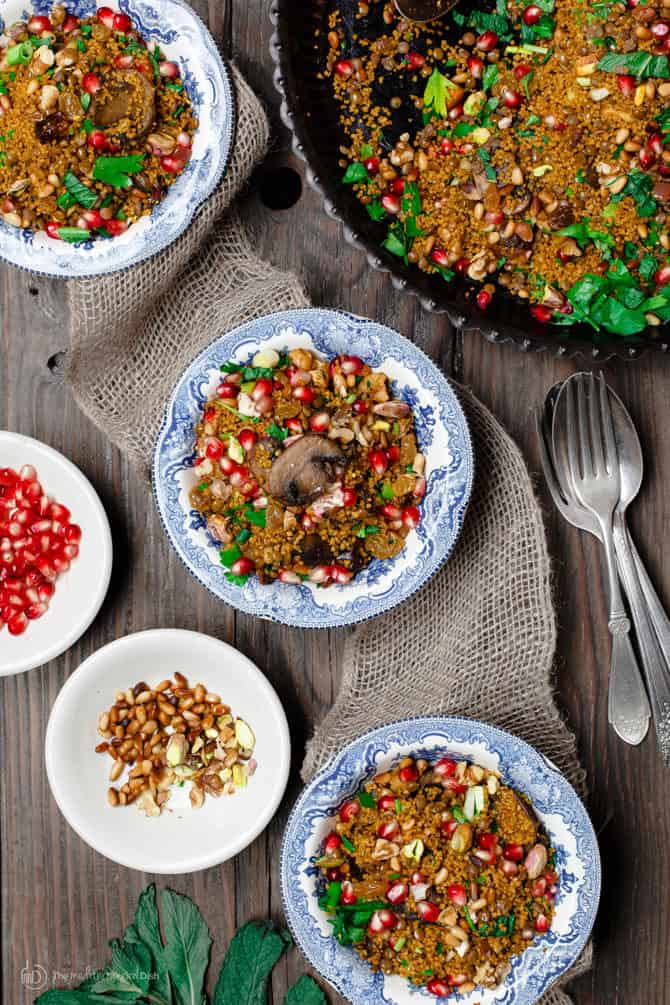 There are different variations of this couscous recipe. Most include herbs, nuts, dried fruit, and pomegranates (or pomegranate arils, if you like to get technical).
The combination of color and textures is what gives this humble couscous it's "jeweled" status.
And if you really want to amp up your couscous recipe, just add a little protein–chicken; meat; or even pulses, a better-for-you option that won't break the bank!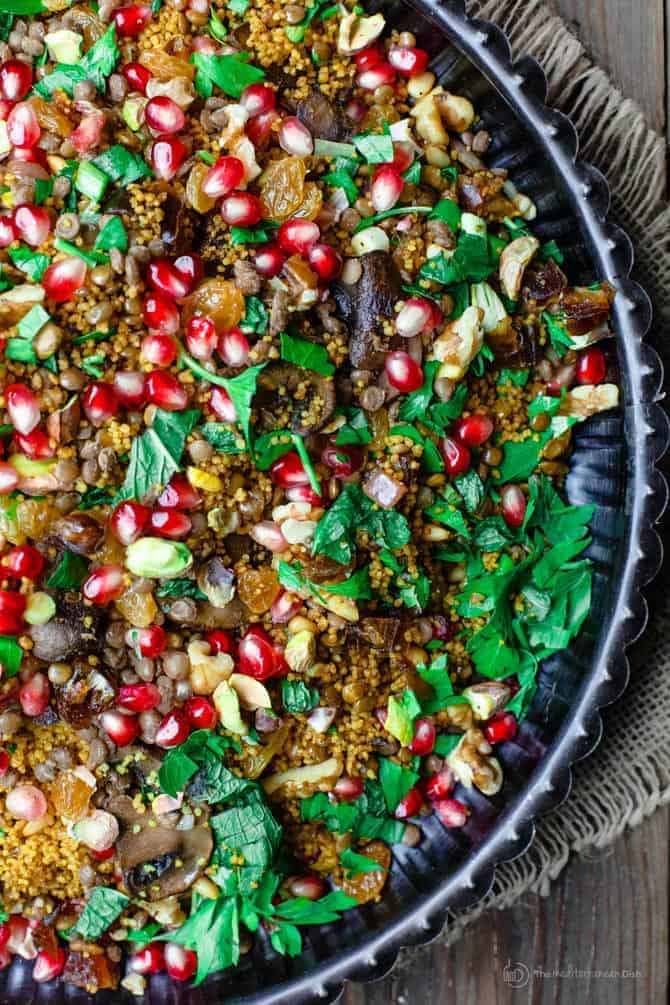 What are Pulses?
If you are not familiar, pulses are the delicious, protein-packed, sustainable foods we know as dry peas, chickpeas, lentils, and beans. They're also rich in complex carbohydrates, fibre and B vitamins! Pretty much a Mediterranean diet secret ingredient!
In today's jeweled couscous recipe, puy or brown lentils are the perfect addition. They take little effort to prepare, and can easily absorb the variety of warm Eastern Mediterranean flavors in this festive dish!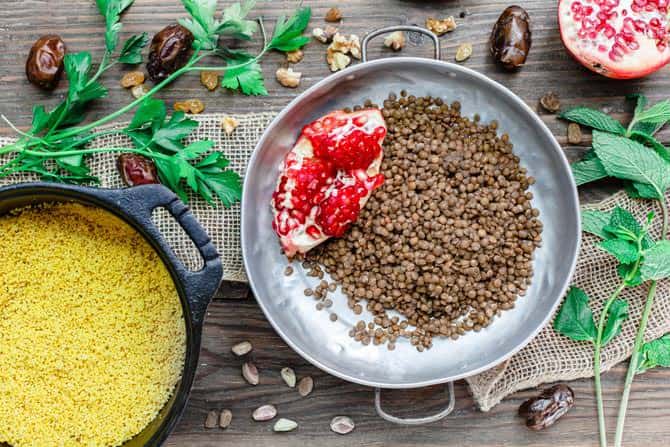 This couscous recipe is remarkably light and simple, but the results are nothing short of comforting and gorgeous! And you can serve it warm or at room temperature, which means you can prepare it a day or two in advance (see my make-ahead instructions in the recipe notes).
Print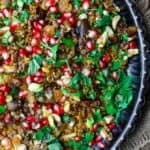 Jeweled Couscous Recipe with Pomegranate and Lentils
---
Author:

Prep Time:

15 mins

Cook Time:

40 mins

Total Time:

55 minutes

Yield:

serves 6

Category:

Side dish

Method:

Stove top

Cuisine:

Mediterranean/Middle Eastern
Description
Easy, flavor-packed jeweled couscous recipe with pomegranate, lentils, mushrooms, nuts and raisins! A gorgeous little Mediterranean feast in one dish!
---
Ingredients
1 cup puy lentils
Water
Salt
1 2/3 cup vegetable broth
2 cups instant couscous like this one
1/2 tsp turmeric spice
Olive oil
8 oz mushrooms, cleaned and sliced (I used baby bella mushrooms, but white button mushrooms would work)
1 small red onion, chopped
3 garlic cloves, chopped
1 1/2 tsp ground cinnamon
1 tsp sweet paprika
1/2 tsp ground green cardamom
1/2 tsp ground coriander
1/2 tsp ground cumin
1/2 tsp freshly ground black pepper
2 tbsp pomegranate molasses
Juice of 1/2 lemon
1 bunch fresh parsley, stems removed, chopped
1 bunch fresh mint (about 30 mint leaves), stems removed, chopped
5-6 scallions, tops trimmed, chopped (both white and green parts)
Seeds (arils) of 1 large pomegranate, more for garnish
10 Medjool dates, pitted, chopped (figs or dried apricots would work here as well)
1 cup gold raisins
1/2 cup EACH shelled chopped pistachios, chopped walnuts, toasted pine nuts, more for
garnish
---
Instructions
Wash the lentils under cold running water. Drain.
Cook the Lentils. Place the lentils in a saucepan and add 3 cups of water. Bring to a boil, then reduce to simmer for 30 minutes until the lentils cook through (they should absorb all the water). Add a pinch of salt and remove from heat.
Cook the couscous. While the lentils are cooking, make the couscous. In a saucepan, bring the vegetable broth to a boil. Remove from heat then stir in couscous, turmeric, pinch of salt, 1/2 tbsp olive oil. Cover and let sit 5 minutes to finish cooking. Fluff with a fork and give it a try. If needed, stir in just a little more boiled vegetable broth.
Make the mushrooms. In a large cast iron skillet like this one, heat 2 tbsp olive oil. Add the mushrooms. Cook for 4 minutes on high, tossing occasionally, until the mushrooms begin to gain color. Reduce heat to medium-high, and stir the onions and garlic and cook a couple more minutes.
Now put everything together. In the same skillet, add in the cooked lentils and couscous. Add salt, cinnamon, paprika, cardamom, coriander, and black pepper. Mix the pomegranate molasses and lemon juice with 1 tbsp olive oil, and add the liquid to the skillet with the couscous and lentil mixture. Toss to combine. Cook on medium, stirring regularly until warmed through.
Remove from the heat and add the remaining ingredients. You can transfer to a larger mixing bowl, and using a large wooden spoon, mix to combine. Transfer the couscous to a serving platter and garnish with more pomegranate seeds and nuts.
Notes
Make-ahead instructions: You can do most of this a day or two in advance. Once you cook the lentils,couscous and mushrooms, you can combine them in the skillet and mix in the spices and pomegranate/lemon juice mixture. Let that all cool off and then transfer to a tight-lid container and refrigerate. It's best to add in the fresh herbs, scallions, pomegranate seeds, nuts, and raisins, when you are ready to serve. If you want to serve the couscous warm, take the couscous-lentil mixture out of the fridge a few minutes before heating. Then resume the process at step #5
Keywords: Jeweled couscous, couscous, pomegranate, lentils
 Step-by-step photos for how to make this couscous recipe: 
Add the lentils and 3 cups of water to a saucepan. Bring to boil, then reduce to simmer. Cook 30 minutes. Add pinch of salt.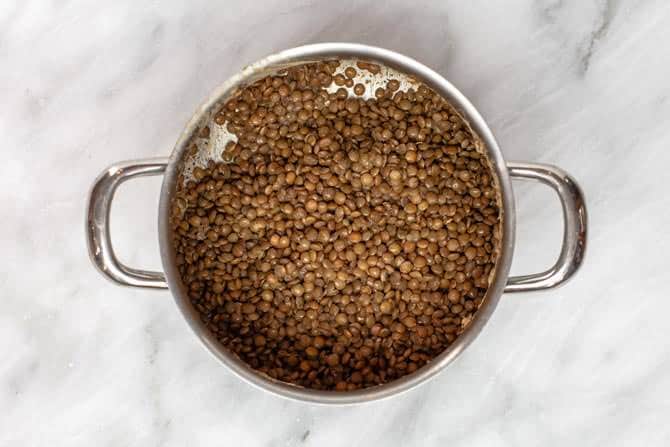 Boil vegetable broth. Remove from the heat and then stir in couscous with turmeric, salt and olive oil. Cover and let the couscous cook in the warmth of the broght. Couscous should quickly absorb the liquid. It should be fluffy.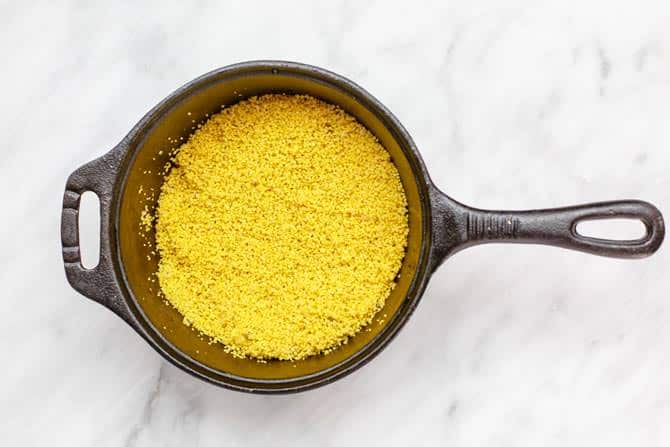 Sautee the mushrooms for a few minutes until they gain color, then add the onions and garlic to cook on medium heat.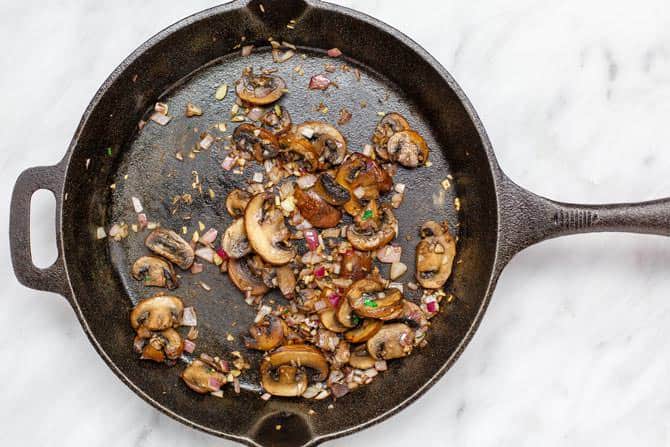 Now begin to put the jeweled couscous together. Add to the skillet of mushrooms, the already cooked lentils and couscous. Then add the spices, and the mixture of pomegranate molasses, lemon juice and olive oil. Give everything a good mix.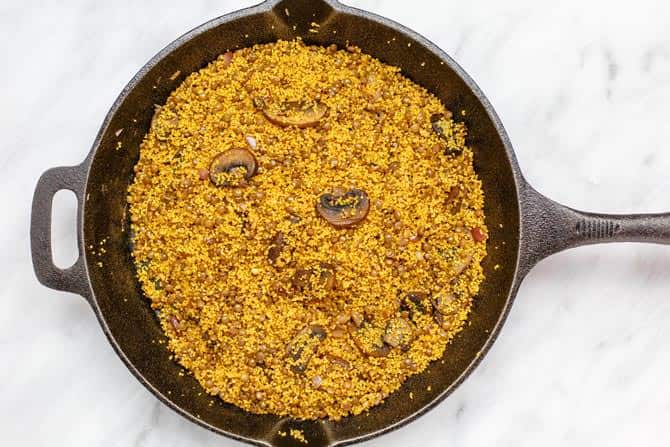 Then add the fresh herbs, scallions, pomegranate seeds, dates, raisins, and nuts.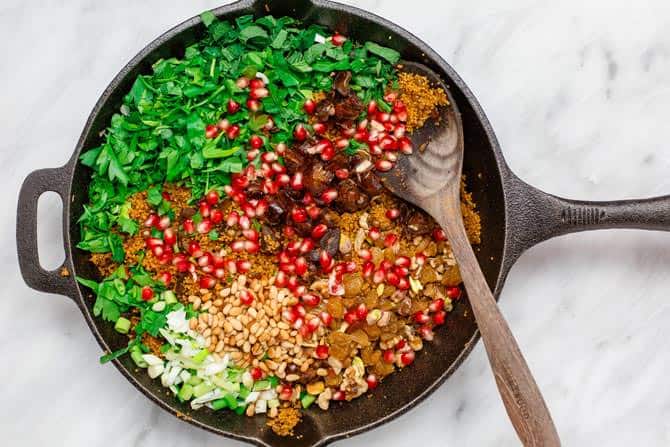 You can transfer to a large bowl and give everything a good mix. Find a nice a platter with some edges to it. Transfer the jeweled couscous to the serving platter (or little serving bowls), and then lavish some more pomegranate seeds and nuts to garnish! Enjoy warm or at room temperature.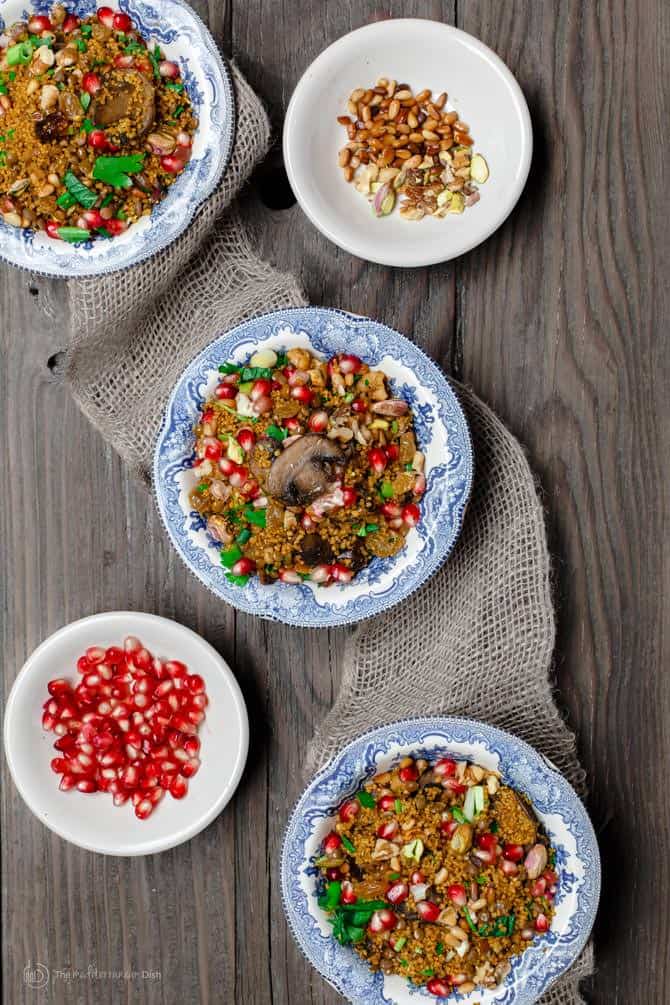 *I created this post to celebrate the United Nation's International Year of Pulses. Join me in committing to eating one serving of pulses per week! Take the pledge–>PulsePledge
This post is sponsored by USA Pulses & Pulse Canada.
More Recipes to Try:
Mujadara: Rice and Lentils with Crispy Onions 
Curried Lentil and Sweet Potato Soup 
Harissa White Bean and  Lentil Salad