Spanish tortilla (or Spanish omelette) is made with thinly sliced potatoes, onions, and eggs, gently cooked in olive oil. It is also known as Torta Espnaola or Torta de Patates and it is best served at room temperature or even cold, which is why it is the perfect make-ahead dish!
This is my personal take on this dish and slightly different from the traditional, but it offers a few easy tips for the home cook (be sure to read through for important tips)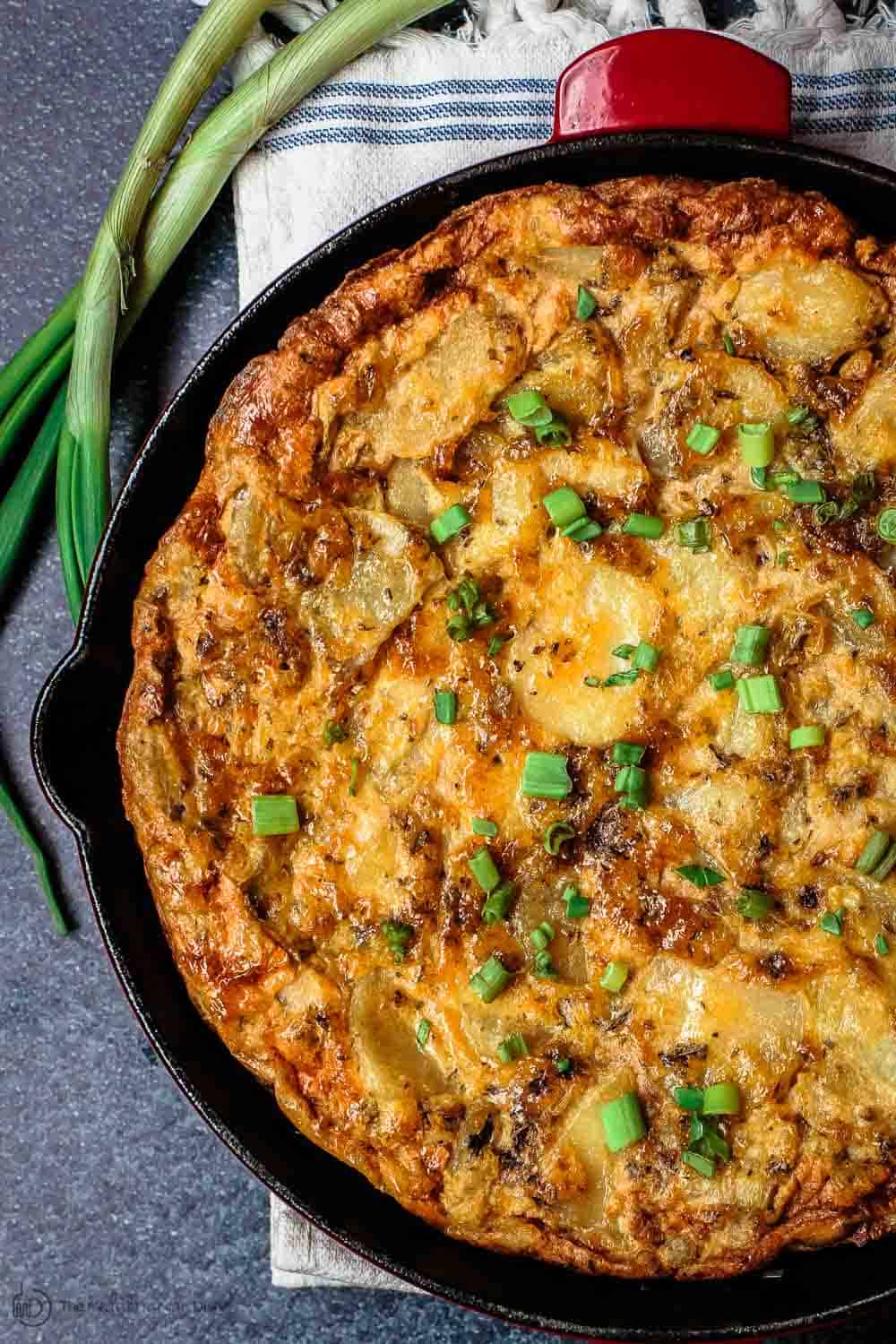 What is Spanish Tortilla?
What we're talking about today is not the familiar Mexican tortilla, which is basically flatbread. Tortilla espanol or Spanish tortilla is one of Spain's most popular national dishes, and it is pretty much eggs, potatoes and onions cooked gently in olive oil. A Spanish omelette that is perfectly dense and extra satisfying.
Although it is often served as a tapa (like my earlier gambas al ajillo), this little dish can be the best meal any time of the day! And because it is better at room temperature, you can make it ahead even one night in advance.
With a little technique, this simple Spanish omelette will surprise your taste buds in the best way possible. And like I said, this is my personal take on this dish and slightly different from the traditional, but it offers a few easy tips for the home cook.
What is the difference between tortilla and frittata?
I love the way Melissa Clark of the New York Times described this dish as a "potato cake with just enough eggs to bind it together." With that, here are a few differences between Spanish tortilla and a frittata:
Ingredients. Frittata can be made with virtually any set of veggies and eggs (spinach frittata is one I make often), while a Spanish omelette is made of: eggs, potatoes, onions, olive oil, and a dash of salt (I add a pinch of sweet paprika, but that is just my personal preference).

Texture and Density. Tortilla Espanola is more dense and tender, thanks to layers of thinly sliced velvety potatoes. A frittata is thinner and typically dryer.

Cooking Technique. You can cook both omelettes entirely in a skillet on the stovetop, but often times, frittata is finished in the oven. And to make tortilla, an important step is to first gently fry the potatoes and onions in lots of olive oil (at least 1 cup) until fully cooked before combining with the eggs to make your omelette.
Traditionally, you are meant to cook tortilla Espanola (or Spanish omelette) on the stovetop, flipping it over mid-way through to finish cooking on the other side (note: in this recipe, I include the option to finish it in the oven).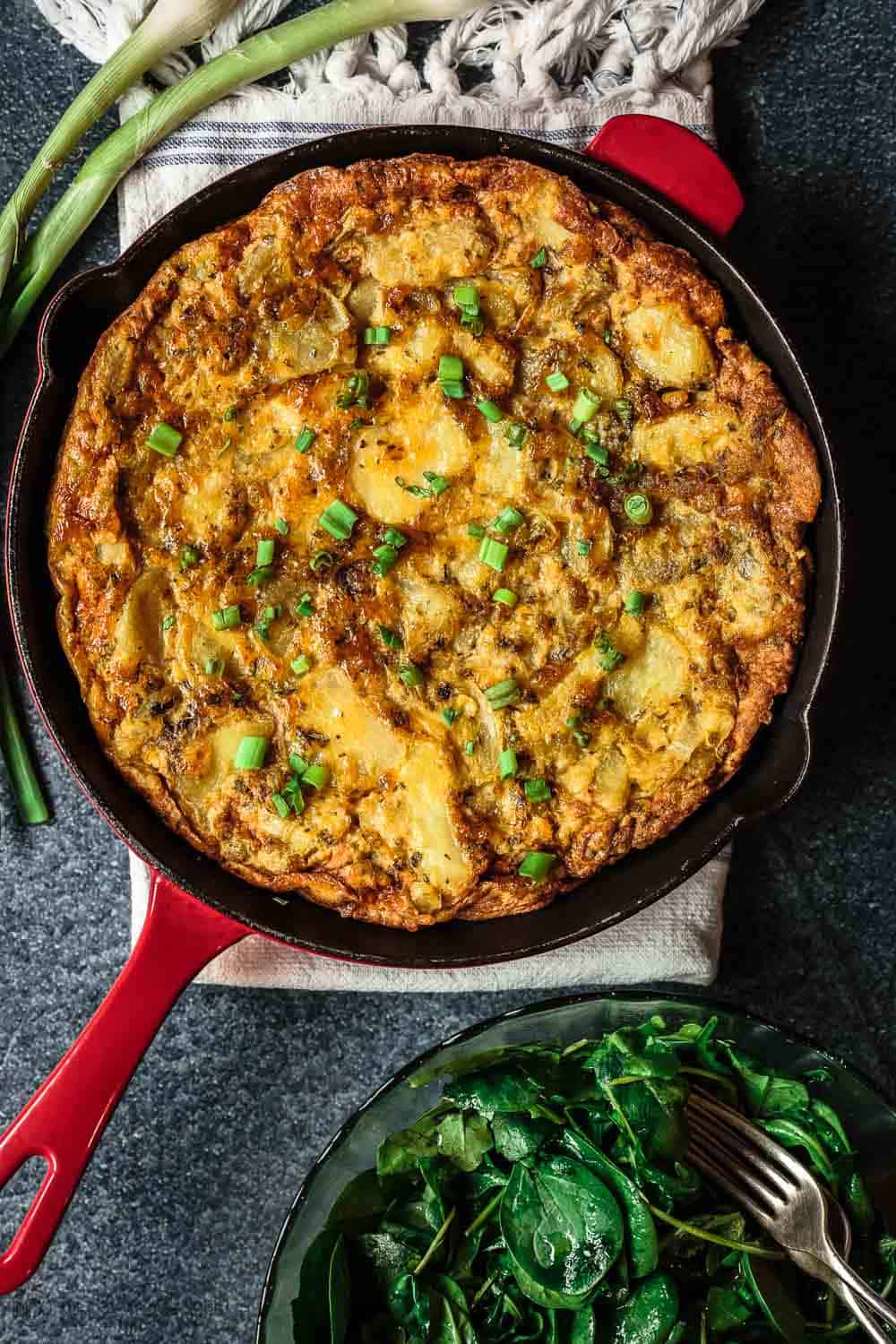 Three tips for the best Spanish omelette:
Salt the eggs first! This is a tip I picked up from Daniel Gritzer of Serious Eats. Seasoning the eggs first will help them retain moisture while cooking.

Cook the potatoes and onions gently in plenty of olive oil. You'll need to use at least 1 cup of olive oil that should be gently bubbling until the potatoes are cooked through to tender perfection. This is what truly gives the tortilla espanol it's velvety texture. But don't worry, the potatoes are drained, and you can reuse the deliciously flavored olive oil for something else (roasted vegetables or fried brussels sprouts or baked chicken drumsticks... whatever you need to make next)!

Do not serve it hot! This is one omelette that is even better at room temprature (or cold), so allow it at least a few minutes before serving. Better yet, you can make it a few hours ahead or the night before.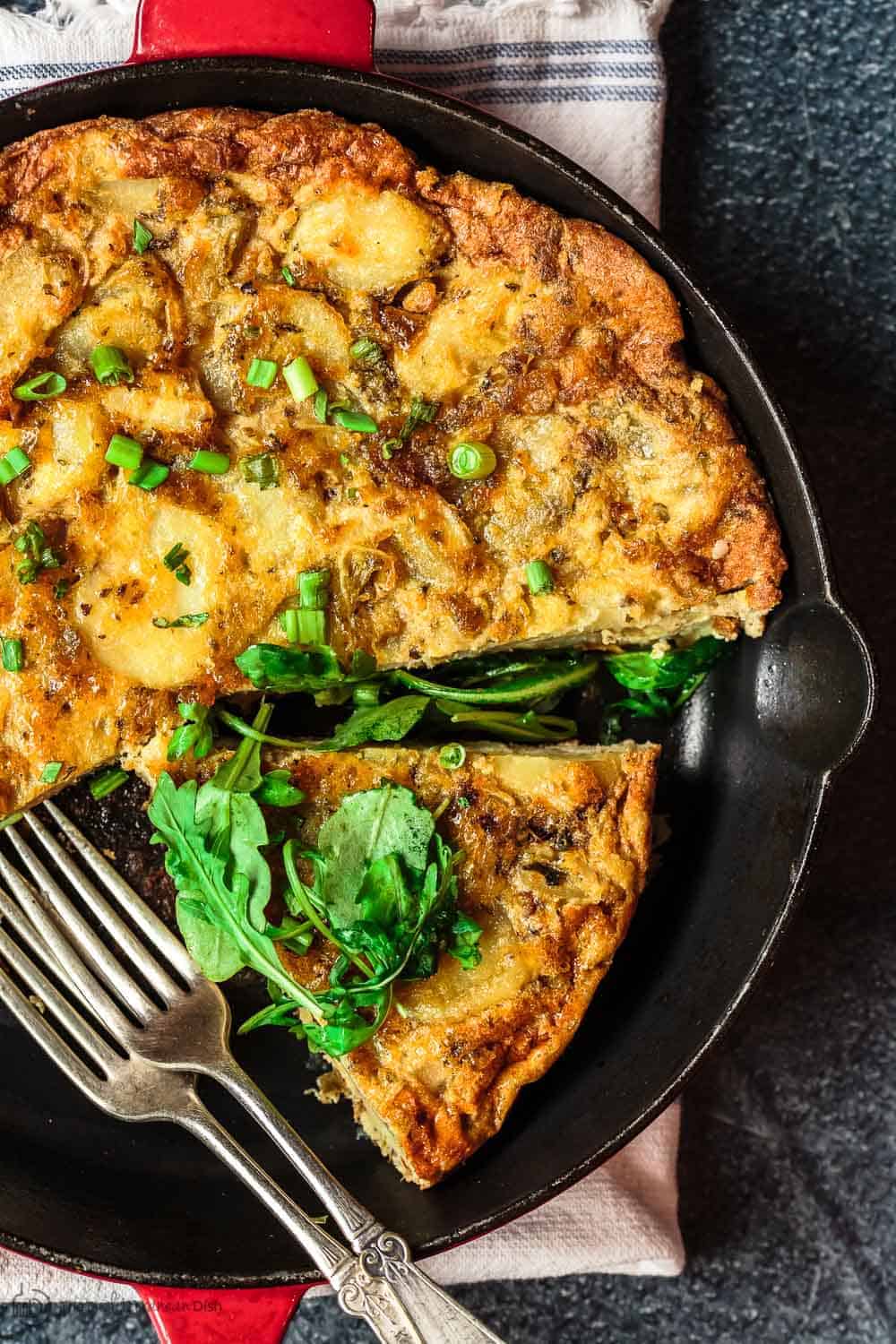 What goes well with Spanish tortilla?
Like I said earlier, this Spanish omelette recipe is often served as a tapa in Spain along with other nibbles and drinks. But it makes an equally satisfying brunch or even dinner next to a salad such as: lemony arugula salad; tomato salad; bean salad; or even a big Mediterranean chickpea salad. And I have on occassion served it along side tomato basil soup.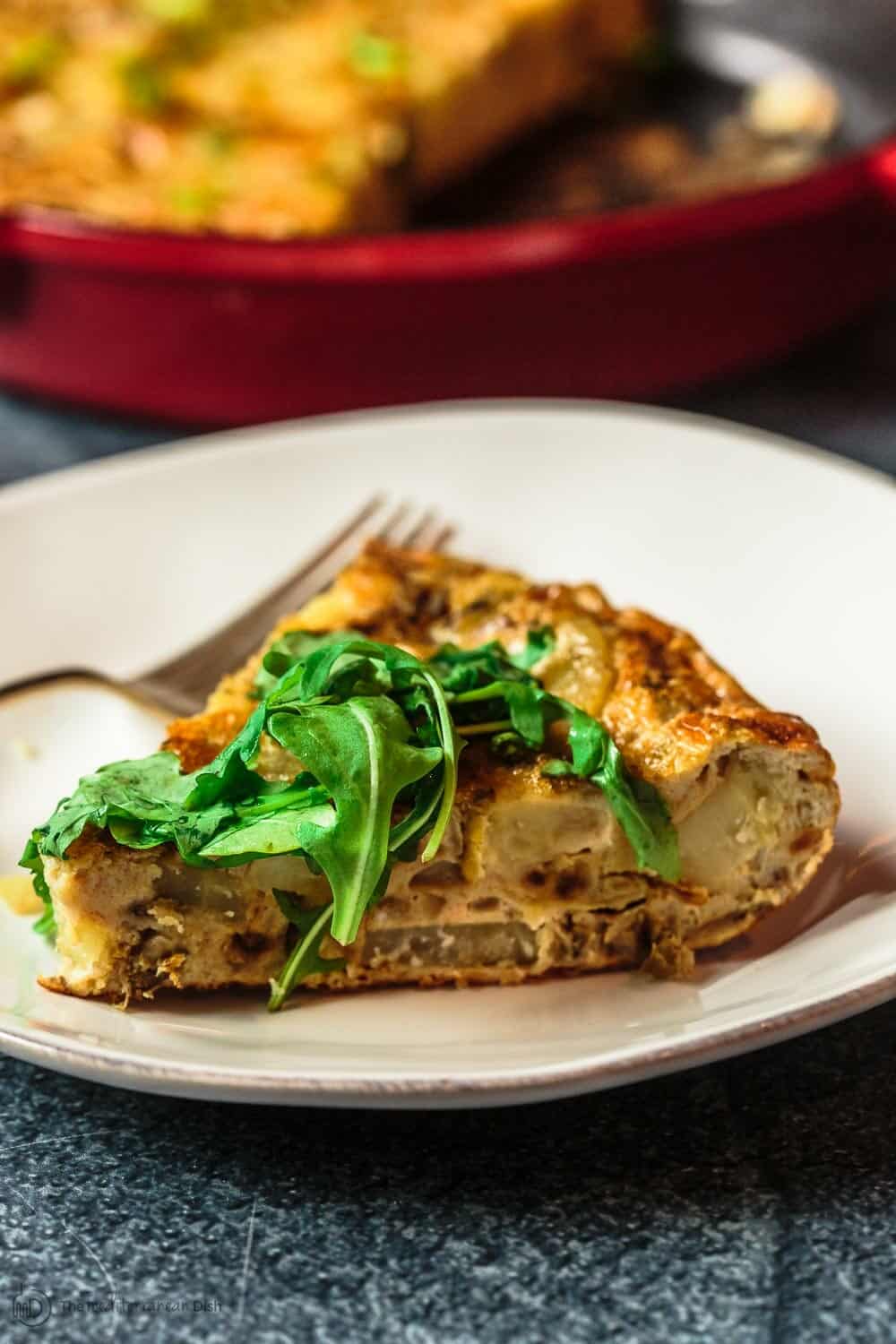 How long will it keep?
If stored properly, it will keep in the fridge for up to 3 days. And since it's better at room temperature or cold, you can make it a few hours or even one night in advance. Once you make it, let it cool before refrigerating.
More Recipes to Try
Browse our collection of Spanish recipes and our top 50 Mediterranean diet recipes.
Easy Spanish Tortilla Recipe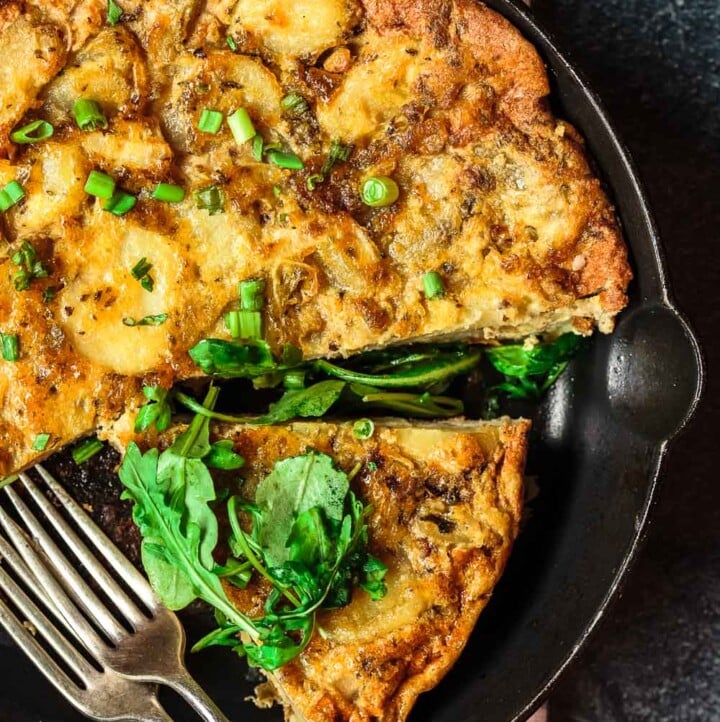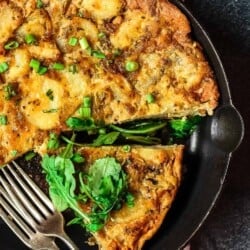 Spanish tortilla or tortilla española is basically a Spanish omelette with potatoes and eggs cooked gently in olive oil. This dish is traditionally served at room temperature or cold as a tapa, but it is great for any meal of the day. Leftovers will last in the fridge for a good 3 days!
Ingredients
10

medium eggs

Salt

1

teaspoon

sweet Spanish paprika,

optional

1

cup

extra virgin olive oil

1 ½

lb

russet potatoes

(or 2 to 3 russet potatoes), peeled, halved and sliced cross-wise

1

large yellow onion,

peeled, halved and sliced cross-wise

4

scallions,

trimmed, chopped (both white and green portions)
Instructions
In a big bowl, whisk together the eggs, salt, and paprika. Set aside for now.

Prepare a 10-inch oven-proof nonstick skillet or a well-seasoned cast iron skillet. Heat the olive oil in the skillet over medium-high heat until shimmering but not smoking.

Add the potatoes, onions, and scallions to the oil (at first, they won't all seem to fit, but with a little stirring, they'll compress as they cook). Lower the heat immediately to medium-low and watch to control the heat and make sure it continues to gently bubble. Cook for 25 minutes, stirring occasionally, until the potatoes are very tender.

Use a heat-safe strainer over a heat-safe bowl to drain the olive oil (reserve the oil aside for now).

Season the potatoes well with kosher salt and add them to the egg mixture in the bowl.

Turn the oven broiler on.

In the skillet, heat 3 tablespoons of the reserved olive oil over medium heat. Pour in the egg and potato mixture, and gently press to even out the top. Reduce the heat to medium-low. Cook until you see the edges of the omelette begin to set and firm up then put the pan under the broiler to finish cooking. Broil for about 5 minutes, watching carefully until the eggs are cooked through and the top of the omelette browns slighlty (see notes if you prefer to finish cooking on stovetop).

Allow the tortilla a few minutes before serving.

To serve, invert the tortilla onto a large serving platter (you may need to loosen the edges using a spatulla). Cut into 6 slices and serve.
Notes
To finish cooking the omelette entirely on the stovetop rather than using the broiler (step #7 ), once cooked in the skillet for a few minutes and the bottom and sides begin to set, place a large plate over the skillet and hold it in place with with your hand (you may wear an oven mitt too in case the plate gets hot). In one quick motion, turn the skillet to invert the tortilla onto the plate. Now, slide the tortilla into the skillet and finish cooking on the other side until fully cooked through.
Make Ahead and Leftovers: You can make this a night or so ahead. Let cool completely before storing in the fridge in a tight-lid container. Leftover Spanish tortillas are great served just at room temperature or even cold.
You can reuse any remaining extra virgin olive oil in other dishes, it will be deliciously flavored with the onions.
Visit Our Shop to browse quality Mediterranean ingredients including extra virgin olive oils, all-natural spices and more.
Nutrition
Calories:
381
kcal
Carbohydrates:
23.5
g
Protein:
12
g
Saturated Fat:
5.3
g
Sodium:
112.8
mg
Potassium:
630.5
mg
Fiber:
2.1
g
Vitamin A:
639.9
IU
Vitamin C:
9.3
mg
Calcium:
65.8
mg
Iron:
2.7
mg
*This post originally appeared on The Mediterranean Dish in 2017 and has recently been updated with new information for readers' benefit.