Breakfast or dinner. Hot or cold. Just plain, or with a salad. Tortilla espanola–Spanish tortilla, or Spanish Omelet–is that one dish that works in all cases. And if you survey your fridge and pantry, I'll bet you already have the ingredients to make it!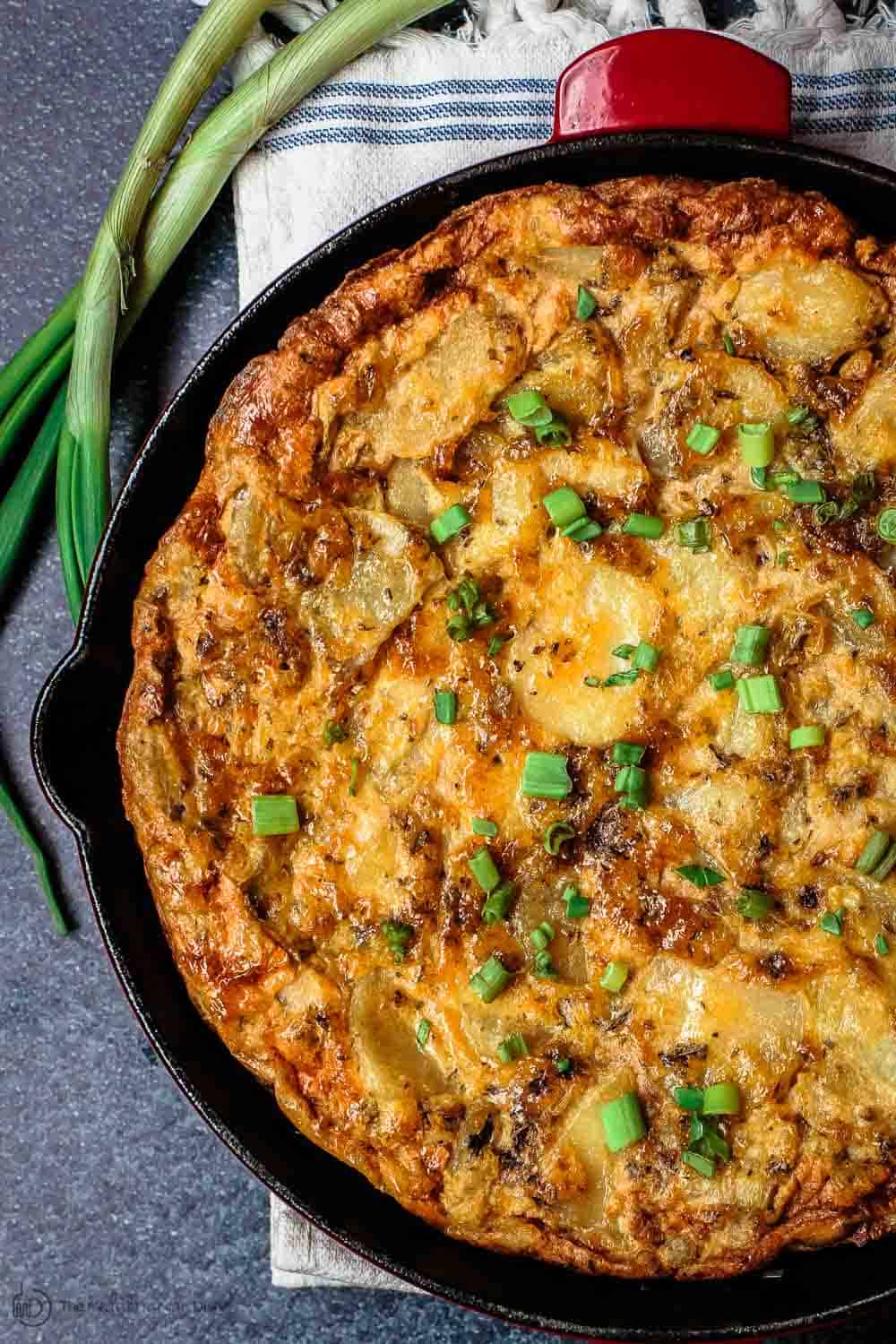 What is Spanish Tortilla?
If you're not familiar, Spanish tortilla is a simple dish of four main ingredients: eggs, potatoes, quality olive oil, and onions.
I've heard Spanish tortilla described as the Spanish version of an omelet or a fritatta. A Spanish omelet, if you will.
Melissa Clark of the New York Times describes Spanish tortilla best as a solid cake with just enough egg to bind the soft, sliced potatoes.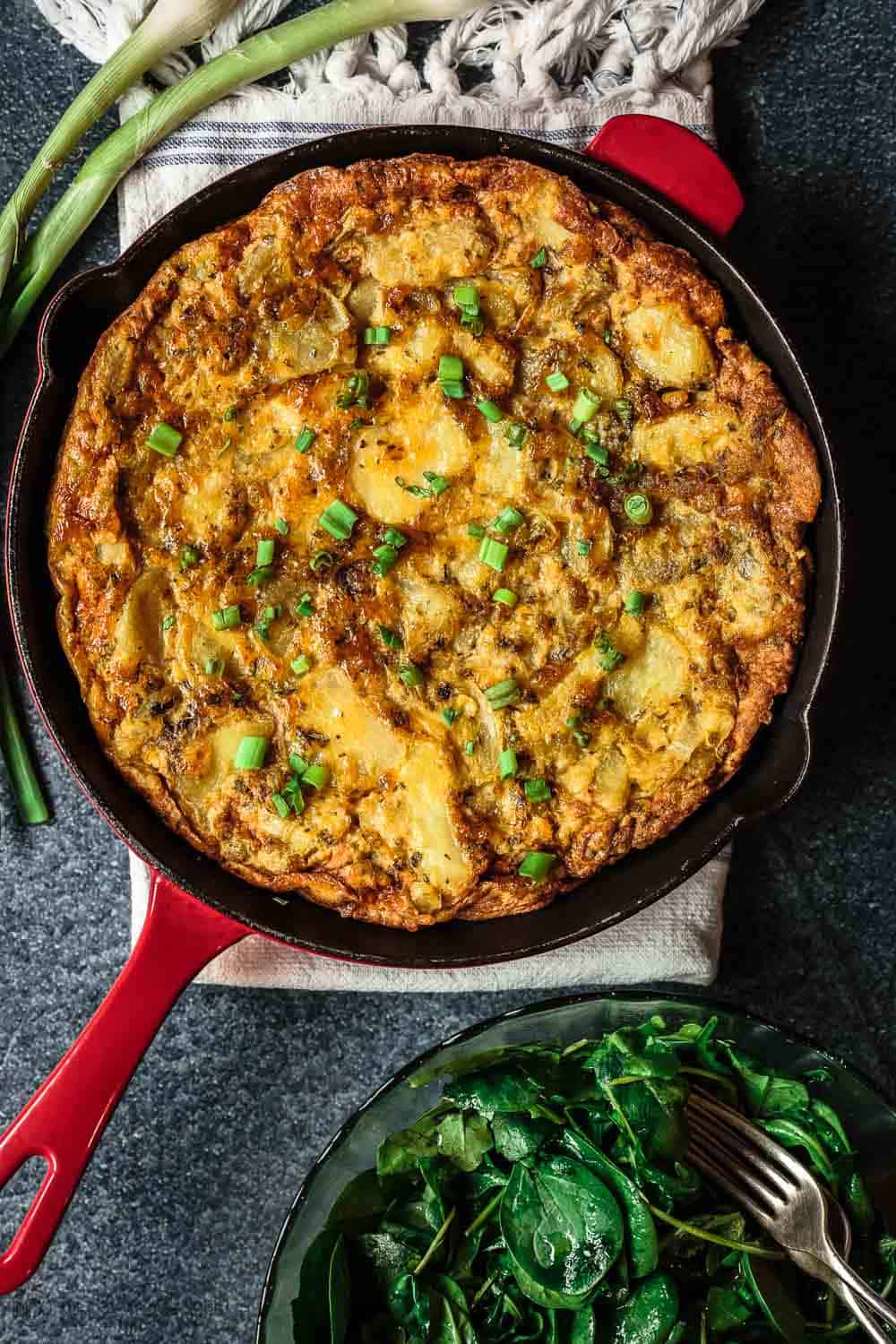 Tips for the Best Spanish Tortilla (or Spanish Omelet)
In my quick research, I came across a great tip from Daniel Gritzer of Serious Eats: Salt the eggs first! This helps them retain moisture during cooking!
But, the main work in this Spanish omelet is in gently cooking the potatoes and onions in quality extra virgin olive oil. Plenty of olive oil actually; at least one cup of it. I used Private Reserve olive oil. As the potatoes and onions cook low and slow in the oil, the EVOO imparts great flavor and turns them velvety and luscious.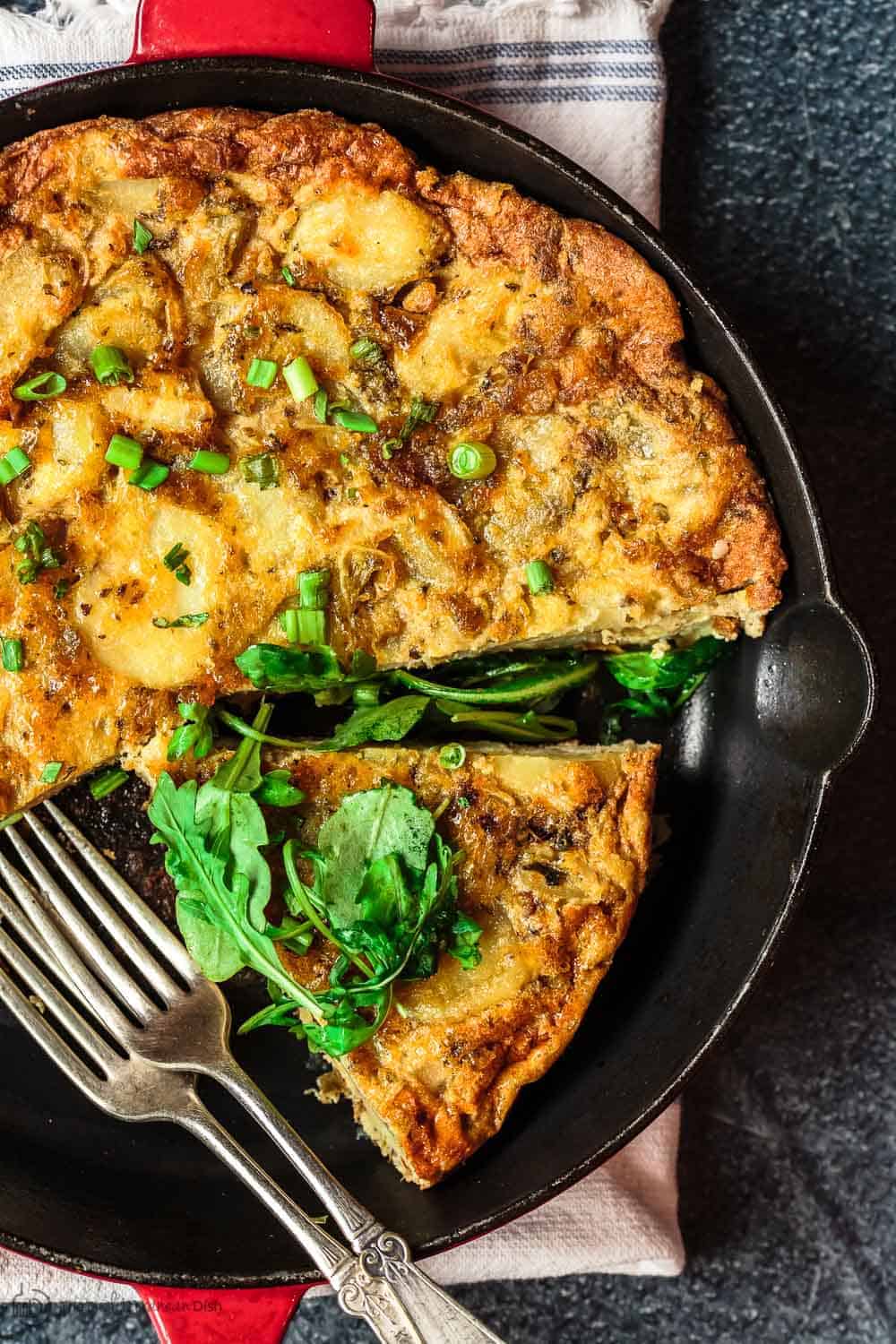 What to Serve with Spanish Tortilla
Spanish tortilla is often served as tapas in Spain along with other nibbles and drinks. But it makes an equally satisfying brunch or even dinner next to a simple salad. You'll see, I mixed a simple spinach and arugula salad; this peppery salad is the perfect complement to the velvety Spanish tortilla. If you need a bigger salad, try fattoush or this Mediterranean chickpea salad.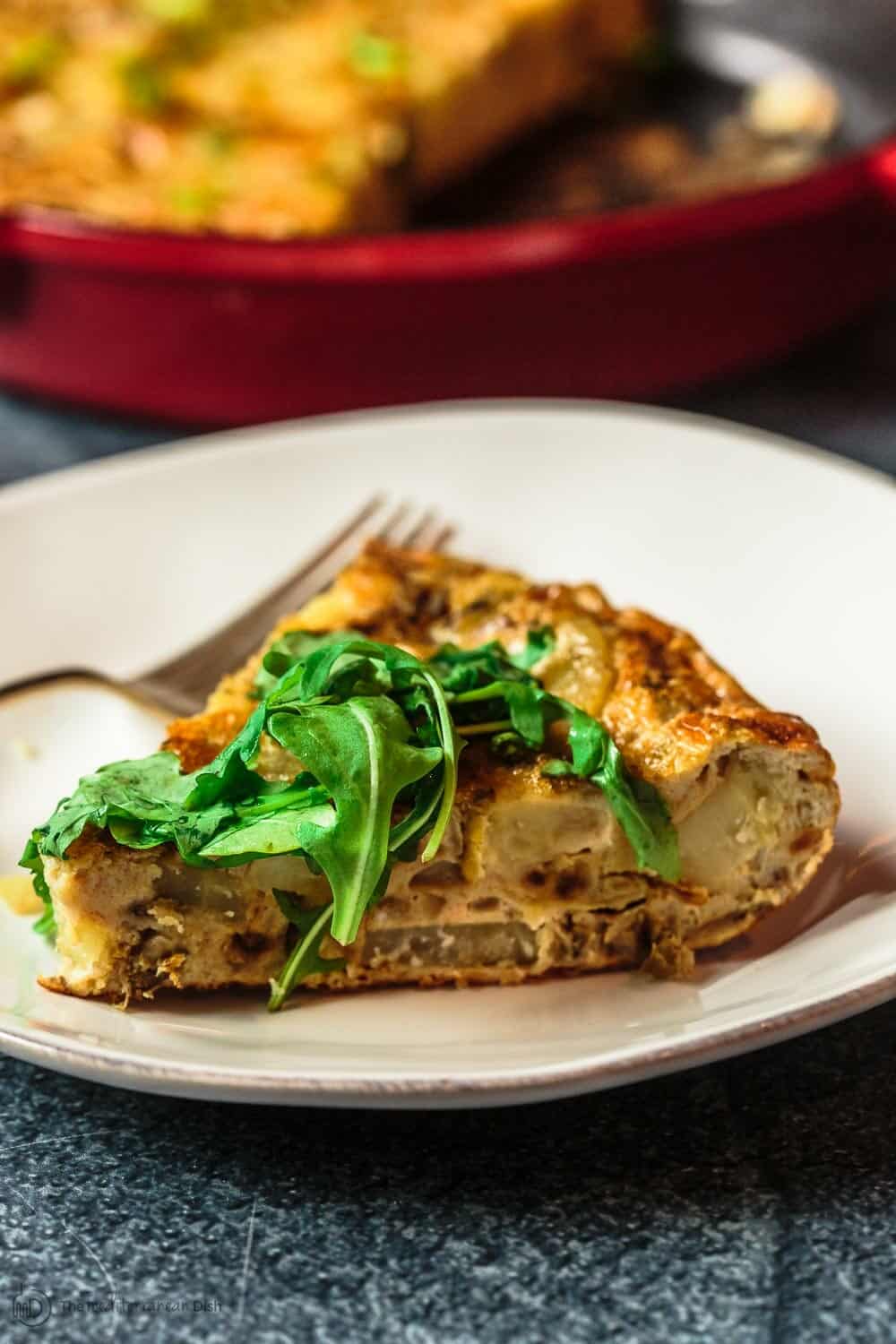 I love that Spanish tortilla can be served hot, warm, or at room temperature. It's the perfect make-ahead for a special brunch!
Print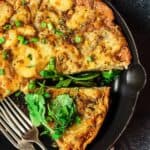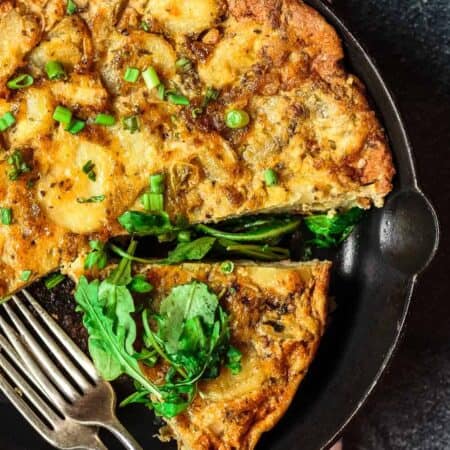 Best Spanish Tortilla Recipe
---
Author:

Prep Time:

10 mins

Cook Time:

30 mins

Total Time:

40 minutes

Yield:

6 or more

Category:

Appetizer, Breakfast

Cuisine:

Spanish
Description
All-star Spanish Tortilla Recipe! Satisfying casserole with layers of velvety, olive oil cooked potatoes, onions and eggs. Serve w/ spinach arugula salad
---
Ingredients
10 medium eggs
Salt
1 tsp sweet Spanish paprika
1 tsp dried oregano
1 cup Private Reserve extra virgin olive oil
1 1/2 lb russet potatoes (2 to 3 russet potatoes), peeled, halved and sliced cross-wise
1 large yellow onion, peeled, halved and sliced cross-wise
4 scallions, trimmed, chopped (both white and green portions)
For Spinach and Arugula Salad 
8 oz baby spinach
8 oz baby arugula
Salt and pepper
1 tsp sumac
1-2 tsp fresh lemon juice, more to your taste
Early Harvest or Private Reserve extra virgin olive oil
---
Instructions
In a big bowl, whisk together the eggs, salt, paprika and oregano. Set aside for now.
Prepare a 10-inch oven-proof nonstick skillet or a well-seasoned cast iron skillet. Heat the olive oil in the skillet over medium-high heat, watching until shimmering.
Add potatoes, onions and scallions to the oil (don't worry, at first, they won't all seem to fit, but with a little stirring, they'll compress as they cook.) Lower heat immediately to medium-low (you'll want to control the heat making sure it continues to gently bubble). Cook for 25 minutes, stirring occasionally, until potatoes are very tender.
Preheat the oven to 400 degrees F.
Use a heat-safe strainer over a heat-safe bowl to drain olive oil (keep the oil aside for now). Season the potatoes well with salt.
Give the eggs a quick whisk and add the potato mixture to the eggs, freeing the skillet up.
In the skillet, heat 3 tbsp of the reserved oil over medium heat. Pour in the egg and potato mixture, and gently press to even out the top. Reduce heat to medium-low. Cook uncovered for 2 minutes, then transfer to heated oven for 5 minutes or so to finish cooking, watching carefully. Invert onto a serving plate, or leave to serve directly from pan. I like to add a garnish of chopped scallions. Set aside for 10 minutes or so before serving.
Meanwhile, in a salad bowl, toss the spinach, arugula, salt, spices, lemon juice and a drizzle of olive oil together.
Slice Spanish tortilla into 6 slices and serve with the spinach and arugula salad. Add crusty bread, if you like. Enjoy!
Keywords: Best Spanish tortilla recipe, Spanish breakfast
More Recipes to Try
Kuku Sabzi: Persian Herb Omelet