Chorizo pasta is a comfort food staple in Spain and for good reason. The combination of smoky chorizo, sweet roasted red peppers, and tangy manchego cheese creates a robust and flavorful sauce. Ready in just 35 minutes!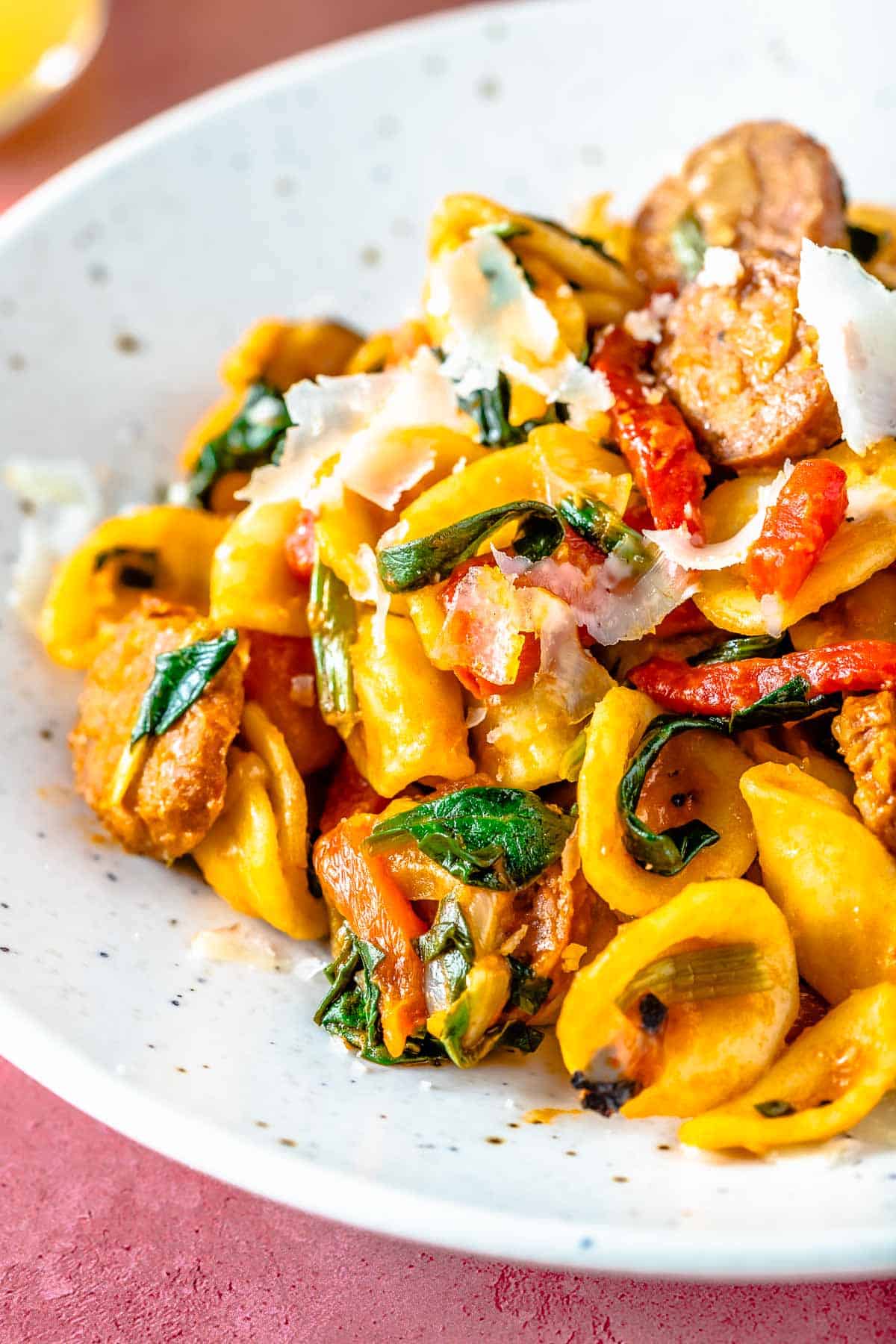 Spanish chorizo, with its vibrant orange hue and wonderfully smoky flavor, provides the backbone for this rustic pasta. Roasted red peppers and spinach give the dish a boost of fresh vegetables, while a splash of sherry vinegar at the end adds refreshing complexity.
Traditional chorizo pasta doesn't have spinach, but I add it because it cuts through the richness of the dish, adds a pop of color, and sneaks in some leafy greens. For a truly authentic Spanish chorizo pasta, leave the spinach out.
I pack this chorizo pasta with deeply savory and layered flavors then top it with nutty manchego cheese for a consistently crowd-pleasing meal. While it's great for a weeknight dinner, it's also impressive enough to serve at a dinner party. Round out the meal with Pan Con Tomate and a pitcher of Red Sangria.
Table of Contents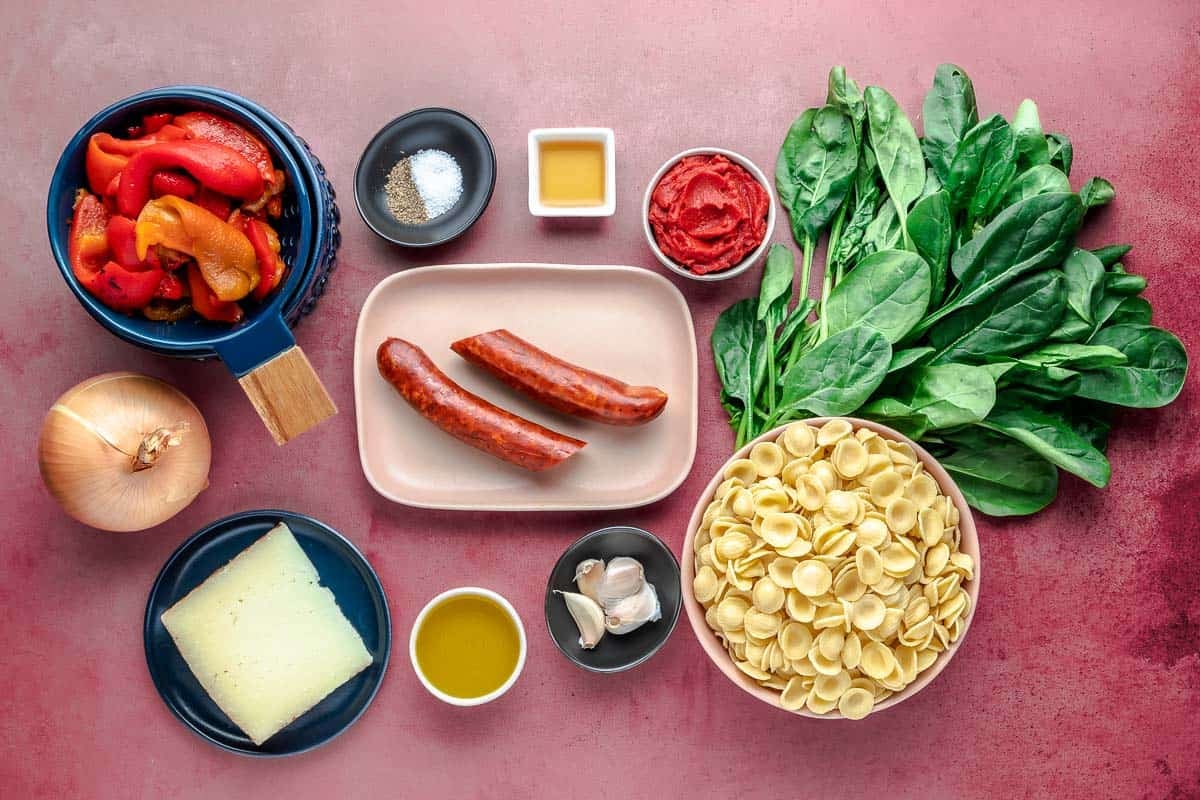 What's in Spanish Chorizo Pasta
You should be able to find most ingredients for this recipe at your grocery store. Both Mexican and Spanish chorizo is easy to find in the U.S., but there is a difference between the two. Mexican chorizo is considered a fresh or raw sausage. Whereas, Spanish chorizo is cured and heavily seasoned with paprika. You can not sub one for the other in this recipe. Make sure you pick up Spanish chorizo at the store for this hearty pasta dish. Look for it in the cheese and charcuterie section of your local market.
Short pasta: I prefer a short pasta, such as orecchiette, pipette rigate, or rigatoni for this pasta recipe. I find the smaller shapes with hollows or ridges easily catch the chorizo, vegetables, and sauce. This makes for a satisfying bite every time–you never know exactly what combination your fork will scoop up next!
Spanish olive oil: I recommend seeking out a high quality Spanish olive oil to use here, such as our Hojiblanca Spanish EVOO. Spanish olive oil is typically a buttery golden color and tends to be fruitier than its Italian counterparts. While high-quality Italian olive oil will work for this recipe, it's worth seeking out Spanish olive oil as the nutty flavor really makes the chorizo shine.
Spanish chorizo: Spanish chorizo is a cured pork sausage, heavily seasoned with smoked paprika and garlic. Spanish chorizo is either sweet or spicy depending on the maker. It is commonly used as a flavor base for stews, braises, and paellas. If you have any leftover thinly slice it and enjoy as a snack or add it to a charcuterie board.
Yellow onion: Mild but with an assertive allium flavor, yellow onions are the workhorse of the kitchen. In this chorizo pasta recipe, I soften them with the rendered fat from the Spanish chorizo, giving the pasta a deeply savory-sweet flavor.
Garlic: In this dish, the garlic mellows and imparts nutty umami qualities. Sensitive to garlic? Feel free to reduce the amount called for or eliminate it entirely. The chorizo itself has garlic so you'll still get that authentic Spanish flavor.
Double-concentrated tomato paste: You will probably see double-concentrated tomato paste sold in a tube. It has been cooked down even further than tomato paste and packs an even greater savory wallop. Can't find double-concentrated tomato paste? Simply substitute double the amount of standard tomato paste.
Jarred roasted red peppers: A weeknight cook's best friend, jarred roasted red peppers pack huge flavor for very little effort. But if you have the time and the peppers you can also make homemade roasted peppers. Roasted red peppers are made from bell peppers that have been charred, peeled, and packed in salt water. They are a smoky-sweet addition to this chorizo pasta.
Mature spinach: I prefer to use mature spinach in this recipe because it holds it shape better than baby spinach and has a richer, more defined flavor.

Other quick-cooking greens, such as Swiss chard or lacinato kale, could also work here.

If you only have baby spinach on hand you can use it, it will just wilt down a little further.
Sherry vinegar: A wine vinegar made from Spanish sherry, sherry vinegar is bracingly acidic, with nutty caramel notes. I add a splash at the end of cooking to counterbalance the richness of the chorizo and pasta.
Kosher salt: Known for its large crystals and clean taste, kosher salt is my go-to for seasoning both savory and sweet dishes.
Black pepper: With a slightly spicy, woodsy flavor, black pepper adds a little sparkle and pop to pasta dishes.
Manchego cheese: Manchego cheese is a sheep's milk cheese traditionally made in the La Mancha region of Spain. It has a nutty, grassy flavor and a slightly gritty texture. I use it as a garnish, so a few shavings impart a rich creaminess to the dish without making it too heavy. Avoiding dairy? Simply skip the manchego cheese for a dairy-free meal.
How to Make Chorizo Pasta
This Spanish Chorizo Pasta recipe is easy, it just requires a few cans and the flavor-packed chorizo does rest of the work for you. Follow my simple recipe to make the best, boldest Spanish Chorizo pasta:
Cook the pasta: Bring a large pot of water to a boil. Add enough salt so that the water is salty like the sea. Add 1 pound of pasta to the boiling, salted water and cook until just shy of al dente according to the package directions. Just before draining, reserve 1 cup starchy pasta water, then drain the pasta and set aside.
Prep your ingredients and saute: While the pasta cooks, remove the casings from the chorizo and slice the sausage thinly. Chop 1 medium onion into ½-inch dice and finely mince 4 cloves of garlic. Heat ¼ cup of olive oil in a large Dutch oven over medium heat. When the surface of the oil begins to shimmer, add the chorizo, chopped onions, and garlic. Saute, stirring frequently, until the chorizo renders its fat and the onion is softened, about 6 minutes. Season with a hearty pinch of kosher salt.
Add the peppers and tomato paste: Drain a 12-ounce jar of roasted red peppers and slice them thinly. Add the pepper slices, along with 3 tablespoons of double-concentrated tomato paste, to the softened onions and chorizo. Cook, stirring frequently, until the tomato paste begins to brown slightly, about 3 minutes.
Add the spinach: Coarsely chop 10 ounces of mature spinach and add to the Dutch oven, followed by the cooked pasta and ½ cup of reserved pasta water. Gently stir until the spinach is wilted and the pasta is coated and creamy. Stir in 1 tablespoon of sherry vinegar.
Serve: Divide pasta between plates and top with shavings of manchego cheese, if using. Serve immediately.
What's the Difference Between Spanish and Mexican Chorizo?
Both Spanish and Mexican chorizo are assertively seasoned pork sausages, but that's where the similarities end. Mexican chorizo is raw (fresh) and has very different seasonings, while Spanish chorizo is cured and the primary flavor is paprika. Mexican chorizo is not a substitute for the Spanish chorizo in this recipe.
Mexican Chorizo is fresh (raw), meaning the ground pork (or in some cases, beef) is uncooked. The meat is seasoned with a mixture of spicy peppers, herbs, vinegars, and fat before being cased in sausage form. The texture of Mexican chorizo is crumbly, like other fresh sausages and you must cook it before eating it Mexican sausage is delicious with eggs–try using it for a breakfast burrito that will knock your socks off!
Spanish Chorizo is cured or semi-cured and flavored aggressively with paprika and includes garlic and white wine. The paprika adds a fiery orange hue to the sausage, which lends it a smoky taste. Depending on the specific sausage, it can be either mild or hot. You don't need to cook Spanish chorizo prior to consumption. However, it's often sold in a tough casing. You want to remove the casing before cooking or eating. In addition to this pasta recipe, Spanish chorizo makes an excellent addition to your next charcuterie board!
Tips and Tricks for Making Chorizo Pasta
This recipe utilizes a few tricks to build tons of flavor quickly. The cured Spanish chorizo brings the heat with little cooking necessary, jarred peppers add sweet, bright bursts of flavor, and double-concentrated tomato paste cuts out a long, slow simmer.
Salting pasta water: The first step to making delicious pasta is to season the pasta from the inside out, and that means your pasta water should be noticeably salty. Fretting about over-salting your food? Rest assured that aggressively salty water does not mean aggressively salty pasta. So how much salt should you add? Most recommend a tablespoon of salt per gallon of water, but I prefer to just taste my water instead—it should taste "salty like the sea," as one of my culinary school instructors was fond of saying.
Spanish chorizo tips: While the casing on most Spanish chorizos is technically edible, it can be hard and not very appetizing. I recommend removing it before slicing. To remove, simply make a small cut at the top of the sausage with a knife and carefully peel the casing off from there. Want to avoid this hassle? Some specialty retailers sell pre-sliced Spanish chorizo with the casing removed, so you can be one step ahead of the game!
Spice up your life: Need more heat in your life? While Spanish chorizo can be fairly spicy, in this chorizo pasta recipe the heat can be obscured by the other ingredients. To really satisfy your cravings for spice, I recommend stirring in ½ teaspoon red pepper flakes along with the cooked pasta and wilted spinach.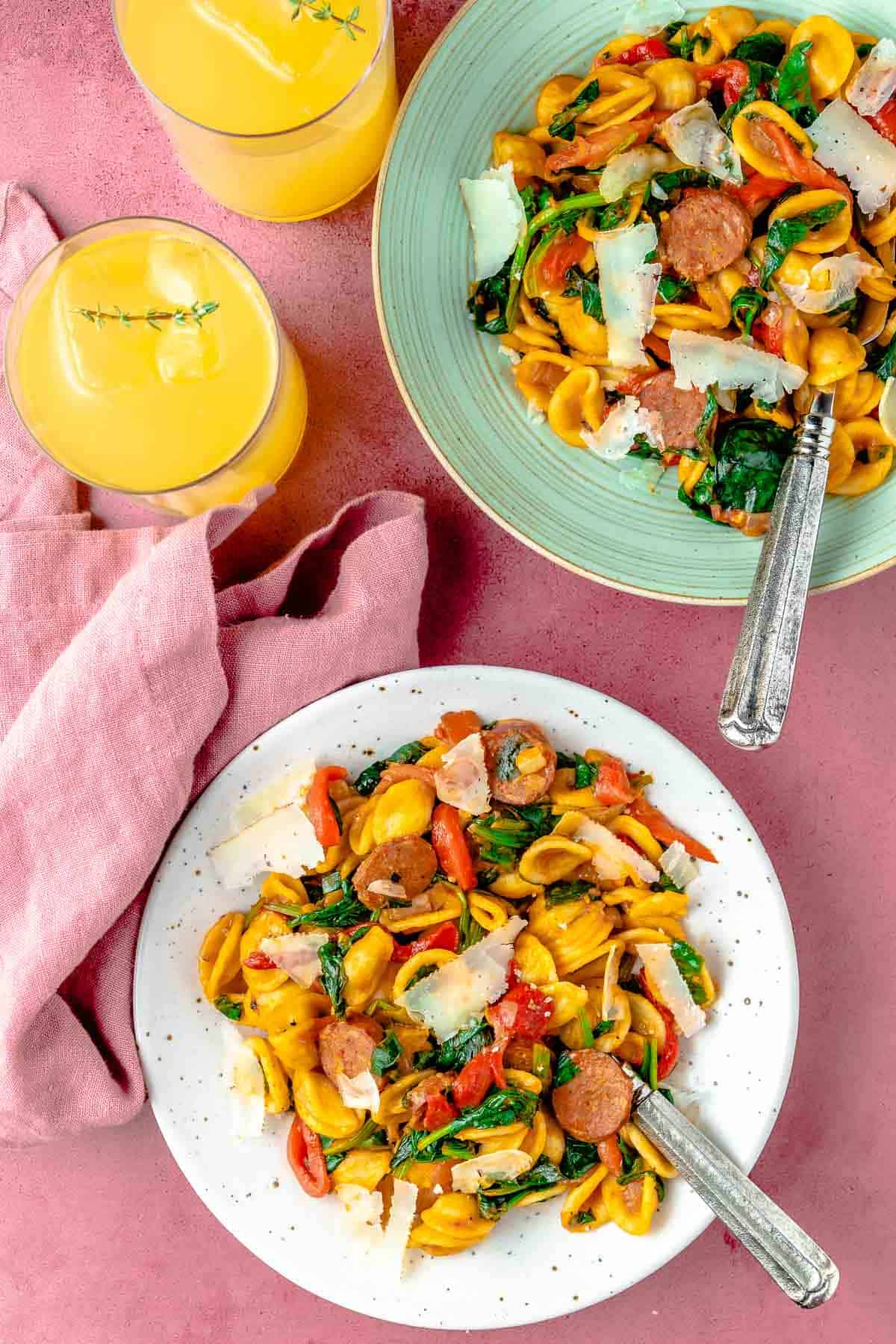 What to Serve with Chorizo Pasta
This pasta is a hearty meal on its own, but if you'd like to round it out with a first course, opt for light, zippy, and fresh: a peppery Radicchio Salad would be a lovely complement to the richness of the pasta, or try a nutrition-packed Balela Salad as a side.

Or, on a warm weekend when the sun is shining, complement the smoky flavors of the chorizo with some Easy Mediterranean Grilled Vegetables—and don't forget to whip up some Red Sangria to sip on while you cook. Give this Spanish fiesta a grande finale with Churros con Chocolate for dessert!
Other Pasta Recipes We Love
Browse all Mediterranean recipes.

Visit Our Shop.
Hojiblanca Spanish EVOO
Peppery extra virgin olive oil from the Southern Andalusian region of Estepa gives an authentic kick.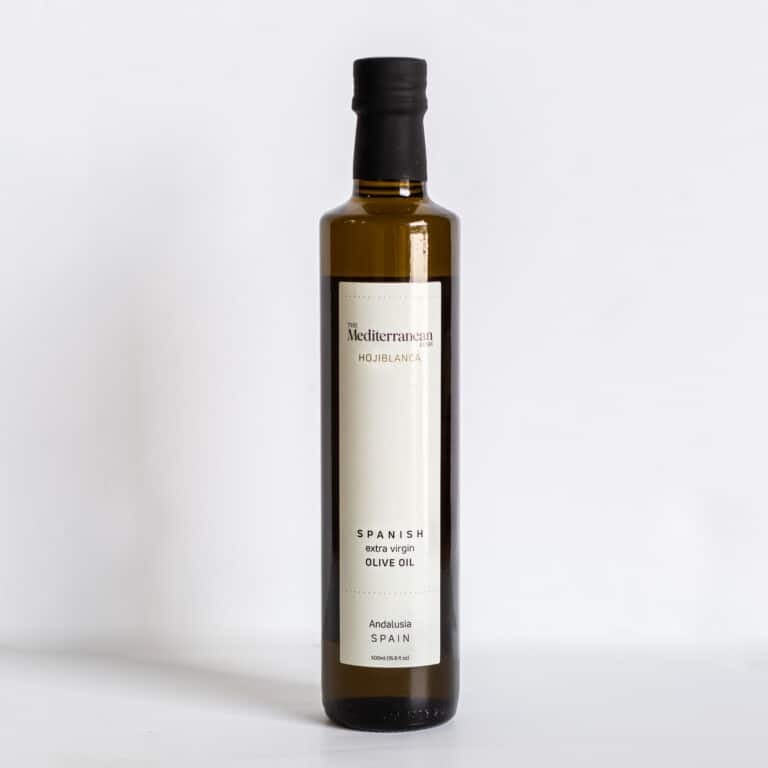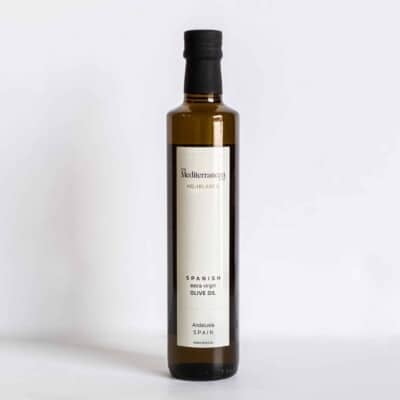 Spanish-Style Chorizo Pasta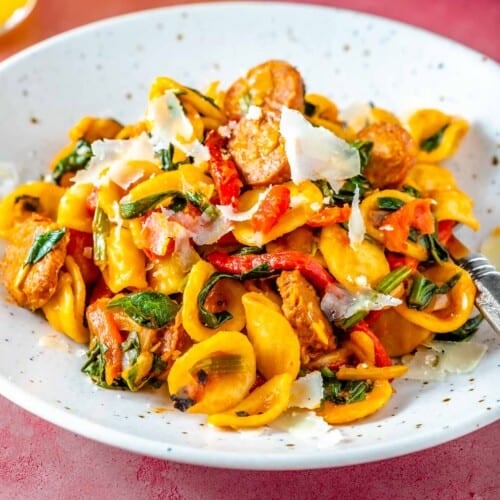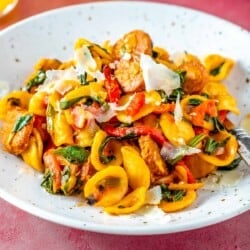 Chorizo pasta packs the complex flavor of an all-day pasta sauce but cooks in just 20 minutes with the help of a few pantry staples: Jarred roasted peppers bring bursts of sweetness, double concentrated tomato paste adds that slow-simmered feeling in half the time, and a touch of sherry vinegar lends balance.
Ingredients
8

ounces

short pasta,

such as orecchiette or pipette rigate

2

tablespoons

Hojiblanca Spanish extra virgin olive oil

4

ounces

Spanish chorizo,

casing removed and thinly sliced

1

small yellow onion,

chopped

2

garlic cloves,

finely minced

Kosher salt

2

tablespoons

double-concentrated tomato paste

6

ounces

jarred roasted red peppers,

drained thoroughly and sliced into thin strips, or 1 large roasted red pepper

10

ounces

mature spinach (not baby spinach–see note),

coarsely chopped

1

tablespoon

sherry vinegar

Freshly cracked black pepper,

to taste

2

ounces

manchego cheese,

shaved into thin slices using a vegetable peeler (optional)
Instructions
Cook the pasta: Bring a large pot of heavily salted water to a rolling boil. Add the pasta and cook until just al dente. Reserve 1 cup of pasta water before draining. Drain pasta thoroughly and set aside.

Cook the chorizo, onion, and garlic: While the pasta is cooking, heat olive oil over medium in a large Dutch oven until the surface of the oil begins to shimmer. Add sliced chorizo, onion, and garlic. Saute, stirring frequently, until the chorizo has rendered some of its orange fat and the onion is softened, 5-6 minutes. Season with a hefty pinch of salt.

Add the tomato paste and peppers: Carefully stir in the tomato paste and peppers, noting that the oil may splatter when the ingredients are first added. Saute, stirring frequently, until tomato paste begins to brown, 2-3 minutes.

Wilt the spinach: Spread the spinach on top of the red pepper mixture, followed by the cooked pasta. Drizzle ½ cup of reserved pasta water over the pasta and stir until the pasta is thoroughly coated and the spinach is wilted. Add more pasta water, a splash at a time, if needed to create a glossy sauce.

Season and serve: Add the sherry vinegar and season with salt and pepper to taste, tossing once more to combine. Divide the chorizo pasta between serving bowls and garnish with shavings of manchego cheese, if using. Serve immediately.
Notes
If you need to substitute the mature spinach, use Swiss chard, lacinato kale, or defrosted frozen spinach.
You can use homemade roasted red peppers instead. Roast one large red pepper according to this recipe.
Be generous when salting the pasta water–it should taste "salty like the sea."
Visit our shop to browse quality Mediterranean ingredients including olive oils, honey, jams, and spices.
Nutrition
Calories:
397.8
kcal
Carbohydrates:
51.2
g
Protein:
15.2
g
Saturated Fat:
5.4
g
Monounsaturated Fat:
5.2
g
Cholesterol:
19.6
mg
Sodium:
792.7
mg
Potassium:
712.8
mg
Fiber:
4.7
g
Vitamin A:
7092.9
IU
Vitamin C:
44
mg
Calcium:
263.4
mg
Iron:
3.5
mg