This 20-minute couscous recipe turns simple, quick-cooking couscous into a one-pot-wonder with a fusion of Moroccan and Spanish flavors! Couscous is combined with shrimp and Chorizo, along with onions, garlic and warm spices like turmeric and cumin all in one pot. Let me tell you, this is next-level Delicious!
Did I mention it's so darn easy to make?! Be sure to check out my video for how to make this couscous recipe (toward the end of this post.) And grab ideas for what bright salads and sides to serve along!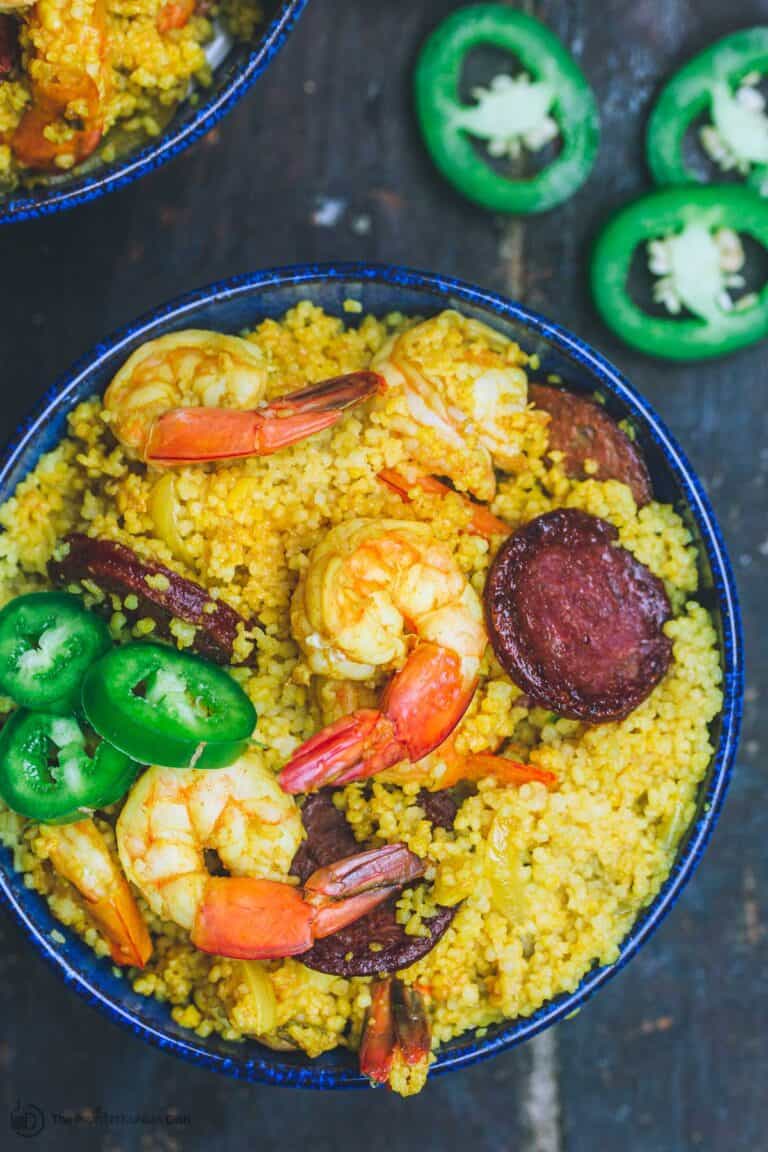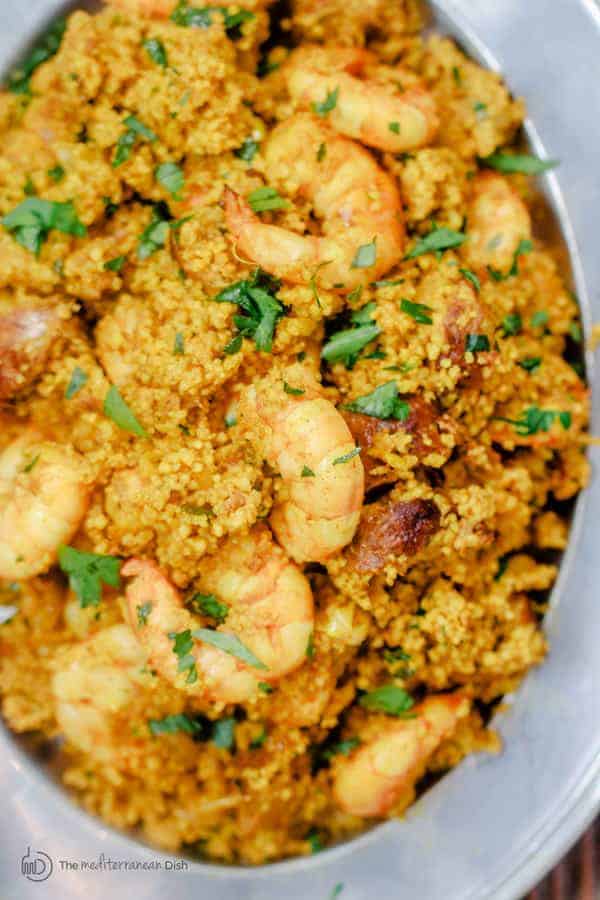 Couscous is one of my favorite pantry staples, it's almost always on my shopping list. It's quick, convenient, versatile, and makes a fun alternative to your traditional pasta, quinoa, or even rice (although couscous is not gluten free.)
There are actually three different kinds of couscous:
1. Pearl couscous, which resembles tiny pasta shaped like pearls (it's what I use in my popular Mediterranean couscous salad or these couscous bowls with roasted cauliflower.)
2. Lebanese couscous, which is a bit larger, the size of peas.
3. Then, there is the smallest size couscous made of fine granules of durum wheat. This one is associated more with Moroccan cooking, and it's what we're talking about in today's spicy couscous recipe with shrimp and Chorizo.
In case you're not super familiar, let's dig into what couscous is and how to use it, then we'll get to our tasty couscous recipe of the day!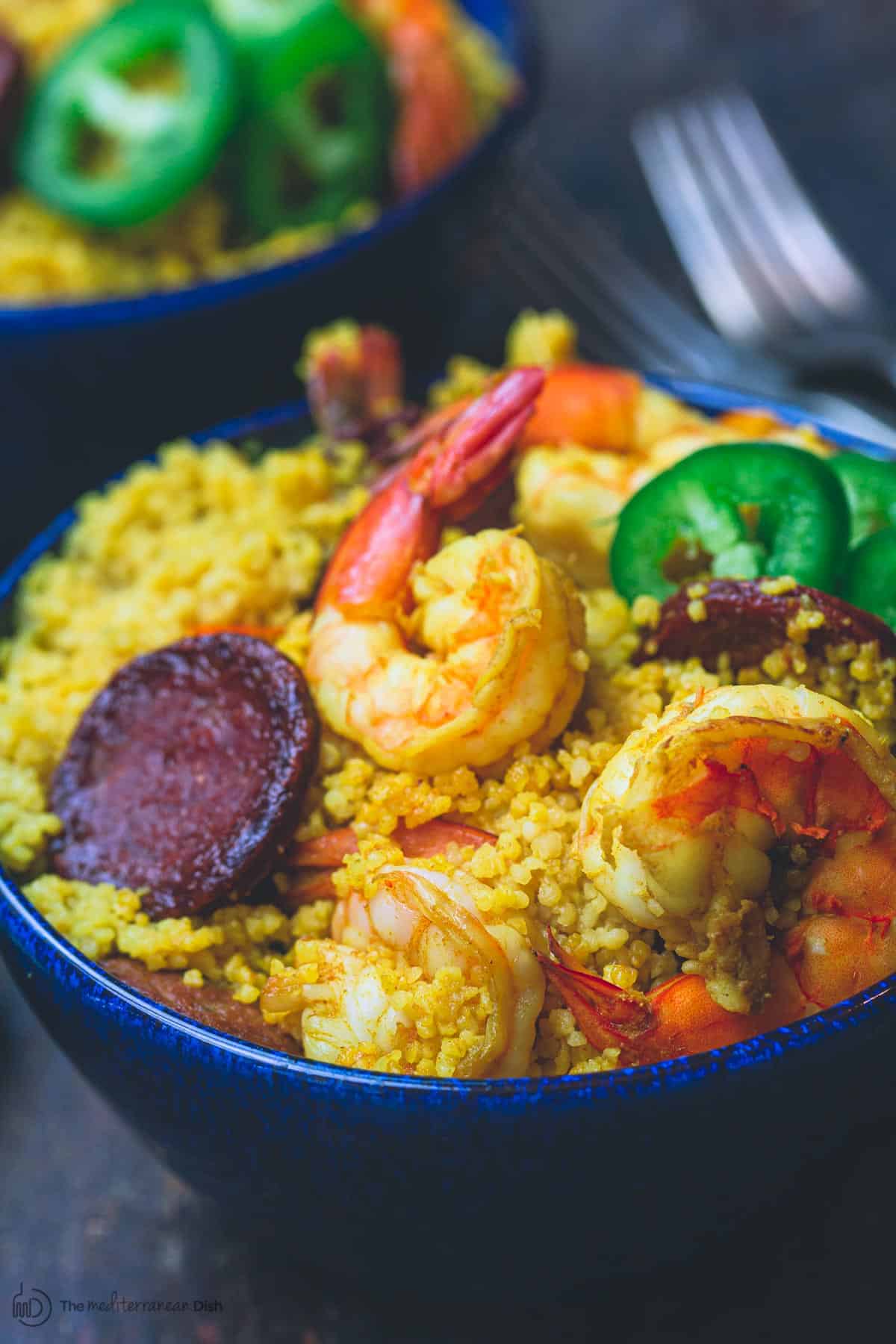 What is Couscous?
Couscous--pronounced Koose Koose--is likely North Africa's most popular and most versatile dish. Moroccan couscous is the smallest size couscous you'll find. And although it looks like a grain, it's technically a pasta made with semolina flour from crushed durum wheat.
Back in the day, couscous used to be hand-rolled into tiny pasta. But thankfully, it is now available in instant-cook packages where couscous had already been pre-cooked by steaming and then dried. This leaves us with the simple task of re-hydrating in water, which typically takes something like 5 minutes!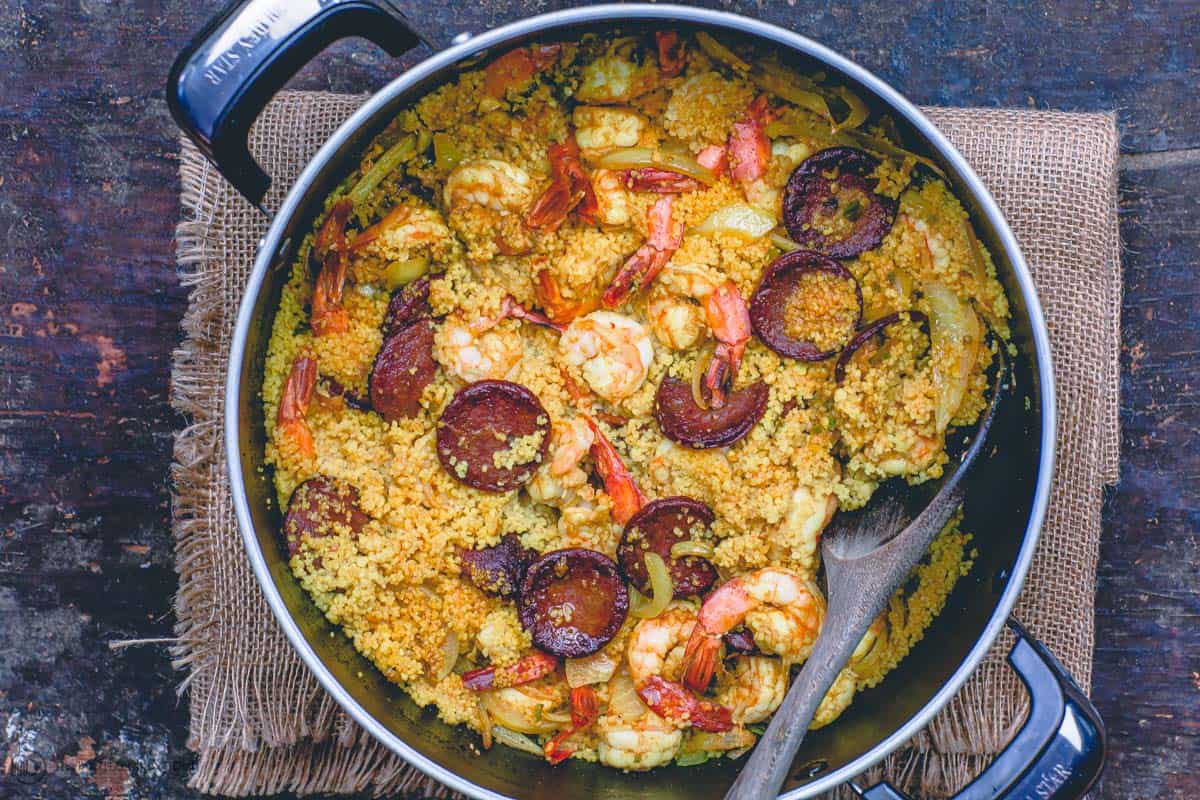 How to Cook Couscous and How to Use It?
Simple, plain Moroccan couscous makes the perfect side to some of my favorite Moroccan dishes like this vegetable tagine, lamb stew, or even Moroccan fish (recipe coming soon!)
Like I said earlier, Moroccan couscous can be made almost instantly. Simply soak the couscous in boiling water for about 5 minutes or so, covered and undisturbed. Then, when ready, fluff it up with a fork (for flavor, add a pinch of kosher salt and a drizzle of good extra virgin olive oil).
But, there really are so many easy ways to use couscous beyond it's plain form. And today, we have a little Moroccan-Spanish fusion in this fun couscous recipe with shrimp and Chorizo!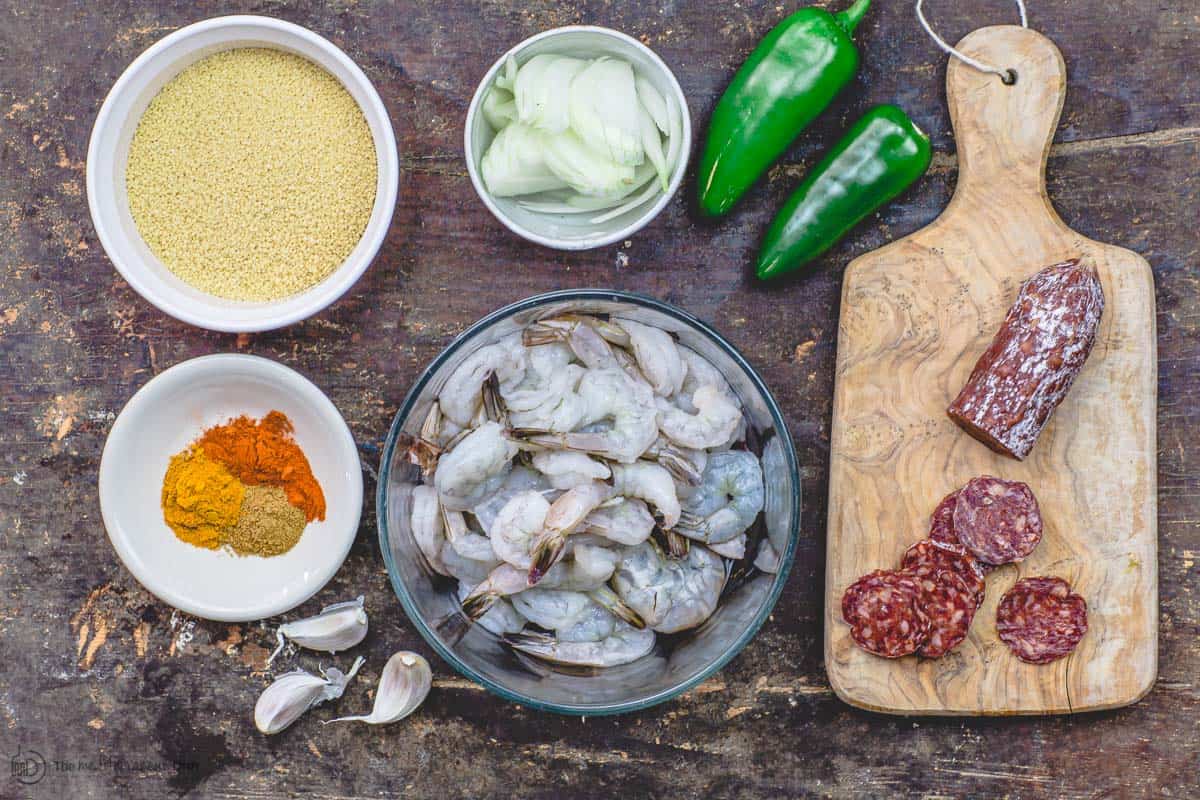 Spicy Couscous Recipe with Shrimp and Chorizo
My family calls this recipe, "jazzed up couscous" for a reason! It's a fun twist combining Moroccan couscous with shrimp and Spanish Chorizo, but that's not all!
Pulling this one-pot wonder together are a few flavor makers, from onions, garlic, and a little jalapeno to warm, good-for-you spices like turmeric, paprika and cumin.
Yes, it's a flavor party in one big pot. Best part? It comes together in 20 minutes! You can see how I make this recipe in my video below. But here's the gist:
I start by frying up Spanish Chorizo slices just until they crisp up (dry Spanish Chorizo is cooked, but if you use Mexican chorizo, you'll want to make sure it is fully cooked.)a
While I let the Chorizo drain over some paper towels, I get the onions, garlic, jalapeno and spices going. The shrimp goes in, then I bring back the Chorizo.
And of course, because couscous cooks very quickly, it is the last thing added to the pot along with some boiling water.
Last bit to do is simply to cover the pot and let the couscous soak in the hot water off heat.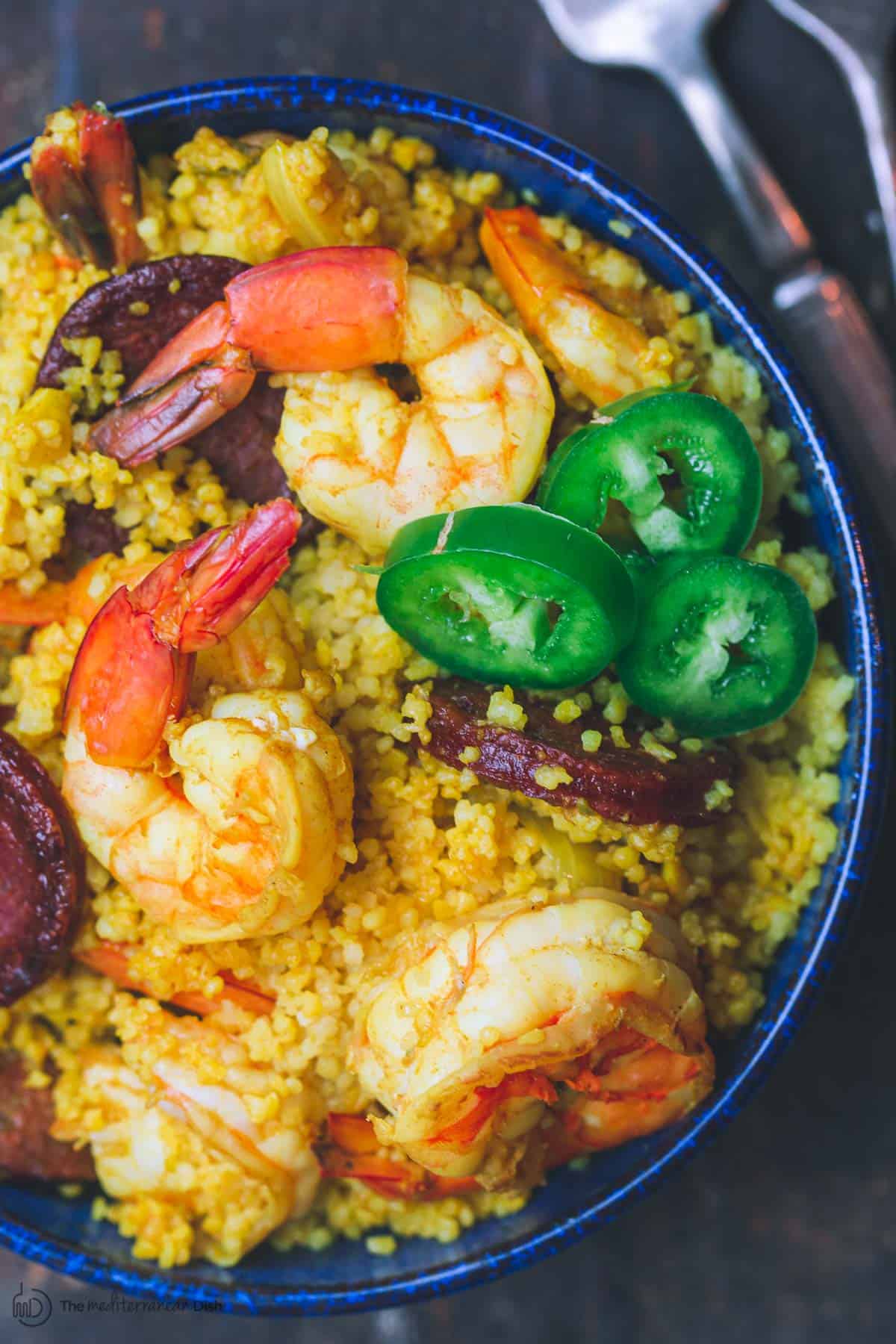 What to Serve Along?
The beauty of a one-pot recipe like this couscous is that you really don't need to add much more to complete the meal. That said, I always like to add something bright to start with like a big three bean salad or fattoush! A side of roasted tomatoes or roasted eggplant won't hurt either.
Leftovers?
You can store leftovers of this couscous recipe in the fridge in tight-lid containers for up to 3 days. I end up eating whatever is left at room temperature though.
Watch the Video for How to Make this Couscous Recipe:
SHOP OUR ONLINE STORE FOR QUALITY OLIVE OILS, ALL-NATURAL SPICES AND MORE!
Print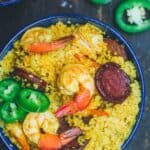 Spicy Couscous Recipe with Shrimp and Chorizo
---
Description
Easy, 20-minute spicy couscous recipe with shrimp and Chorizo! This one-pot meal is a bit of a Moroccan-Spanish fusion. Quick-cooked couscous is combined with shrimp, Spanish Chorizo, and a few warm spices. Be sure to watch the video above to see how I make it.
---
6 oz

hard Spanish Chorizo, sliced into thin rounds
Extra virgin olive oil (I used Private Reserve olive oil)

1

small yellow onion, thinly sliced

3

garlic cloves, finally chopped

2

jalapeno peppers, chopped

1 ¼ tsp

turmeric

1 ¼ tsp

paprika

1 ¼ tsp

ground cumin
Salt

1.5

lb large shrimp (prawns),peeled, deviened and well-rinsed

1 ¼ cup

couscous
Boiling water

1 cup

chopped fresh parsley, stems removed
---
Instructions
In a large cooking pot, heat just a little bit of extra virgin olive oil. Add the Chorizo sausages and cook just until crisp (hard Spanish chorizo should be cooked already.) Remove from heat and place on paper towels to drain.
To the cooking pot, add onions, garlic and jalapeno, cook briefly until onions are translucent. Now add the spices and stir briefly, then add the shrimp. Raise the heat to medium-high and cook the shrimp for 3 to 4 mins or until it is firm and pink. Do not overcook the shrimp.
Meanwhile, boil 2 ½ cup of water.
Return the Chorizo to the cooking pot and add the couscous, a little olive oil, a dash of salt and the boiling water. Turn the heat off immediately and cover. Let sit for 5 minutes. Uncover and stir in the fresh parsley.
Transfer to serving bowls and enjoy! (see suggested sides)
Notes
Cooking Tip: If you can't find Spanish Chorizo, Mexican chorizo works here, but you must make sure to fully cook it.
Recipe Variations: You can omit the Chorizo all togther or use a different kind of meat like cooked chicken or beef. And if you want a more mild version, use green bell peppers instead of jalapeno peppers.
Leftovers: Store leftovers in the fridge in tight-lid glass containers for up to 3 days. I prefer not to reheat this and just eat the leftovers at room temperature!
Visit our Store for extra virgin olive oils and for all-natural and organic spices including turmeric, paprika, and cumin.
Prep Time:

5 mins

Cook Time:

20 mins

Category:

Entree

Method:

Stovetop

Cuisine:

Mediterranean
Keywords: Couscous Recipe, How to Cook Couscous, Moroccan Couscous
*This post first appeared on The Mediterranean Dish in February 2016 and has recently been updated with new media and information for readers' benefit.