Your Fourth of July celebrations just got prettier! Celebrate Independence Day with this photo-worthy red white and blue fruit charcuterie board. Sweet meets salty, this crowd-pleasing appetizer is perfect for fuss-free entertaining.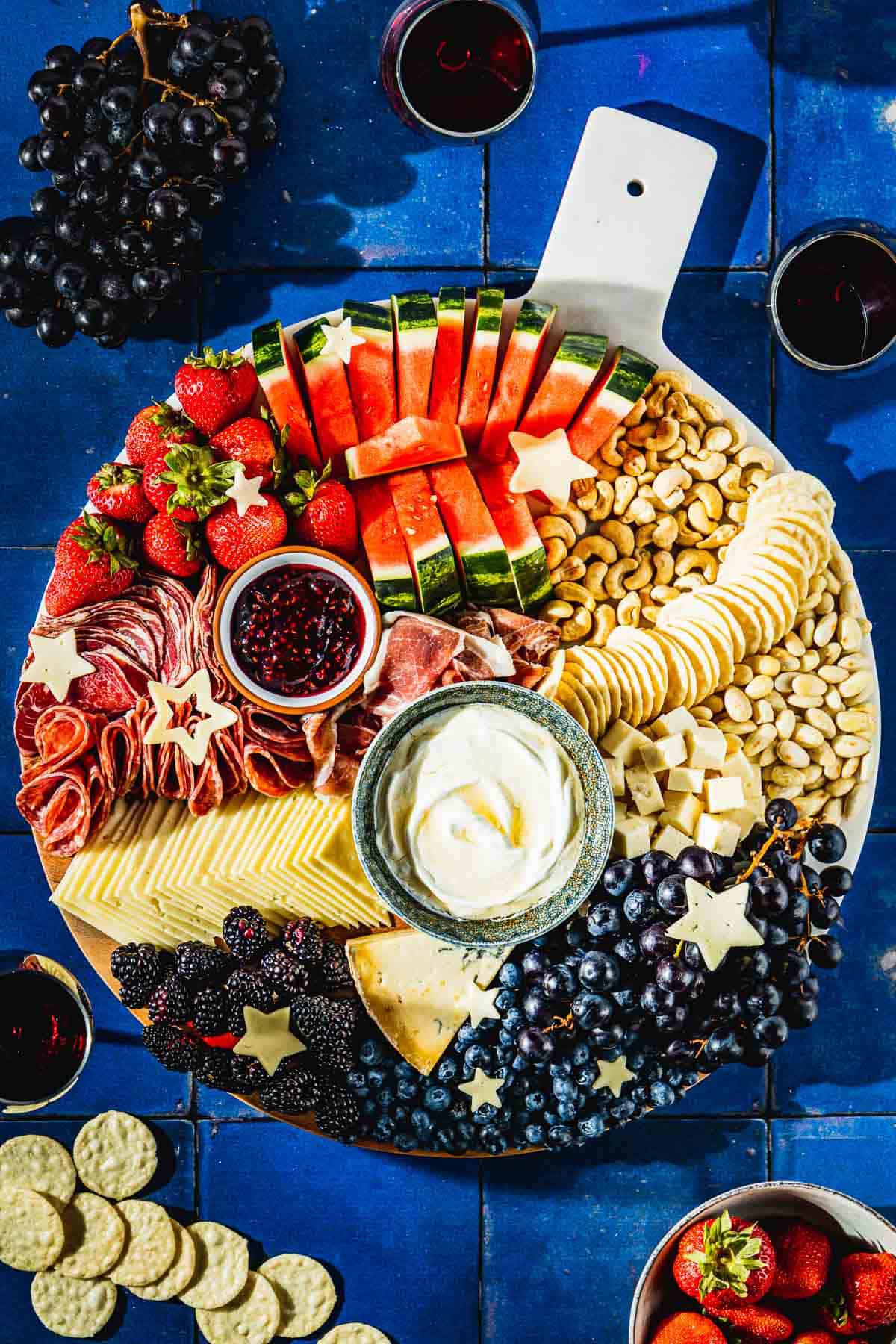 A table filled with mezzes to share is a core tenant of Mediterranean hospitality. In other words, party platters are essentially part of my DNA! And big, beautiful, and bold charcuterie platters are my go-to for stress-free parties. I make them for brunch with smoked salmon, Italian-style for an afternoon picnic, or with crudités for a light appetizer.
This fruit charcuterie board, with a selection of cheeses, meats, and an easy honey yogurt dip is a great way to bring some festive fun to your 4th of July parties. No need to frost a cake or even turn on your oven!
Kick off your Fourth of July party with this fruit and cheese platter to share, then grill up some easy chicken thighs and zucchini. To take this red white and blue party to the next level, make pitchers of red and white sangria and fill each glass with blueberries and purple grapes.
Or, simply use this recipe as a guide for building a fruit charcuterie board for all your color-themed parties, from baby showers to Valentine's Day to Halloween!
Table of Contents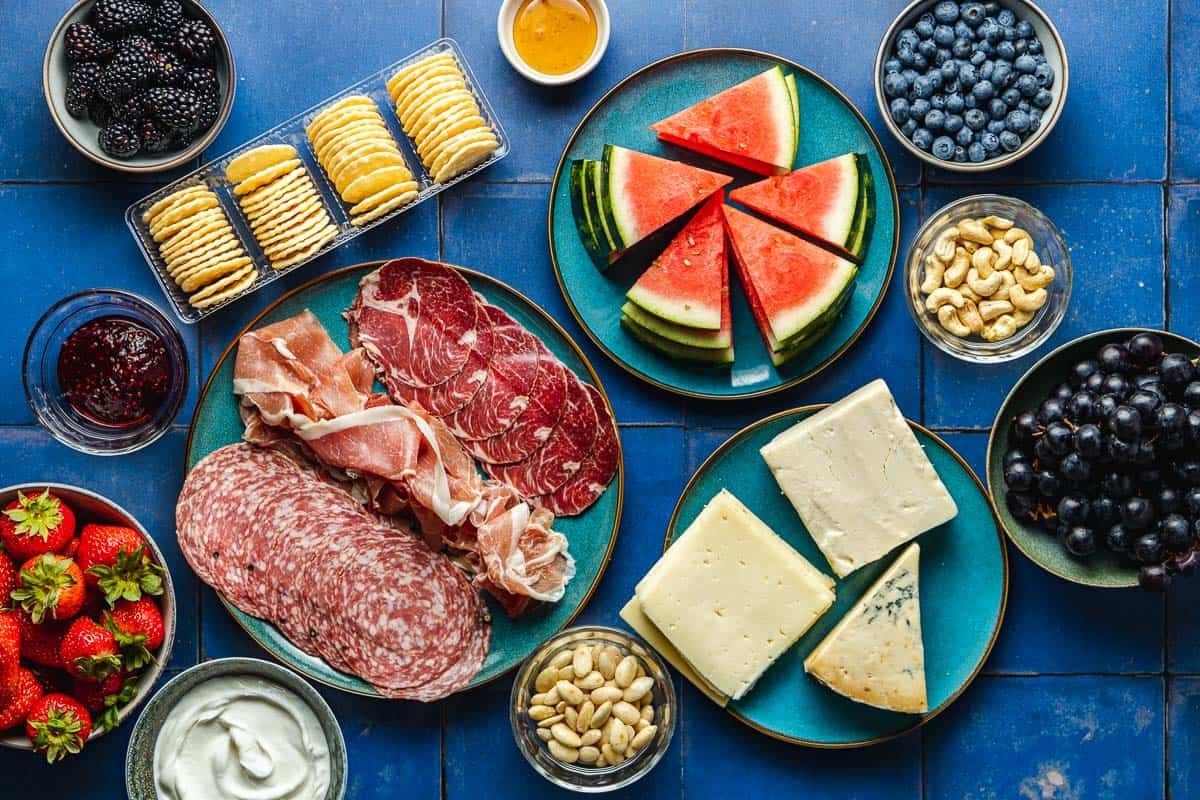 Fruit Charcuterie Board Ingredients
This fruit charcuterie board, like all of my platter recipes, should be treated as a guide not a rule. In fact, party platters are one of my favorite ways to use up any half-full jars I have in my fridge! Feel free to use the cheeses, nuts, spreads, and fruits that you have on hand, or what you love the most.
Fruit: Strawberries, purple grapes, watermelon, blueberries, and blackberries fit the color scheme, but that's not all they're good for. They also pair so well with salty cheese and cured meat. When it comes to fruth, raspberries, cherries (add a bowl for pits), and sliced plums would also be delicious.
Greek yogurt: A bowl of tangy Greek yogurt, drizzled with honey, makes for a pretty centerpiece and irresistible fruit dip.
Honey: I use honey to make the honey yogurt dip, but you could also add a small bowl on the side for drizzling. I can't get enough of our Alfa Honey from Crete, but any high quality honey you have on hand will work.
Raspberry jam: A vibrant red raspberry jam is not only on-theme, but the tartness also complements the creamy and rich cheese.
Cheese: I chose havarti, blue, and feta to add a variety of flavor, texture, and color. However, feel free to swap with pecorino, goat cheese, brie, you name it—you could really go rogue in the cheese department. When it comes to cheese, variety is a good rule of thumb: grab cow's and sheep's milk varieties and hard and soft styles if you can.
Cured meats: Choose the cured meats you like. I went for prosciutto, salami, and capicola because they're my favorite pairing for cheese and fruit. Think of the meat as a small part of a larger platter filled with fruit and nuts to stay Mediterranean Diet friendly—a little goes a long way.
Crackers: This cheese board checks the boxes for sweet, savory, and tart on its own. You don't need an herbed or sweet cracker trying to get a word in. Go for a plain white cracker so the fruit platter can do the talking.
Nuts: Creamy cashews and blanched (skinless) almonds add rich, crunchy, slightly sweet and salty flavor without competing with the cheese and fruit. However, pecans, pistachios, hazelnuts, or Marcona almonds could also fill this role if you'd like.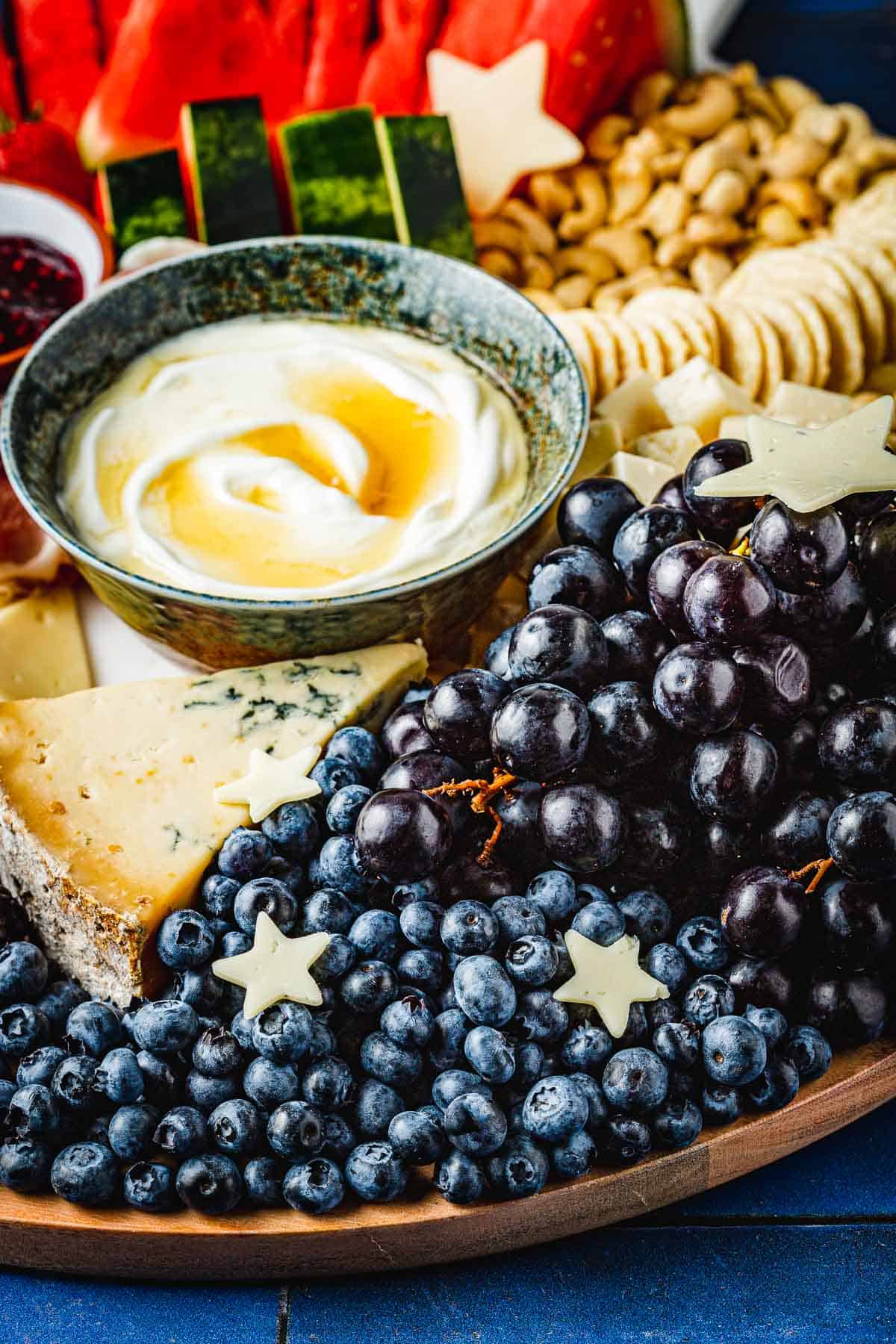 How to Make a Red, White, and Blue Fruit Board
Build this fruit charcuterie board on a large cutting board or serving platter. If you're serving a very large crowd, have extras ready to go so you can replenish the more popular items as people snack.
Or, set up your kitchen island or table with a large piece of parchment paper and build on top of that. Here are the basic steps, all of which can be tweaked to fit your creative vision!
Make a centerpiece. Scoop one cup of Greek yogurt into a small serving bowl. Top with 2 tablespoons of honey, then place the honey yogurt in the middle of your board.
Stagger the bowls. Add ¼ cup of raspberry jam to a small serving bowl, then place it in a different area of the board. The two bowls will anchor your board and you can arrange the remaining ingredients around them.
Fill in the gaps. Slice a small watermelon into wedges and arrange around the bowls. Make piles of berries with 1 pint of blueberries and blackberries and 1 pound of strawberries and grapes. Fill in any more gaps with 6 ounces of cubed feta, blue cheese, and sliced havarti—you can use a star-shaped cookie cutter to cut little stars with cheese slices if you'd like. Finally, sprinkle ½ cup of cashews and ½ cup of blanched almonds throughout the board.
Serve. Find space for plain crackers, or serve them on the side.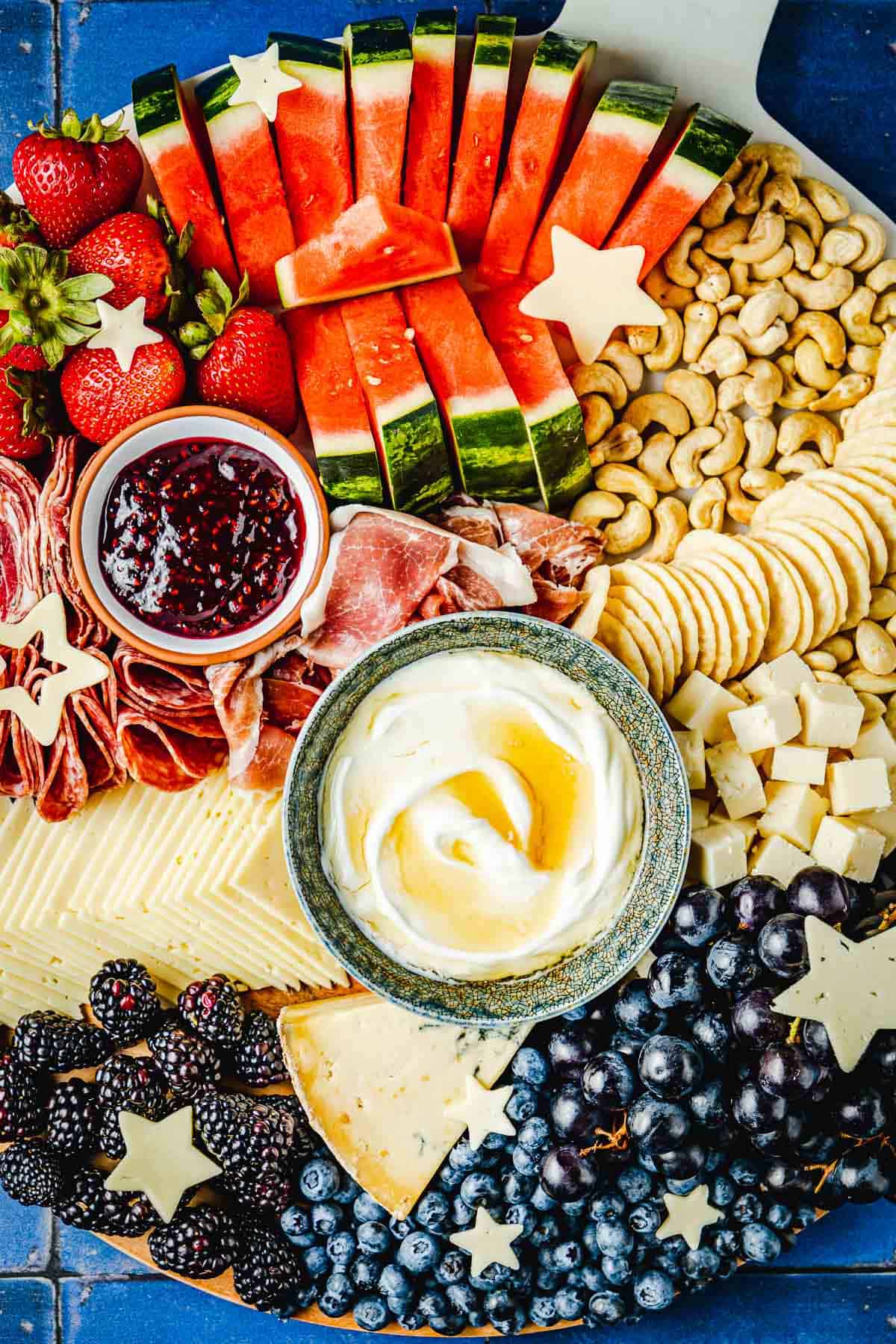 Ways to Mix it Up
This recipe is easily tweaked depending on the occasion. Here are some ways to make it match your party:
Baby shower: Use all blue fruits for a boy's baby shower, or all red fruits for a girl's. All red fruits would be a sweet way to celebrate Valentine's Day as well!
Sports game: Use seasonal fruits and jams that match your favorite team's colors. You could even do competing boards if you have friends rooting for other team!
Christmas: Use green and red winter fruits like apples and blood oranges with a side of cranberry sauce (like the spicy chutney in this recipe).
Halloween: Use orange and dark purple October fruits and vegetables, like carrots, persimmons, candied pumpkin dark grapes or jams.
St. Patrick's Day: Build an all green board, like my Green Goddess Board.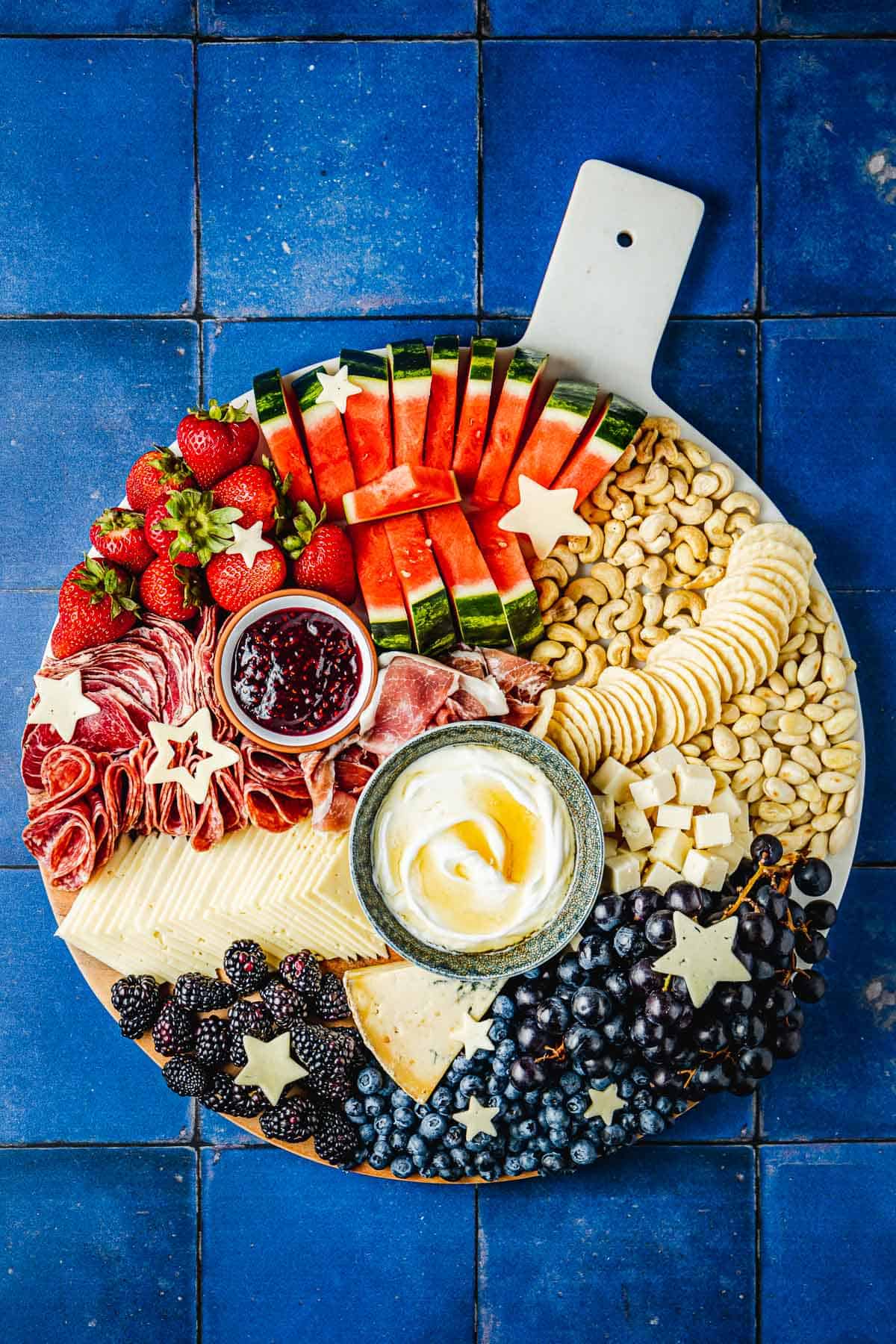 What to Serve with this Fruit and Cheese Platter
You can go so many ways with this easy and very versatile appetizer recipe. If you're serving this to kick off your Fourth of July celebration, keep things casual and easy.
Try a new twist on a classic BBQ, like Chicken Thighs With Dill Yogurt Sauce, Grilled Zucchini, and Grilled Romaine Salad.
To keep hydrated, pitcher cocktails are the way to go for big parties. I admittedly have more favorites than I should. Make a few pitchers of Red Sangria and White Sangria. Lean into the theme and garnish with purple grapes and blueberries!
Our Favorite 4th of July Party Recipes
Browse all Mediterranean Recipes.
Visit Our Shop.
Drizzle with the Best
All natural honey sourced from Crete's unspoiled mountain forest, this exceptional honey boasts notes of wild thyme.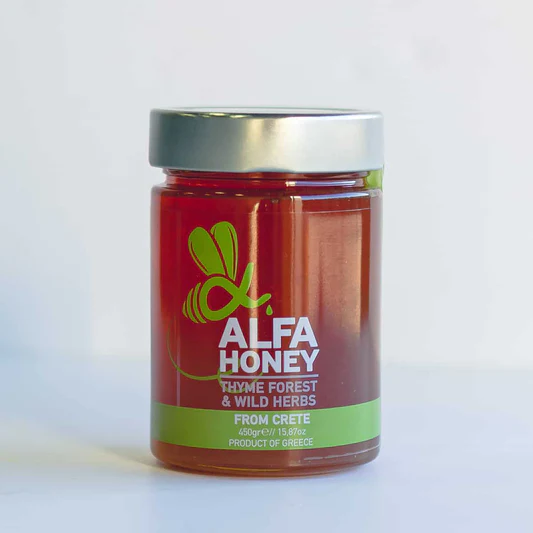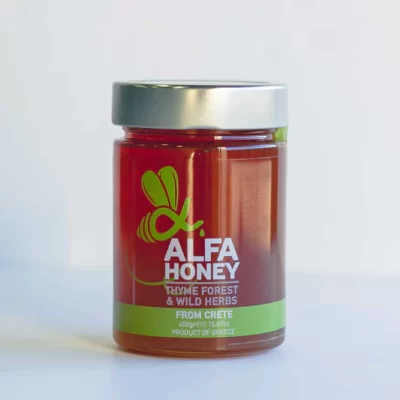 Red, White, & Blue Fruit Charcuterie Board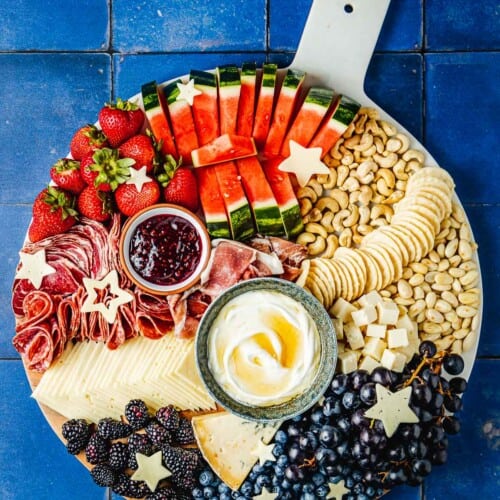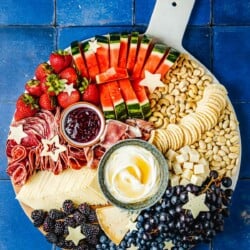 This red, white, and blue fruit charcuterie board is a festive appetizer recipe that's perfect for your Fourth of July parties and beyond. Sweet-meets-salty and totally photo-worthy, this fuss-free dish is made for easy entertaining. What's best, you can prepare it in advance, wrap it up, and stick it in your fridge. That means it's all set and ready to go whenever your celebration kicks off.
Ingredients
1

cup

Greek yogurt

2

tablespoons

honey

¼

cup

raspberry jam

1

pint

blueberries

1

pint

blackberries

1

pound

strawberries

1

pound

purple grapes

(like Concord)

1

small watermelon,

cut into small wedges (triangles)

6

ounces

Havarti cheese,

cut into slices

6

ounces

blue cheese or stilton,

a small wedge

6

ounces

feta cheese,

cut into small cubes

½ to ¾

pound

assorted Italian meats,

like prosciutto, salami, and capicola

Crackers,

I like plain white crackers for this board

½

cup

cashews

½

cup

blanched almonds
Instructions
Make a centerpiece. Add the Greek yogurt to a small mixing bowl and top it with the honey. Place in the middle of your board.

Stagger the bowls. Add the raspberry jam to a smaller bowl and place it in a different area of the board. The two bowls will anchor your board and you can arrange the remaining ingredients around them.

Fill in the gaps. Arrange the fruits, cheeses, meats, crackers, and nuts on the board surrounding the two bowls you placed down.
Notes
You can halve the amounts for a smaller crowd, just be sure to have some extra on hand to replenish the board as needed.
Visit our shop to browse quality Mediterranean ingredients including olive oils, honey, jams, and spices.
Nutrition
Calories:
432
kcal
Carbohydrates:
51.3
g
Protein:
17.4
g
Fat:
20.1
g
Saturated Fat:
8.6
g
Polyunsaturated Fat:
2.2
g
Monounsaturated Fat:
7.7
g
Trans Fat:
0.1
g
Cholesterol:
44.1
mg
Sodium:
749.5
mg
Potassium:
746.5
mg
Fiber:
5.5
g
Sugar:
38
g
Vitamin A:
2186
IU
Vitamin C:
57.1
mg
Calcium:
272.1
mg
Iron:
2.2
mg