You'll love this loaded smoked salmon platter with fresh veggies, creamy cheese (in this case Labneh) and Mediterranean favorites like capers, olives, and marinated artichokes! Serve it for brunch with bagels or as an appetizer platter with your favorite crackers or pita wedges.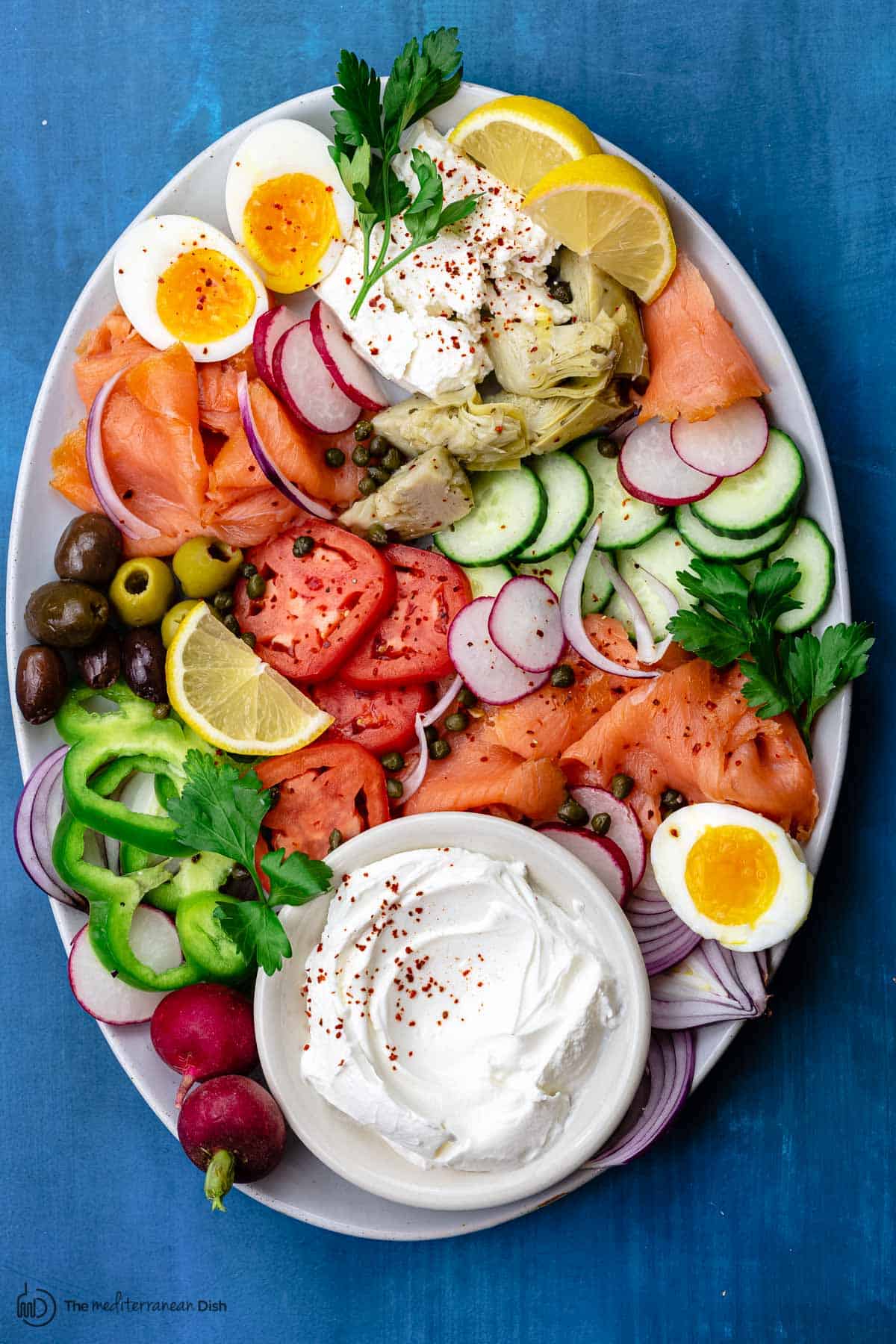 Grazing boards are my favorite way to entertain. Scratch that. They're my favorite way to eat! Weather it's Italian-style, 4th of July themed, or this breakfast version, there is just something about sharing a big platter of favorite foods with the people I love.
My earlier cheese board and mezze platter with hummus are two good examples of easy no-cook platters I make often for my family.
And now...this smoked salmon situation, which is a great one to serve as an appetizer or for brunch (just add a few easy boiled eggs).
Bagel and lox on a platter!
Here's the deal with this smoked salmon platter, takes the idea of bagel and lox to a whole new level of delicious...plus, a platter is much more sharable than a bagel! (But if you're really in the mood for an option closer to lox and bagels, check out my smoked salmon sandwich with feta and a crunchy root vegetable topping.)
You've got your smoked salmon (or lox), cream cheese (in my case, I used homemade labneh), red onions, and capers, which are the usual suspects to make a classic bagel with lox.
From there, load up the platter with sliced fresh veggies and Mediterranean favorites like olives, marinated artichoke hearts, a few slices of feta, and lemon wedges! If I'm serving this for brunch, then the soft-boiled eggs are a must for me.
Now, whether you serve this smoked salmon platter with a side of bagels or not, that's totally optional.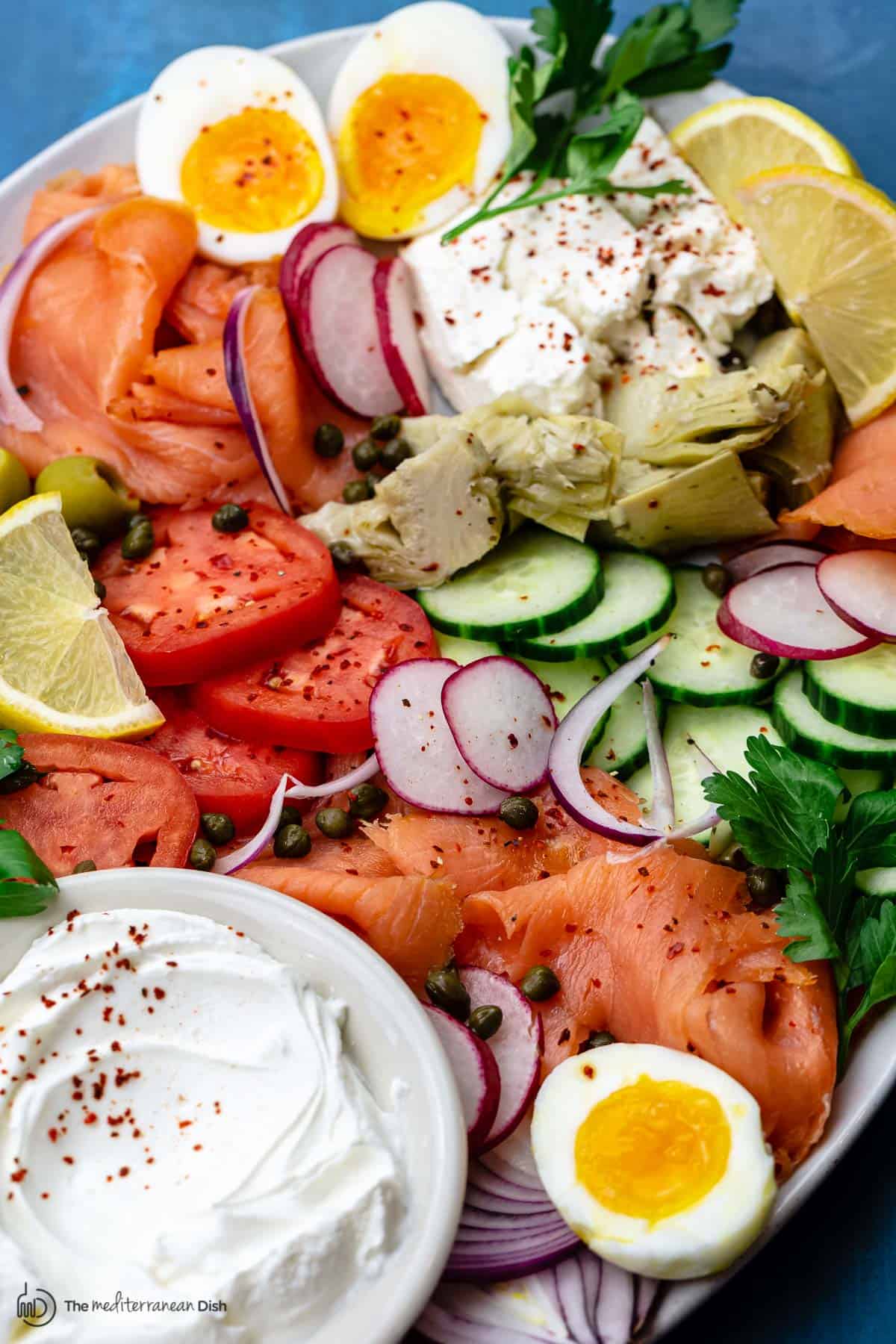 How to buy good smoked salmon?
Some lucky ones will smoke their own fish, but for the rest of us who will buy it at the store, it's important to examine the package well.
Avoid buying smoked salmon if you see dark edges or spots on its flesh. And as salmon is an oily fish, it will have a bit of shine to it, but it should not look too oily or slimy (this is a sign that the fish hasn't been properly cured).
Also read look at the label, you should not see too much added salt or sugar listed for flavor (the smoking process already adds a lot of flavor)
How to make a smoked salmon platter
Much like I did with my earlier cheese board, let me offer these steps as a loose guide for how to put together a killer smoked salmon platter, but you can totally make it your own by changing things up according to what you have.
Smoked Salmon. You'll want about 12 ounces to 1 pound of quality smoked salmon to serve a small crowd of 4 to 6 people.
Eggs. This is optional, but I think they elevate this platter to something of a stand-alone light meal for brunch. I like easy boiled eggs here.
Cheese. Cream cheese is the obvious option, but for a bit of Mediterranean twist, and perhaps healthier, I went for labneh (yogurt cheese). I also added slabs of feta cheese (I'm a big fan of feta and will find any way to use it. Have you checked out my baked feta recipe yet?)
Fresh veggies. I like a combination of cool cucumbers and tomatoes with bold, peppery radish, red onion, and crispy green peppers. Slicing the veggies thinly into rounds makes them easy to stack with the salmon on top of your favorite cracker, bagel or whatever you serve along.
Marinated items. Capers are a must, but I also like assorted olives and marinated artichoke hearts. You could also add pickled cucumbers if you have them or check out the olive bar at your local grocery store for some more marinated items (roasted red peppers or pickled mushrooms are great options too)!
Lemon wedges to squeeze over the salmon.
Crackers or your favorite bread to serve. Sure, you can still do bagels (or even Jerusalem bagels), particularly if you're serving this for brunch.
Garnish. If you have a few sprigs of thyme, fresh dill or parsley, add them in!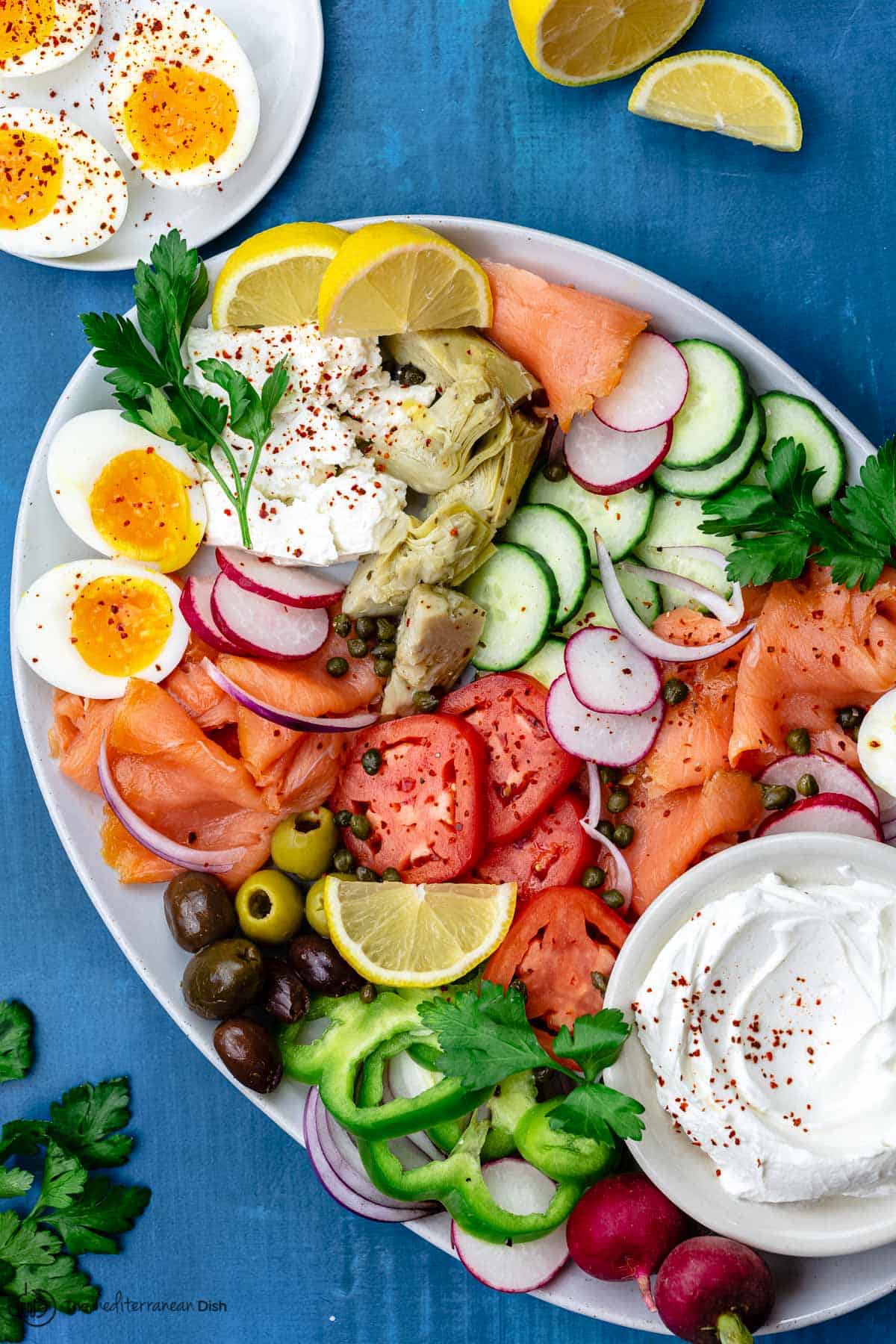 There are no particular ingredient measurements, but I still put together the recipe below just as a guide. It will serve 4 to 6 people, and you can double or triple the amount if you're serving more.
Other party platters
Browse our Top Mediterranean Diet Recipes. All Mediterranean recipes.
Smoked Salmon Platter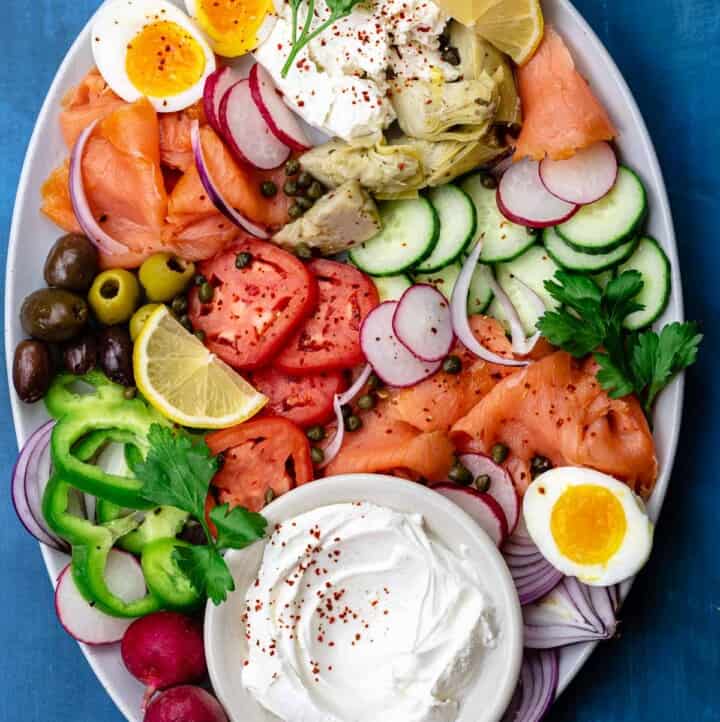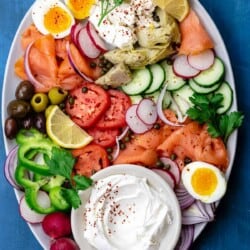 Use this recipe as a guide to make an amazing salmon platter like a pro! If you're serving more than 6 people, you can double or triple the amounts used here. And don't be shy to make this platter your own by using what vegetables you have on hand or adding more of your favorite marinated items...
Ingredients
4

eggs,

soft boiled

Kosher salt

12

oz

smoked salmon

4

oz

Cream cheese or Labneh

(I used homemade labneh)

3

oz

Feta cheese, sliced into slabs

1

English cucumber,

thinly sliced into rounds

1

bell pepper (any color),

thinly sliced into rounds

1

vine-ripe tomato,

thinly sliced into rounds

5

radishes,

thinly sliced into rounds

¼

cup

assorted olives

⅓

cup

marinated artichoke hearts

1

small red onion,

thinly sliced into rounds

1

lemon,

cut into wedges
Instructions
Boil the eggs. Bring a saucepan of water to a boil over medium-high heat (make sure the saucepan can hold all the eggs in one single layer). Using a spoon, very gently lower the eggs in the boiling water large. Cook for exactly 6½ minutes, adjusting the heat as necessary to maintain a gentle boil. When the eggs are ready, transfer them to a large bowl of iced water and let them sit for about 2 minutes. Peel the eggs and cut them in halves and season with kosher salt and a pinch of red pepper flakes or Aleppo pepper (which is milder and has a slightly sweeter finish).

To assemble the salmon platter, place a small bowl of cream cheese or labneh in one third of the the platter. Place the feta cheese in another corner of the platter. Arrange the salmon, cucumbers, bell peppers, tomatoes, radish, onions, olives, artichoke hearts and lemon wedges around the cheese. Sprinkle a little more red pepper flakes or Aleppo pepper.
Notes
Tip for buying smoked salmon: examine the package carefully. Avoid buying it if the fish has brown edges or spots or if it looks too oily or slimy. Also check out the list of ingredients, there should not be too much added salt or sugar or other additives.
Visit our shop to browse quality Mediterranean ingredients including olive oils and spices like Aleppo-style pepper used in this recipe
Nutrition
Calories:
197.9
kcal
Carbohydrates:
9.6
g
Protein:
20.3
g
Saturated Fat:
2.8
g
Cholesterol:
130.7
mg
Potassium:
374.8
mg
Fiber:
2.1
g
Vitamin A:
637.6
IU
Vitamin C:
33.4
mg
Calcium:
69.5
mg
Iron:
1.5
mg