Easy Instant Pot soup with chickpeas, chopped veggies, fresh herbs, and just the right combination of Mediterranean spices. Loads of plant-based protein. Low-Carb. Vegan. And Gluten Free. Stovetop and Slow Cooker recipe instructions included.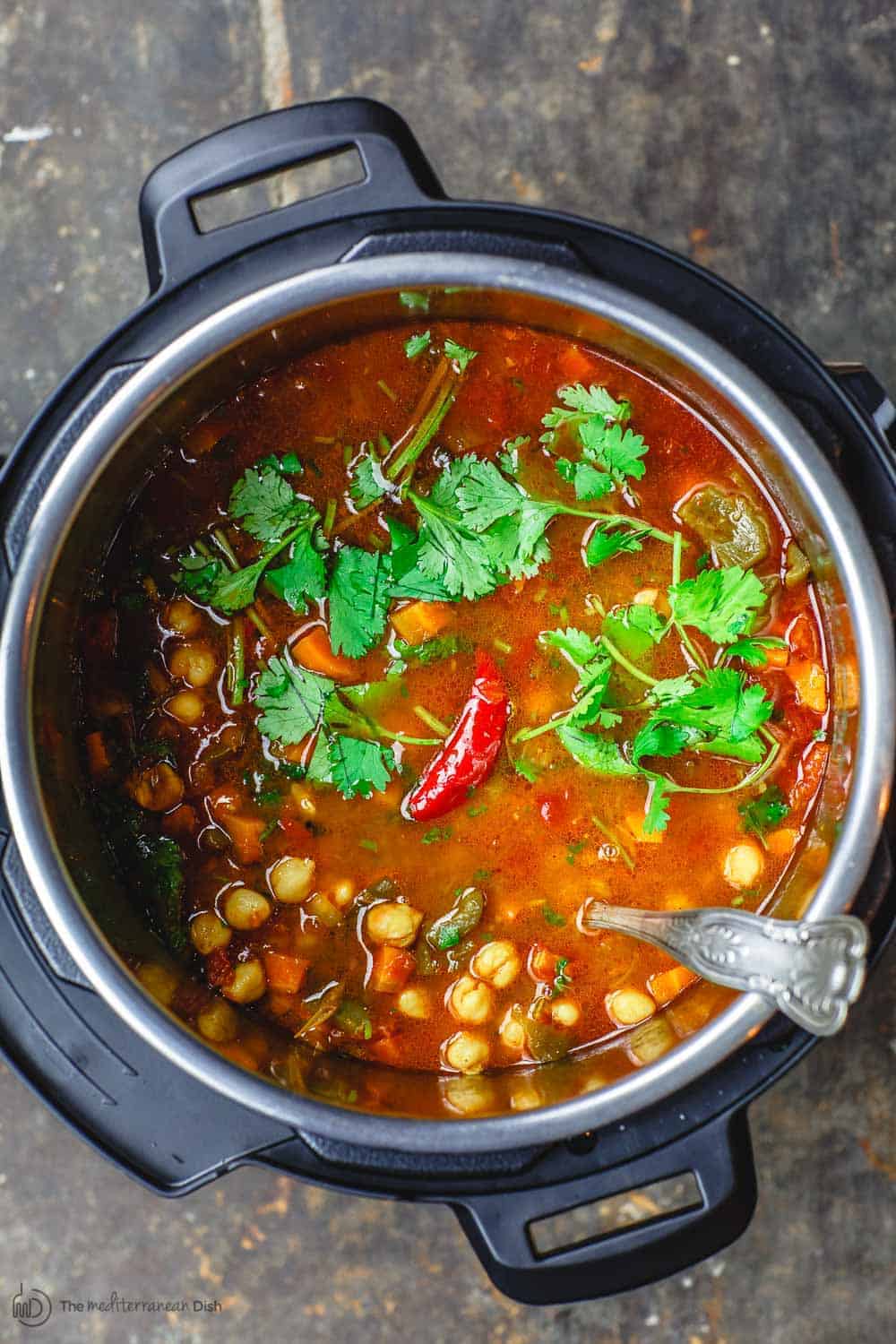 Not long ago Grub Street shared this news that 82 percent of meals in America are now made at home and people not eating out as much. A cynic might say, "because we're broke!" But isn't it true that cooking at home allows us to share healthier, wholesome meals with our loved ones? And home cooks are now more savvy than ever, we've got all sorts of one-pot meals, and we can even cut cooking time by a using an Instant Pot or pressure cooker.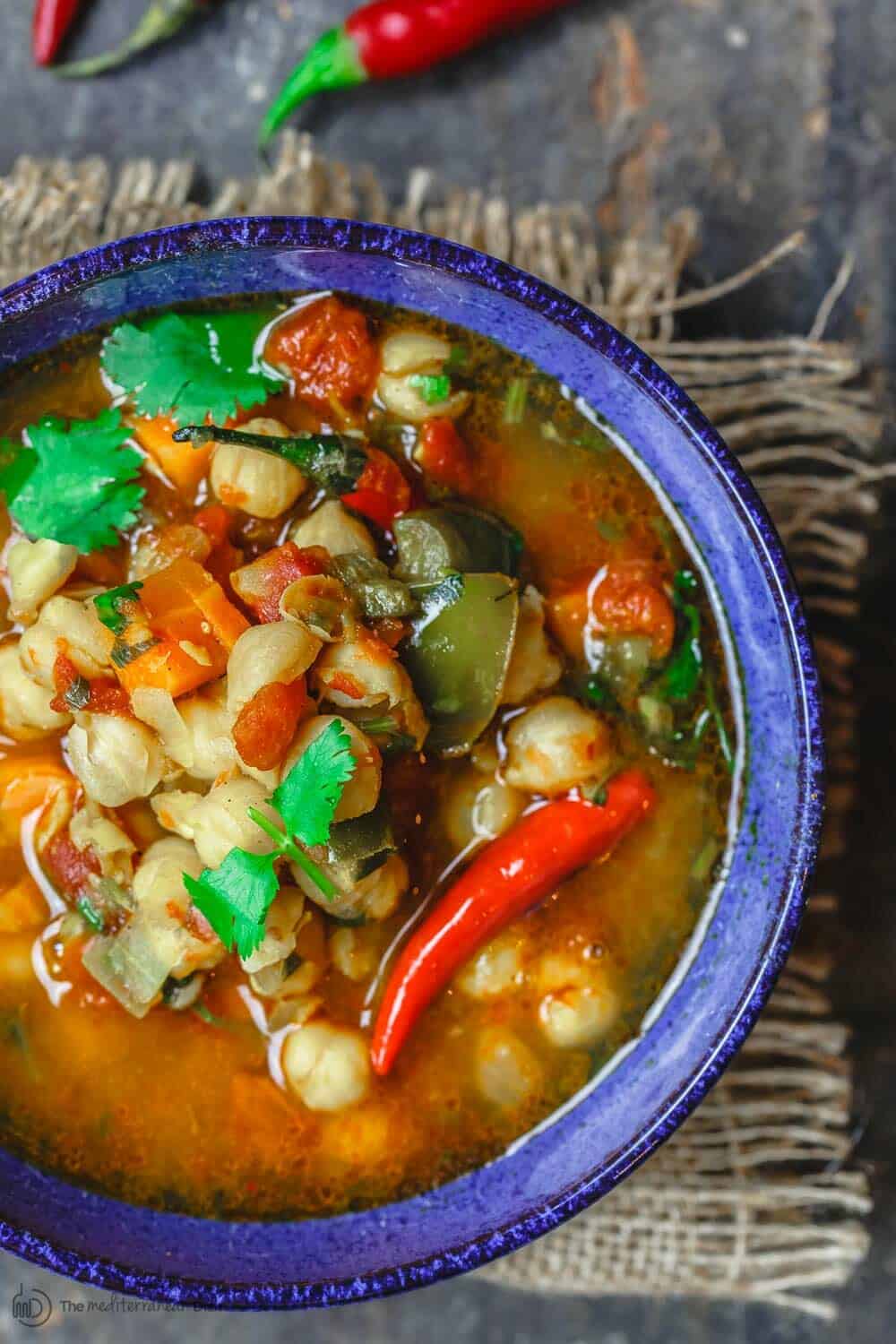 Now, this chickpea soup is literally my first instant pot soup; I'm a newbie (just bought this Instant Pot Ultra 10-in-1). But, I'm excited to try more instant pot recipes, particularly on busy week nights.
More about this Instant Pot Soup
Layers and layers of goodness in this instant pot soup recipe. Chickpeas combined with chopped veggies, garlic, and fresh herbs. All-natural spices like coriander, cumin, Aleppo pepper, and turmeric, give us complex, warm Eastern Mediterranean flavor. A splash of lemon juice brightens things up.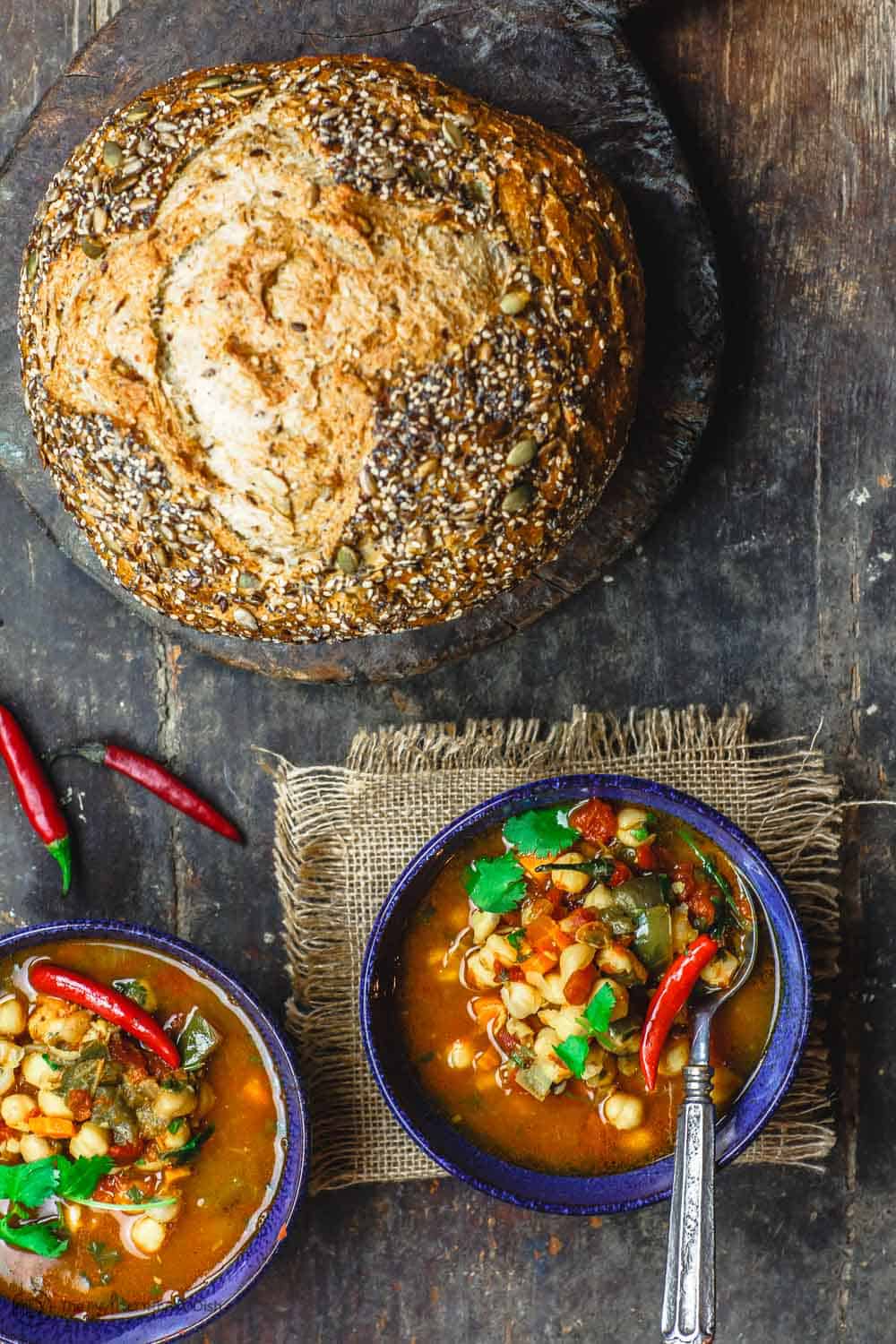 Nutrition-wise, you really can't go wrong with this low-carb, vegan, gluten free chickpea soup. Chickpeas, as with any bean variety, provide a ton of plant-based nutrition and protein. One serving of this instant pot soup provides 40% of your daily protein intake; 161% of needed vitamin C; and 25% iron!
Can I make this chickpea soup on stovetop or slow-cooker?
Yes! If you don't have an Instant Pot or pressure cooker at this point, you can still make this tasty chickpea soup stovetop or in your slow-cooker. Of course, you will need to budget more cooking time. I've included instructions for both in the recipe notes below.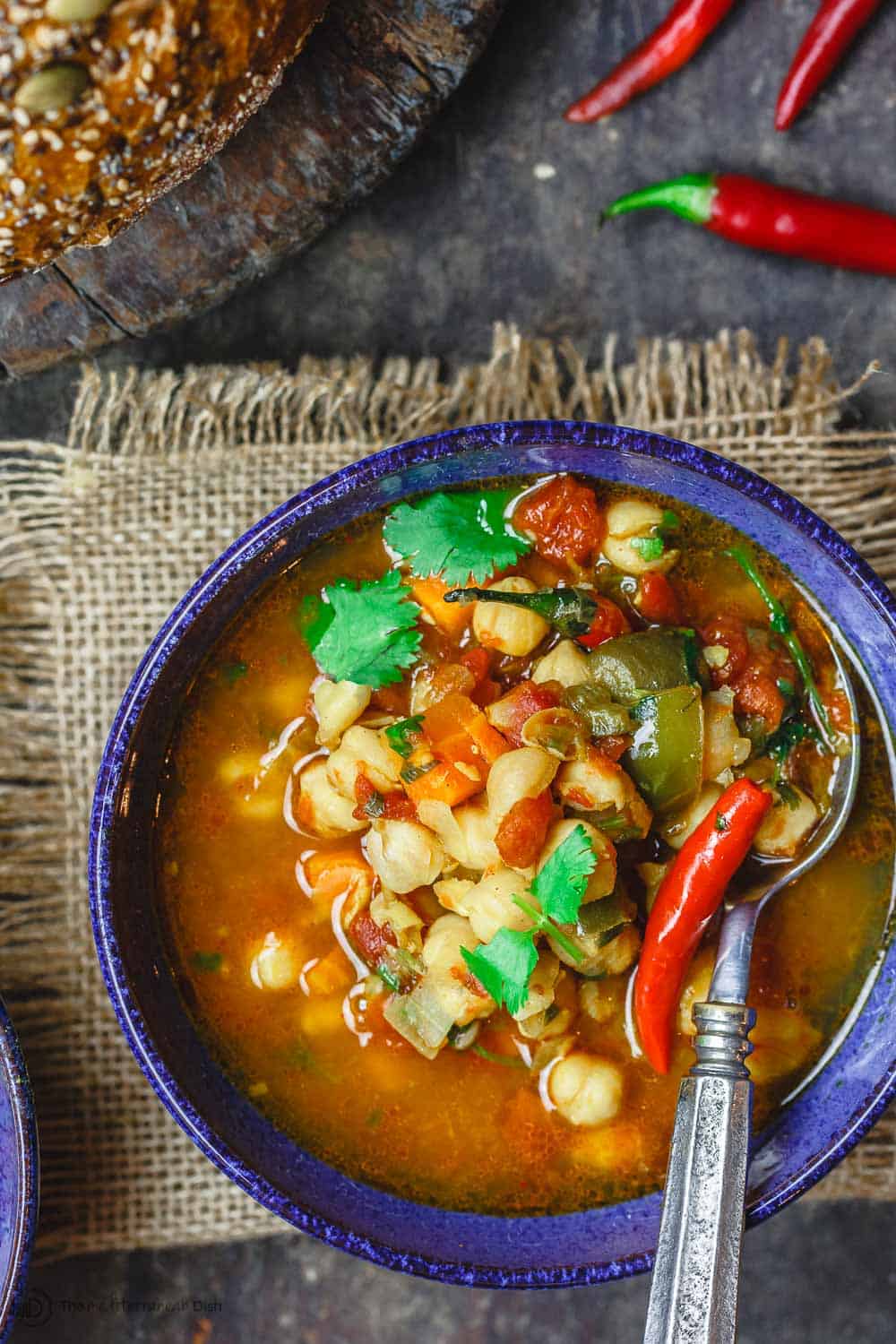 Oh, and you can prepare this chickpea soup ahead. It's even better the next day, once all the flavors had a chance to meld. See notes for make-ahead instructions and storage.
For another warm and cozy chickpea recipe, be sure to check out our lablabi Tunisian chickpea stew!
Print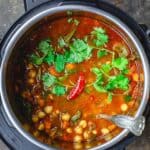 Chickpea Instant Pot Soup (Stovetop Option)
---
Description
Mediterranean instant pot soup recipe with chickpeas, vegetables, fresh herbs & warm spices. Vegan. GF. Low Carb. See recipe notes for stovetop and slow cooker instructions!
---
2 cups

dry chickpeas
Private Reserve or Early Harvest Greek extra virgin olive oil

1

yellow onion, chopped

3

garlic cloves, minced
salt

2

carrots, chopped

1

green bell pepper, cored, chopped

3

to

4

red chili peppers (optional)

1 tsp

ground coriander

1 tsp

ground cumin

1 tsp

Aleppo pepper

½ tsp

ground turmeric

½ tsp

ground allspice

15 oz

can chopped tomatoes with juice

6 cups

low-sodium vegetable broth (or chicken broth)

1

lemon, juice of

1 oz

chopped fresh cilantro
---
Instructions
Place chickpeas in a large bowl and add plenty of water (about 1 quart) to fill the bowl. Leave overnight to soak. Drain well.
Preheat your Instant Pot by selecting the saute function and adjust heat to high. Add 2 tablespoon extra virgin olive oil and heat until shimmering. Add onions, garlic and a pinch of salt. Cook 3 mins, stirring regularly. Add carrots, bell peppers, and spices. Cook another 4 minutes or so, stirring, until vegetables have softened a bit.
Now add drained chickpeas, tomatoes (and their juice), and broth. Lock your Instant Pot lid in place. Select the pressure cooking setting and set on high. Now set the time to 15 minutes (go 5 to 10 minutes longer, if you like your chickpeas on the super tender, creamier side)
After cooking, allow time to let pressure release naturally. OR after 10 minutes or so, you can use the quick release function to let any remaining pressure out. Unlock and remove the lid.
Stir in lemon juice and fresh cilantro. Carefully taste and adjust seasoning as desired.
Transfer to serving bowls and drizzle extra virgin olive oil. Serve with your favorite crusty bread or this Lebanese rice.
Notes
Important: please consult your Instant Pot or pressure cooker manual for complete safety instructions. Because there are a variety of Instant Pot or pressure cooker models out there, you will want to review the different settings and select what best works according to the manual.
Stovetop Instructions: Use a large Dutch Oven and heeat 2 tablespoon extra virgin olive oil over medium-high heat. Follow step #2 above. Add chickpeas, tomatoes, and broth. Bring to a rolling boil for 5 minutes, then turn heat down. Cover and let simmer for 1 ½ hour or until the chickpeas are tender and fully cooked through. Remove from heat. Follow steps #5 and #6.
Slow Cooker Instructions: You will start on stovetop. Place a large skillet over medium-high heat. Add 2 tablespoon extra virgin olive oil and follow step #2 as written above. Transfer the veggies to the bottom of a large slow cooker. Add the remaining ingredients (except the lemon juice and cilantro). Set slow cooker setting on high for 4 to 5 hours or on low for 8 hours. When ready, stir in lemon juice and fresh cilantro, following steps #5 and #6 as written above.
Make-Ahead Note: This soup is even better the next day as the flavors meld. Let cool, then transfer to a glass container with a tight lid. Store in the fridge for later use. It should keep 3 to 4 days.
Recommended for this Recipe: Private Reserve or Early Harvest Greek extra virgin olive oil. SAVE! Try our EVOO Bundle!
Recommended for this Recipe: from our all-natural and organic spice collections, coriander, cumin, Aleppo pepper, and turmeric. SAVE! Create your own 6-pack of spices
Prep Time:

15 mins

Cook Time:

20 mins

Category:

Soup/Entree

Method:

Instant Pot/Stovetop

Cuisine:

Mediterranean/Middle Eastern
Keywords: Chickpea Soup Recipe, Instant Pot Soup Recipe, Instant Pot Soup, Vegan Soup Recipe, Slow Cooker Chickpea Soupl, Vegan Instant Pot Recipe, Low Carb Soup Recipe
More Recipes to Try:
Mediterranean Roasted Vegetables and Barley