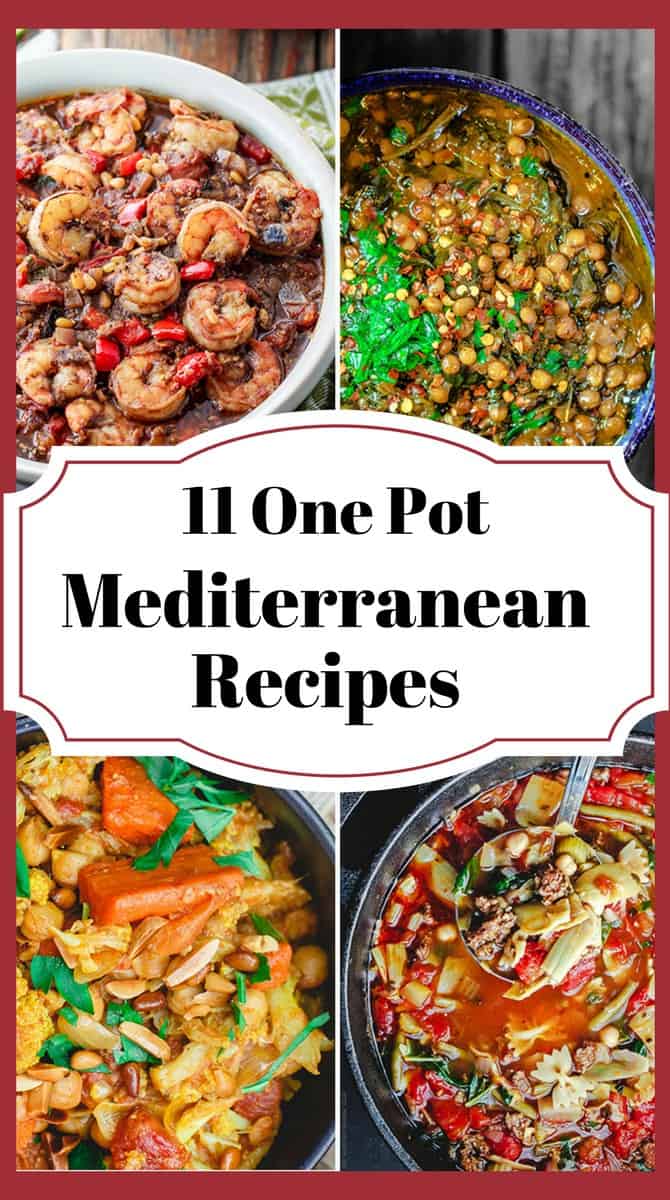 If you've followed this blog for any length of time, you already know that Mediterranean food is not so fussy. The ingredients are generally humble, and the recipes are easy to execute even on a week night. What's more, many Mediterranean dinners are actually one pot recipes.
Today, I'm sharing only 11 Mediterranean one pot recipes that make excellent meals particularly during cooler months.
Without further ado, let's get to the list.
This roasted carrot ginger soup is a top recipe here on the blog, and a bit of a personal obsession. The carrots are first roasted until caramelized and even somewhat charred. Besides the vigor added from the fresh ginger, the flavoring of this soup comes from a little bit of ground coriander and allspice. One reader said, "Tried it, loved it. Fun and easy to make plus yum." Click here to see the roasted carrot ginger soup recipe.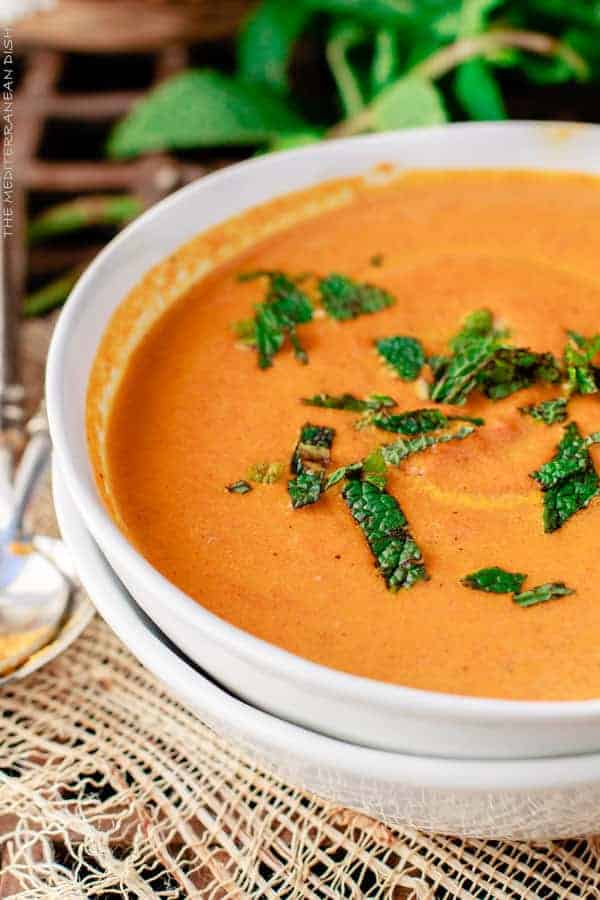 Avgolemono soup is a classic Greek lemon chicken soup with rice that is enriched with an egg mixture. Not your average chicken soup for sure. Click here to see the Avgolemono recipe.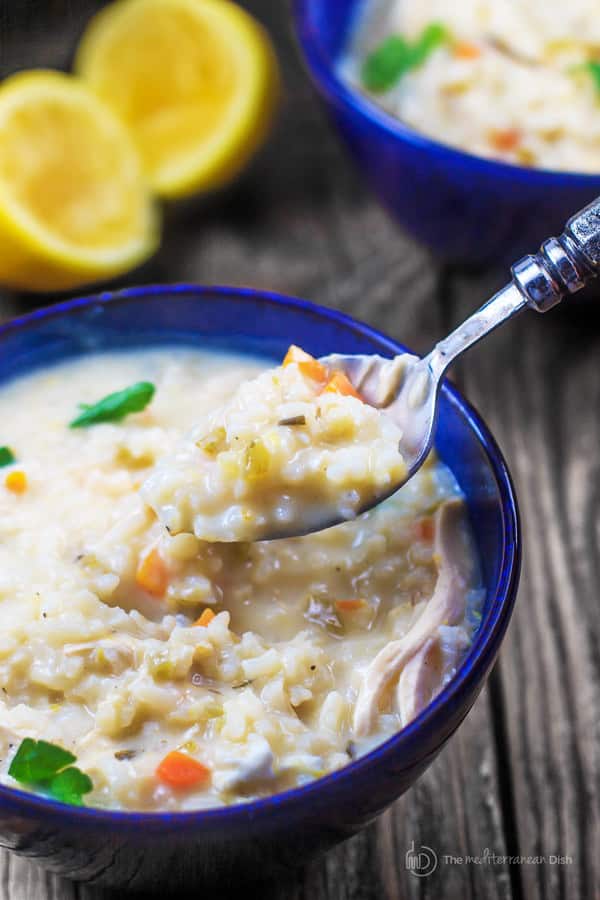 Perhaps one of my favorite one pot recipes is this cream of cauliflower soup. Roasting the cauliflower first adds lots of depth. And of course, this cauliflower soup is dressed in great Mediterranean spices and topped with dill, a forgotten herb that takes it to a whole new level of delicious. Click here to see the cream of cauliflower soup recipe.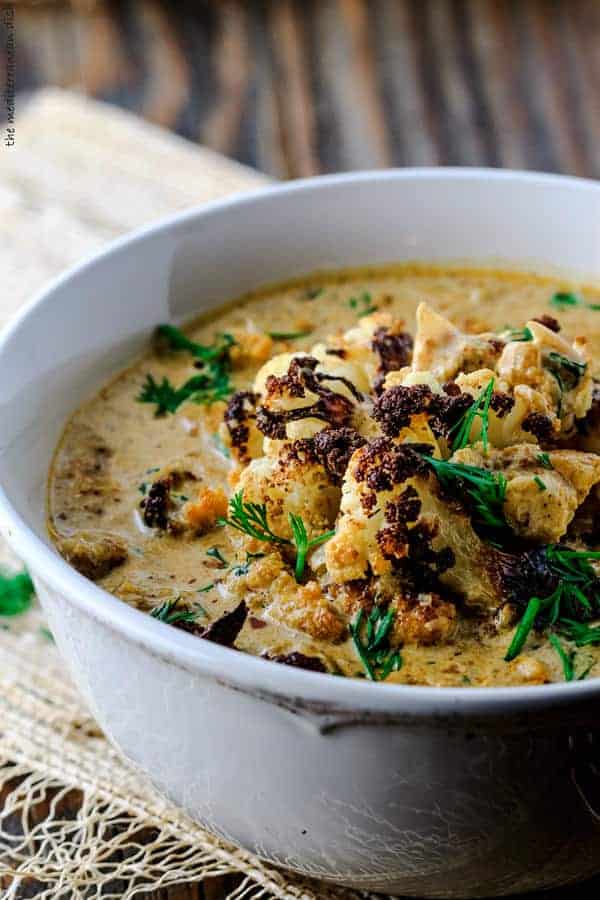 Flavor-packed turmeric roasted cauliflower and chickpea stew. A great combination of Middle Eastern spices take this chunky stew to a new level of delicious. Just add some pita or your favorite crusty bread. Click here to see the cauliflower and chickpea stew recipe.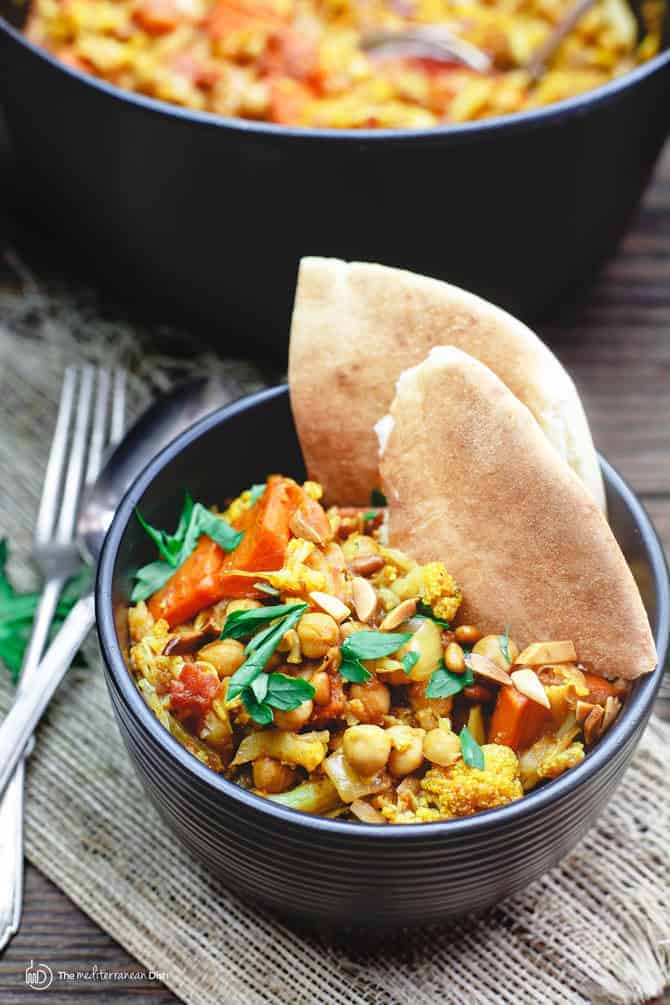 Lentils are a big part of the Mediterranean pantry. In a pinch, they supply hearty dinners like this spicy spinach and lentil soup. Click here to see the spicy spinach lentil soup recipe.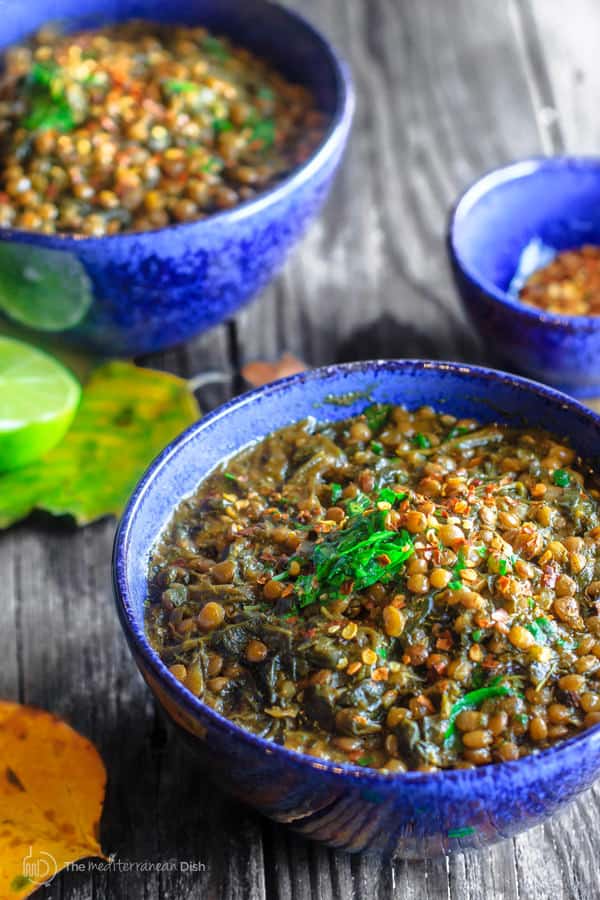 Italian Sausage Minestrone. Not your ordinary minestrone recipe; there are some unexpected ingredients like artichoke hearts, chickpeas, and fresh herbs. A satisfying weeknight meal for sure. Click here to see the Italian Sausage Minestrone recipe.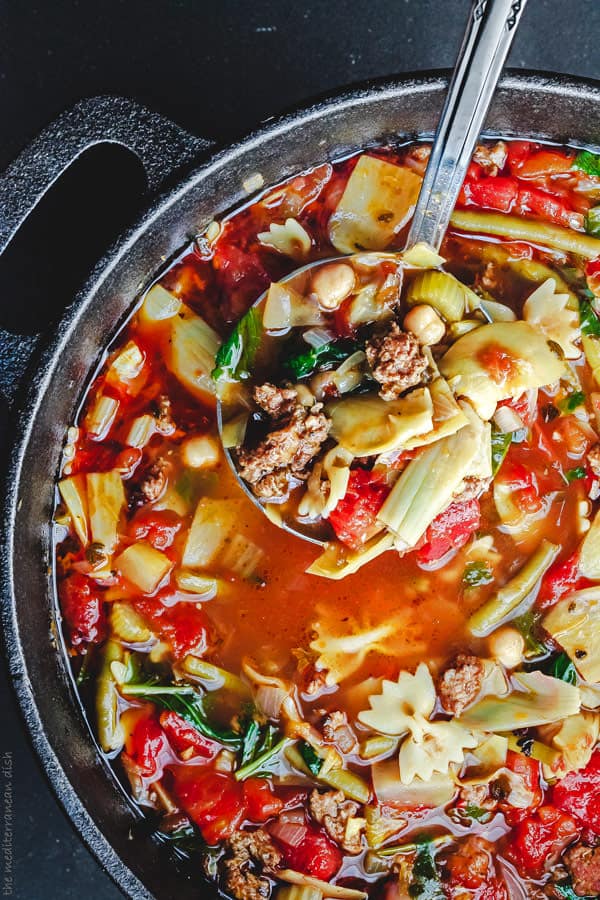 An oldie-but-goodie recipe here on the blog is this red lentil soup. Made heartier by the addition of sweet potatoes. Topped with crispy onions. Click here to see the red lentil soup recipe.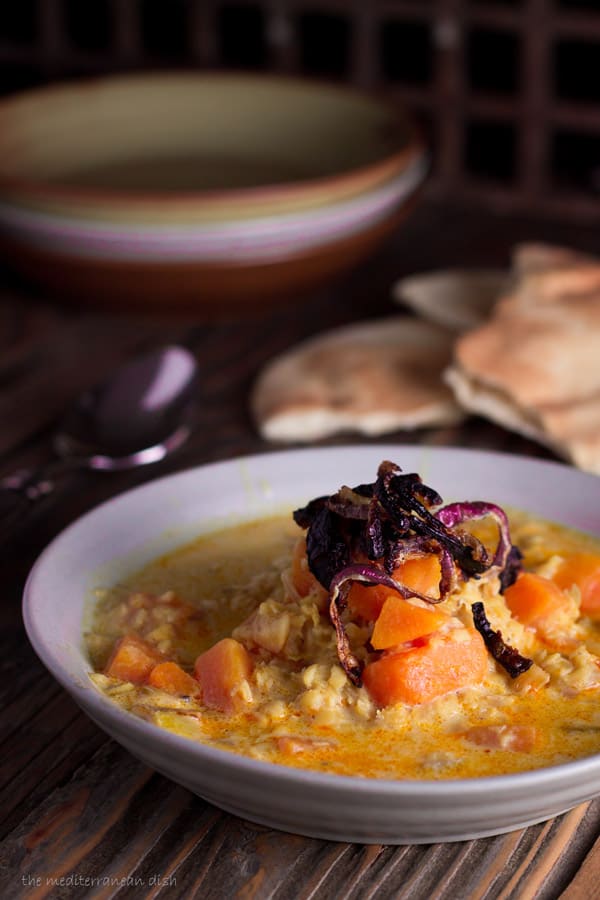 This baked shrimp stew is an Eastern Mediterranean inspiration. A hearty shrimp stew cooked in a flavor-packed chunky tomato sauce. Comes together in 45 minutes. Click here to see the shrimp stew recipe.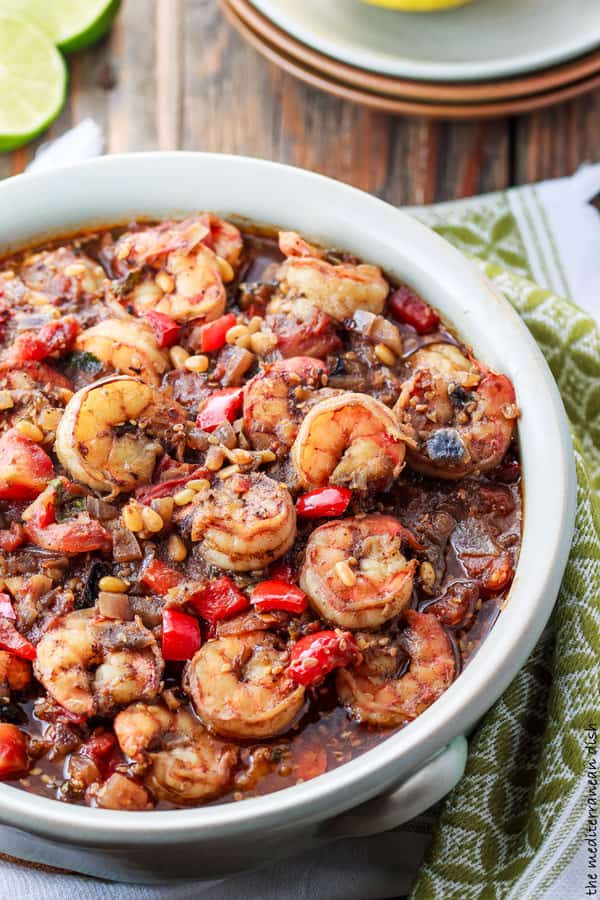 Fish Fillet cooked Shakshuka style in a warm chunky tomato sauce. Comes together in 30 minutes! Click here to see the fish fillet recipe.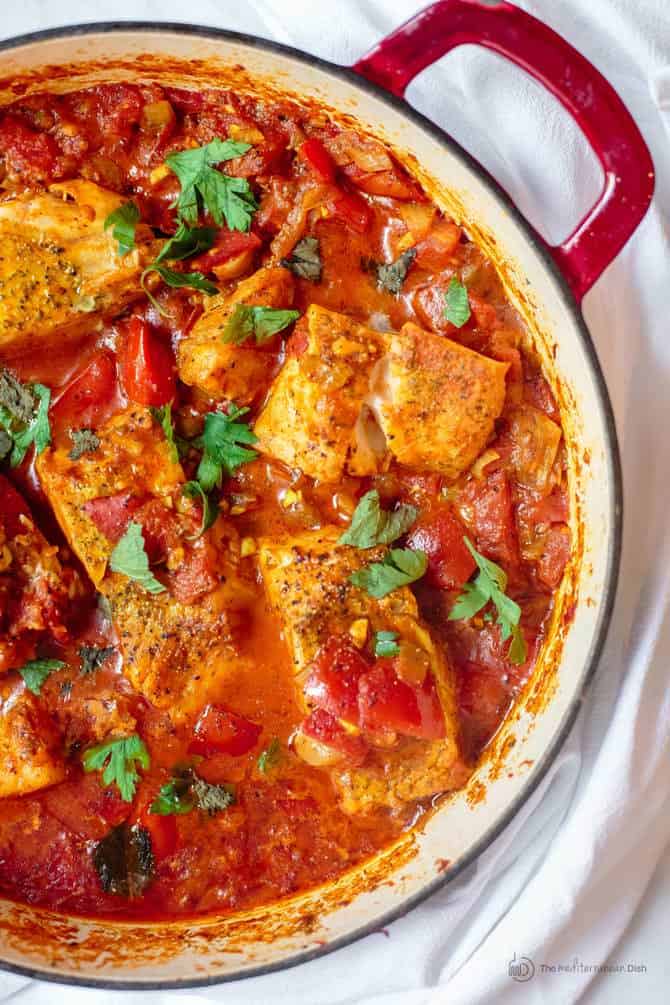 Among my favorites from my mother's Egyptian kitchen is this simple beef stew. A traditional Middle Eastern beef stew recipe with green beans and tomatoes; otherwise known as fasolia. I share both the stove-top and slow-cooked beef stew version. Click this link for the beef stew recipe here.