Learn how to cook eggplant perfectly so that it is tender and delicious that even eggplant skeptics will fall in love! This list of 21+ eggplant recipes has all the delicious casseroles, pasta, smoky dips, and even eggplant fries. There is something for everyone!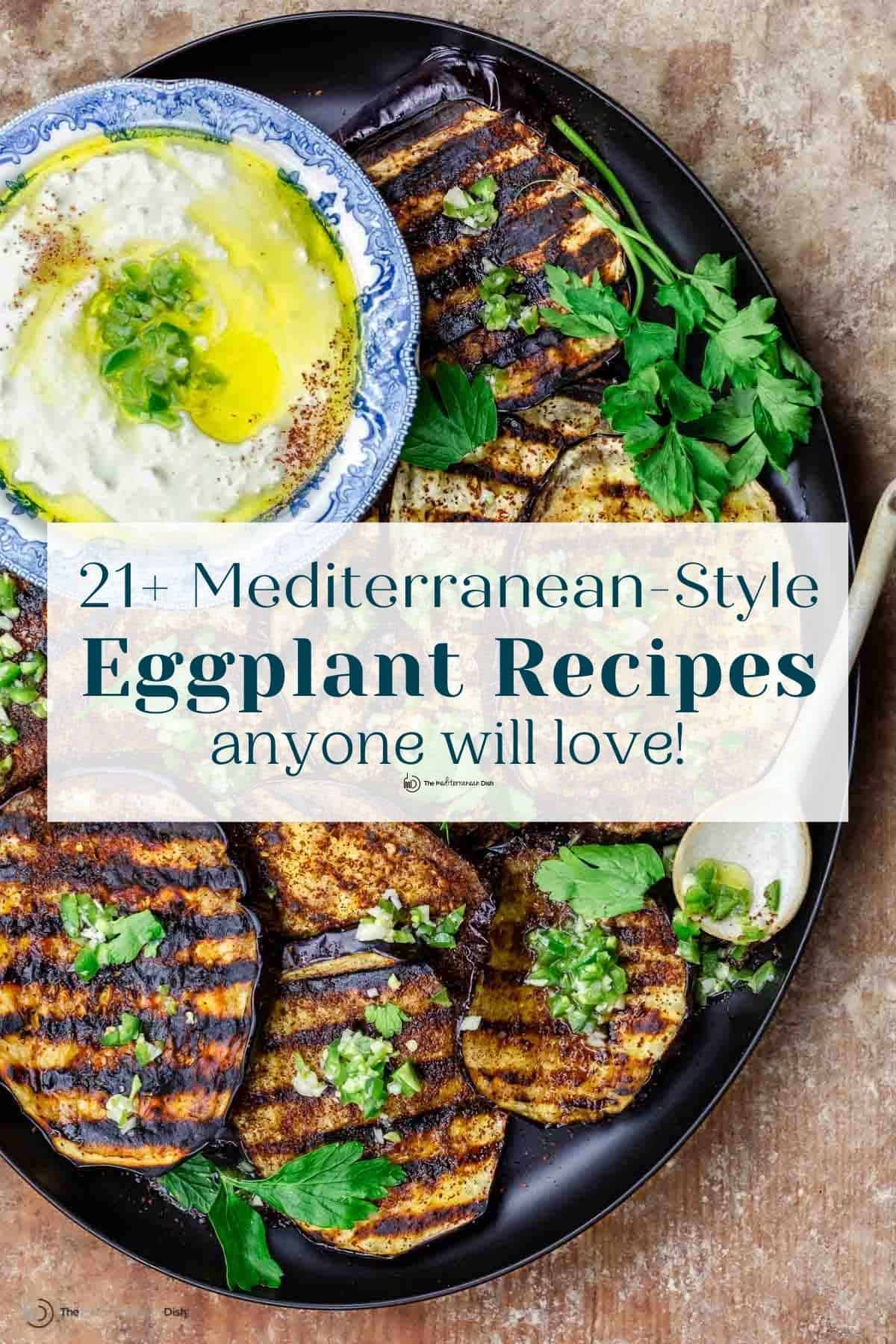 Eggplant, a favorite Mediterranean ingredient
Of all the vegetables and fresh produce out there, eggplant (aubergine) seems to be one of the most divisive ingredients. I get it! Many people have had some unfortunate encounter with eggplant where it turned too spongy, too bitter, or too soggy and overcooked.
But if you've been cooking the Mediterranean way for any amount of time, you already know there is no shortage of easy eggplant recipes that teach you how to cook it properly so that it is tender and delicious that even eggplant skeptics will fall in love!
Personally, I love eggplant prepared simply: roasted until velvety tender or grilled until smoky and tender. But there are many more ways to play up this veggie, and my list of eggplant recipes is a great place to start! In these recipes, you'll find all my tips for cooking it so it's creamy, never mushy or rubbery! And never bitter either. (And if you're looking for the healthiest way to cook eggplant, you'll find a few options here!
Now the one big question is: Should you salt your eggplant before cooking? My short answer is, yes! While you do not have to, it's a very good idea as it enhances texture and flavor. Let's discuss why.
Should you salt your eggplant before cooking?
In most cases, I highly recommend salting your eggplant before cooking. The salt will do its magic in extracting excess moisture (and any bitterness out) while enhancing flavor. Salt also breaks the eggplant's spongy texture, turning it more tender and creamy once cooked.
So when you are ready to cook some eggplant, simply slice it up and give it a good dash of kosher salt on each side, then let the slices sit for about 30 minutes or so until you see some beads of water on the surface. Be sure to wipe the eggplant dry and remove excess salt before cooking.
Now let's get to my list of healthy eggplant recipes you'll be making on repeat! We' start with the top 5 recipes as voted by our readers. Let me know which one you'll be trying first.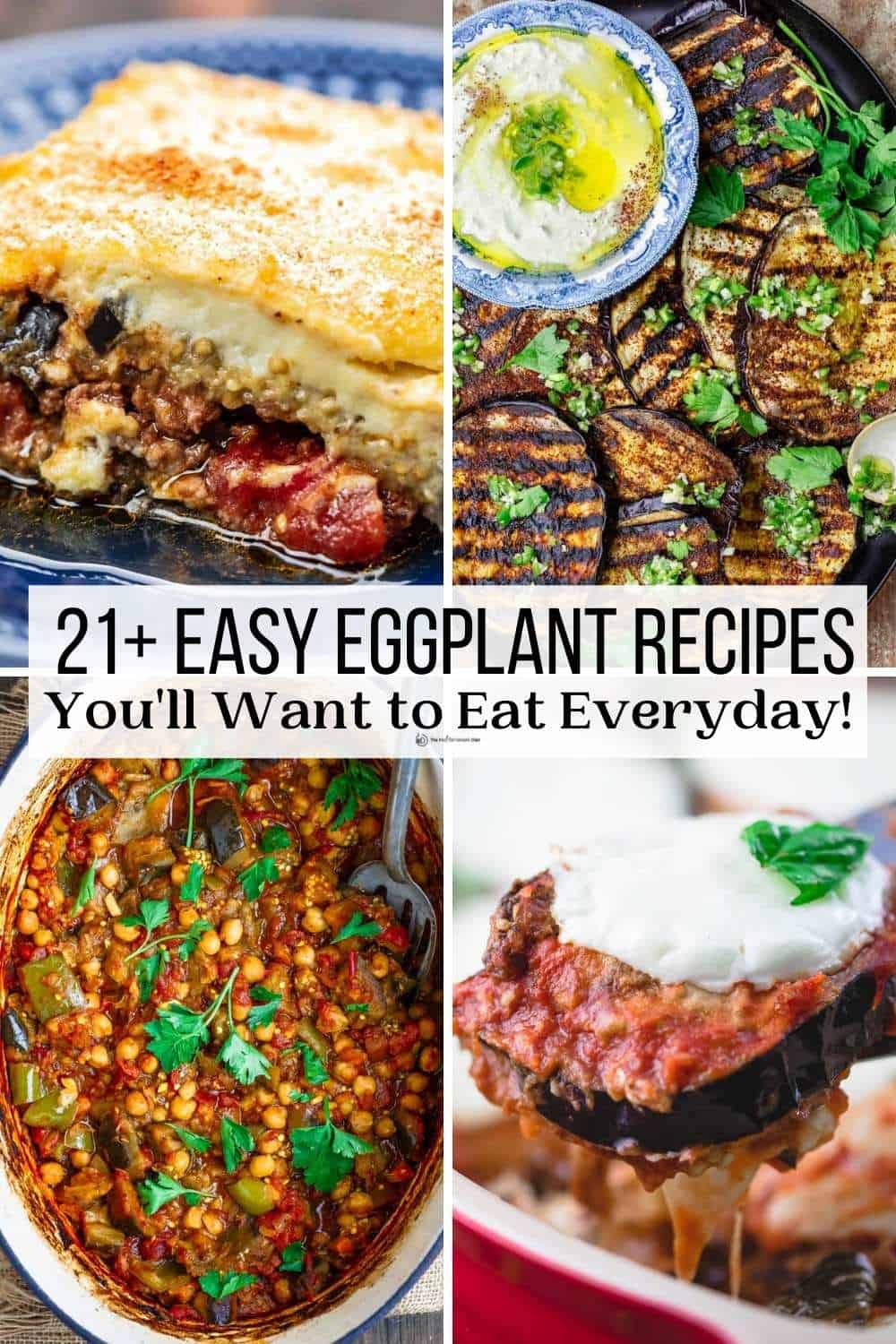 Our top 5 best eggplant recipes
The most popular recipes using eggplant on our site are also some of my ultimate favorites, and a wonderful representation of the many ways you can cook eggplant! Bursting with flavor and pretty easy to make, you'll love these delicious fan-favorite eggplant recipes. Check them out:
Grilled Eggplant with Whipped Feta
Tender and perfectly charred Mediterranean grilled eggplant is finished with a drizzle of olive oil infused with garlic and jalapeno. Serve it alongside some indulgent whipped feta cheese for a smoky, tangy appetizer!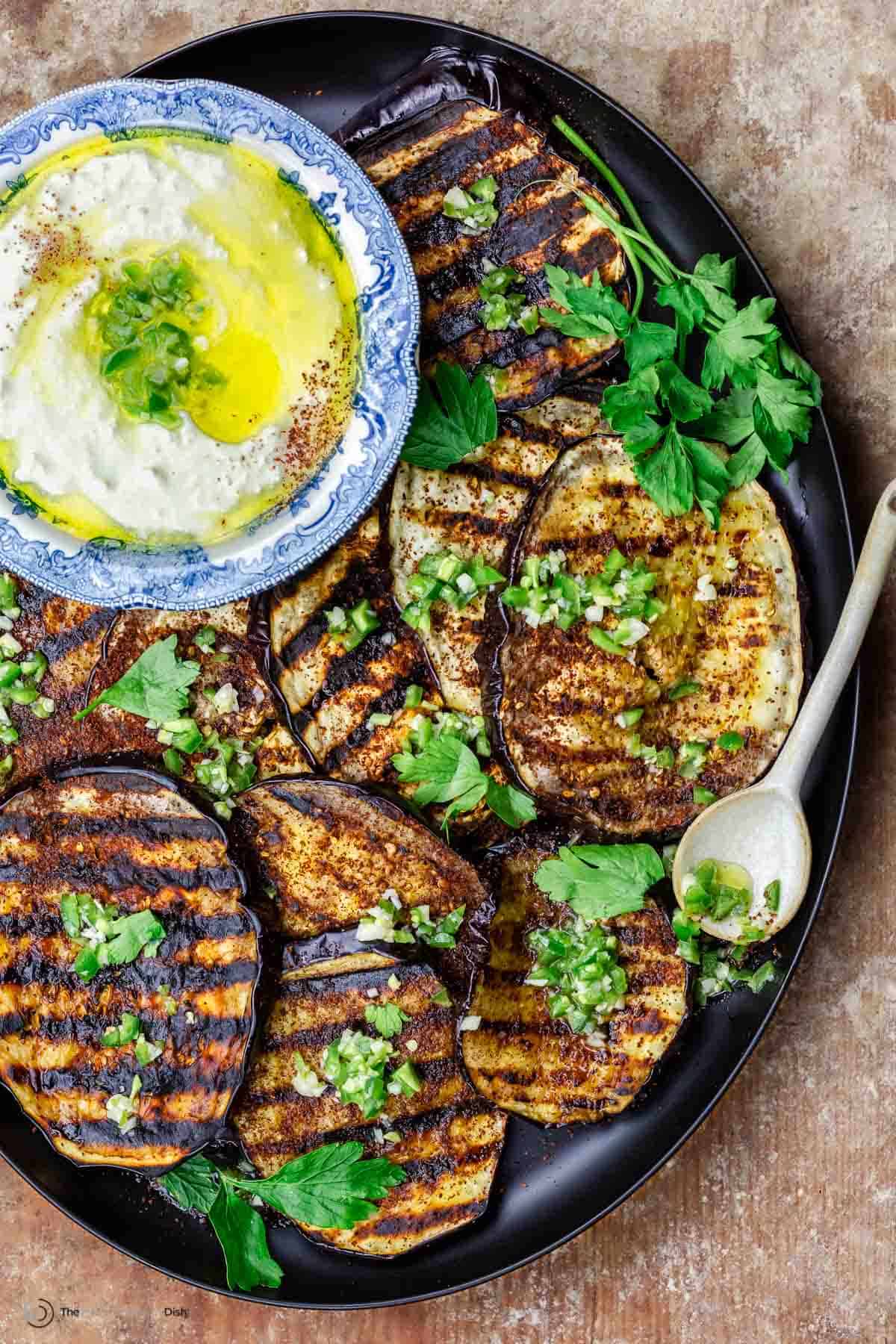 One of my most beloved recipes, this simple vegan recipe with tomatoes, chickpeas, and globe eggplant cubes is comfort food at its finest. With warm spices and other pantry staples, this wholesome one-pot stew is a must-try!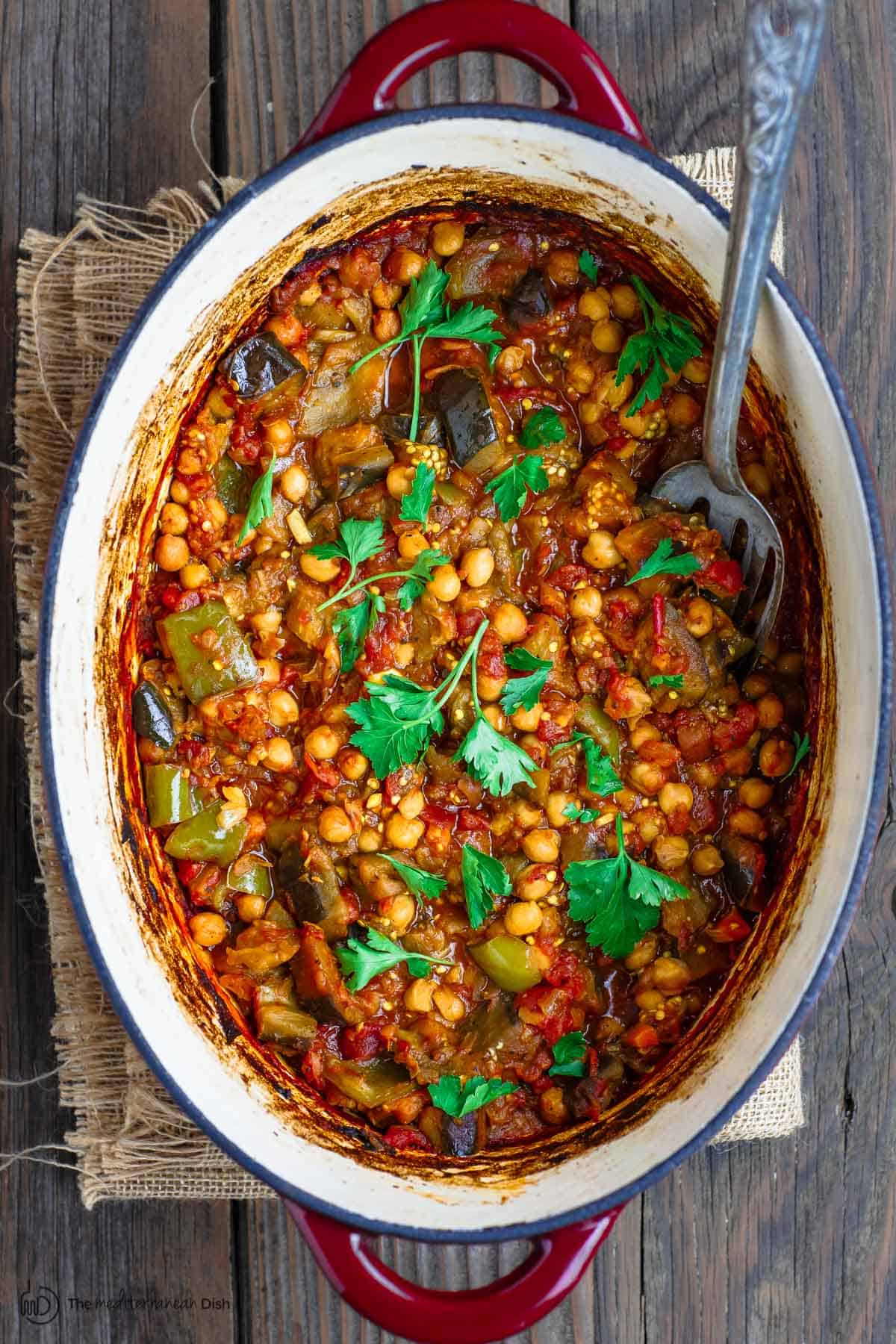 A classic Italian-style casserole with layers of eggplant, Parmesan cheese, fresh mozzarella, and basil, eggplant parm will be your new go-to eggplant recipe! It's a layered dish similar to lasagna, but without any pasta. Instead, the star of the show is eggplant, lightly fried and then baked until velvety.
Moussaka is pretty much the epitome of Greek comfort food: layers of tender eggplant, perfectly seasoned meat, and a creamy bechamel on top. While moussaka is not complicated to prepare, it does take some time, so keep that in mind when you make it! I like to eat moussaka by itself, or with my simple 3-ingredient salad for crunch.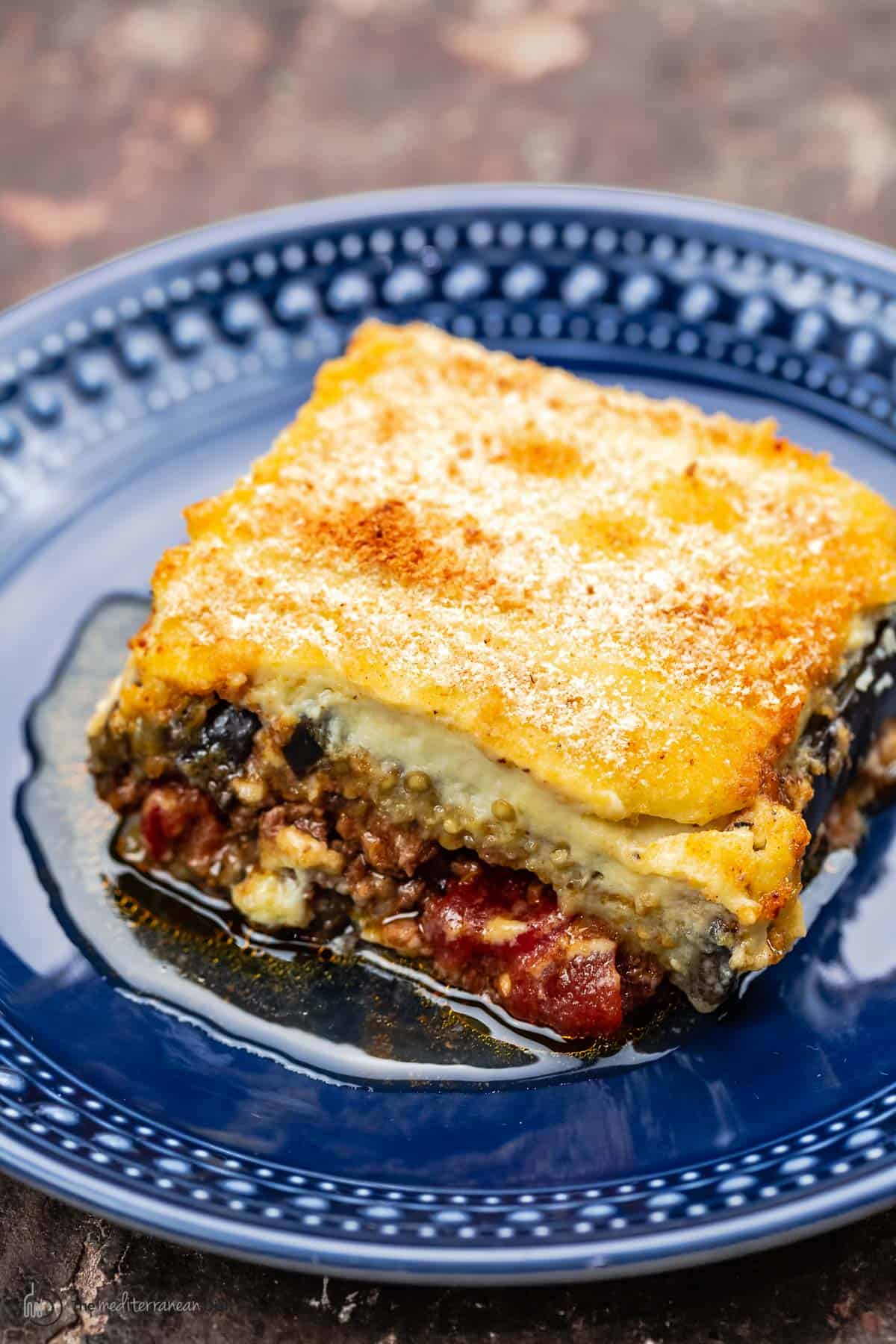 This easy vegan recipe starts with velvety roasted eggplant halves loaded with a Mediterranean-style stuffing of couscous, fresh herbs, chickpeas, and tomatoes. A drizzle of creamy tahini sauce is the perfect finishing touch. I like to serve stuffed eggplant as a vegan main, but it also works well as a side next to your favorite protein.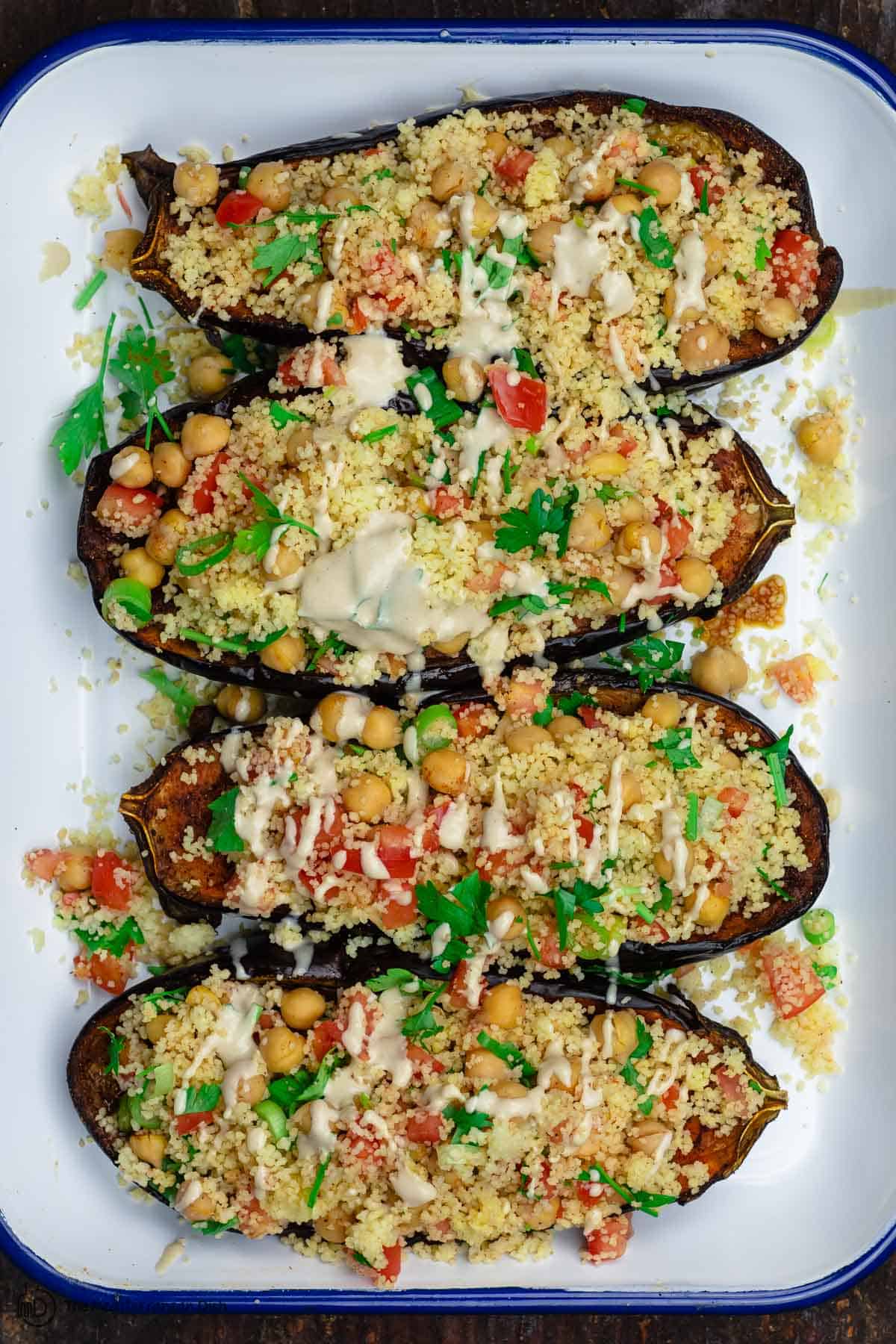 Roasted eggplant recipes
Roasting is one of my go-to ways to prepare eggplant. There's just something about that velvety, almost creamy texture that gets me every time! If you're looking for an unfussy, hands-off way to cook eggplant, definitely try roasting it! Here are some ideas:
Roasted Eggplant Caprese Salad Recipe
My spin on the beloved Italian summer classic, this eggplant caprese is a satisfying appetizer or side dish. For best results, use large, firm tomatoes, fresh mozzarella, and bright fresh basil leaves. Serve it warm, with the cheese nicely melted.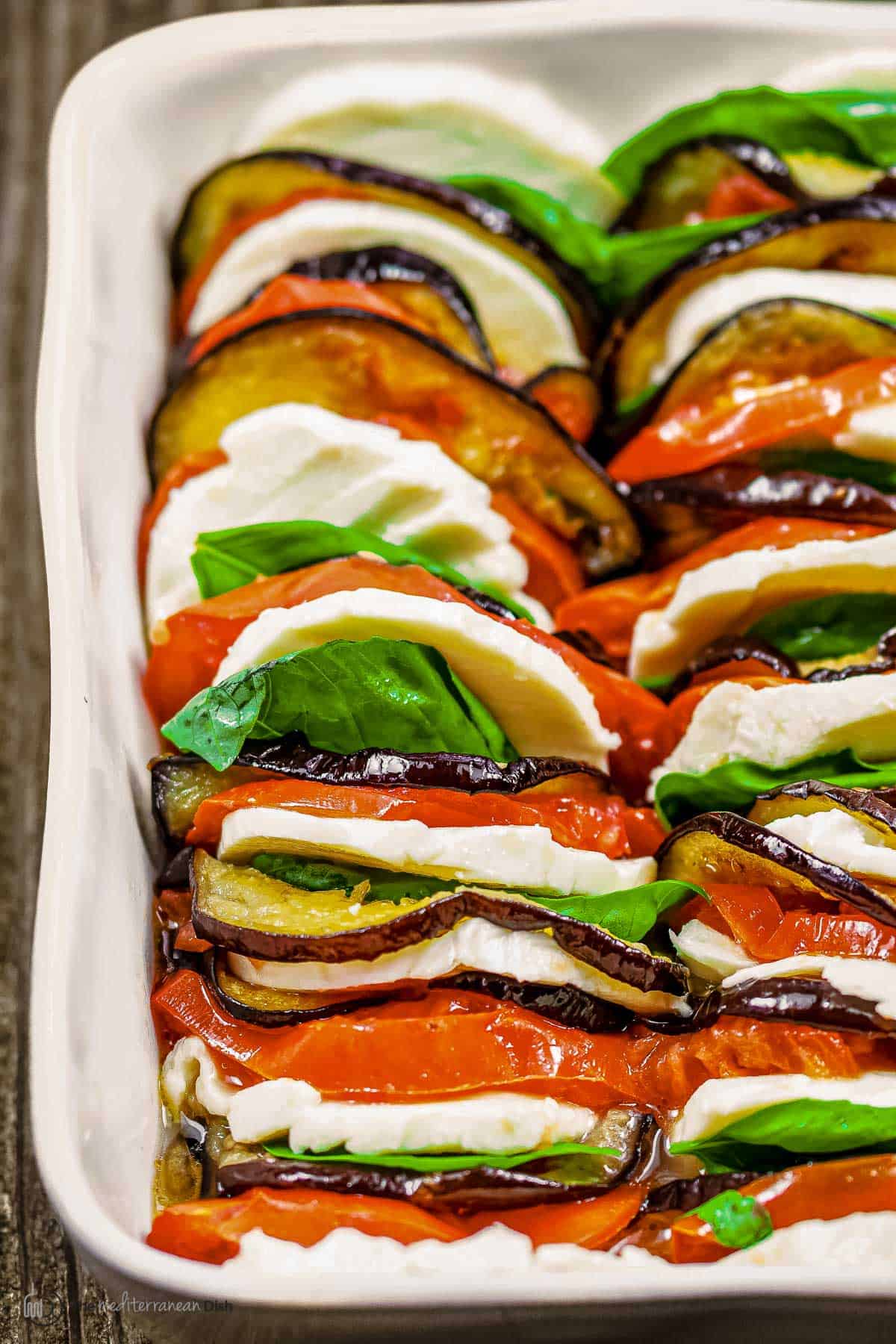 Mediterranean-Style Roasted Eggplant
Roasted eggplant is plain addictive! A couple of Mediterranean flavor-makers, like simple spices and tahini sauce, are really all it takes to dress up this easy roasted eggplant. Serve it at room temperature alongside falafel, za'atar chicken, or grilled lamb chops.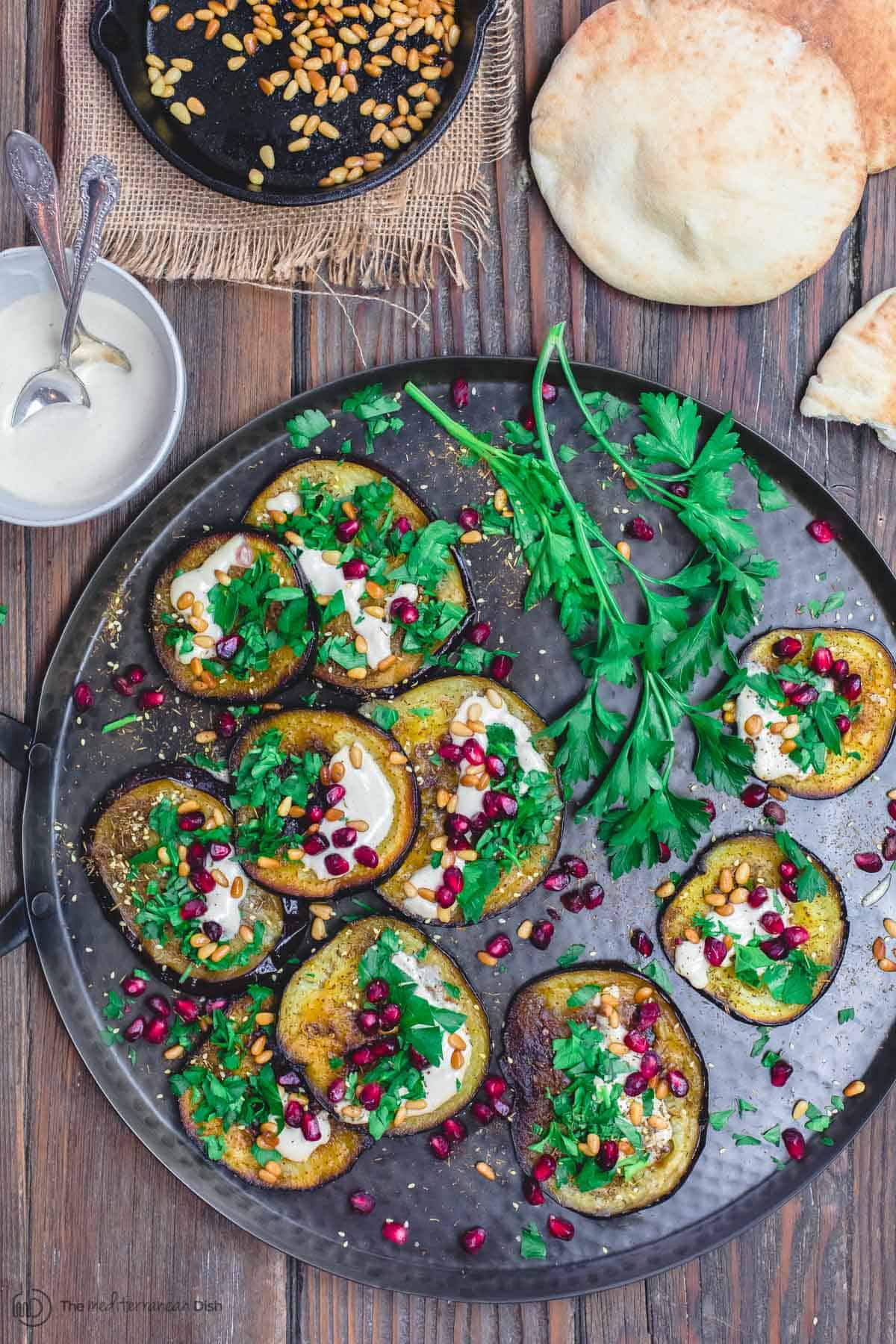 Eggplant Pizza Bites with Spinach and Mushrooms
Low-carb gluten-free pizza bites with roasted eggplant rounds as the crust! I used vegetarian toppings like marinara sauce, cheese, spinach, and mushrooms, but the possibilities are endless! Try using cherry tomatoes, olives, bell peppers, or onions as toppings instead. Delicious!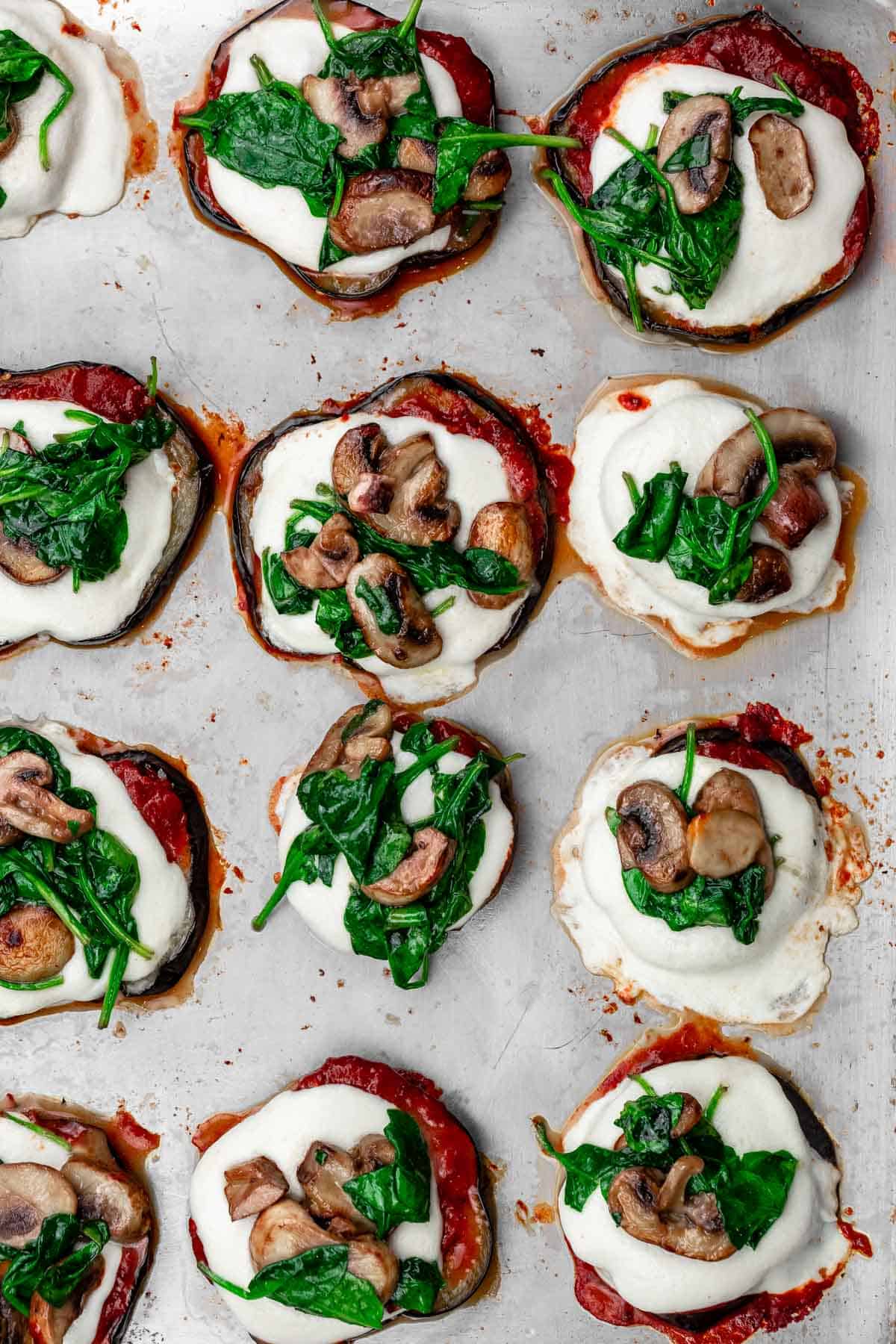 Stuffed Eggplant with Ground Beef and Bulgur
This hearty stuffed eggplant is your ticket to an unfussy one-pan meal! You'll love the simple stuffing of spiced ground meat, fine bulgur wheat, and pine nuts. I like serving this alongside a zesty fresh salad like fattoush or a herbed tomato salad.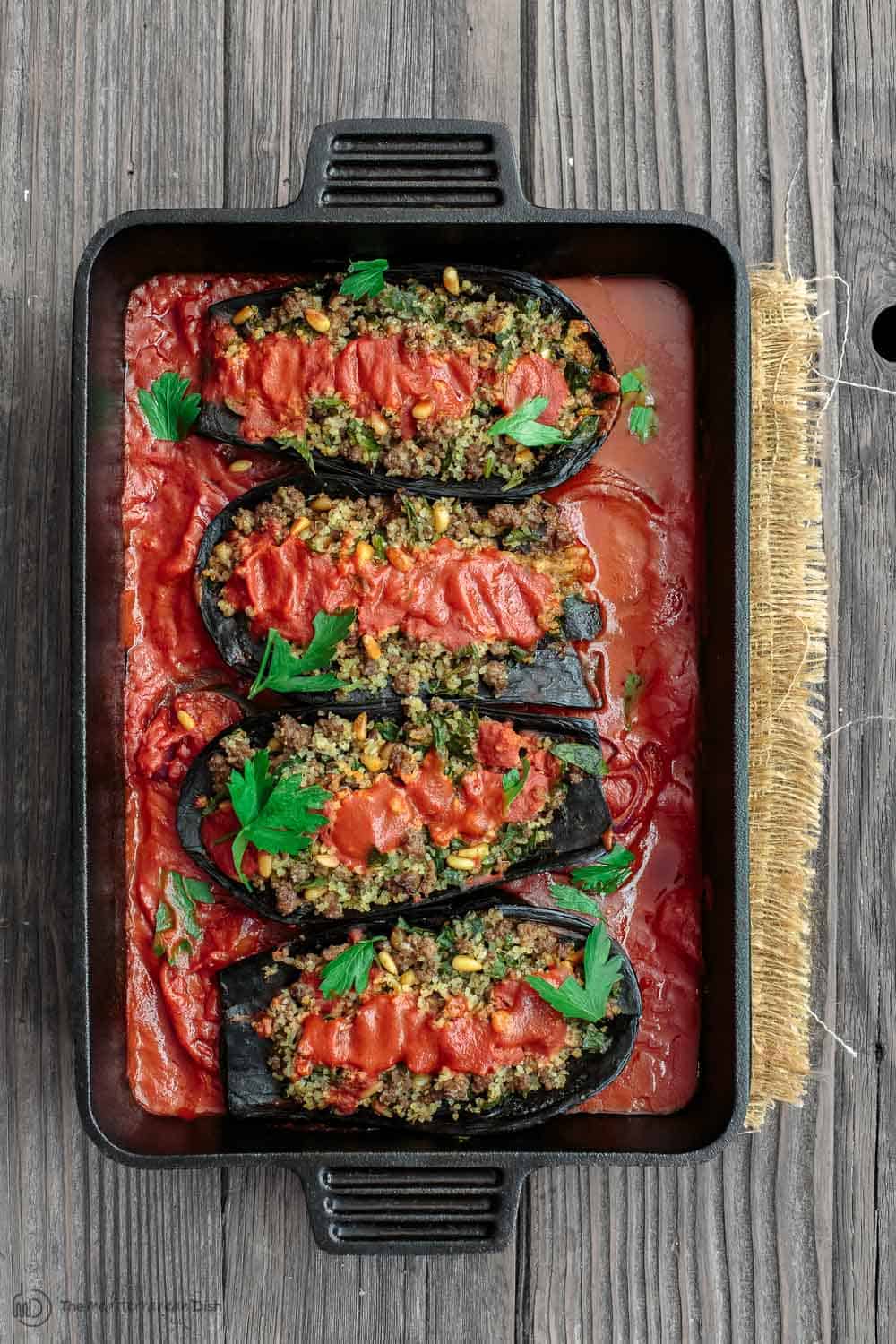 Eggplant casserole recipes
I've never met an eggplant casserole I didn't like! Creamy eggplant and cheese? It's an unbeatable combination! Eggplant casseroles are also great when you want a meatless option with lots of veggies! Check out these ideas:
This vegetarian eggplant rollatini recipe uses a delicious part-skim ricotta cheese filling with basil pesto and parsley. Instead of lightly flouring and frying the eggplant slices as suggested in many recipes, I prefer to par-bake them, which is a healthier and easier option. Then bake the casserole to perfection in a bubbly red sauce!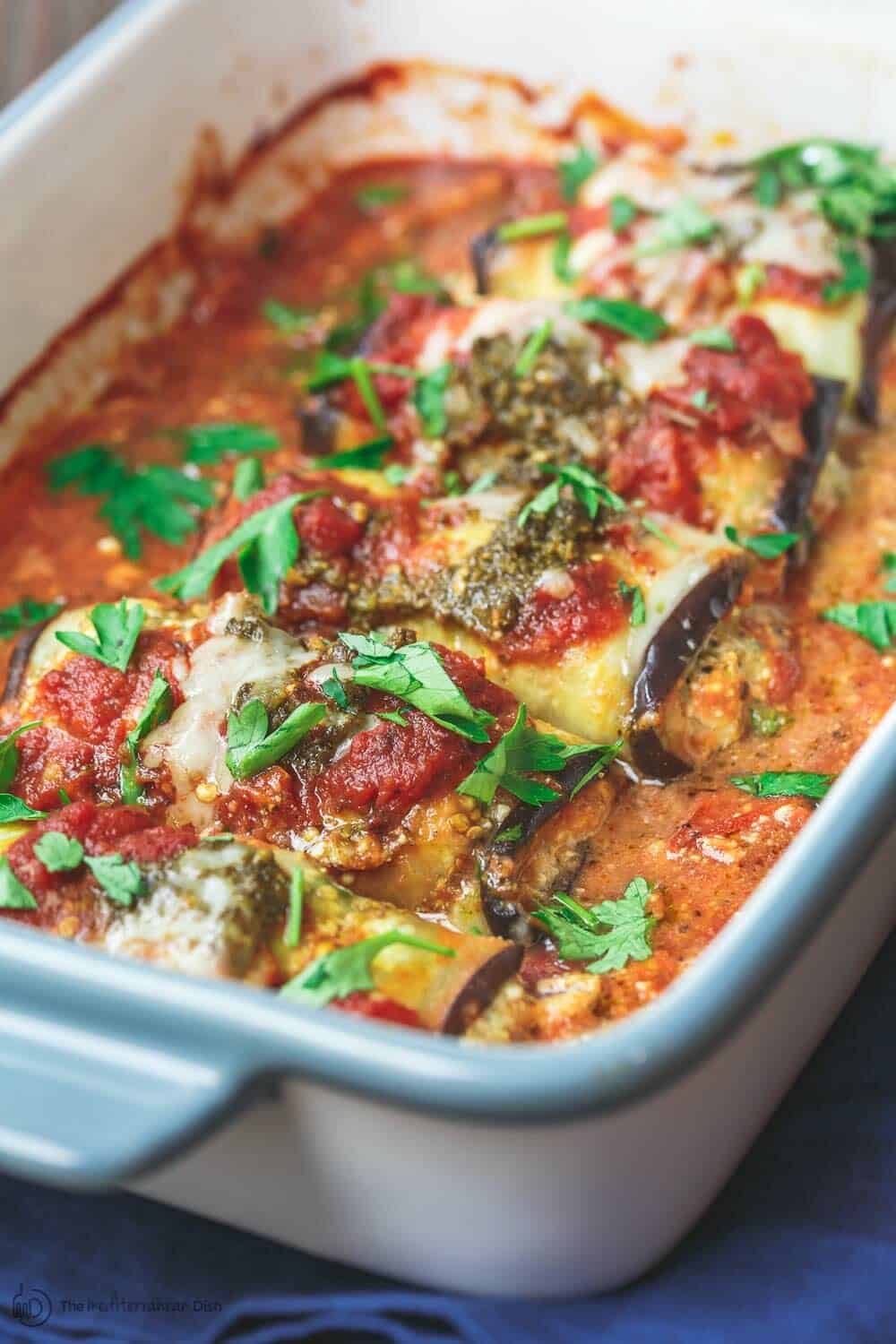 All the comfort of classic lasagna but without the noodles! Trust me, you won't miss them when you try this delicious combination of roasted eggplant and a cheesy mixture with spinach and fresh herbs. If you want to work a little ahead, roast the eggplant and prepare the ricotta cheese filling a day in advance. Keep them refrigerated in separate containers.
I love classic moussaka, but when I want a meatless option, I turn to my vegetarian version, bursting with flavor and heft from roasted eggplant, potatoes, zucchini, and a chunky tomato-lentil sauce – all topped with creamy bechamel.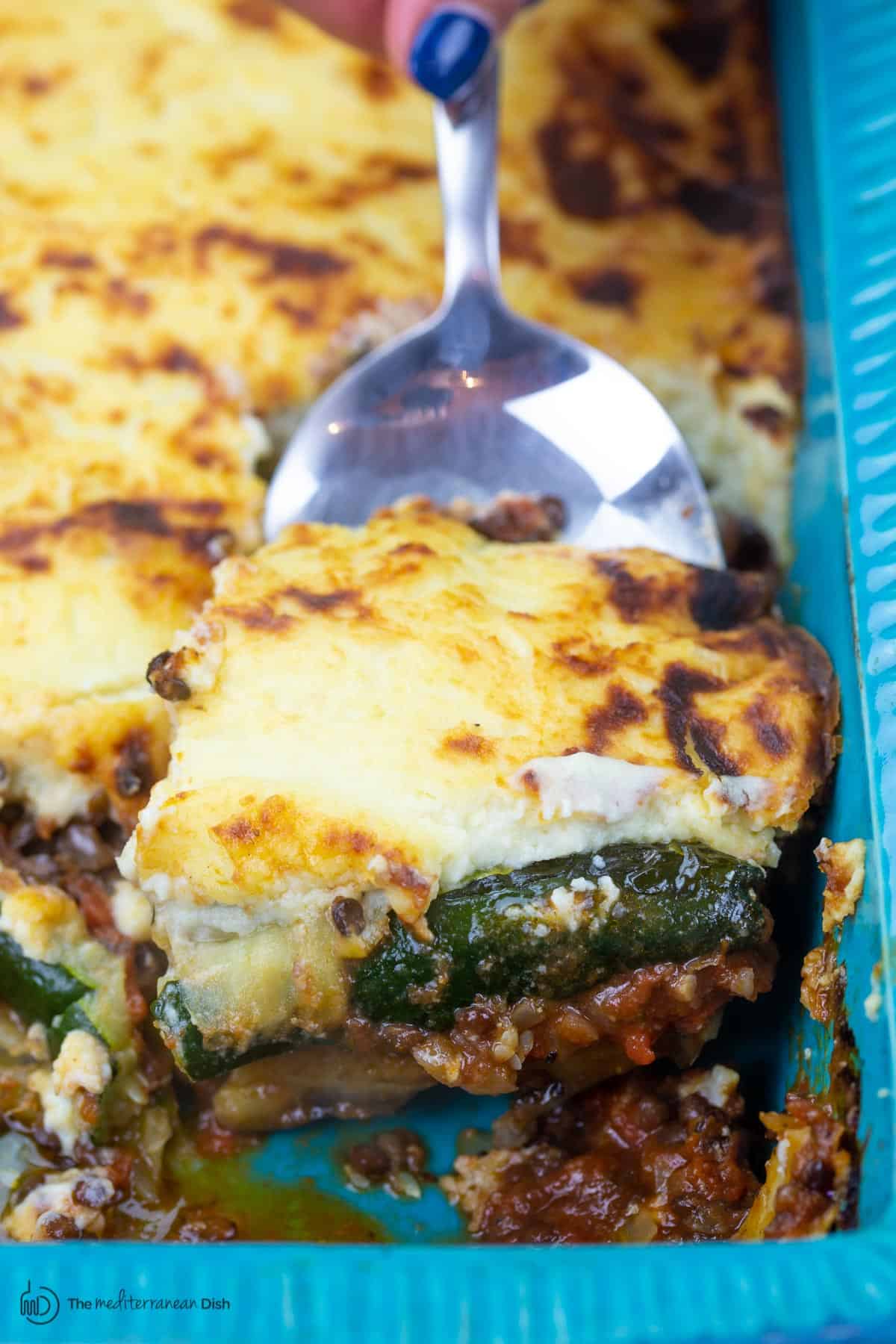 A perfect rigatoni pasta bake is made of tender pasta, perfectly seasoned meat, and for me, a thin layer of melty mozzarella. But a few slices of roasted eggplant takes this casserole to the next level! If you can't find rigatoni, penne pasta would work well as a substitute!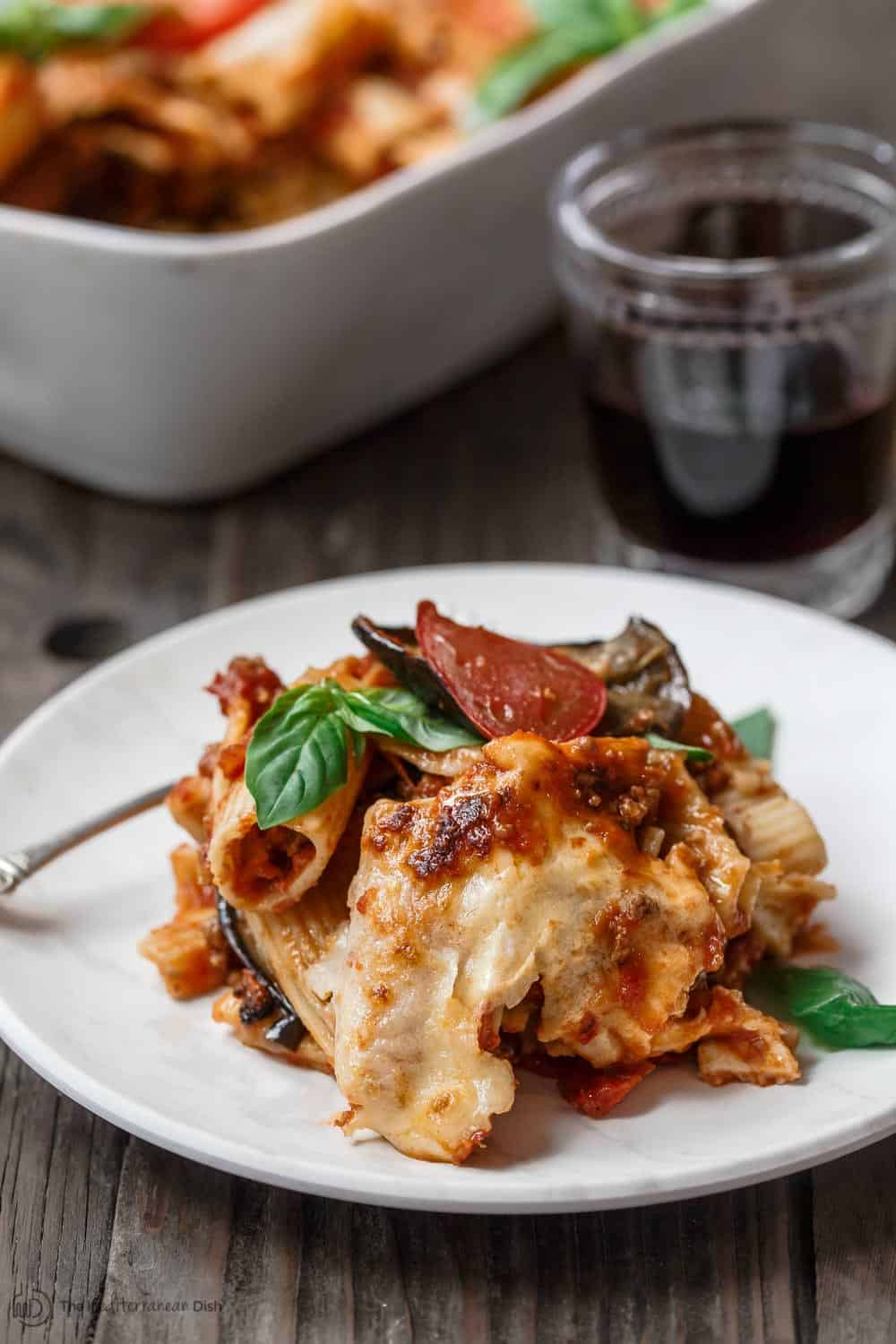 Vegan eggplant recipe ideas
I have an entire list of about 60 vegan recipes, but the following recipes are all about eggplant! And they're recipes you'll be making on repeat, whether or not you follow a vegan way of eating! Here are some vegan eggplant recipes to try:
Caponata is a quintessential Sicilian dish. It's a relish made of eggplant and other vegetables, olives, and capers. For a little sweetness, I add raisins and honey. Toasted pine nuts are a crunchy finishing touch.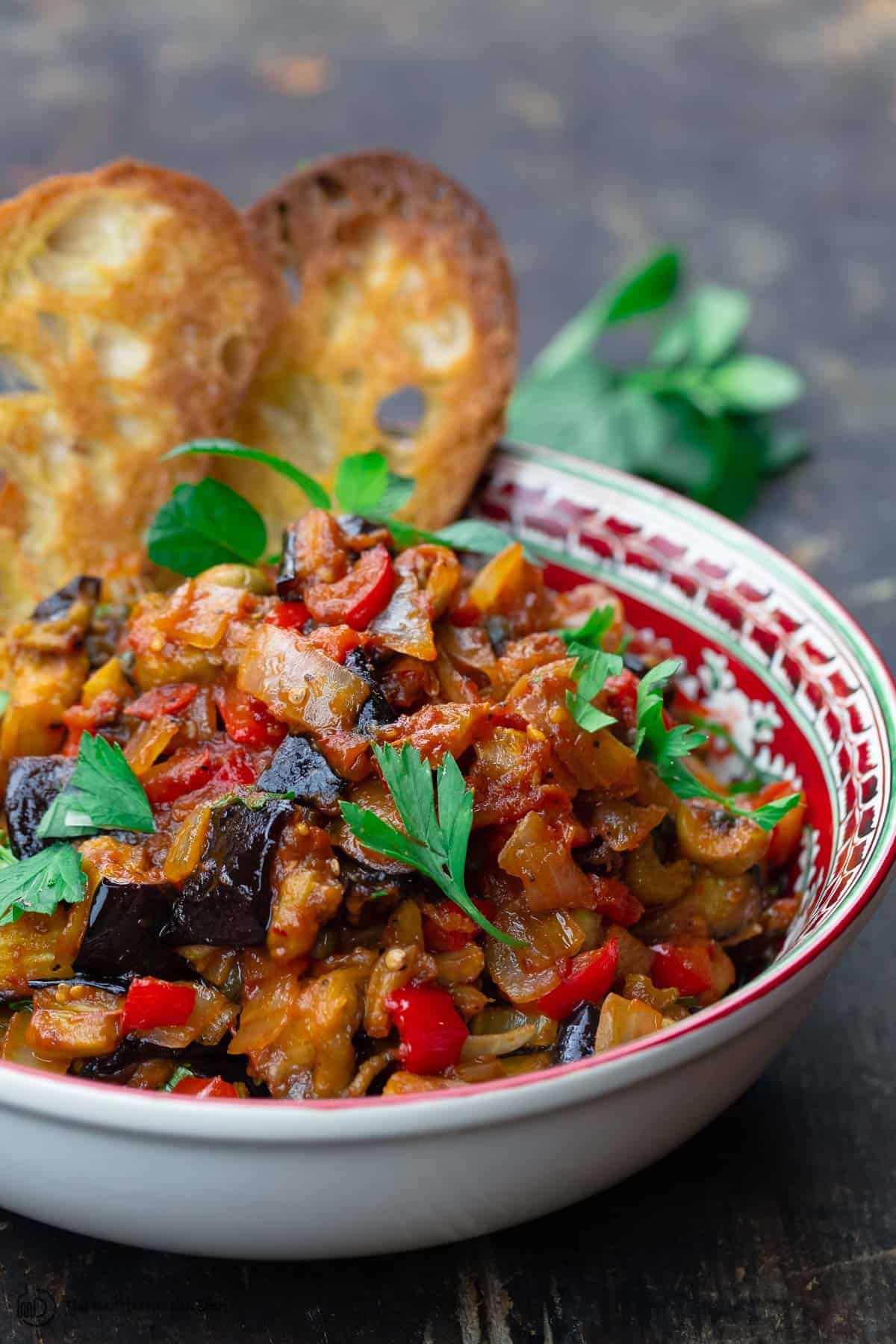 Plant-based friends, you need to try these vegan "meatballs"! With their rich and robust flavor, even eggplant skeptics will be begging for more. While this recipe takes a little longer to prepare, it's well worth the effort! Serve these "meatballs" with some spaghetti sauce or as an appetizer with tzatziki.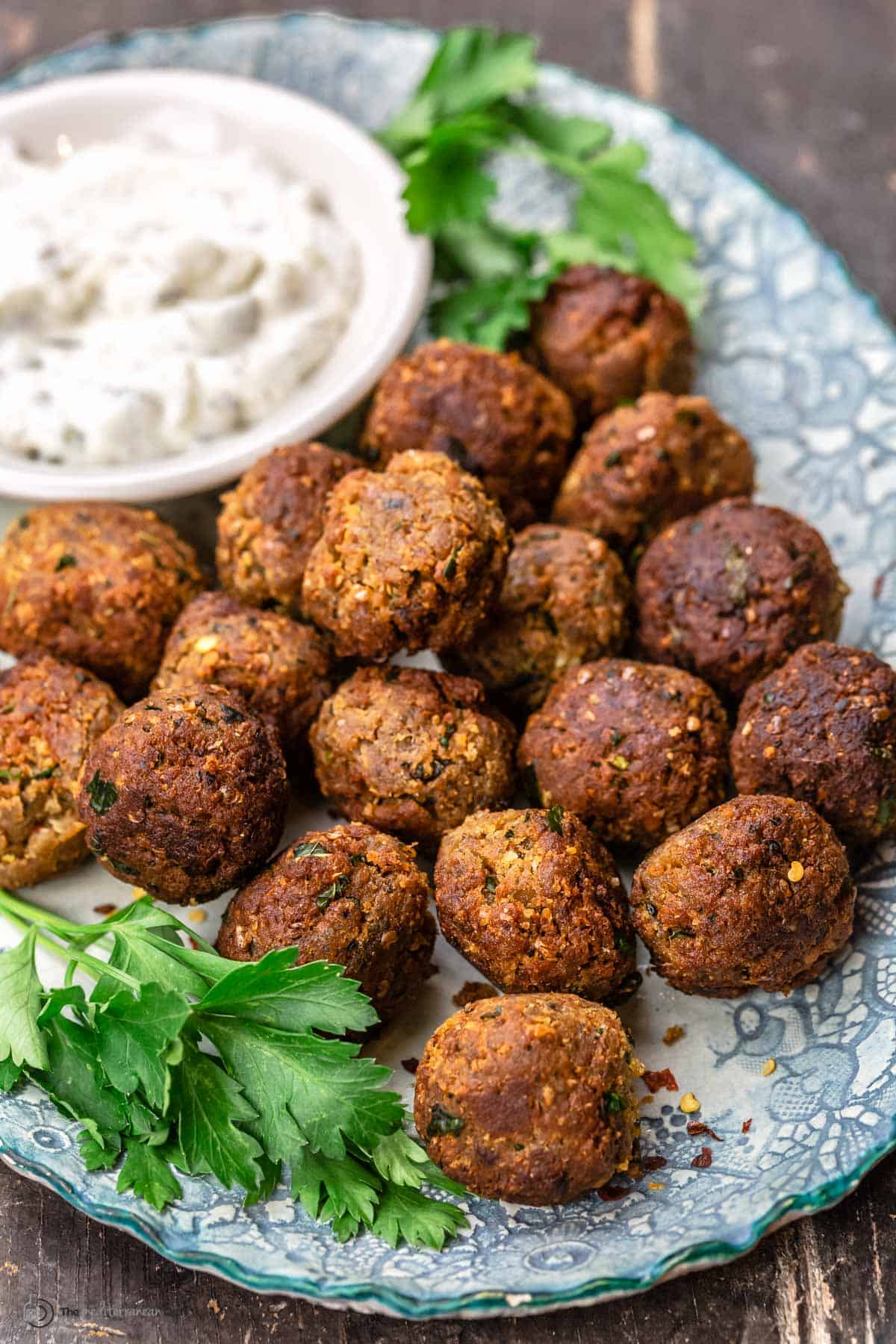 Fried Eggplant with Green Peppers and Tomatoes
This humble Turkish-style fried eggplant dish is so versatile! With your favorite grain or some warm pita, it's a tasty vegan main. Or, serve it as an appetizer with other mezze favorites. And, gluten-free friends, you'll be happy to know there's no batter or flour coating! The eggplant goes into the oil "naked", as it were.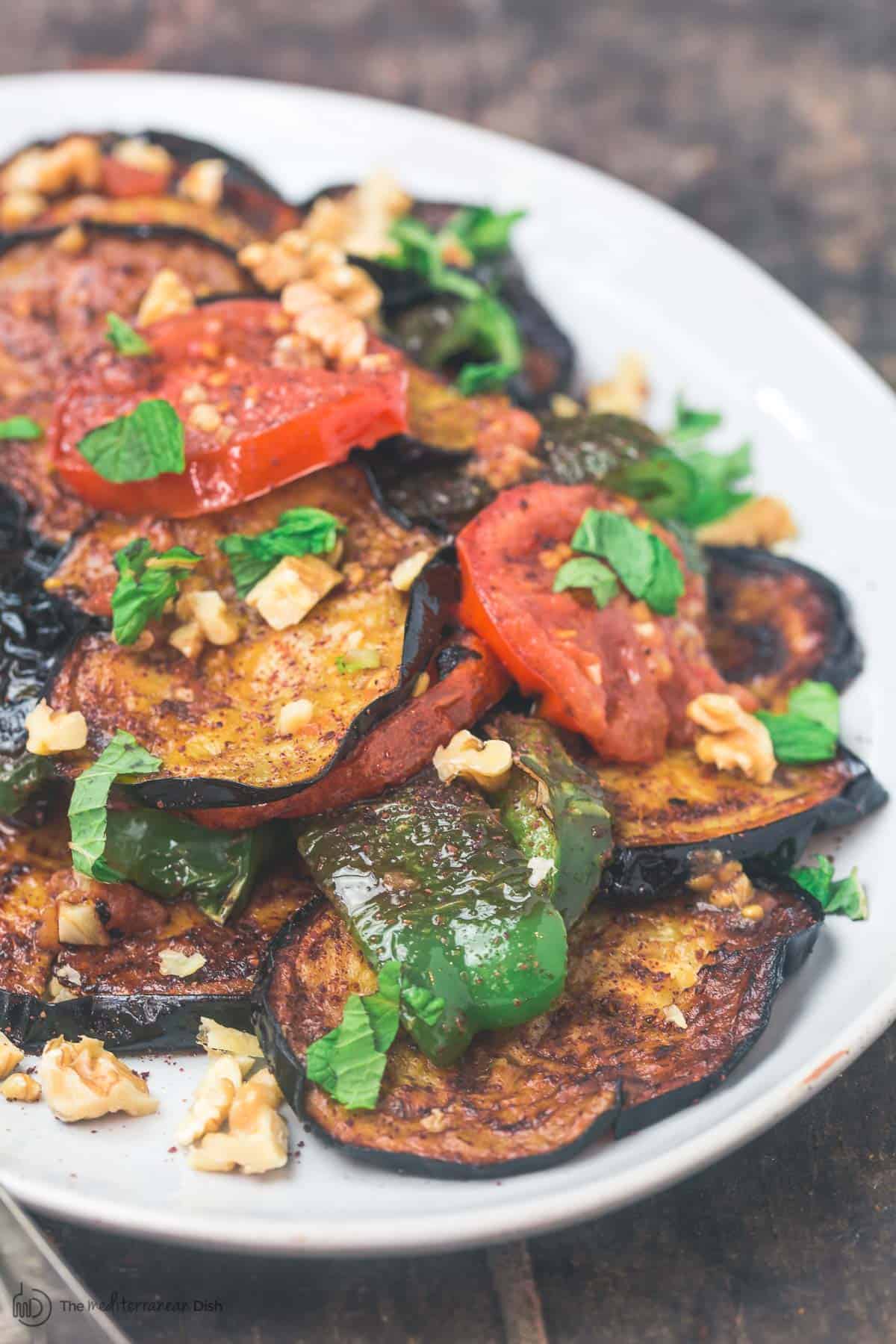 Eggplant dips
Mmm, eggplant dips. Probably the most popular eggplant dip is baba ganoush (I actually have two recipes on the blog!), but have you ever tried melitzanosalata? It shares some similarities with baba ganoush, with a few tweaks that give it a decidedly individual flavor profile. Try these eggplant dips:
You'll love my family's baba ganoush recipe (eggplant dip)! Smoky eggplant, tahini, garlic, and citrus – what could be better? For best flavor, grill the eggplant whole over an open flame. Halving it and baking in the oven works as well, but the smoky flavor will be lost. Serve baba ganoush as part of a mezze platter, with chicken kabobs, or alongside a salad and protein for dinner bowls!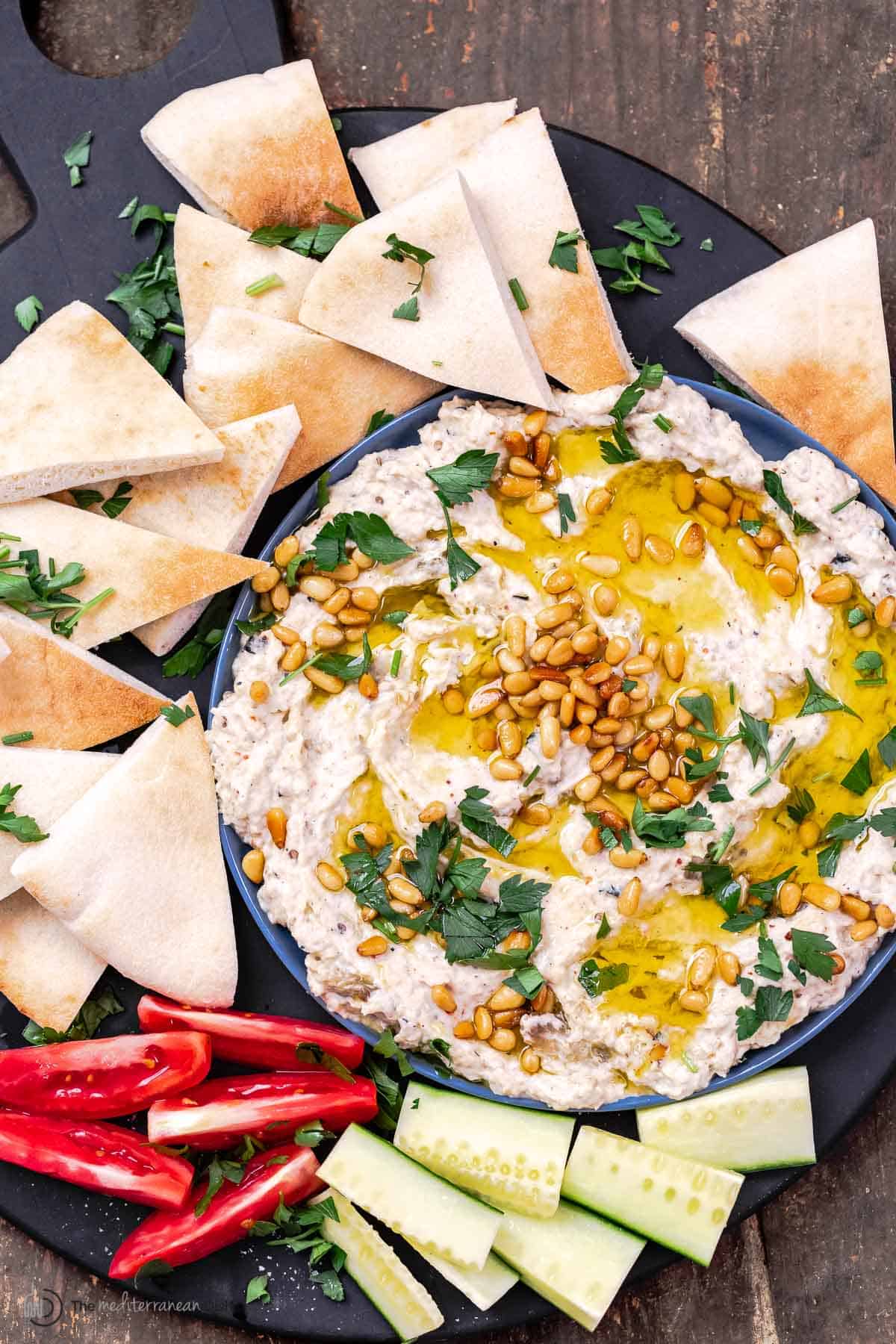 Melitzanosalata Recipe (Greek Eggplant Dip)
Melitzanosalata is a rustic Greek eggplant dip containing roasted eggplant, garlic, parsley, red onions, lemon juice, and extra virgin olive oil. For the authentic, smoky taste of melitzanosalata, cook the eggplant over high heat on a gas burner or grill. Baking the eggplant works as well, if you don't mind missing out on the smoky flavor.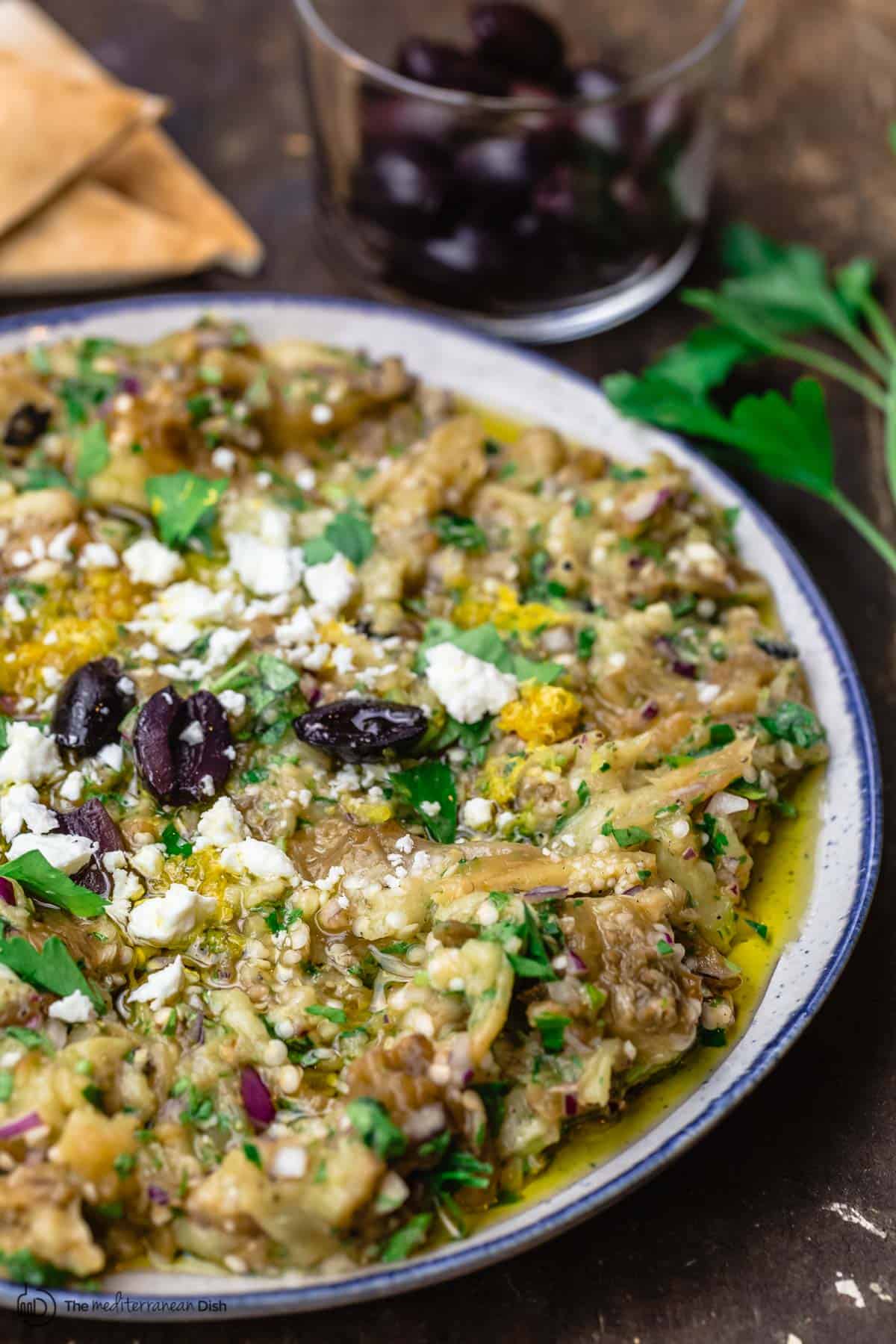 While I can eat classic baba ganoush by the bowl, this version is a must-try! And all you need to do is make baba ganoush and load it with a few scoops of my 3-ingredient Mediterranean salad. Voila! An addictive smoky eggplant dip. One step I recommend is letting the baba ganoush rest, covered, in the fridge for about 30 minutes before adding the salad topping. This allows the flavors to meld, and will also help the consistency.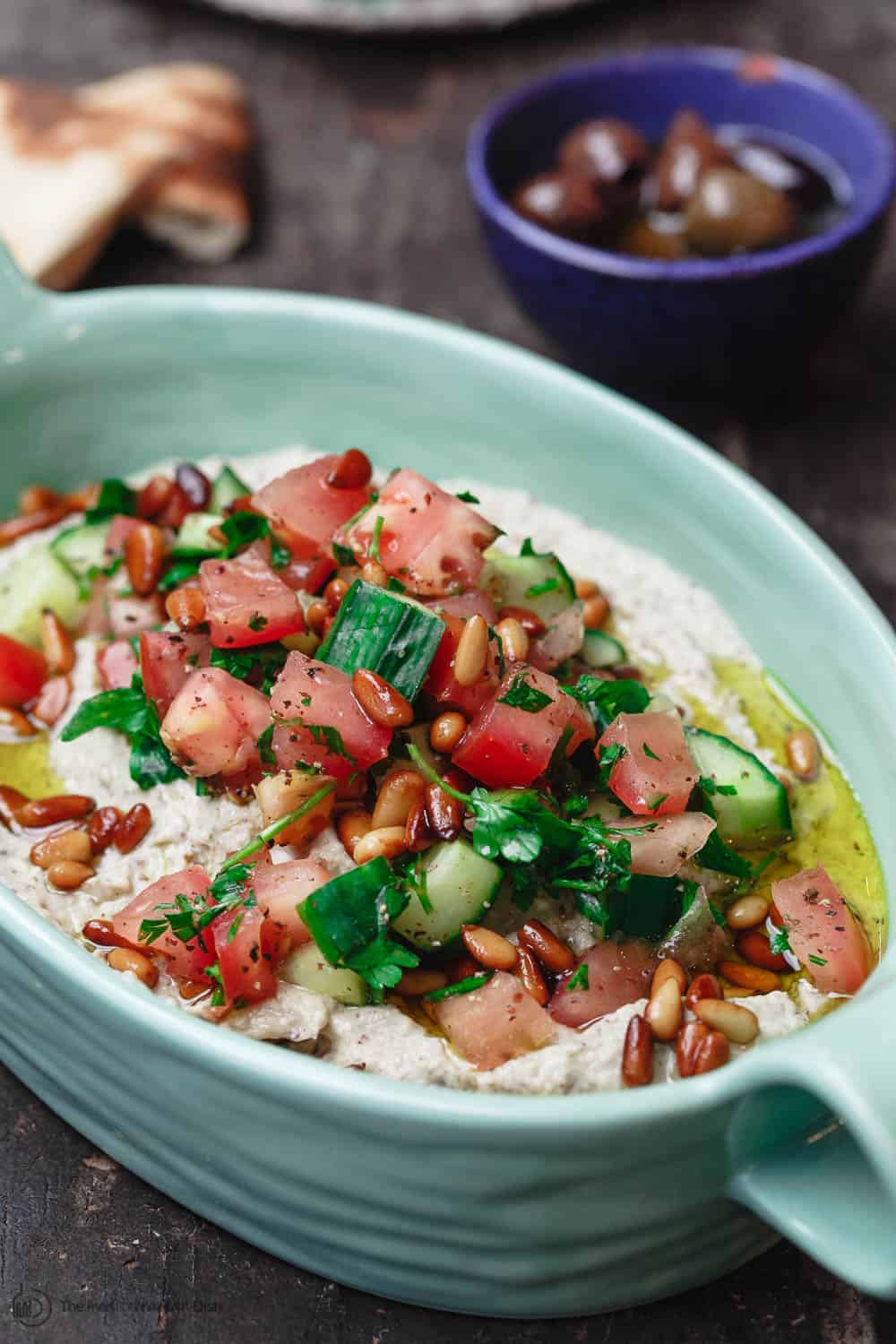 More eggplant recipe ideas
Cut into batons and breaded, cooked in a stew, or tossed with pasta – see what I mean about eggplant being versatile? You have to try these recipes:
Yes, you read right. Eggplant fries. My easy baked eggplant fries are the perfect snack or appetizer for a crowd. Perfectly crispy on the outside and tender on the inside. And prep couldn't be easier! Simply cut the eggplant into batons and coat with a simple breading. Bake and enjoy with a dipping sauce of your choice. (I usually go with tzatziki.)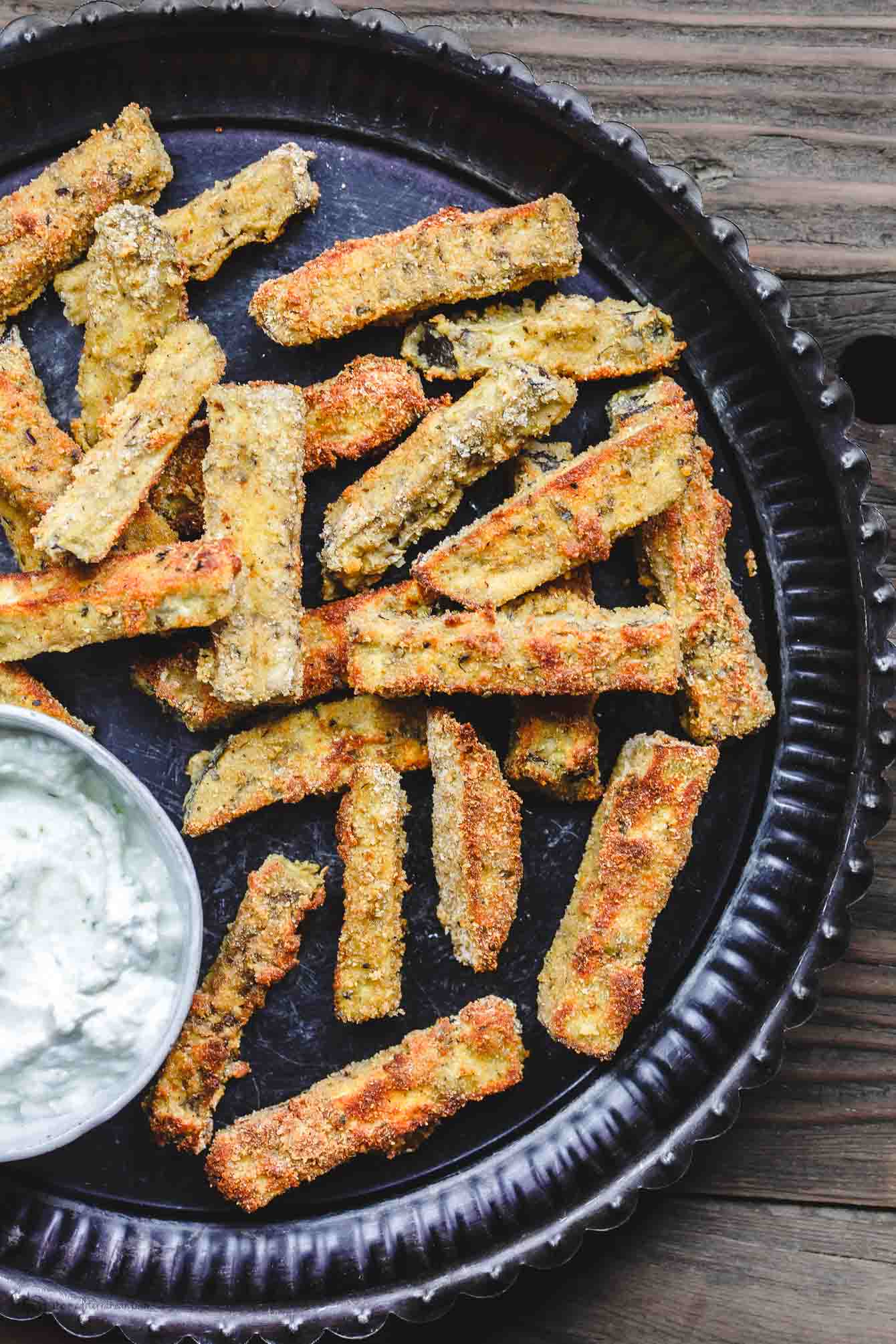 Ratatouille is a classic vegetable stew from Provence, France, with tomatoes, eggplant, and a medley of other vegetables. I love that, because it's even better after a day or two, ratatouille is the perfect make-ahead meal! You can also make a big batch and freeze some for later.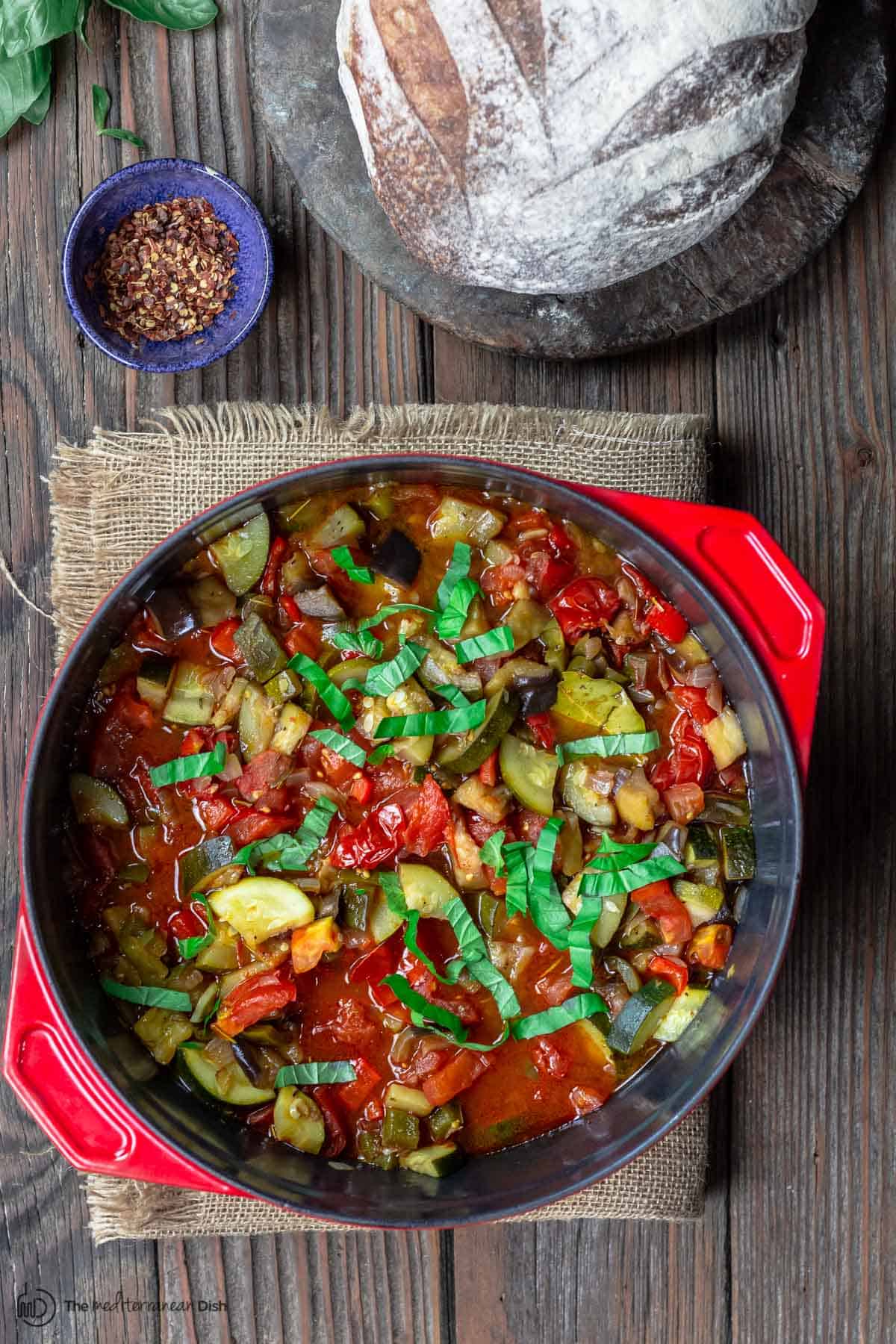 Pasta alla norma is a satisfying one-pan Sicilian pasta dish with eggplant, herby tomato sauce, and ricotta salata cheese. It's a vegetarian recipe that even meat-lovers will enjoy! Pasta alla norma is delicious with a simple white bean salad or arugula salad.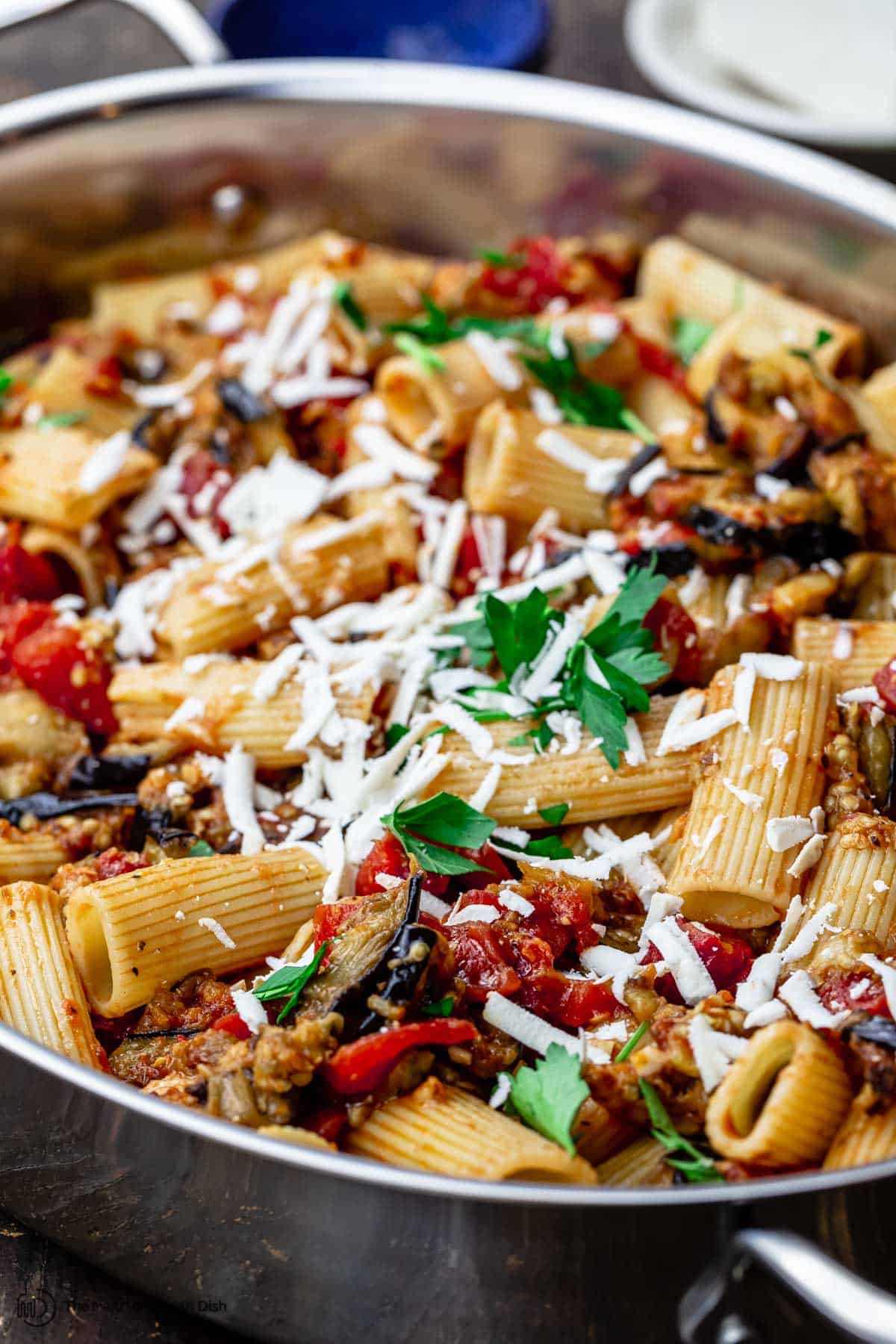 Other recipe roundups you may like
Browse more Mediterranean recipes

Visit Our Shop
21+ Easy Eggplant Recipes You'll Love: Mediterranean Grilled Eggplant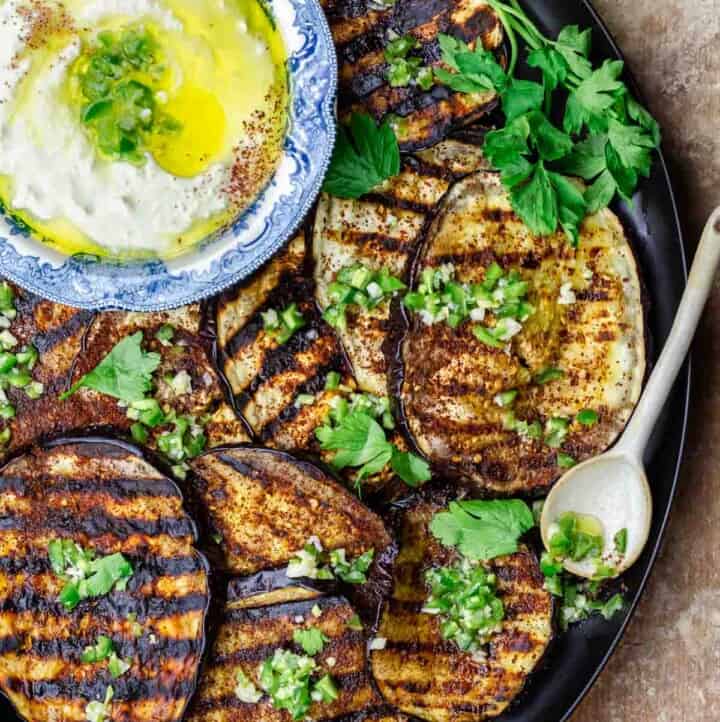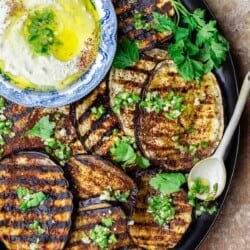 Eggplant is such a versatile ingredient! It's delicious braised, fried, baked, and grilled! Tender and perfectly charred, this Mediterranean Grilled Eggplant is finished with a drizzle of olive oil. It's a warm and smoky appetizer you'll be making on repeat!
Ingredients
1

globe eggplant,

sliced into ½-inch rounds

Kosher salt
Olive Oil, Garlic, and Jalapeno Sauce
2

garlic cloves,

minced

1

lemon,

juice of

1

jalapeno,

finely chopped (remove ribs and seeds if you need it to be more mild)

1 to 2

teaspoons

sumac
Instructions
Slice and salt the eggplant. Lay the eggplant slices on a large tray lined with paper towel. Salt the eggplant generously and let it sit for 20 to 30 minutes while you work on other things. Beads of water will form. Wipe the eggplant dry and remove excess salt before grilling.

Make the garlic, jalapeno and olive oil sauce. In a small bowl, combine 3 tablespoons olive oil with the lemon juice, garlic, and jalapeno. Add a pinch of kosher salt and set aside. (The lemon and olive oil will tame the hot peppers and the pungent taste of garlic).

When ready, heat a gas grill or an indoor griddle over medium-high and lightly oil the grates. Make sure the grill is fully heated before adding the eggplant.

Brush the eggplant slices on one side with olive oil.

Arrange the eggplant on the heated grill, oiled side down first. Grill anywhere for 3 to 4 minutes on this side or until some char marks form on the bottom, then turn over and brush the other side of the eggplant with olive oil. Cook for another 3 to 4 minutes or until the eggplant is tender and good char marks have formed on both sides.

Arrange the grilled eggplant on a large platter and immediately season with sumac and drizzle the olive oil and jalapeno mixture all over. Add warmed pita bread for serving.
Notes
This eggplant recipe is best served immediately off the grill with the olive oil and garlic sauce on top and a side of whipped feta.
Whipped feta can be made one night ahead and saved in the fridge.
Other flavors to add: If you don't want to make the olive oil sauce or the whipped feta, grilled eggplant is great with any number of seasonings. I like to add a dash of za'atar or even dukkah on top.
Leftovers: Store leftovers in the fridge in a tight-lid container for up to 3 days. I don't recommend reheating, you can enjoy it cold or at room temperature with a salad of your choice.
Nutrition information is a best estimate and pertains only to the grilled eggplant with olive oil sauce. The Whipped Feta Recipe can be viewed separately
Visit Our Shop for quality Mediterranean ingredients including extra virgin olive oils and spices.
Nutrition
Calories:
106
kcal
Carbohydrates:
6.6
g
Protein:
1
g
Saturated Fat:
1.3
g
Polyunsaturated Fat:
1
g
Monounsaturated Fat:
6.6
g
Sodium:
2.3
mg
Potassium:
209.5
mg
Fiber:
2.9
g
Sugar:
3.3
g
Vitamin A:
46.8
IU
Vitamin C:
14.3
mg
Calcium:
13.7
mg
Iron:
0.4
mg