My newest casserole obsession: baked rigatoni with Mediterranean-spiced meat sauce, layers of broiled eggplant and fresh tomato! For those times when you need a comforting, still lighter, everything-in-one dish!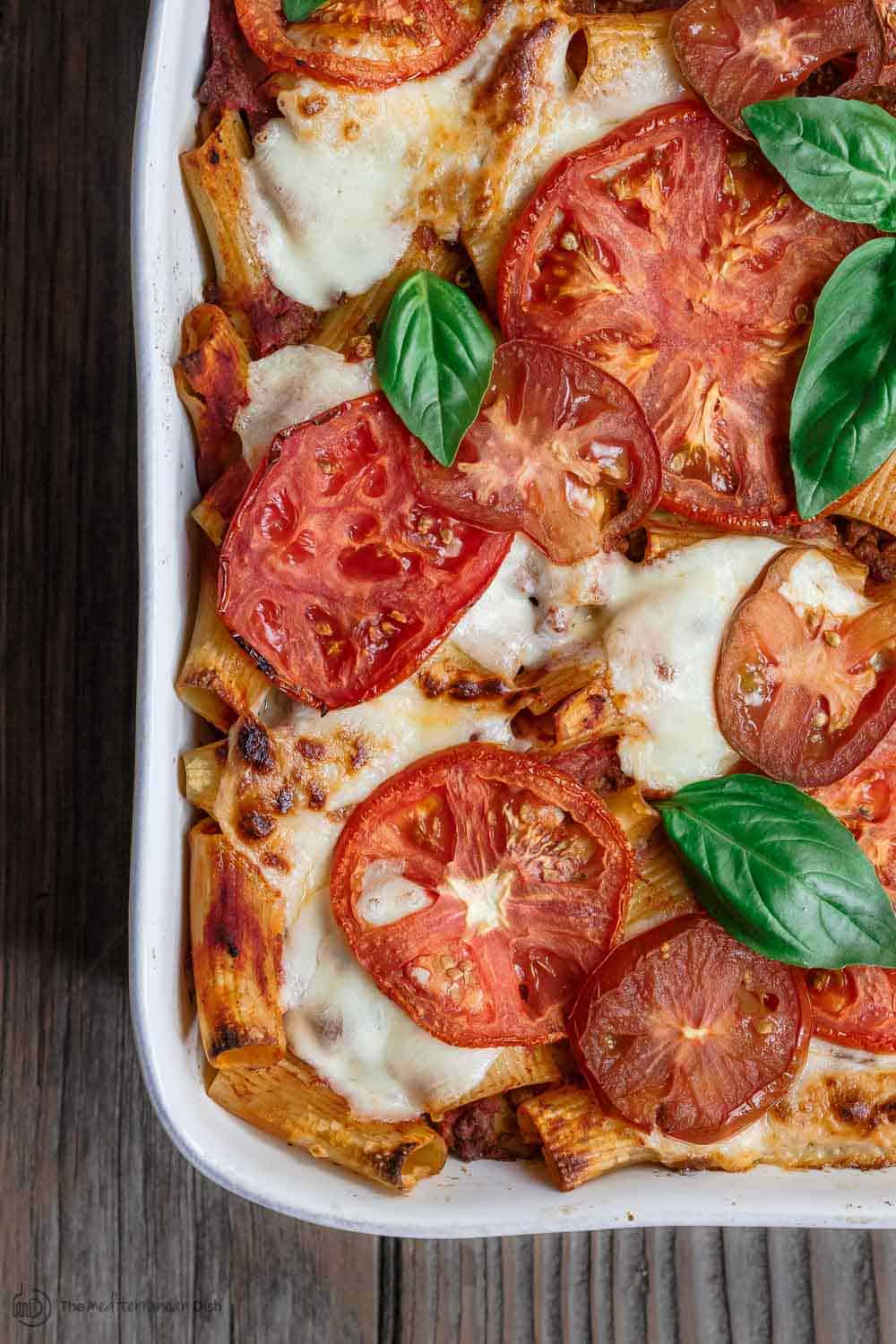 Rigatoni is one of those large, satisfying pastas that I keep on hand for chaotic, comfort-demanding times. We all have those, right?
Admittedly, my aim with this baked rigatoni was to have a complete meal–meat, veggies, and starch- all in one tidy casserole. In my book, it's a dream meal when you don't have to prepare a bunch of "filler" side dishes.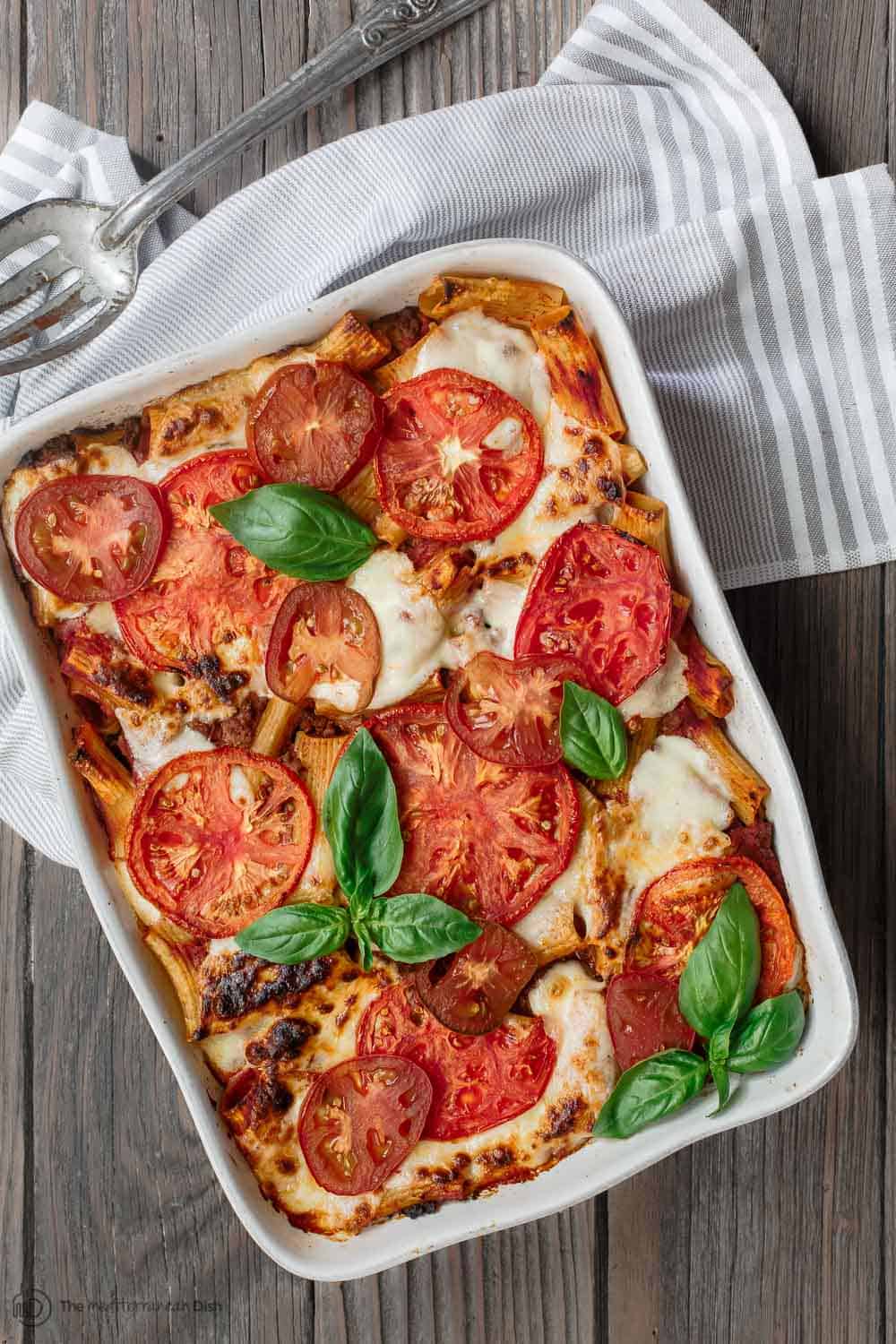 Yes, as with most casseroles, this baked rigatoni is one of those some-assembly-required dishes. But, you can definitely prepare it in advance and pop it in the oven the next day.
In a nutshell, it's layers of cooked rigatoni pasta, broiled eggplant, and an exceptionally tasty Mediterranean-spiced tomato meat sauce nestled in between. You can use lean ground beef or even turkey, but the secret to the sauce is in the aromatics. Fresh onions, garlic, and a killer trio of quality all-natural and organic spices: sweet Spanish paprika; nutmeg, and Rosemary.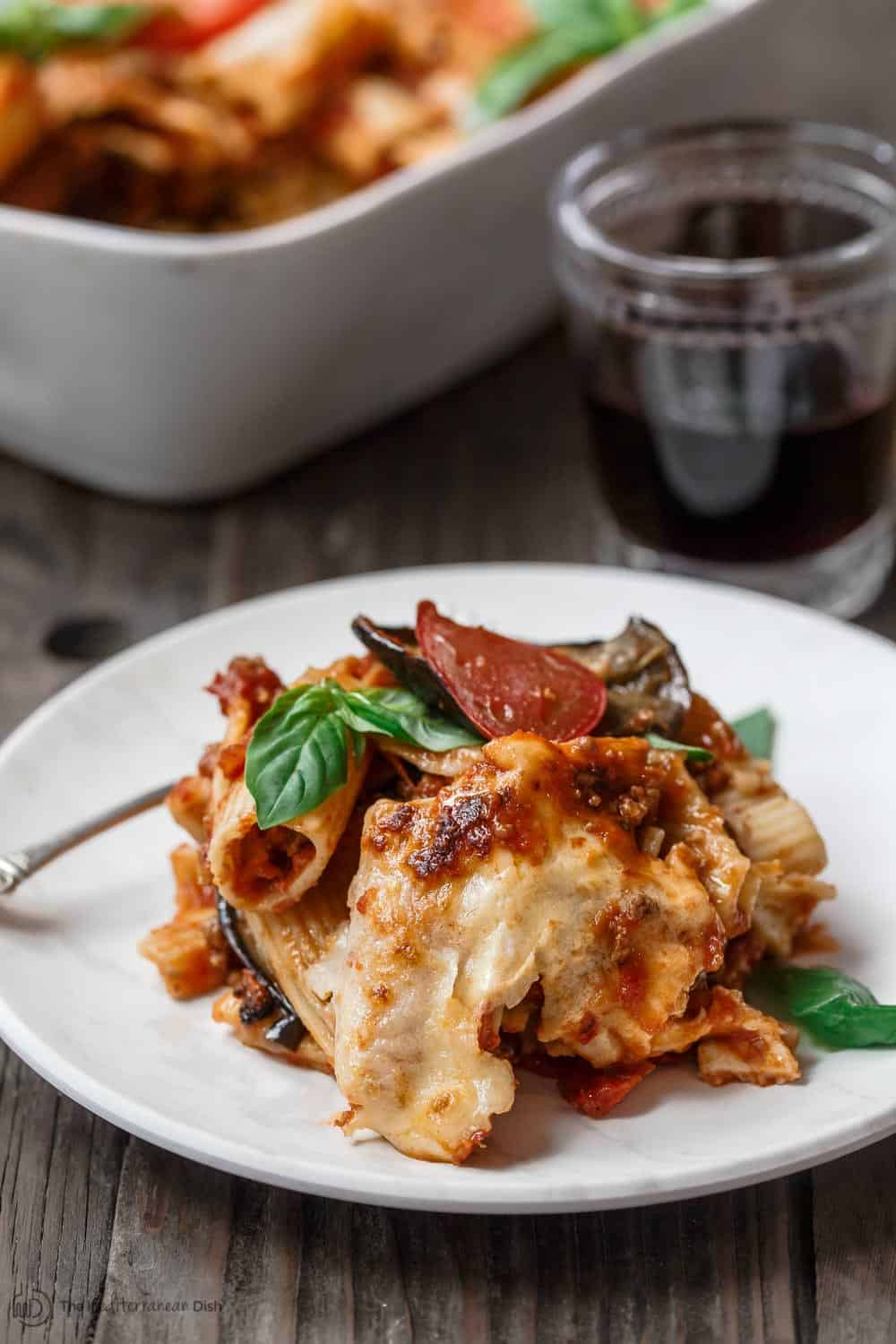 I chose to keep cheese to a minimum; just a top melty layer of fresh mozzarella, which you can increase or omit as you need to.
All you need is your favorite wine and a great green salad to complete the feast!
Try this Simple Mediterranean Salad, fattoush, or Greek salad, for example.
Print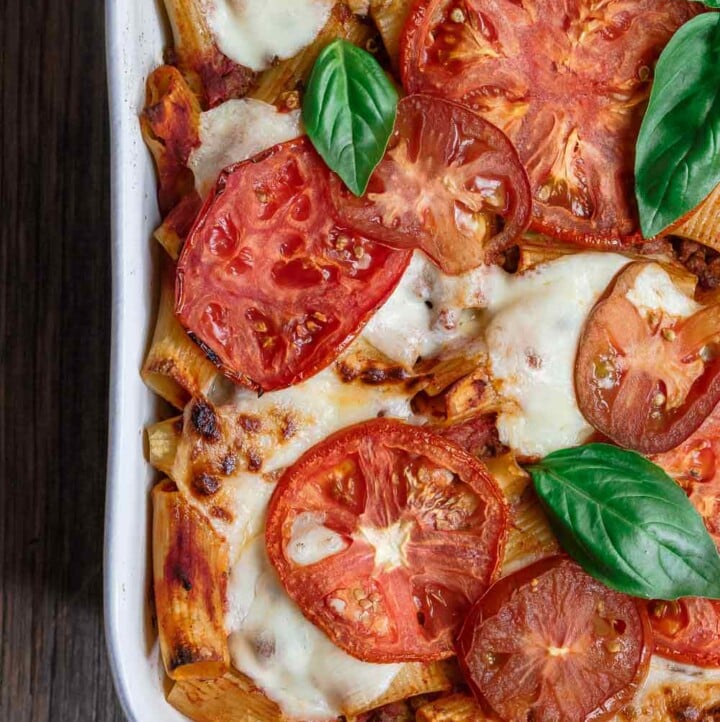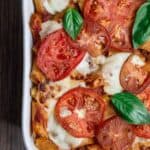 Baked Rigatoni with Tomatoes and Eggplant
---
Author:

The Mediterranean Dish

Prep Time:

20 mins

Cook Time:

45 mins

Total Time:

1 hour 5 minutes

Yield:

serves

6

to

8

1

x
Description
My newest casserole obsession: baked rigatoni with Mediterranean-spiced meat sauce, layers of broiled eggplant and fresh tomato! For those times when you need a comforting, still lighter, everything-in-one dish!
---
Scale
Ingredients
1

eggplant (about

1

lb), thinly sliced

1

lb Rigatoni pasta
Water
Salt

1

small onion, finely chopped

2

garlic cloves, minced

1

lb lean ground beef OR ground turkey

1 tsp

Spanish paprika

1 tsp

ground nutmeg

1 tsp

dried Rosemary

1/2 tsp

black pepper

26 oz

canned or boxed crushed tomatoes

15 oz

tomato sauce

1

large tomato, sliced

6 oz

fresh mozzarella, more to your liking (optional)
Handful fresh basil leaves
---
Instructions
Prepare Eggplant. Place eggplant slices on a large tray. Sprinkle generously with salt and set aside for 20 minutes or so (the eggplant will sweat out any bitterness). Pat dry when ready.
Turn your oven on broil. Spray or brush the eggplant generously with extra virgin olive oil. Place on top rack of heated oven to broil for 4-5 minutes or so, watching very carefully. The eggplant should "wilt" and brown. Remove from heat and set aside.  (you will need to switch oven to bake later)
Prepare Pasta. Cook pasta in boiling water to al dante according to package instructions. This might take about 11 minutes or so.  I like to add a generous pinch of salt and about 1 tbsp extra virgin olive oil to the boiling water. When ready, drain, reserving a little bit of the pasta cooking water.
Prepare meat sauce. While the pasta is cooking, heat 2 tbsp extra virgin olive oil in a large deeper pan like this one . Cook the onions over medium-high heat until translucent, about 3 minutes, tossing regularly. Add garlic and cook for another minute, again tossing regularly.
Leaving the heat on medium-high, add meat and spices, salt and black pepper. Using a wooden spoon, break the meat into smaller piece, continue to stir until meat is fully cooked through and has browned. On most stoves, this will take 7 minutes or so.
Now add the canned crushed tomatoes and tomato sauce. Bring to a boil, then lower to simmer for 15 minutes or so. Carefully taste and adjust salt, if needed add more salt.
Preheat oven to 375 degrees F and position a rack in the middle.
Assemble the rigatoni casserole. Spoon a little bit of the meat sauce to cover the bottom of a large 14 x 10 x 3 deep baking dish like this one. Add about 1/2 of the pasta. Assemble the broiled eggplant on top, then add half the meat sauce. Now add the remaining pasta and top with the remaining meat sauce. Finally, assemble fresh tomatoes and mozzarella slices on the very top.
Place on middle rack of heated oven. Bake for 20 minutes or so. If needed, switch to broil and place rigatoni casserole back on top rack briefly. Watch carefully until top of the rigatoni casserole gains some good color (you're looking for some of the pasta to even crisp up…the tomato and mozzarella may char or brown in some spots).
Serve hot with a side of green salad of your choice. You might also like this simple Mediterranean salad, Fattoush or this traditional Greek salad.
---
Category:

Entree

Method:

Baked

Cuisine:

Mediterranean
Keywords: Baked Rigatoni, Italian Pasta, Rigatoni, Tomato Sauce, Tomatoes, Eggplant
More Recipes To try:
Simple Mediterranean Olive Oil Pasta
Blackened Chicken and Spaghetti
Greek Chicken and Potato Dinner
Italian Skillet Chicken with Tomatoes and Mushrooms