Hands down the best baked rigatoni recipe I've tried! Layers of tender pasta, a Mediterranean spiced meat sauce, eggplant, and fresh tomatoes, all topped with a thin layer of melty fresh mozzarella. A tasty and comforting pasta bake with meat and veggies all-in-one!
Be sure to read through for important tips and prepare-ahead instructions.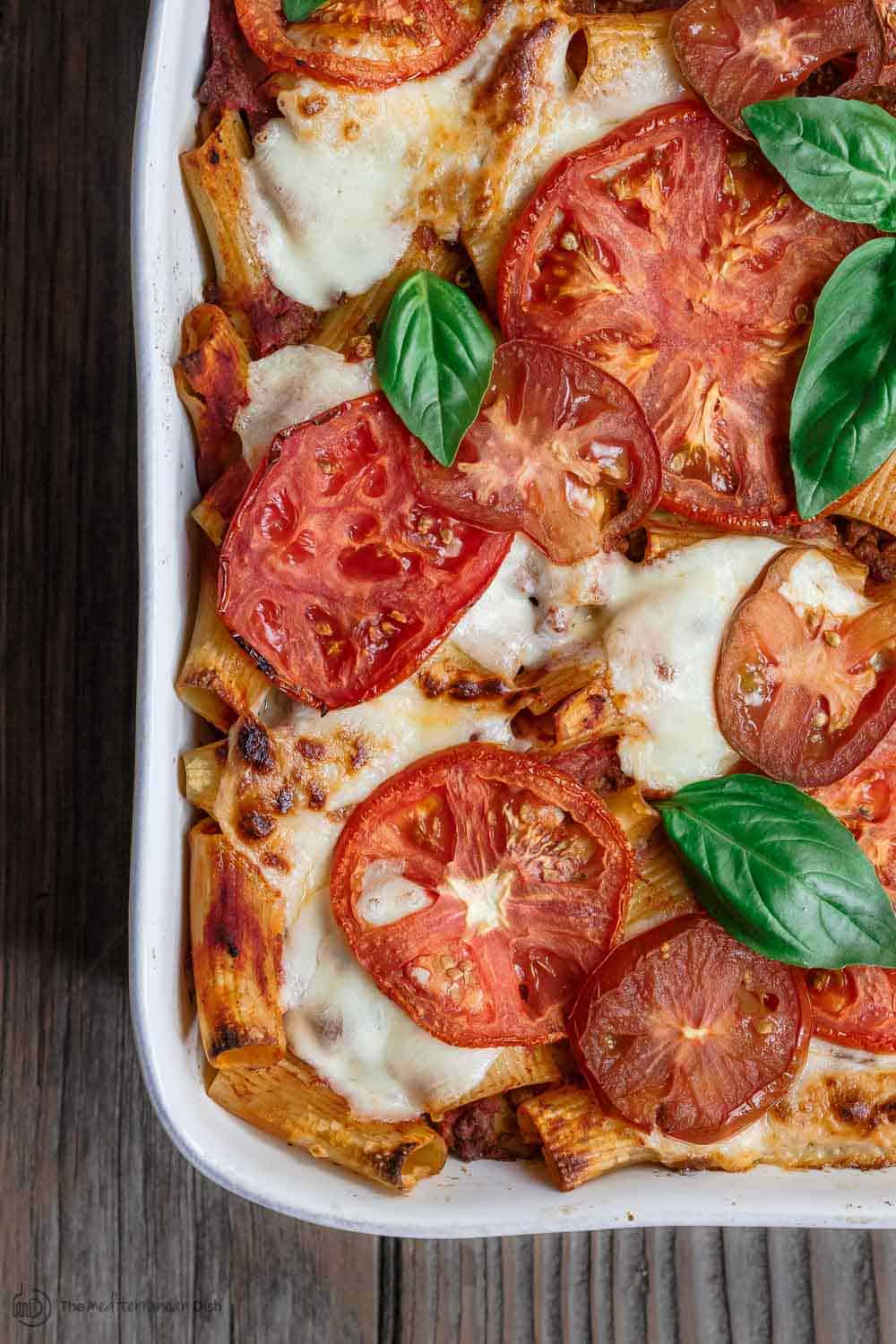 Baked Rigatoni with a Twist
I don't know anyone who isn't a fan of pasta. And a baked pasta "casserole" takes it to a new level of comfort.
Rigatoni, which are short and wide tubes of pasta, are the perfect option for a hearty pasta bake. They're satisfying and can hold up well in a baked pasta dish – no mushy or overcooked pasta here.
My main goal with this baked rigatoni was to make complete all-in-one meal: meat, veggies, and starch all packed into one tidy casserole. No extra fuss or side dishes are needed, unless you're like me and you're itching for a big fresh salad to go along!
So what's this rigatoni pasta bake all about? In a nutshell, we have layers of cooked pasta and a hearty Mediterranean-spiced meat sauce. Broiled eggplant and fresh slices of tomato snuck in (optional.) On top, a thin layer of melty fresh mozzarella; you don't need mounds of cheese to make a comforting baked pasta dish!
Into meal-prep? Yes, this pasta casserole takes a bit of time to put together with a couple layers involved, but the good news is, you can absolutely prepare it a day or so in advance pop it in the oven the following day. (More on meal prep etc. below)
Read on to learn more about what's in this bubbly, belly-warming baked pasta with meat sauce.
Ingredients
All the ingredients in this baked rigatoni are layered, but in a no-fuss, rustic way. The layers go something like this: meat sauce, pasta, veggies, more sauce, more pasta, and a top thin layer of mozzarella with a few slices of tomatoes. So let's walk through the ingredients in each layer:
- Spiced tomato meat sauce: this sauce is what infuses the baked rigatoni with a Mediterranean flair. Onions and garlic are sautéed. Later a trio of killer spices like Spanish paprika, nutmeg, and rosemary are added along with ground beef OR turkey (spices are available in our online shop.) Canned tomato sauce and crushed tomatoes finish the meat sauce as it simmers for 15 minutes. All of the flavors fuse together for a warm flavor-packed sauce. The sauce is layered at the bottom of the dish twice in-between the pasta and veggie layers.
- Pasta: Rigatoni cooked to just al dante or even slightly before, this way it doesn't get overcooked in the oven. One half of the cooked pasta goes in over the first layer of sauce and the other half goes in after veggies and more sauce.
- Veggies (optional): quick-broiled eggplant are nestled in mid-way through the casserole, while fresh sliced tomatoes go on the very top for a beautiful finish. If you're after baked rigatoni with meat sauce only, you can skip the eggplant and tomato. Or, if you want to use other veggies, you can try quick-broiled zucchini or roasted red peppers in place of the eggplant! Totally make this your own glorious rigatoni bake.
- Cheese: there is less cheese involved here than you'll find in most baked pasta dishes. I like just a thin layer of melty fresh mozzarella on top. And if you can't do cheese, you can totally omit the mozarella.
- Garnish: fresh basil finishes this beautiful baked rigatoni for a pop of bright green and bright, herby flavor. I highly recommend you add the basil.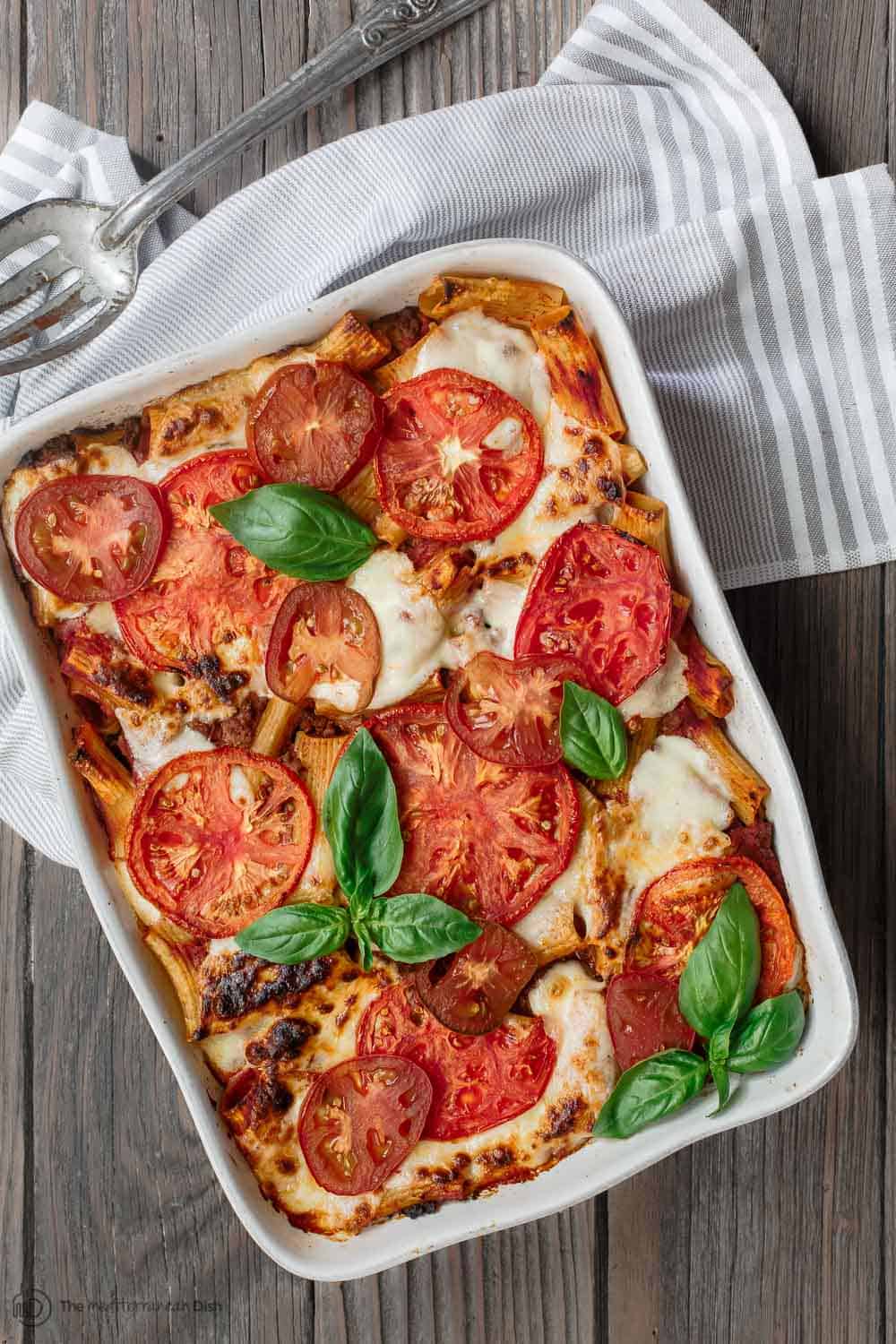 What's the difference between penne and rigatoni?
If you're thinking what other pasta can be used in this baked rigatoni dish? The closest answer is penne.
But while penne and rigatoni have similarities, they are also quite different. Penne is a short cut pasta that is cut on a diagonal and is smooth on the outside. It is a tube-like shape, but the tube is narrow.
Rigatoni is larger than penne pasta, has a distinctive large tubular shape, and little ridges all around the outside of the pasta. Rigatoni is one of the best kinds of pasta for allowing the sauce to collect inside the tube and hold onto even more sauce with the outer ridges.
How to Make Baked Rigatoni with Meat Sauce and Veggies
Step 1: Prepare eggplant and broil in the oven (optional)
If using eggplant, thinly slice eggplant and place slices on a tray then sprinkle with kosher salt. Letting the salt sit for 20 minutes draws out bitterness and moisture. Pat dry, place eggplant slices on a large lightly-oiled baking sheet and brush the eggplant tops with a little extra virgin olive oil. Broil for just about 5 minutes till the eggplant wilts.
Step 2: Cook the pasta
I typically do this right after salting the eggplant. Follow the cooking instructions on the pasta box. Cook just till al dante; it may take 10 to 11 minutes. Drain the pasta but reserve some pasta water to use later in the meat sauce.
Step 3: Prepare the meat sauce
To a deep pot or pan, add a little extra virgin olive oil (by the way, I used Private Reserve EVOO) and finely minced onion. Cook onions for 3 minutes or until they get tender. Add in the minced garlic and cook quickly, stirring constantly so the garlic does not burn. Now, add the meat, spices (paprika, nutmeg, rosemary, black pepper.) Season with a pinch of kosher salt. Break up the meat with a wooden spoon and give it all a good mix. Cook until the meat is browned and completely cooked. Add your tomato sauce and crushed tomatoes, stir, and simmer for 15 minutes.
Step 5: Assemble rigatoni casserole.
Heat oven to 375 degrees F.
Spoon some of the sauce into the bottom of casserole dish so it covers the bottom. Layer in ½ the cooked pasta. If adding eggplant or other veggies, lay over the pasta layer. The next layer is ½ of the meat sauce, then the other half of the pasta, then the remaining meat sauce. Top with sliced tomatoes and fresh mozzarella cheese if you'd like!
Step 6: Bake!
Bake on the middle rack for about 20 to 25 minutes. When it is ready it will look hot, bubbly, and melty. Take out of the oven and garnish the fresh basil leaves if you have on hand. Enjoy!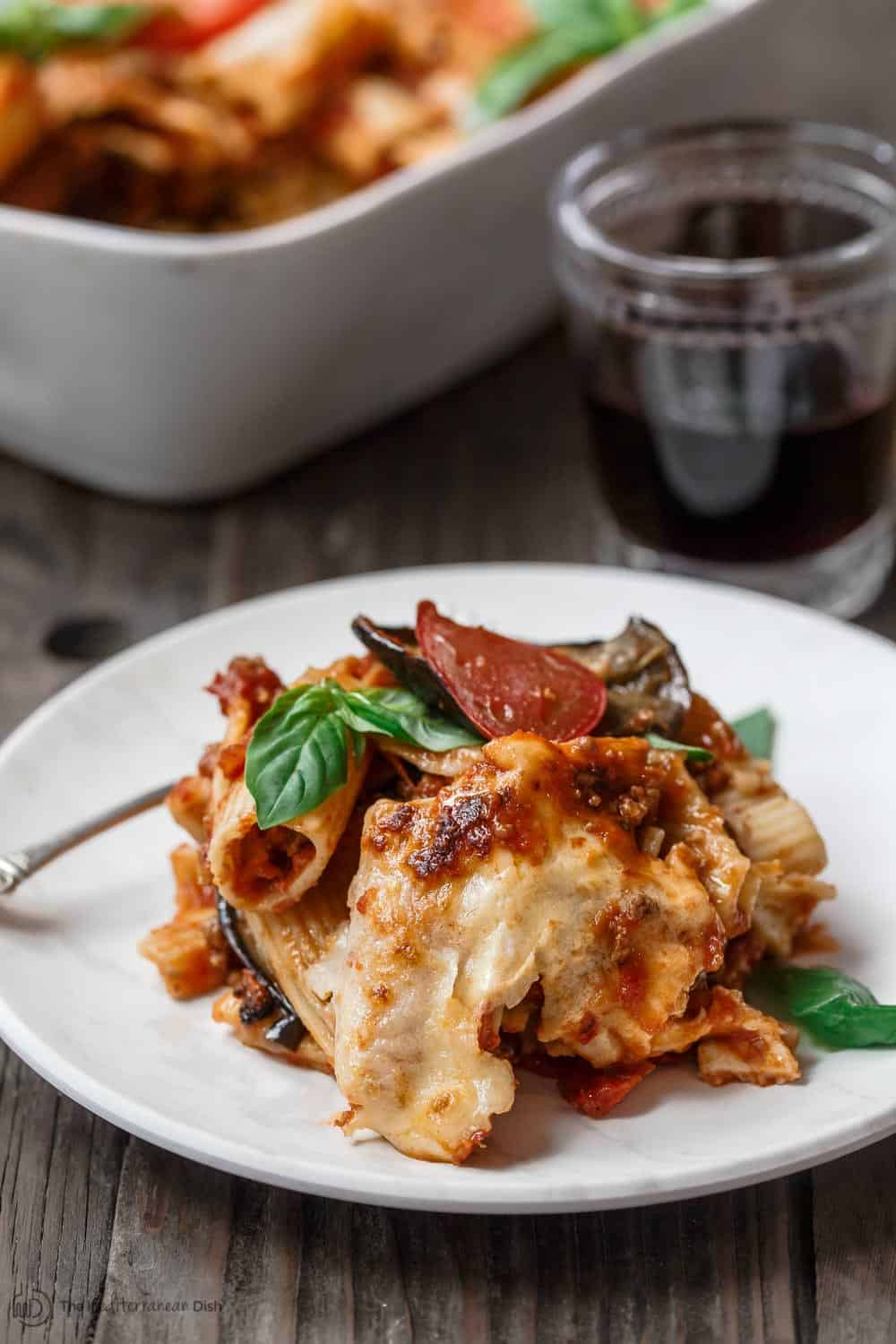 A few tips
While this is a simple pasta recipe, a few tips make all the difference:
Don't skip salting the eggplant. If you are using eggplant, you don't want to skip the salting process. This helps the flavor and ensures the eggplant doesn't release too much water in the baking process. You don't want bitter and watery eggplant in your pasta casserole.
Don't overcook your pasta. Overcooked pasta will make your casserole mushy and the texture will be too soft. Cook the rigatoni until al dente (this means there is still a little firmness and chewy bite to the pasta,) or even slightly before. Remember, the pasta will go in the oven for a bit still.
Adding sauce to the bottom first keeps the pasta from sticking. By adding a spoonful or 2 of the meat sauce to the bottom of the baking dish, it ensures your pasta won't burn and stick to the bottom.
Swap ground beef for ground turkey or chicken. If you don't eat red meat or want to make this even healthier, opt for lean ground chicken or turkey. Equally as tasty, but with less fat.
Pasta bake make ahead and freezing instructions
Prepare ahead:
Prepare and assemble the entire rigatoni pasta bake all the way up to the baking step. Keep the casserole dish tightly wrapped in plastic wrap overnight in the fridge. You can even keep it unbaked for up to 2 days.
When you are ready to bake, it helps to pull it out of the fridge and let it come to room temperature. Bake as normal for 20 minutes in a 375-degree oven.
How to freeze your baked rigatoni:
Assemble the casserole as usual and bake for the allotted time.
Take out of the oven and allow the dish to cool completely.
Cover tightly and place in the freezer (I like adding several layers to cover a casserole dish.)
When you are ready to bake it, you can bake it frozen in a preheated 350-degree oven for about 1 hour.
Important: If your baking dish is not freezer to oven friendly, you have 2 options. Either assemble and bake in a disposable aluminum tray or let your dish thaw for about 1-2 hours before baking it in the oven. Otherwise, you risk your dish shattering in the oven.
What to serve along?
The true beauty of this pasta bake is the fact it's a complete meal on its own. You really don't need to add anything else. But pairing with a fresh salad is always a good idea.
Go for a simple Greek salad, chickpea salad, or Mediterranean tomato and cucumber salad.
Craving more pasta? Try this simple Mediterranean olive oil pasta or broccoli pasta with white beans!
For all recipes, visit us here. And be sure to view our collection of Mediterranean diet recipes.
NEVER MISS A RECIPE! JOIN MY FREE E-MAIL LIST HERE.
SHOP OUR ONLINE STORE FOR QUALITY OLIVE OILS, ALL-NATURAL SPICES AND MORE.
Print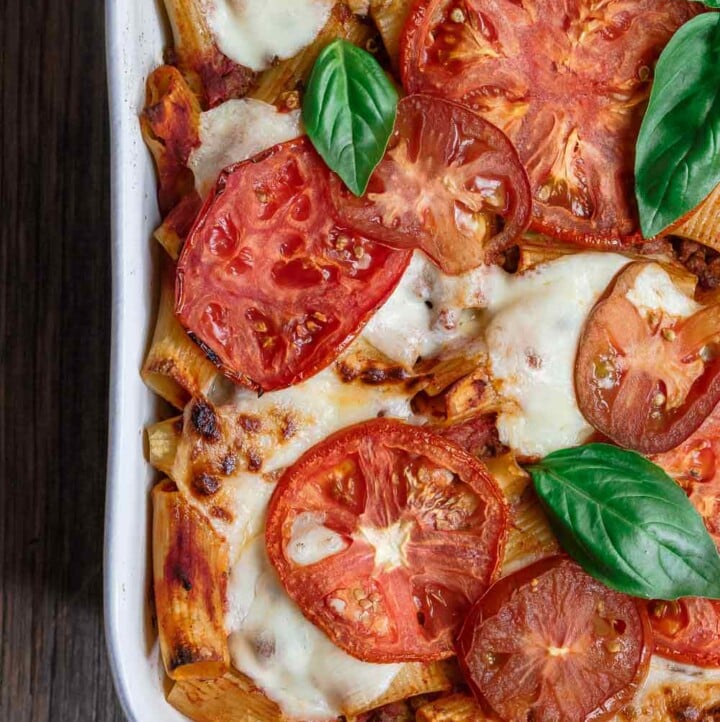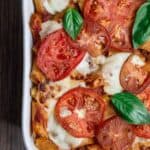 Baked Rigatoni with Tomatoes and Eggplant
---
Author:

The Mediterranean Dish

Prep Time:

20 mins

Cook Time:

45 mins

Total Time:

1 hour 5 minutes

Yield:

12

pieces

1

x
Description
Hands down the best baked rigatoni recipe I've tried! Layers of tender pasta, a Mediterranean spiced meat sauce, eggplant, and fresh tomatoes, all topped with a thin layer of melty fresh mozzarella. A tasty and comforting pasta bake with meat and veggies all-in-one!
---
1

eggplant (about

1

lb), thinly sliced

1

lb Rigatoni pasta (or penne pasta)
Water
Salt
Extra Virgin Olive Oil (I used Private Reserve Greek EVOO)

1

small onion, finely chopped

2

garlic cloves, minced

1

lb lean ground beef OR ground turkey

1 tsp

Spanish paprika

1 tsp

ground nutmeg

1 tsp

dried Rosemary

½ tsp

black pepper

26 oz

canned or boxed crushed tomatoes

15 oz

tomato sauce

1

large tomato, sliced

6 oz

fresh mozzarella, more to your liking (optional)
Handful fresh basil leaves
---
Instructions
Prepare Eggplant. Place eggplant slices on a large tray. Sprinkle generously with salt and set aside for 20 minutes or so (the eggplant will sweat out any bitterness). Pat dry when ready.
Turn your oven on broil. Spray or brush the eggplant generously with extra virgin olive oil. Place on top rack of heated oven to broil for 4-5 minutes or so, watching very carefully. The eggplant should "wilt" and brown. Remove from heat and set aside. (you will need to switch oven to bake later)
Prepare Pasta. Cook pasta in boiling water to al dante according to package instructions. This might take about 11 minutes or so. I like to add a generous pinch of salt and about 1 tbsp extra virgin olive oil to the boiling water. When ready, drain, reserving a little bit of the pasta cooking water.
Prepare meat sauce. While the pasta is cooking, heat 2 tbsp extra virgin olive oil in a large deeper pan like this one . Cook the onions over medium-high heat until translucent, about 3 minutes, tossing regularly. Add garlic and cook for another minute, again tossing regularly.
Leaving the heat on medium-high, add meat and spices, salt and black pepper. Using a wooden spoon, break the meat into smaller piece, continue to stir until meat is fully cooked through and has browned. On most stoves, this will take 7 minutes or so.
Now add the canned crushed tomatoes and tomato sauce. Bring to a boil, then lower to simmer for 15 minutes or so. Carefully taste and adjust salt, if needed add more salt.
Preheat oven to 375 degrees F and position a rack in the middle.
Assemble the rigatoni casserole. Spoon a little bit of the meat sauce to cover the bottom of a large 14 x 10 x 3 deep baking dish like this one. Add about ½ of the pasta. Assemble the broiled eggplant on top, then add half the meat sauce. Now add the remaining pasta and top with the remaining meat sauce. Finally, assemble fresh tomatoes and mozzarella slices on the very top.
Place on middle rack of heated oven. Bake for 20 minutes or so. If needed, switch to broil and place rigatoni casserole back on top rack briefly. Watch carefully until top of the rigatoni casserole gains some good color (you're looking for some of the pasta to even crisp up...the tomato and mozzarella may char or brown in some spots).
Serve hot with a side of green salad of your choice. You might also like this simple Mediterranean salad, Fattoush or this traditional Greek salad.
Notes
Prepare ahead instructions. You can assemble the rigatoni up to step #8 a night or two in advance. Cover tightly and refrigerate. Bring to room temperature before baking, step #9.
Freezing instructions: You can fully prepare and bake this casserole. Let cool completely, then cover tightly and freeze. Best to use a freezer-to-oven safe casserole dish so that you can bake it directly from frozen. Otherwise, let it thaw out for a couple of hours before baking.
Visit our Online Shop to browse quality Mediterranean ingredients including olive oils and spices used in this recipe.
Category:

Entree

Method:

Baked

Cuisine:

Mediterranean
Keywords: Baked Rigatoni, Italian Pasta, Rigatoni, Tomato Sauce, Tomatoes, Eggplant
* This post first appeared on The Mediterranean Dish in 2017 and has been updated with new information and media for readers' benefit. Enjoy!