This list of best fish recipes will delight fish lovers and fish skeptics alike! From the perfect, never-dry salmon to flaky baked cod with bold Greek flavors, trout piccata, saucy fish soups, and more. Plus, tips for how to cook fish perfectly every time!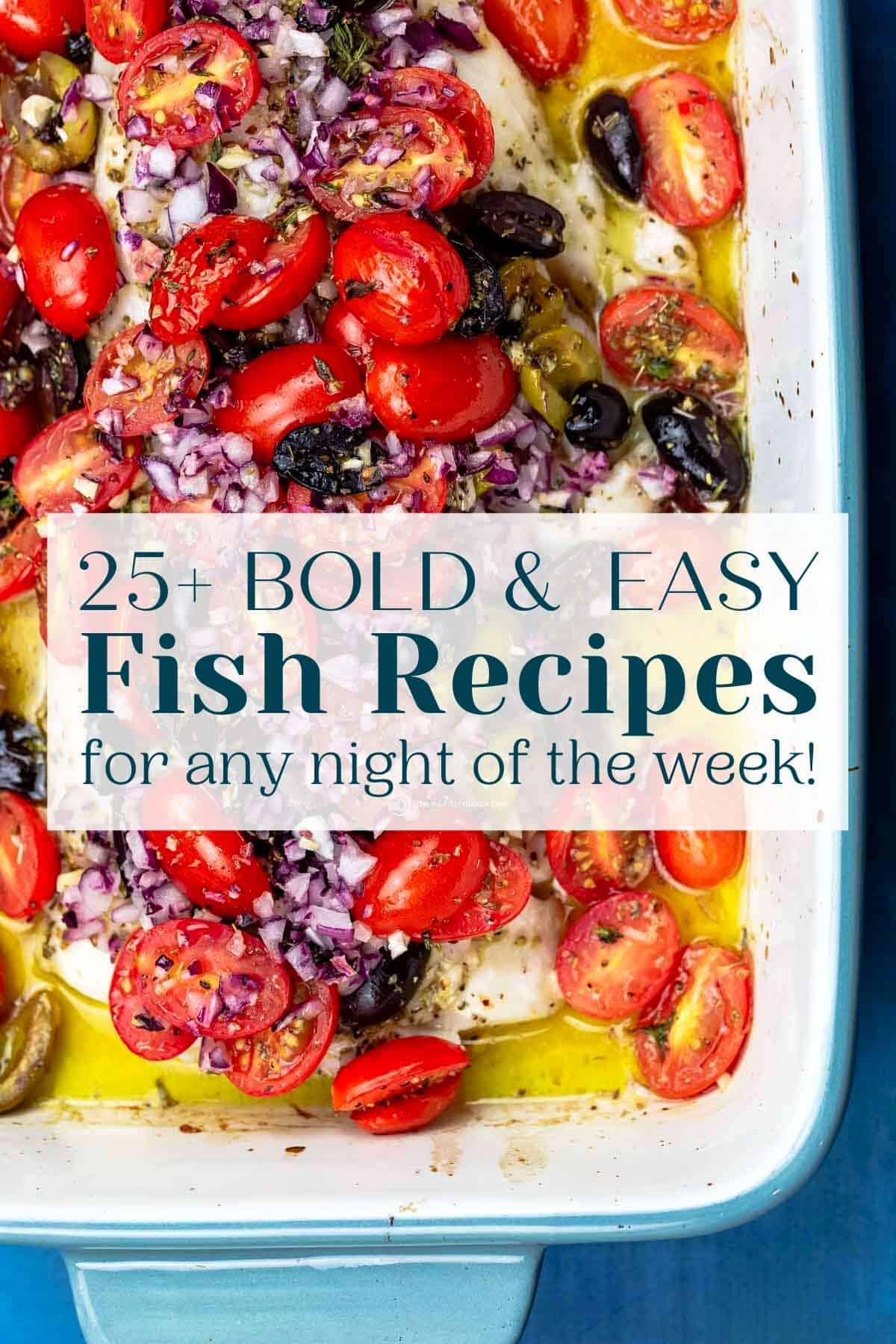 Fish recipes anyone can make
Loaded with important nutrients, including protein, vitamins, and Omega-3 fatty acids (which are good for the heart and the brain), fish is one of the healthiest foods to eat and is an essential Mediterranean diet ingredient.
Luckily, there are many ways to cook fish—grilled, baked, fried, or stewed—adding some bold flavors, from the classic lemon and garlic which I love over baked cod, to something more unique and daring like a spicy harissa baked salmon or a saucy one-pot fish coated in warm Moroccan flavors.
Most fish and shrimp dinners I make can be ready in about 20 minutes (including prep), so I like to prepare any sides or salads ahead of time to serve the fish as soon as it has finished cooking.
If you're open to some bold seafood dinner recipes, you'll find something tasty on this list of easy fish recipes! And for my friends who don't cook fish or seafood often, I've also included answers to common questions and tips for how to cook your fish perfectly every time (toward the bottom of this post).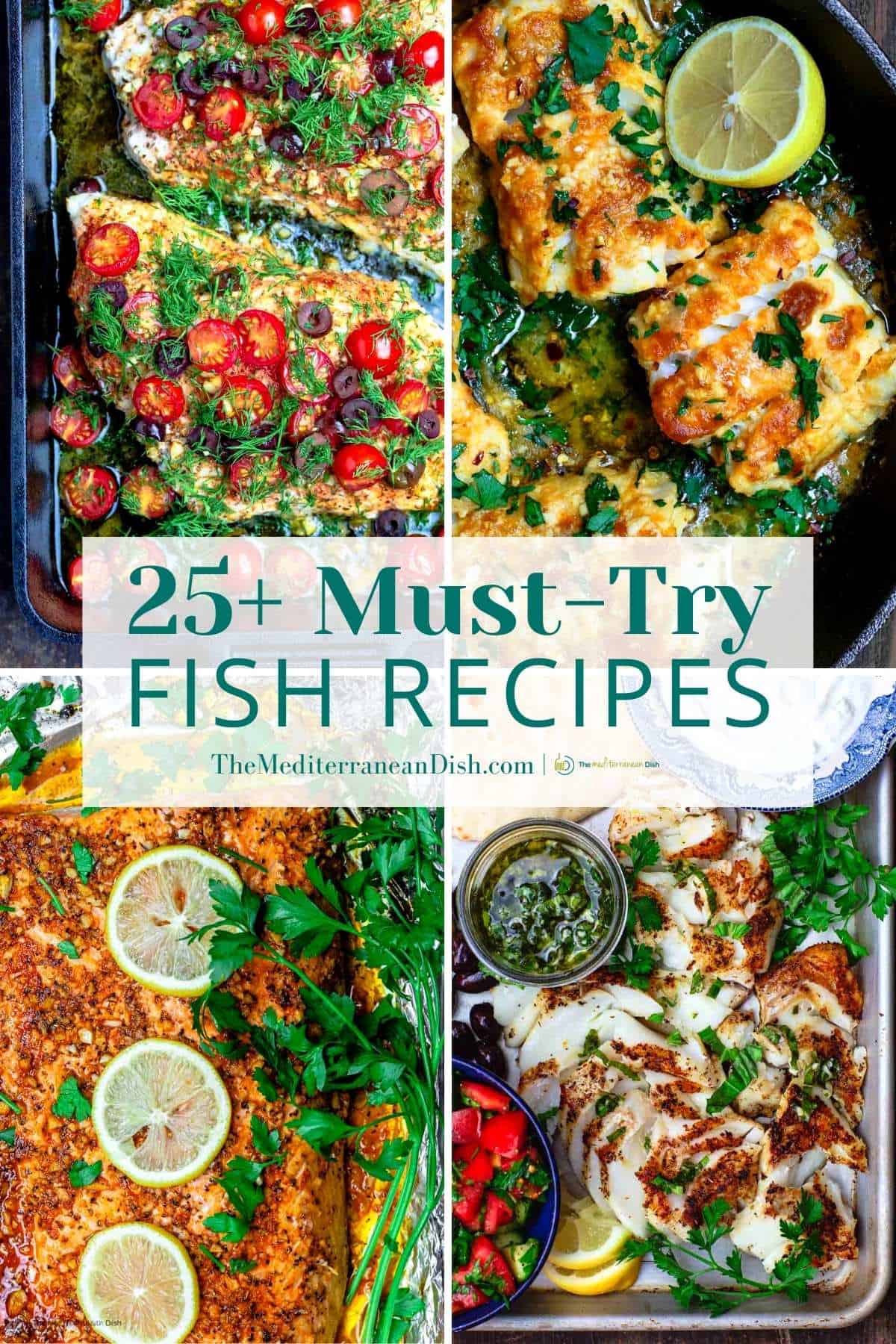 Our top 5 fish recipes
These fan favorite fish dinners are popular for a reason: They're easy, quick, and delicious! Here are my top 5 fish recipes:
Baked Cod Recipe with Lemon and Garlic

Tender, perfectly flaky cod with very little effort! You'll love the lemon-garlic sauce. If you don't have cod, any flaky white fish fillets (such as red snapper and halibut) would work. Serve lemon garlic cod with crispy broccoli, oven fries, or fattoush salad.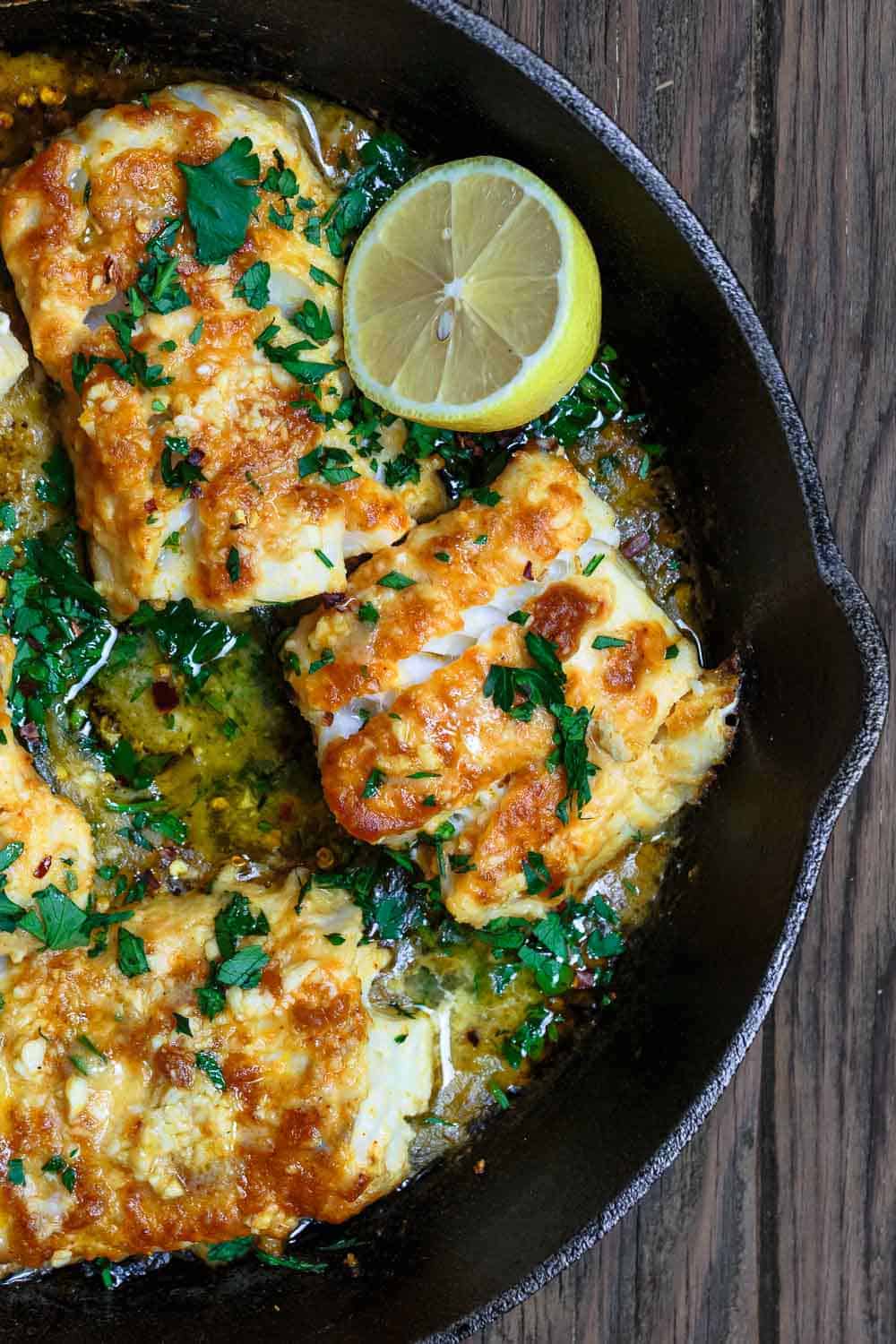 Mediterranean-Style Baked White Fish
This flavorful baked white fish is seasoned with oregano and garlic and a mixture of tomatoes, olives, and red onions. Use any white fish fillet you like: Cod, halibut, grouper, and sea bass would all be excellent choices! Serve baked white fish with lemon rice, couscous or your favorite grain, and a big salad like Greek salad.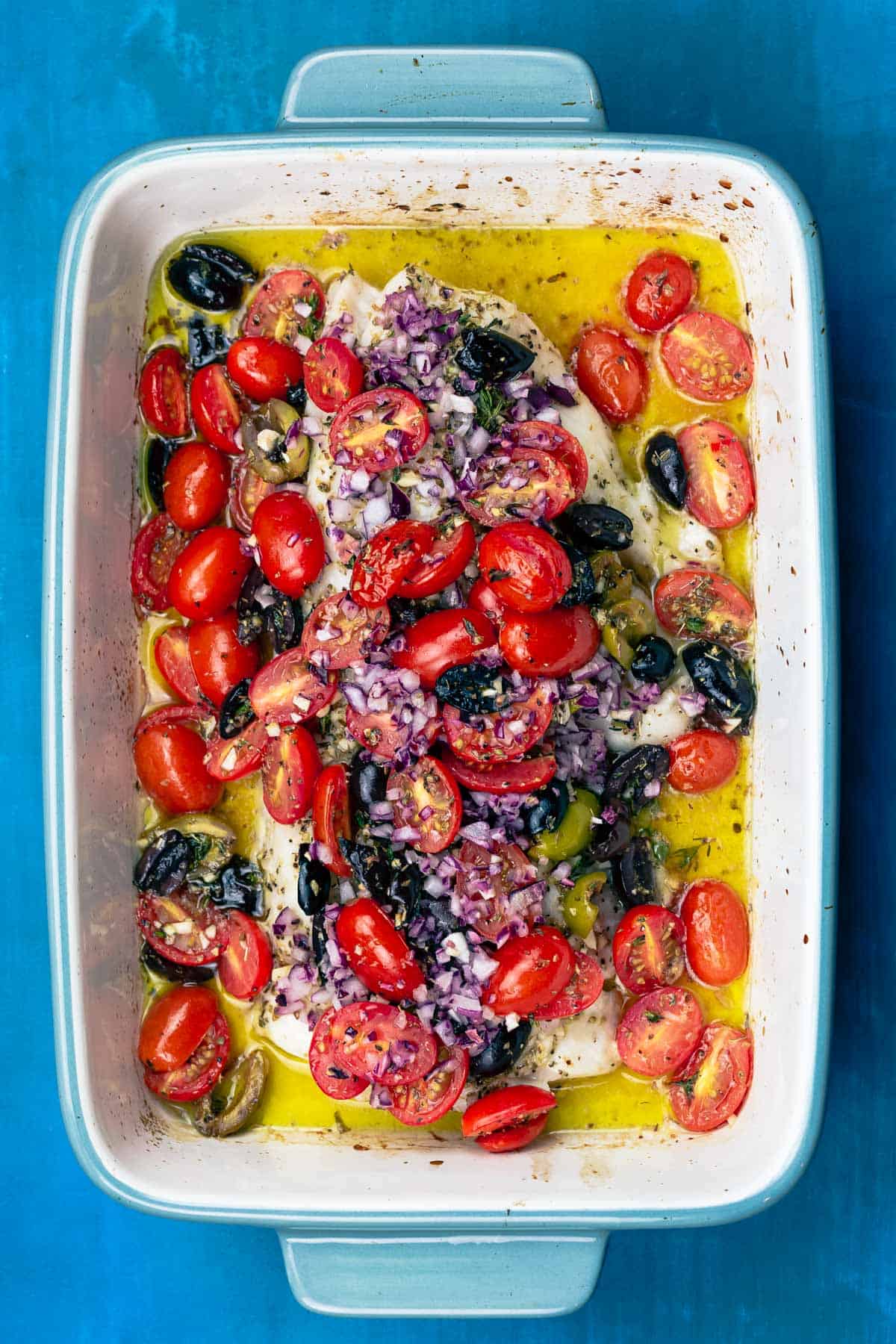 This bright, perfectly cooked salmon is ready in under 20 minutes, and my special technique ensures you get flaky, tender baked salmon every time! Because the salmon cooks so quickly, have all your sides ready before it comes out of the oven. This salmon dish is best served hot.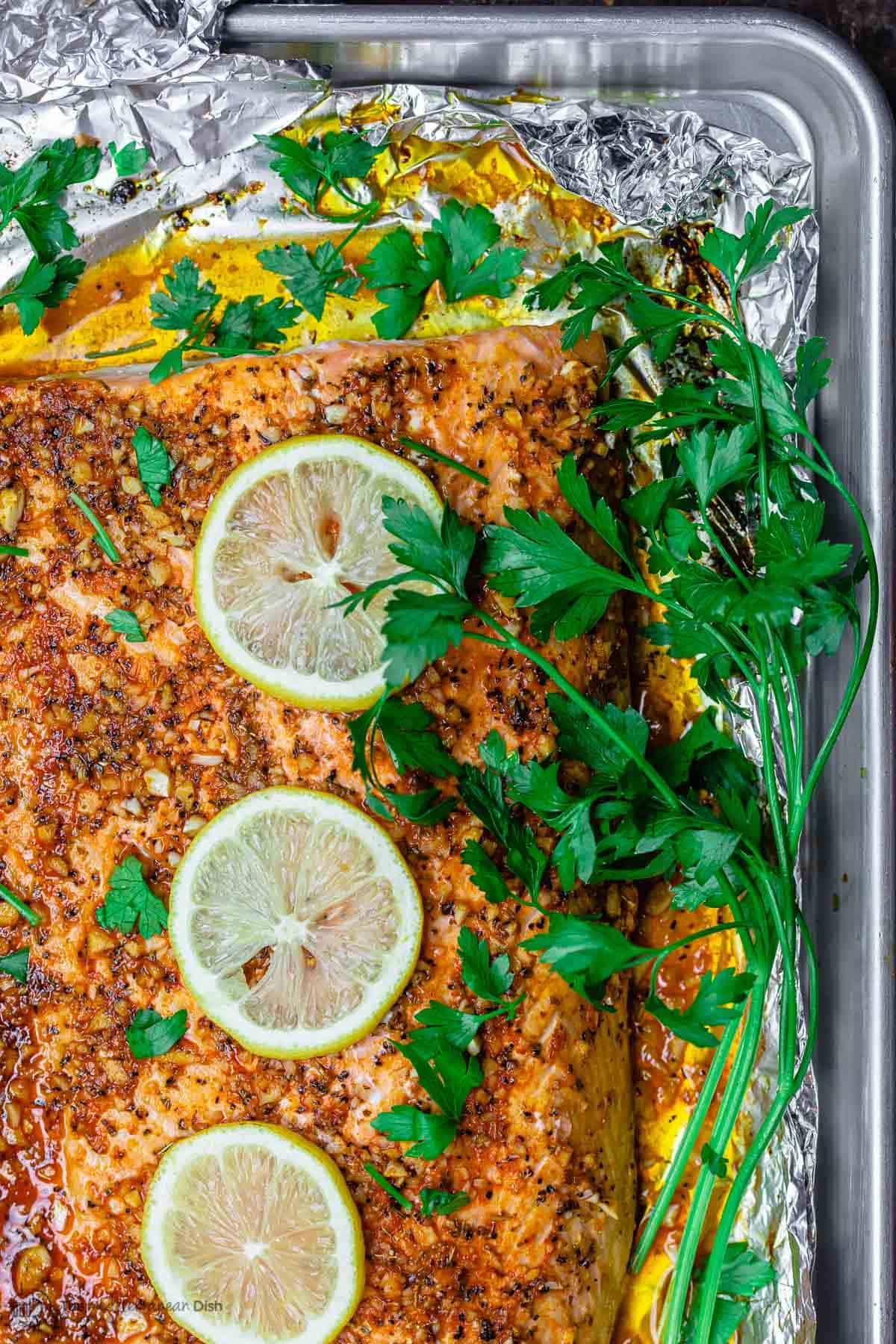 This fish piccata recipe with pan-seared trout and a lemon piccata sauce comes together in about 20 minutes. My recipe uses less butter than you'd usually see in a piccata recipe, as I relied more on extra virgin olive oil. If you prefer, use ghee instead of butter. Serve fish piccata with a big salad and a side of pearl couscous, lemon rice or your favorite grain for an easy weeknight dinner idea.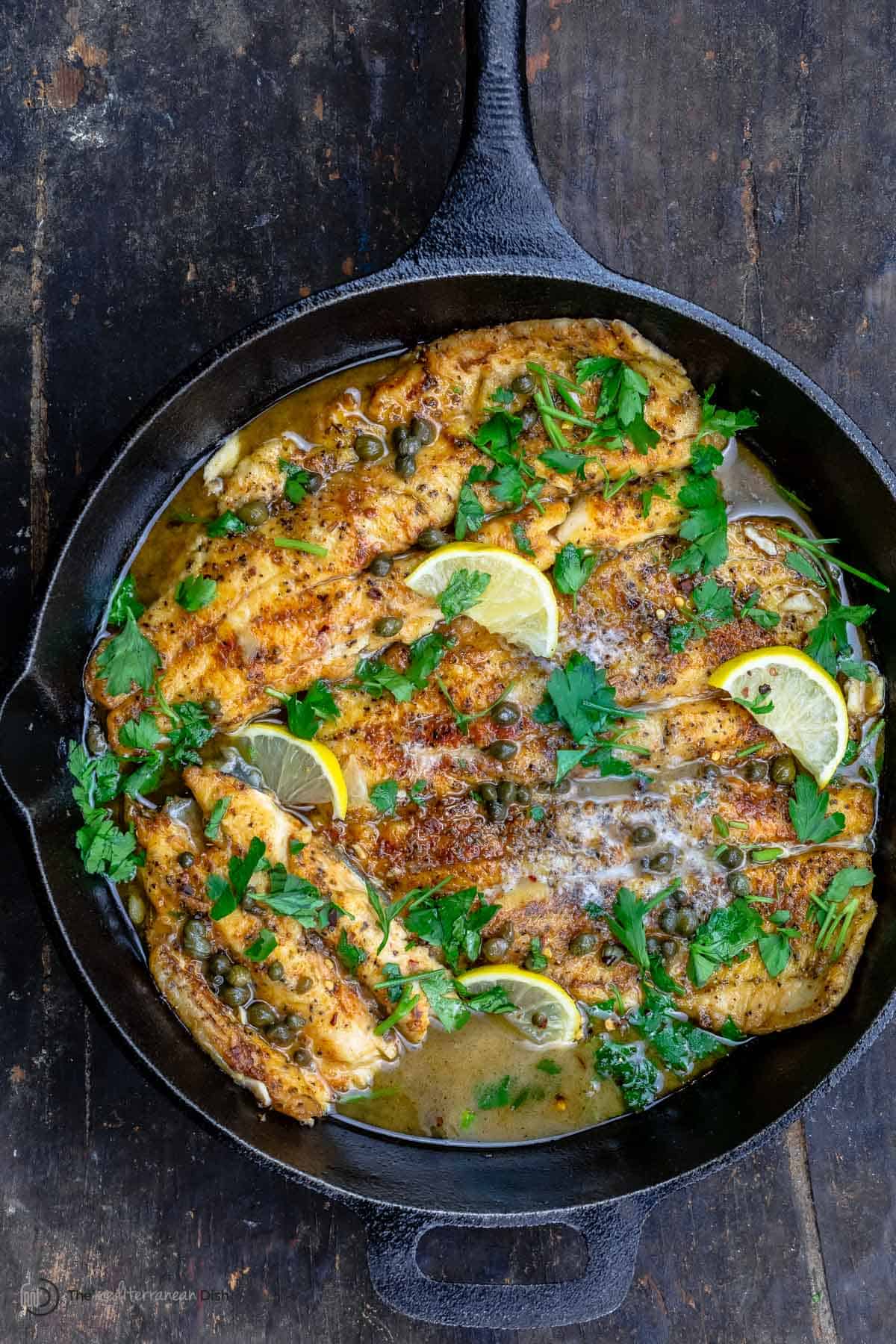 This whole roasted fish makes an impressive dinner, and it's a breeze to make! Finished with my lemony, garlicky ladolemono sauce, this roasted branzino is one of those fish dishes that is bright and flavorful in the best way. This Greek fish dinner pairs well with lemon rice, Greek roasted potatoes, or oven-roasted vegetables.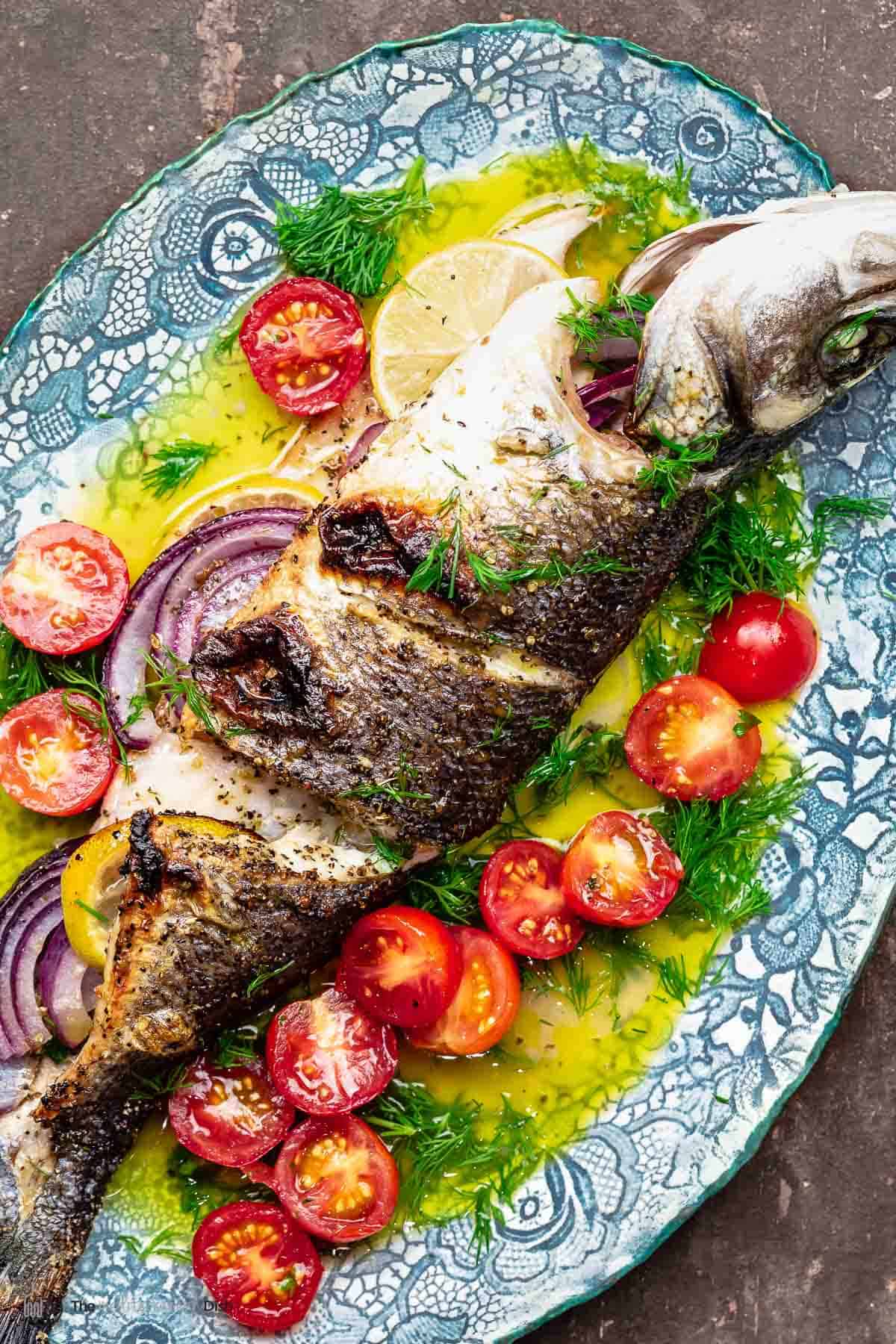 Easy baked fish recipes
Baked fish recipes are some of my favorite because they're so hands-off and unfussy. Simply season beautiful fish fillets (or a whole fish!), put it in a hot oven for just a few minutes until tender and perfectly flaky. Check out these easy baked fish dishes:
One-pan Mediterranean Baked Halibut Recipe with Vegetables
If you're looking for a bright and quick sheet pan dinner that will deliver on flavor and nutrition, this baked halibut recipe with vegetables is your ticket. I like serving avocado hummus as a light appetizer to this fish dinner.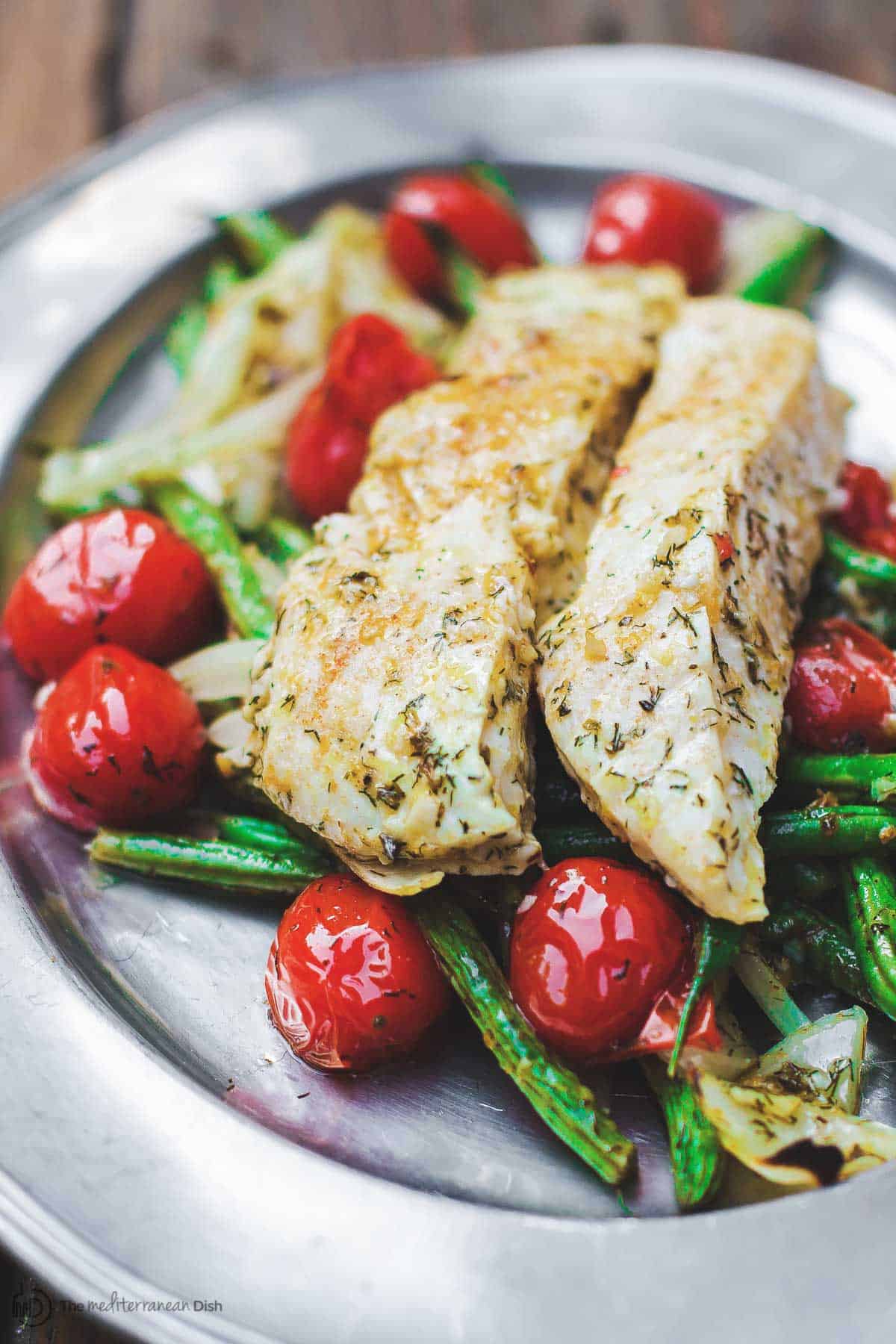 Garlic Parmesan Baked Flounder Recipe
A one-pan fish dinner you can make in about 20 minutes! This baked flounder is so simple yet so flavorful, thanks to a lemony Mediterranean sauce and some Parmesan cheese. Serve this elegant baked white fish with some boiled potatoes or roasted broccoli.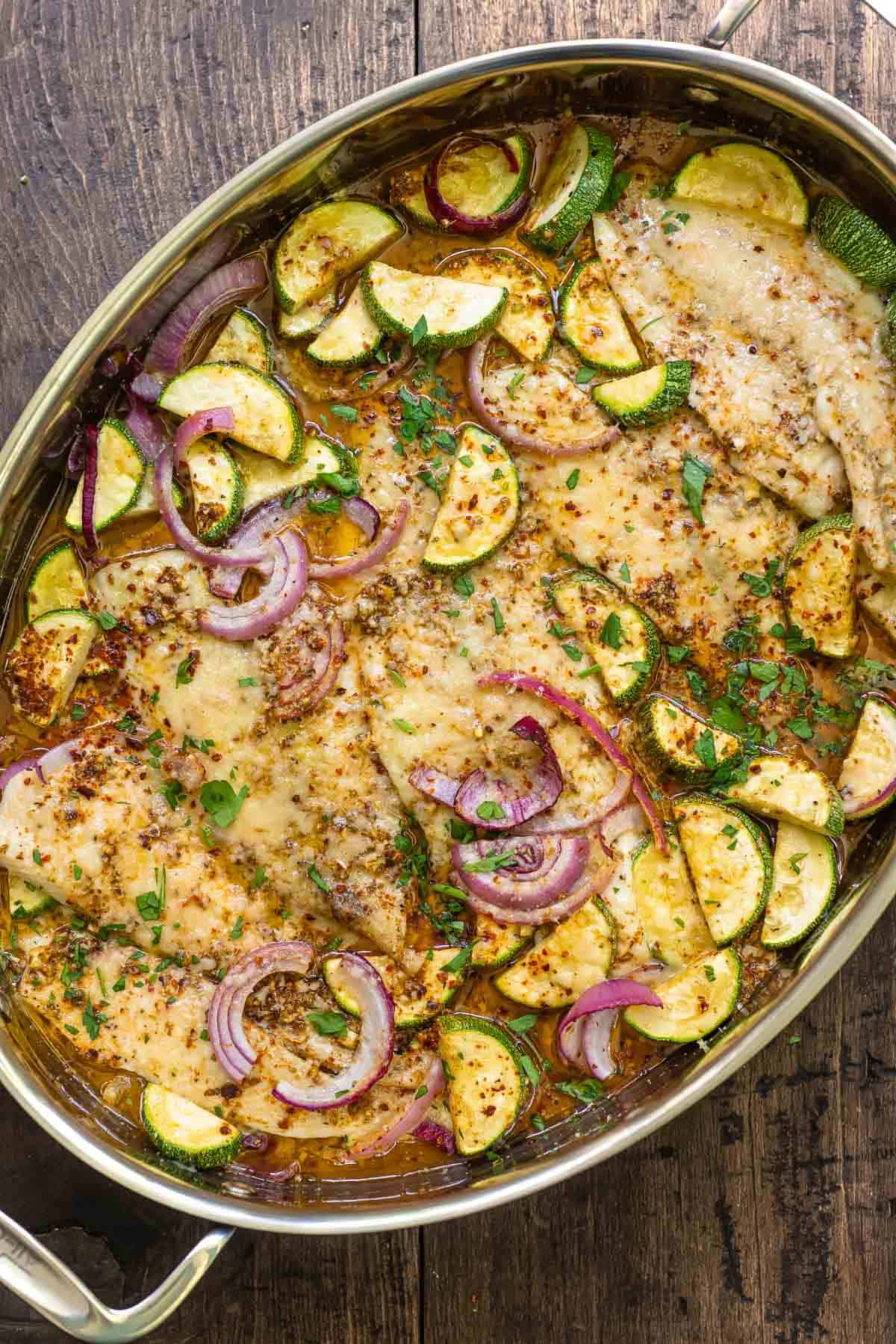 Simple baked sole fillet, spiced Mediterranean-style and baked in a buttery lime sauce with green onions, dill, and capers. This is one of my family's favorite seafood recipes, and it's perfect for when I'm short on time. If you don't have sole, another white fish fillet would work. Keep in mind that sole fillets are quite thin and cook very quickly, so you will need to adjust cooking time for a thicker fish fillet.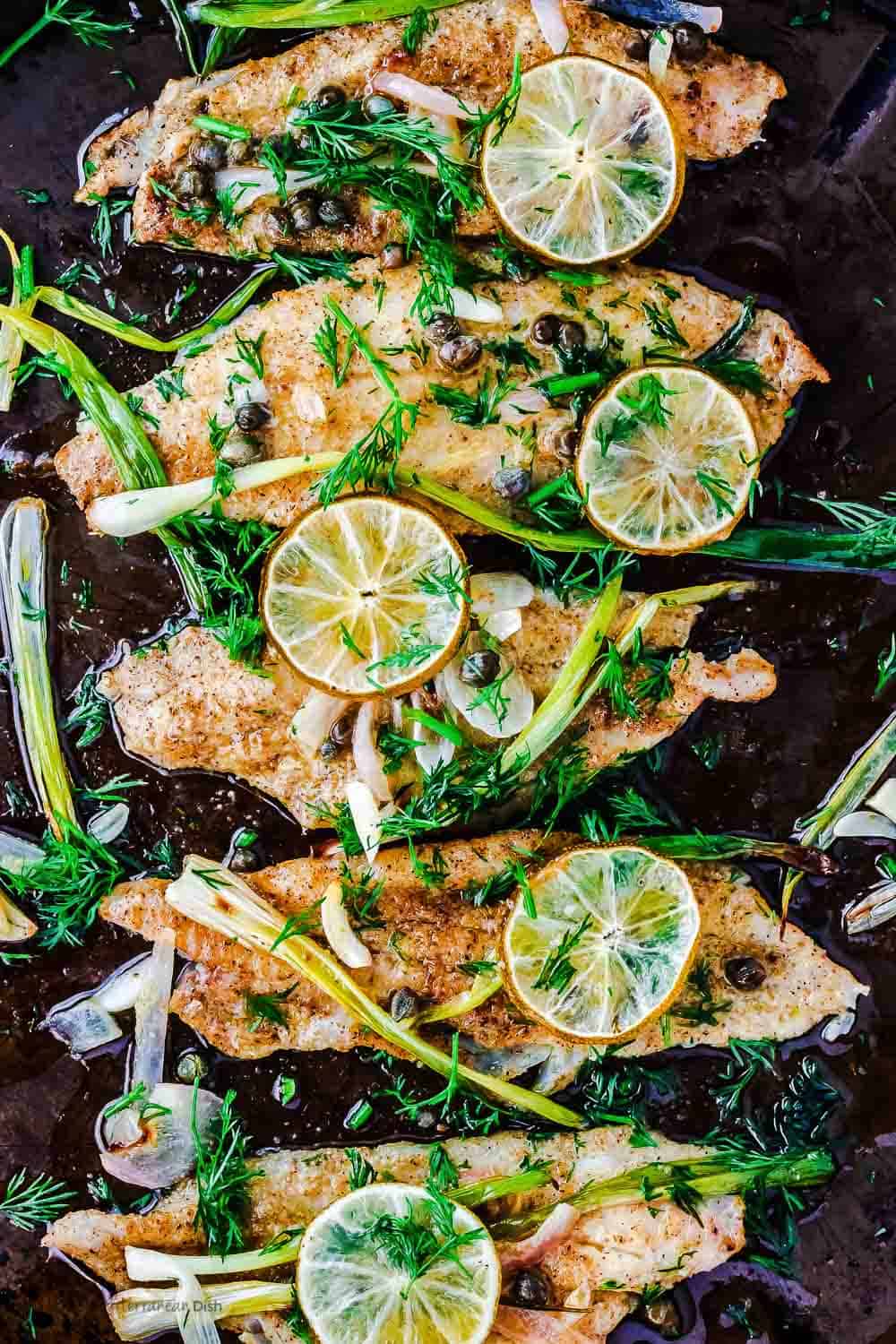 Whole Baked Red Snapper Recipe
This easy baked red snapper recipe with bold Mediterranean flavors, fresh herbs, and bell peppers is a must-try! To make things even easier, ask the fishmonger to clean and gut the fish for you, so it's ready for you to work with once you get home. Serve roasted red snapper with a side of rice or roasted potatoes and a big Fattoush salad.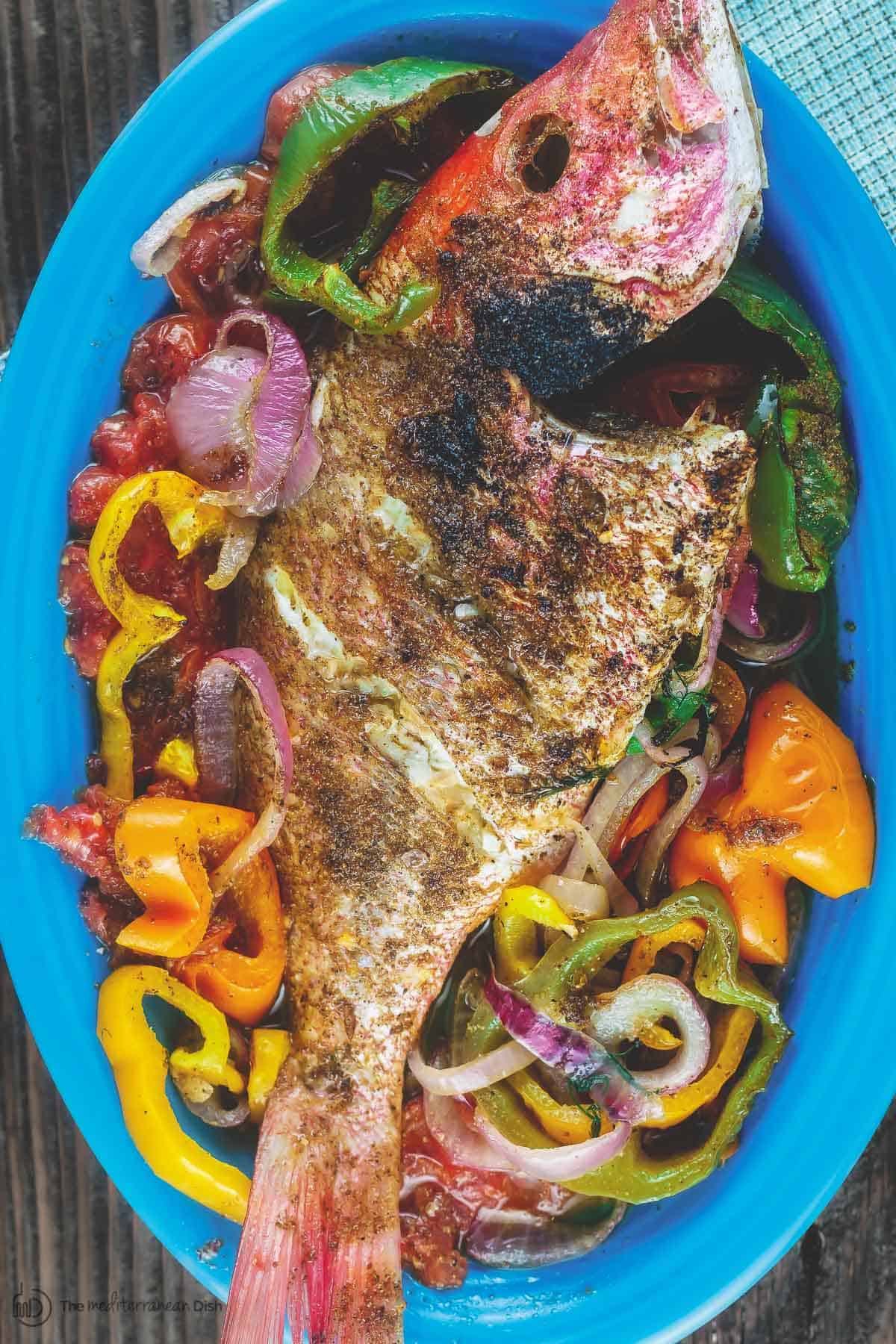 Chilean Sea Bass with Basil Pesto
With just 7 ingredients, you can have a gorgeous fish dinner that packs a Mediterranean flavor punch! Chilean sea bass has a buttery, flaky texture that is perfect in this recipe, but if you can't find it, any white fish of your choice will work well. And if you can't find fresh fish, wild-caught frozen fish is perfectly acceptable.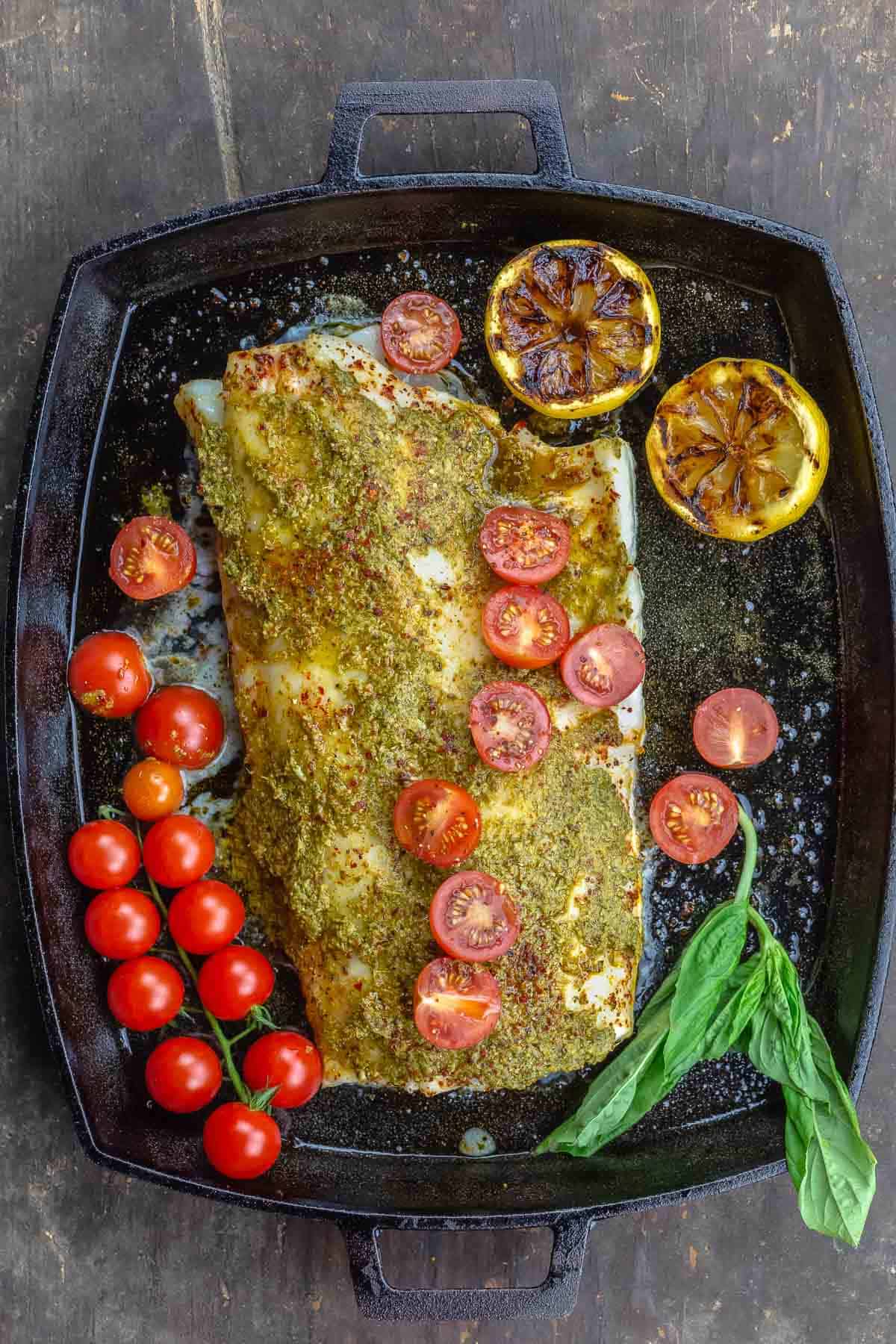 En papillote is a French term that means "enveloped in paper." It basically describes a way of cooking in which the fish (in this case) is placed in parchment paper pouches and baked with herbs or seasonings. This fish en papillote recipe comes together in 25 minutes start-to-finish. And you'll love the added veggies and Mediterranean flavors! I used cod, but you could use a variety of fish fillets, like snapper, halibut, trout, or even salmon.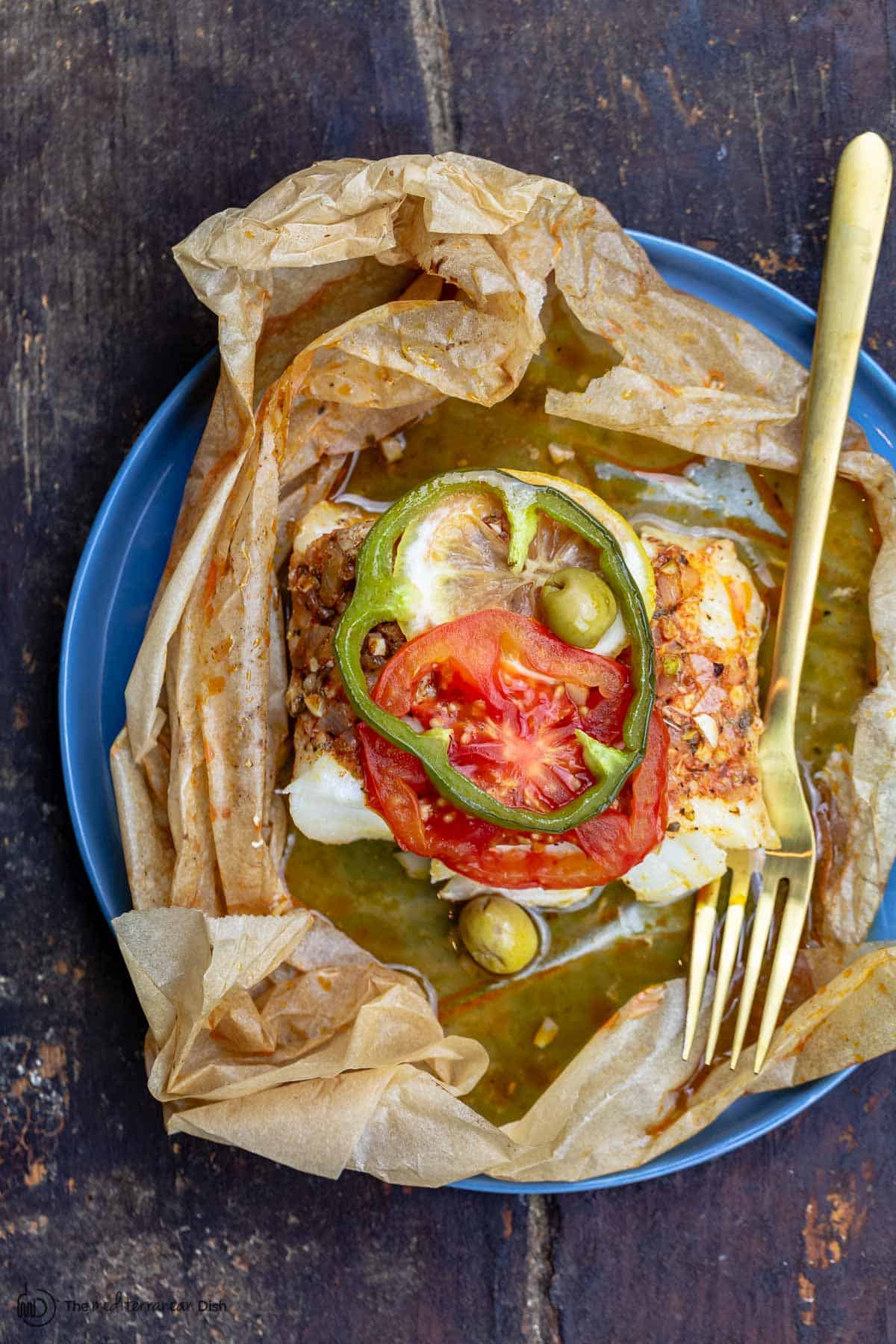 Easy Baked Fish with Garlic and Basil
The secret to this juicy fish is in the quick fish marinade with a few spices, garlic, fresh basil, a little citrus and extra virgin olive oil. You'll love the bright colors and bold flavors! Serve baked fish with lemon rice and my big white bean salad or any bright salad!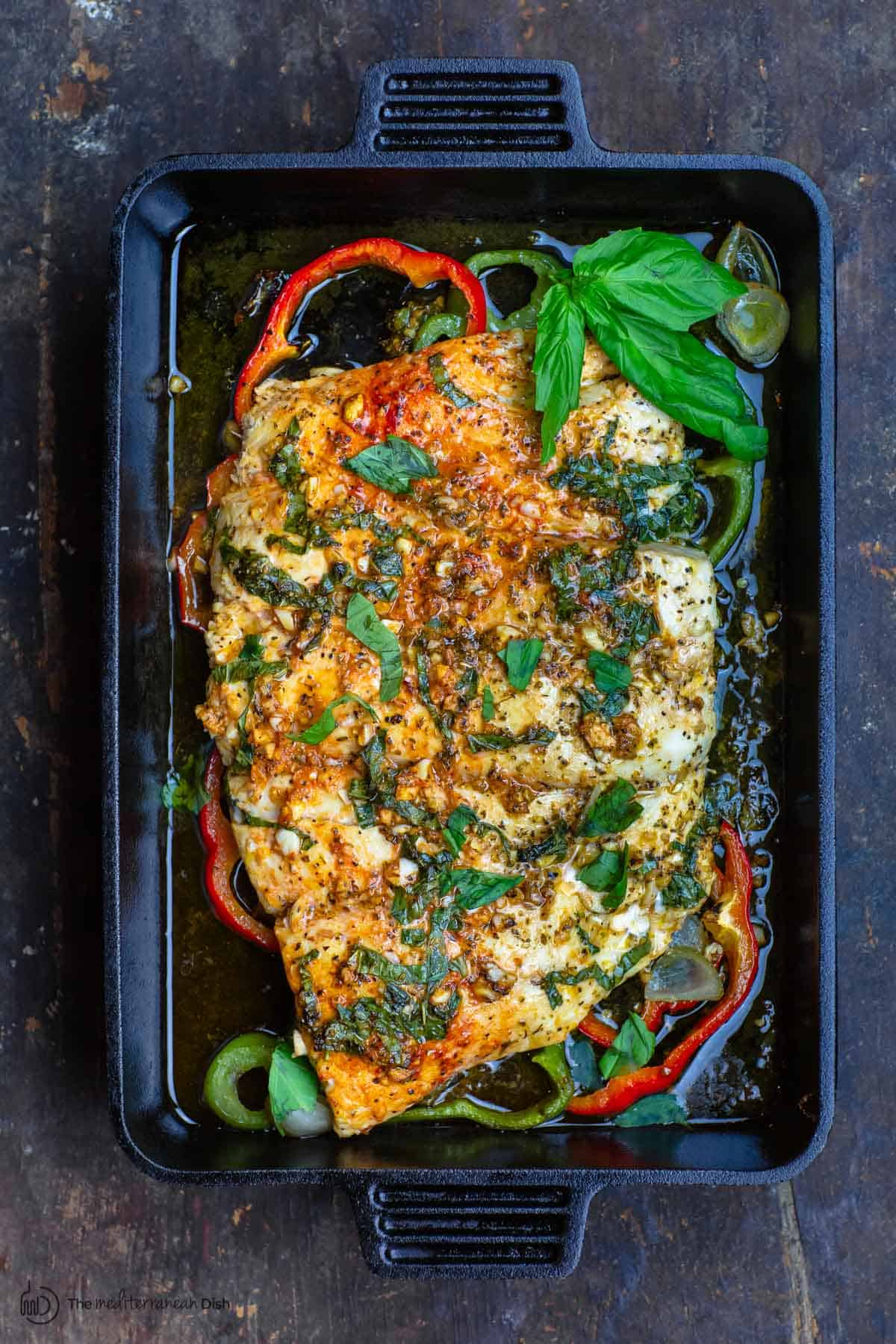 Baked Cod with Pistachio Cilantro Pesto
Pistachio Cilantro Pesto is one of my favorite condiments, and it takes this baked cod to a whole new level! Together, they make a light and flavorful fish meal. I diced up some Roma tomatoes to use as a finishing touch for even more vivid color.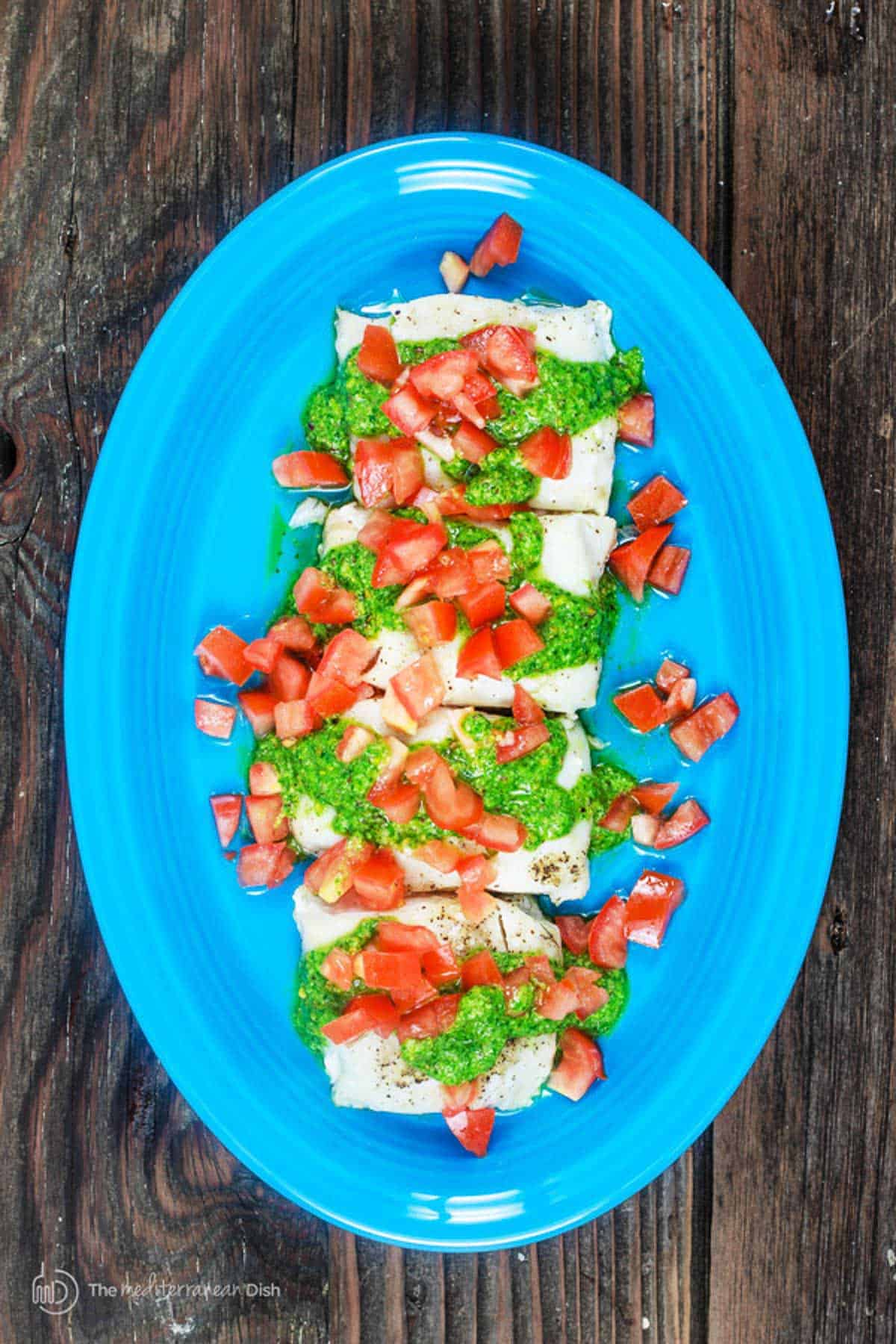 Baked Grouper with Tomatoes and Olives
One of my favorite fish dishes! Ready in just over 20 minutes, this healthy, low-carb baked fish recipe is perfect for any night of the week. I can think of more than a dozen sides and salads to go along. Here are a few ideas: Shirazi salad, Mediterranean Lentil Salad, Crispy Brussels Sprouts, Baked Zucchini with Thyme and Parmesan, Italian Roasted Veggies.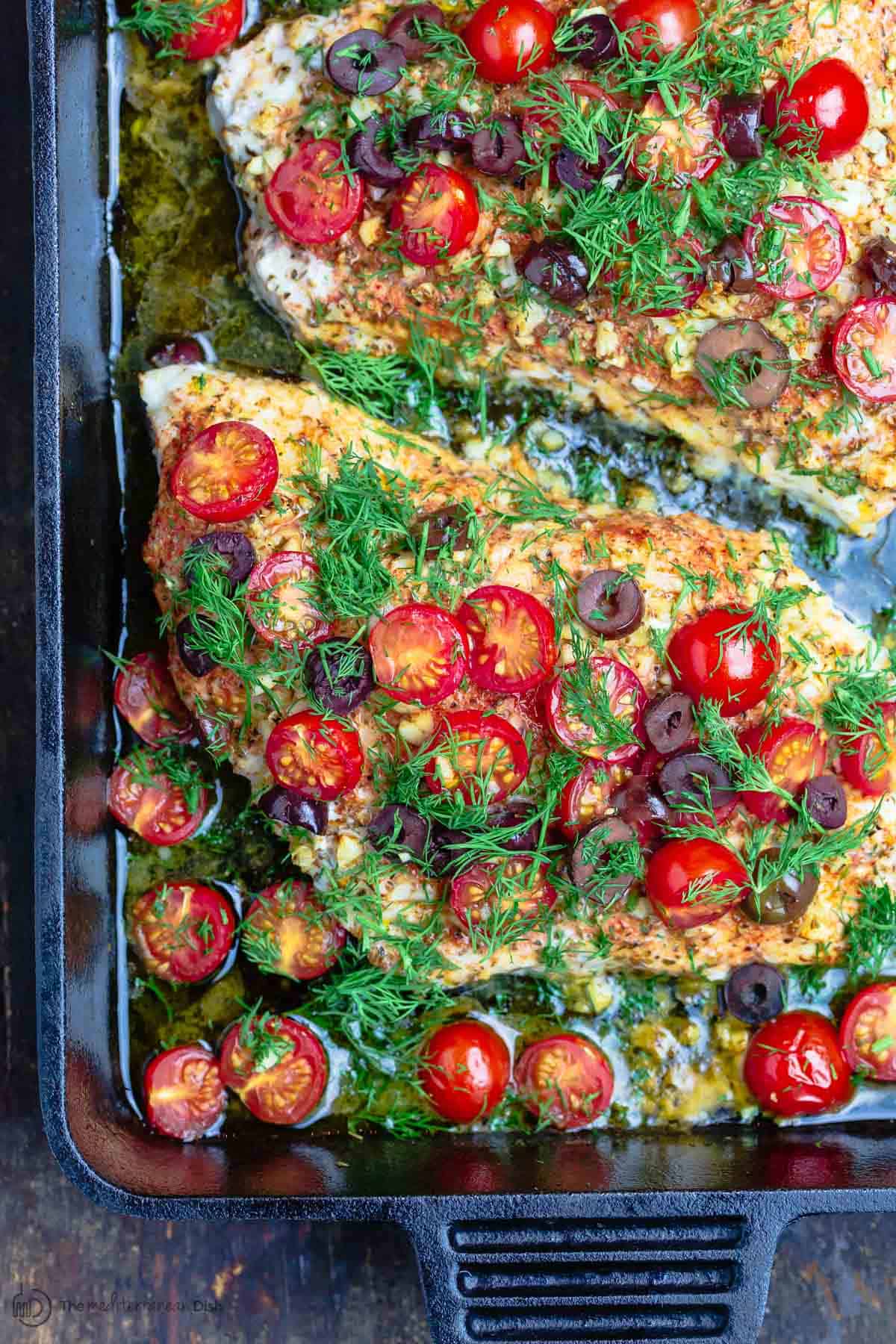 Grilled fish recipes
When the weather is warm, nothing is better than grilling outside! These grilled fish recipes are perfect for when you want to be outdoors but would work just as well on a hot cast-iron griddle or skillet on the stovetop. Here are a few delicious grilled fish recipes to try:
Grilled Salmon with Mango Salsa
Between the marinade and the mint mango salsa on top, this grilled salmon recipe is next level delicious. Follow my simple tips for perfectly grilled salmon every time. Bad weather? An indoor grill or griddle pan work just fine!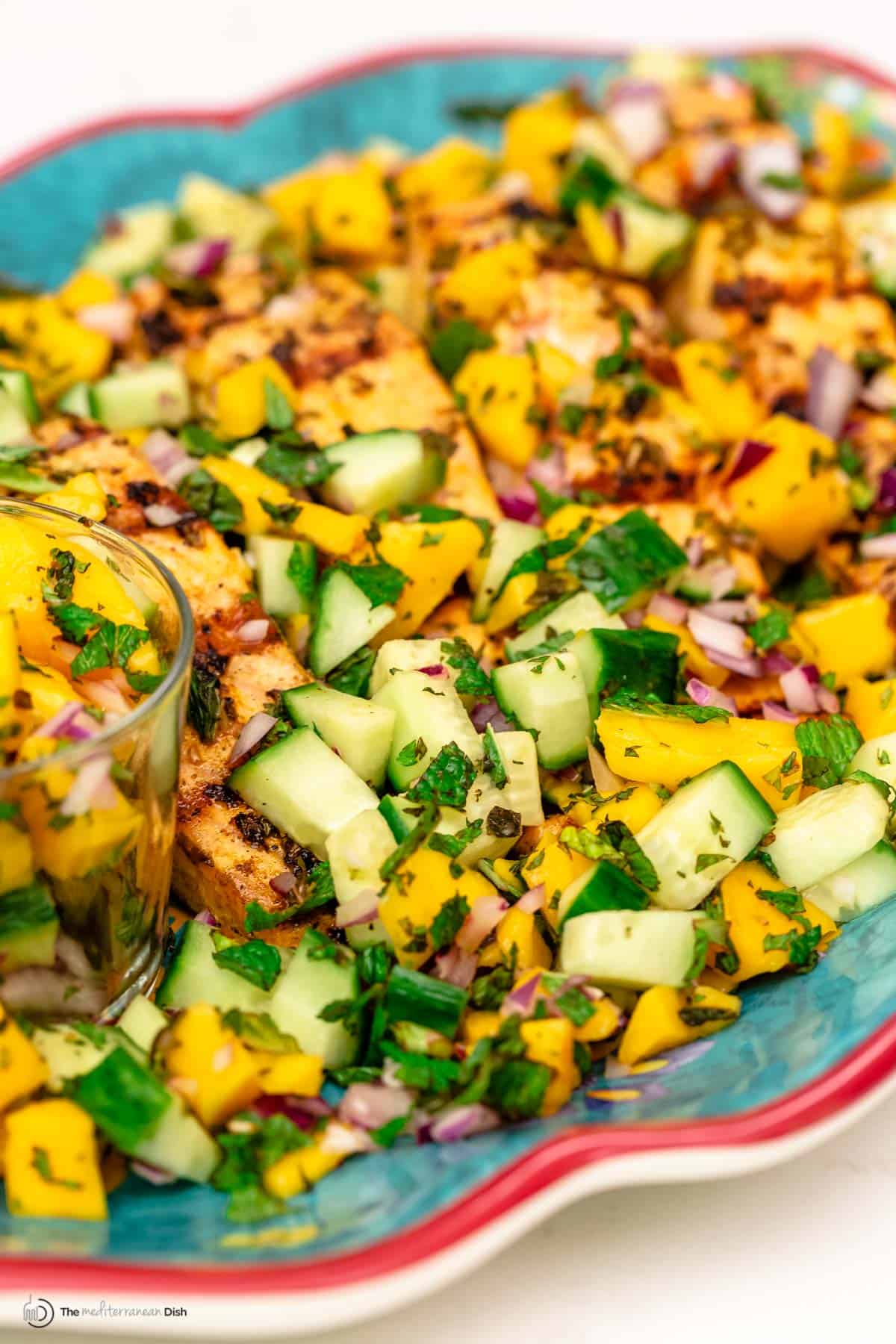 Grilled Swordfish with a Mediterranean Twist
This quick grilled swordfish recipe has delicious Mediterranean flavor thanks to a simple olive oil marinade with fresh garlic and a trio of warm spices. The swordfish steaks take 15 minutes to marinate and about 8 minutes to grill it to juicy perfection. Serve with a big salad or a simple side and call it dinner!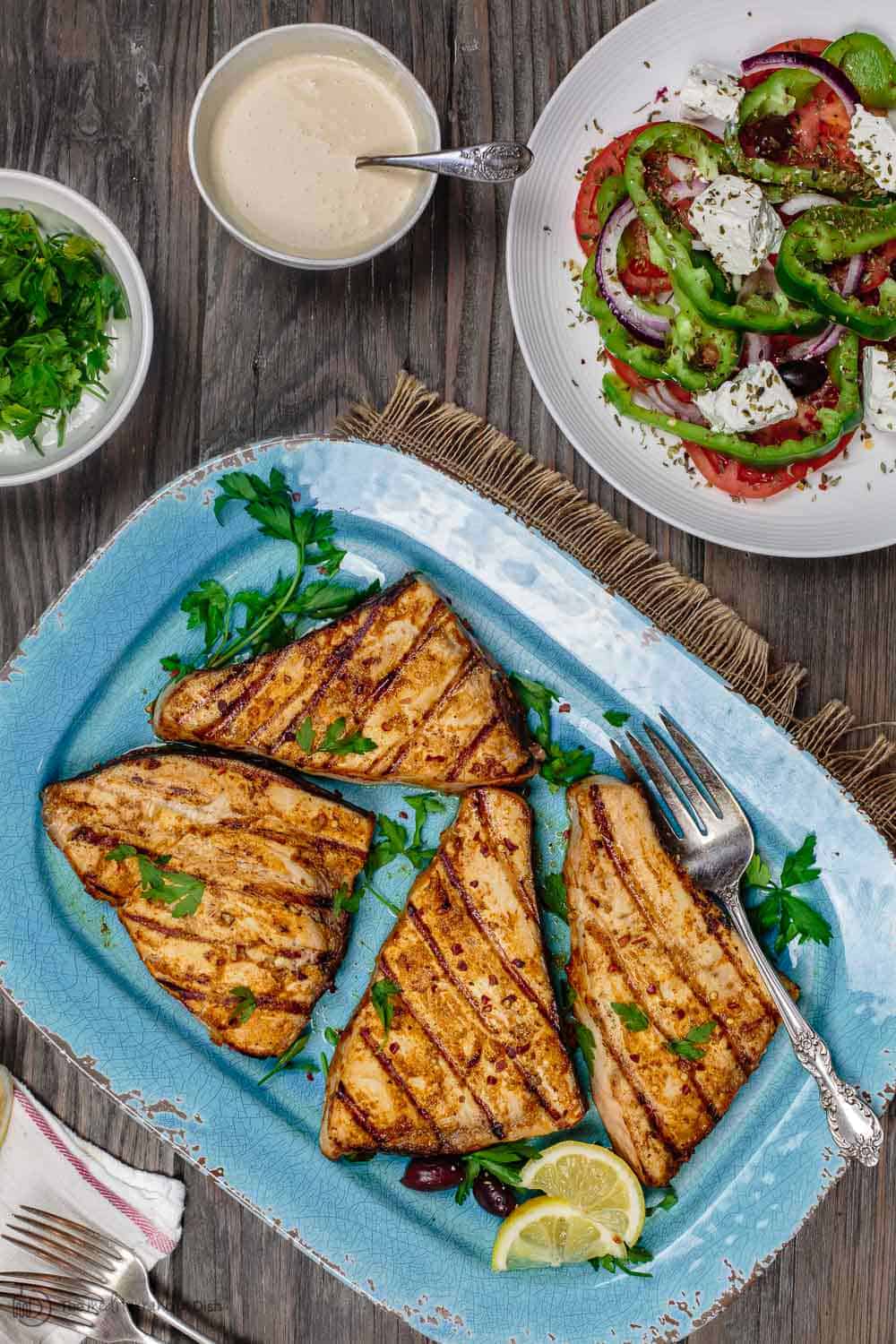 Grilled Cod Recipe, Gyro-Style
A simple Mediterranean spice rub and an amazing lemon basil sauce take this perfectly crispy, flaky fish to a new level of delicious! I highly recommend you try this baked cod gyro-style, wrapped in warm pita and loaded with bright Mediterranean favorites. I show you exactly how we do this!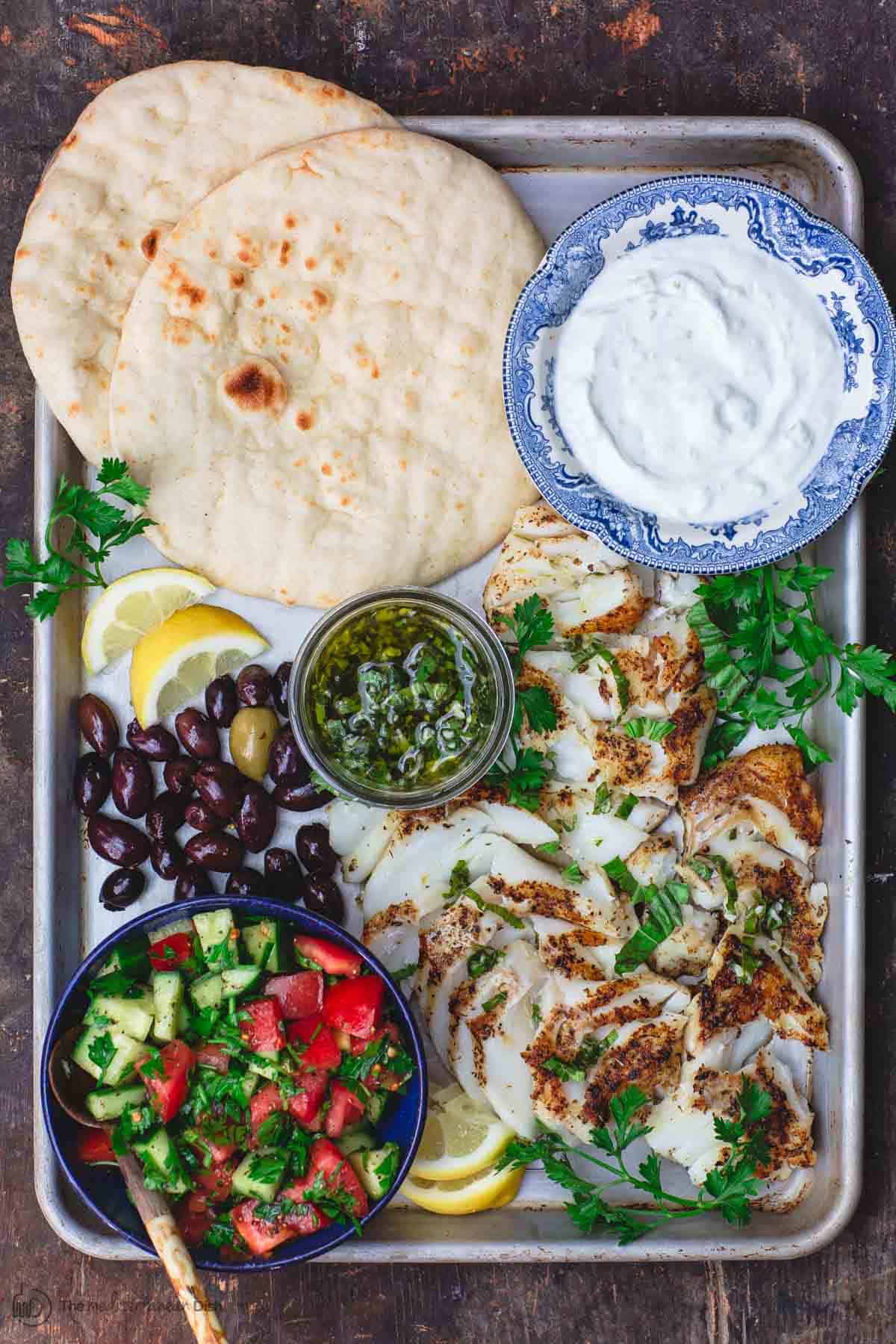 Easy, flavor-packed grilled salmon kabobs, covered in a Mediterranean-style marinade with fresh garlic, olive oil, citrus, herbs and spices. I like making these outside on the grill, but you can also make them in your oven! I share all the instructions for how to do this. Serve with Mediterranean-Style Roasted Eggplant or Greek potatoes.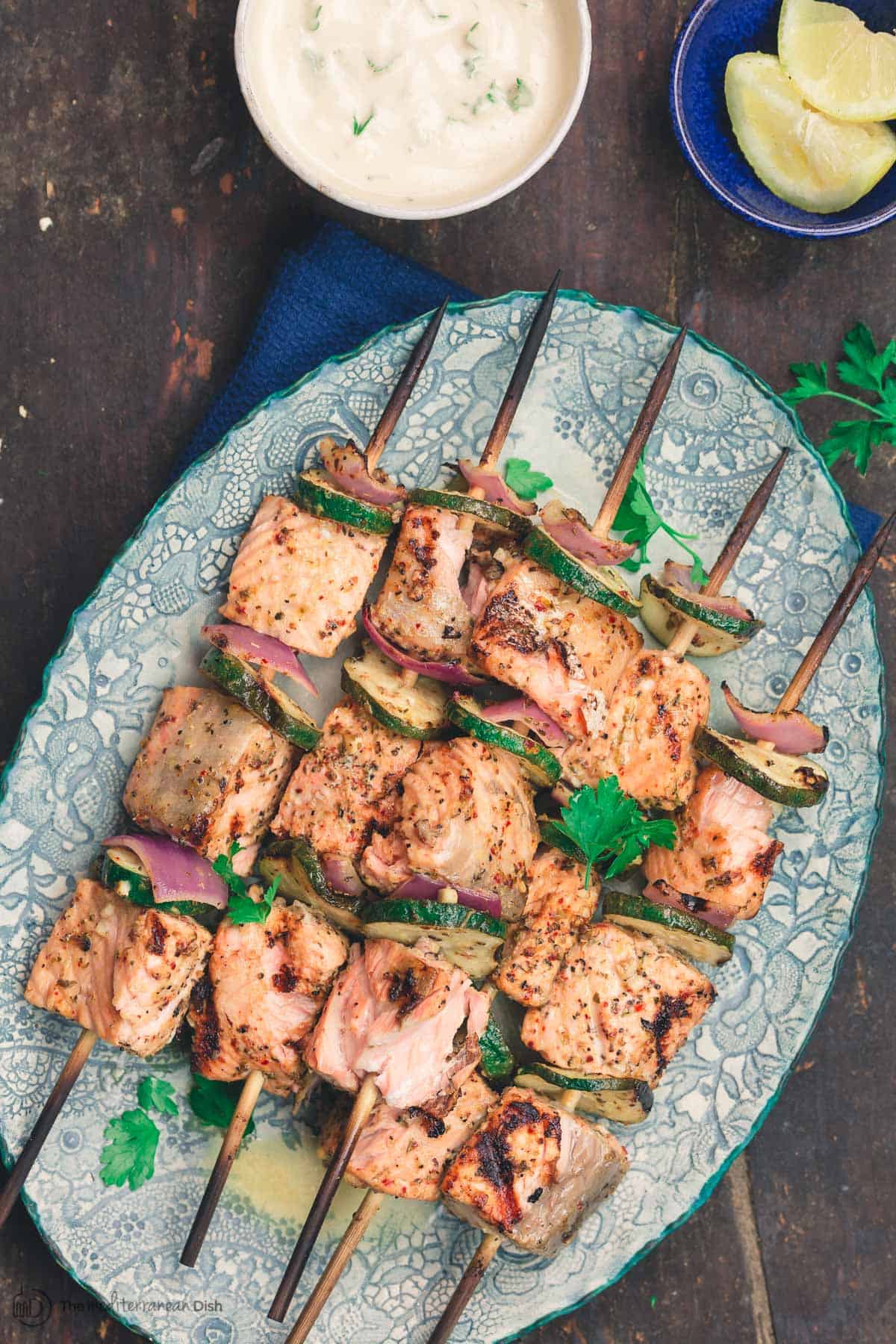 Saucy fish stew and soup recipes
To me, fish soups and stews are just comfort in a bowl. Here are some of my favorite seafood soups and stews:
Quick and easy fish soup with warm Eastern Mediterranean spices, loads of fresh herbs, and a big splash of lemon juice. It's the perfect one-pot warm-your-belly meal! Serve this soup right away so the fish doesn't overcook. I like including some rustic bread to sop up the rich broth.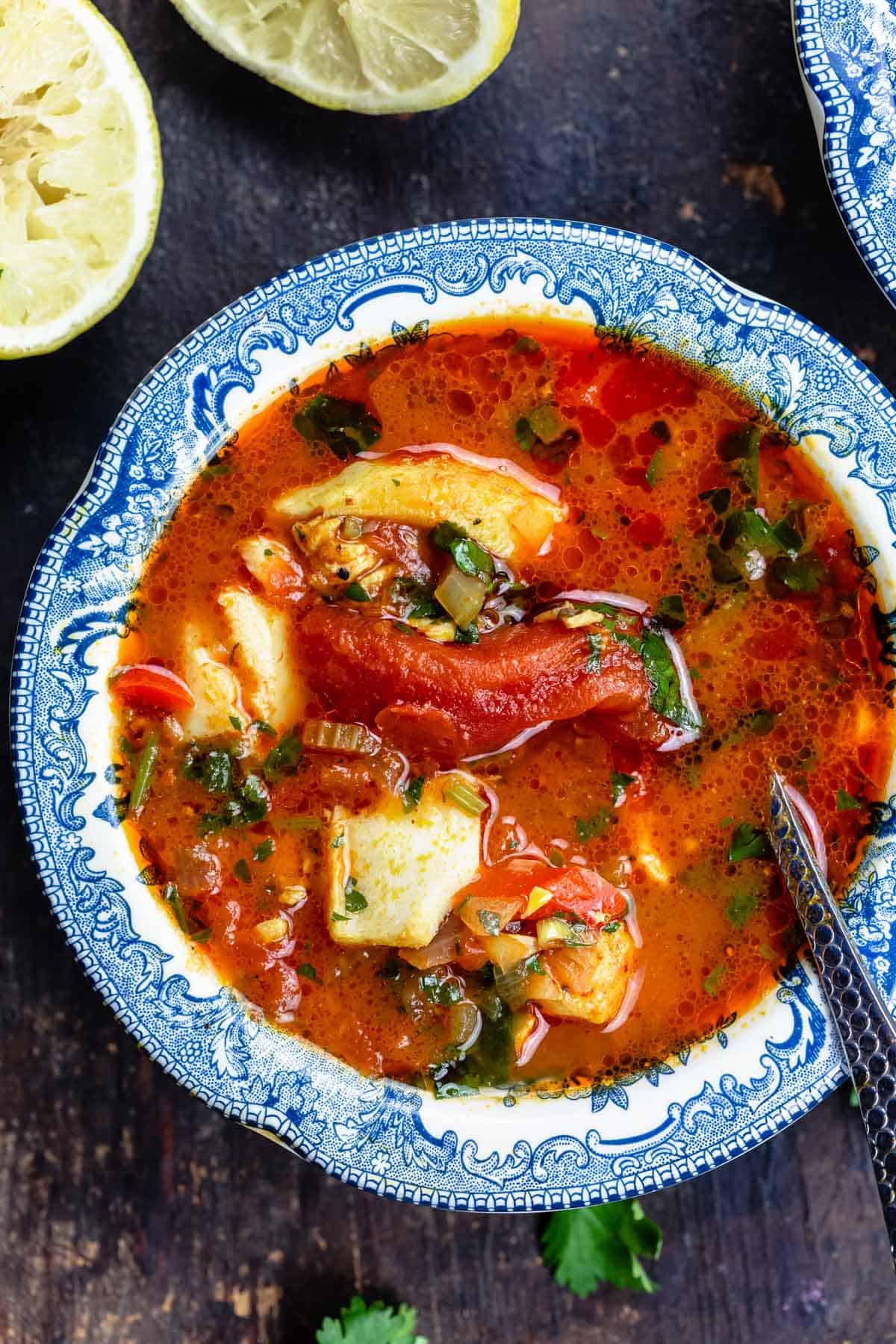 In just 20 minutes, you can have a bright salmon soup with potatoes, carrots, and fresh dill. This salmon soup recipe is comforting, nutritious, and satisfying. I prefer using skinless salmon in this recipe, but you can leave it on if you prefer. Note that it might get mushy as the fish cooks in the broth.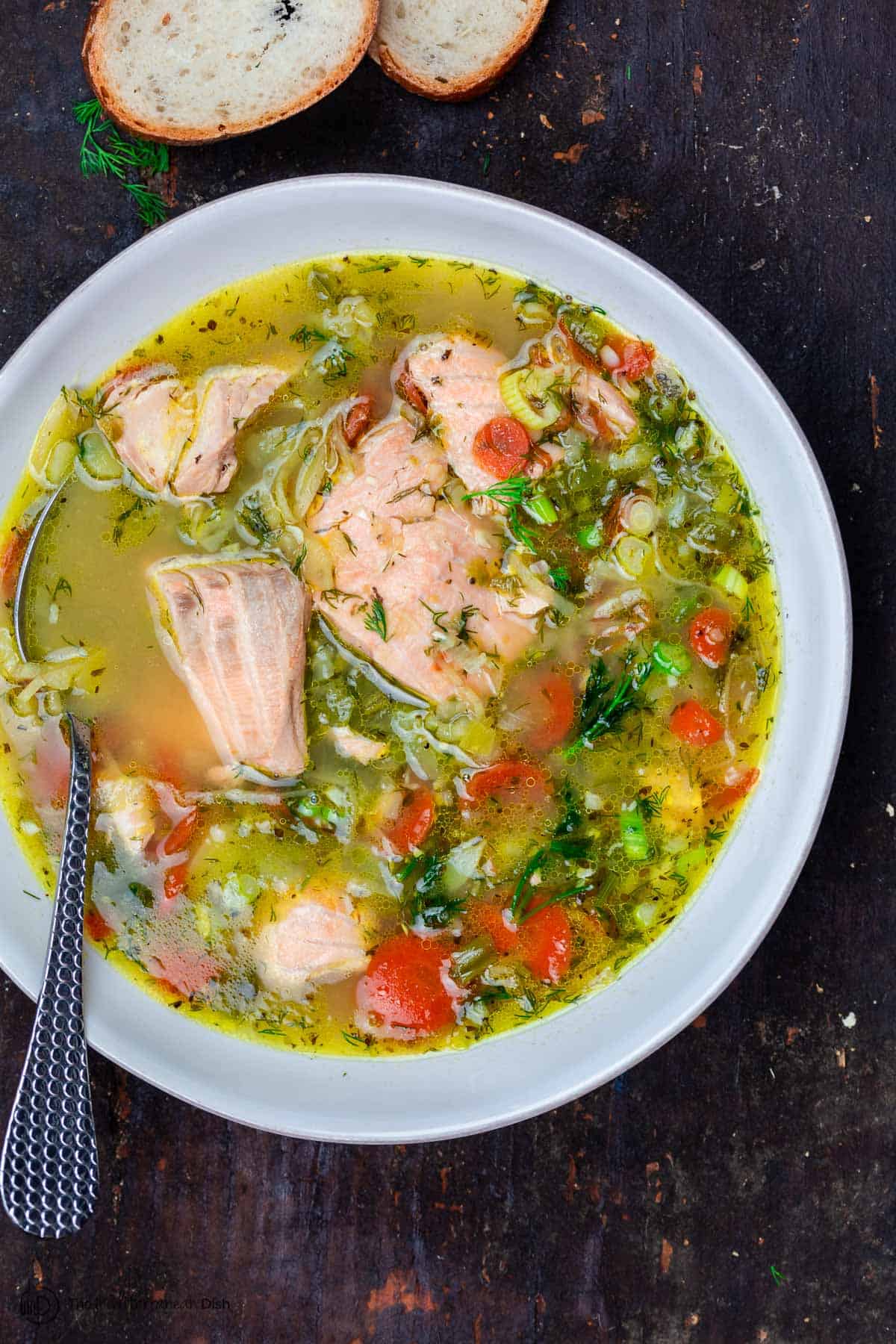 I know, I know -- this recipe is not as short as the others on this list, but I simply could not leave it out! Sicilian fish stew is one of those must-try fish recipes. Its white wine-tomato broth with garlic, capers, raisins, and more is irresistible.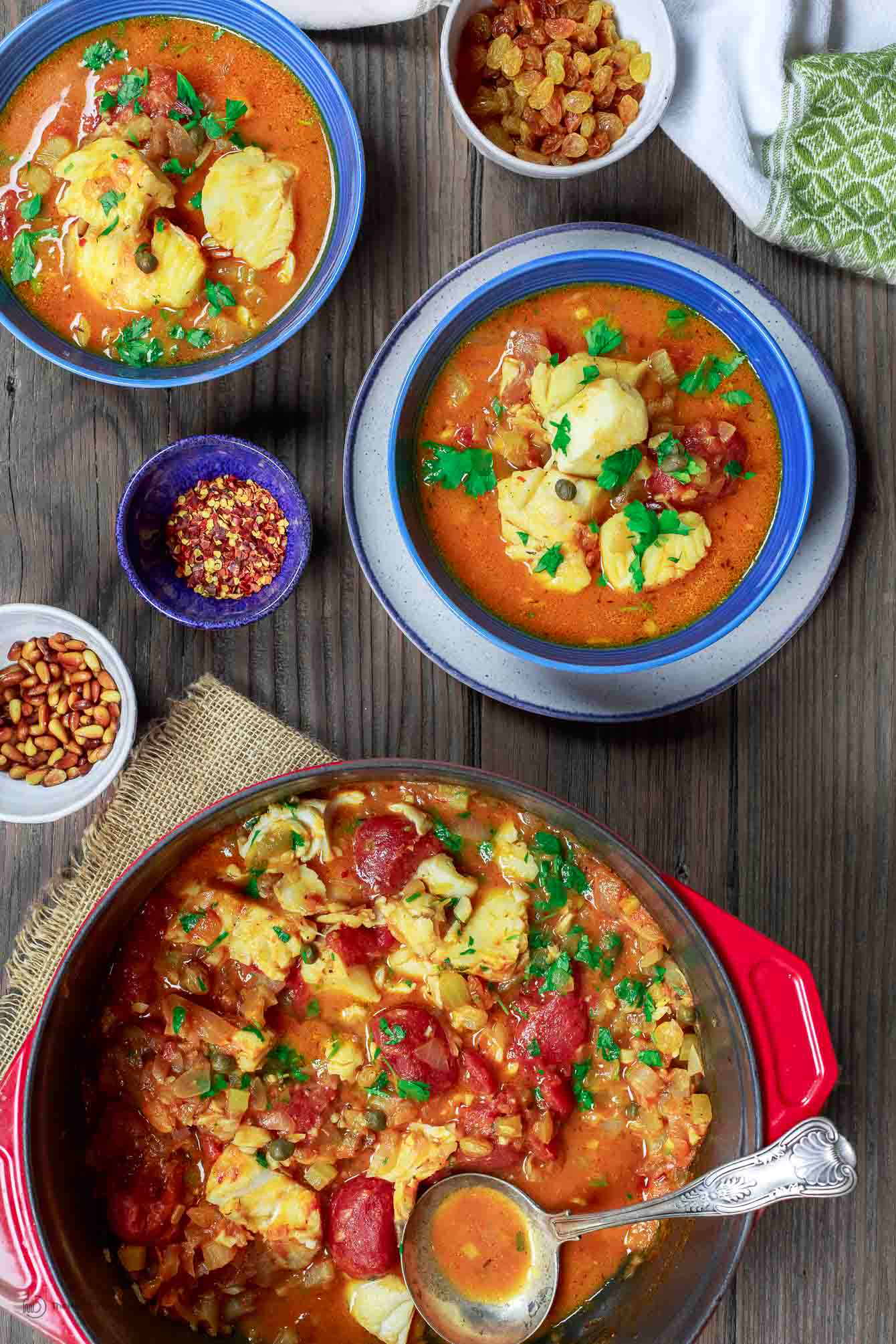 This flavor-packed shrimp soup with a tomato-based broth, vegetables, baby spinach, and loads of fresh herbs is satisfying and nutritious! I added some wholewheat orzo for some heft, but feel free to use a pasta or quick-cooking grain of your choice.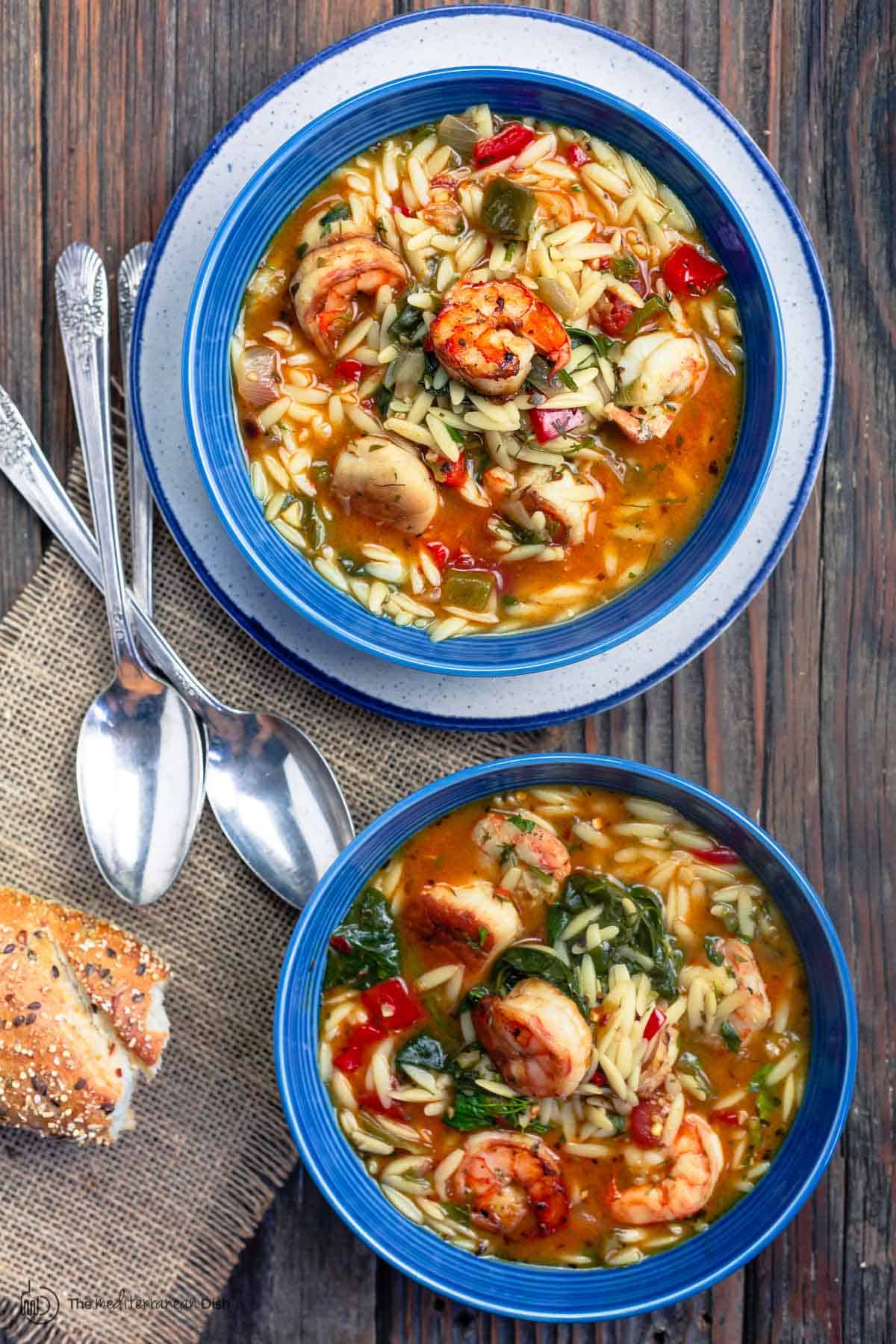 Mediterranean-Style Steamed Clams
My guide for how to steam clams is so simple, you'll be making steamed clams on the regular! Once steamed, prepare clams Mediterranean-style in a scrumptious white wine broth with fresh herbs and vegetables. I like serving these steamed clams with some crusty bread to sop up the delicious sauce.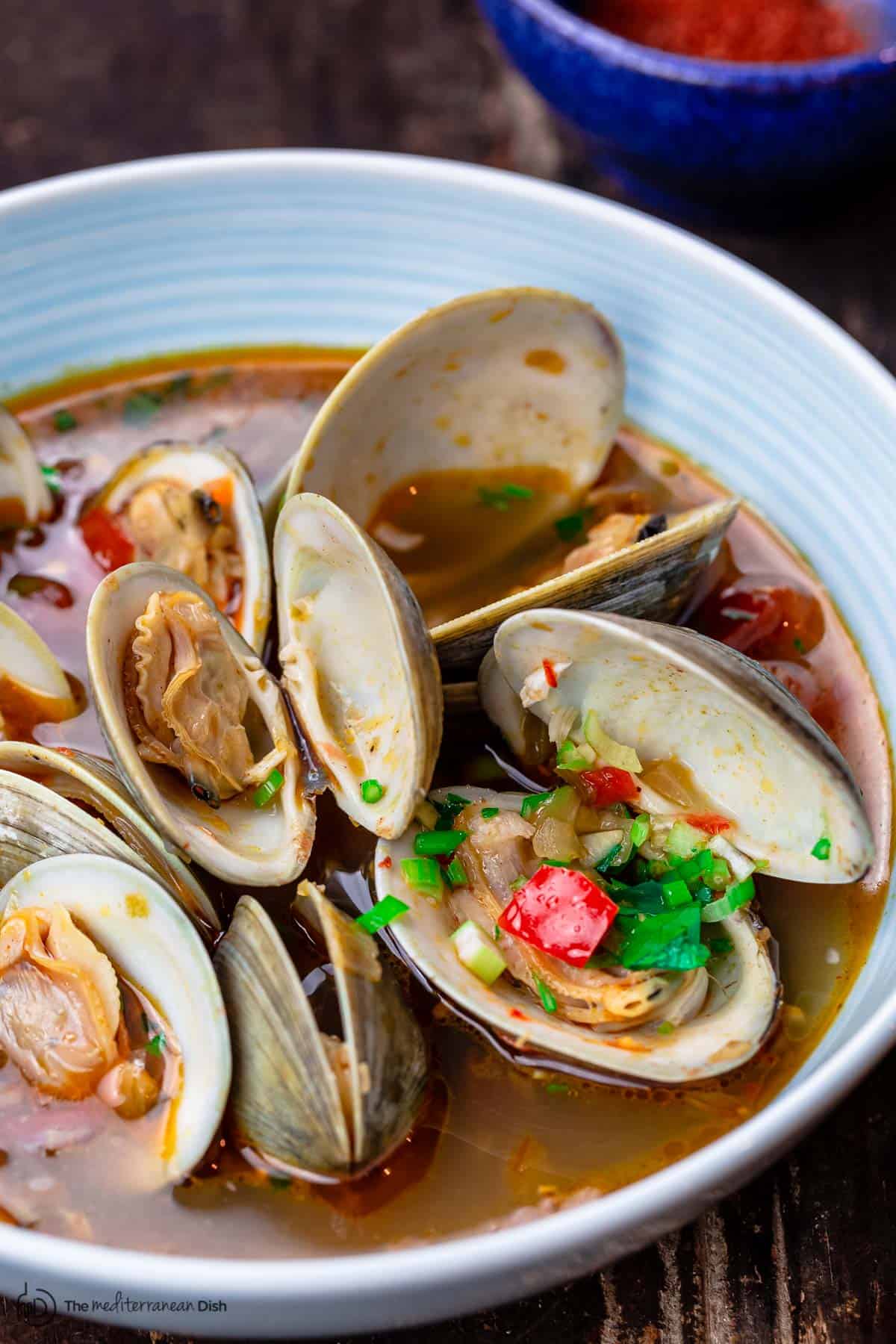 Popular salmon recipes
Confession: I don't eat salmon when I go out. It's always overcooked, dry, and rubbery. But a few simple, tried-n-true techniques give me the best homemade salmon every single time. I've only selected a few salmon recipes here for you to try:
Steamed Salmon with Lemon and Fresh Herbs
If you've never tried steaming fish before, here is your opportunity! This recipe requires very little effort, and the result is tender, moist salmon with loads of flavor. This Mediterranean-style steamed salmon is perfect on top of a bed of Greek lemon rice or Lebanese rice.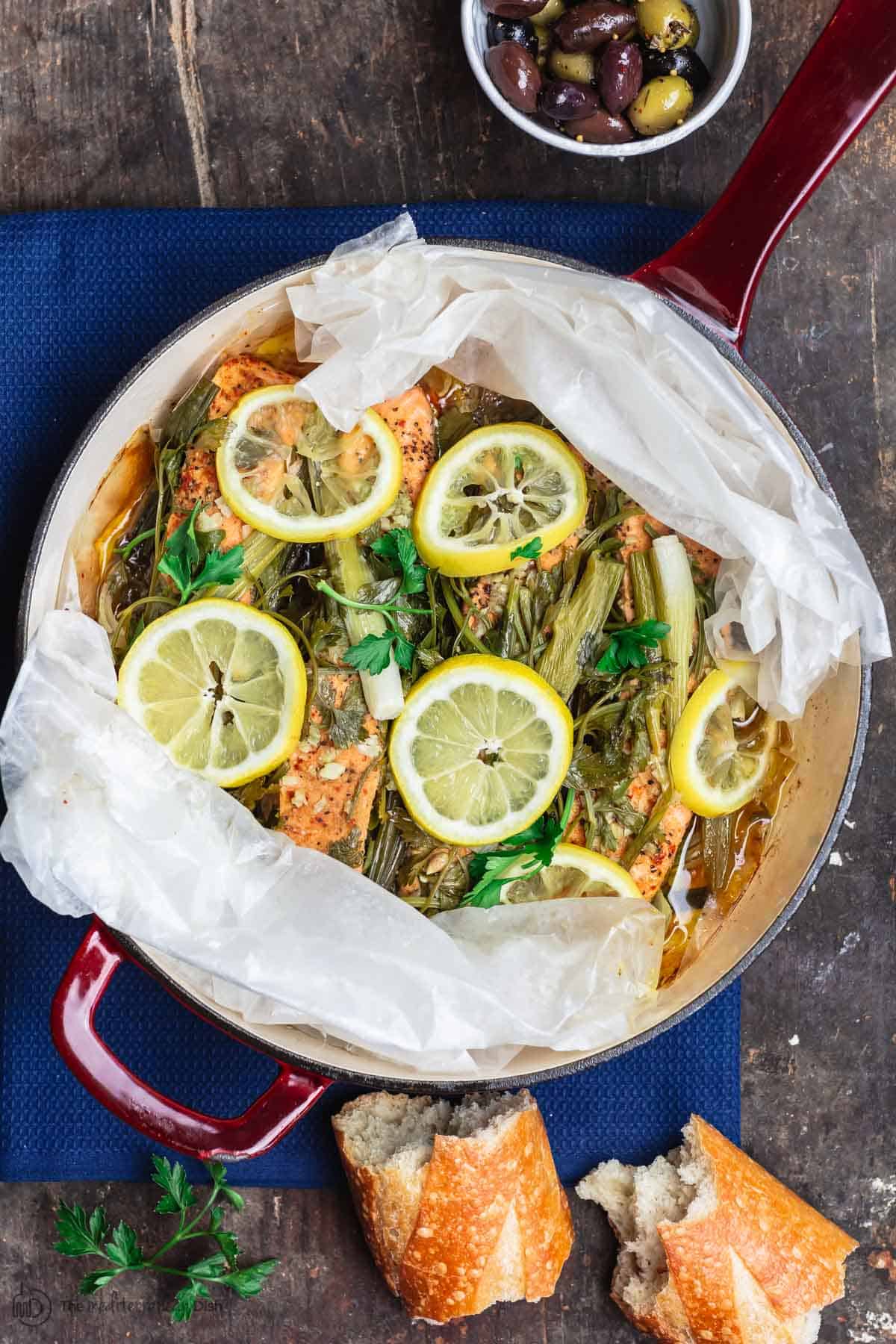 Easy Lime-Harissa Spicy Salmon Recipe
The secret to this spicy fish is the tantalizing sauce made of fresh lime juice harissa, garlic, and honey. It's next level delicious, and so quick and easy to put together! Be sure to cover the salmon with foil while it bakes for tender, flaky fish.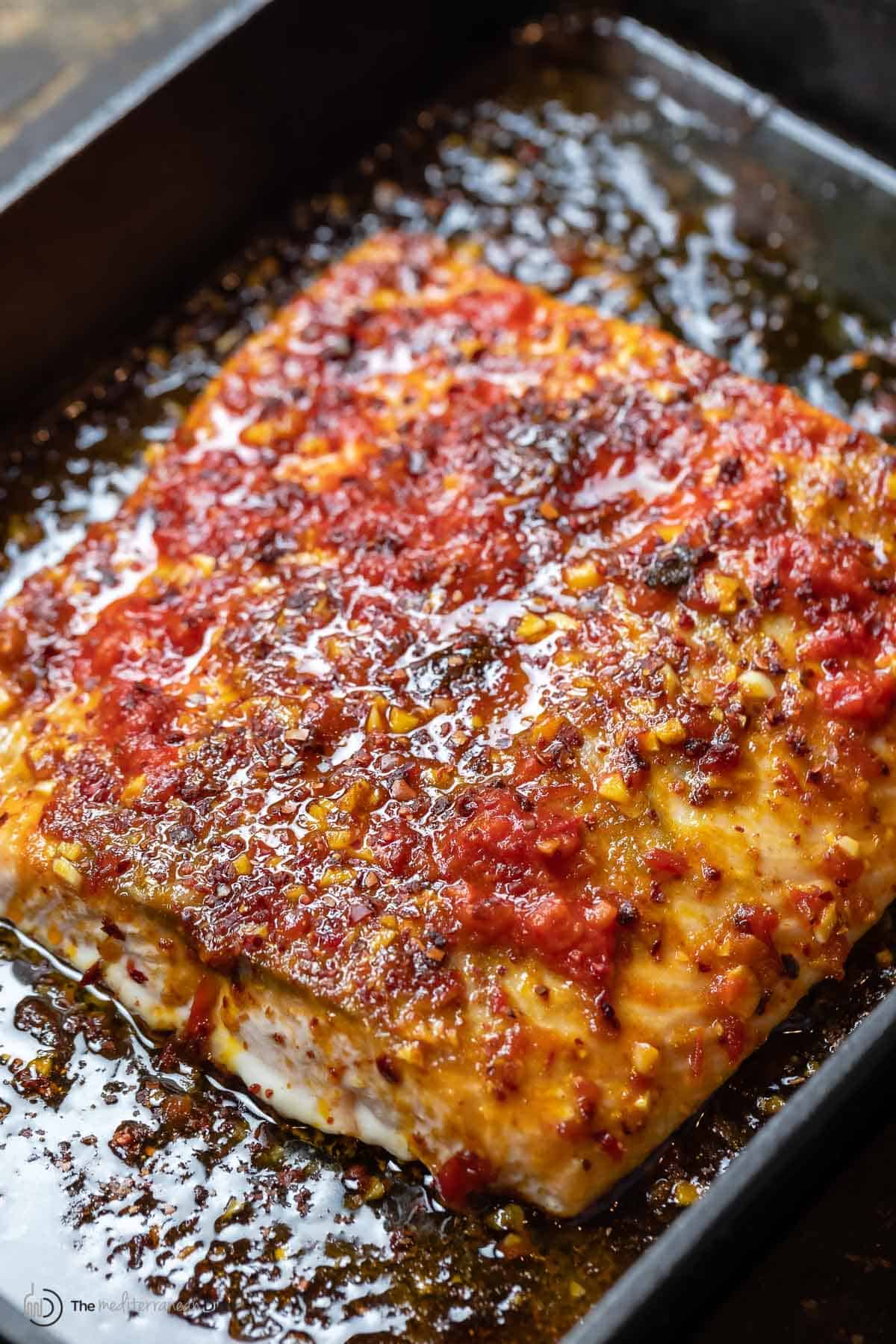 You can make this smoky, slightly sweet salmon recipe in the oven or on the grill. The moment your salmon comes off the heat, finish it off with a generous squeeze of fresh lime juice, and serve it with Grilled vegetables, baked zucchini, grilled Brussels sprouts skewers, or Italian roasted vegetables.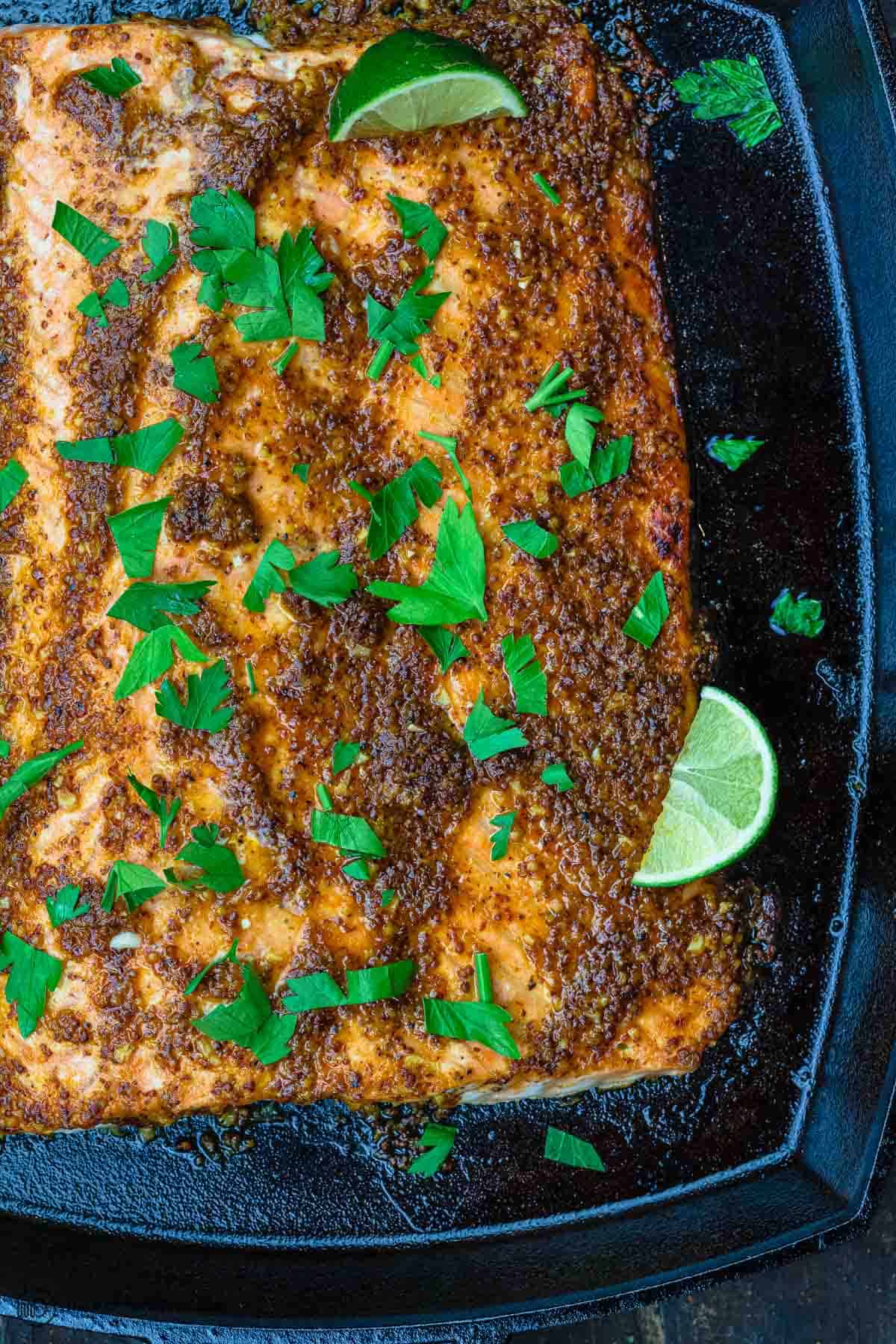 This is my grown-up, tastier take on store-bought fish sticks. Tender on the inside, crispy on the outside, you'll love these salmon fish sticks with a parmesan crust and creamy dipping sauce. (I like them with tahini sauce or tzatziki sauce.)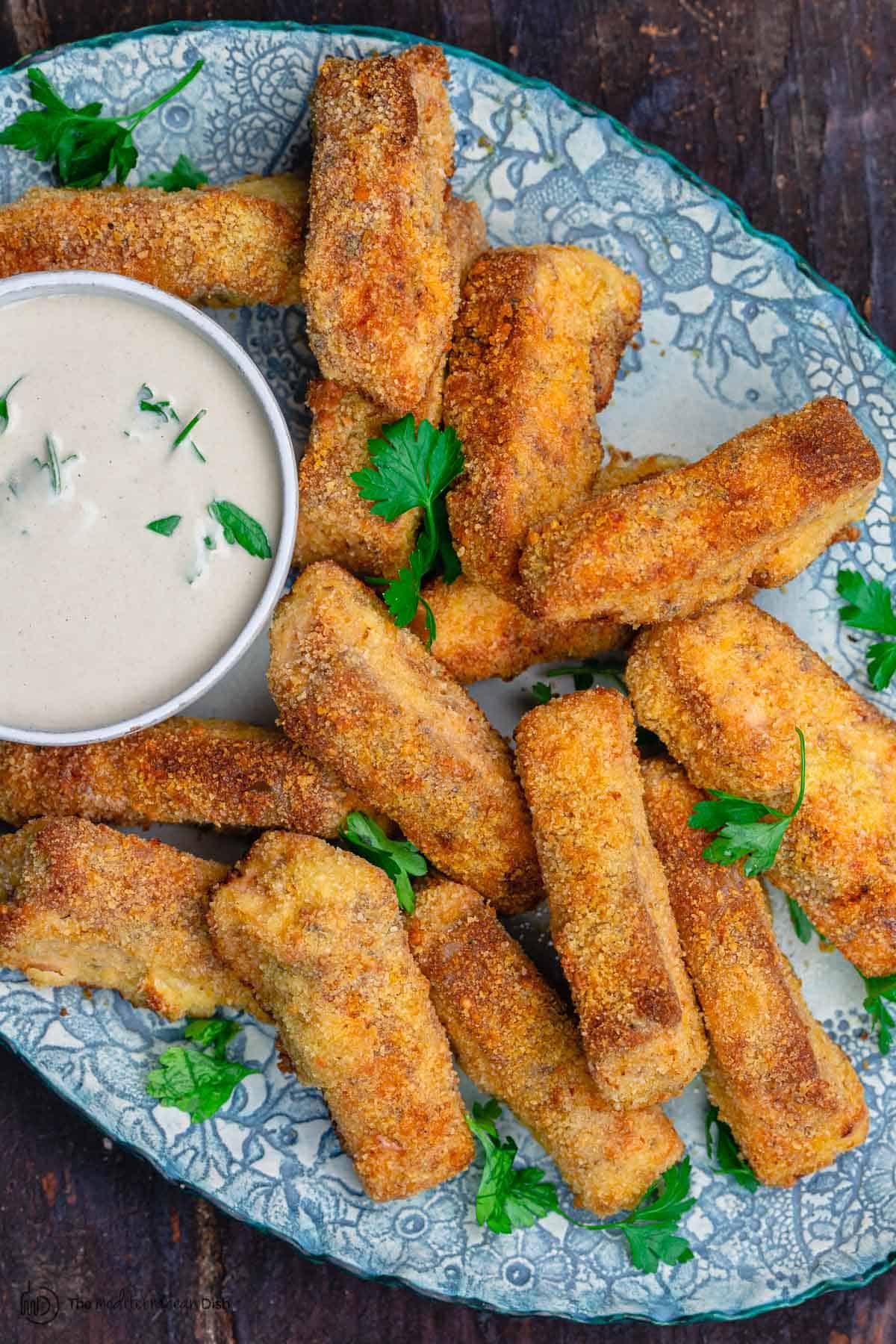 Baked Salmon Recipe with Garlic Cilantro Sauce
This Mediterranean-style baked salmon with a delicious garlic cilantro sauce, tomatoes, and lime is ready in just 15 minutes. If you don't like cilantro, mint or basil would taste just as amazing over the salmon!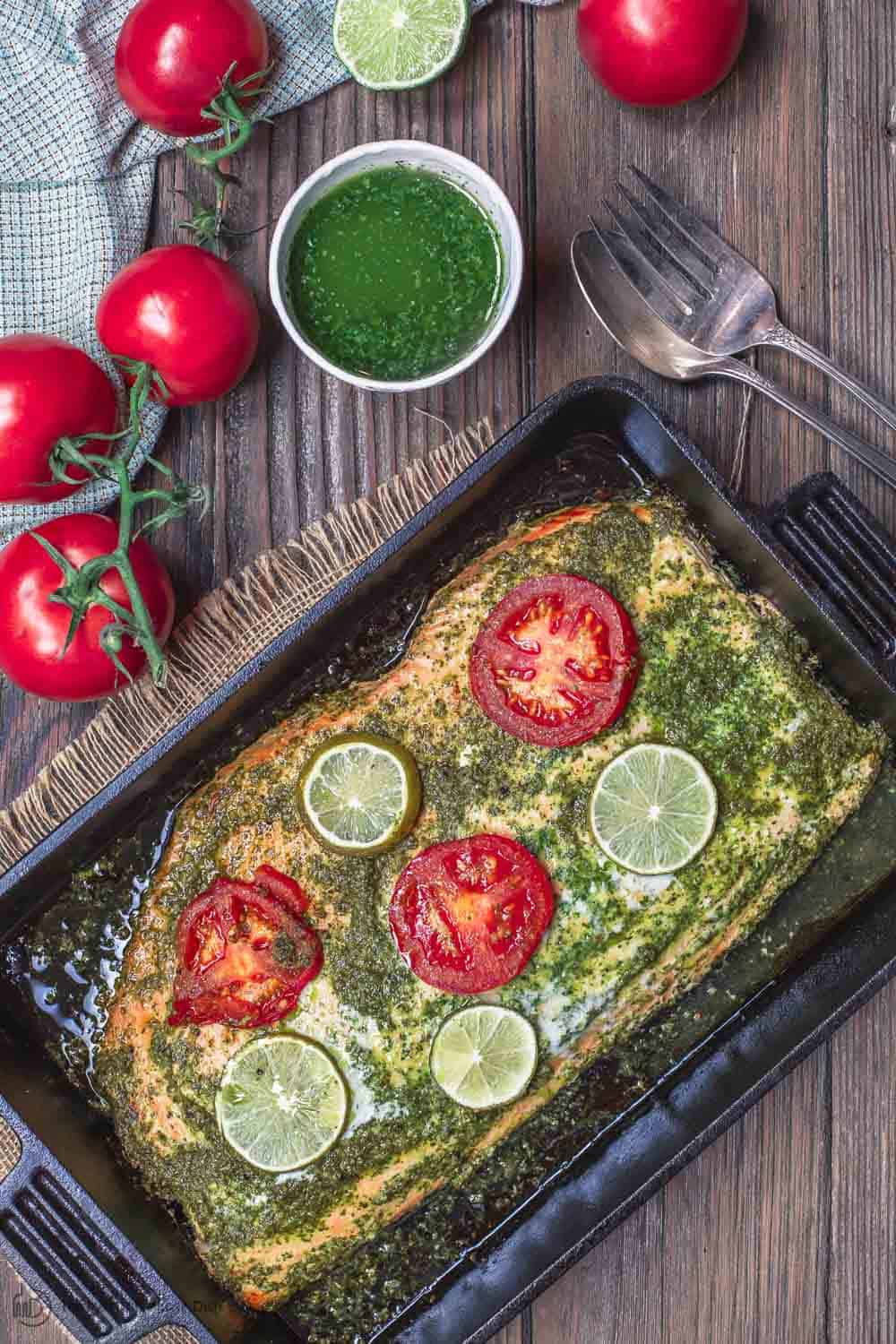 Mediterranean Blackened Salmon Recipe with Pomegranate Salsa
This blackened salmon has a bold rub, both for flavor and for a delicious crust. I used a few warm spices like cumin and coriander, and even a pinch of cayenne (totally optional, if you don't like spicy food!). And the fresh pomegranate salsa with cherry tomatoes and mint complements the salmon perfectly.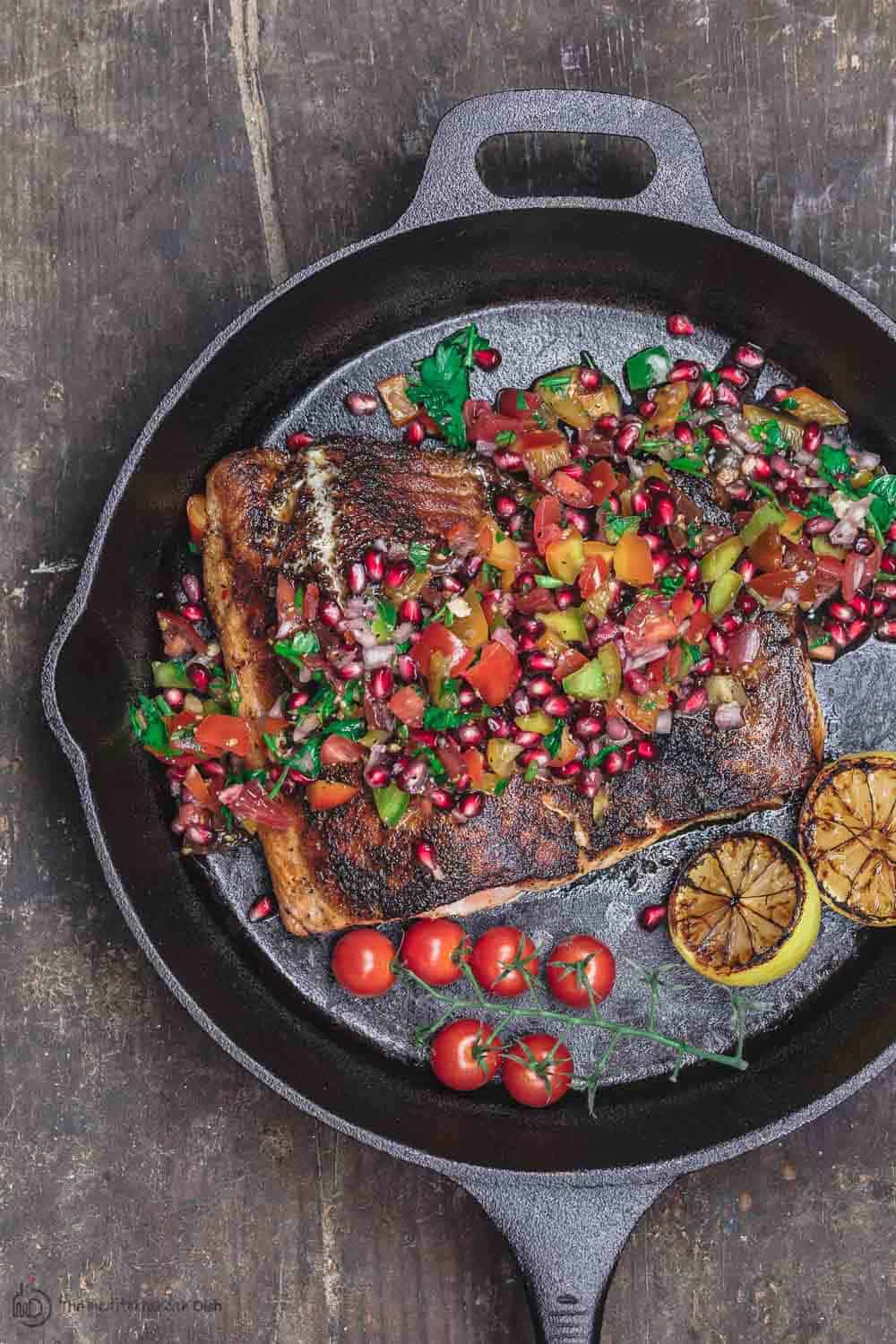 Fish Tips & FAQs
How to buy fish?
If you can, choose wild-caught fish instead of farmed. And if you're buying the fish fresh, start by smelling the fish. While fish does tend to smell "fishy" and a bit like the sea, it should not be a bad smell. If you're buying a whole fish, also examine its eyes and skin. The eyes should be glossy, not dehydrated. And look for tightly adhering, shiny scales.
How do I know when my fish is ready?
As a rule of thumb, 1-inch thick fish fillets will take no more than 10 minutes to cook (longer if the fish is thicker). Fish is ready when the meat turns from translucent to opaque and flakes easily at the touch of a fork. If you'd rather not eyeball it, you can use a meat thermometer to remove the guesswork. Cooked fish will have an internal temperature of 145 degrees F, but keep in mind that, like any other protein, fish will continue cooking even after it's removed from the heat. So, I typically cook the fish to a few degrees under its ideal temp, and let it finish cooking at room temperature.
What sides go well with fish?
One of my favorite things about fish dishes is how many sides they can be served with. Looking for a light lunch? A quick baked fish recipe with a big, fresh salad is your ticket. Wanting something a little more filling? Try serving your fish with roasted vegetables, boiled potatoes, or a grain like couscous or barley.
Looking for more seafood recipes?
If you're on the hunt for stovetop pan-seared fish dishes, or other seafood recipes (such as shrimp, scallops, or calamari), check out our full selection of fish and seafood recipes.
You may also like these recipe roundups:
Browse more Mediterranean recipes
25+ Bold and Easy Fish Recipes: Baked White Fish with Tomatoes and Olives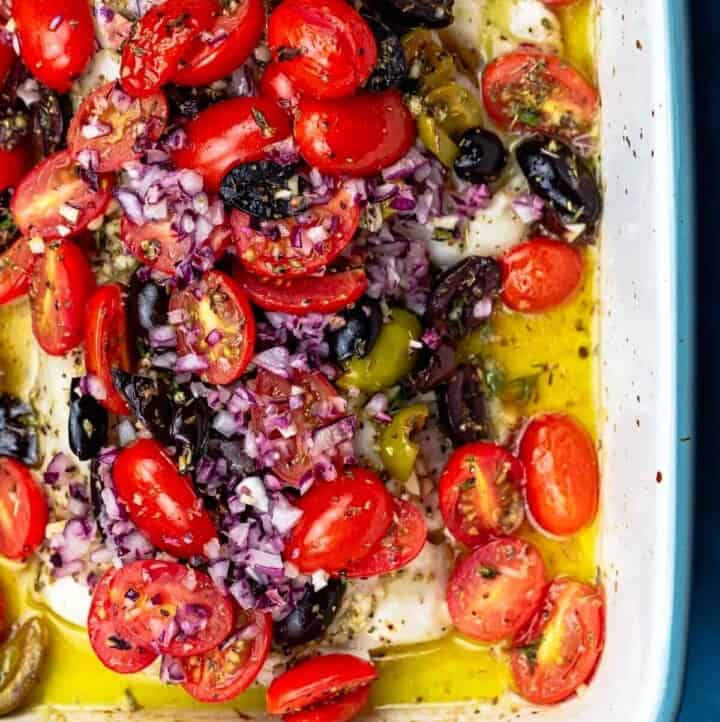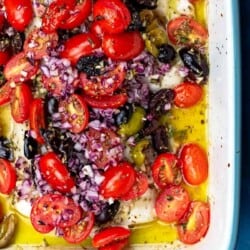 There is something for everyone on my list of easy fish recipes above, but if you're looking for one recipe to get started, this baked white fish with a delicious topping of tomatoes and olives is a good one. Serve this fish over a bed of grains.
Ingredients
1 ½

lb

white fish fillet such as cod or halibut,

(1 to 1 ½ in thickness)

Kosher salt and ground black pepper

Juice of ½ lemon,

more for later

8

ounces

cherry tomatoes,

halved

3

ounces

pitted olives,

halved (I used a combination of kalamata olives and green olives)

3

tablespoons

minced red onion

4 to 5

garlic cloves,

minced

1

tablespoon

fresh thyme leaves

2

teaspoons

dried oregano
Instructions
Heat the oven to 425 degrees F.

Pat the fish dry and season with salt and pepper on both sides. Brush a 9 ½ x 13-inch baking dish with a little extra virgin olive oil and put the fish in it. Squeeze lemon juice all over the top of the fish.

In a medium mixing bowl, combine the tomatoes, olives, onions, garlic and spices. Add a very small pinch of salt and ground black pepper. Add a drizzle of extra virgin olive oil (about 3 tablespoons) and toss to combine.

Pour the tomato and olive mixture over the fish.

Bake in the heated oven for 15 to 20 minutes (depending on the thickness of your fish).

Remove from the heat and serve.
Notes
Fish cooks quickly. So, you can check if the fish is done before the 15-minute mark. Carefully insert a fork at the thickest part of the fish and twist gently. Fish is ready when it flakes easily.
Use a meat thermometer. If you would rather be 100% sure that your fish is done, use a meat thermometer. Cooked fish will have an internal temperature of 145 degrees F. Because it will continue to cook once removed from the oven, I like to take it out when it's a few degrees lower than 145 degrees F, and let it finish cooking at room temperature.
Serve with lemon rice, couscous, or your favorite grain. Try adding a big salad as well.
Visit Our Shop to browse quality Mediterranean ingredients including extra virgin olive oils and spices.
Nutrition
Calories:
128.3
kcal
Carbohydrates:
3.9
g
Protein:
21
g
Fat:
3
g
Saturated Fat:
0.5
g
Cholesterol:
48.8
mg
Sodium:
286.8
mg
Potassium:
587.5
mg
Fiber:
1.3
g
Vitamin A:
353
IU
Vitamin C:
12.6
mg
Calcium:
49.8
mg
Iron:
1.2
mg