Tender steamed mussels in a garlic white wine broth are easy to make, healthy, and delicious! First time making these tasty morsels? Don't worry! I have tips on how to buy, clean, and cook mussels so your recipe will turn out every time! Let's get started!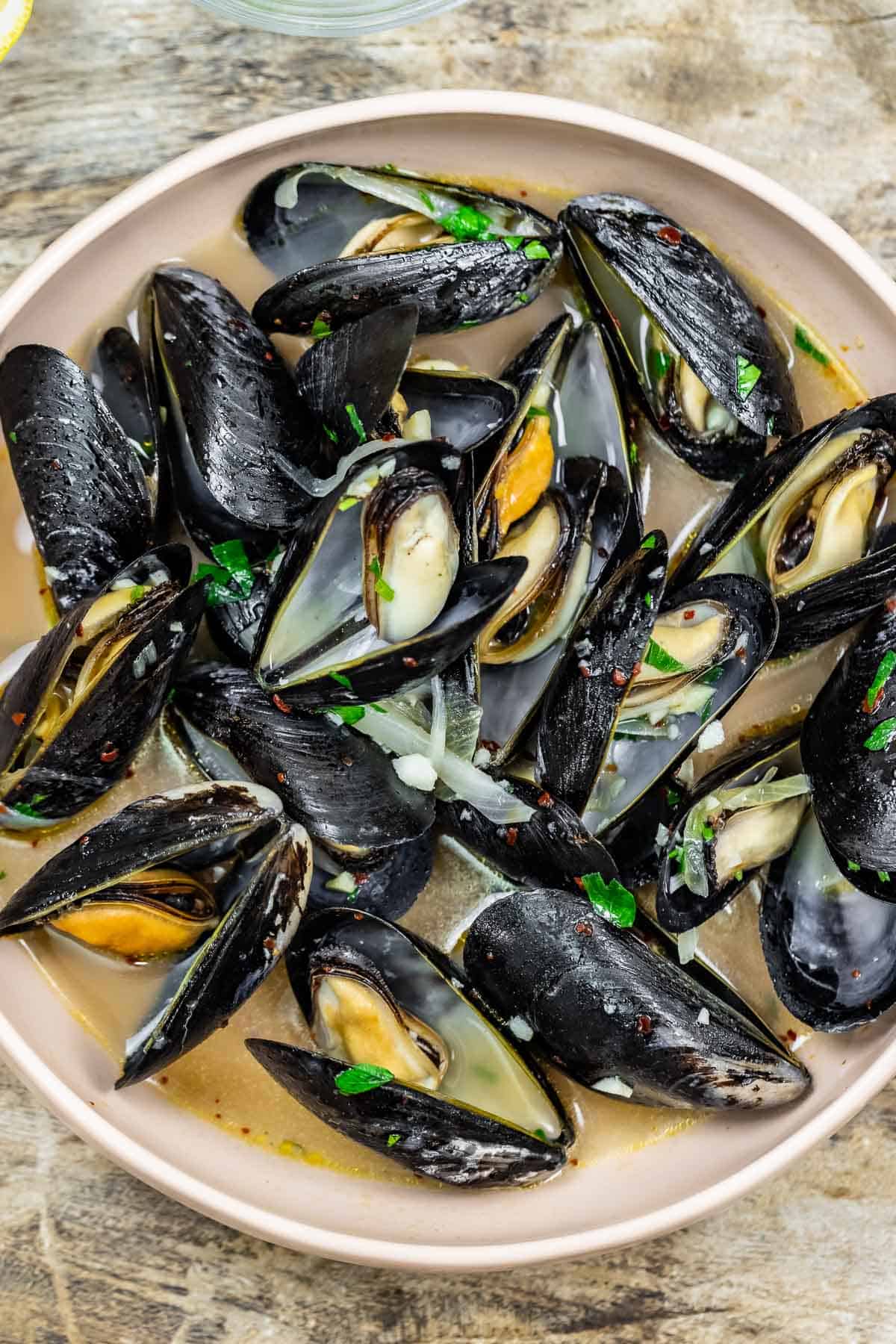 Few seafood recipes are as impressive as steamed mussels in a delicious white wine broth seasoned with garlic and herbs. It's a light but filling meal that works as well for weeknight dinner as it does for company.
This Mediterranean-style mussels recipe screams fancy, but in reality, only takes a few minutes to whip up! They're similar to my steamed clams but take a fraction of the time, because mussels are much easier to clean.
If you're new to making mussels don't worry! In this post, I'll show you the ins and outs of buying, cleaning, and storing mussels. You only need a few minutes so let's get to it!
Table of Contents
In this post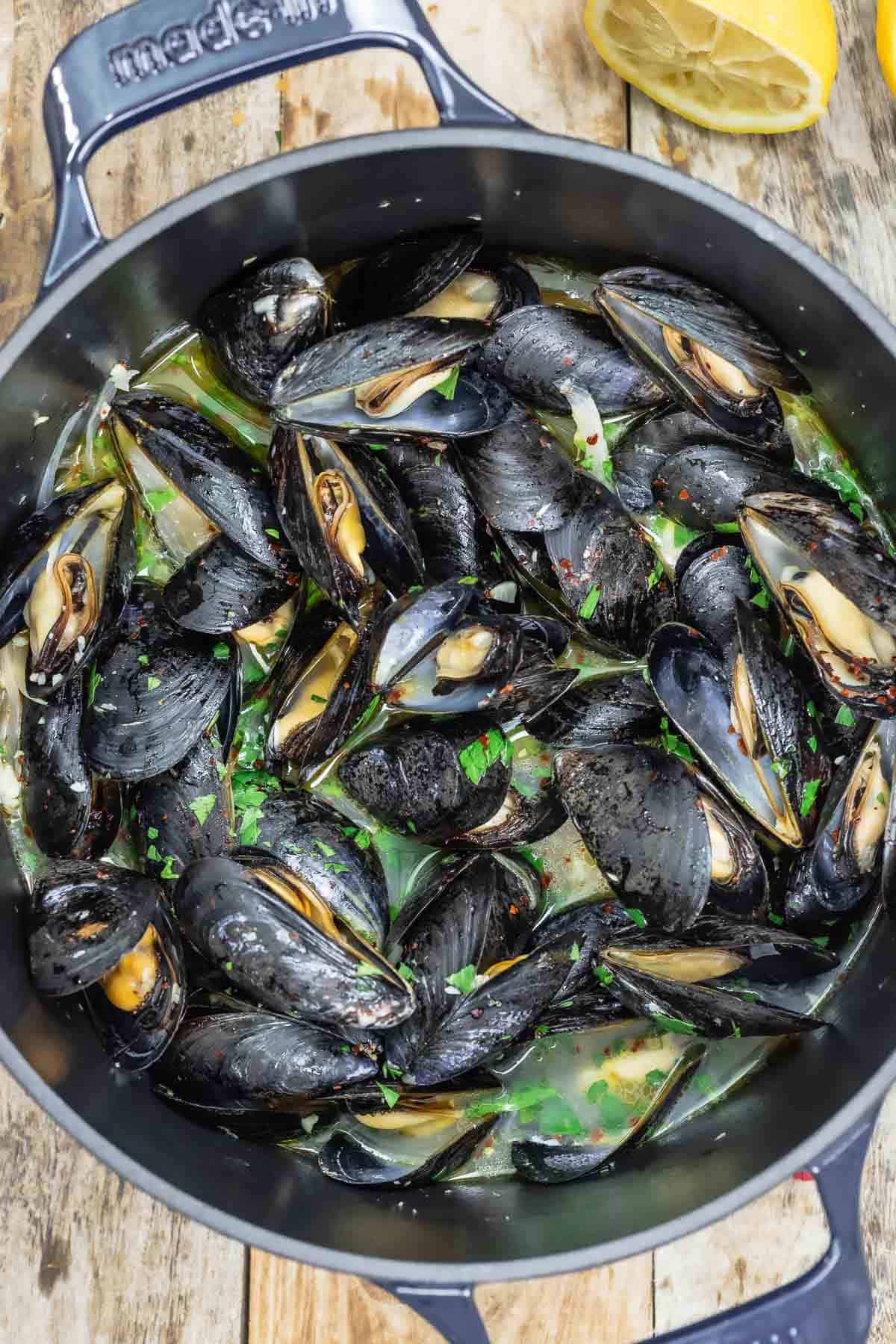 How to buy and store mussels
You might not know this, but mussels are alive when you buy them from the store! I prefer to cook mussels the same day I bring them home, but they will keep well in the refrigerator for about two days. Here's how to buy and store them:
Mussels should smell briny, like the ocean. Avoid mussels with a foul, "fishy" smell.
Never store mussels in water or in airtight containers — they need to breathe.
If the mussels come in a mesh bag, place the bag into a bowl to catch any liquid that might drain out.
If the mussels come in other packaging that won't allow them to breathe well, remove the mussels and place them in a colander set atop a bowl.
Cover the mussels lightly with a damp cloth or paper towel so they remain moist. Check them daily to check that the towel is still damp.
Refrigerate for up to two days.
How to clean mussels
Mussels from fishmongers and larger grocery stores typically won't be very dirty as most of the grit is removed before you buy them. But there are few things worse than a sandy broth, so it's always a good idea to clean them at home.
When you get home, check to make sure all the mussels are closed. If there are open mussels, tap them with a fingernail, or lightly against a counter. If they do not close, discard the mussel. Open mussels are a sign that they are either dead or dying and they should be tossed out.
Rinse the closed mussels under cold running water. I usually place them into a colander and gently toss them around.
Scrub the shells with a vegetable brush to remove any stubborn grit.
Remove and discard the stringy fibers that come through the shell called the beard. To remove the beard from mussels pinch it between your finger and thumb and pull toward where the shells connect. If it's difficult to grip, use a paper towel to do it.
Now that the mussels are ready to cook, you can prep the other ingredients!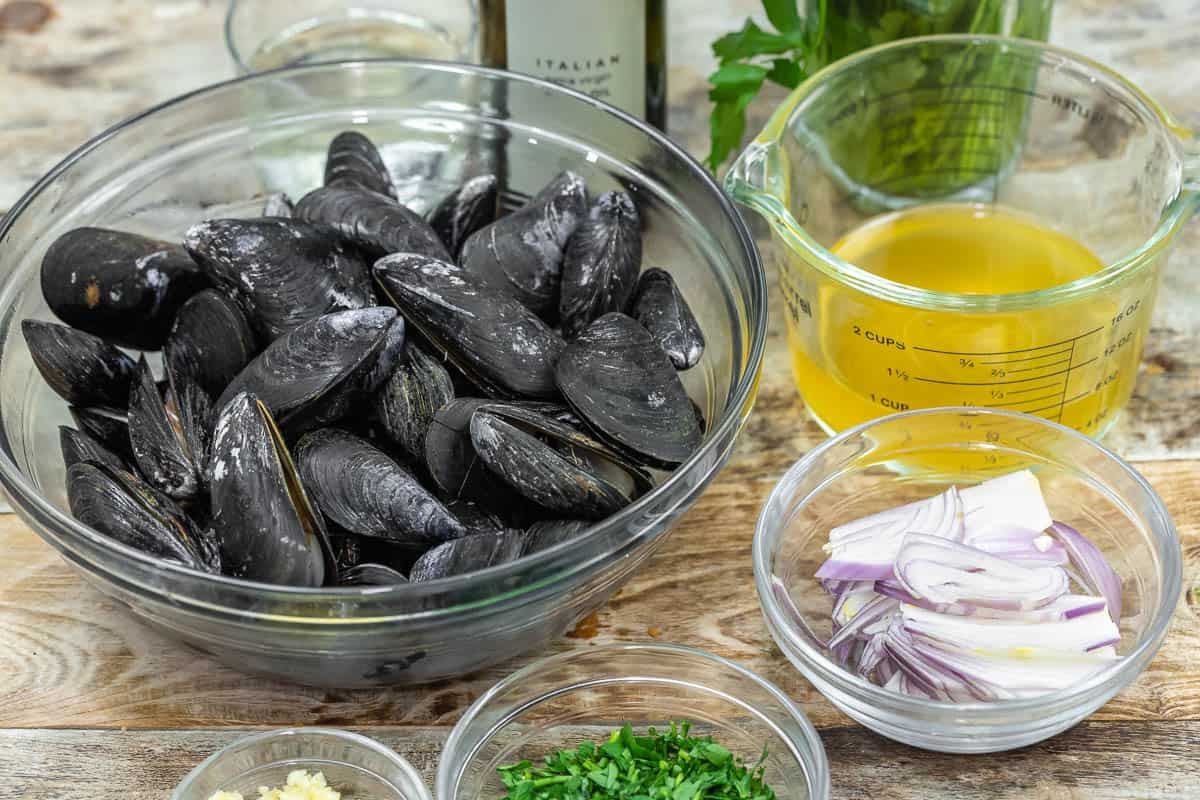 Ingredients you'll need for this mussels recipe
Mussels are on the more affordable end for shellfish and protein sources, which makes them an easy sell for weeknight dinners. Here's everything else you'll need to make this dish:
Extra virgin olive oil: Opt for a medium-intensity oil with a hint of pepper to it, like our Italian Nocellara EVOO.
Garlic: Don't be shy with the garlic here — it's one of the main flavor-makers! I mince 4 large cloves.
Shallot: You could also use a small red onion instead, but it will have more of a bite.
Italian seasoning: Adds so much flavor with little effort! I always of a batch of my homemade Italian seasoning around so I can measure out one thing rather than five on busy weeknights. If you don't have Italian seasoning then just add a combination of oregano, thyme and basil totaling 1 teaspoon.
Red pepper flakes or Aleppo pepper: If you are a fan of heat, go with red pepper flakes. If you want something a bit milder, Aleppo-style pepper is just the thing! (Learn all about Aleppo pepper)
Broth: Chicken or vegetable broth are the best options.
White wine: You need dry white wine like pinot grigio, chardonnay, or sauvignon blanc. If you don't cook with alcohol, read on for some swaps!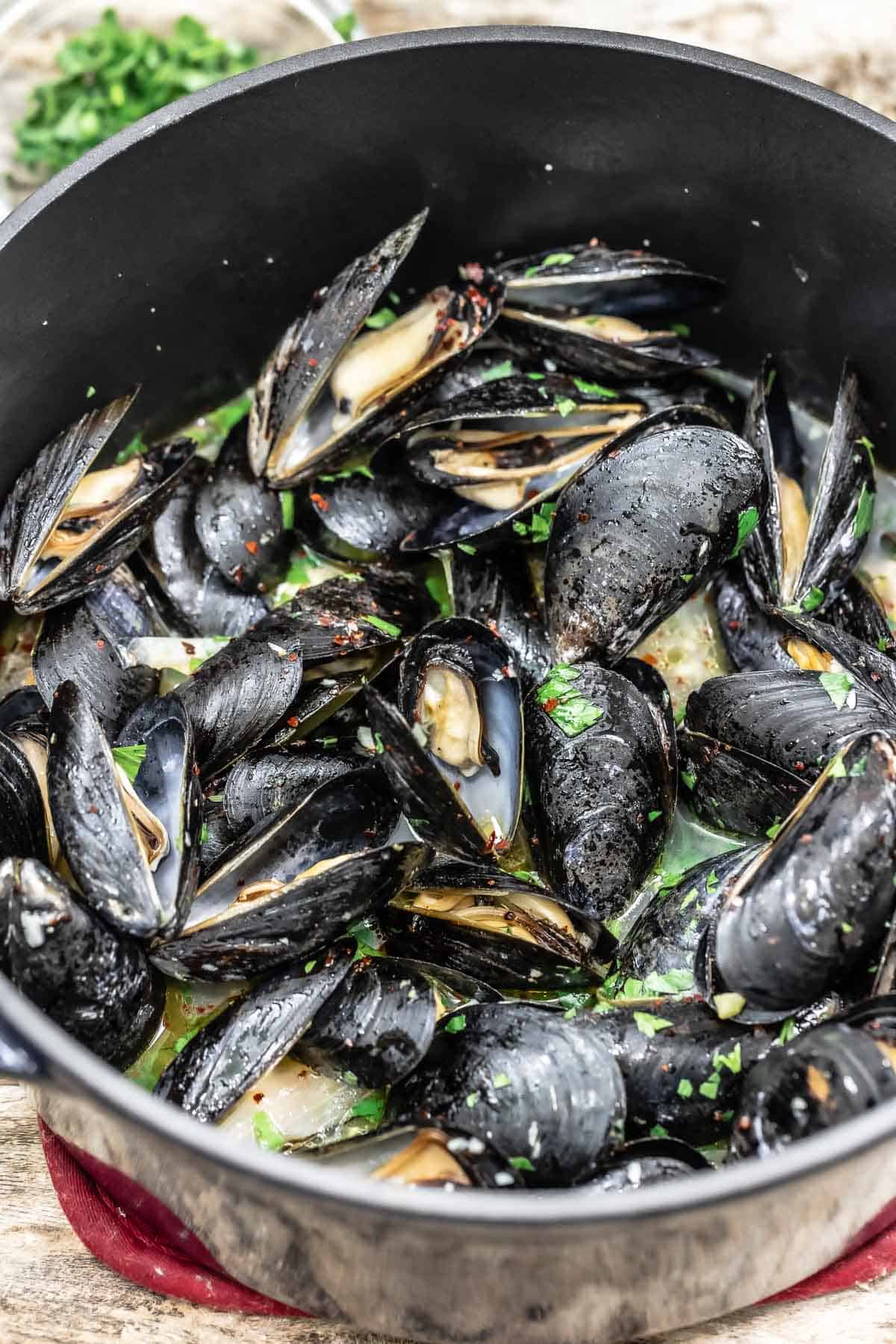 How to make steamed mussels
Mussels make a quick, delicious dinner. In fact, once you've sorted through and cleaned the mussels, steaming them only takes about 15 minutes!
Sweat the aromatics. To a large Dutch oven or 6-quart cooking pot, add 2 to 3 tablespoons of extra virgin olive oil over medium-high heat until shimmering. Add 4 minced garlic cloves and 1 thinly sliced shallot. Season with kosher salt, 1 teaspoon Italian seasoning, and ½ teaspoon red pepper flakes. The goal of sweating the ingredients here is to get them to soften and release a little moisture without browning.
Cook the mussels. Add 3 pounds of cleaned mussels to the pot and stir, then add 1 cup broth and ½ cup dry white wine. Cover and turn the heat back up to medium-high. Allow the mussels to steam for 5 to 6 minutes, or until the mussels open. Remove the pot from the heat the moment the mussels open. Stir in 3 tablespoons chopped fresh parsley (if using).
Serve and enjoy! Divide the mussels and broth among serving bowls and serve immediately with lemon wedges and crusty bread on the side.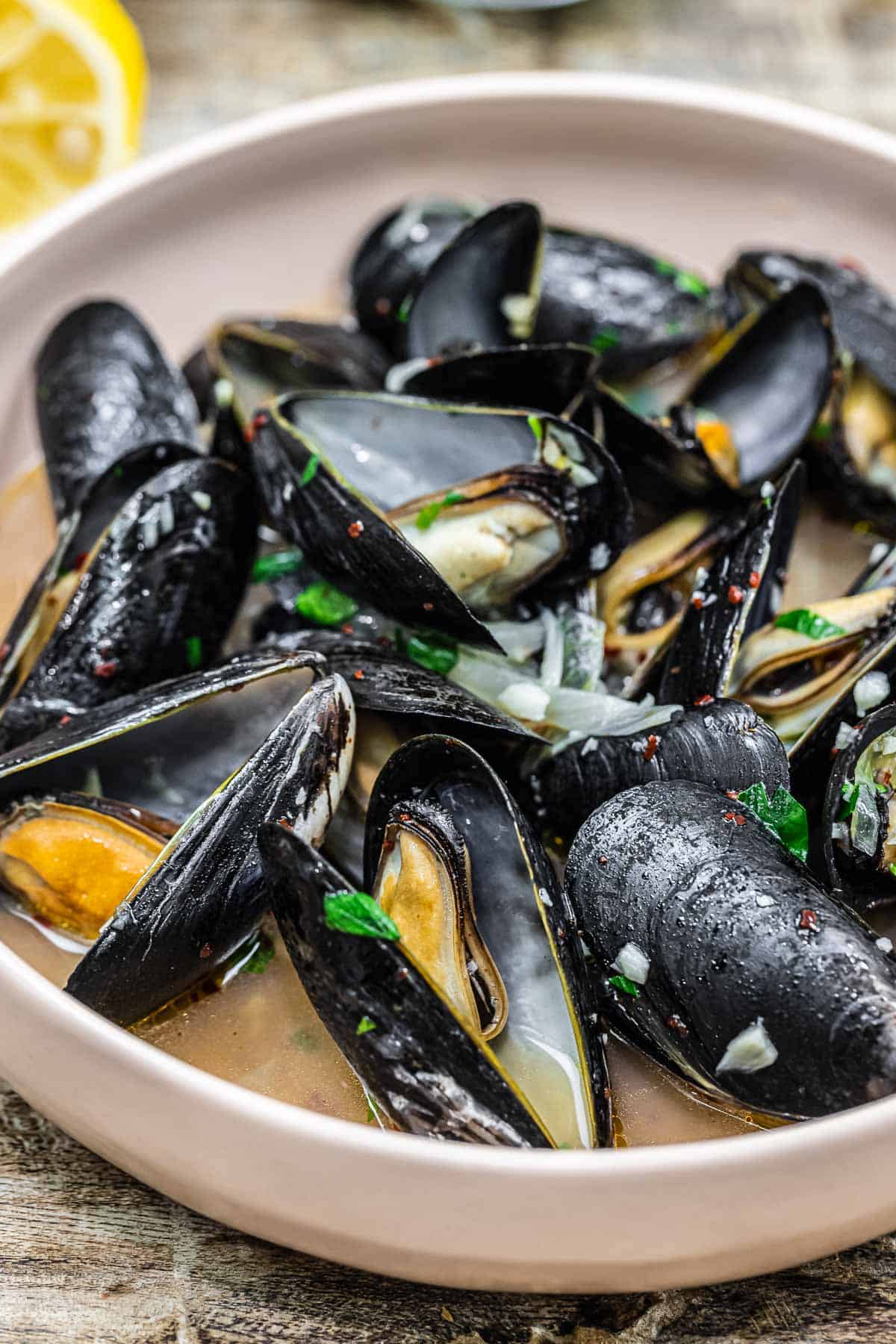 What to serve with steamed mussels
The best part about this mussels recipe is the garlicky white wine broth. And when you have delicious broth you need delicious bread to sop up all those juices.

Now, you can absolutely slice up a baguette, brush it with good extra virgin olive oil, and toast it under the broiler for an elegant presentation. If you're gluten-free, take a leaf out of my daughter Hannah's book. She loves mussels and clams with lots of broth, but instead of bread adds lemon rice to soak it all up.

Steamed mussels make an elegant, light main meal, but they also work well in various seafood stews, like Cioppino, or as an appetizer for all kinds of other recipes! Here are are some of my favorites:
Alcohol-free steamed mussels
While wine is an important ingredient in this mussels recipe, you have a few options if you do not cook with alcohol!
Swap the wine for an equal amount of chicken, vegetable or fish broth, perhaps with some fresh lemon juice.
Try clam juice and fish stock.
More shellfish recipes
Browse all Mediterranean recipes.

Visit Our Shop.
Add a little heat to your steamed mussels!
Try our flavorful Aleppo Pepper
Fruity, tangy, with just the right amount of heat. A dash of Aleppo pepper can elevate nearly any meal, and we love it in seafood dishes like today's mussels recipe.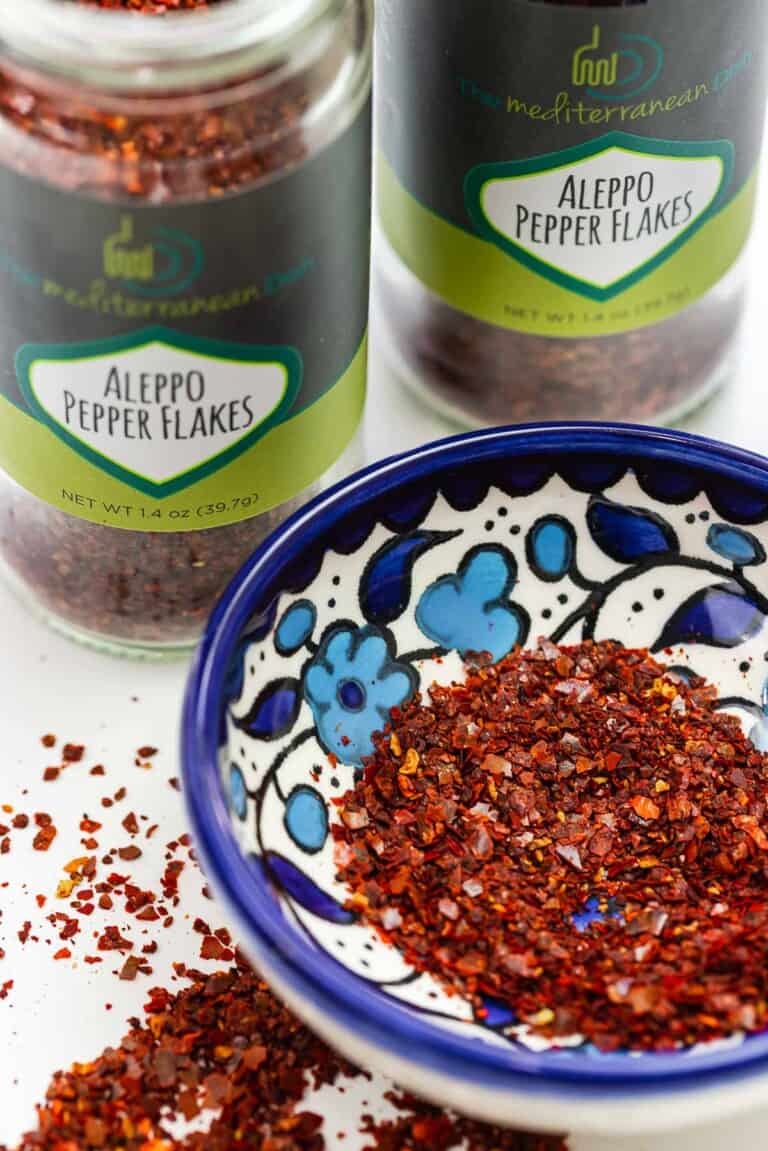 Steamed Mussels in Garlicky White Wine Broth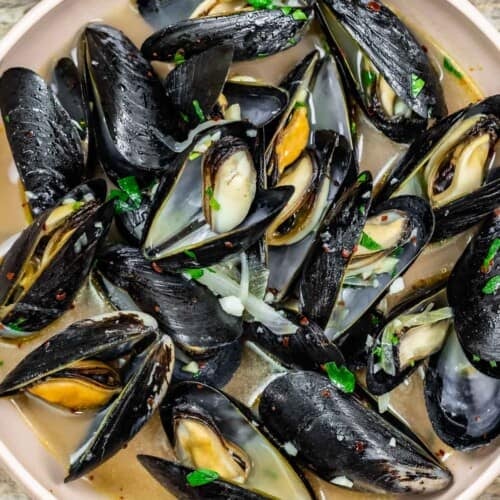 Tender mussels steamed in a garlic white wine broth! This impressive dish might seem fancy, but it only takes a few minutes to whip up. Get all my quick tips for how to buy, clean, and cook mussels — trust me, it's easier than you think! Serve mussels with crusty bread, or make a batch of lemon rice so you can enjoy every drop of the delicious broth.
Ingredients
4

large garlic cloves,

minced

1

large shallot or small red onion,

halved and thinly sliced

kosher salt

1

teaspoon

Italian seasoning,

use this recipe

½ to 1

teaspoon

red pepper flakes,

or Aleppo pepper

3

pounds

mussels

1

cup

chicken or vegetable broth

½

cup

dry white wine

3

tablespoons

chopped fresh parsley for garnish,

optional
To serve
1

lemon,

cut into wedges

1

French baguette or rustic Italian bread,

sliced, optional
Instructions
Rinse the mussels under cold running water, scrubbing with a brush, until the water runs clear. Discard any mussels that are not fully closed or do not close when you give them a gentle tap with your fingernail.

In a large Dutch oven or 6-quart cooking pot, heat about 2 to 3 tablespoons of extra virgin olive oil over medium-high heat until shimmering.

Add the garlic and shallots, and season with a good pinch of kosher salt. Add the Italian seasoning and red pepper flakes (or Aleppo pepper), if using. Cook, stirring frequently with a wooden spoon, until fragrant (manage the heat to make sure the garlic does not brown).

Add the mussels and stir them around a bit, then pour in the broth and wine. Cover the pot and let the mussels steam over medium-high heat for about 5 to 6 minutes or until the mussels open up (you can give them a quick stir midway through).

As soon as the mussel shells are open, immediately remove the pot from the heat and stir in the fresh parsley.

Transfer the mussels and broth to serving bowls and serve immediately with lemon wedges and French or Italian bread to the side.
Notes
Nutrition facts do not include the bread.
How to choose mussels: Mussels should smell like the ocean, not foul or "fishy." Shells should be intact with no cracked. Discard any mussels that remain open after a light tap with a fingernail — mussels that are open prior to cooking are either dead or dying.
What to serve with this mussels recipe: You don't need much more than some rustic crusty bread to sop up the sauce, or a batch of lemon rice.
Alcohol-free option: Swap the wine for an equal amount of broth, with a little lemon juice for acidity. You can also use fish stock or clam juice.
Visit Our Shop for quality Mediterranean ingredients including extra virgin olive oils, spices, lentils, and grains.
Nutrition
Calories:
172.9
kcal
Carbohydrates:
8.8
g
Protein:
14.5
g
Fat:
7.4
g
Saturated Fat:
1.2
g
Polyunsaturated Fat:
1.2
g
Monounsaturated Fat:
4
g
Cholesterol:
32.4
mg
Sodium:
337
mg
Potassium:
449.7
mg
Fiber:
1.1
g
Sugar:
1.2
g
Vitamin A:
412.9
IU
Vitamin C:
22.4
mg
Calcium:
50.4
mg
Iron:
5.1
mg