Poached salmon, simmered until tender in white wine and garlic, takes less time than ordering takeout. It's healthy, delicately flavored with bright citrus and fresh herbs, and you only have to wash one pan. If you're looking for an easy salmon recipe this one is it!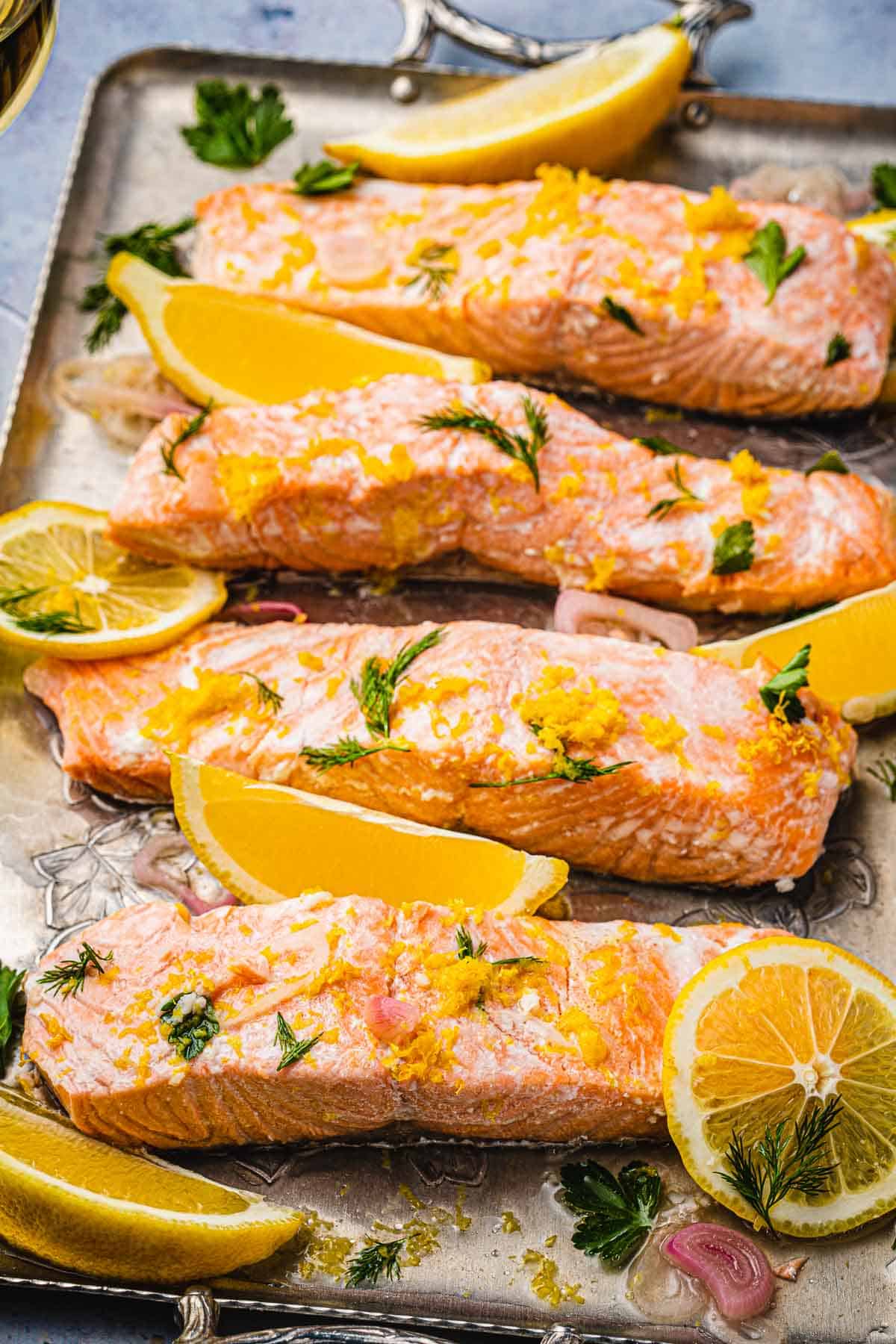 When it comes to busy weeknights poached salmon is on the regular rotation in my house. I don't have to turn on my oven, which is a big deal when temperatures rise in Atlanta! It's also shockingly fast. This recipe takes only 5 minutes to prepare the ingredients, and the salmon turns buttery-soft after poaching for about 5 to 8 minutes.

Pair this easy salmon recipe with something green like Blanched Asparagus or a Lemon Parmesan Salad to add some crunch. Both recipes are ready in about 10 minutes and on a weeknight that's a win for me! If a few carbs are in order poached salmon goes beautifully with the slightly floral nature of Basmati Rice. The rice, however, will take longer to cook than the salmon so start the rice first.

Quick, easy, healthy, and delicious —this poached salmon recipe with the bright flavors of lemon and dill can be on your table start to finish in 15 minutes or less!
Table of Contents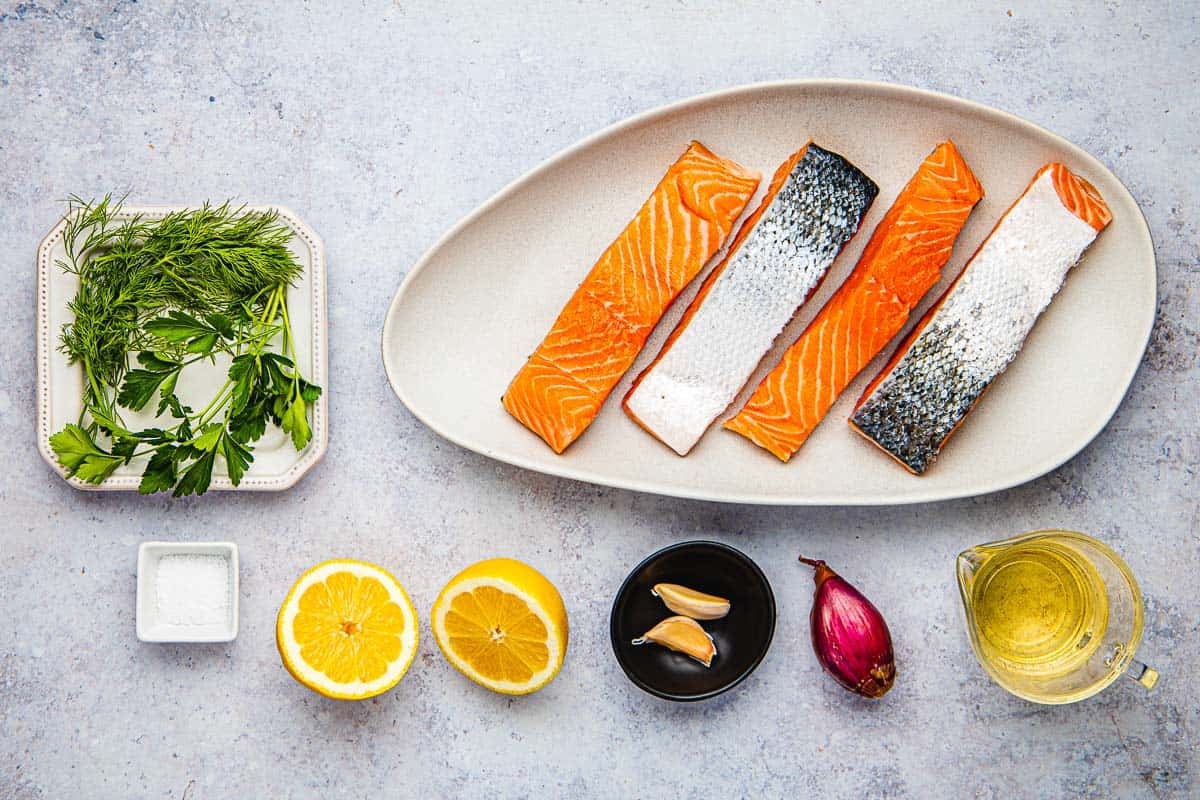 Ingredients for Poached Salmon
Poaching is one of the fastest and easiest ways to cook salmon. Simply throw some pantry essentials in a pan (yes, white wine is a pantry essential around here) and simmer for 5 minutes! You're left with a tender, soft salmon and delicious broth.
Lemon: Lemon juice is used to flavor the poaching liquid, and zest is used as a garnish.
White wine: A dry white wine works best with the savory flavors of the poaching liquid.
Flavor makers: Shallot and garlic bring a sweet allium flavor to the lemony white wine poaching liquid. I love the delicate flavor of shallot here. You can substitute with ½ of a small yellow onion, sliced into half moons, if necessary.
Fresh herbs: Dill and parsley bring the Mediterranean flavor for this easy salmon recipe. You can substitute dried in a pinch, but nothing beats fresh herbs.
Salmon: Salmon fillets vary greatly in terms of thickness. A thicker fillet, like king or sockeye, works best for poaching. If you have a thin fillet, lower the cooking time.
Kosher salt: Seasoning with kosher salt draws out the flavor of both the fish and the poaching liquid.
Extra virgin olive oil: This step is optional, but I love to drizzle on some peppery Hojiblanca.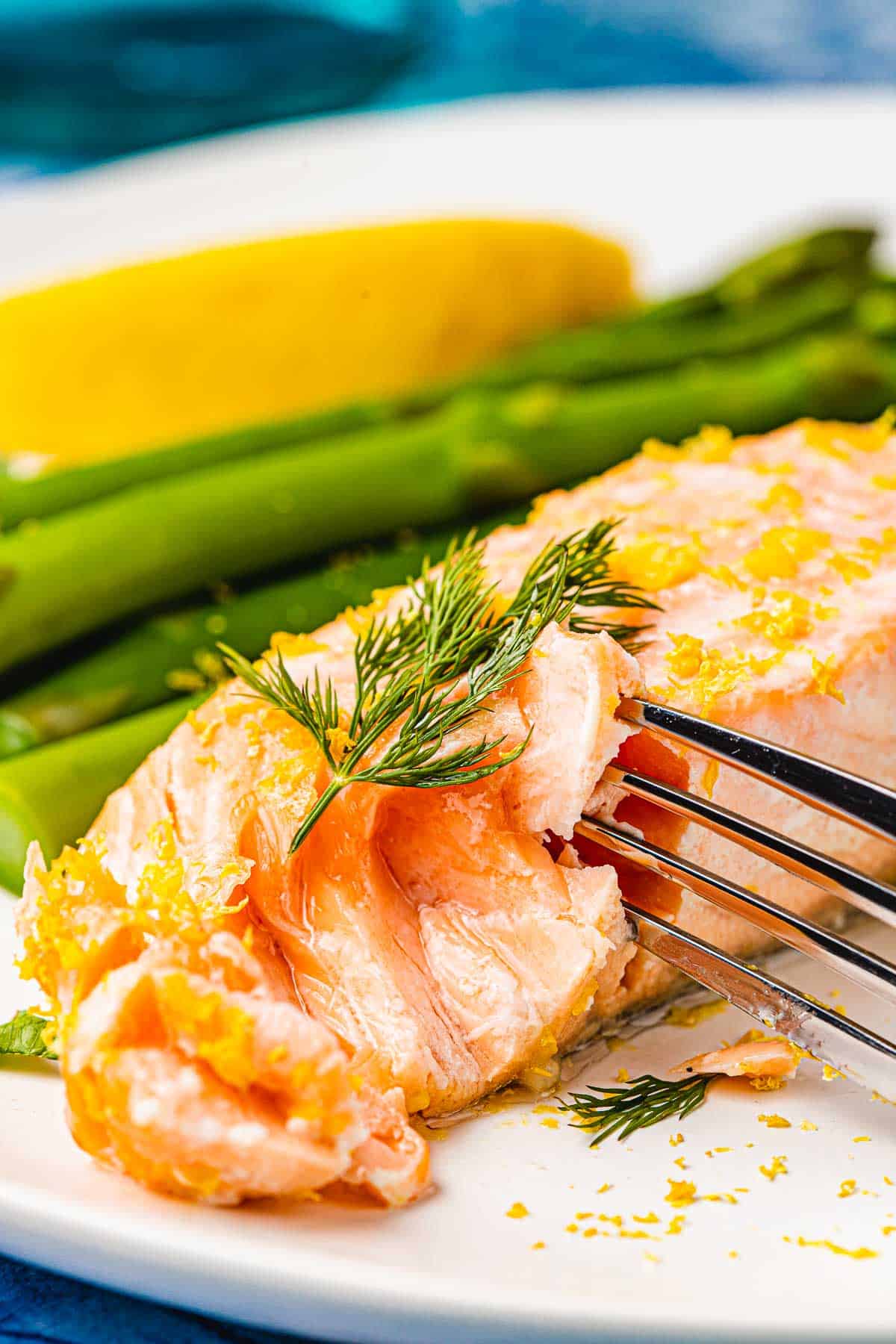 How to Poach Salmon
Simple Poached Salmon comes together in about 10 minutes and just one pan. This is such an easy salmon recipe you may even memorize it!
Prep the lemon: Zest one lemon, then slice it in half and juice into a large saucepan with a lid. Cut the second lemon into wedges or slices. Set the sliced lemon and zest aside.
Make the poaching liquid: To the saucepan with the lemon juice, add ½ cup white wine. Stir in 1 thinly sliced shallot, 2 minced garlic cloves, and 2 sprigs each of parsley and dill. Bring to a simmer over medium heat.
Season the salmon: Slice a 1 ½ pound salmon fillet into 4 equal portions. Pat dry with paper towels, then season each piece all over with kosher salt.
Poach the salmon: Nestle the salmon portions in the poaching liquid. Lower the heat to maintain a simmer and cover. Cook for 5-8 minutes (I stop at 5 minutes). The poaching time depends on how well-done you like your fish, and how thick it is.
Garnish: Take the salmon off the heat. Sprinkle with the reserved lemon zest, chopped fresh parsley leaves and dill.
Serve: Use a spatula to transfer each piece of salmon to your serving plates. Ladle the broth over top. Drizzle with olive oil if you'd like, and serve with lemon wedges or slices on the side.
Tips for The Best Poached Salmon
Poaching salmon is easy, but there are a few simple things you can do to make it that much better.
Know how to tell when salmon is cooked. Poached salmon is cooked through when it's changed to a pale pink and flakes easily with a fork. A thermometer should read 125°F.
Remove the skin while it's still warm. If you want to remove the salmon's skin, it's easiest when it's just cool enough to handle but still warm.
What to Serve with Poached Salmon
This simple salmon is a 10-minute meal all on its own. If I have extra time, I make Basmati Rice or Couscous. For a well-rounded meal, serve this easy salmon recipe with a fresh and crunchy salad, like Radicchio, Fresh Fennel and Orange, or Asparagus Salad.
More Delicious Ways to Cook Salmon
Browse all Mediterranean recipes.

Visit Our Shop.
Hojiblanca Spanish Extra Virgin Olive Oil
This olive oil has a slight peppery finish. Drizzle it over salads, poached fish or soups just before serving to add an extra something special.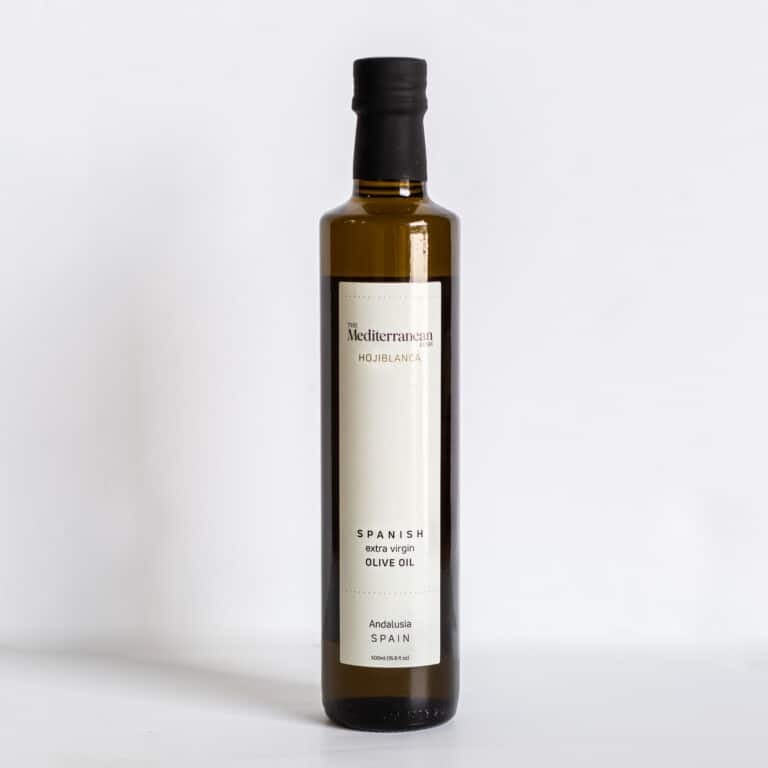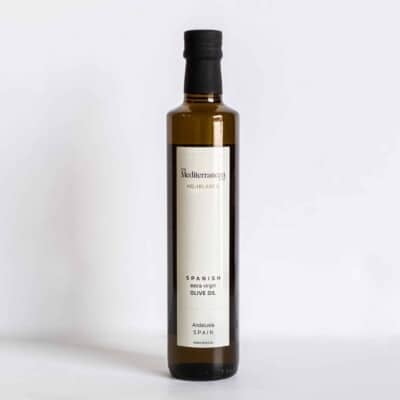 Poached Salmon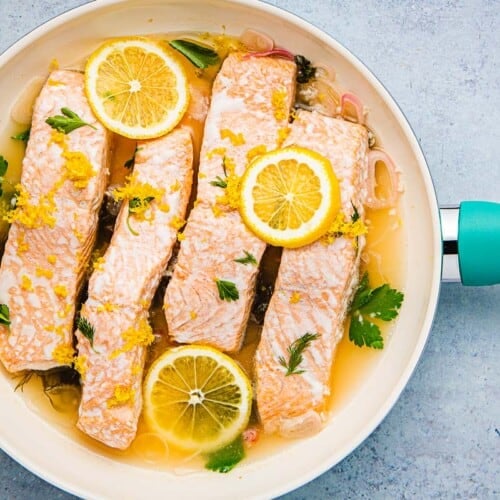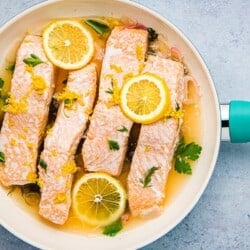 This simple salmon is simmered in garlic, lemon, and white wine until tender. It comes together in 15 minutes or less and uses only one pan, making it ideal for a weeknight dinner.
Ingredients
2

large lemons

½

cup

white wine

1

shallot,

thinly sliced

2

garlic cloves,

minced

3

sprigs parsley

3

sprigs dill,

(or ½ to 1 teaspoon dried dill)

1 ½

pounds

salmon fillet,

sliced into four equal portions

Kosher salt

Hojiblanca Spanish extra virgin olive oil,

for drizzling (optional)
Instructions
Prepare the lemon: Zest, then juice one lemon. Slice the second lemon into wedges or rounds for garnish. Set aside.

Prepare the poaching liquid: In a large saucepan with a lid, combine the wine, lemon juice, shallot, garlic, and 2 sprigs parsley, and 2 sprigs dill. Bring to a simmer over medium heat.

Season the salmon: Pat the salmon dry and season with kosher salt on both sides.

Poach the salmon: Nestle the salmon in the poaching liquid. Lower the heat to maintain a simmer and cover. Cook for 5 to 8 minutes, depending on the thickness of the fish and your desired doneness (I stop at 5 minutes). While the salmon poaches chop the remaining sprig of parsley and dill.

Serve: Transfer the salmon to four serving plates and top with a bit of the poaching liquid. Sprinkle the salmon with lemon zest, chopped parsley, and dill. Add a drizzle of extra virgin olive oil if using. Serve immediately, with lemon wedges or slices on the side.
Notes
Skin-on and skinless salmon will both work well for this recipe. If you're using skin-on salmon, you may want to use a sharp knife to remove the skin just before serving.
Visit our shop to browse quality Mediterranean ingredients including olive oils, honey, jams and spices.
Nutrition
Calories:
351
kcal
Carbohydrates:
7.5
g
Protein:
34.7
g
Fat:
18
g
Saturated Fat:
2.7
g
Polyunsaturated Fat:
5.1
g
Monounsaturated Fat:
8.7
g
Cholesterol:
93.6
mg
Sodium:
79.4
mg
Potassium:
965.9
mg
Fiber:
1.8
g
Sugar:
2.2
g
Vitamin A:
201.4
IU
Vitamin C:
31.2
mg
Calcium:
44.8
mg
Iron:
2
mg