This is a simple, bright, herby grilled salmon recipe. The salmon marinade and the fresh mint mango salsa take this fish to a new level of tasty. And don't miss our tips for how to grill salmon perfectly every time!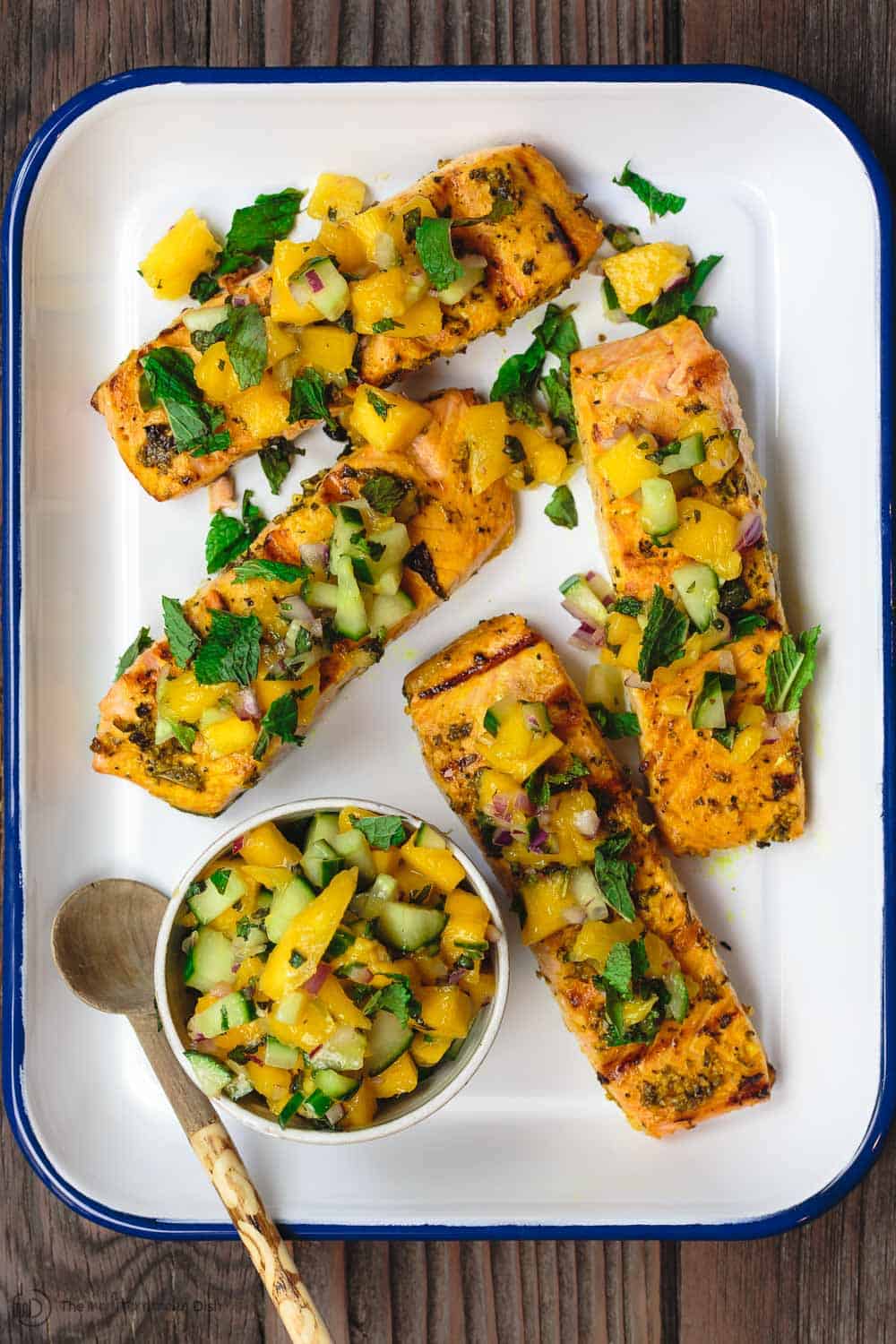 Here in Atlanta, we use our grill year-round, but it's especially exciting on brighter summer days.
We've been doing more fish on the grill lately, and we found one of the easiest things to grill is salmon. I can't take credit for this grilled salmon recipe entirely; my husband is really the grill master in the family.
He employs a couple of tricks to get the best grilled salmon every time.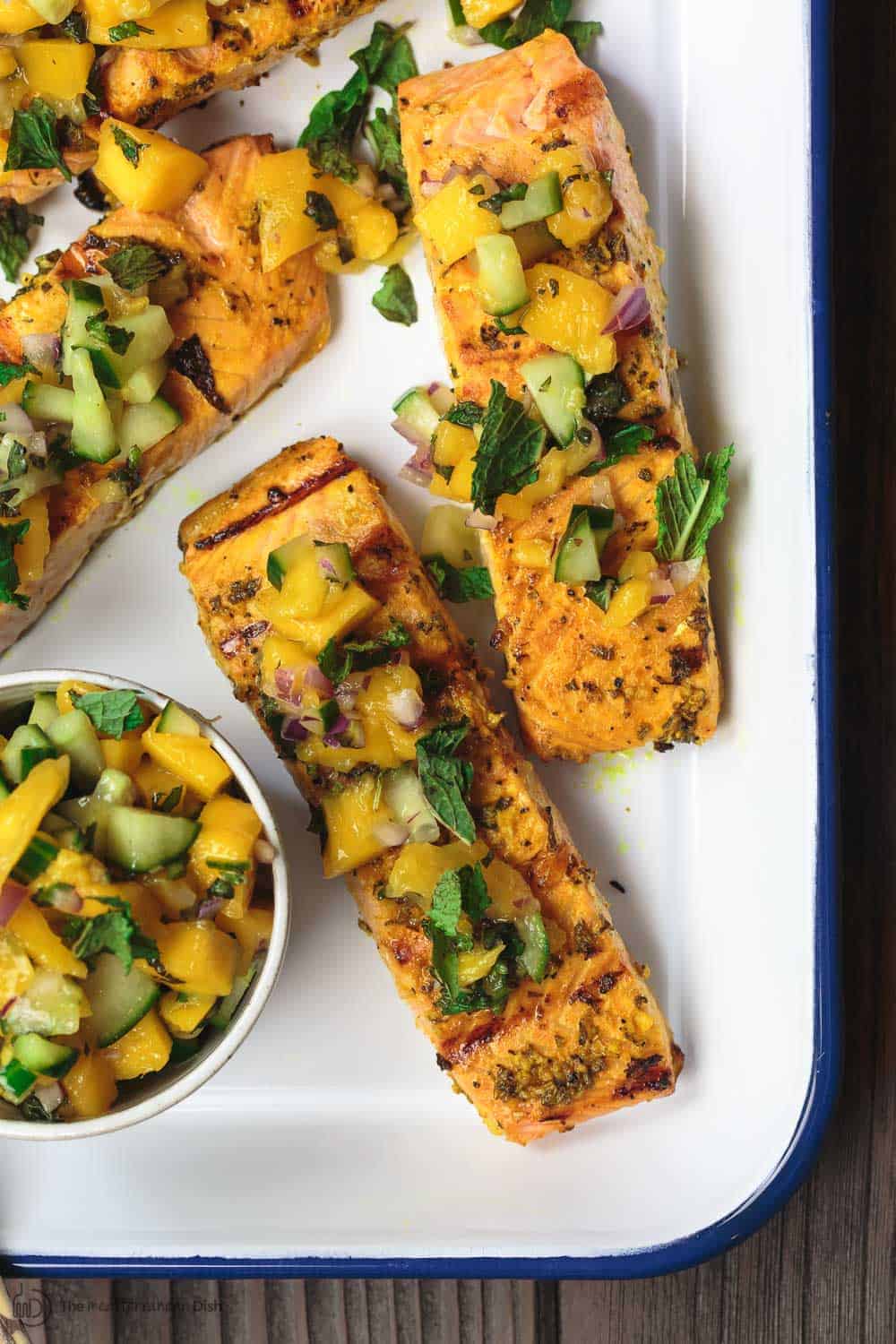 How to Grill Salmon Perfectly Every Time
It goes without saying that when grilling fish, you should use a clean gas grill with generously oiled grates. Two more tips for how to grill salmon:
If you grill your salmon on direct heat as we have in this recipe, you'll want to use thicker salmon fillets with skin on. The skin holds the salmon together as it cooks over dry heat. The skin also imparts good flavor as it releases fat.
Cook salmon fillets skinless side down first over high direct heat. While salmon is raw, it is firm still, and there is less chance of the flesh falling apart. Sear the skinless side first and do not disturb it or move it until some grill marks start to show. Salmon fillets will begin to release a bit of their fat and a thin layer (closest to the heat) will turn opaque. That's when you have permission to carefully turn the salmon fillets over to the skin side. At this point, the skin does it's work holding the fish together while finishing over lower heat.
The part I can take credit for is the flavor…the salmon marinade, and, oooh, and the mango salsa!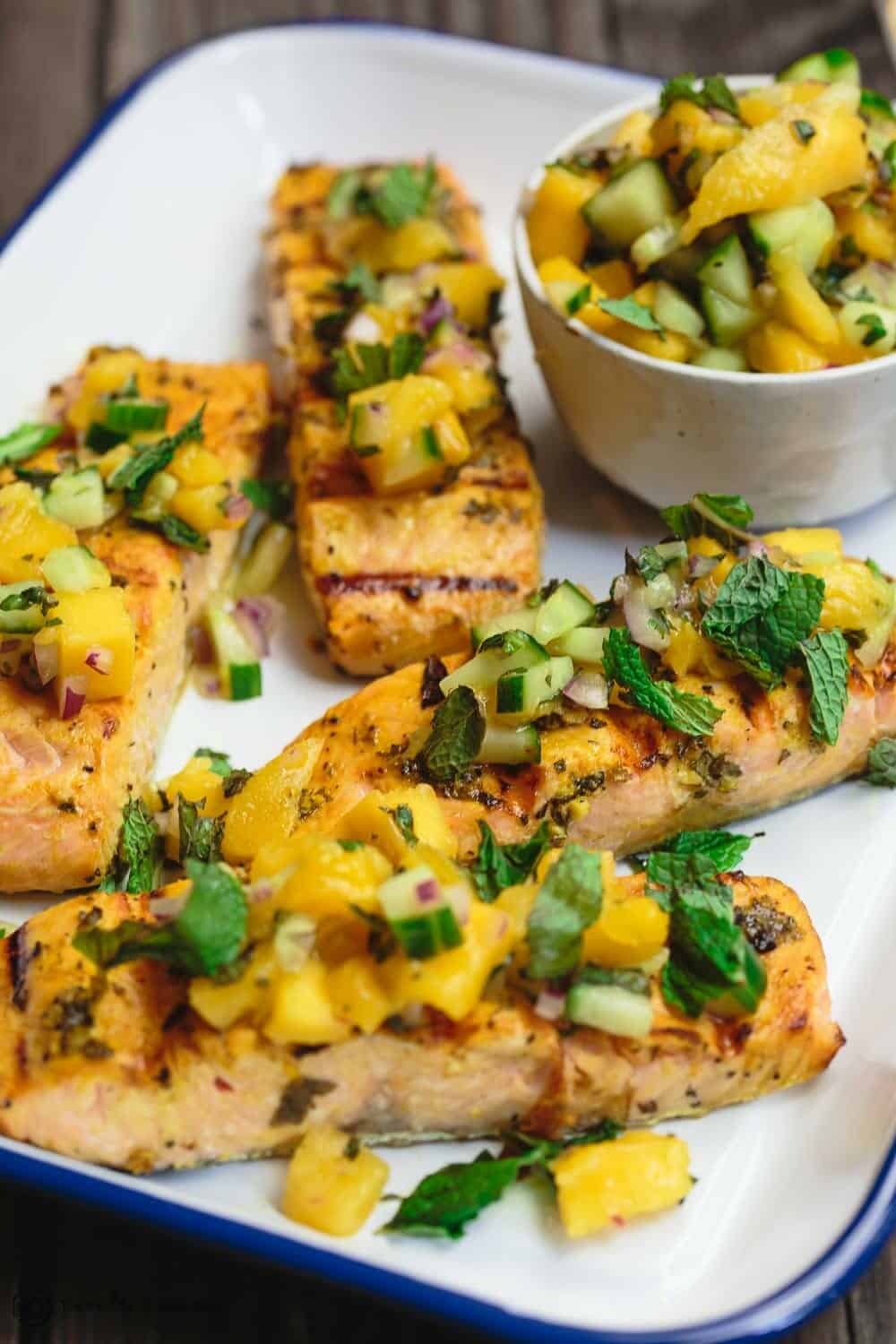 Salmon Marinade
No surprise, the salmon marinade here begins with three Mediterranean suspects: extra virgin olive oil, lemon juice, and garlic. To add brightness and impart more flavor, I like to mix fresh herbs (in this case, mint) with favorite earthy spices like coriander and cumin.  If time is of the essence, you can marinate the salmon for 20 minutes or so while you make the salsa and prepare the grill. But if you have the time, leave it in the fridge for 2 hours or so for bolder flavor.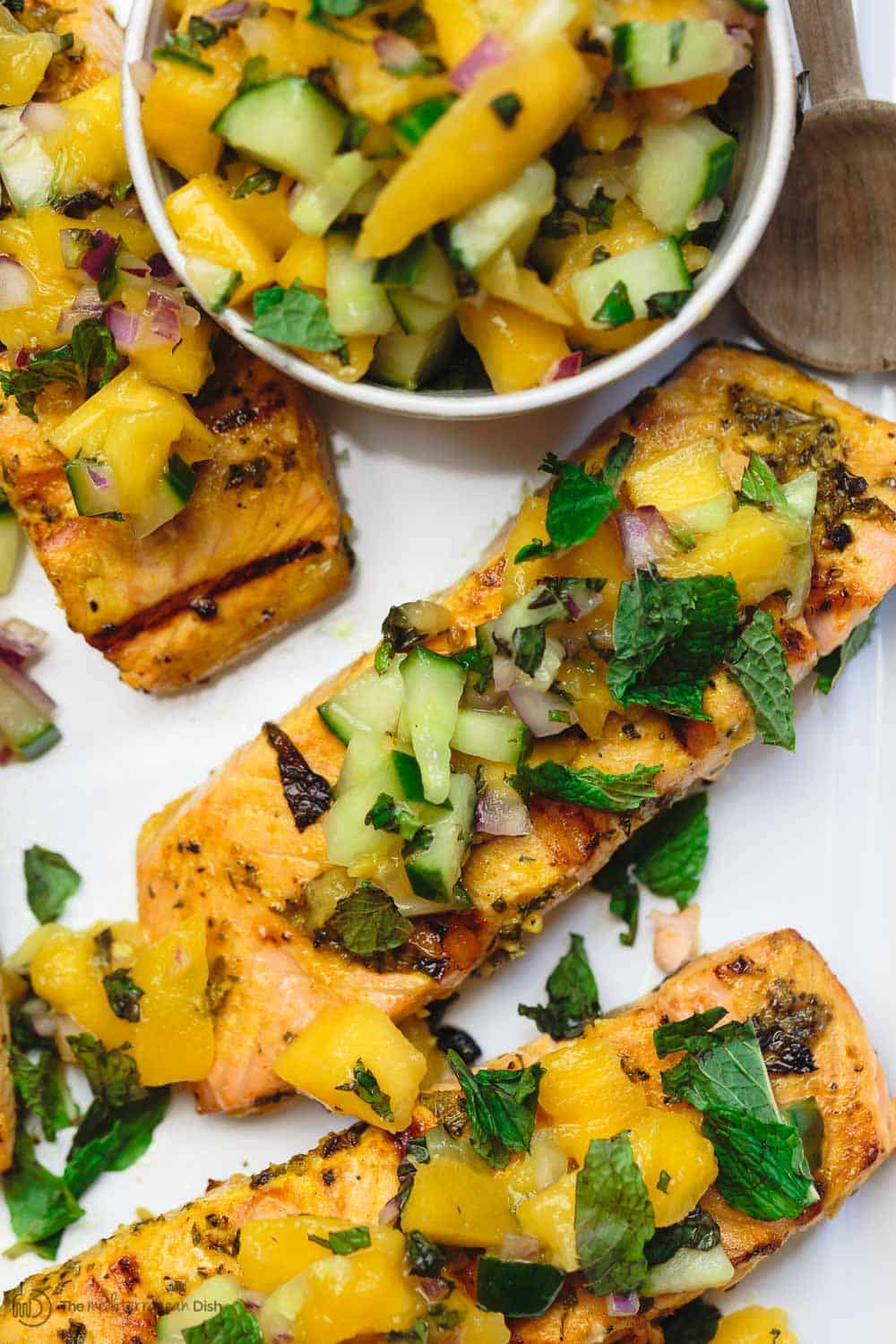 What to Serve with this Grilled Salmon Recipe
When I first started putting ingredients together for this salmon recipe, I was planning to use a tomato-based Mediterranean salsa (the one I used with this Asparagus recipe). But decided, last-minute, to change things up to a bright, fresh mint and mango salsa with cucumbers. What a great addition on top of grilled salmon! A side of Lebanese rice or your favorite grain completes this dinner.
But the possibilities of sides to go with this herby, Mediterranean-style grilled salmon are endless. Here are a few: Grilled Brussels Sprouts, Mediterranean Grilled Zucchini, Fattoush Salad; Tzatziki sauce, and roasted garlic hummus
Print
Grilled Salmon Recipe with Mint Mango Salsa
---
Scale
Ingredients
For Salmon
4

salmon fillet pieces weighing about

6 ounce

s each, skin on
Kosher salt
For Marinade
For Mint Mango Salsa
2

mangoes, cubed

1/2

seedless English cucumber (hot house cucumber), chopped

20

fresh mint leaves, chopped

1/4 cup

finely chopped red onion
Juice of

1/2

lemon
---
Instructions
Season salmon with kosher salt on both sides and place, skin

less

side up, in a casserole dish deep enough to hold the marinade (I used this dish).
Make the marinade. In a bowl, add extra virgin olive oil, lemon juice, mint, garlic, spices, and salt. Whisk to combine.
Pour marinade over the salmon and let sit in room temperature for 20 minutes (or, if you have the time, cover and refrigerate for 2 hours.)
Meanwhile, make the mango salsa. In a bowl, add mangoes, cucumber, fresh mint, red onions, and lemon juice. Toss to combine. Set aside for now. (If you don't plan to eat for a few hours, cover salsa and refrigerate until ready to use.)
Heat an outdoor gas grill on high (grill is ready when you can hold your hand one inch above the grates for only 1 to 2 seconds). Spray or brush grates generously with oil (this is important so that the salmon does not stick.)
Arrange salmon fillets on hot grill, skin

less

side down first (this way, they'll get some nice grill marks while the fish is still firm.) Close the grill lid. Cook 1-3 minutes on the first side, depending on how thick the fillets are. DO NOT move the salmon fillets until you are ready to turn them over.
Look for grill marks on the fish, and where the fish is closest to the grill, you should see a small layer of opaque (cooked) flesh. Using tongs and a metal spatula, carefully turn the fish over so it is now skin-side down.

 Now, turn heat down to medium.

Close the grill lid. Cook for another 2-5 minutes, again depending on the thickness of the fillets. Salmon is ready when it is barely opaque throughout.
Remove from the grill and serve with the mango salsa and Lebanese rice (or your favorite grain). You can serve mango salsa on top or on the side. See more side suggestions in recipe notes.
---
Category:

Fish and Seafood

Method:

Grilling

Cuisine:

Mediterranean
Keywords: grilled salmon, grilled salmon recipe, easy grilled salmon, how to grill salmon, salmon marinade, fish, grilled fish, Mediterranean grilled fish recipe
More Recipes to Try
Bakes Salmon with Garlic Cilantro Sauce
Greek Baked Chicken Wings with Tzatziki
Mediterranean Baked Fish with Tomato and Capers
Please review Nutrition Disclosure. This post may include affiliate links