Looking for a simple salad with lots of crunch and a light, sweet and tangy dressing? This red cabbage salad made with simple, nutrient-dense ingredients should do the trick. It's perfect for every occasion. Make it as a weeknight side, picnic salad or bring it to your next potluck.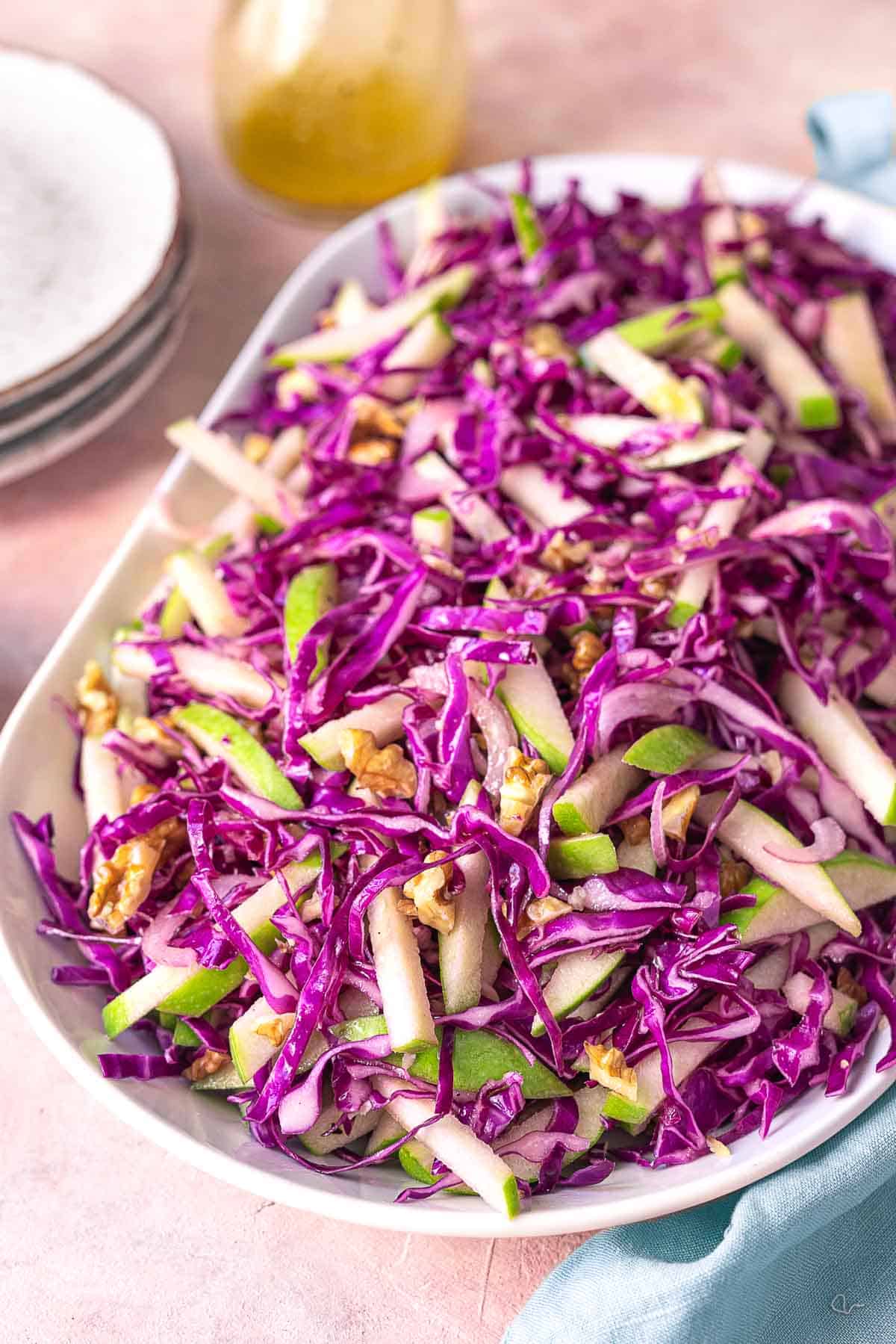 You're going to love the bold taste and satisfying crunch of this red cabbage salad! Tossed with our homemade apple cider vinaigrette, it packs a punch of tangy flavors and is ready in minutes for a company-worthy appetizer or side dish everyone will love.
Contrary to popular belief, cabbage can be used for more than just coleslaw recipes. However, if you're in the market, I highly recommend trying out my Mediterranean cabbage salad. It actually inspired this red cabbage salad recipe!
Using the inspiration of dressing up picnic staples like Avocado Egg Salad without mayonnaise, this is every bit as easy and delicious as a traditional cole slaw with just a bit of a lighter twist. Turns out you don't need mayo after all!
Featuring gorgeous red cabbage, sweet red apples, and our homemade apple cider vinaigrette, it's a flavorful winter recipe that will fill you up and leave you feeling energized. Even better, one batch makes enough to feed 6 hungry mouths, and it's perfect to make ahead of time and pair with all your favorite main courses like baked fish, rack of lamb, or balsamic chicken for a truly unbeatable meal!
Table of Contents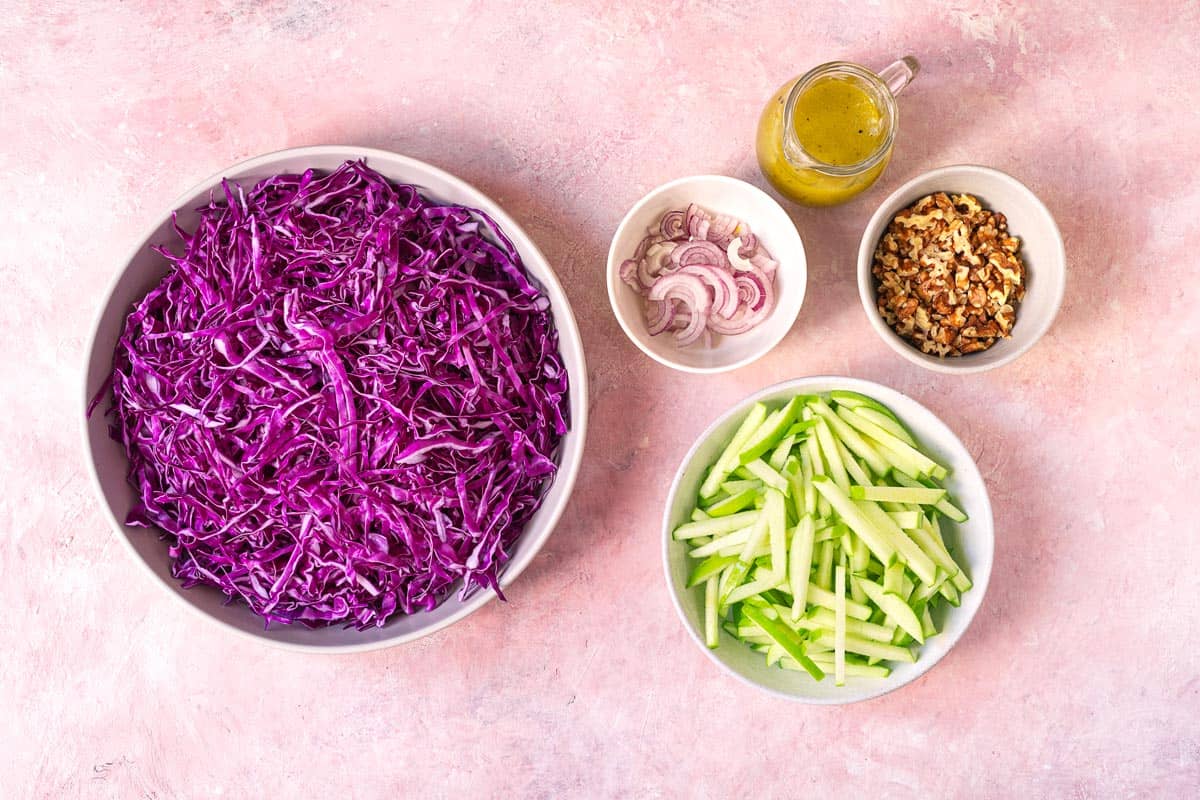 Red Cabbage Salad: Ingredients You'll Need
This red cabbage picnic salad is made with simple ingredients and a light homemade dressing for an easy recipe that's out-of-this-world delicious!
Red cabbage: Slightly sweeter than other cabbage varieties, red cabbage forms the base of this recipe, creating a showstopping appearance.
Shallots: Lends an earthy sweetness with zippy qualities.
Walnuts: A staple in the Mediterranean diet, we include walnuts not only for their added crunch but also for their rich flavor and big health benefits. For instance, they're the only nut rich in essential plant-based omega-3 alpha linolenic acid (ALA). In addition, according to an article published in Harvard Medical School's health journal, their consumption has been linked with lower blood pressure and cholesterol levels.
Apples: Any kind you like best can be used here to add a sweet flavor and extra crunch.
Apple cider vinaigrette: Of course, you could use any dressing have on hand. However, made with ingredients like extra virgin olive oil and honey, our homemade dressing is the perfect complement to the naturally sweet flavor of this dish.
How to Make This Picnic Salad
This red cabbage picnic salad is a breeze to make. With just a few steps of prep work, it's ready in minutes and tastes gourmet!
Prepare the vinaigrette: Follow the steps here to combine all the ingredients for the dressing. Don't just shake them all out once, or they won't emulsify!
Toss the salad: Add the cabbage and shallots to a large mixing bowl, and toss them with half the dressing. Once the cabbage is completely coated, add the apples and walnuts, and toss again. Be sure to taste your salad, and adjust the seasonings as needed! It's a hard job, but someone has to do it!
Tips and Tricks
Just when you thought this red cabbage salad couldn't be any easier to make, I'm giving you my best tips and tricks for a virtually foolproof recipe!
Prevent the Cabbage from Bleeding. If you've never worked with red cabbage before, you might be surprised to find your entire salad looks red an hour or two after making it. This is because the cabbage tends to "bleed" due to the water solubility of anthocyanins (color pigments). To prevent this, toss the cabbage with 2-3 tablespoons of vinegar before combining it with the rest of the ingredients. Also, refrain from adding the apples until just before serving as they're likely to turn red first.
Keep it Crispy. Make sure to use fresh produce that's at the peak of its ripeness to ensure a crisp, crunchy texture. Also, note that the longer the salad sits, the soggier it will get. So, for the best results, serve it as soon as you can!
Making it Ahead of Time. Although best served right away, this red cabbage salad can be prepared and stored covered in the fridge for a few hours or up to overnight. If you do plan to prepare it in advance, we recommend leaving out the walnuts until just before serving as they're likely to lose their crunch when left in the salad.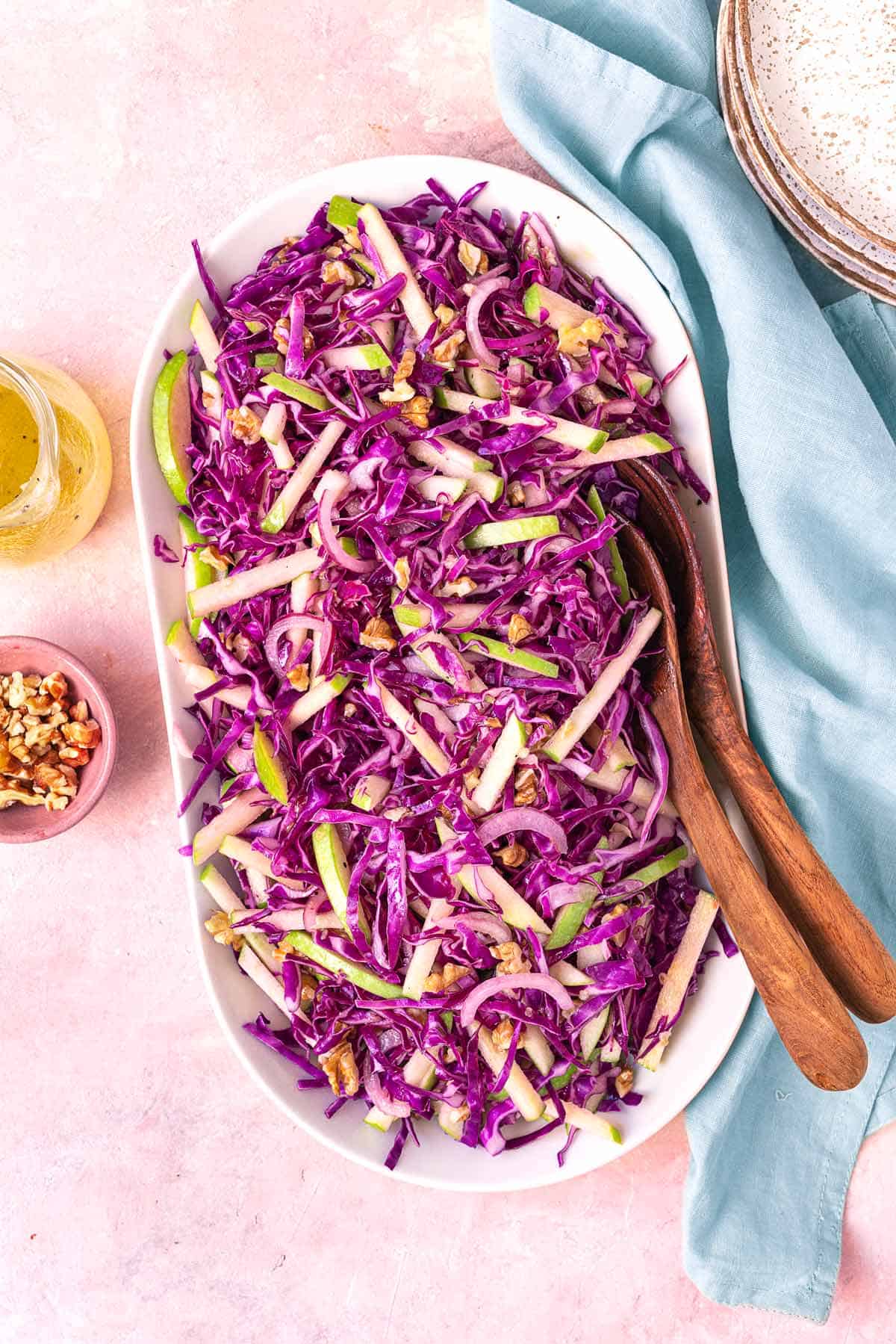 More Amazing Salad Recipes
Browse all Mediterranean recipes.

Visit Our Shop.
Try our Greek Honey!
Not all honey is created equal! Our Greek Honey has a deep, rich and complex earthy flavor. Try it for yourself. I know you're gonna love it!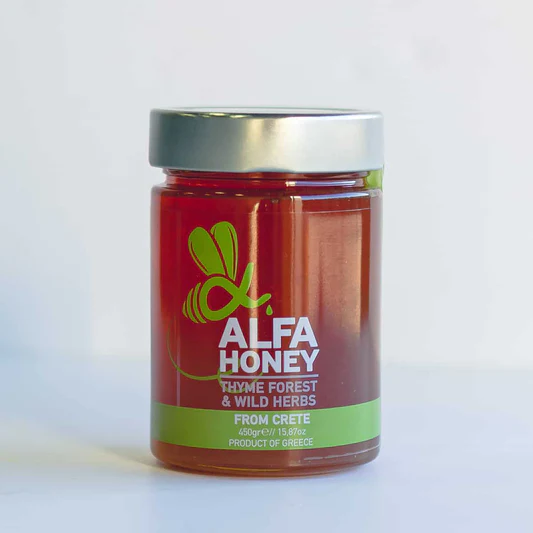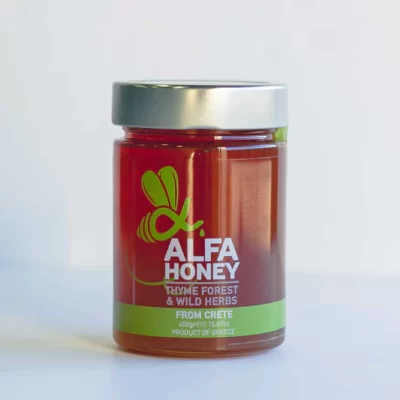 Red Cabbage Salad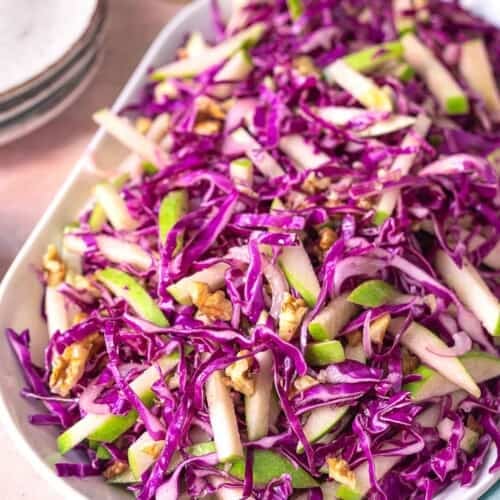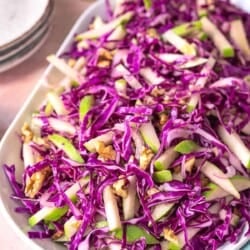 This red cabbage salad is a cinch to make and features a homemade apple cider vinaigrette for a sweet and tangy flavor. It's a colorful and satisfying side dish that's perfect for any occasion.
Ingredients
For the Vinaigrette
¼

cup

apple cider vinegar

1

tablespoon

honey

1

teaspoon

Dijon Mustard

1

clove

garlic,

minced

½

cup

extra virgin olive oil

Kosher salt

Black pepper to taste
For the Salad
1

head of red cabbage,

cored and chopped or shredded

2

shallots,

halved and thinly sliced

1

cup

walnut hearts

roughly chopped

2

apples,

any kind you like, quartered and thinly sliced or julienned
Instructions
Make the vinaigrette: In a small bowl, combine the apple cider vinegar, honey, and mustard. Whisk to combine, then add the minced garlic. While whisking continuously, drizzle the extra virgin olive oil into the bowl. You should end up with a well emulsified dressing. Season to your taste with kosher salt and black pepper.

Make the cabbage salad: In a large mixing bowl, add the cabbage and shallots, then pour about half of the vinaigrette over and toss to make sure the cabbage is well coated in the vinaigrette.

Add the fruit and nuts: Add the apples and walnuts, then toss again to combine. Taste and adjust seasoning to your liking. You can save any remaining vinaigrette in the refrigerator for up to 4 days. Use over roasted vegetables, salads or chicken.
Notes
Visit our shop to browse quality Mediterranean ingredients including olive oils, honey, jams and spices.
Swap it! The color won't be as vibrant but if you have a green cabbage you want to use up go ahead and swap it for the red one in this recipe. It has a milder flavor than red cabbage, but it will be equally delicious.
Nutrition
Calories:
381.5
kcal
Carbohydrates:
25.9
g
Protein:
5.4
g
Fat:
31.1
g
Saturated Fat:
3.7
g
Polyunsaturated Fat:
11.3
g
Monounsaturated Fat:
14.9
g
Sodium:
50
mg
Potassium:
531.1
mg
Fiber:
6
g
Sugar:
15.8
g
Vitamin A:
1598.2
IU
Vitamin C:
83.6
mg
Calcium:
91.3
mg
Iron:
2
mg