Ready to embrace the world's healthiest way of eating? Yes, of course, we're talking about the Mediterranean diet! And today, I have a roundup of amazing Mediterranean salmon recipes that you simply can not miss. Easy, healthy, and delicious salmon dinners that are perfect for any night of the week. Bright flavors will surprise you in the best way possible! Even non-fish eaters will enjoy these salmon recipes.
Be sure to review the tips and suggestions for what to serve along!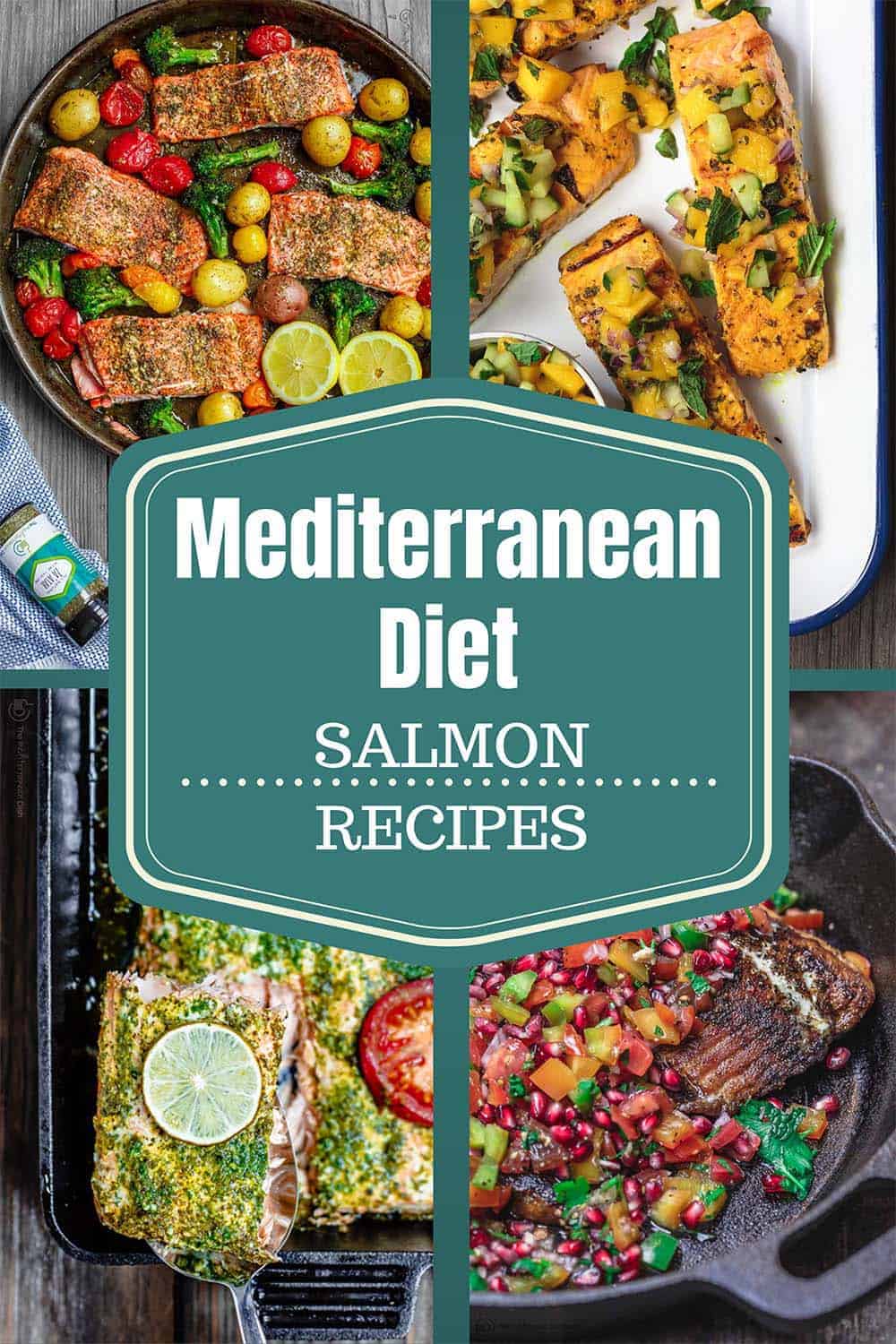 If you have followed the Mediterranean way of eating for any length of time, you're probably trying to add more seafood and fish to your dinner rotation. My family tries to stick to the recommended 2 times per week, and we love it!
There is no shortage of Mediterranean diet fish recipes on the blog (you can see some of them here). Probably one of my go-to fish options is wild salmon. I mean, if you want an quick and fancy main dish, it really doesn't get easier than salmon fillets. Not to mention all the great health benefits: Omega-3 fatty acids; quality protein; vitamins; antioxidants…etc.
I'm personally partial to salmon fillets; they're fairly easy to work with, and lend themselves to different cooking methods: baked, broiled, poached, pan-seared or grilled. Admittedly, cooking salmon in the oven is my shortcut to dinner bliss. But, in the summer time, I'm all about grilled salmon with something bright to go along like mango salsa (see recipe below).
How to Cook Salmon and What to Serve Along
1. If at all possible, opt for wild salmon. I know, the differences between wild salmon and farm-raised salmon have been hotly debated. Still, whenever I can get my hands on quality wild salmon, that is my choice. Aside from health benefits, it has a silky texture; brilliant hue; and overall superior taste.
2. Avoid over-cooking salmon no matter the cooking method. Even thick salmon fillets will cook fairly quickly, so don't walk away too far from it as it cooks. As a general rule, salmon is ready when the flesh looks opaque and flakes easily with a fork. The recipes below will provide specific instructions, still it's good to watch closely as your oven or grill will be different.
3- What to serve along salmon? If you view the salmon recipes below, they will likely have some specific suggestions. But, I'm always up for adding a large bright salad like fattoush; balela; Greek salad; or this simple 3-ingredient Mediterranean salad. If a recipe doesn't already incorporate a side of veggies, I highly recommend Italian roasted veggies; these Greek green beans; or simple herb-tossed sweet potatoes.
A drizzle of tahini is always a welcomed addition, if the salmon recipe doesn't come with a sauce.
Let's get to the epic salmon recipes now, shall we?
7 Mediterranean Diet Salmon Recipes
(tap recipe name or photo to see the full recipe)
Mediterranean Baked Salmon & Veggies in foil (or parchment)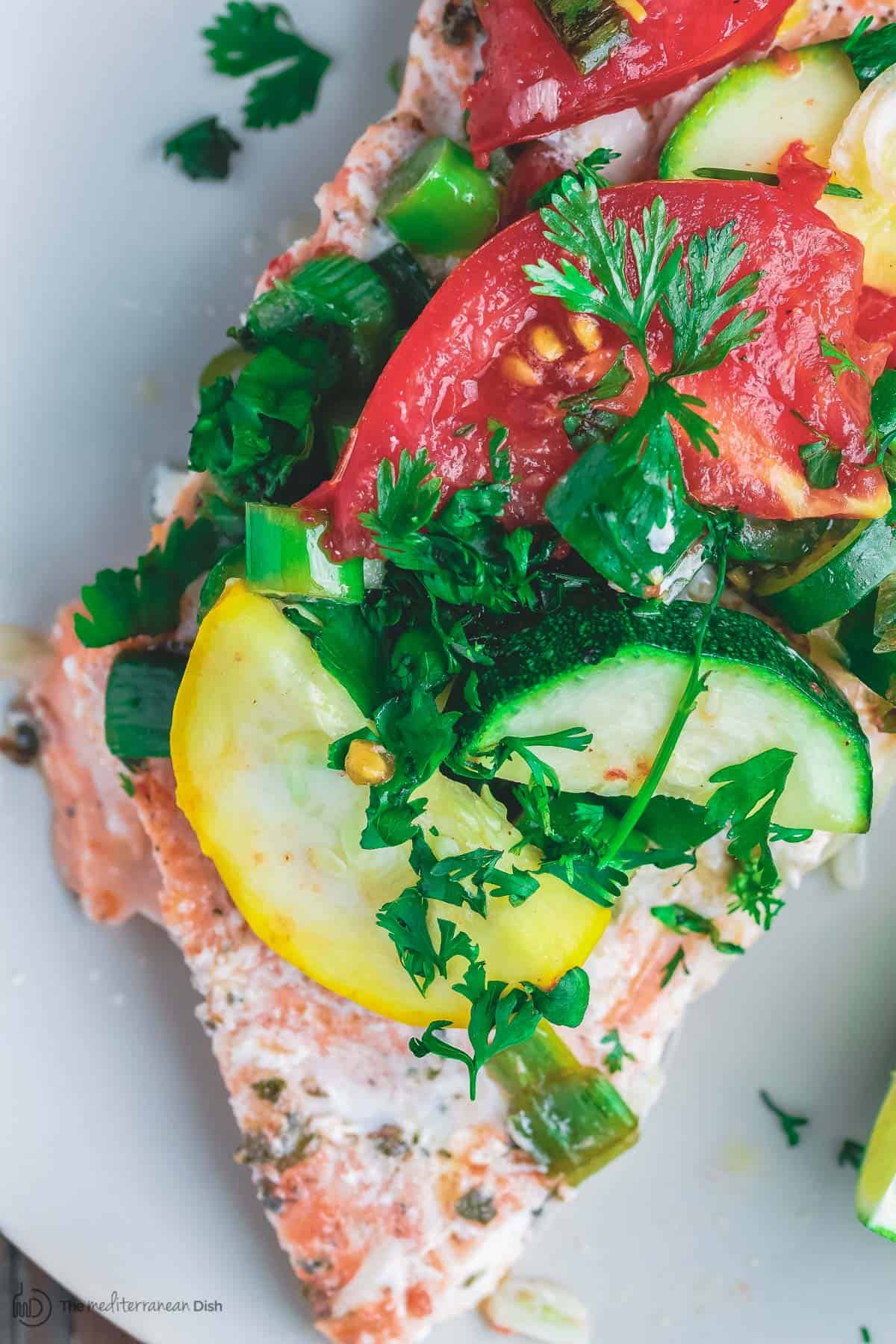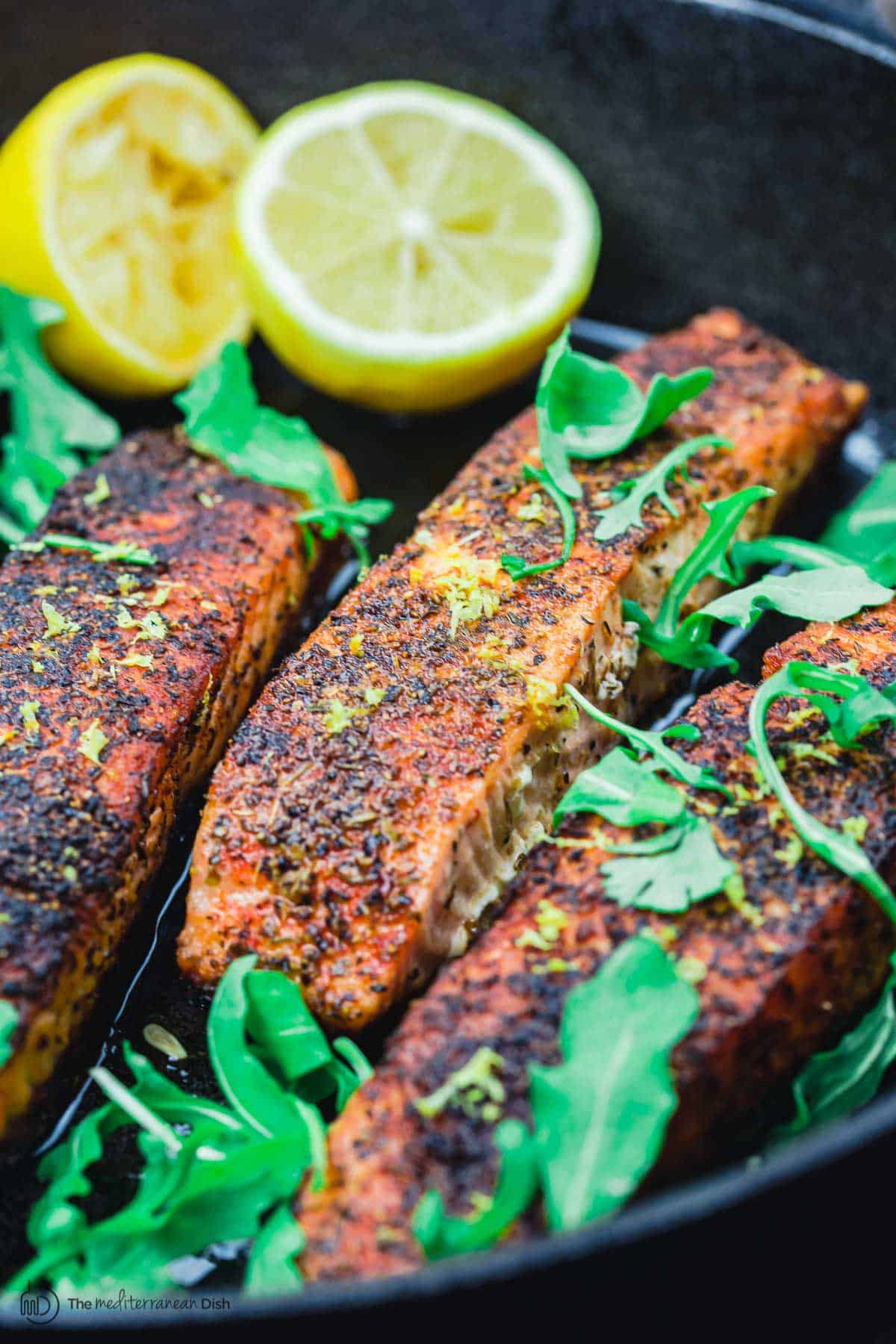 Mediterranean Blackened Salmon with Pomegranate Salsa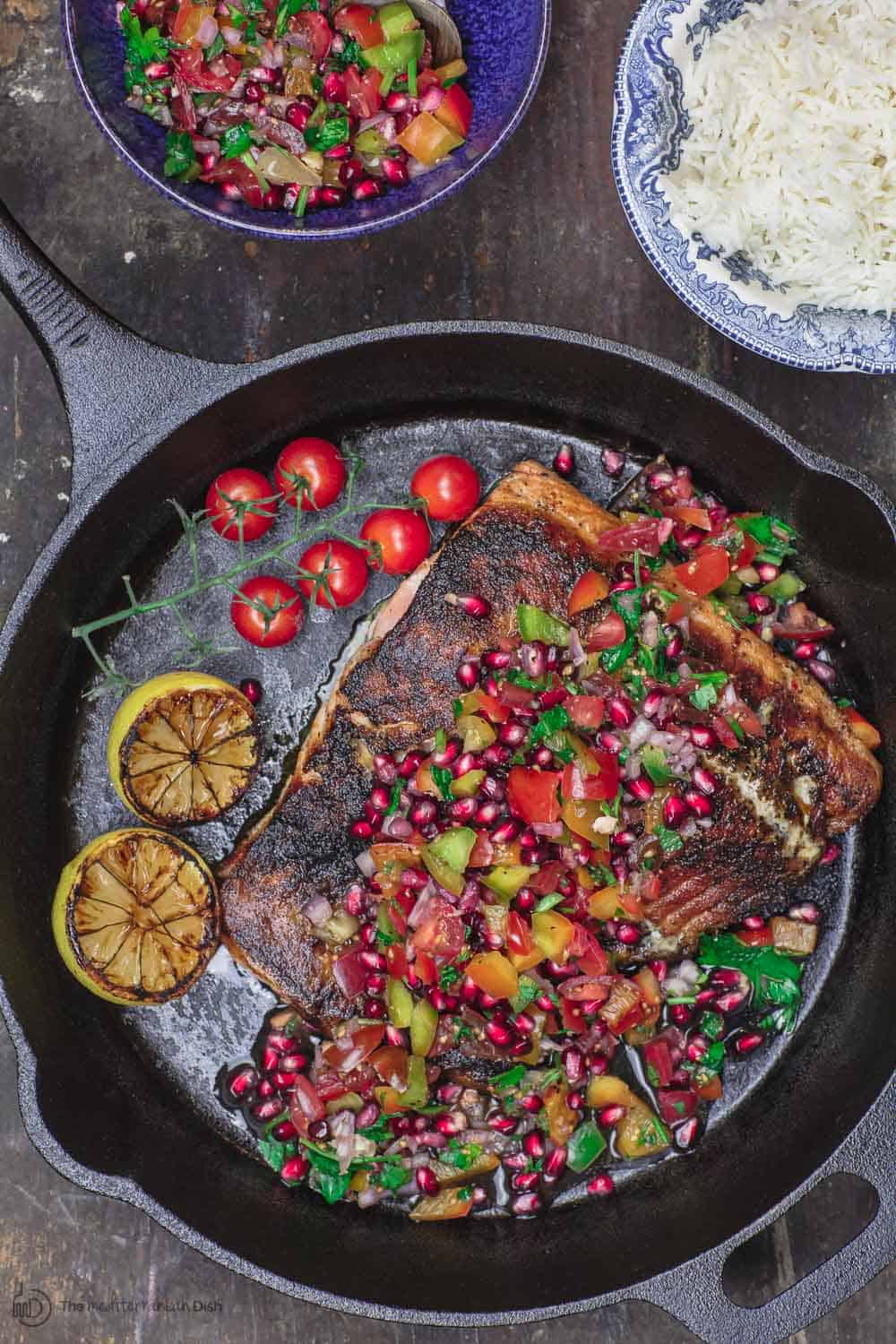 Za'atar Garlic Salmon and Veggies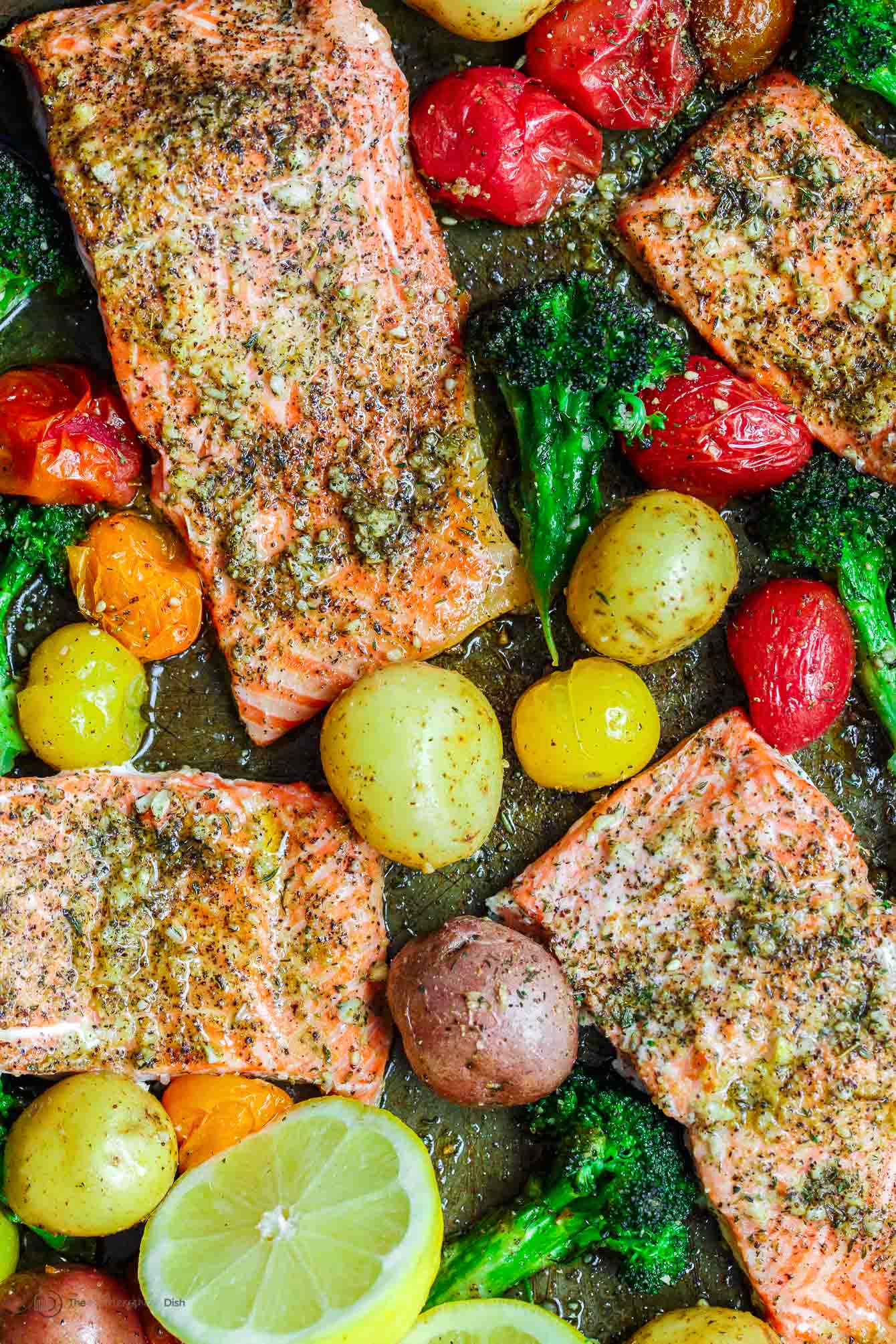 Mediterranean Baked Salmon with Garlic Cilantro Sauce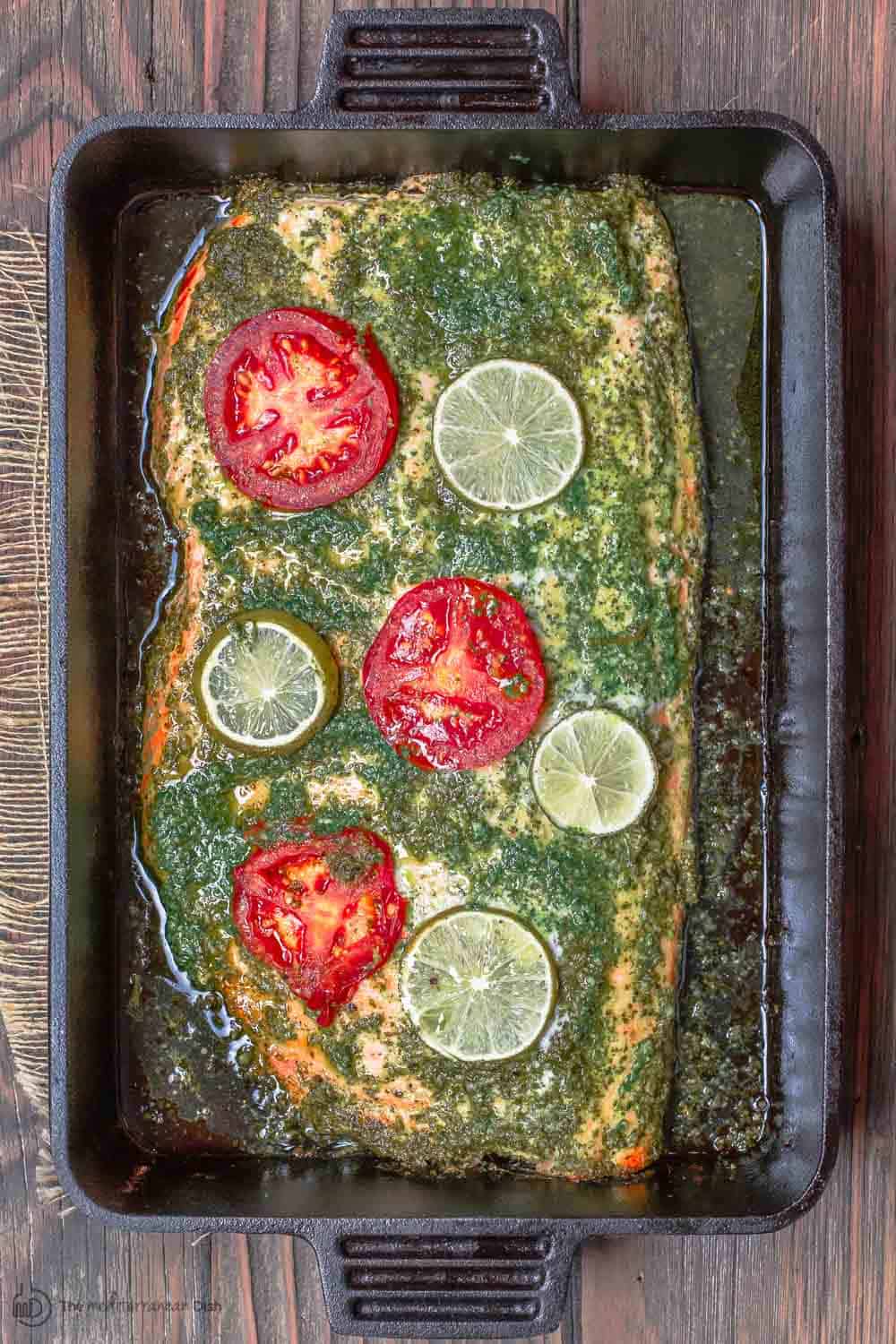 Grilled Salmon with Mint Mango Salsa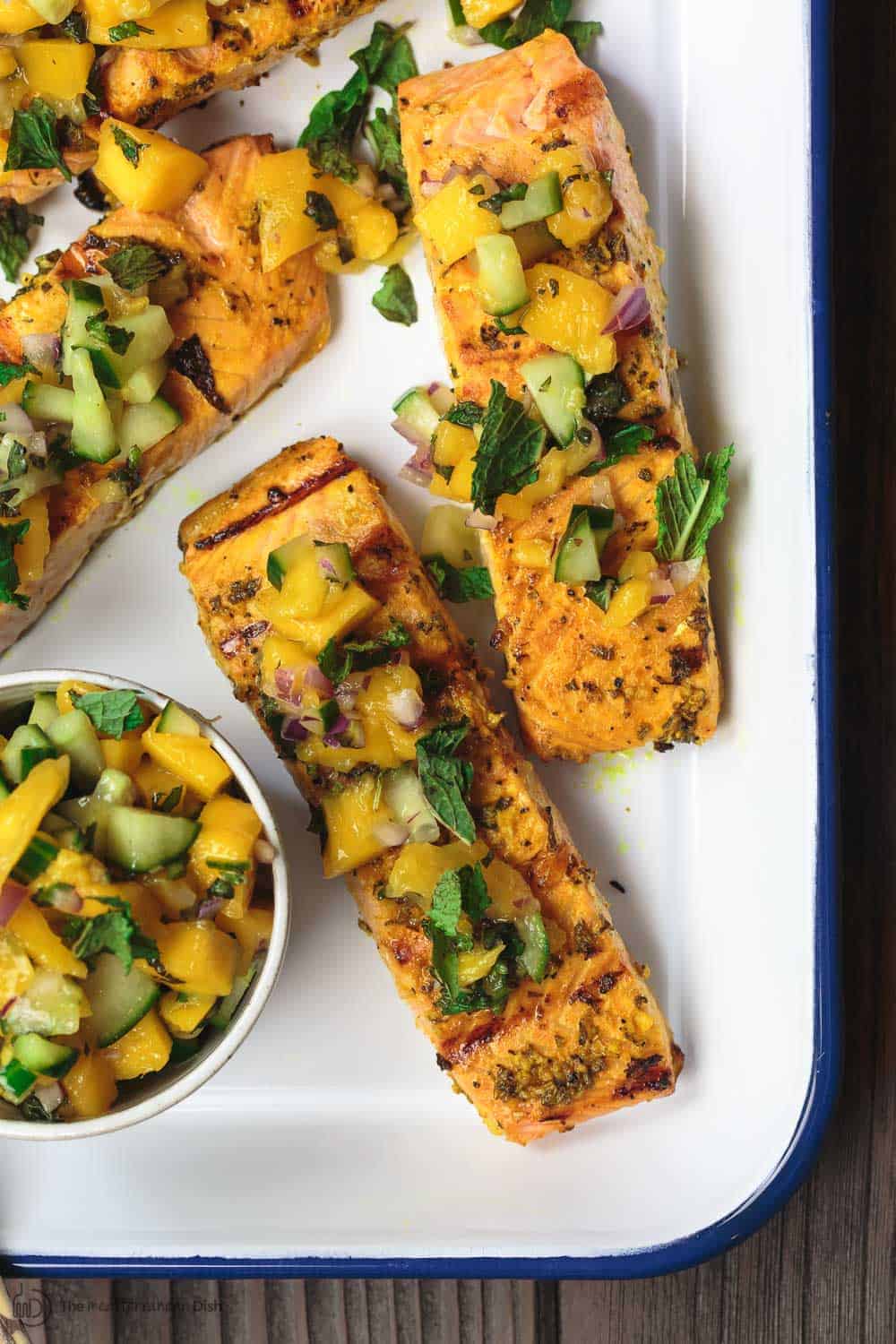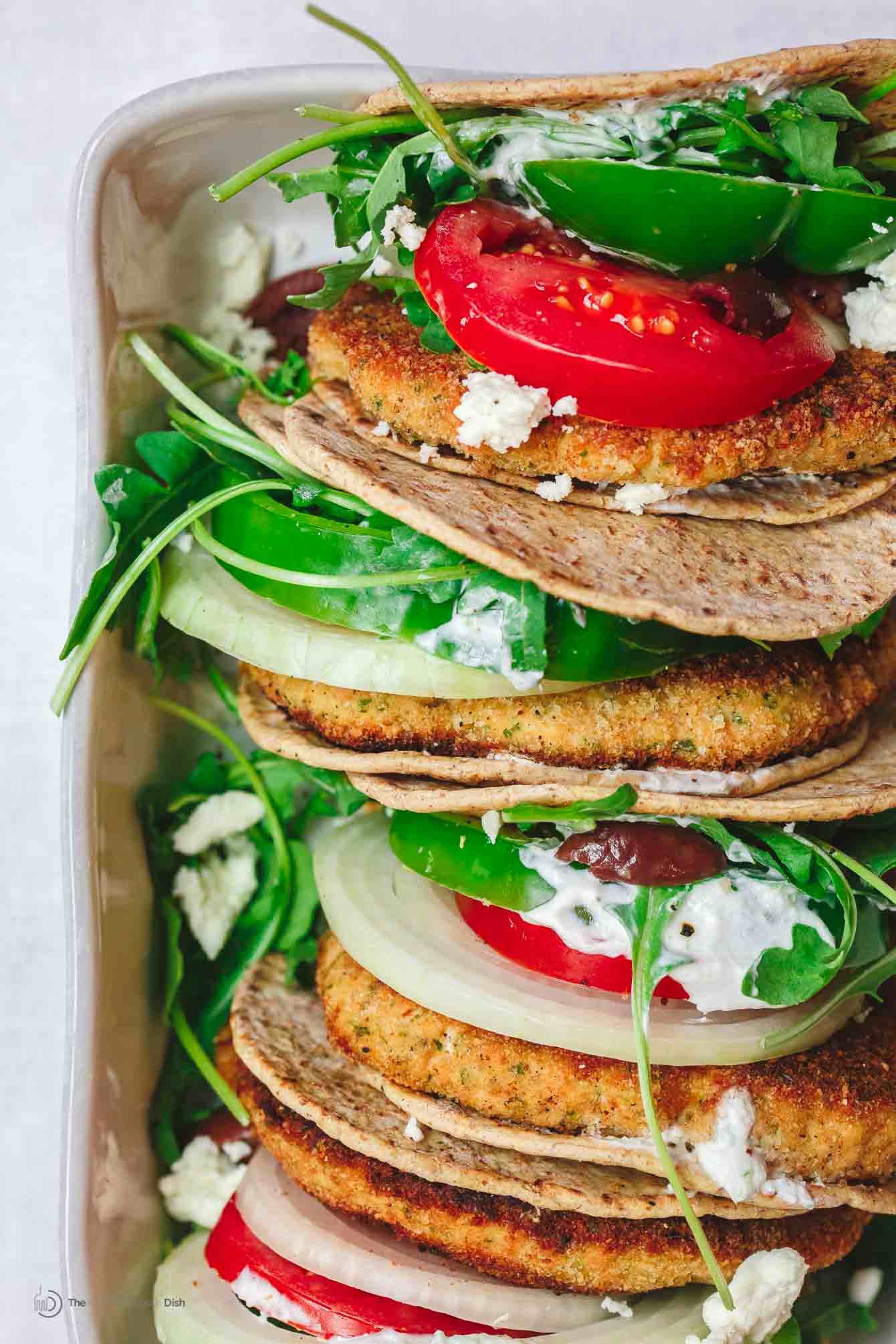 More ideas from Mediterranean eating:
100+ Mediterranean Diet Recipes
Best Mediterranean Diet Snacks
10 Fresh Tomato Recipes with a Mediterranean Twist
Mediterranean Diet Shopping List