Salmon is a popular weeknight dinner at my house. If all else fails, I reach for a tasty baked salmon or these individual parcels of salmon and veggies. But lately, I've been in love with blackened salmon. Tender, perfectly charred salmon fillet, covered in Mediterranean spices and served with a bold Mediterranean pomegranate salsa. And I'm sharing two ways to make blackened salmon (both broiled and pan-seared.) If you ever thought salmon was boring, you're in for a tasty surprise.
Ready in 20 minutes. Low-Carb. Protein-packed. Gluten Free.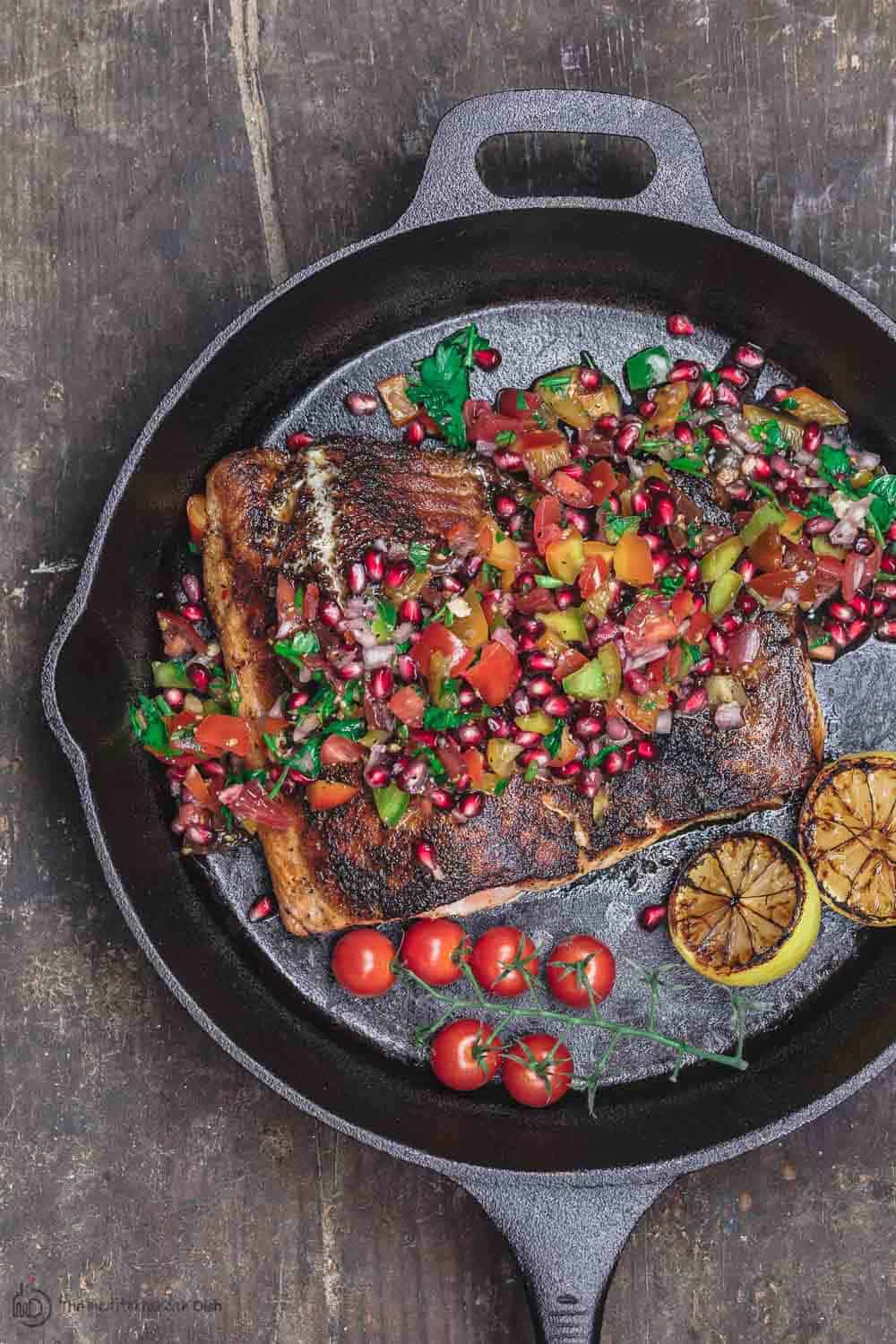 The Seasoning
Any good cook knows that a bold seasoning or rub is a must for blackened salmon. Aside from flavor, it provides that beautiful crust.
You can totally create your own seasoning mix, and there are a few options out there. No surprise here, my blackened salmon seasoning has a bit of a Mediterranean twist. A few warm spices including, cumin, coriander, Spanish paprika, and Aleppo pepper. I like spicy food, so I added a pinch of cayenne pepper (totally optional.) But equally important to flavor here is a splash of fresh lemon juice, added just before serving, while the salmon is hot...a little zing to compliment the warm seasonings and wake the senses.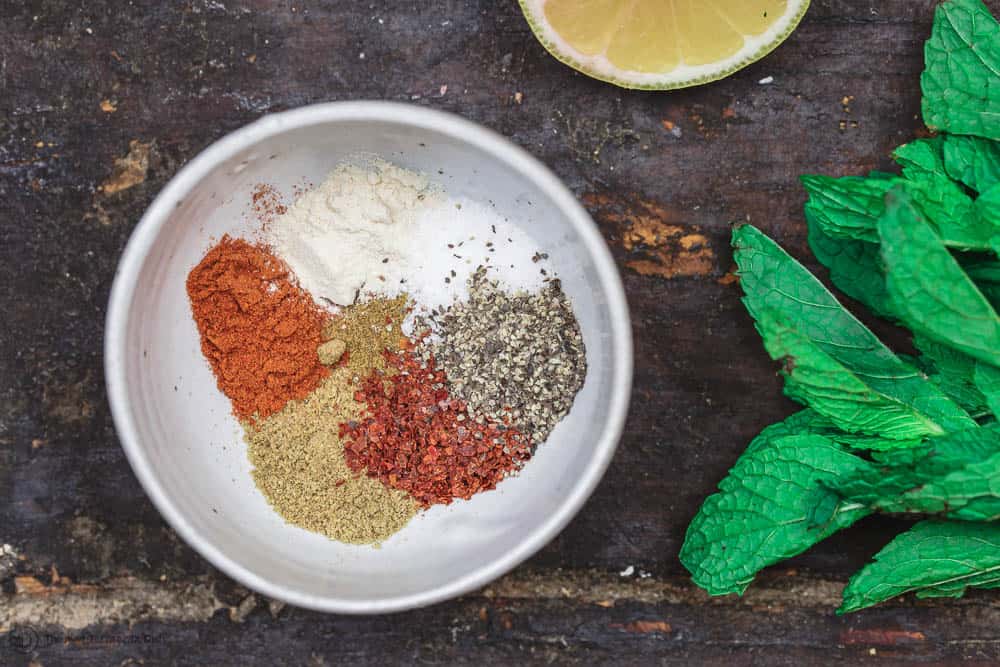 Blackened Salmon Two Ways: Broiled and Pan-Seared
Since I've been so curious about achieving the perfect blackened salmon, I've practiced both broiled and pan-seared options.
With both options, we rely on the intensity of the heat to sear the exterior, before it completely penetrates the interior. This way, we get a crispy, charred salmon that is still perfectly tender on the inside.
But I'll confess, I prefer blackened salmon prepared in the oven under the broiler. It is by far the easiest and least messy option.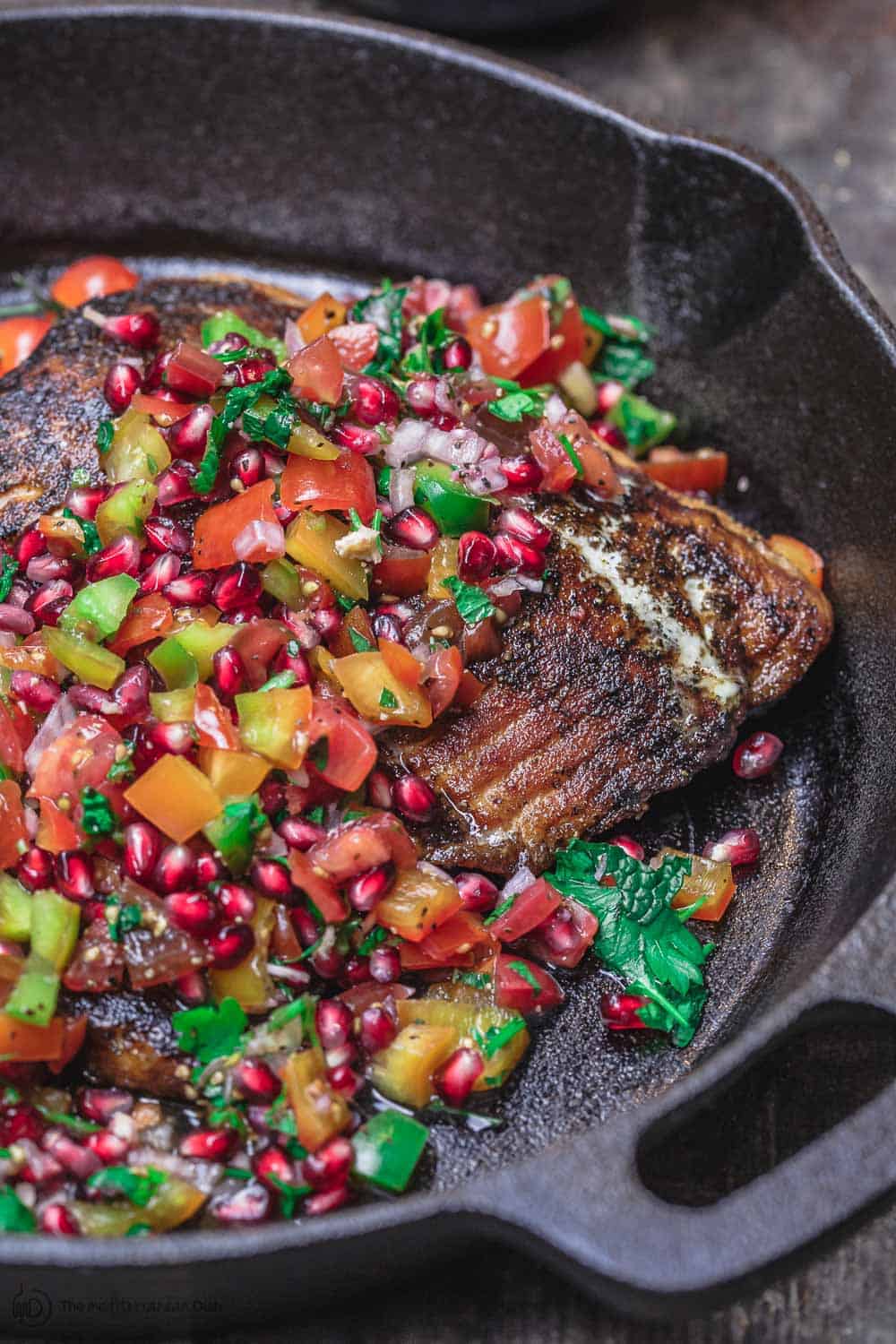 Broiled
To broil salmon all you have to do is apply the seasoning or rub, then stick the fish on the top rack directly under the broiler for about 5 minutes or so (making sure the broiler is on the entire time.)
Once nicely browned on top, and the center is cooked to medium, it's ready. Pro tip: if the top has browned but the middle is not cooked enough, then switch from broiler to bake for another 1 to 2 minutes. Your goal is to avoid overcooking it; I haven't met very many people who like dry salmon.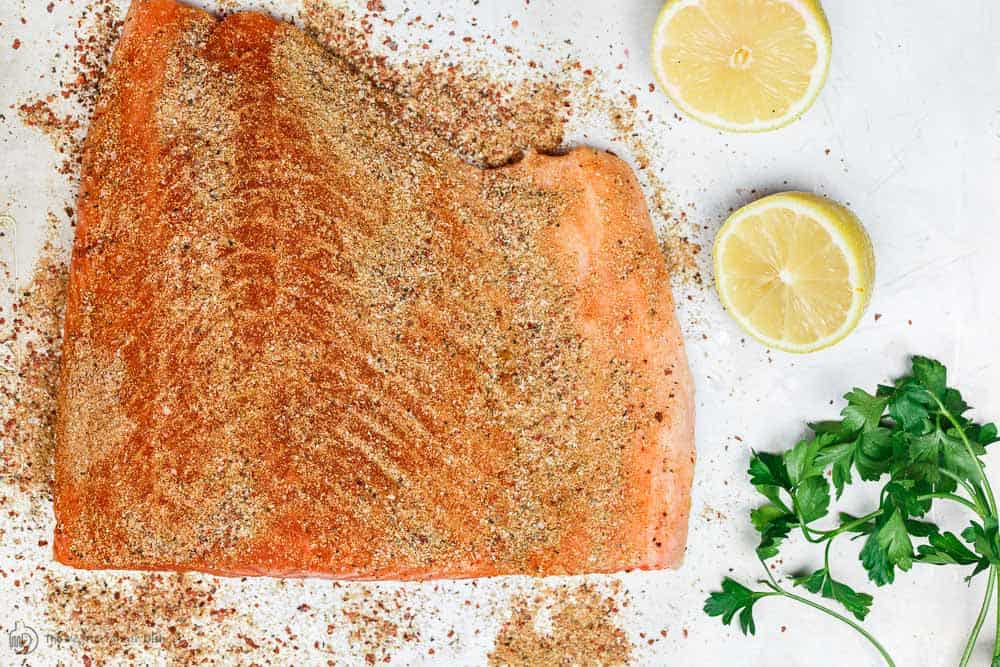 Pan-Seared
Pan-seared blackened salmon is a little more tricky and can be messy (watch out for oil splatters.) But it's not impossible. If you're going this route, it's better to have the salmon portioned into smaller pieces (5 to 6 oz each.)
Make sure you begin with a hot pan, otherwise your salmon will stick too much and will be nearly impossible to flip over. You want a thin layer of extra virgin olive oil in a cast-iron skillet.
Once the oil is shimmering (but not smoking), turn the heat down to medium-low before adding the salmon (you don't want it to brown too much too quickly before it cooks through.) Carefully add the fish, skin-side down. Cook most of the way through, and only flip it over when the center is at a medium-rare point (insert a thermometer in the thickest part of the flesh and it should register 120 degrees F.)
With pan-seared blackened salmon, you'll want to transfer the fish onto a tray lined with paper towel to absorb excess oil. Let it rest for 1 to 2 minutes before serving.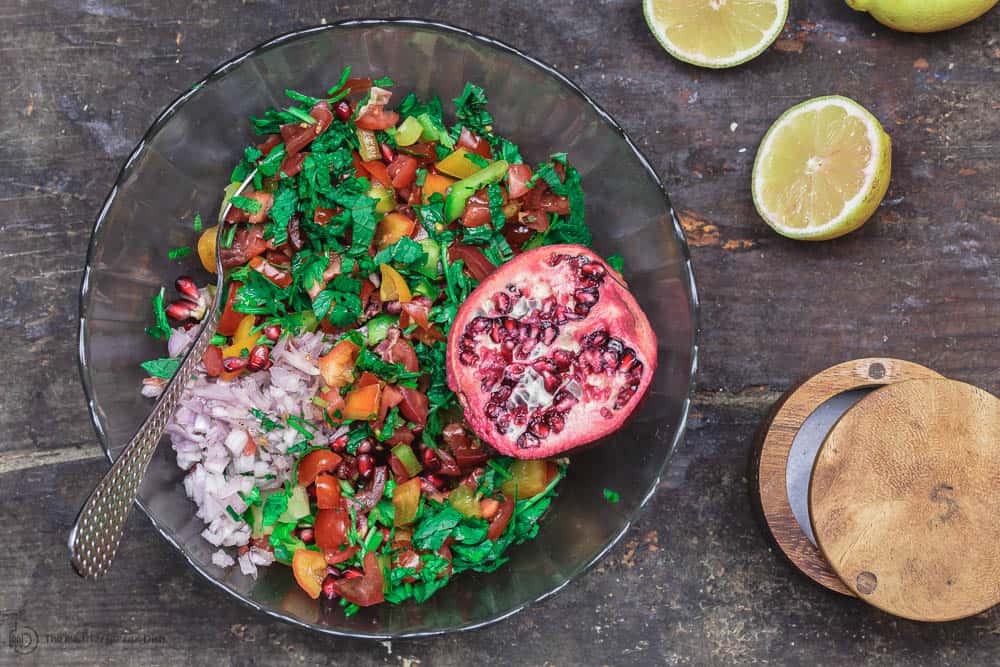 A Couple More Tips
Whether you choose the easy broiled option or go the pan-seared route, start with a good center-cut piece of salmon (skin on preferred). Avoid uneven cuts with thinner ends. And before you begin, be sure to pat salmon dry very well before applying the seasoning or rub.
What to serve with this Blackened Salmon Recipe
You know I couldn't finish this post without talking about the epic Mediterranean pomegranate salsa I serve along. In addition to a welcomed pop of color, this fresh salsa with cherry tomatoes, tangy pomegranate seeds, and fresh mint is the perfect complement to our charred salmon. You can also try a simple Mediterranean salad like this one.
Salmon is great served with your favorite grain; I often serve it with this Lebanese rice.
What to do with leftovers? Store leftover blackened salmon in the fridge for up to 3 days in tight-lid glass containers. It makes the perfect cold lunch; refrain from heating it.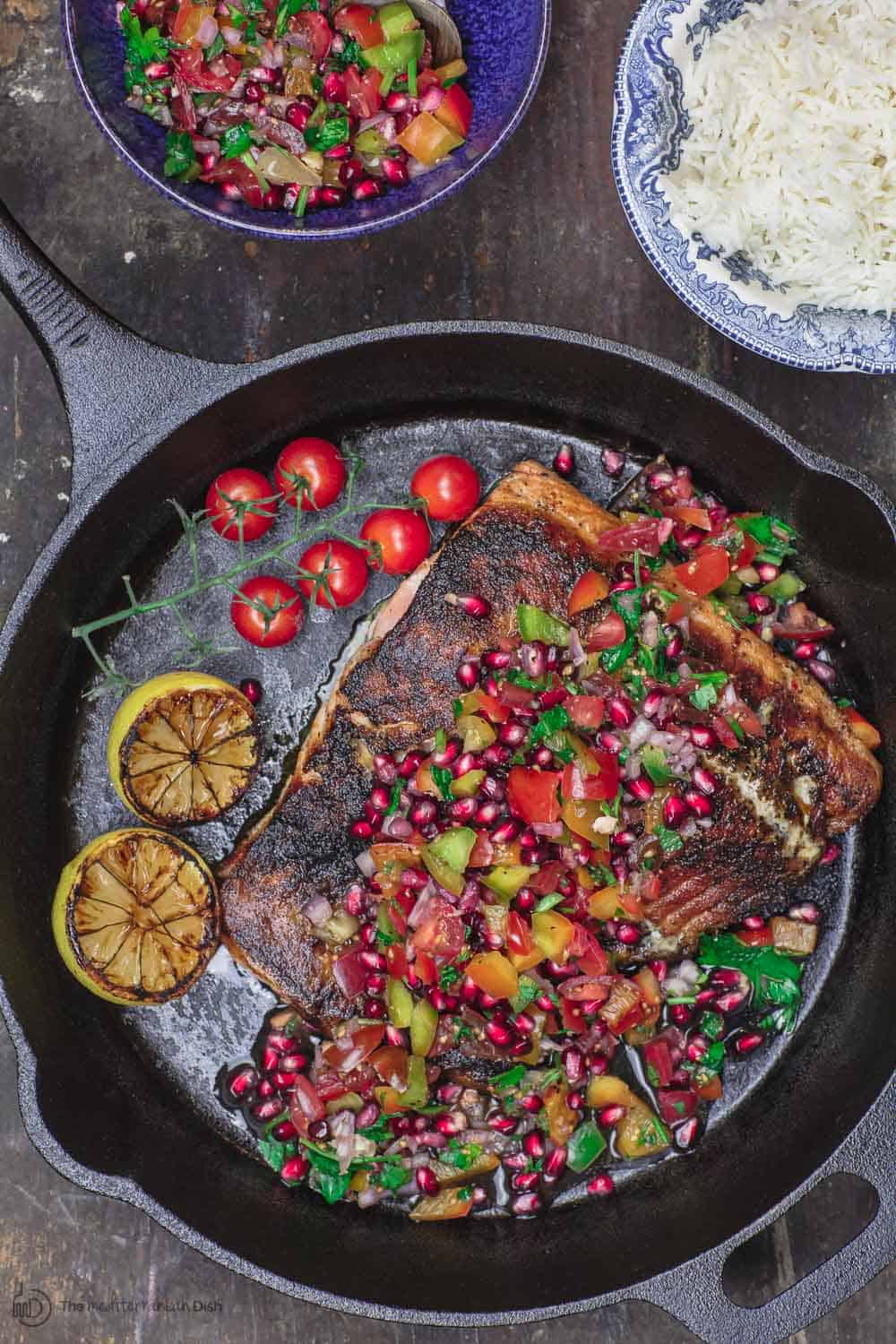 More Recipes to Try
Easy Mediterranean Flatbread with Smoked Salmon
Mediterranean Baked Lamb Chops with Vegetables
Mezze: How to Make the Perfect Party Platter
Print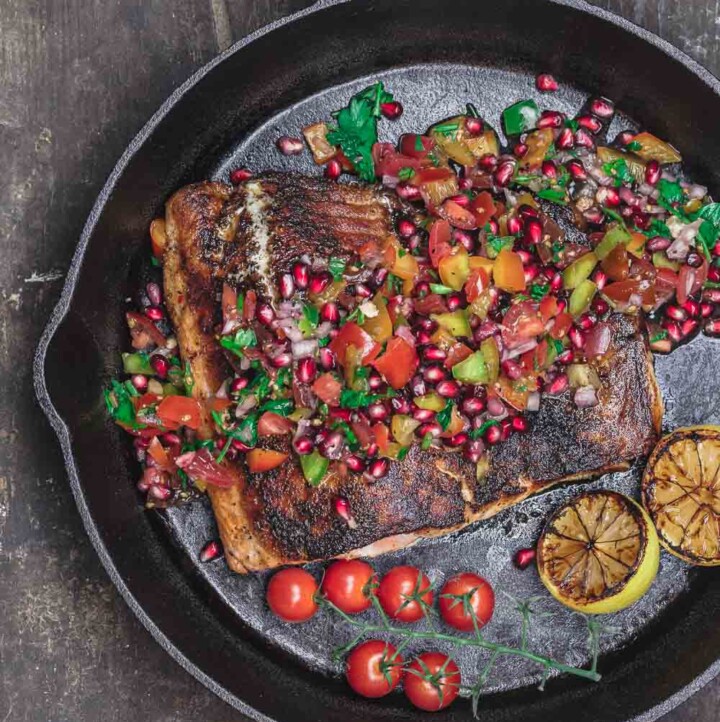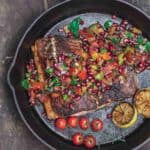 Mediterranean Blackened Salmon Recipe with Pomegranate Salsa
---
Description
Blackened Salmon with a warm Mediterranean seasoning mix. Served with a splash of lemon juice and bold pomegranate salsa. You can make blackened salmon in the oven under the broiler as stated in the recipe, or pan-seared in a skillet (see the recipe notes for pan-searing instructions.)
---
For Pomegranate Salsa
2 cup

cherry tomatoes, chopped

1

large pomegranate, arils (seeds) of

½

green bell pepper, chopped

1

shallot, chopped

10

to

15

fresh mint leaves, chopped
Large handful fresh parsley, chopped
Salt and pepper

½

lemon, juice of
Private Reserve Greek extra virgin olive oil, a generous drizzle
For Salmon
---
Instructions
Make the pomegranate salsa. In a mixing bowl, combine salsa ingredients. Mix and set aside for now.
Preheat broiler and set oven rack about 6 inches below broiler element. Meanwhile, in a small shallow bowl, stir together spices (cumin, coriander, paprika, aleppo pepper, garlic powder, and cayenne).
Season Salmon. Pat salmon dry very well. Season with salt and pepper (if using salmon fillet with no skin, season both sides.) Apply the spice mixture all over salmon flesh (I used salmon with skin, so applied the entire spice mixture to the flesh side.)
Broil. Place salmon in lightly-oiled cast iron skillet or a sheet-pan. Broil salmon until browned on top and the center registers 115 to 125°F for medium-rare to medium, about 5 minutes or so (Tip: some, not all, ovens cycle broiler through on and off. You want the broiler on the entire time for this. It can help to crack oven door open very slightly to prevent broiler from cycling on and off.)
Check for doneness. If salmon becomes browned on top, but center is not cooked enough, then switch broiler off and set oven to 425 degrees F then continue cooking until done (shouldn't be more than 1 to 2 minutes longer depending on your oven.)
Grill Lemon Halves. While salmon is cooking, heat a small skillet (do not add any oil). Grill lemon halves, flesh-side down, for a few minutes until browned. Remove from heat (this is totally optional, but highly recommended.)
Serve. When salmon is ready, remove from heat. Squeeze a generous amount of lemon juice on top (from grilled lemon halves.) Serve with pomegranate salsa and Lebanese rice (or your favorite grain.)
Notes
Pro-tip: Ovens do vary, so adjust cooking time as needed.
Pro-tip for Leftovers: Refrigerate leftover blackened salmon in a glass container with a tight lid. In my book, this blackened salmon makes the perfect cold lunch the next day. Throw it in with a favorite salad and you're good to go. You can bring it a little closer to room temperature, but I would not recommend reheating.
Pro-tip: Option for Pan-Seared Blackened Salmon. Making blackened salmon in a pan can be tricky and requires a little more technique but is doable. You can season the salmon the same way. And it is best to use center-cut salmon with skin on. It's very important to start with a hot pan, otherwise the salmon will stick and it will be nearly impossible to flip.
Here is How to Make Pan-Seared Blackened Salmon:
Preheat a cast-iron skillet with a thin layer of extra virgin olive oil over medium-high until oil is shimmering but not smoking.
Lower heat to medium-low and carefully add salmon, skin-side down. Using a slotted spatula, gently, but firmly, press on the flesh for about 10 seconds (this will help it retain its shape and prevent it from curling.)
Cook salmon about 90% of the way through with the skin side down (you should see a translucent medium-rare center. Insert a thermometer in the thickest part of the flesh and it should register 120 degrees F (or 49 degrees C). For a large fish fillet, this could take 6 minutes or so (you'll need to be watchful.)
Carefully flip salmon over using a spatula (if you're doing the whole large fillet, adding another spatula or fork on top helps.)
Cook very briefly on the flesh-side (a few seconds is all you need, since it's almost cooked through.)
Transfer salmon to a tray lined with paper towel to drain all excess oil. Let it rest for a couple of minutes before serving. Again, serve with a squeeze of lemon juice (from those grilled lemons) and pomegranate salsa.
Prep Time:

15 mins

Cook Time:

5

Category:

Entree

Method:

Broiled or Pan-Seared

Cuisine:

Mediterranean
Keywords: Blackened Salmon, Blacked Salmon Recipe, Broiled Blackened Salmon