These baked lamb chops with root vegetables are the perfect balance of sweet and savory, paired with fresh garlic and warm Mediterranean spices (think allspice, garlic, and paprika) that will make your lamb chops burst with bright flavor. While cooking lamb may sound fussy, this dish is easy.
A few tips make all the difference, so be sure to check out my top tips on making tender and juicy Mediterranean lamb chops!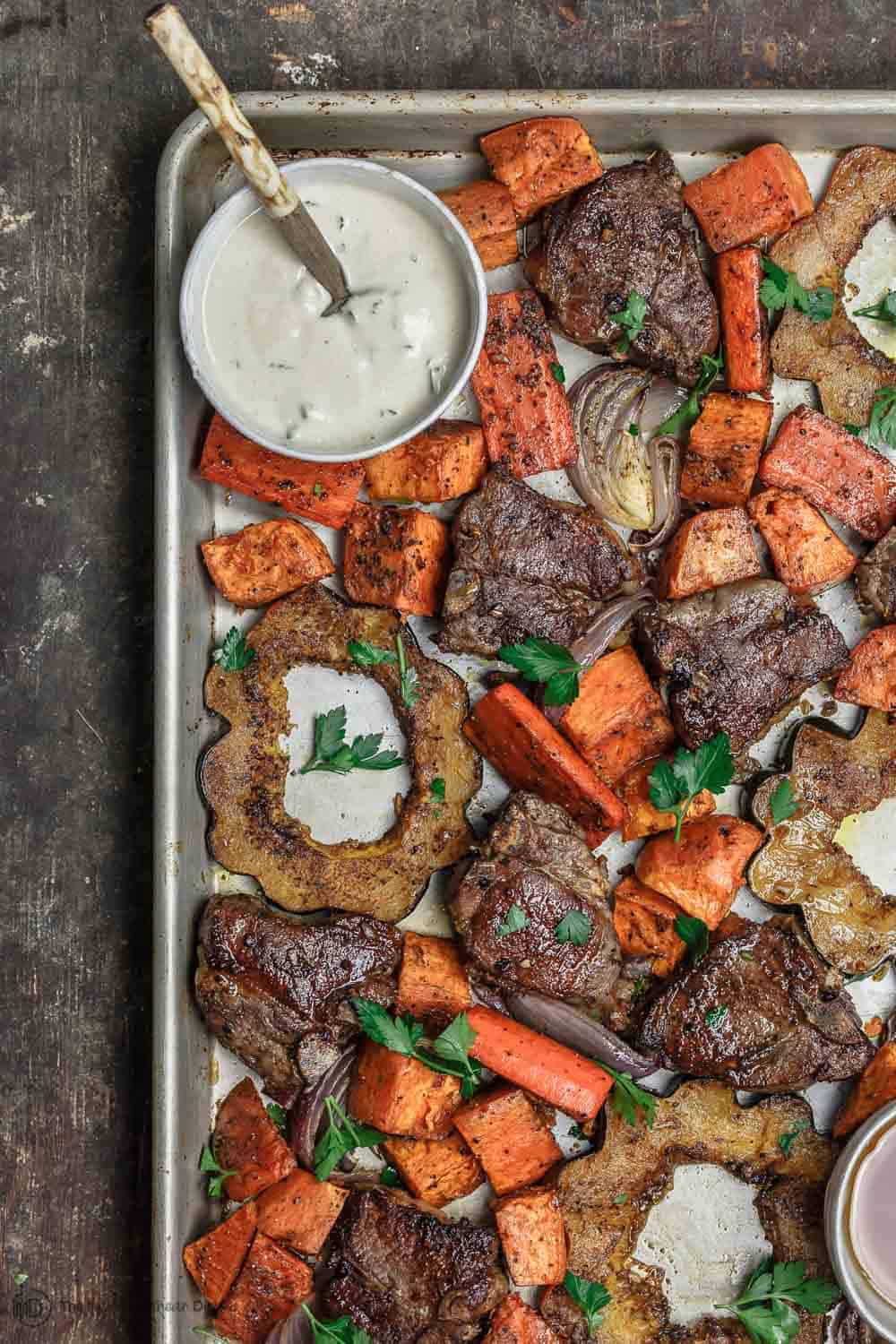 We don't eat a lot of red meat over here, but it's no secret that I'm a big fan of lamb. It's my Mediterranean blood for sure!
Lamb is versatile and is perfect for a casual dinner or made extra fancy for a special occasion. If we're talking a big family feast or holiday dinner, it's definitely leg of lamb or these glorious wine-braised lamb shanks.
But on weeknights, I'm much more likely to do a skillet lamb rack chops or lamb loin chops like in today's recipe.
Lamb chops are packed with rich meaty flavor, so they take on bold flavors from marinades and spices well. You can go with big flavors for lamb (and you should) without the fear of masking the real flavor of the meat.
This Mediterranean lamb chop recipe may be super simple to whip up, but it is bursting with 5-star flavor you will not believe. You will have one happy family on your hands!
What are lamb chops?
In today's recipe, we're using lamb loin chops, which are of the most tender cuts of lamb.They come from the lamb loin, located in what is called the hindsaddle section.
Lamb chops are readily available in most super markets. And their T-bone shape and perfect size (3 to 4 ounces apiece) make them great for dinner!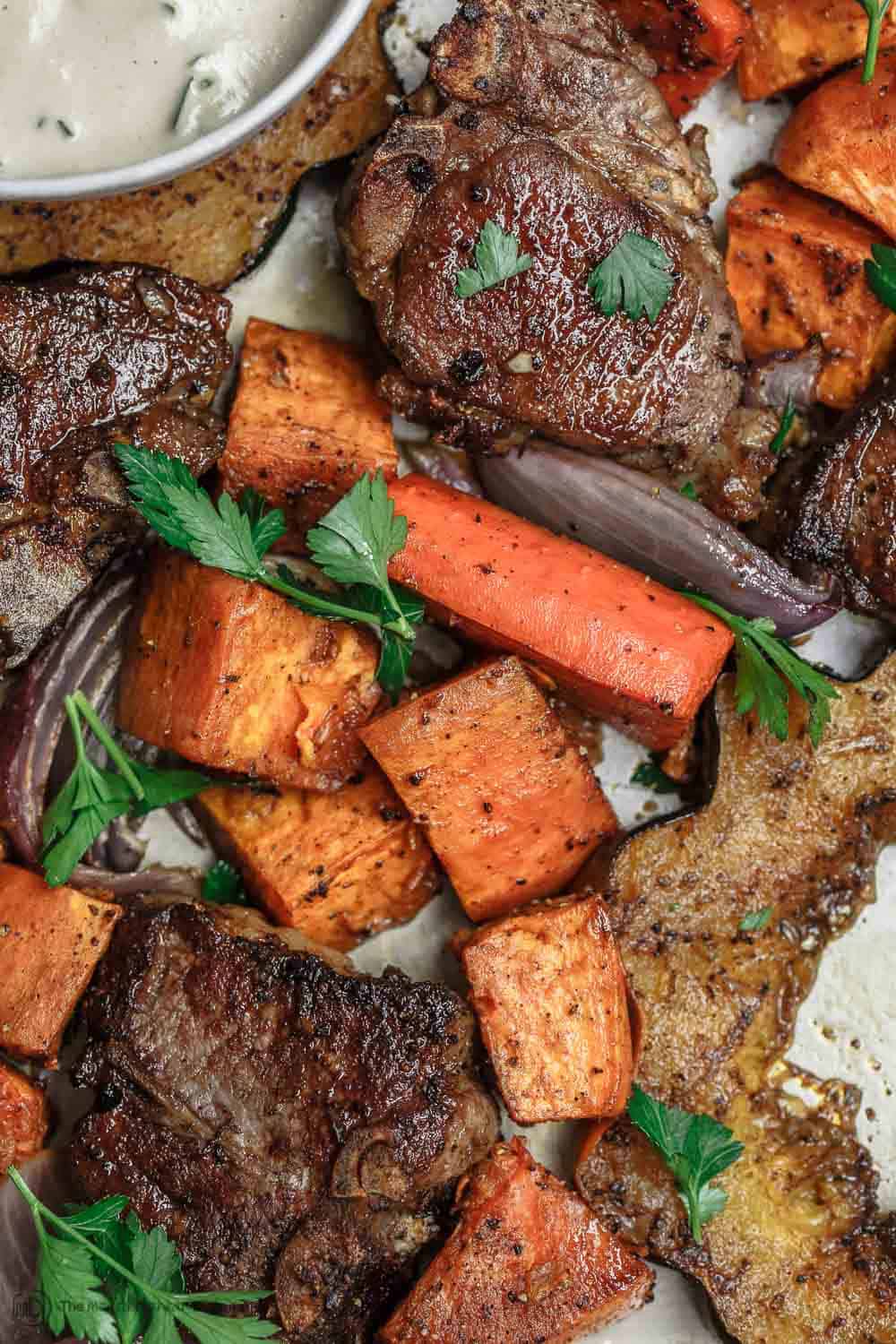 How Should Lamb Chops Be Cooked?
Lamb chops are simple to prepare grilled, baked, or even pan-fried. Lamb chops typically have the bone and come from the rib, loin, shoulder, or the sirloin of the lamb. In today's recipe, we are obviously using the T-bone lamb loin chops.
Since they are bone-in, this means tons of extra flavor and a much more tender and juicy cut of meat.
One of the biggest benefits of this cut of lamb is they cook fast, usually within 10 minutes for a beautiful medium-rare, which is recommended (but you can go a little bit longer if you prefer a more medium finish). The fast cooking time makes them ideal for weeknight dinners.
Baked Lamb Chops with Root Vegetables
It's easy to turn a few lamb chops into a complete feast. Case in point, this sheet pan dinner of baked lamb chops with root vegetables and some acorn squash. A comforting dinner that's perfect for this cooler weather we've been having!
What makes all the difference in this Mediterranean baked lamb chops recipe is the special marinade with extra virgin olive oil, lots of fresh garlic and warm spices, including allspice, paprika, and a little ground nutmeg!
As far as the choice of vegetables, I went with sweet potatoes, carrots, onions, and acorn squash.
Acorn squash is not essential to this recipe. If it's not available, you can omit it and add a third root vegetable next to the sweet potatoes and carrots. Some other great root veggies or squash options to include in this dish are:
Turnips

Parsnips

Rutabaga

Fennel

Butternut squash

Delicata squash

Purple sweet potatoes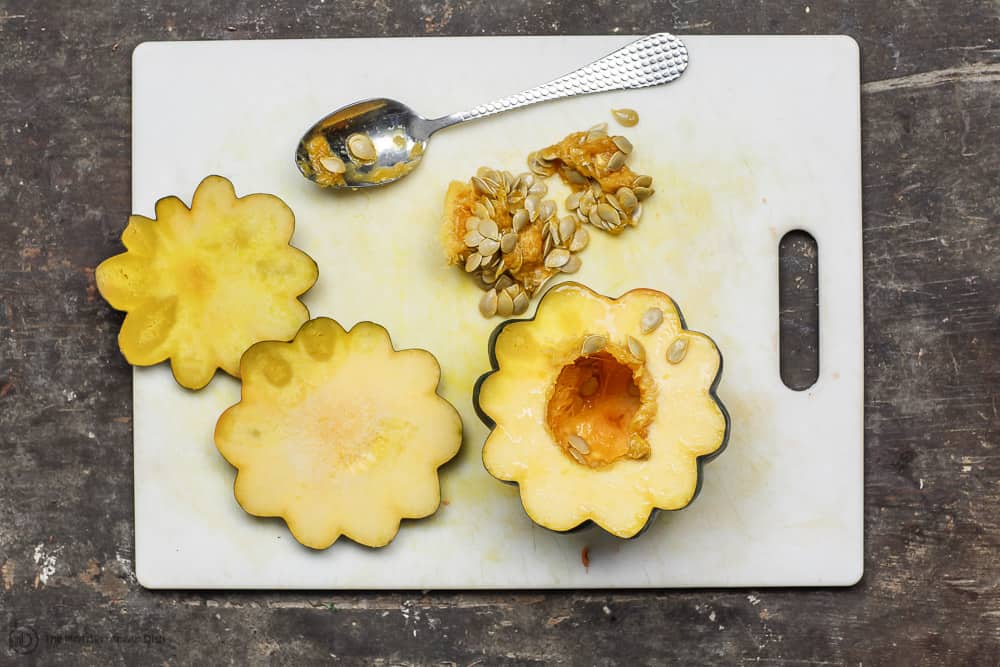 What is the cooking time for baked lamb chops in oven?
Cooking lamb gets many at-home cooks feeling intimidated. But you should not feel that way!
To make lamb chops in the oven, first you will do a quick sear of the lamb chops in a hot pan to get that yummy brown crust on the outside. That is where so much depth of flavor on the meat comes from.
From there, you will transfer the lamb into a hot oven, of 400 degrees F, and cook for an additional 10 minutes, give or take, until your desired doneness and temperature. (Now, for this recipe, since we have some root vegetables to cook with the lamb, they go in the hot oven first for a few minutes).
To make sure your meat retains all its juices, let rest for 10 minutes or so before cutting into. Waiting to eat is certainly the hardest part of this recipe.
How to Make this Baked Lamb Chops Recipe + Important Tips
1-To make this sheet pan dinner, I like to start by salting the lamb chops and letting them rest in room temperature for a few minutes while I prep the vegetables. This gives salt a little more time to flavor and tenderize the chops. I use natural kosher salt for this step.Pro Tip: Salting the lamb and letting it sit for a bit allows the meat to tenderize, so your lamb is more succulent. The salt has a hydrating effect on the meat but will also penetrate the lamb for more flavor all the way through your lamb chop. Although you are not letting the lamb sit with the salt for hours, salting in addition to a properly balanced marinade, is the secret to juicy baked lamb chops.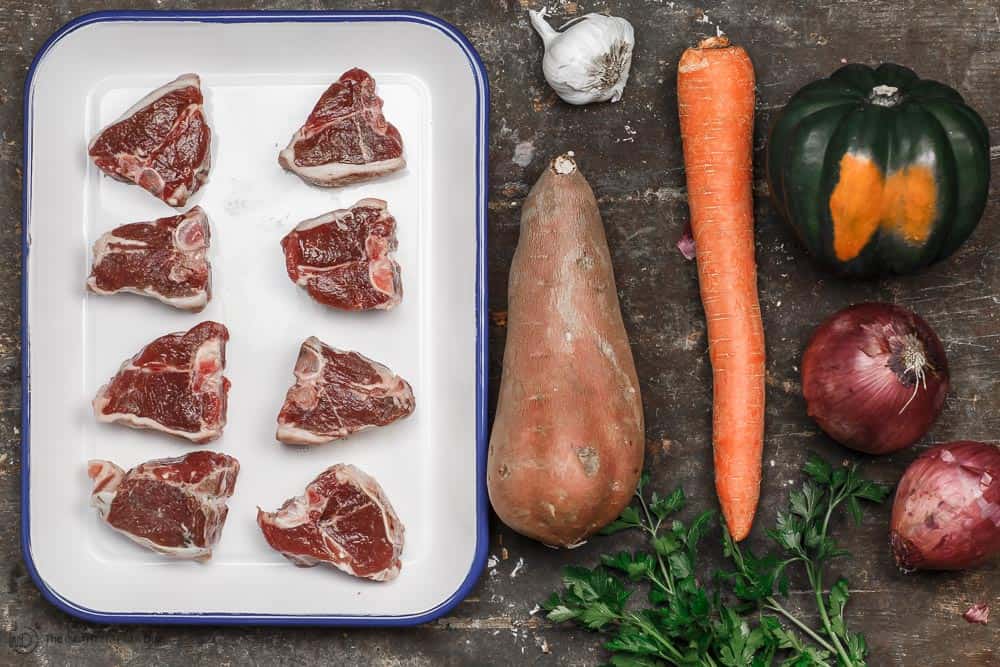 2- Next comes the marinade, which is what really infuses both the vegetables and lamb with tons of great flavor. The marinade starts with quality extra virgin olive oil, a whole head of garlic, and a few warm spices: allspice, paprika, and nutmeg.
Veggies get a quick coating first. Then, before adding the lamb chops to marinate, we must add citrus. I chose white wine vinegar here.
Pro Tip: While the EVOO provides juiciness and the spices provide flavor, we need the added citrus from the white wine vinegar to help break down the lamb chops so that the spices penetrate more deeply. Acidic ingredients will further tenderize the lamb, ensuring when your lamb comes out of the oven it is not dry. If you do not have white wine vinegar, you can substitute any vinegar you have in the pantry, such as apple cider vinegar or plain white vinegar.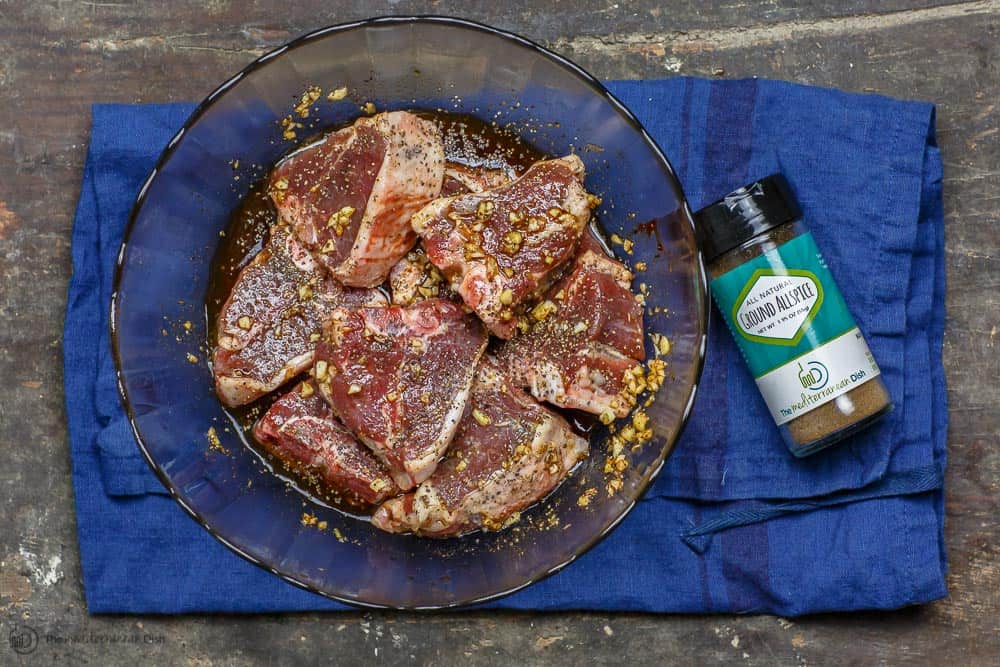 3. Because root vegetables and squash will take longer to bake, I spread them on our large baking sheet to bake in the hot oven first for about 15 to 20 minutes.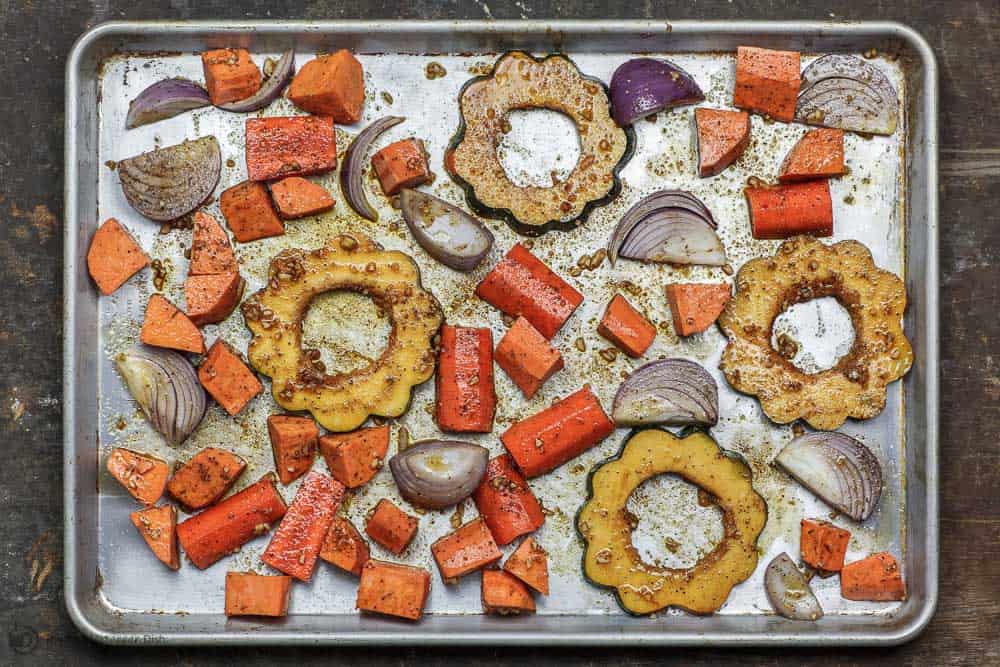 4. Lamb chops will not need more than 10 minutes in the 400 degrees F heated oven, so they are added later. I like to give the lamb chops a quick browning on both sides before adding them to my sheet pan to finish cooking in the oven.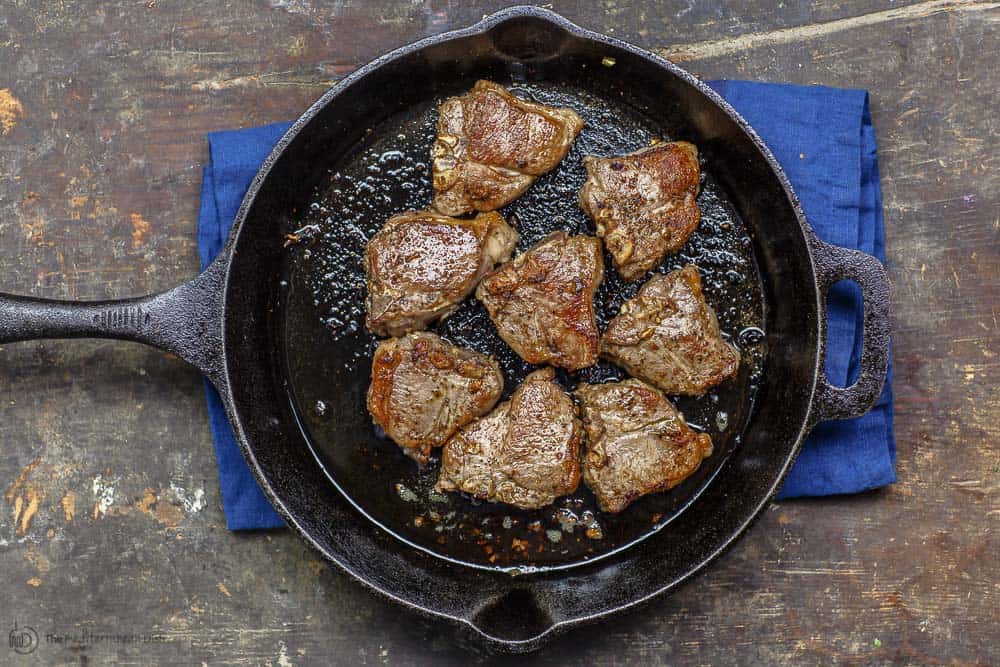 5. As soon as I take the sheet pan out, I like to drizzle a little quality honey to balance all the flavors out. An optional step, but I highly recommend it. A little floral sweetness from the honey pairs incredibly well with the warm spices and helps balance out the bright acidity from the white wine vinegar.
Pro Tip: Like said earlier, let the baked lamb chops rest for 10 minutes or so before cutting into them. This allows them to retain their juices and stay nice and tender.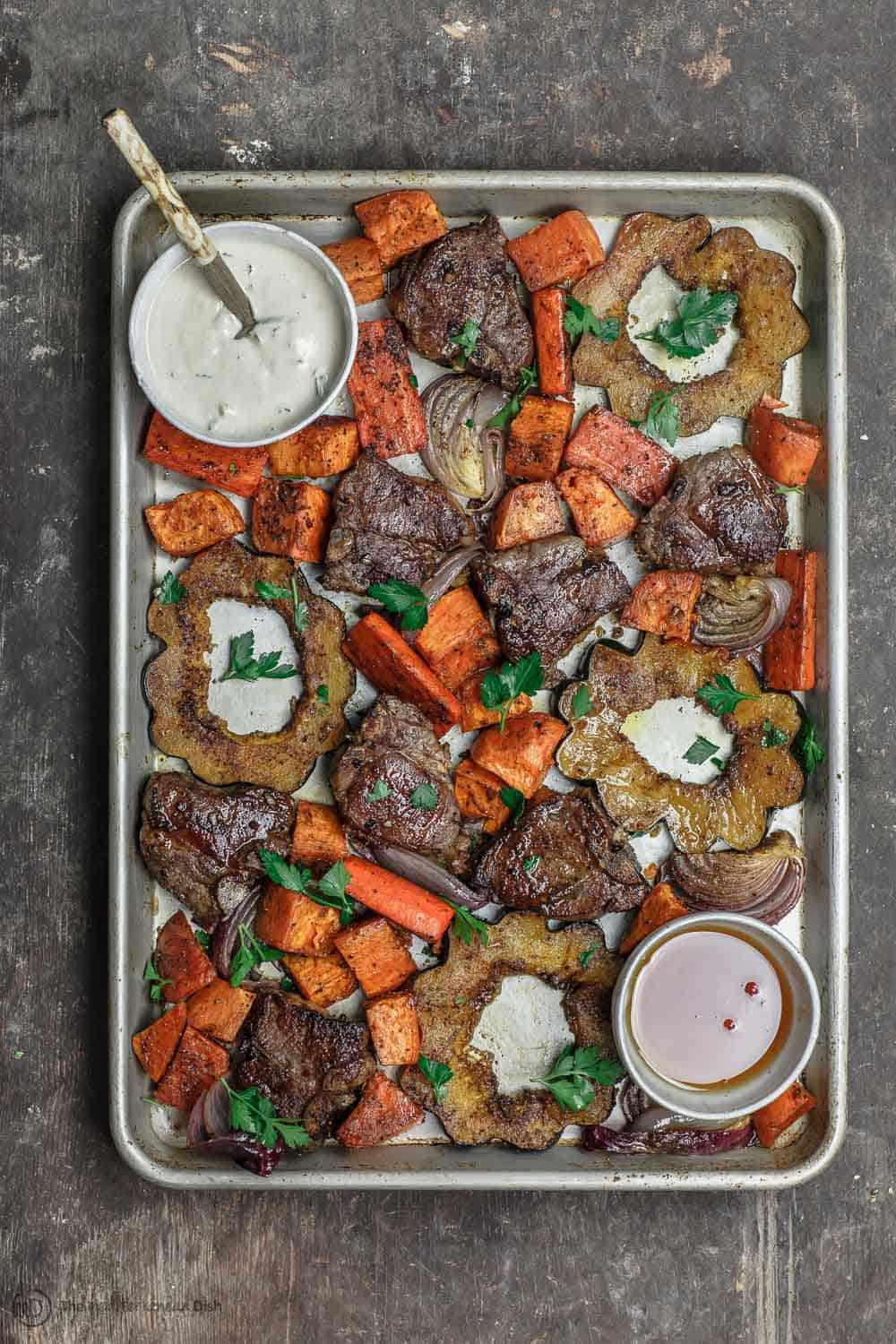 Leftovers?
If you have any leftover baked lamb chops from this recipe, you can store them in an airtight container for up to 3 days after cooking.
When you are ready to eat the leftovers, the best way to reheat is by heating your oven to medium, or about 300-325 degrees F. The lower heat will be less likely to dry out and overcook your lamb! And it does help to add a little bit of liquid to the pan.
What to Serve with this Baked Lamb Dinner?
The beauty of sheet pan dinners is that you don't really need to do much else to complete the meal. I love a drizzle of tahini sauce on my lamb chops (completely optional.)
Two great starter salads would be this Easy Mediterannean Orange and Pomegranate Salad or this Shaved Brussel Sprouts Salad with Honey-Citrus Dressing!
More Recipes to Try:
Mediterranean Wine-Braised Lamb Shanks
Mediterranean Roasted Vegetables and Barley
Looking for more salads? Browse our selection of Mediterranean salads here.
Hungry for More? Join my e-mail list HERE to receive new recipes and my weekly dinner plan!
VISIT OUR ONLINE SHOP FOR QUALITY OLIVE OILS, ALL-NATURAL SPICES AND MORE
Print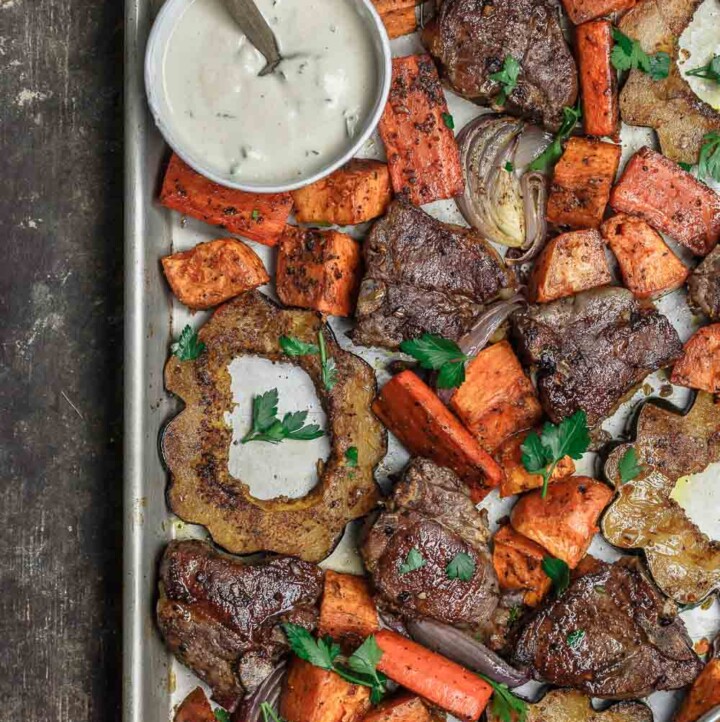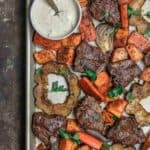 Mediterranean Baked Lamb Chops with Root Vegetables
---
Description
Sheet Pan Mediterranean Baked Lamb Chops with Root Vegetables. A special marinade with quality extra virgin olive oil, garlic and warm spices adds all the flavor. Gluten Free.
Be sure to read the post for more important tips.
---
8

lamb loin chops, each about 1 ½ inch in thickness
Kosher salt

1

Acorn Squash (if available, or a similar squash)

1

head garlic (about

12

to

14

cloves), peeled and minced

⅓ cup

Private Reserve extra virgin olive oil, more if needed

2 ½ tsp

ground allspice, divided

2 tsp

black pepper, divided

1 ½ tsp

sweet Spanish paprika, divided

1 tsp

ground nutmeg, divided

1

large red onion, peeled, halved then thickly sliced

1

large sweet potato, peeled and cubed

2

carrots, peeled, cut into large pieces

3 tbsp

white wine vinegar
honey
Fresh parsley for garnish
To serve along:
---
Instructions
Salt lamb chops. Season lamb chops with Kosher salt on both sides. Set aside at room temperature while you prepare the remaining ingredients.
Preheat oven to 400 degrees F.
Prepare Acorn Squash. Microwave the acorn squash for 1 to 2 minutes (this helps soften it a bit for cutting.) Handle carefully. When cool enough to handle, place acorn squash on a cutting board. Cut stem off, and trim both ends about ¼ inch. Cut acorn squash in half crosswise, and scoop out the seeds. Now, take each half and cut into ½-inch thick rings.
Make marinade. In a large bowl, combine minced garlic, extra virgin olive oil, 1 teaspoon allspice, 1 teaspoon black pepper, ¾ teaspoon paprika, and ½ teaspoon ground nutmeg. Mix well. (leave rest of spices for later.)
Dip Vegetables in Marinade. Add the vegetables (sliced acorn squash, onions, sweet potatoes, and carrots) to the marinade bowl with the garlic marinade (you may need to do this in stages.) Give them a quick toss, then transfer vegetables to a large sheet pan. Season with kosher salt.
Marinate Lamb. To the marinade bowl, add more extra virgin olive oil. Add white wine vinegar, and the remaining spices. Mix well. Add lamb chops in and toss to coat. Set aside to marinate.
Bake Vegetables. Place vegetables in heated oven and bake for 15 minutes or so.
Brown Lamb then Add to Vegetable Pan. When 15 minutes have passed, remove the vegetables from oven and set near you (leave oven on.) Heat a little bit of extra virgin olive oil in a large skillet over medium-high heat until shimmering but not smoking. Add lamb and brown on both sides (about 3 minutes per side.) Transfer lamb to the vegetable pan, and return to heated oven to bake for 10 minutes (lamb will be medium-rare to medium. Bake a little longer for medium-well.)
Drizzle with honey. When ready, remove pan from oven and immediately drizzle honey all over the lamb and vegetables. Garnish with parsley.
Let lamb chops sit for 10 minutes before serving. Serve with a side of tahini sauce, if you like.
Notes
Cook's Tip #1: Salt the lamb chops before you do anything else to allow the salt some time to flavor and tenderize the lamb chops.
Cook's Tip #2: While the extra virgin olive oil provides juiciness, and the spices provide flavor, we need the added citrus from the white wine vinegar to help break down the lamb chops so that the spices penetrate more deeply. That's why the white wine vinegar is added to the marinade at a later point.
Cooks Tip #3: L

et the baked lamb chops rest for 10 minutes or so before cutting into them. This allows them to retain their juices and stay nice and tender.

Leftovers: Store leftovers in fridge for up to 3 days. Heat in medium-heated oven, adding a little liquid to the pan.
Visit our Online Shop to browse our extra virgin olive oil bundles, all-natural and organic spices, including allspice, paprika, and nutmeg used in this recipe.
Prep Time:

20 mins

Cook Time:

30 mins

Category:

Entree/Dinner

Method:

Baked

Cuisine:

Mediterranean
Keywords: Baked Lamb Chops, Lamb Chops, Roasted Lamb Chops
*This post first appeared on The Mediterranean Dish in 2018 and has been recently updated with new information and media for readers' benefit.