Flatbread is a thing of beauty. It's the perfect carrier for all sorts of toppings. I love it for a simple meal, paired with a glass of wine (yes, please!) Even better as an appetizer to feed a crowd. I mean, you can get 15 rectangular pieces out of today's flatbread recipe! And I'm telling you, this flatbread recipe, loaded with Mediterranean favorites, will deliver the "wow" with such little effort! A must-try for your next party.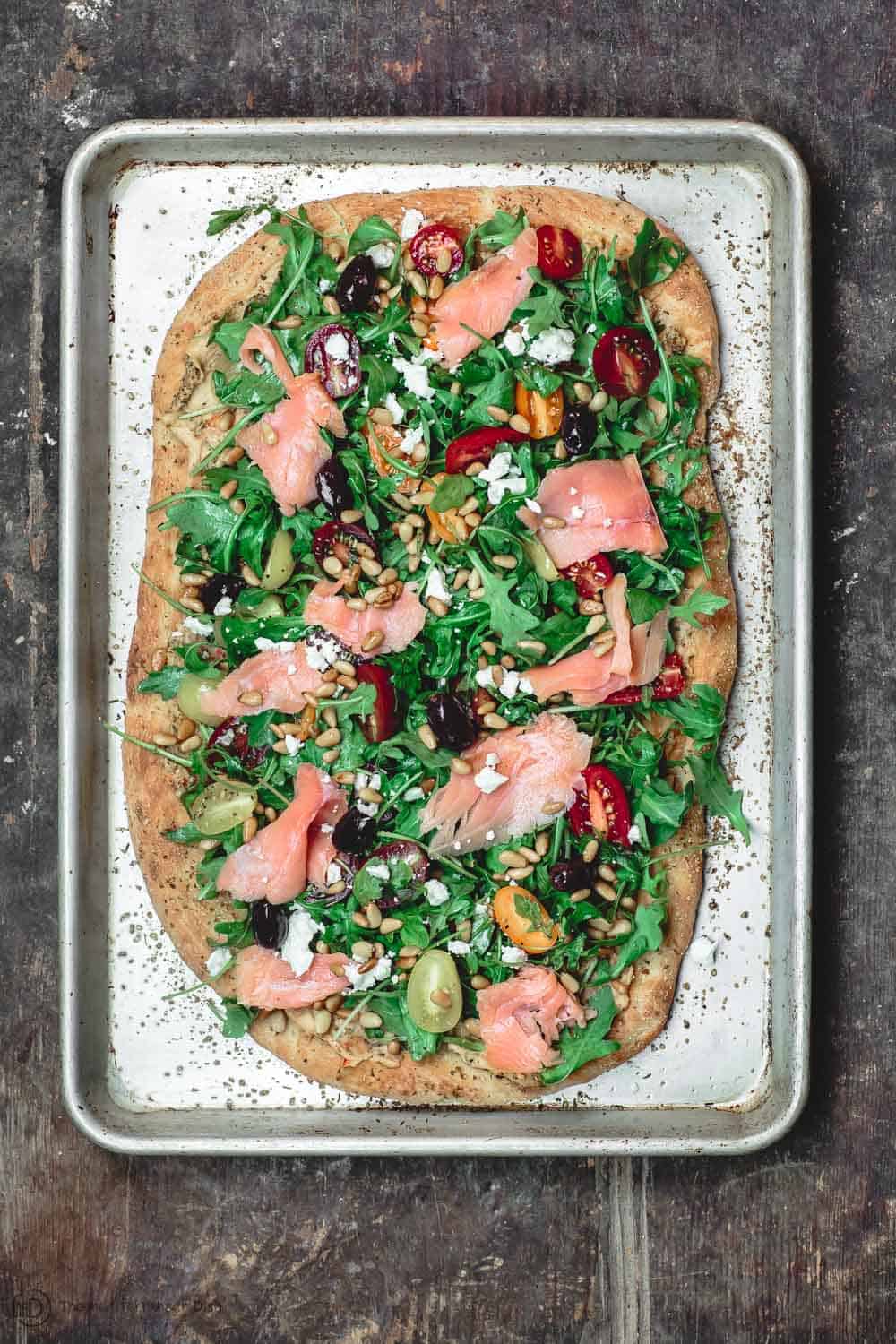 Mediterranean Flatbread Recipe with Arugula and Smoked Salmon
You might call today's flatbread recipe semi-homemade. I take a major shortcut by using store-bought pizza dough; it cuts prep time by more than 1 hour. Since the bakery at my local grocery store carries freshly prepared pizza dough, I've been taking advantage and making all sorts of flatbread (have you seen my recent Lahmacun recipe?)
Of course, if you really want to make your own flatbread dough from scratch, it is not difficult. Use my dough from this za'atar manaqish recipe or this pizza recipe.
The draw for me is that you can prepare the flatbread crust in advance, then load on the toppings just before serving.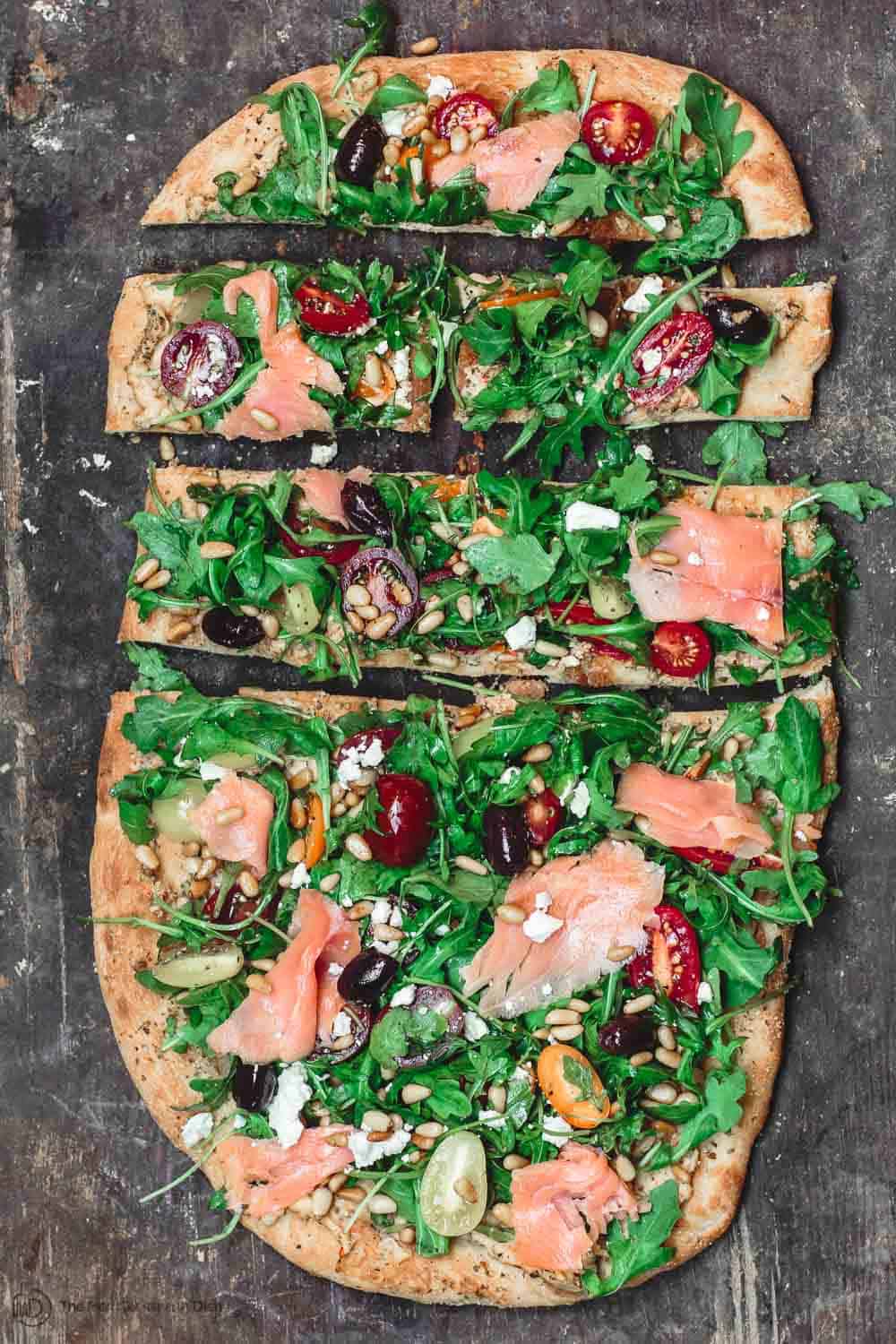 Guide for Flatbread Toppings
With this particular flatbread recipe, you can really get creative with the toppings. Use what you have on hand and make it your own! But as a guide, here's what I like to do for toppings:
1- Something to spread on the crust. In this particular recipe, I used hummus (you can use homemade or a quality store-bought hummus you like.) You can use smoky baba ganoush (eggplant dip) or basil pesto. Or, skip that all together and keep things super simple by brushing the top of your freshly baked crust with an excellent extra virgin olive oil (I use Private Reserve Greek extra virgin olive oil. So much flavor!)
2- A bed of fresh greens and veggies. My go-to is a handful of baby arugula and cherry tomatoes, seasoned and tossed in extra virgin olive oil. You can switch out arugula for baby spinach, spring mix, or your favorite leafy greens. You can also add sliced cucumber or radish (if you're not doing arugula, since arugula and radish are both quite peppery.)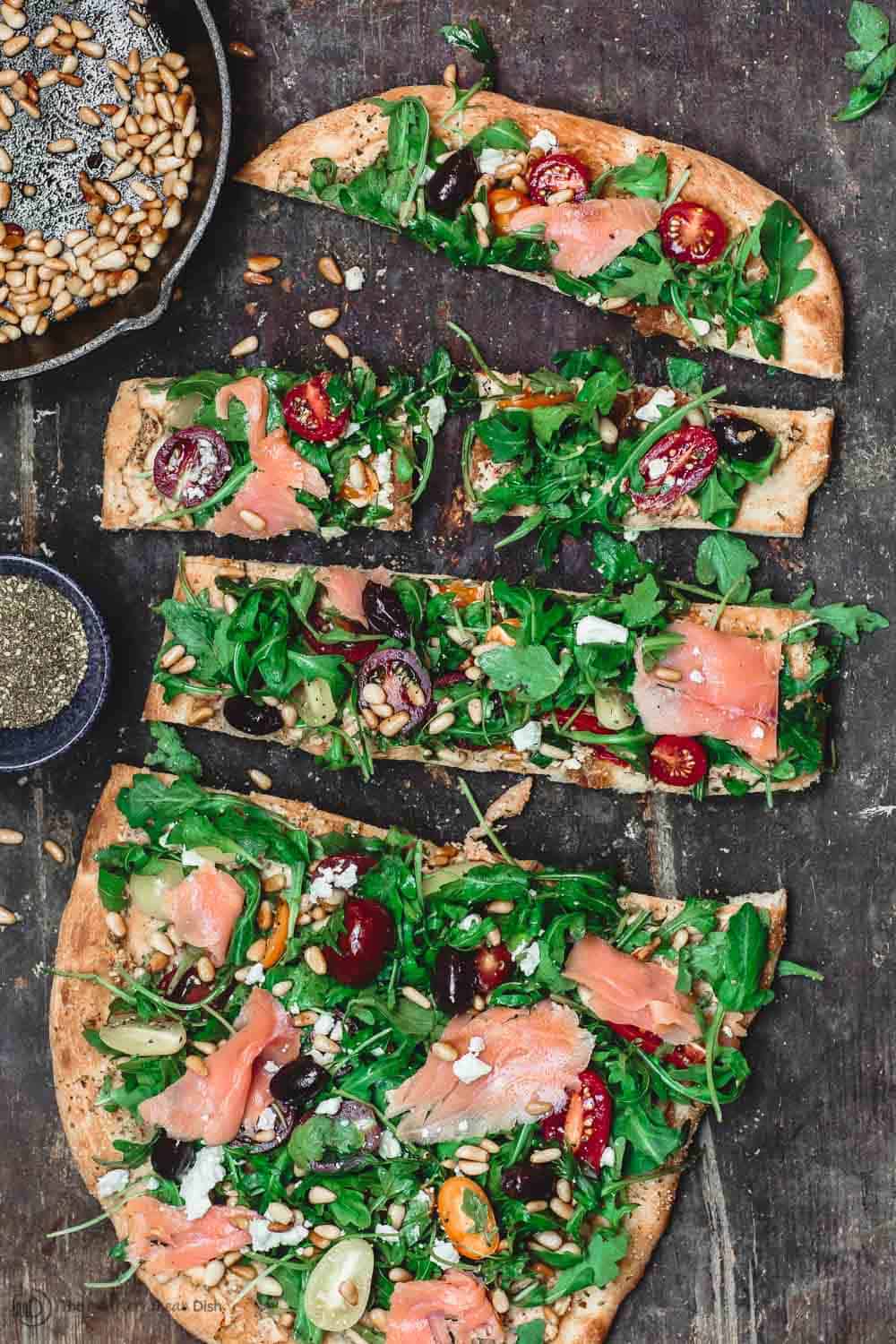 3- For more substance, add seafood or meat of your choosing. Here, I used smoked salmon, but cooked shrimp, prosciutto, rotisserie chicken or turkey are all great choices. This is totally optional, of course, particularly if you want to keep the flatbread vegetarian.
4- Other Mediterranean favorites like cheese, marinated vegetables, and toasted nuts. Here I used a sprinkle of crumbled feta and kalamata olives, both add a more flavor. You can use shaved Parmesan or another cheese to your liking! You can also replace the olives or add more marinated items like artichoke hearts, roasted peppers etc. (Check the deli section or olive bar at your local grocery store.) The toasted pine nuts here are completely optional, and you can replace them with toasted slivered almonds.
How to Make this Mediterranean Flatbread
If you look at the recipe, you'll notice this Mediterranean flatbread recipe is really easy to put together. Assuming your dough is ready, the two key steps are:
1- Prepare the crust. All you need to do is turn room-temperature dough onto a floured surface, stretch and roll it out to a nice large rectangle, about 12 x 8 inches. Transfer the dough to a sheet pan that's been greased with extra virgin olive oil (I like to sprinkle a little cornmeal on the bottom of the pan. The cornmeal sticks to the bottom of the dough giving it great texture but also ensuring the dough doesn't stick to the pan.) Brush dough with EVOO, season, and bake in hot oven.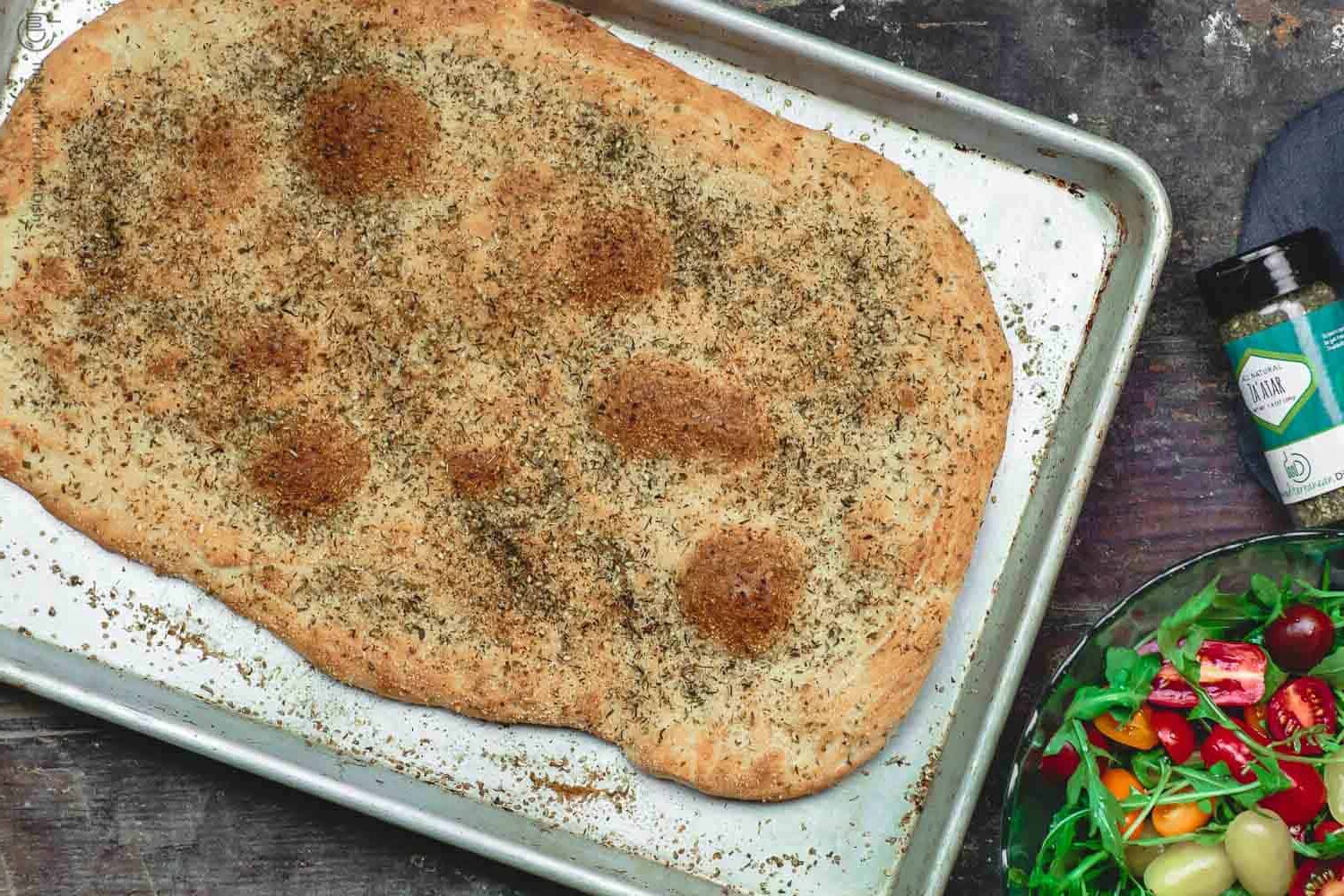 2- Once the crust is ready, come the fun of adding toppings. Using the combination of toppings in this recipe, first spread the hummus evenly over the surface of the crust. Top with the mixture of arugula and tomato. Add the rest!
If you're serving this as an appetizer for a crowd, you can easily get about 15 rectangular pieces or so.
Prepare Ahead Instructions for this Flatbread
This recipe is so easy, and if you opt for store-bought pizza dough, you really don't have much prep. Still, if you'd like to prepare a part of it ahead of time, you can bake the dough/crust. Once crust is completely cool, wrap it well in plastic and leave at room temperature for one night (or refrigerate for up to 3 days.) If you like, stick it in a medium-heated oven for a few minutes, then add toppings and serve.
More Recipes to Try:
Baked Salmon with Garlic Cilantro Sauce
Easy Orange Harissa Lamb Chops
Mediterranean Roasted Vegetable Barley
Print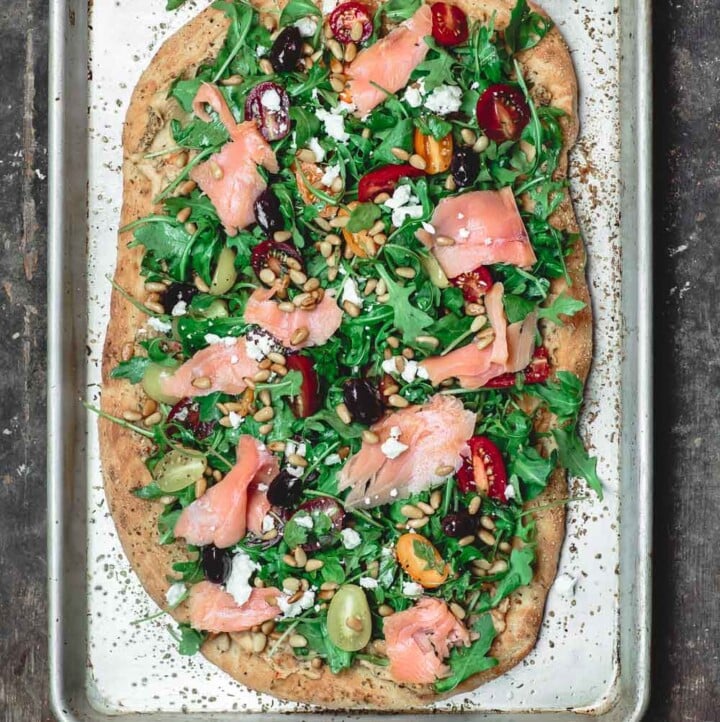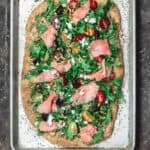 Mediterranean Flatbread served in a tray and topped with Arugula, Tomatoes, Smoked Salmon and More
---
Author:

Suzy Karadsheh

Total Time:

30 minutes

Yield:

1

Flatbread (15 or pieces)

1

x
Description
All-star Mediterranean flatbread recipe loaded with fresh arugula, veggies, smoked salmon and other Mediterranean favorites like olives and feta! Great as a simple meal with your favorite glass of wine, or as an appetizer for a crowd.
---
Private Reserve Greek extra virgin olive oil
Cornmeal
Flour (any kind) for dusting

1

lb/ 453.59 g pizza dough (whole wheat dough, if you prefer) at room temperature (see note if you want to make dough from scratch)

1 tsp

dry oregano

1 tsp

za'atar spice, more for later
Large handful baby arugula (about 4 oz/113.4 g)
Scant

1 pint

/400 g cherry tomatoes, halved
Kosher salt and black pepper

⅓ cup

or so hummus (homemade from this recipe or store-bought)
Crumbled feta cheese, to your liking (optional)
Few slices smoked salmon (3 to 4 oz/113 g)
Handful pitted kalamata olives
Handful toasted pine nuts, optional
---
Instructions
Preheat oven to 450 degrees F.
Prepare a large sheet pan and brush with extra virgin olive oil. Sprinkle the bottom of pan with cornmeal, about 2-3 tbsp.
Lightly flour a clean work surface. Place pizza dough on top and roll and stretch dough to a 12 x 8 rectangle or oval. Transfer stretched dough to prepared sheet pan.
Lightly brush top of dough with extra virgin olive oil and season with oregano and za'atar spice. Bake in heated oven for 15 to 20 minutes, or until dough is golden and slightly crisp on bottom. Remove from heat.
In a bowl, combine arugula and tomato. Drizzle with a little extra virgin olive oil and season with salt, pepper, and a dash of Za'atar spice. Mix to combine. Set aside for a moment.
Spread a thin layer of hummus evenly over the pizza crust. Top with the arugula and tomato mixture. Now arrange the remaining ingredients on top evenly. Sprinkle a little more za'atar spice and dried oregano all over.
To serve as an appetizer, slice pizza into small rectangles. You'll get 15 or more pieces. Enjoy!
Notes
Prepare Ahead Tip: You can prepare the pizza dough and make crust the night before you need to serve it. Let cool completely, wrap very well in plastic wrap and store at room temperature overnight or refrigerate for up to 3 days. You can warm pizza crust up in a medium-heated oven to ensure a crispy bottom that can withstand the toppings (watch carefully not to brown the crust too much.) Add toppings as instructed.
Tip for Making Dough from Scratch: If store-bought dough is not available to you, or if you prefer to make your own, use this recipe or this homemade pizza recipe for the dough.
Flatbread Topping Options: You can absolutely change up the toppings to your liking (read more in detail up in the post.) A few ideas for you: 1. Make above recipe and replace smoked salmon with cooked shrimp, prosciutto, or even rotisserie chicken. 2. Keep it vegetarian by omitting salmon and adding other Mediterranean favorites like roasted red peppers or marinated artichoke hearts. 3. Use smoky baba ganoush in place of hummus (works with any of the above combinations) 4. Use basil pesto in place of hummus and use baby spinach or other greens in place of arugula.
Recommended for this recipe: All-natural za'atar spice (a Mediterranean blend of wild thyme and toasted sesame). Find it here. SAVE! Try our Ultimate Mediterranean Spice Bundle or create your own 6-pack or 3-pack from our all-natural or organic spice collections.
Recommended for this Recipe: Private Reserve Greek Extra Virgin Olive Oil (from organically grown and processed Koroneiki olives). SAVE! Try our Greek EVOO Bundle!
Prep Time:

15 mins

Cook Time:

15 mins

Category:

Appetizer or Entree

Method:

Baked

Cuisine:

Mediterranean
Keywords: Flatbread, Flatbread Recipe