This vegetarian Pasta Fagioli recipe is a super simple, hearty, and rustic Italian bowl of comfort. It takes about 30 minutes and a few pantry staples you may already have on hand! Pasta, 2 types of beans, smoky fire-roasted tomatoes, and a few tender veggies make this a perfect belly-warming dinner to fill you up.
A few easy tricks will make this the best and simplest pasta Fagioli soup you will ever make, so be sure to read on. Also included is a meat variation and how to make in your slow cooker or Instant Pot!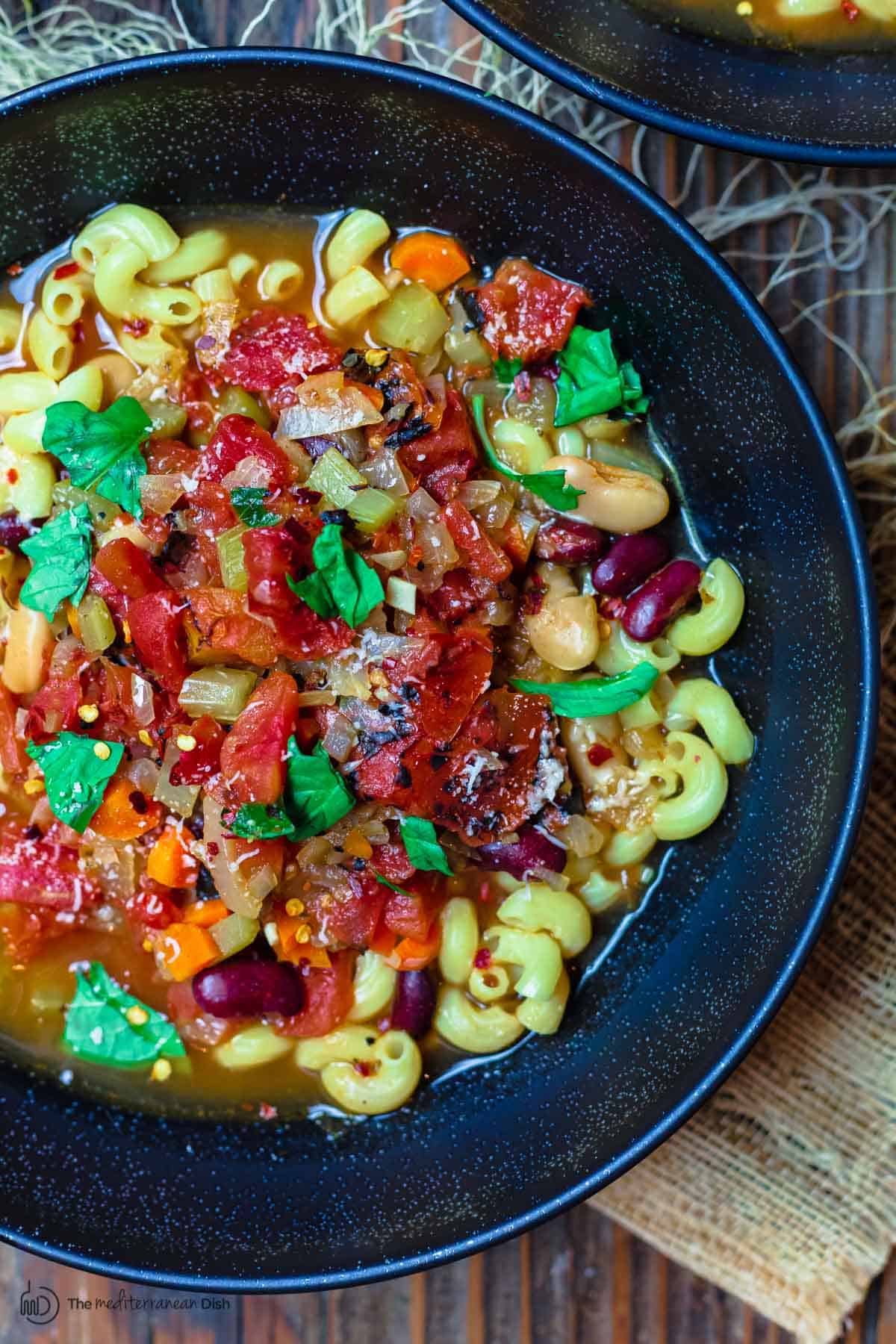 Every family has their favorite soup recipe that feels special and comforting. Pasta Fagioli, or Pasta e Fagioli, is a simple, humble man's "pasta and beans" soup from Italy that many families consider their bowl of comfort.
Because Pasta Fagioli is a popular soup meant to use up whatever ingredients you have on hand--beans and pasta being key ingredients--there are more variations of it than one can count.
Some parts of Italy serve it with tomatoes, others keep it "white," meaning they don't add tomatoes. Some make a thicker soup, while others like a thin broth.
To me, the biggest draw for this pasta Fagioli soup is that it's simple to make in your own kitchen, using pantry ingredients that you likely have on hand--beans, pasta, garlic, oregano, broth. And you can put it together in just over 30 minutes (minimal clean-up involved)!
Still, this pasta e Fagioli recipe is delicious, hearty, and rusting. It'll feel like it came from Nonna's Italian kitchen.
My secret for the best ever Pasta Fagioli soup? NO mushy pasta sits in your bowl like a soggy sad mess, which is a a common issue with many recipes out there.
Weeknight vegetarian pasta Fagioli soup
I wanted to keep this vegetarian pasta Fagioli mostly traditional but decided to make some swaps for an easy and quick weeknight option.
Many versions have meat, but we skip that in this recipe, relying on two types of beans for plant-based protein. Still, to make up for the lack of meat, I took the opportunity to add in a few veggies and some tasty fire roasted tomatoes to bulk things up to give more texture. And I think it is perfect for a Meatless Monday meal!
Traditionally, dried beans are used in Pasta Fagioli soup, but again, in the interest of keeping this a quick and easy recipe, I used canned beans. No overnight soaking required. Canned beans taste great and you will barely notice a difference.
I like my pasta fagioli soup on the brothy side, but if you're looking to thicken the soup base, simply take a portion of the soup (with the beans and veggies) and blend that up then stir it back into the soup before adding the pasta.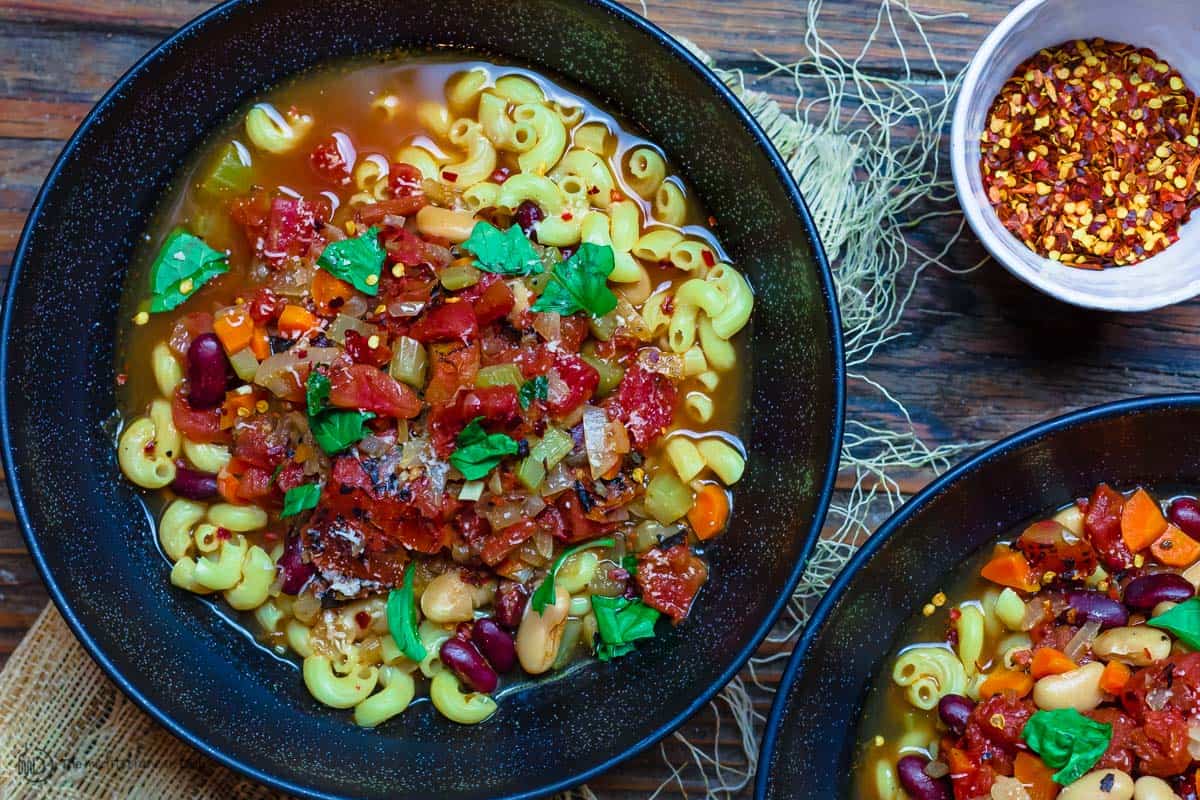 What is the difference between pasta Fagioli soup and minestrone?
Another of my favorite Italian soups is minestrone. Many people wonder, what is the difference between pasta Fagioli soup and minestrone?
Both soups are similar since they have pasta and beans as star ingredients, but there are some key differences.
Minestrone soup includes more vegetables. In my minestrone recipe, I often use zucchini, potatoes, carrots, green beans. Others may use peas or even root veggies, basically any vegetables you have in the kitchen or garden.
Typically Pasta e Fagioli relies more on beans, small pasta, garlic, onions, herbs, and broth. And if you're making the meat version, then clearly some ground meat is involved. Minimal veggies added.
We love both of these soups in our house. But when I am looking for a dinner with fewer ingredients (and less chopping), pasta Fagioli soup is the clear winner.
What is the difference between pasta Fazool and pasta Fagioli?
This question pops up a lot. There is totally no difference, they are the same thing!
Pasta Fazool is the Americanized name for pasta Fagioli. It's essentially a form of American slang that got popular from a song in the 1920s. Just a little fun fact for the day!
What you need to make this vegetarian pasta e Fagioli:
So here's what you'll need to make my vegetarian version of Pasta e Fagioli:
2 types of beans – 2 different beans add visual variety, but also provide different textures and additional protein. I use kidney beans and cannellini beans here. Kidney beans are meaty and cannellini beans are softer and creamier.
Fire roasted tomatoes – I LOVE using fire-roasted tomatoes from the can because they are packed with a smoky charred flavor. It provides some smokiness and depth of flavor without overwhelming the soup.
Onion, celery, carrot – Many versions have these veggies, some more traditional ones don't. I added veggies here because, without the meat, we need some more substance for the soup. And really, this trio is such an easy way to add more flavor.
Garlic – Need I say more? Garlic goes in everything. It's a key flavor in pasta Fagioli.
Herbs – While the soup simmers, dried oregano and a bay leaf work their magic. And a garnish of fresh basil at the end gives the soup the best fresh herby pop!
Pasta – Traditional pasta e Fagioli uses ditalini pasta, but it can sometimes be hard to find. Instead, I used elbows, which are still small enough and make the perfect substitution.
Parm – Adding a sprinkle of grated parm to a hot, steaming bowl of pasta e Fagioli is something amazing. That salty cheesy flavor melts into the soup…SO GOOD.
How to make it:
Cook pasta in water, drain, set aside.
Sauté onions, celery, and carrots in a large pot with olive oil.
Add garlic, oregano, bay leaf.
Add diced tomatoes, broth, beans, bring to a boil then reduce to a simmer.
Cover pot with a lid but leave a crack. Simmer.
To finish, add fresh chopped basil and cooked pasta.
Serve and enjoy with grated parm! (crushed pepper flakes for kick)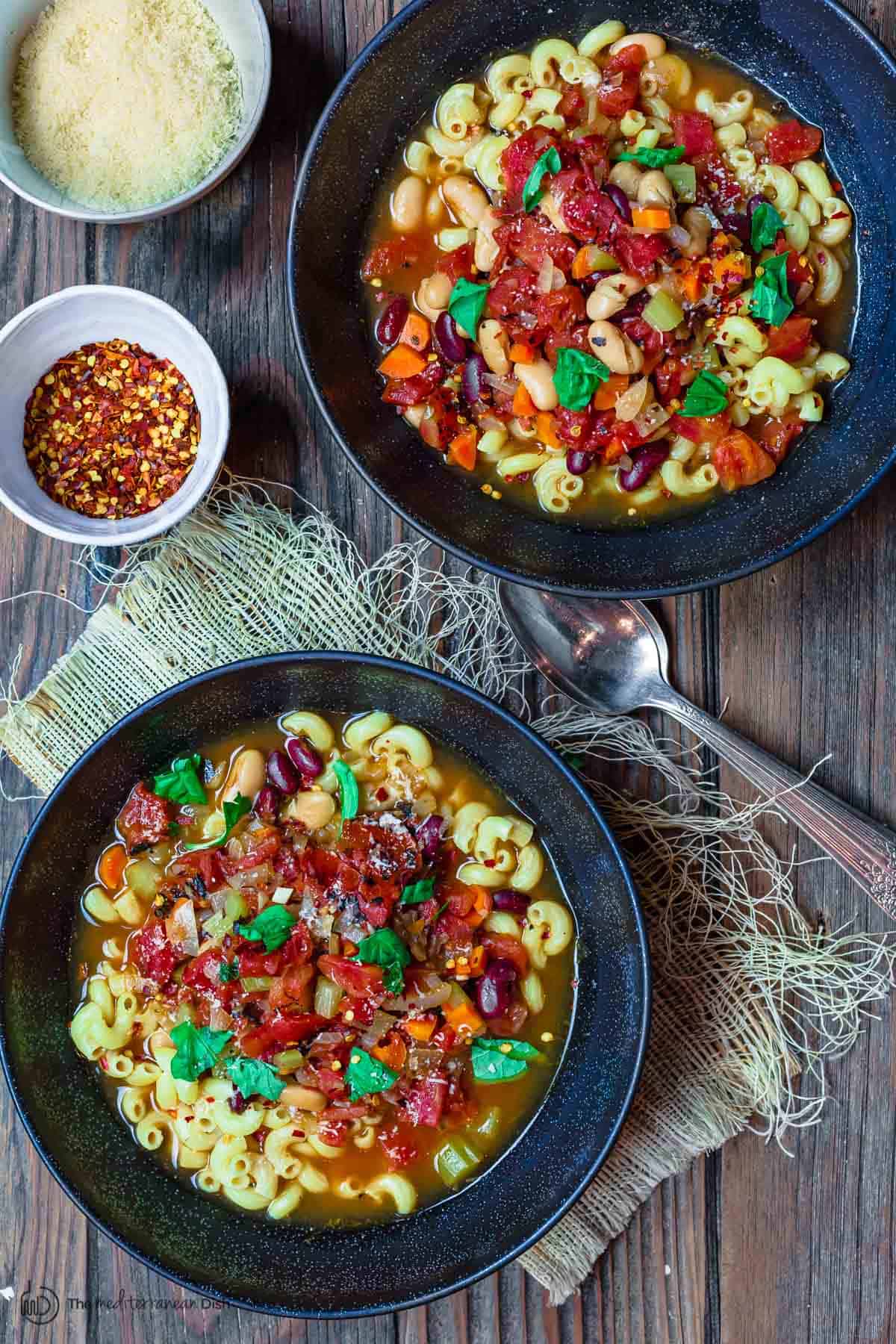 A few tips
I have made this vegetarian pasta Fagioli so many times for my family. We all love it so much, and I love how fast it comes together. It's pretty hard to mess up, so anyone can make it. But I do have a few tips:
1- Cook the pasta separately – Cooking the pasta separately is pretty important. If you cook the pasta with the soup two things will happen. 1) The pasta will soak up most of the broth like a sponge, leaving little broth. 2) Leftover soup will also soak up the broth and the pasta will get super mushy. Instead, keep the pasta separate. Add a bit of pasta to the bowl and ladle the soup on top.
The next day, to reheat, just take some soup from the one container and some pasta from the other container, combine and reheat. Done! No soggy mushy pasta here.
What type of pasta to use in pasta Fagioli soup? Small pasta like ditalini or elbow macaroni will work. For Mediterranean diet friendly option, use whole wheat pasta. And this recipe will work with a gluten free pasta, if that's what you need.
2- Use canned fire-roasted diced tomatoes – Most grocery stores will have some quality canned fire roasted tomatoes. These tomatoes have an amazing charred and slightly smoky flavor, and they give the soup loads of flavor and depth.
Meat Lovers Pasta Fagioli Option
Have meat lovers in your life or want the extra protein? It is so easy to add meat to this soup and I do it all the time as well. I tend to opt for lean ground beef when I want a meaty version. Some also add Italian sausage.
To do so, simply heat a little extra virgin olive oil in your cooking pot, add the ground beef and cook over medium-high heat until fully browned (be sure to break the ground beef up using a wooden spoon, and stir occasionally until the meat is cooked). Drain from fat and set aside on a plate.
Follow the regular recipe, but just add in the cooked ground beef when you throw in the beans and canned tomatoes.
Can I make this soup in a slow cooker or instant pot?
Slow cooker option
I hardly use my slow cooker for this weeknight pasta fagioli. But this option is especially great if you want to use dry beans. Still soak your beans overnight first. Here is what you do:
Chop the onions, carrots, and celery, garlic, and add to your slow cooker.
Dump in the tomatoes, broth, beans, bay leaf, oregano, salt, pepper.
Cook on low for 7-8 hours or high for 4-5 hours.
Meanwhile, cook pasta separately
When ready to serve, add pasta and finish with basil, parm, and red chili flakes if you'd like.
Instant pasta Fagioli option
And if you'd like to make it in the instant pot, here is how:
Preheat your Instant Pot on the sauté setting. Add oil and chopped veggies, cook 4 minutes. Then add garlic, bay leaf, and oregano. Stir and cook 1-2 minutes.
Turn the pot to the "soup" setting and add the tomatoes, broth salt, pepper, and beans.
Lock the lid and turn the pressure setting to "sealing." Cook for 10 minutes.
Cook pasta separately while the soup is cooking.
When finished, follow instant pot directions for release...allow natural release
Open lid when finished, stir in pasta, garnish and serve!
What to serve along with Pasta e Fagioli?
Not a whole lot is needed to complete this one-pot meal. But if you like, add a loaf of crusty bread...perfect for dunking and the kids love it too.
I like to always start the meal with a big salad like this Simple Avocado Salad or even a bright Shirazi Salad (not Italian, but great as a starter here).
Leftovers and Storage
Store your leftovers vegetarian pasta Fagioli soup in the fridge in an airtight container. Storage Tip: highly recommend storing the soup in one container and the cooked pasta in another to prevent super mushy pasta. To reheat, you can combine some soup and pasta in a bowl and reheat on the stove or in the microwave.
Craving more Italian favorites? Browse our Italian recipes, Ribollita and Chicken Cacciatore are two fan favorites!
Looking for Mediterranean diet friendly recipes? See our collection of Mediterranean diet recipes here.
Join my e-mail list HERE to receive new recipes and my weekly dinner plan!
VISIT OUR ONLINE SHOP FOR QUALITY OLIVE OILS, ALL-NATURAL SPICES AND MORE
Print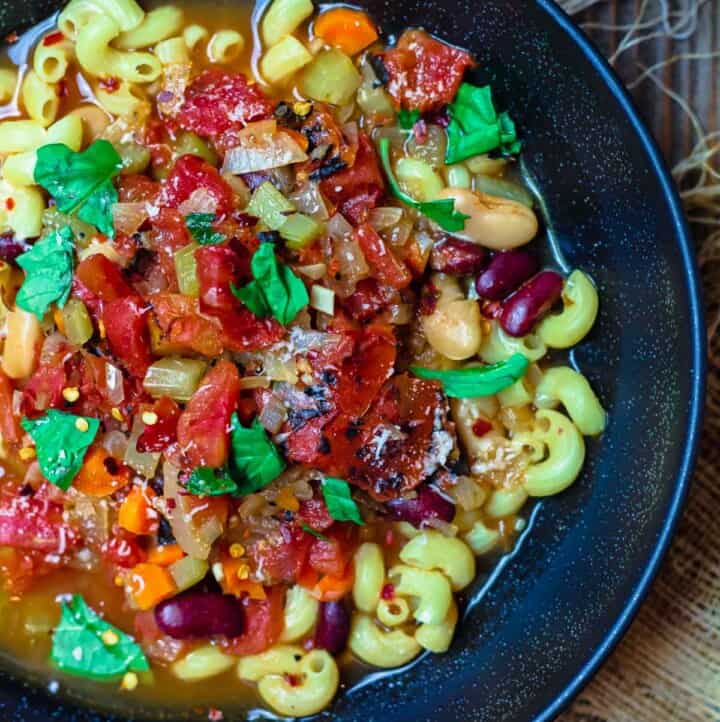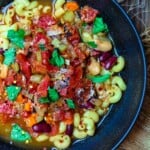 Easy Vegetarian Pasta Fagioli Recipe
---
Description
This vegetarian Pasta Fagioli recipe is a super simple, hearty, and rustic Italian bowl of comfort. It takes about 30 minutes and a few pantry staples you may already have on hand! Pasta, 2 types of beans, smoky fire-roasted tomatoes, and a few tender veggies make this a perfect belly-warming dinner to fill you up.
Be sure to read the post for tips and more information.
---
8 oz

small pasta (use whole wheat pasta for Mediterranean diet)
Extra Virgin Olive Oil (I used Private Reserve Greek EVOO)

1

yellow onion, chopped

2

celery stalks, chopped

2

carrots, chopped

2

garlic cloves, chopped

1

dried bay leaf

1 tsp

dried oregano

1

28-oz can fire roasted diced tomatoes

5

-

6

cups vegetable broth

1

15-oz can cannellini beans (or Great Northern Beans), rinsed and drained

1

15-oz can kidney beans, rinsed and drained
Salt and pepper

½ cup

fresh basil leaves, cut into ribbons
Crushed red pepper, optional
Grated Parmesan cheese, for garnish
---
Instructions
In a large boiling pot of water, cook the pasta according to package instructions. Drain well, and set aside.
In a large dutch oven or cast iron pot, heat 2 tablespoon olive oil. Saute the onions, celery and carrots on medium-high heat for 4 minutes or so until the vegetables begin to break down. Add the chopped garlic, bay leaf, and dried oregano. Cook for another 2 minutes, stirring occasionally.
Now, add the roasted diced tomatoes, vegetable broth, cannellini beans, and kidney beans. Season with salt and pepper to taste. Bring to a boil, then reduce the heat to simmer. Cover the pot with a lid but leave a small opening. Simmer for 10-15 minutes.
Bring to a medium-high heat, stir in the pasta until warmed through. Stir in the fresh basil, and remove from heat.
Transfer to serving bowls and top with crushed red pepper (optional) and grated Parmesan cheese. Add your favorite crusty Italian bread. Enjoy!
Notes
Cook's Tip Alternative to Step #4: Sometimes, especially when serving a small number of people, I prefer to add the cooked pasta in the serving bowls, topping it with the soup. That way, I can save the leftovers, pasta and soup, separately. Otherwise, things can get too thick and mushy overnight.
Cook's Tip to Add Meat: If you'd like to make a meat version of this soup, simply cook your meat separately then add it in with the beans etc. I use lean ground beef, but you can also add Italian sausage. Simply saute in a little bit of extra virgin olive oil, breaking up the meat and tossing regularly until fully browned.
Cook's Tip for Slow Cooker Pasta Fagioli: This is a good option, particularly if you are using dry beans (do soak the beans overnight first.) You will still need to cook the pasta separately. Add the onions garlic, veggies, spices, beans and tomatoes and broth to your crockpot. Season with salt and pepper. Cook on low 7 to 8 hours or high 4 to 5 hours. When ready to serve, add pasta and finish with basil and a sprinkle of Parmesan.
Cook's Tip for Instant Pot Version: If you'd like to use your instant pot, begin by sauteing the garlic, onion, celery and carrots. Add in bay leaf and spices, then turn setting to "soup" and add in remaining ingredients. Lock to seal and cook for 10 minutes. Follow Instant Pot instructions for natural release. When ready, stir in already cooked pasta, basil and Parmesan before serving.
Visit our Shop to browse all-natural and organic spices and our extra virgin olive oils including Private Reserve Greek EVOO used in this recipe.
Prep Time:

10 mins

Cook Time:

25 mins

Category:

Soup

Method:

Stove Top

Cuisine:

Italian
Keywords: Pasta e Fagioli, Pasta Fagioli, Vegetarian Pasta Fagioli
*This post originally appeared on The Mediterranean Dish in January 2017 and has recently been updated with new information for readers' benefit. Enjoy!