This Turkish pide recipe, sometimes called Turkish pizza, is an oval flatbread stuffed with many different fillings. This recipe for vegetarian pide is made with feta cheese, spinach, red peppers and mushrooms. It's lovely to serve to a crowd, easy to make and full of flavor!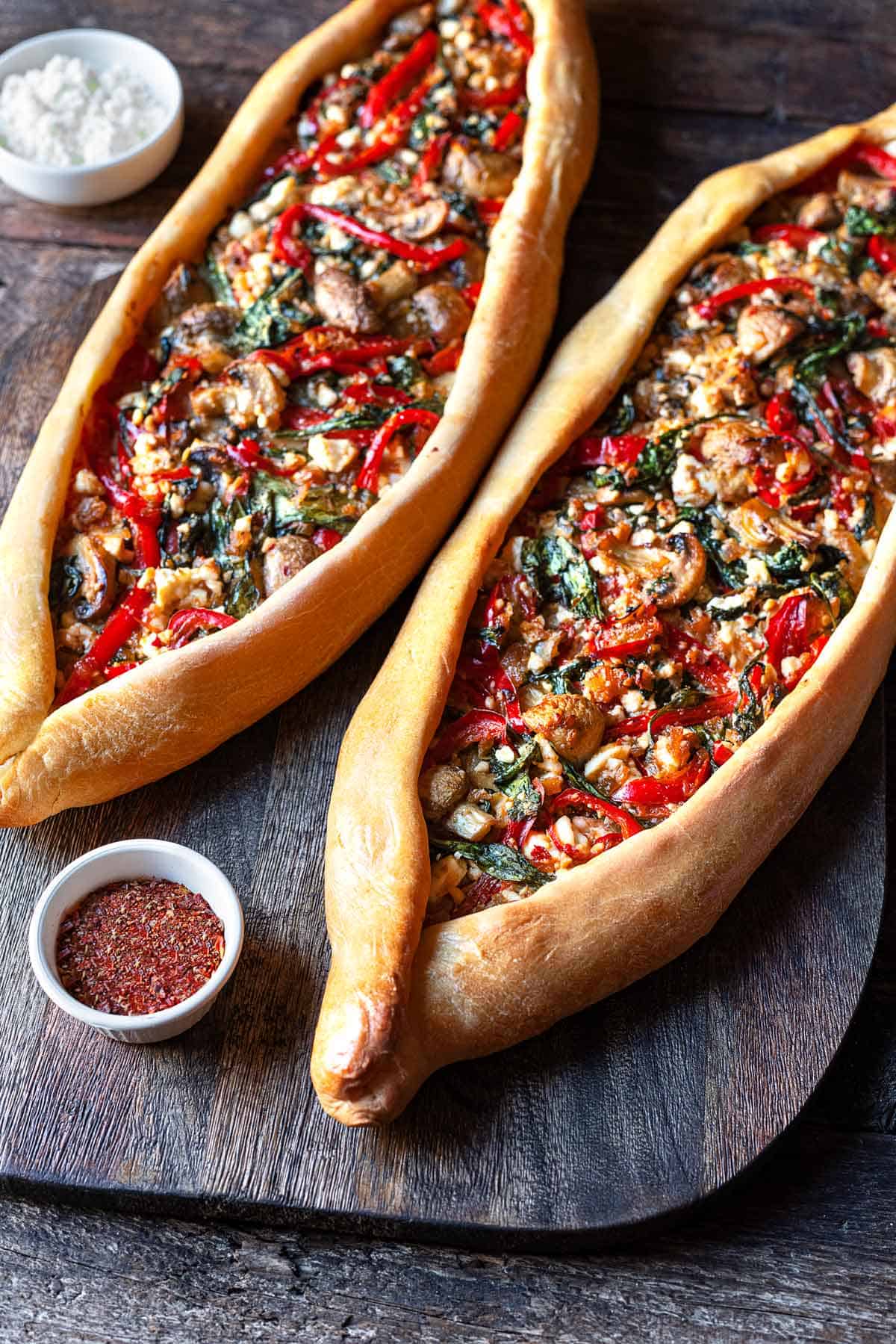 Looking for a dinner idea loaded with vegetables, delicious, and fun to make? Then this Turkish flatbread called pide is for you!
For this recipe I created a vegetarian pide made with spinach, mushrooms, onion, feta cheese, and red bell pepper for a little sweetness. The filling tastes divine, especially with the addition of sharp, tangy feta and a little heat from the Aleppo pepper flakes.
I absolutely love pide! Even though this Turkish flatbread is sometimes referred to as Turkish pizza, there are noticeable differences between pide and pizza.
Pide is shaped like a narrow American football, the dough is crispy on the outside soft and a little chewy on the inside. Unlike pizza, Pide doesn't include sauce, but like pizza, it's loaded with toppings, can be eaten out of hand, and is loved by almost everyone.
If you've tried making other breads like focaccia or pita and you've never tried your hand at Turkish pide, then it's time embark on this beloved meal and explore the wonderful variations of Turkish flat bread–from pide to gözleme to lahmacun and beyond!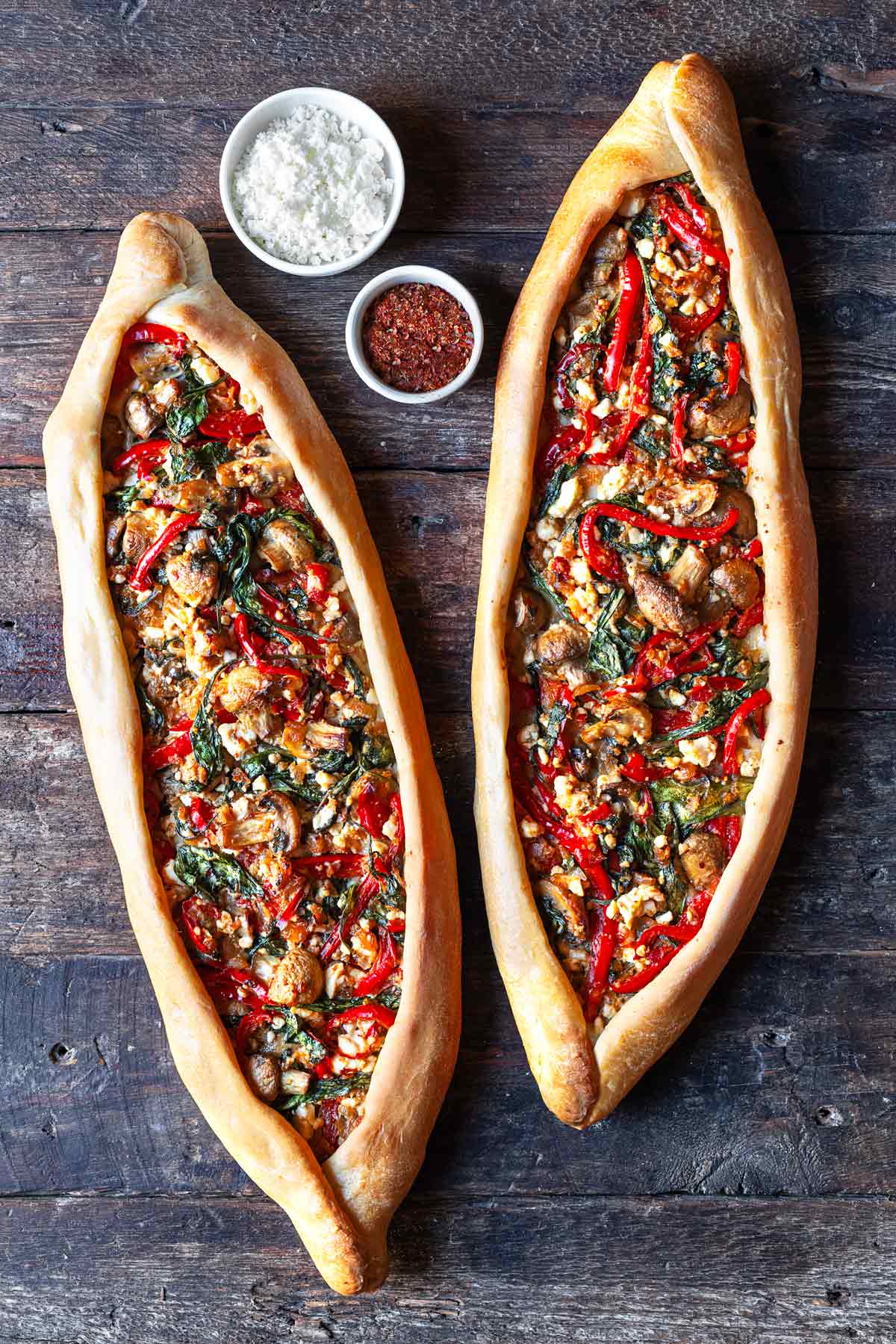 Table of Contents
What is Pide?
Pide is an oval-shaped flatbread common in Turkey and made with various meat or vegetable toppings. Throughout Turkey you can find pide shops called Pideci, that only bake these delicious flatbreads and serve them all day long. It's one of the things I love the most about my homeland.

In Turkey, where I was born and raised, we consider Pide our popular, "slow cooked fast food." Pide has an ancient history. It originated in the city of Samsun, and Turkish people have enjoyed it throughout the Black Sea region since 1725.

In my hometown of Antakya, locals prepare pide toppings then take it to the local bakery, called firin. The bakers would add the toppings to the dough, and bake it in the stone oven for each family. Growing up, I loved this ritual of taking our pide topping to the bakery then picking up our delicious, freshly baked pide later on—golden, delicious memories.
Variations of Pide
When making pide I place the toppings in the middle then fold the edges of the dough over just the outer portion of the filling so the ingredients are visible, however there are many ways to make pide.
Some people make bafra pidesi, where they enclose the filling with a thin layer of dough.
Although, my pida is oval, it can be round as well. Trabzon pidesi is a popular variety of round pide. To make this, locals use a melting cheese, called Trabzon and serve it with a cracked egg in the middle. It is delicious!
What is in Pide?
Pide has a simple dough, the dough ingredients are:
All-purpose plain flour is widely used in pide, though you can experiment with bread flour, even whole wheat flour too.
Active dry yeast is common, as it works well and quickly. Make sure to dissolve in warm water (90 to 110°F) to activate the yeast.
Warm water: It is important to use warm water to activate the yeast; cold water won't activate successfully and hot water kills the yeast. For the dough to proof successfully, make sure to use water that is between 90-110°F.
Pinch of sugar: I use this to make sure my yeast are active and alive. Add it to the warm water and yeast then stir to combine. Wait 5 minutes and the yeast should look foamy.
Olive oil is my choice of fat when making pide. It helps to achieve a soft dough, gives a nice crust to the bread and according to the USDA olive oil is good for you.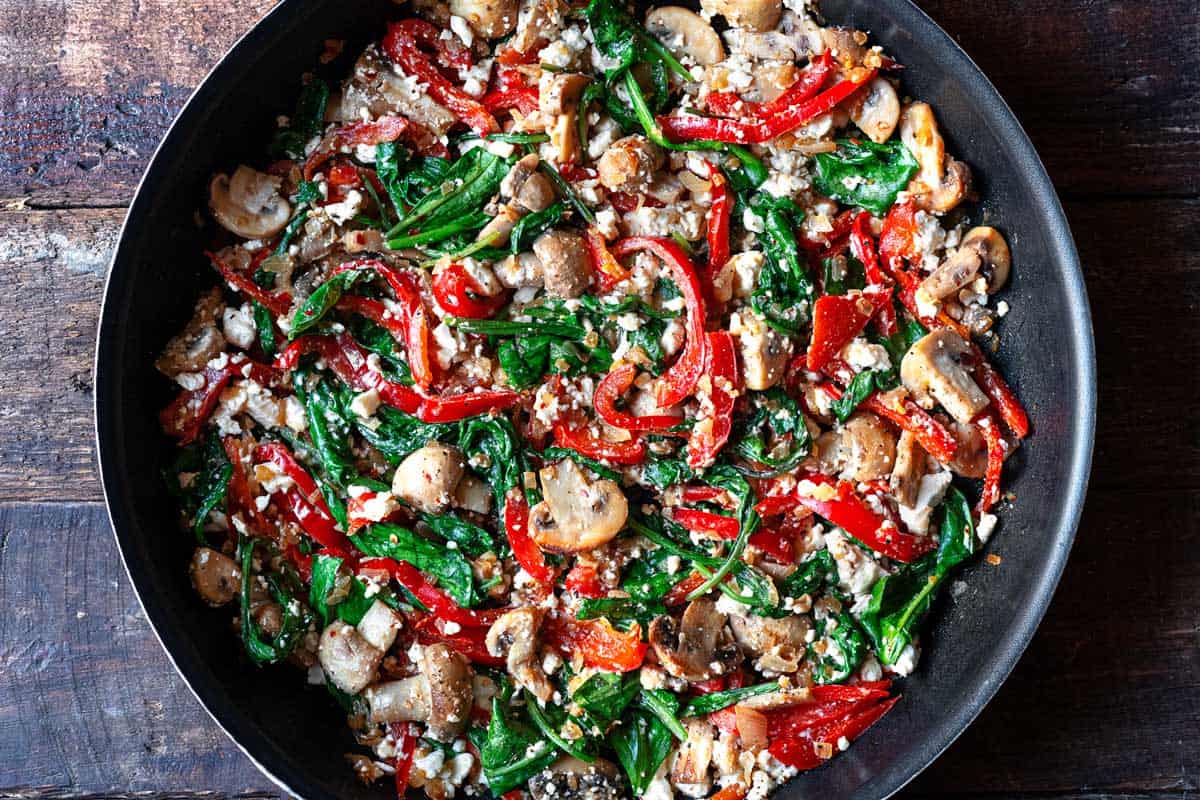 Some of my Favorite Pide Toppings
Think of pide as the ultimate clean out the fridge dinner. The goal is to use up what you have on hand. This was as true 300 years ago as it is today, so please do keep this in mind and use up any cheese, olives, vegetables you have around the house!

Here are some of my favorite toppings for pide to inspire you:
Cheese: We are cheese lovers in Turkey. Melting cheddar cheese, crumbled feta are popular pide toppings. We have a delicious stringy melting cheese called dil peyniri similar to grated mozzarella that can be great on pide too. Use up any cheese that you love and have on hand; goat cheese slices are fantastic on pide too.
Turkish dried cured sausage, sucuk: Slices of Turkish dried cured beef called sucuk, is a popular pide topping at home, but it's not that easy to find in the States. Sliced Spanish chorizo or your favorite cured meat would be a good substitution.
Ground meat or small chunks of meat: Ground meat or small cubes of lamb or beef are also popular toppings. I like to sauté the ground meat or small cubes of meat with diced onions, and season well with sea salt and ground black pepper.
Peppers, spinach, sautéed mushrooms, olives: I love vegetables over pide. Sliced red onions, sautéed peppers, mushrooms, spinach all work great as pide topping. Olives can be a nice alternative to cheese, combined with the vegetables. How about roasted peppers or marinated small chunks of artichoke hearts? They would be amazing as pide toppings.
Pide with cracked egg: This is another specialty, also called Trabzon pidesi, as it originated from the city of Trabzon. Made with local melting cheese and butter in the topping, this pide is serve either round or oval. Toward the end of baking, locals crack an egg in the middle of this pide and bake for another minute. It is simply divine!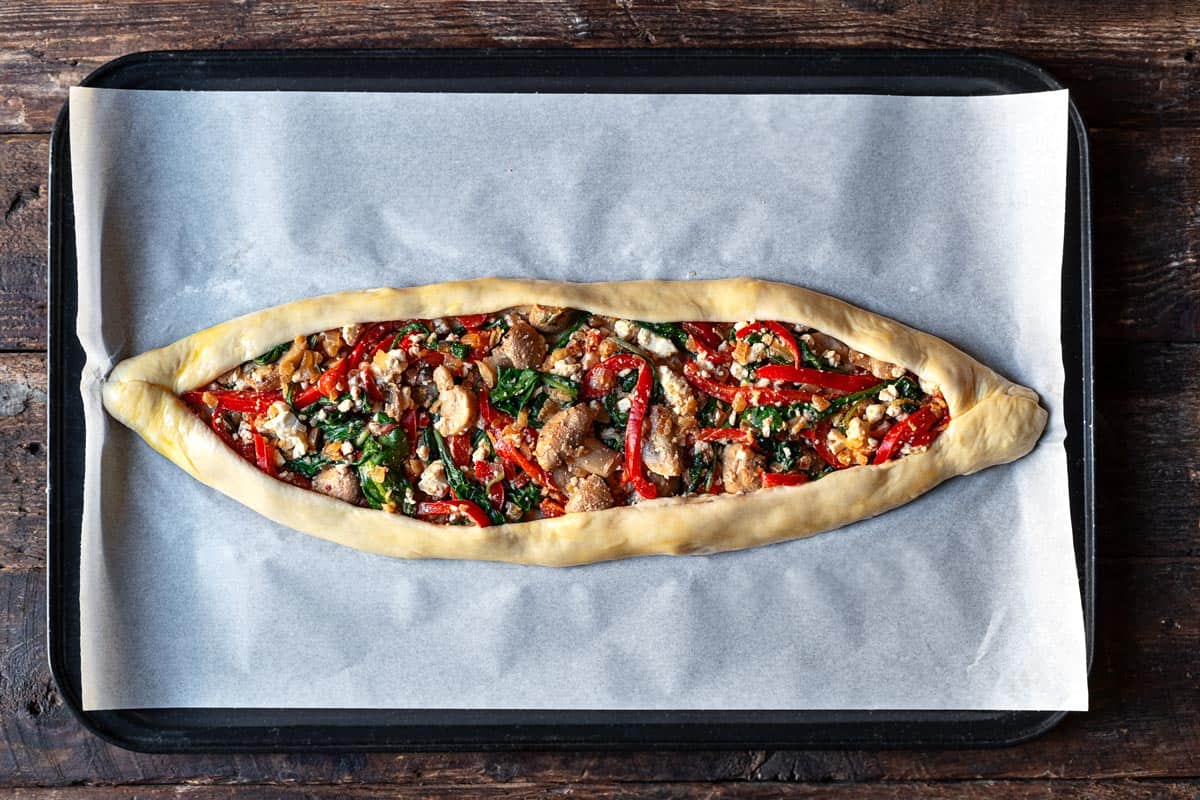 Tips for Making Turkish Pide Bread:
Turkish flatbread is really easy to make (even if you're not used to yeasted breads). Just follow a few of my simple tips below for beautiful, delicious pide everytime!
Use warm water and a pinch of sugar when making the dough. It will help activate the yeast and confirm that your yeast is alive. Let it sit for 5 or so minutes. If the yeast is foamy then you can proceed. If it's not, then your yeast might be old and you should wait until you have new yeast to make the dough. Make sure the water is between 90-110°F. If the water is too hot it will kill the yeast.
Find a warm spot: Leave the dough in a warm spot to double in size. I place mine near a preheated oven.
Always work on a clean, dry, lightly floured surface when kneading the dough and shaping the pide.
Line baking sheets with parchment paper: Once the dough is rolled out into an 8x16-inch oval, place the pide on the parchment-lined baking sheet. Spread the filling over the dough. It's easier to spread the filling and give the pide its final shaping once it's on the parchment paper.
Leave space to fold the border and pinch the end:. When spreading the filling evenly over pides, make sure to leave space around the edges as a border. Fold in the sides toward the filling to act as a border to keep the filling intact. Squeeze the oval dough at each end to make it pointy.
Cool the topping before adding it to the dough: Make sure the topping is cooled down or at room temperature before spreading it over the dough.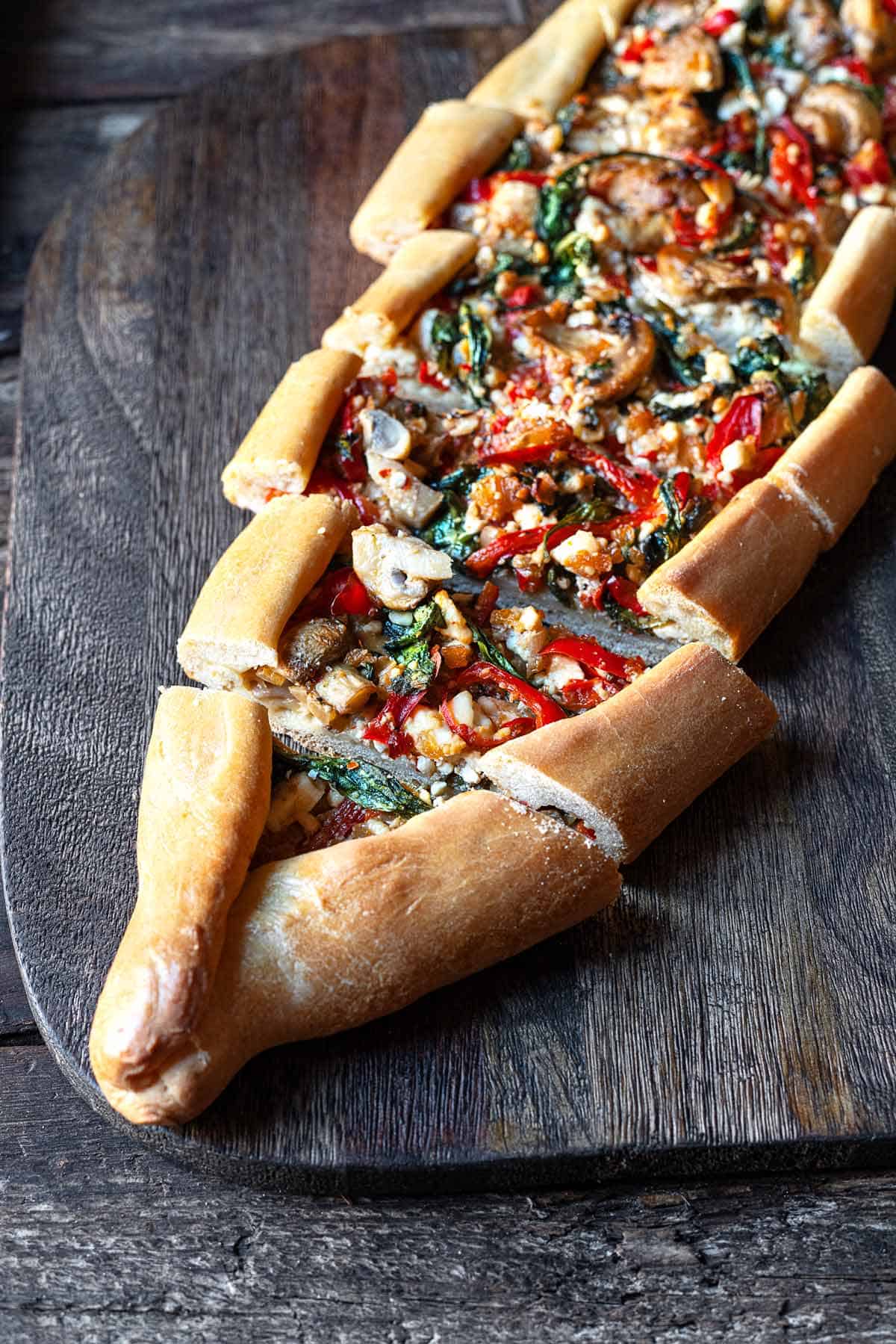 How to Store, Freeze, Reheat Vegetarian Pide
Once baked and cooled down, slice pide and keep in the fridge, covered, for up to 2 days. Although, pide is best eaten when freshly baked; it freezes well too.
To freeze pide: Wrap it in foil as a whole or in slices, in one layer and freeze. If you have a lot to freeze you can layer it between pieces of parchment then freeze it in an airtight container for up to 3 months.
To reheat pide: Place the pide on a baking sheet and place in a preheated oven at 400°F for 6-8 minutes.
More Delicious Bread Recipes
Browse all Mediterranean recipes.

Visit Our Shop.
Try our Early Harvest Greek EVOO!
An exquisite cold extracted and unfiltered oil with a perfectly balanced complexity— rich green, fruity and pungent with a peppery finish. This EVOO features high levels of polyphenols and extremely low acidity.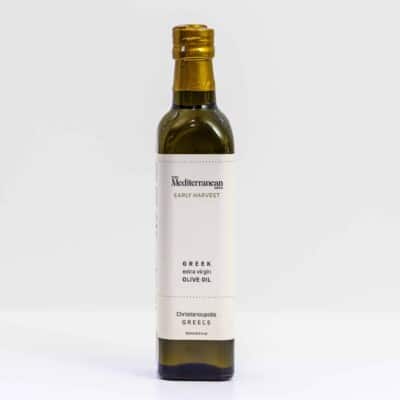 Vegetarian Turkish Pide (Peynirli, Sebzeli Pide)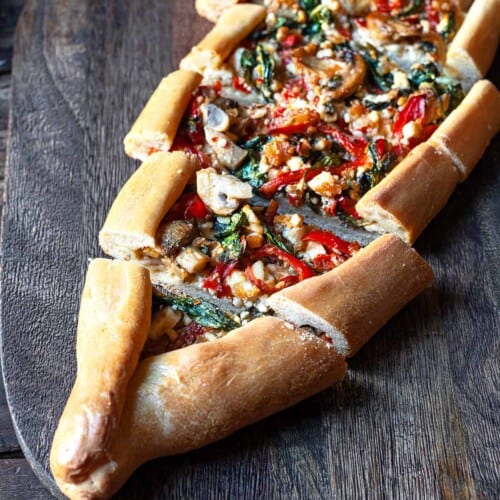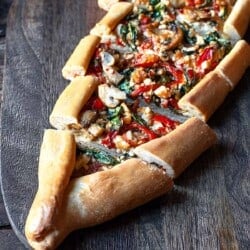 Pide, oval flat breads with various toppings, is a popular and healthy "fast food" in Turkey. There are pide shops called Pideci that only bake these flat breads and serve them all day long. Pide is made with a wide variety of toppings from vegetables or with meats such as sucuk (Turkish spicy sausage) and pastirma, Turkish dried cured beef.
Ingredients
For the dough:
1

cup

warm water

2 ¼

teaspoons

instant dry yeast

1

teaspoon

granulated sugar

2 ¼

cups

(300 g) all-purpose flour

1

teaspoon

sea salt

or Kosher salt

3

tablespoons

olive oil,

divided + more for drizzling
For the topping:
2

tablespoons

olive oil,

divided

1

medium onion,

finely chopped

4

cloves

garlic,

minced

8

ounces

cremini

or white button mushrooms

1

large red bell pepper,

de-seeded, quartered and thinly sliced

5

oz

spinach leaves,

washed and pat dried

¾

cup

(7 ounces) feta cheese,

crumbled

1

teaspoon

aleppo pepper

Salt and freshly ground black pepper,

to taste
For the egg wash:
1

beaten egg

1

tablespoon

olive oil

to brush the pide
Instructions
Preheat the oven and prepare the baking sheets: Preheat the oven to 400°F and line two baking sheets with parchment paper.

Bloom the yeast: Warm the water to between 90°-110°F. It should just be slightly warm to the touch but not hot. In a small bowl, combine the instant yeast, sugar and warm water. Mix gently with a spoon and set aside for 5 to 8 minutes, until the mixture is frothy.

Combine the flour and salt: In a large mixing bowl, combine the flour and salt. Make a well in the middle and pour in 2 tablespoons of olive oil and the yeast mixture. Using a wooden spoon or rubber spatula draw the flour in from the sides and work the mixture into a sticky, shaggy dough.

Knead the dough: Transfer the dough to a lightly floured surface and knead for 3-4 minutes, until you reach a smooth dough. The dough gets sticky as you knead, pour the remaining 1 tablespoon of olive oil over the dough, and sprinkles with an additional 2 tablespoons of flour (or a little more, if it still feels wet) to help shape into a soft, smooth dough.

Let the dough rise: Drizzle a little olive oil in a large bowl and spread it around with your hands. Place the dough in the bowl, turn to coat and cover with cling film or plastic wrap. Leave it in a warm place for 1 hour until it doubles in size.

Make the topping: For the topping; heat 1 tablespoon of olive oil in a wide heavy pan and stir in the onions, garlic, sliced pepper, and mushrooms. Sauté for 10 minutes over medium heat, or until the peppers are softened, the mushrooms have shrunk, and the onions are translucent. Turn the heat off and stir in the spinach, crumbled feta cheese and aleppo pepper until well combined. Season with salt and freshly ground black pepper and let the mixture cool down.

Shape the dough: Once the dough has risen, place the dough on a lightly floured surface and knead it for 1-2 minutes. It will compress a little bit. Shape into a smooth ball. Divide the ball evenly into two pieces and roll each piece into a ball. On a lightly floured surface, stretch the dough balls into 2 oval shapes of about 8 x16-inches. This takes a little patience because the dough will want to bounce back, but keep working it and it will stretch. You can use a rolling pin, or hold the oval of dough between your fingers and thumbs moving around the outside edge and let gravity stretch and pull the dough downward as you turn it.

Fill, fold and pinch: Place 1 oval flat bread dough on the prepared baking sheet. Spread half of the filling over the flat bread, leaving a 1-inch border around the outside. Fold the sides in toward the filling to act as a border to keep the filling intact. You still want to see the filling. Squeeze the oval dough at each end to make it pointy.

Then place the remaining oval-shaped dough on a baking sheet and repeat.

Brush with egg wash and bake: In a small bowl add the egg and 1 tablespoon of olive oil. Beat it together then brush the edges of both pide with this mixture. Bake for 23-25 minutes, until the pides are golden brown and crispy at the edges. Cut into slices and serve warm. As we say in Turkey, "Afiyet Olsun (may you be healthy and happy with this food)."
Nutrition
Calories:
301.4
kcal
Carbohydrates:
34
g
Protein:
9.3
g
Fat:
14.8
g
Saturated Fat:
3.6
g
Polyunsaturated Fat:
1.5
g
Monounsaturated Fat:
8.7
g
Trans Fat:
0.003
g
Cholesterol:
33
mg
Sodium:
484.1
mg
Potassium:
374.6
mg
Fiber:
3.1
g
Sugar:
2.4
g
Vitamin A:
2291.5
IU
Vitamin C:
25.5
mg
Calcium:
110.3
mg
Iron:
2.7
mg