A staple of Mediterranean, Middle Eastern and North African cooking, sweet and tangy pomegranate molasses is so easy to make at home! Once you try this complex, garnet-hued syrup you'll always keep a bottle on hand to use in both sweet and savory dishes!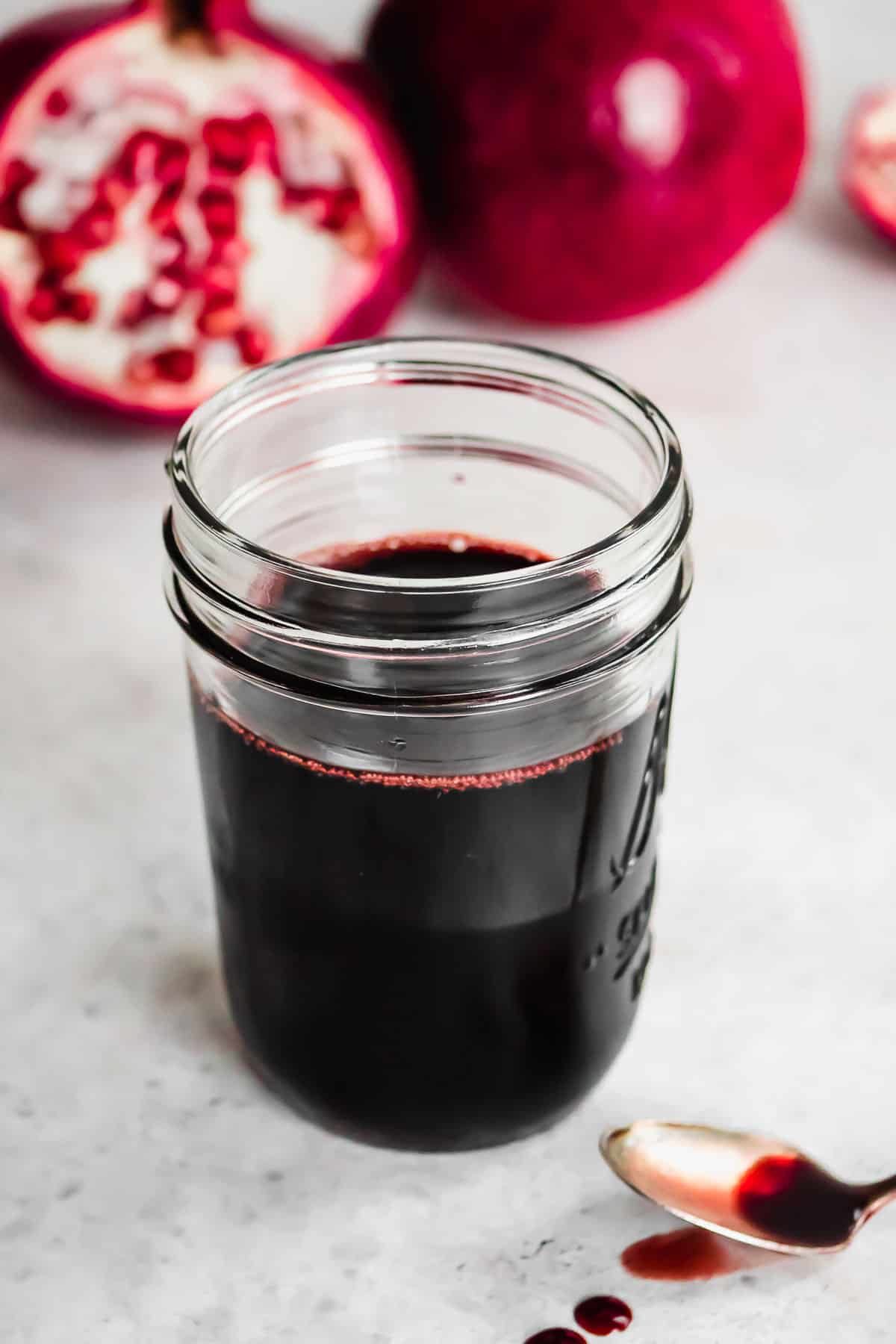 Sweet and tangy pomegranate molasses is easy to make at home. You just need pomegranate juice and a little time!

Fortunately, with this simple, fool-proof recipe, you'll never have to search for a store-bought bottle. From mains, to sides, to even dessert and cocktails, pomegranate molasses has a place at your table.

The best part is the flexibility: if you've got a bunch of pomegranates on hand, this recipe will use up plenty of them, but using bottled pomegranate juice, which has become much more widely available in recent years, will also produce amazing results, and it's my preferred method.

Pomegranate molasses adds complexity to any recipe you make. Add it to cocktails to tame the sweetness, drizzle it over frozen yogurt or use in savory dishes like these Pomegranate Chicken Thigh and Fesenjan (Persian Chicken Stew) recipes to balance the rich flavors in the chicken.
Table of Contents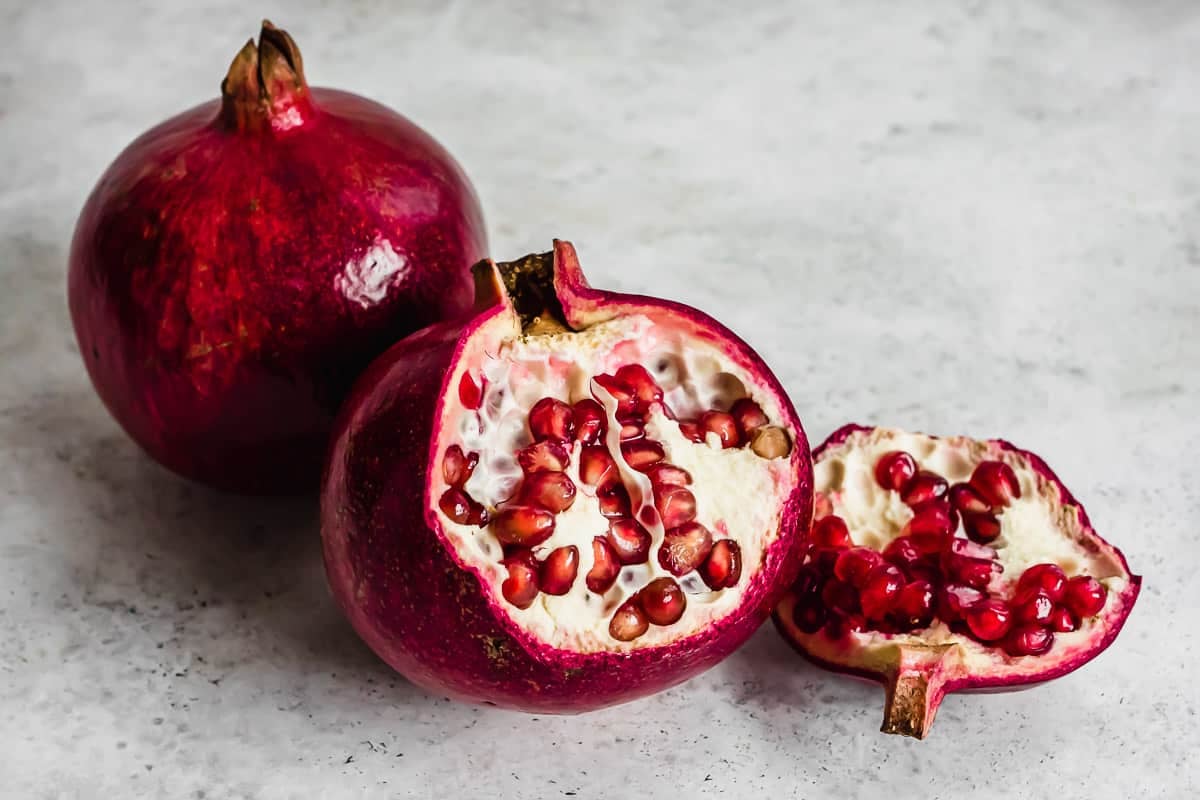 What's in Pomegranate Molasses?
Despite the name, pomegranate molasses does not contain any added sugar, and is made by naturally reducing pomegranate juice down to a thick syrup. That's it! No other ingredients!
Both the natural sweetness and the pomegranate's tartness are heightened during this process, producing an intensely flavored syrup that can be used in the kitchen and home bar in a myriad of ways.
Bottled juice is the easiest way to go, and it's available all year round. I like Knudsen and POM Wonderful, as both are 100 percent pomegranate juice with nothing else added.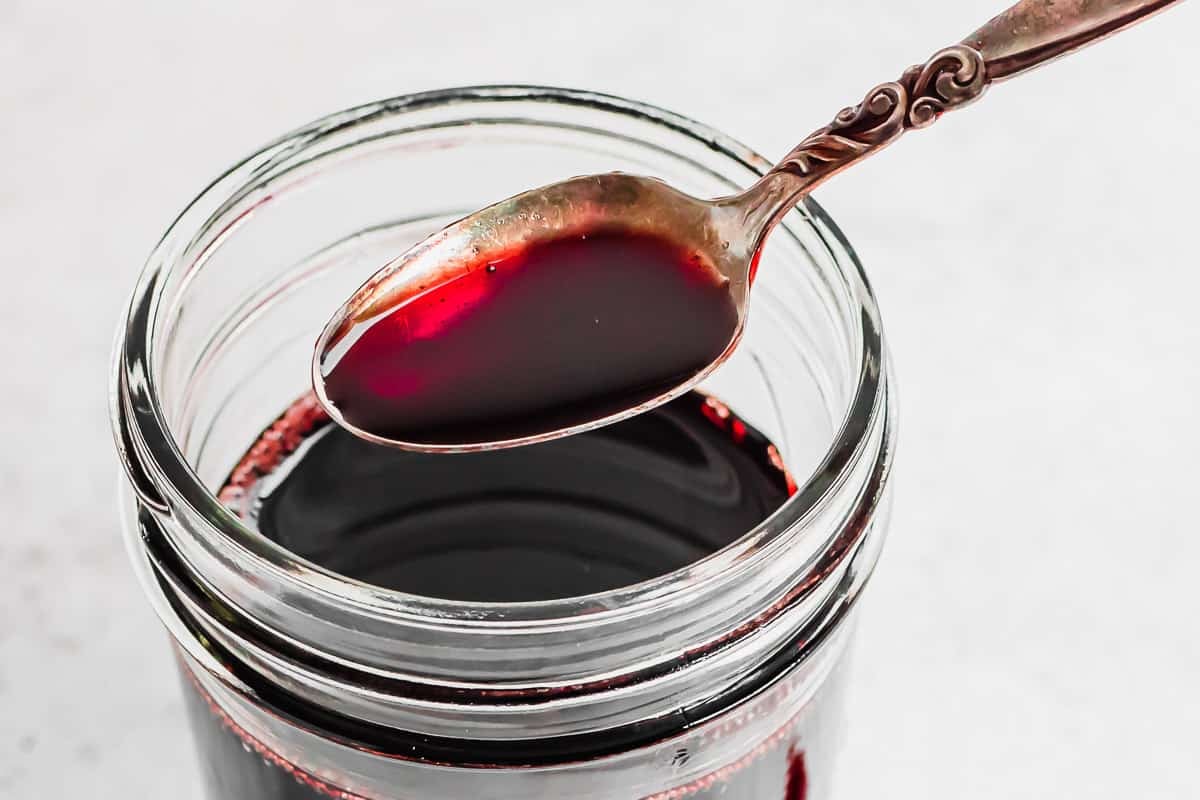 To Make Pomegranate Molasses from Fresh Fruit
If you'd like to go the fresh route, pomegranates are in season in late summer (and will produce a more tart juice at this time) through the late fall, depending on your growing zone.
8 pomegranates should yield the 4 cups of juice needed to make this recipe.
To juice a pomegranate: There are several ways to go about juicing pomegranates. I find the easiest method is to remove the arils (the seeds) from the tough outer peel then blend the arils in a countertop blender. Once blended strain the juice out through a fine sieve. See our full guide to seeding and juicing pomegranates for more tips.
How to Make Pomegranate Molasses?
Simmer the pomegranate juice: The juice is heated and simmered gently for up to two hours, reducing the total amount by about 75 percent. Once cooled, the syrup is thick but pourable—like maple syrup.
Watch closely: With that amount of time on the stove, the key to keeping the vibrant color and tartness intact is to keep the heat steady at a simmer.
Don't boil the juice!: No boiling here! Letting the pomegranate juice boil will produce an unpleasant "cooked" taste to the syrup, and will muddy the fruit's natural brightness.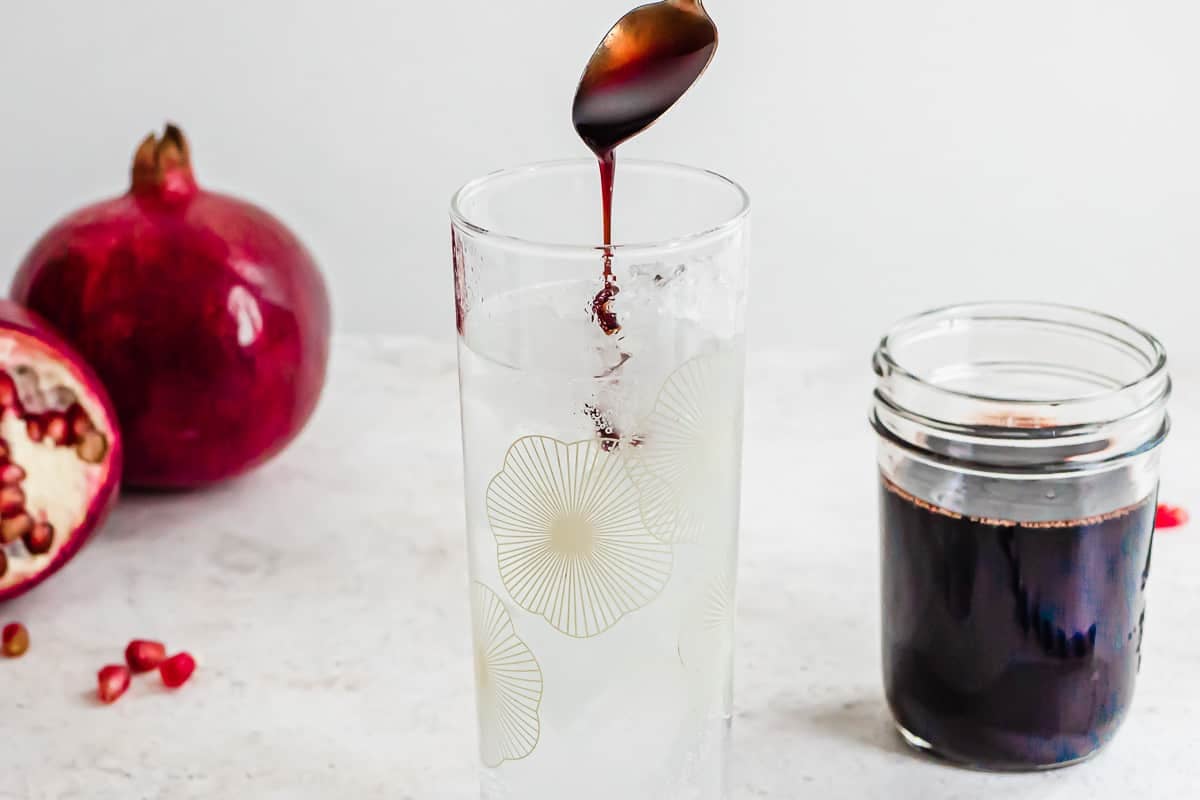 How to Use It?
The possibilities are endless with pomegranate molasses. Use it as a glaze for meats, in salad dressings, in marinades, or drizzled over vegetables.
On the sweet side, add a little to fruit salad, stir into yogurts or spooned over a piece of lemon cheesecake.
When mixed in with other ingredients, it lends layers of complexity; on its own it assertively stands out. Try it today in Muhammara (Roasted Red Pepper Dip), Cinnamon-Braised Meatballs or Pomegranate Chicken Thighs.
Pomegranate molasses is also a flavorful addition to drinks. A simple splash with a squeeze of lime juice in sparkling water makes a refreshing sipper any time of day.
For cocktails, it pairs surprisingly well with ginger beer, or you can try a spoonful drizzled into a whiskey sour. Anywhere you'd like a touch of sweet-tart, earthy, berry flavor, this will be delicious. I encourage you to experiment with your bottle in the kitchen and tell us below how you used yours!
More Delicious Recipes
Browse all Mediterranean recipes.

Visit Our Shop.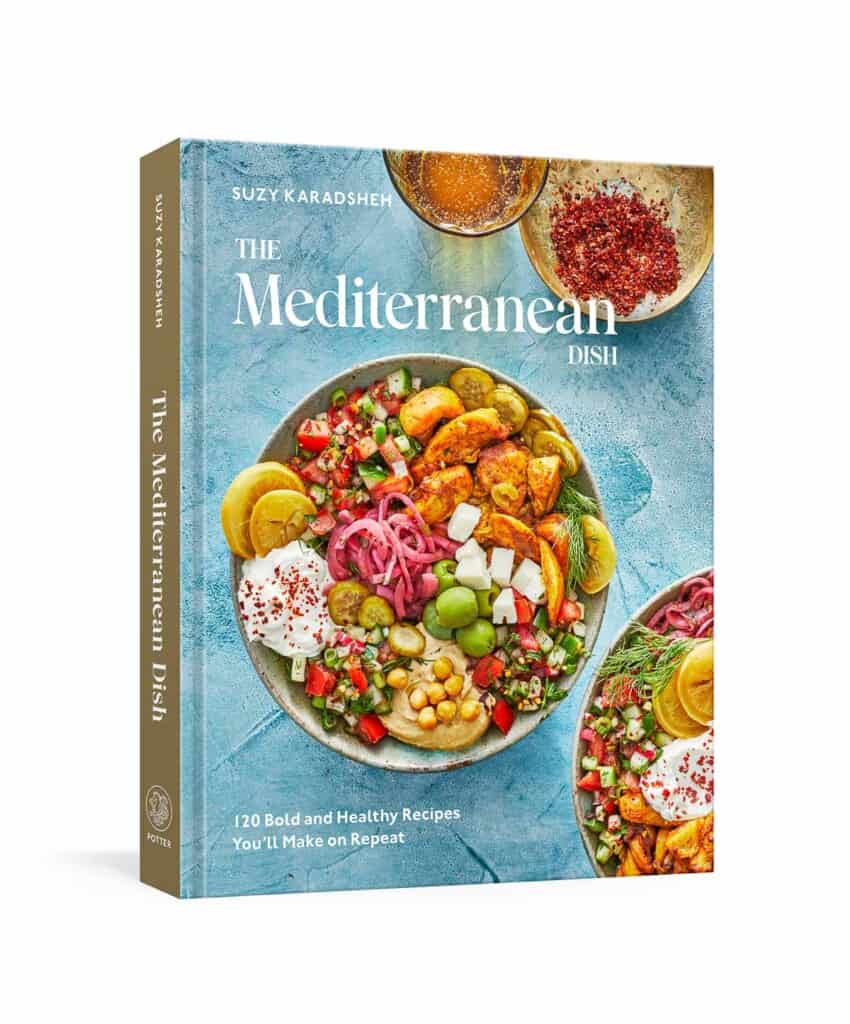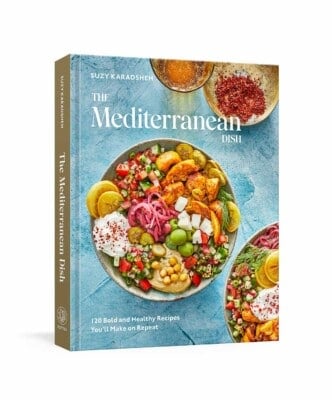 Pomegranate Molasses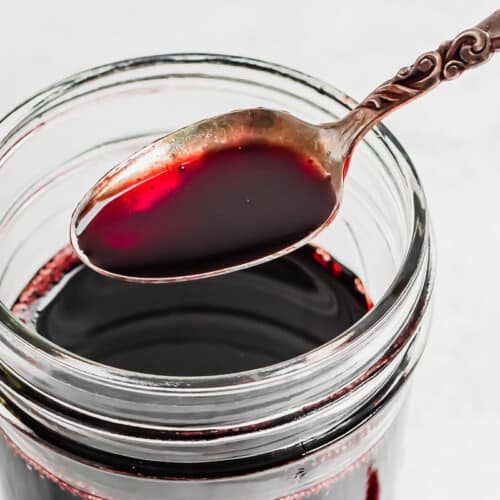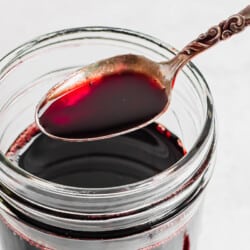 Pomegranate molasses is used in sweet and savory recipes in many Mediterranean, Middle Eastern and North African cuisines. This recipe is easy to make!
Instructions
Simmer the juice: In a medium saucepan set over medium heat, add the pomegranate juice. Bring the juice to a simmer (watch for bubbles all around the edges), and then lower heat to a simmer.

Reduce the juice: Simmer the pomegranate juice until it has reduced down to approximately ⅔ to ¾ cup. This can take between 1-½ to 2 hours. Occasionally stir the juice while it simmers. You do not want the juice to boil so keep an eye on it to make sure you only see small bubbles forming around the edges of the pot while it reduces.

Let it cool: After the juice has reduced it will still be liquidy, but should coat the back of a spoon. Remove the pan from the heat and let it cool to room temperature (it will thicken more as it cools as well).

Store: Transfer the pomegranate molasses to an airtight jar and store in the refrigerator. Pomegranate molasses will keep 4 to 6 months refrigerated.
Nutrition
Calories:
44.8
kcal
Carbohydrates:
10.9
g
Protein:
0.1
g
Fat:
0.2
g
Saturated Fat:
0.1
g
Polyunsaturated Fat:
0.04
g
Monounsaturated Fat:
0.05
g
Sodium:
7.5
mg
Potassium:
177.6
mg
Fiber:
0.1
g
Sugar:
10.5
g
Vitamin C:
0.1
mg
Calcium:
9.1
mg
Iron:
0.1
mg