Sautéed cabbage with garlic and lime is a quick and easy low-carb side dish that pairs well with chicken or a meatless main! Ready in 15 minutes!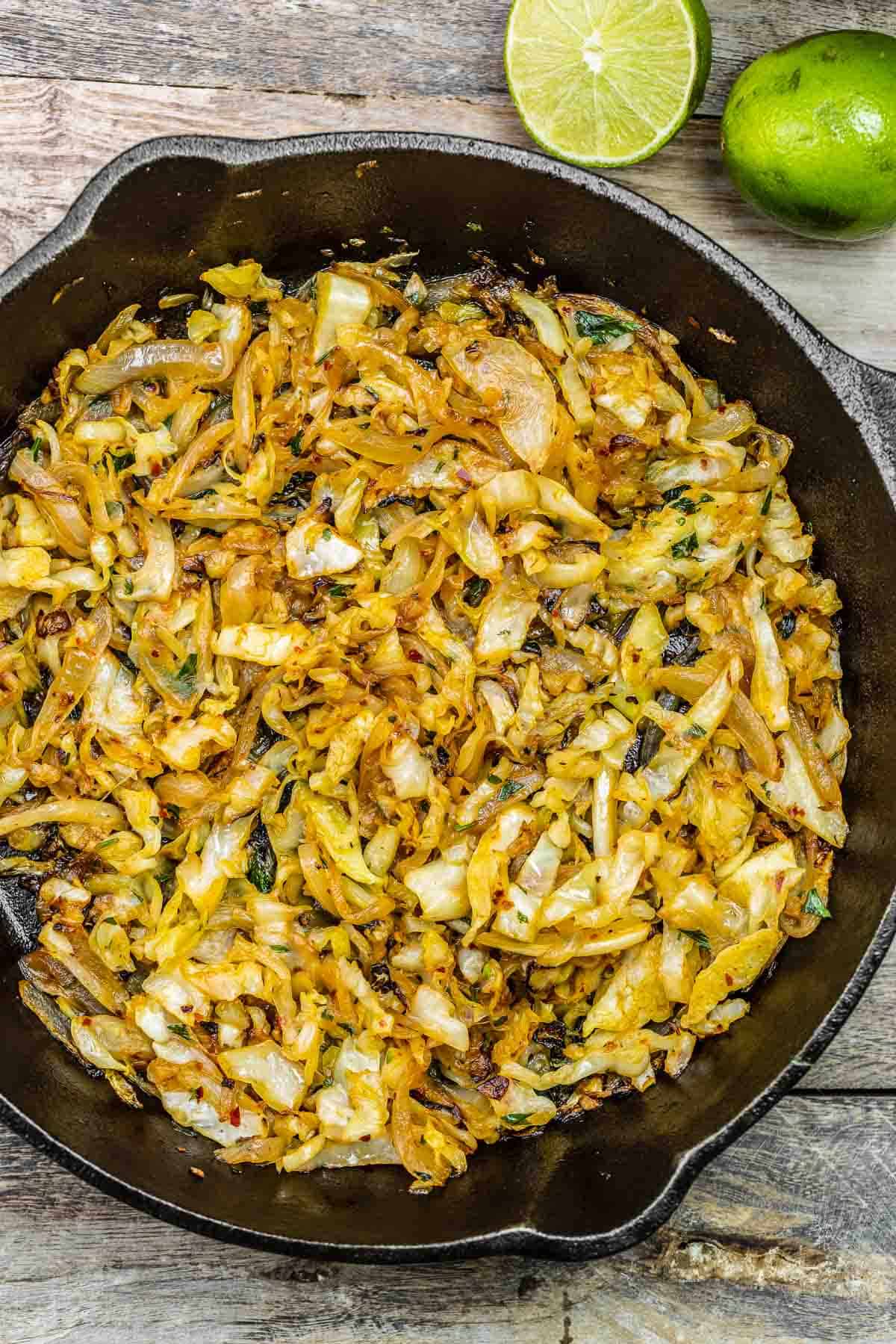 Your new favorite low-carb side dish!
Looking for an easy, affordable, low-carb side dish? Look no further than this sautéed cabbage recipe, ready in 15 minutes! Flavored simply with red pepper flakes, coriander, garlic, and lime, sautéed cabbage is tender, slightly caramelized, and turns this fall vegetable into your new favorite side!
I usually make my crispy roasted cabbage whenever I'm in the mood for a light side, but I wanted to create a recipe that took even less time and effort — and this sautéed cabbage recipe was born!
To add big flavor to this inexpensive vegetable, I cook shredded cabbage with onions and garlic in some good extra virgin olive oil with a few spices.

This cabbage recipe is great to serve as is, but you can add a drizzling sauce such as my creamy feta dressing or my tahini sauce, which will play up the warm and nutty flavors in the garlic sautéed cabbage.

Sautéing cabbage is one of the easiest ways to cook this vegetable, turning it into a delicious, healthy side dish fast.
Table of Contents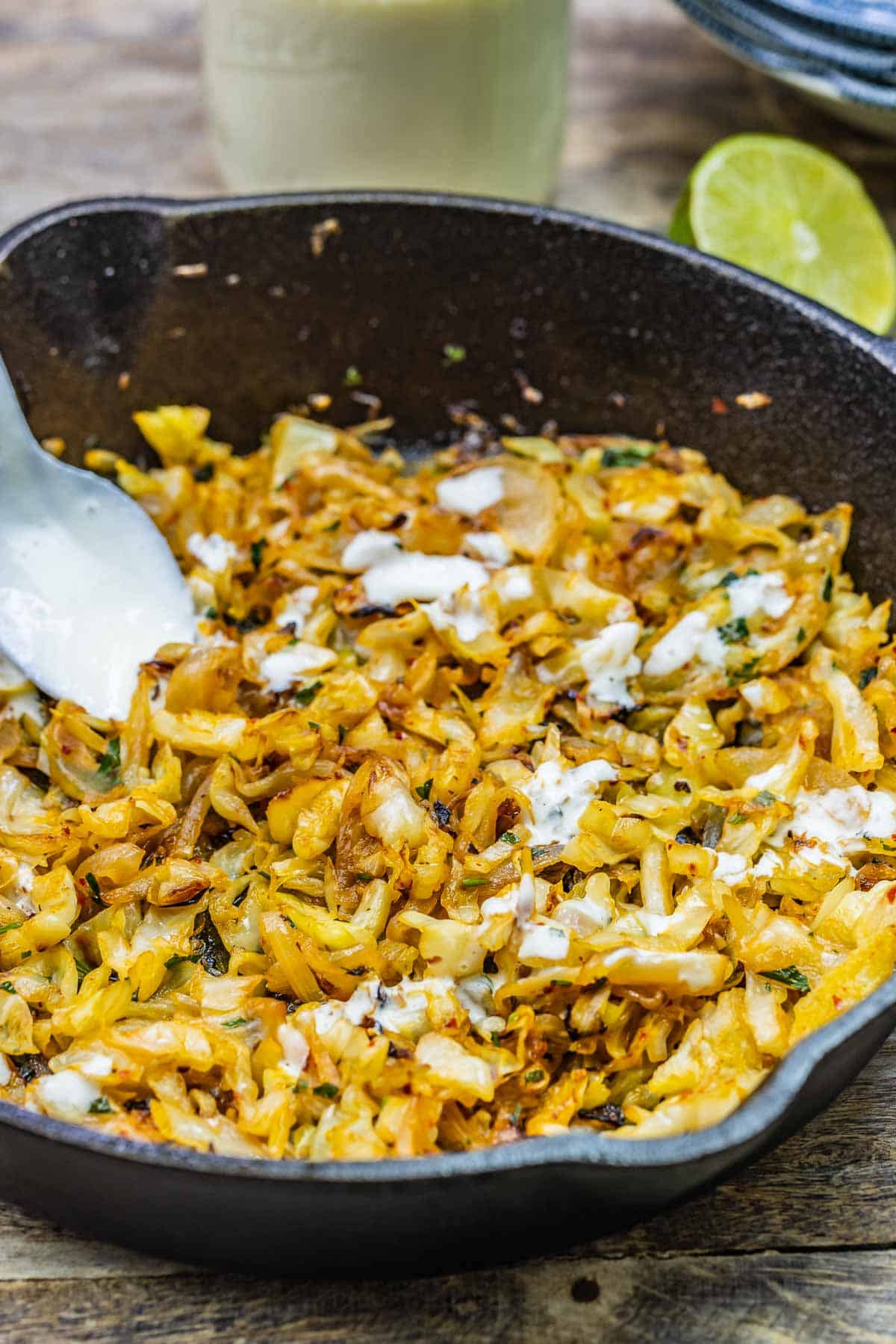 Ingredients for sautéed cabbage
Green cabbage: You need a small green cabbage that weighs about 2 pounds.
Extra virgin olive oil: Use a medium-intensity oil here, like our California Arbequina EVOO or Italian Nocellara EVOO.
Yellow onion: Cut a small onion and slice it thinly.
Garlic: A few cloves of minced garlic add a hint of spiciness.
Red pepper flakes: I like a bit of heat in my sauteéd cabbage. For a milder option, opt for Aleppo pepper.
Coriander powder: Its somewhat sweet, lemony flavor adds some warmth to this cabbage recipe.
Lime juice: Citrus brightens the dish, bringing out all the other flavors here.
How to cut cabbage
Don't be intimidated by cutting cabbage! It's a lot easier than it might seem. Here's how to cut and core a head of cabbage:
Remove any wilting or browning outer leaves of the cabbage to expose firm green leaves.
Cut the cabbage in half. Place the cabbage on a cutting board and hold it with your non-dominant hand. With a sharp knife in your dominant hand, carefully cut the stem of the cabbage a little to create a flat surface. Lay the cabbage on the cutting board, trimmed side down, and cut it through the core into equal halves.
Cut the cabbage into wedges. Cut each half down the middle, so you end up with 4 thick wedges.



Rinse the cabbage. Rinse the cabbage wedges under cold water and then shake well to get rid of excess moisture. Pat dry with paper towels.
Remove and discard the core. To remove the core, carefully cut into the cabbage at an angle, aiming for where the stem and leaves meet. Cut the other side of the core so your cuts form a triangle and remove the core.
Slice the cabbage. Shred the cabbage wedges lengthwise into thin slices. If the cabbage still seems wet, pat it again with some paper towels.


How to sauté cabbage
Sautéed cabbage is beyond easy — once you shred the cabbage, it takes just 10 minutes and 3 steps to cook! Here's how to make it:
Season the cabbage. Heat 3 tablespoons of extra virgin olive oil in a cast iron skillet over medium-high heat until it is just shimmering. Then add a sliced green cabbage, a small sliced yellow onion, and 2 to 3 cloves of minced garlic. Don't be alarmed if your pan looks crowded — the cabbage will cook down quickly. Season with kosher salt to taste, 1 teaspoon red pepper flakes (or Aleppo pepper), and ½ teaspoon ground coriander.
Cook the cabbage for about 10 minutes, tossing occasionally. It will soften and shrink during this time. Don't be too concerned about stirring constantly: Leaving the cabbage undisturbed for a few minutes at a time will encourage some caramelization, which will give you deeper flavors. If after 10 minutes the cabbage has not cooked down enough, leave it on the heat for 5 minutes more.
Finish and serve. Squeeze a lime over the cabbage to instantly brighten the dish and drizzle some creamy feta dressing or nutty tahini sauce over and serve.


What to serve with sautéed cabbage
I love serving sautéed cabbage with chicken dishes or meatless mains when I'm aiming for a plant-based dinner. Here are some ideas for what to serve alongside this low-carb side dish:
How to store and reheat leftovers
Leftover sautéed cabbage will keep well in an airtight container in the refrigerator for 4 days. To reheat, simply toss it into a hot skillet with a little olive oil for a few minutes, until heated through.
More cabbage recipes
Browse All Mediterranean Recipes.

Visit Our Shop.
Sauteed Cabbage with Garlic and Lime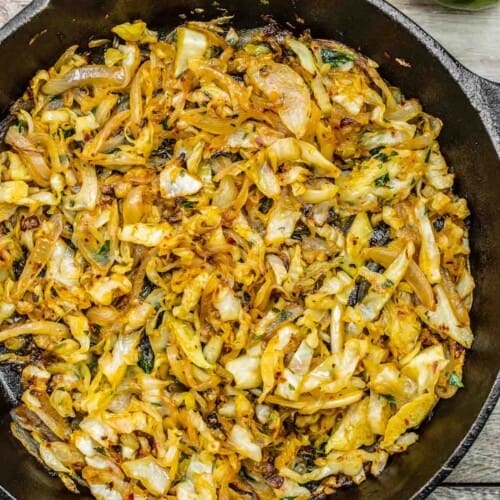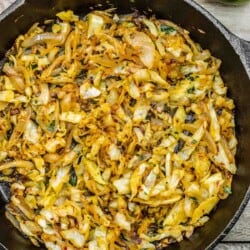 Turn a head of green cabbage into a mouth-watering side with this 15-minute recipe. Quick, easy, and inexpensive, sautéed cabbage is so tender and flavorful — no bland cabbage here! Serve it with chicken or your favorite meatless main!
Ingredients
To serve (optional)
Instructions
Remove any wilting outer leaves of the cabbage. Cut the cabbage into two halves through the core, then cut each half down the middle (you should end up with 4 wedges).

Rinse the wedges under cold water and give them a good shake. Pat dry using paper towels.

Using a sharp knife, remove the core by cutting into it at an angle where the stems and leaves meet. Shred the cabbage wedges thinly (you can also throw them in the food processor or use a mandoline slicer). If the cabbage seems wet, pat it again with some paper towels.

Heat a cast iron skillet over medium-high heat and add about 3 to 4 tablespoons of extra virgin olive oil. When the oil is just shimmering, add the cabbage, onions, and garlic (it will look like you have a lot in the pan, but it will cook down quickly enough). Season with a good pinch of kosher salt, red pepper flakes (or Aleppo pepper, which is not as hot, but offers a subtle sweetness and a little bit of heat), and coriander.

Cook the cabbage, tossing occasionally, until it has fully softened and caramelized in some parts (the cabbage should collapse and shrink quite a bit).

Finish with the lime juice and serve!
Nutrition
Calories:
164.2
kcal
Carbohydrates:
16.5
g
Protein:
3.4
g
Fat:
10.8
g
Saturated Fat:
1.6
g
Polyunsaturated Fat:
1.2
g
Monounsaturated Fat:
7.7
g
Sodium:
50.6
mg
Potassium:
442.1
mg
Fiber:
6.3
g
Sugar:
8.5
g
Vitamin A:
371.9
IU
Vitamin C:
85.6
mg
Calcium:
101.7
mg
Iron:
1.3
mg