This 5-ingredient creamy feta dressing comes together in minutes! Feta cheese, Greek yogurt, and fresh lemon juice make a tangy, easy salad dressing. Use for salads, to dress your fish or roasted broccoli or roasted canned artichokes, and more!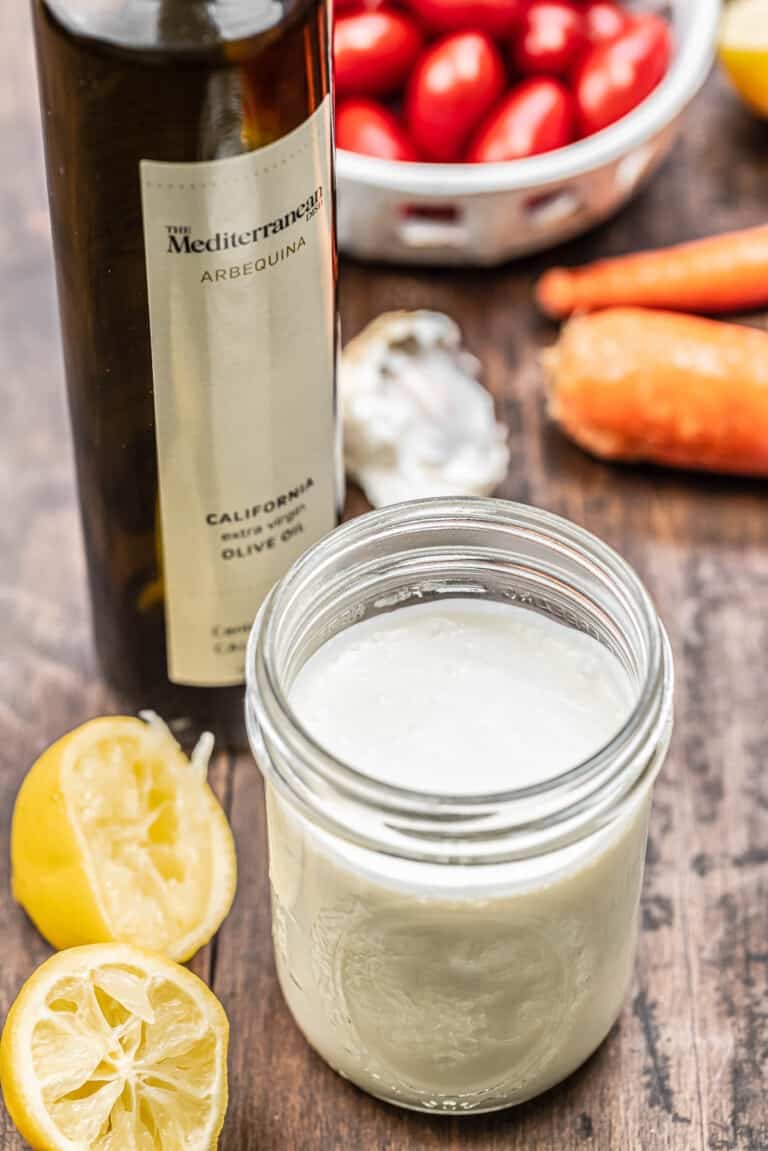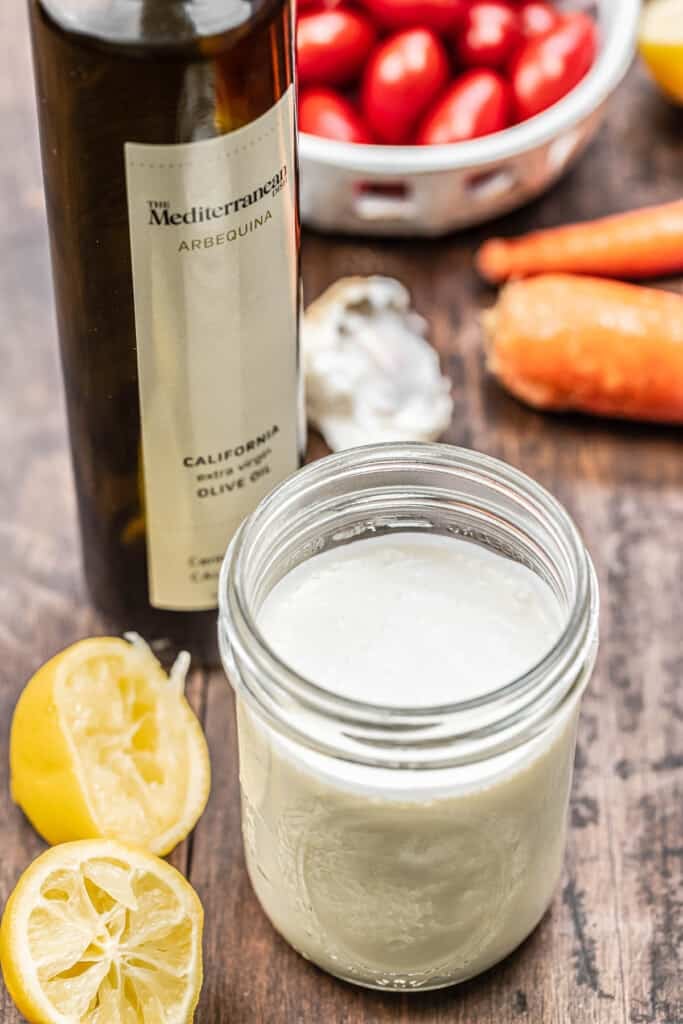 I love bold vinaigrettes but when I'm in the mood for something with little body to it, I whip up this creamy feta dressing.
Think of it as the salad dressing version of my whipped feta dip, but easier to drizzle over crunchy vegetables or grilled romaine lettuce. It's a little garlicky, a little lemony and full of flavor from creamy feta and good, peppery olive oil.
It's the perfect dressing for when you're short on time, just toss everything in the food processor, whiz it together and it's ready in seconds. And once you try it, you'll find many uses for this delicious condiment!
Table of Contents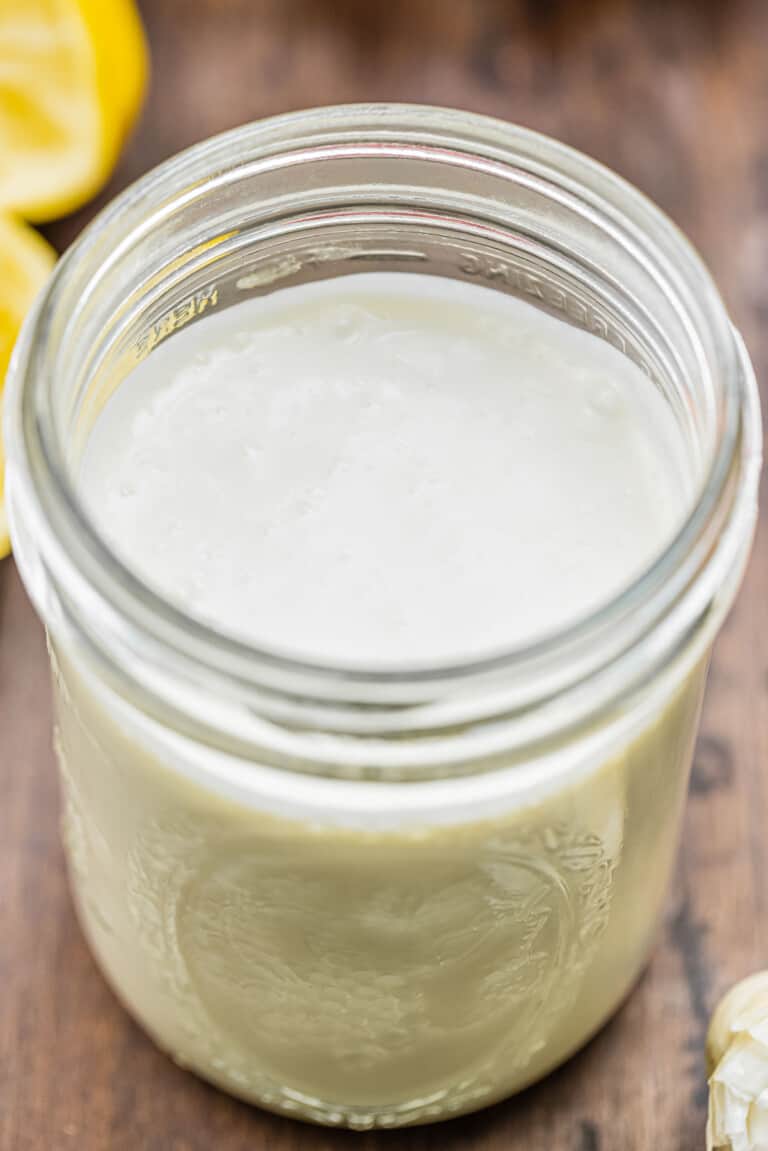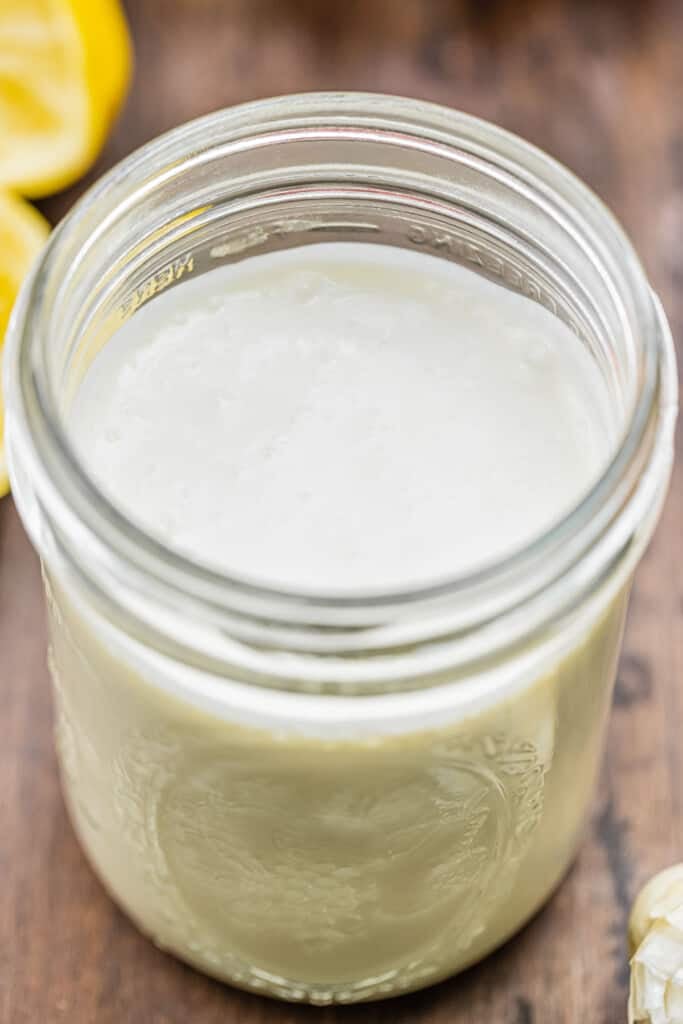 Feta dressing ingredients
Greek yogurt: Plain Greek yogurt adds to the creamy texture of this dressing. It also adds a bit of tartness.
Feta cheese: You need 6 ounces of block feta cheese in the brine.
Lemon juice: The acidic component of the salad dressing, lemon juice brightens and adds tang.
Extra virgin olive oil: I like our California Arbequina EVOO in this dressing for a milder flavor, but a more robust oil, like our Greek Early Harvest, would also work well.
Garlic: I use grated garlic for a spicy kick. If you want less spice, mince the garlic instead. For some slightly sweet flavor, try some roasted garlic.
The best feta cheese for dressing?
The best feta cheese to use in this recipe is a block of creamy plain feta, preferably sold in the brine. Feta in the brine is creamy and rich, with the sharp tang and saltiness you expect from good feta cheese. It's also easy to crumble by hand and blends very well, becoming thick and smooth.

I avoid pre-crumbled feta cheese: It is dry rather than creamy, and usually has a muted flavor that is much milder than feta sold in blocks. Crumbled feta also has additives to prevent it from clumping, which makes it difficult to blend.
How to make creamy feta dressing
This feta dressing is pretty much effortless, and this recipe yields 1 ½ cups of salad dressing. Here's how you make it:
Add ½ cup Greek yogurt, 6 ounces feta cheese, the juice of 1 lemon, 1 clove grated garlic, 3 tablespoons extra virgin olive oil, and 2 tablespoons water to the bowl of your food processor or blender.



Blend until you reach a creamy consistency: It should be runny enough to drizzle, but not watery. Keep adding water as it blends (1 tablespoon at a time) until you reach the desired consistency.


How to make feta dressing your own
The great thing about this feta salad dressing is that the flavors lend themselves well to customizations. Use my recipe as a base and make changes to suit your palate! Here are some ideas:
For a herby option, add fresh mint, basil, dill, or parsley. For a dried option use an Italian seasoning blend.
Swap out the lemon juice for red wine vinegar for a slightly different flavor. You'll still get acidity from the vinegar.
Add red pepper flakes or Aleppo pepper for some color and subtle heat. Start with ½ teaspoon, taste, and add more if you need.
For a thicker mixture, try leaving out the water. You will end up with something similar to my creamy whipped feta dip, but this is even quicker. Use it as a dip for vegetables or pita chips instead of a salad dressing.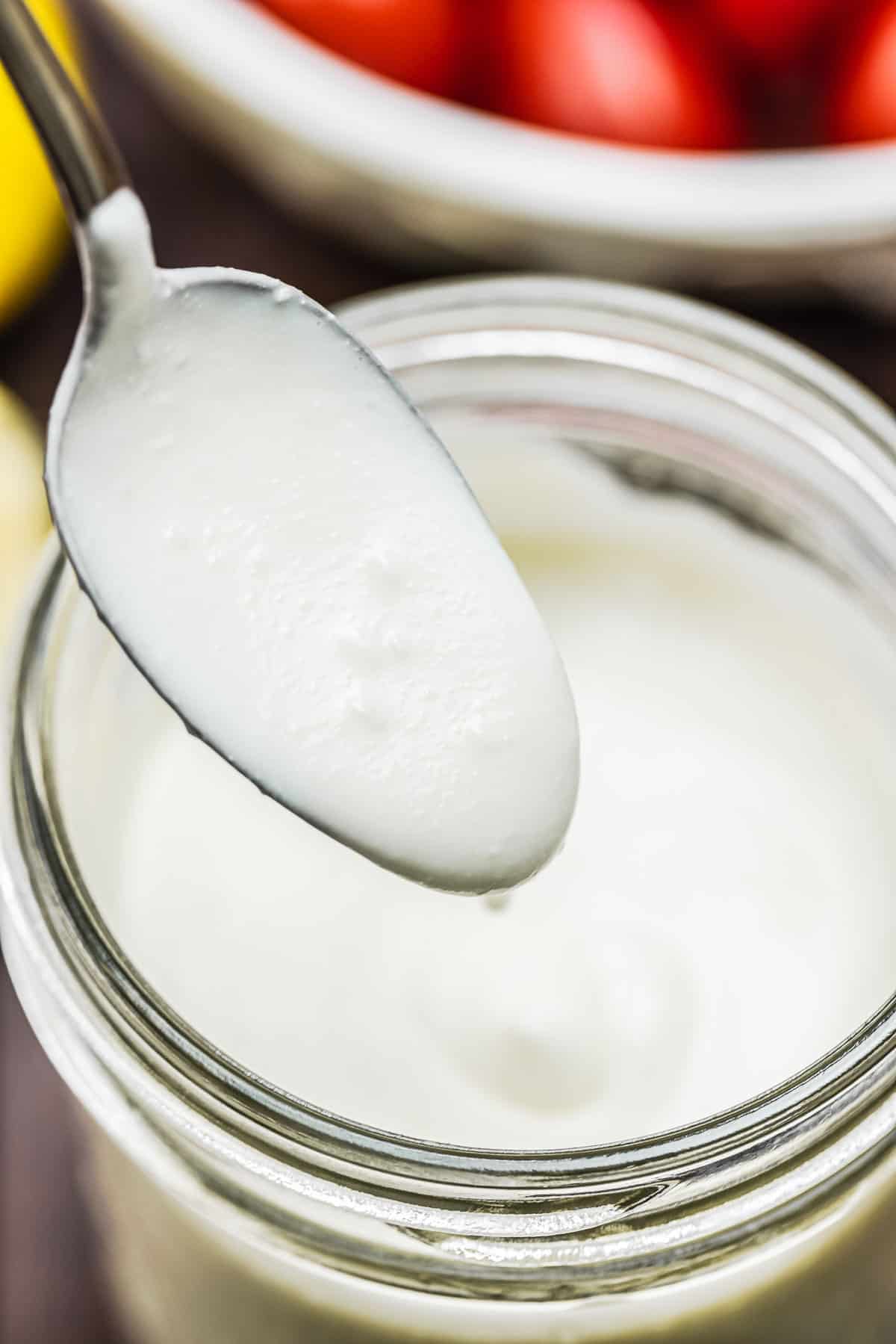 How to use this easy dressing recipe
Once you start making homemade salad dressing you'll wonder how you ever lived without it. You'll also find all kinds of places to use it up.
This creamy dressing can be drizzled over salads, for pizza (like my pita breakfast pizza), spooned over roasted potatoes or used to replace mayo in your favorite sandwich. Dressing is an easy thing to swap in a recipe to make an old favorite seem new again. Try this feta dressing on any of the salads below to mix things up a bit.
How to store feta dressing
Store feta dressing in a tightly closed mason jar in the refrigerator. It will keep for up to 4 days. If you don't think you can use 1 ½ cups of feta dressing up in that time (never an issue in my house), just halve the recipe.
The dressing will thicken as it sits in the fridge. To thin it out, simply add a tablespoon of water and whisk well. If it is still too thick, continue to add water (a tablespoon at a time) and whisk until you reach the consistency you want.
More quick feta cheese recipes
Browse All Mediterranean Recipes.

Visit Our Shop.
Creamy Feta Dressing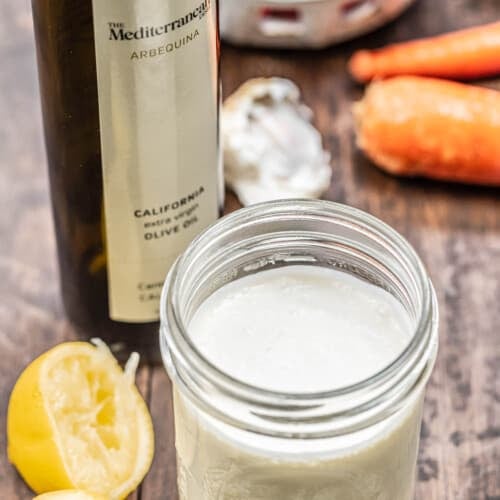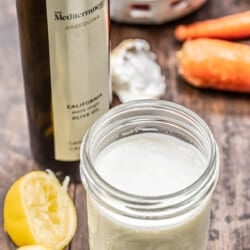 Easy feta dressing recipe, made with just 5 ingredients! It takes no effort at all to throw the ingredients into a food processor or blender and whizz until smooth and creamy. This recipe yields about 1 ½ cups (24 tablespoons).
Ingredients
½

cup

plain Greek yogurt

6

ounces

feta cheese

Juice of 1 lemon

3

tablespoons

Extra virgin olive oil

1

clove

garlic,

grated

Water,

up to ½ cup
Instructions
Into a blender or the bowl of a large food processor fitted with the S-blade, add yogurt, feta, grated garlic, lemon juice, and a generous drizzle (about 3 to 4 tablespoons) good extra virgin olive oil and 2 to 3 tablespoons water. Blend until you reach the consistency of a creamy dressing, adding more water (about 1 tablespoon at a time) as needed.
Nutrition
Calories:
38
kcal
Carbohydrates:
0.5
g
Protein:
1.5
g
Fat:
3.4
g
Saturated Fat:
1.2
g
Polyunsaturated Fat:
0.2
g
Monounsaturated Fat:
1.6
g
Cholesterol:
6.6
mg
Sodium:
82.8
mg
Potassium:
4.9
mg
Fiber:
0.003
g
Sugar:
0.2
g
Vitamin A:
32.7
IU
Vitamin C:
0.04
mg
Calcium:
40.7
mg
Iron:
0.1
mg