Place a bowl of this tasty Mediterranean slow cooker cabbage soup at the table, and people will think it's the kind of soup that takes the better part of the day preparing. Except…your active part in that is about 15 minutes!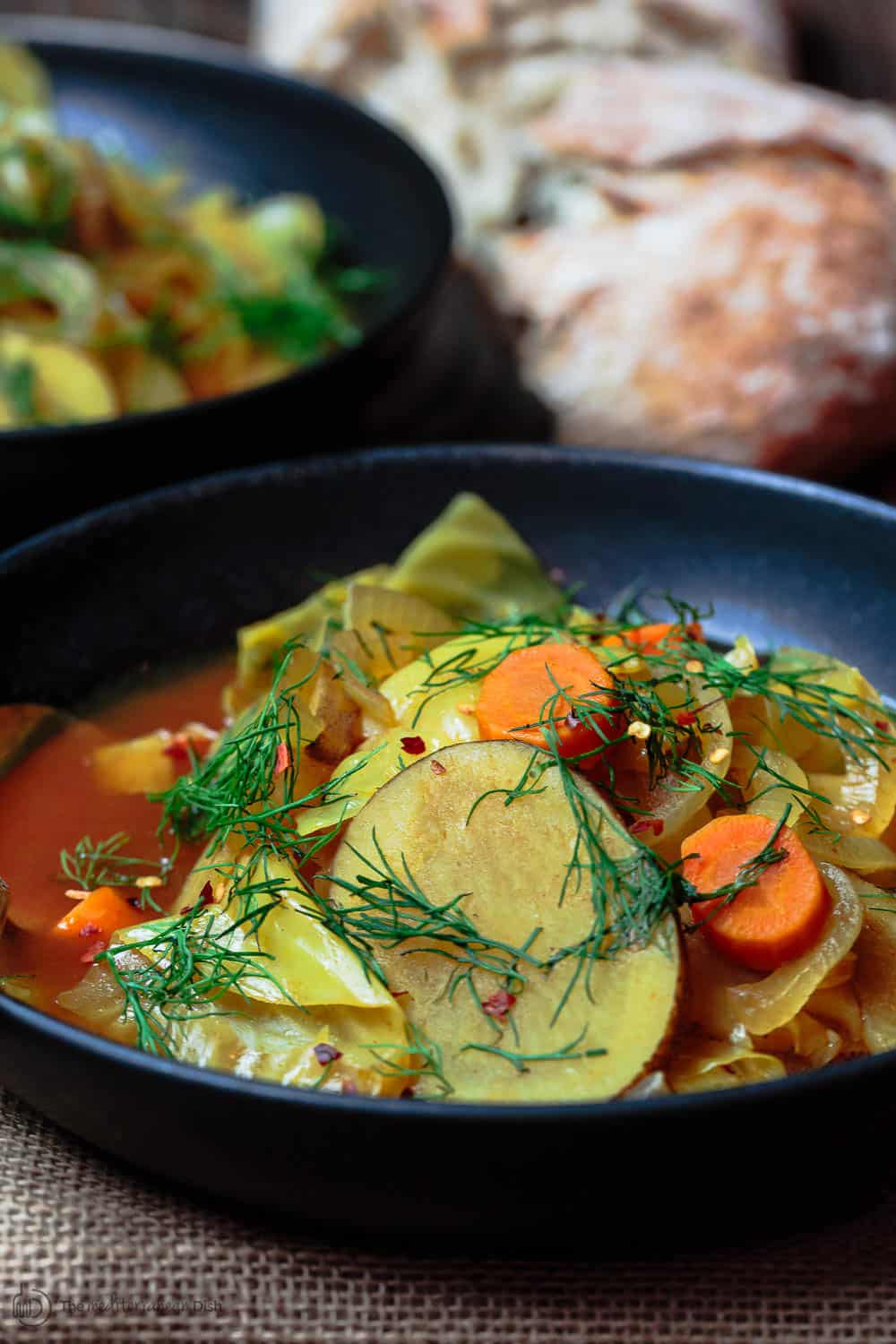 One of the celebrated Egyptian meals I grew up with is cabbage rolls. If I have any memory of inhaling cabbage, it would certainly include mom's cabbage rolls.
In Mediterranean cooking, cabbage is a fairly regularly used ingredient. It seems to boldly make its way into several dishes, adding crunch to salads, for examples, in meaty stews, or in the form of a hearty rustic cabbage soup like this one.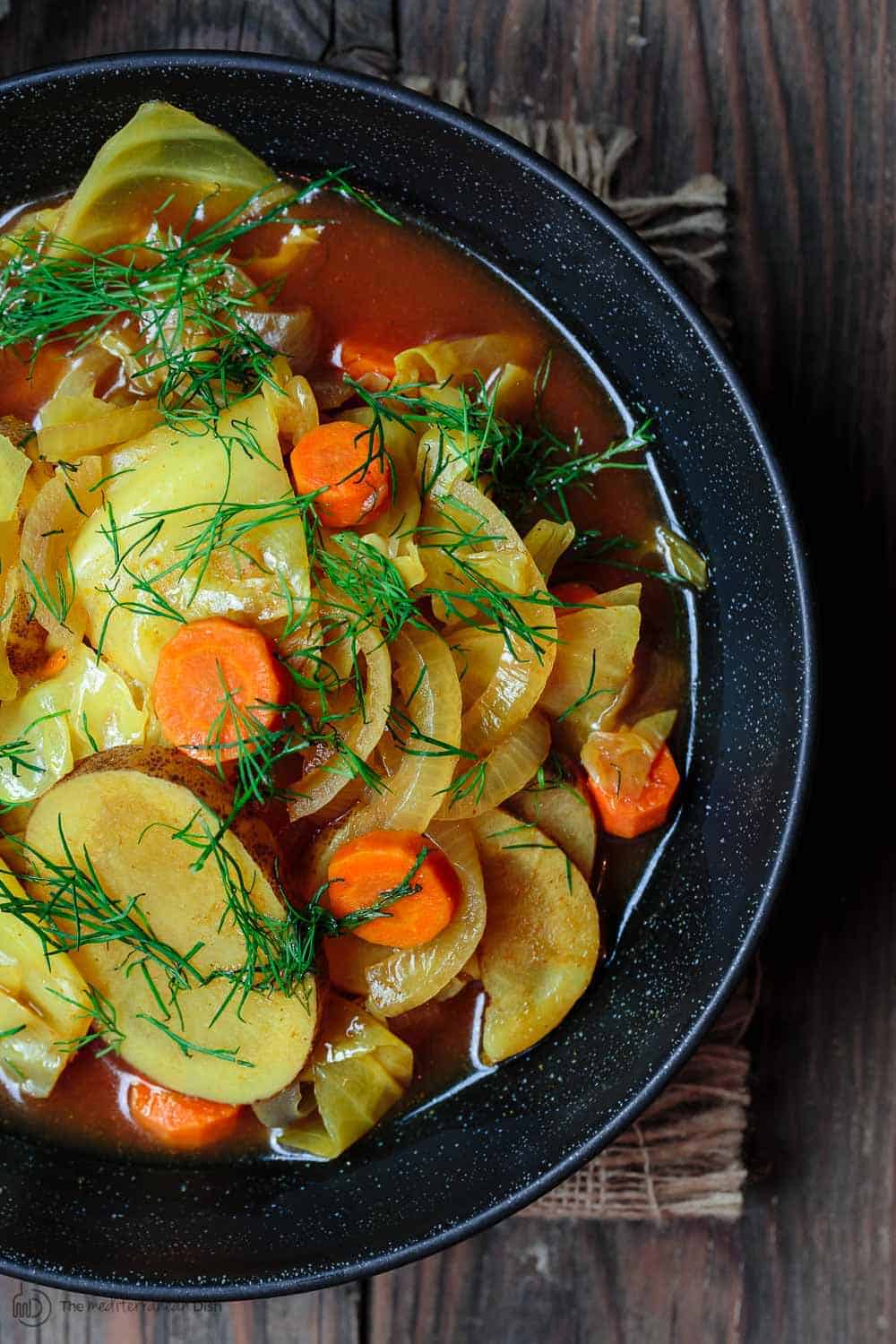 What stands out about this cabbage soup?
Easy recipe? Check.  Vegan and gluten free? Check.
And at 227 calories per serving, you might be thinking,"cabbage soup diet!" But that's not really what I'm after here. The low-cal situation is really a bonus.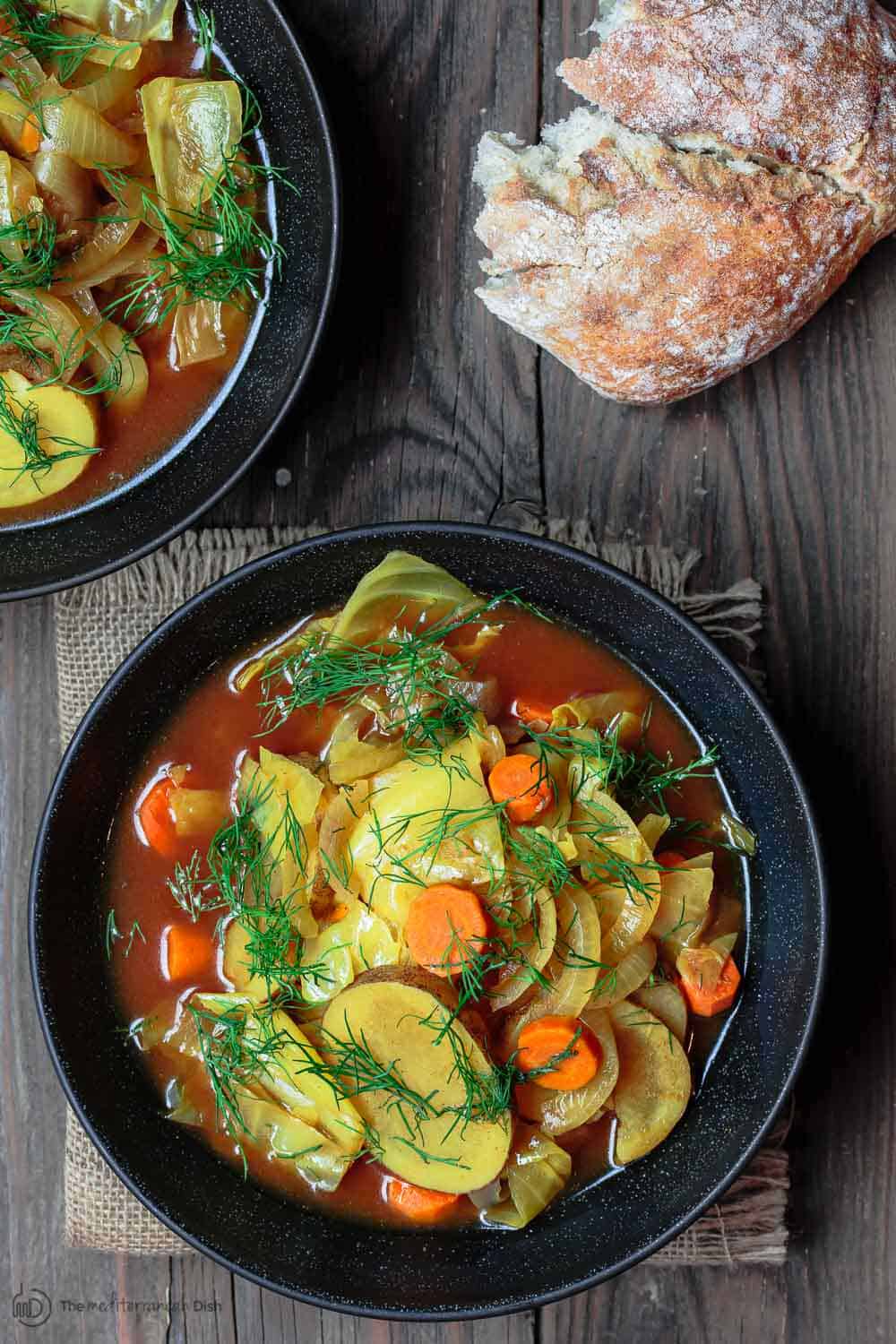 Although this is a text-book Mediterranean diet recipe, it's the kind of hearty, rustic, satisfying cabbage soup that feels anything but "diet."
Colossal chunks of cabbage, potatoes, and carrots, slow-cooked to perfection in tomato broth, augmented with aromatics and Mediterranean spices. Finished with a splash of lemon juice and fresh dill.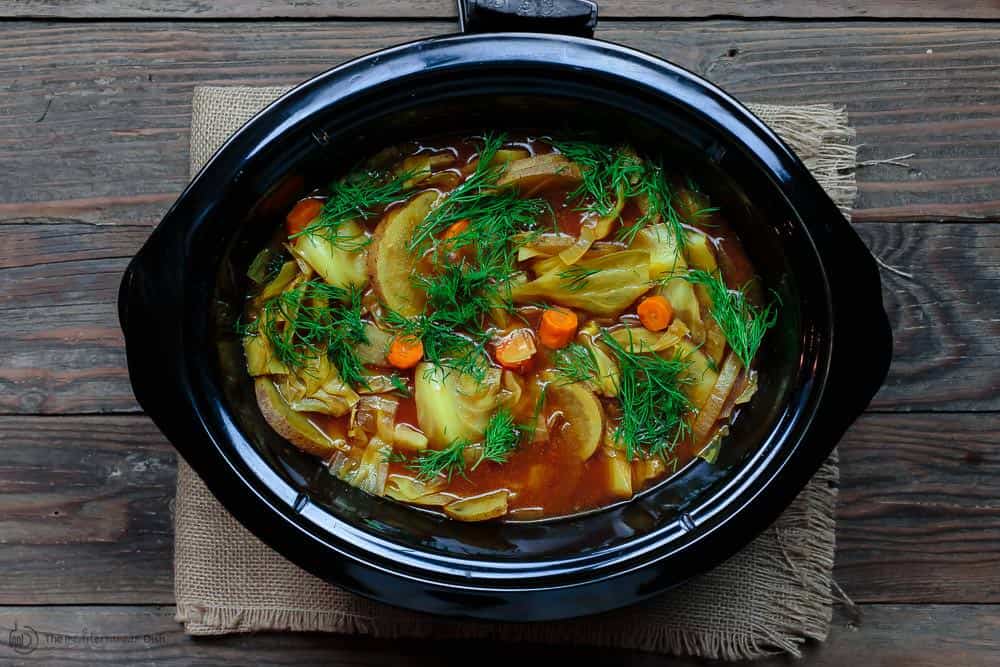 An important lock-step to this cabbage soup is a generous drizzle of Early Harvest Greek extra virgin olive oil. It adds an irresistible deep accent–between herbal and nutty. An olive oil of inferior quality will not deliver the same taste nor health benefits.
Print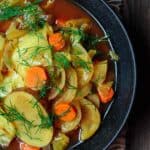 Slow Cooker Mediterranean Vegan Cabbage Soup
---
Author:

Prep Time:

15 mins

Cook Time:

4 hours

Total Time:

4 hours 15 minutes

Yield:

6 to 8
Ingredients
2 large carrots, peeled and sliced into rounds
2 russet potatoes, scrubbed clean and sliced into 1/4 inch-thick rounds
1 1/2 lb green cabbage (about 1/2 head of cabbage), cored and chopped
2 medium-sized onions, sliced into half moons (I used red and yellow onions)
2 garlic cloves, minced
1 bay leaf
1 tbsp organic ground cumin
1 tsp sweet Spanish paprika
1/2 tsp organic ground coriander 
1/4 tsp organic ground turmeric
Salt and pepper
1 cup tomato sauce
7 cups low-sodium vegetable broth
Zest plus juice of 1 lemon
1/2 cup fresh dill
Early Harvest extra virgin olive oil
Pinch crushed red pepper (optional)
---
Instructions
Place carrots, potatoes, cabbage, onions and garlic in the bottom of a 6-quart crock pot like this one.
Add bay leaf, spices, salt and pepper. Now top with tomato sauce and broth.
Cover and cook on LOW for 7 to 8 hours or on HIGH for 4 hours. Occasionally stir to mix.
When soup is ready, add lemon zest and lemon juice. Stir in fresh dill.
Transfer hot soup to serving bowls and top with a generous drizzle of Early Harvest extra virgin olive oil. Add a pinch of crushed red pepper if you like. Enjoy with warm pita bread or your favorite crusty bread.
More Recipes to Try
Italian Sausage Minestrone Soup 
Turmeric Roasted Cauliflower and Chickpea Stew