Easy shrimp recipe, coated in Mediterranean spices and skillet-cooked in a light olive oil and citrus sauce with shallots, tomatoes and more!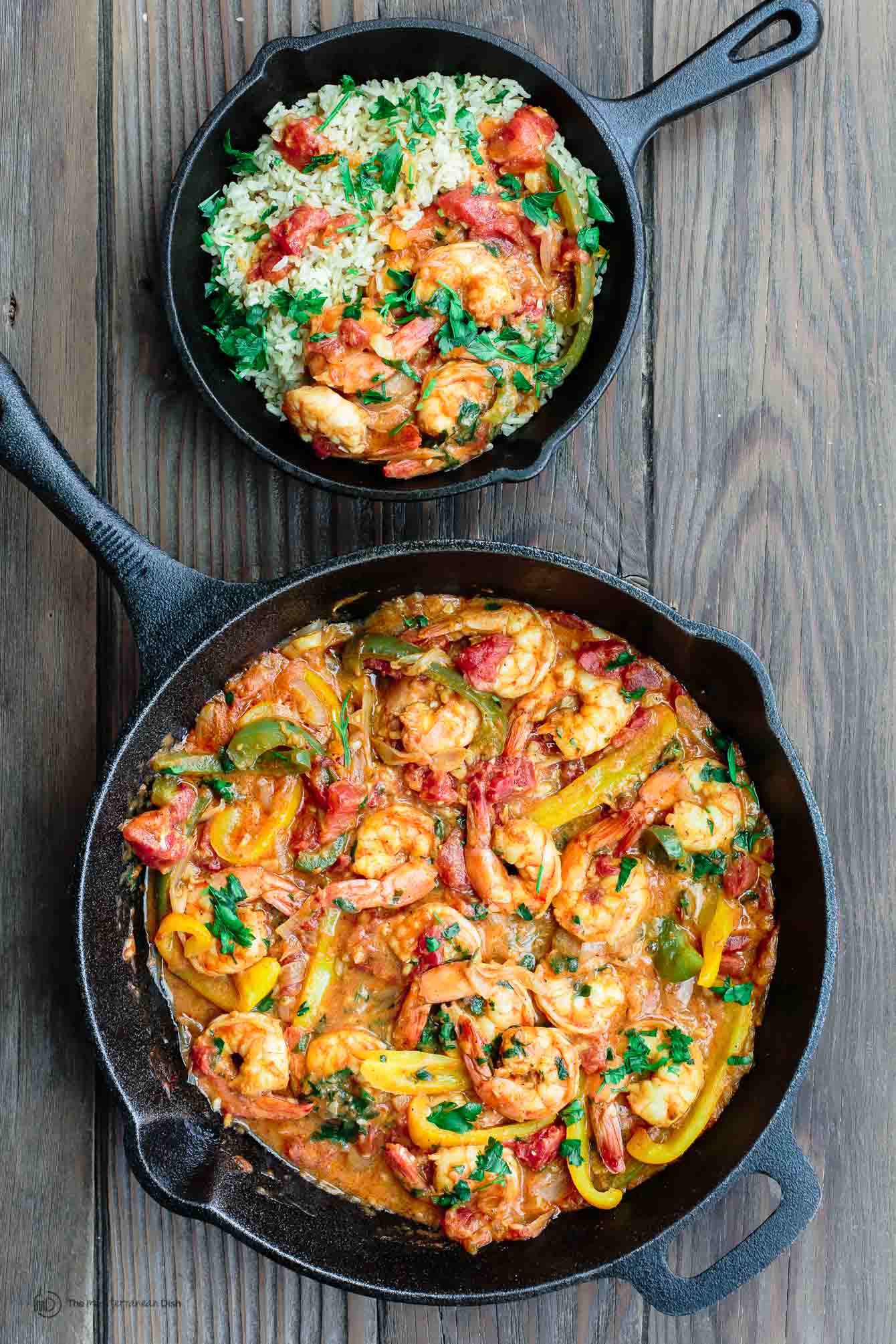 Left to my own vices, I can (and will) eat shrimp all day long.
This perhaps explains why I don't tire of creating easy shrimp recipes. To name a few: grilled shrimp with garlic cilantro sauce; Mediterranean shrimp skewers; shrimp orzo soup; spicy shrimp and Chorizo couscous. I just can't help it, folks!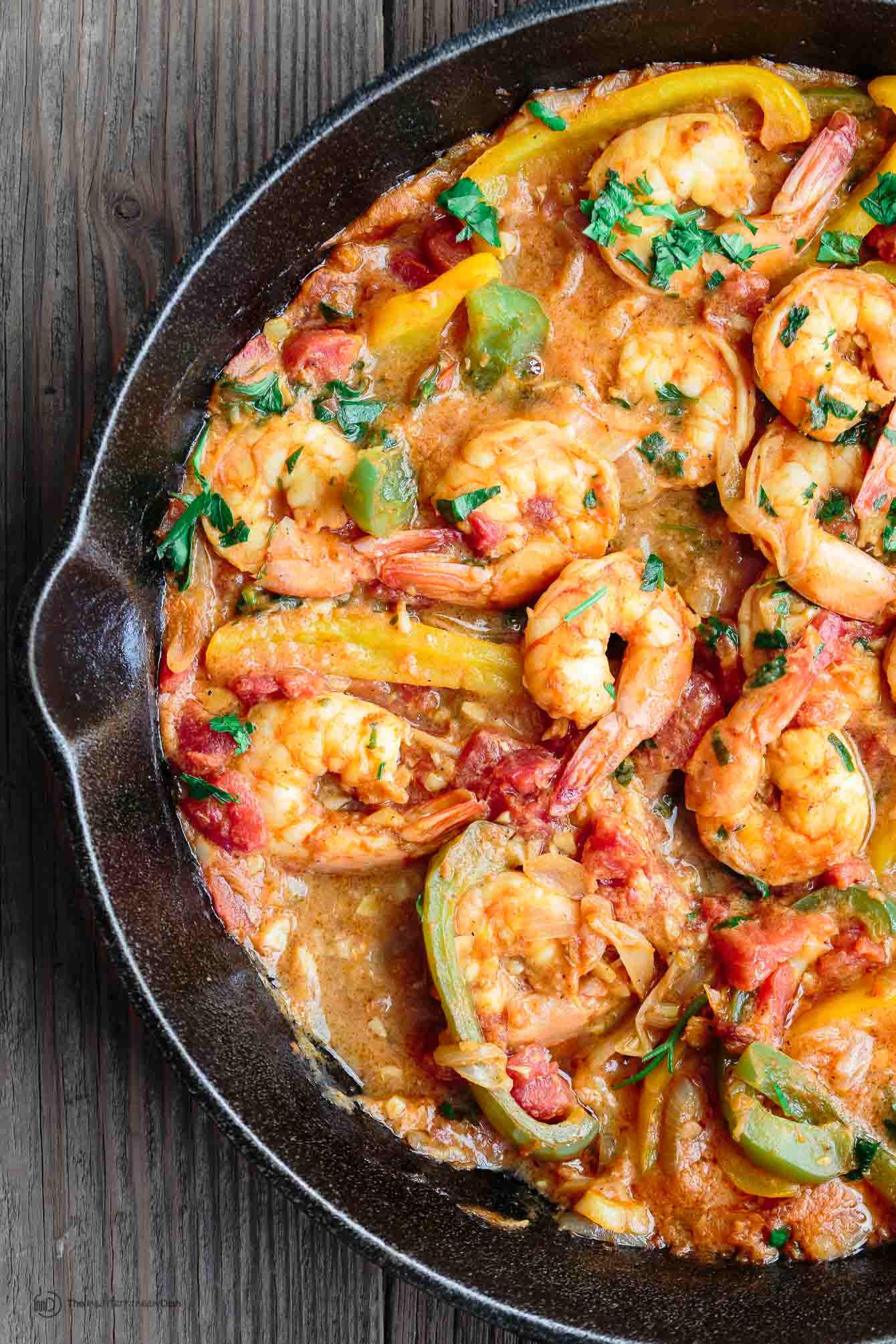 Lately, I've taken to buying bags of already peeled and deveined shrimp from the freezer section.  It makes my life so much easier! In a pinch (which happens a lot more often than you think), I know I can reach for my cast iron skillet and go after an easy shrimp recipe like this one.
Here, the shrimp derive flavor from a quick coating of smoked Spanish paprika, coriander, and a pinch of cayenne–a little flour to thicken the sauce up later. Then they're tossed in the skillet with shallots, tomato, garlic and bell peppers. A simple combination of extra virgin olive oil, broth and citrus makes the sauce.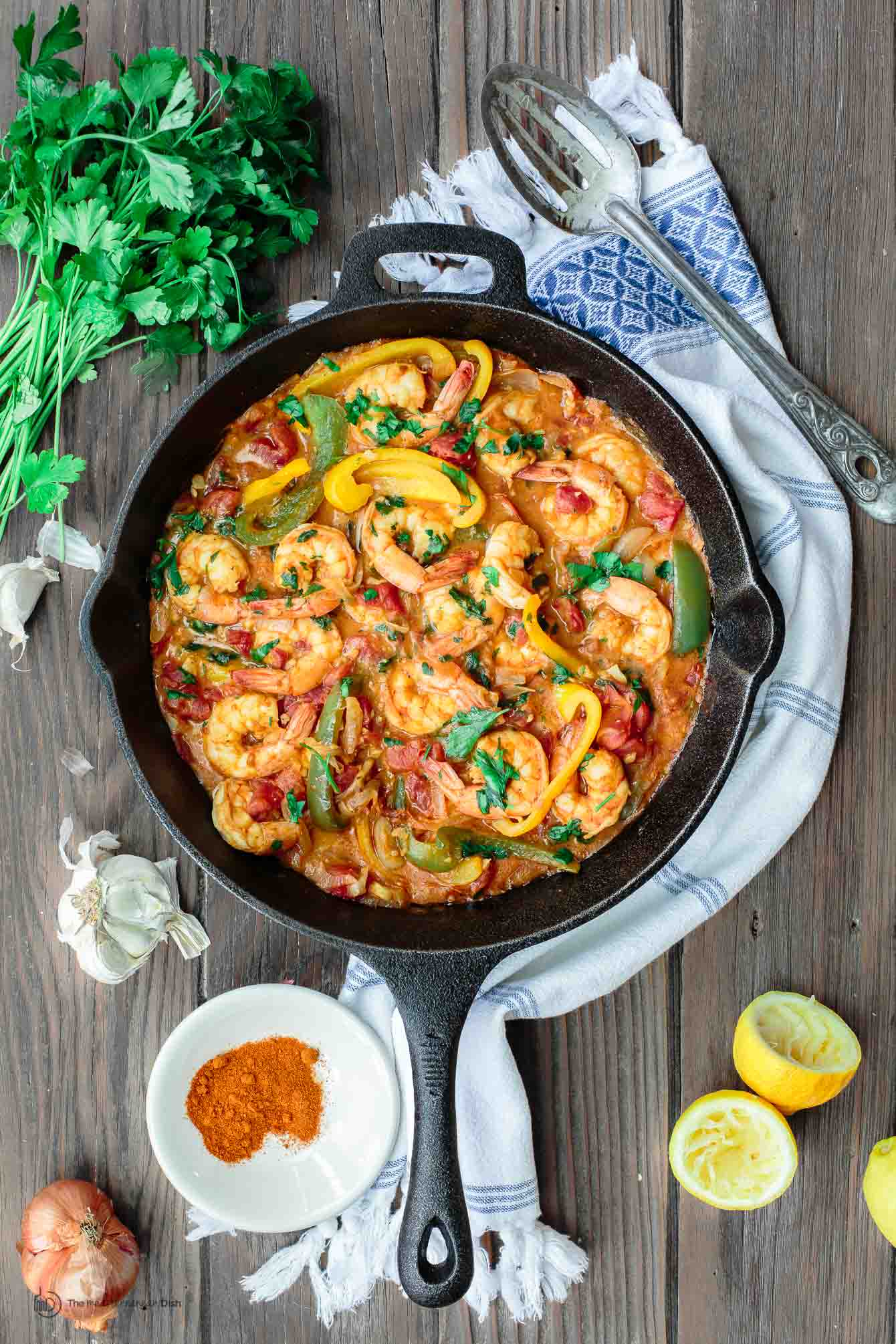 It's really hard to mess up an easy shrimp recipe like this one. The only rule is to avoid over-cooking the shrimp. With shrimp, it's really not hard to figure out when they're done, they turn completely opaque with an orange-ish color and bright red tails.
Turning this easy shrimp recipe into dinner, I typically add a side of Lebanese rice and a quick salad. Be sure to see the recipe notes for suggested starters and salads!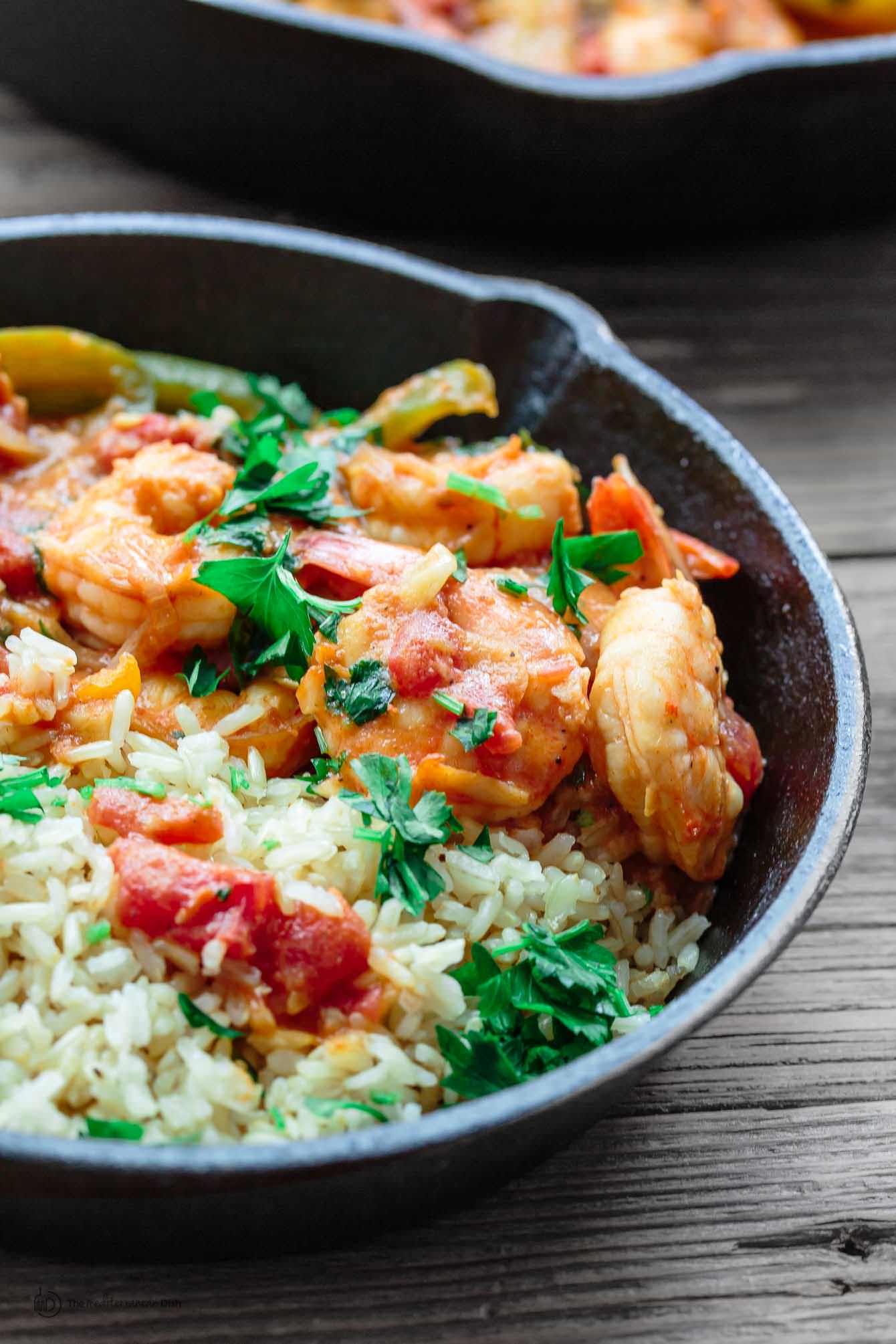 Watch How I Make this Easy Shrimp Recipe
Print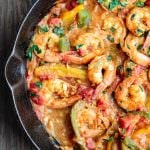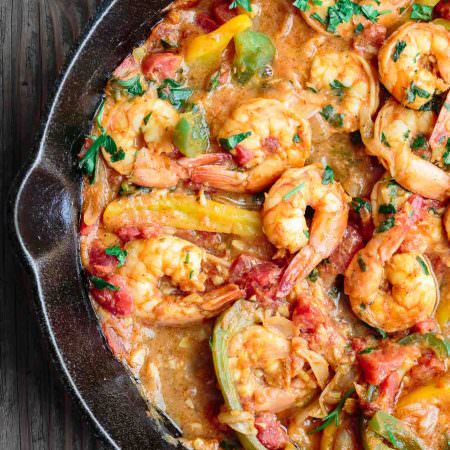 Easy Mediterranean Shrimp Recipe
---
Author:

Prep Time:

10 mins

Cook Time:

15 mins

Total Time:

25 minutes

Yield:

4

Method:

Stovetop

Cuisine:

Mediterranean
Description
Easy shrimp recipe, coated in Mediterranean spices and skillet-cooked in a light olive oil and citrus sauce with shallots, tomatoes and more!
---
Ingredients
1 Lebanese Rice recipe (or make rice according to package), optional
1 1/4 lb large shrimp (or prawns), peeled and deveined (if frozen, be sure to thaw first)
1 tbsp all-purpose flour
2 tsp smoked Spanish paprika
1/2 tsp each salt and pepper
1/2 tsp ground coriander
1/4 tsp cayenne
1/4 tsp sugar
1 tbsp butter
3 tbsp Private Reserve extra virgin olive oil
3 shallots (about 3 1/2 ounces), thinly sliced
4 garlic cloves, chopped
1/2 green bell pepper and 1/2 yellow bell pepper (about 6 ounces in total), sliced
1 cup canned diced tomato
1/3 cup chicken or vegetable broth
2 tbsp dry white wine
2 tbsp fresh lemon juice
1/3 cup chopped parsley leaves
---
Instructions
First, make Lebanese rice according this recipe. Leave covered and undisturbed until ready to serve. Alternatively, you can make brown or white rice according to store-bought package. (Optional)
Pat shrimp dry and place it in a large bowl. Add flour, smoked paprika, salt and pepper,  coriander, cayenne, and sugar. Toss until shrimp is well-coated.
In a large cast iron skillet, melt the butter with the olive oil over medium-high heat. Add shallots and garlic. Cook for 2-3 minutes, stirring regularly, until fragrant. Add bell peppers. Cook another 4 minutes or so, tossing occasionally.
Now add the shrimp. Cook for 2 minutes, then add the diced tomatoes, broth, white wine and lemon juice. Cook for 5-6 minutes until shrimp turns bright orange. Finally, stir in chopped fresh parsley.
Serve immediately with cooked rice.
Keywords: Shrimp recipe, easy shrimp, Mediterranean shrimp recipe, skillet shrimp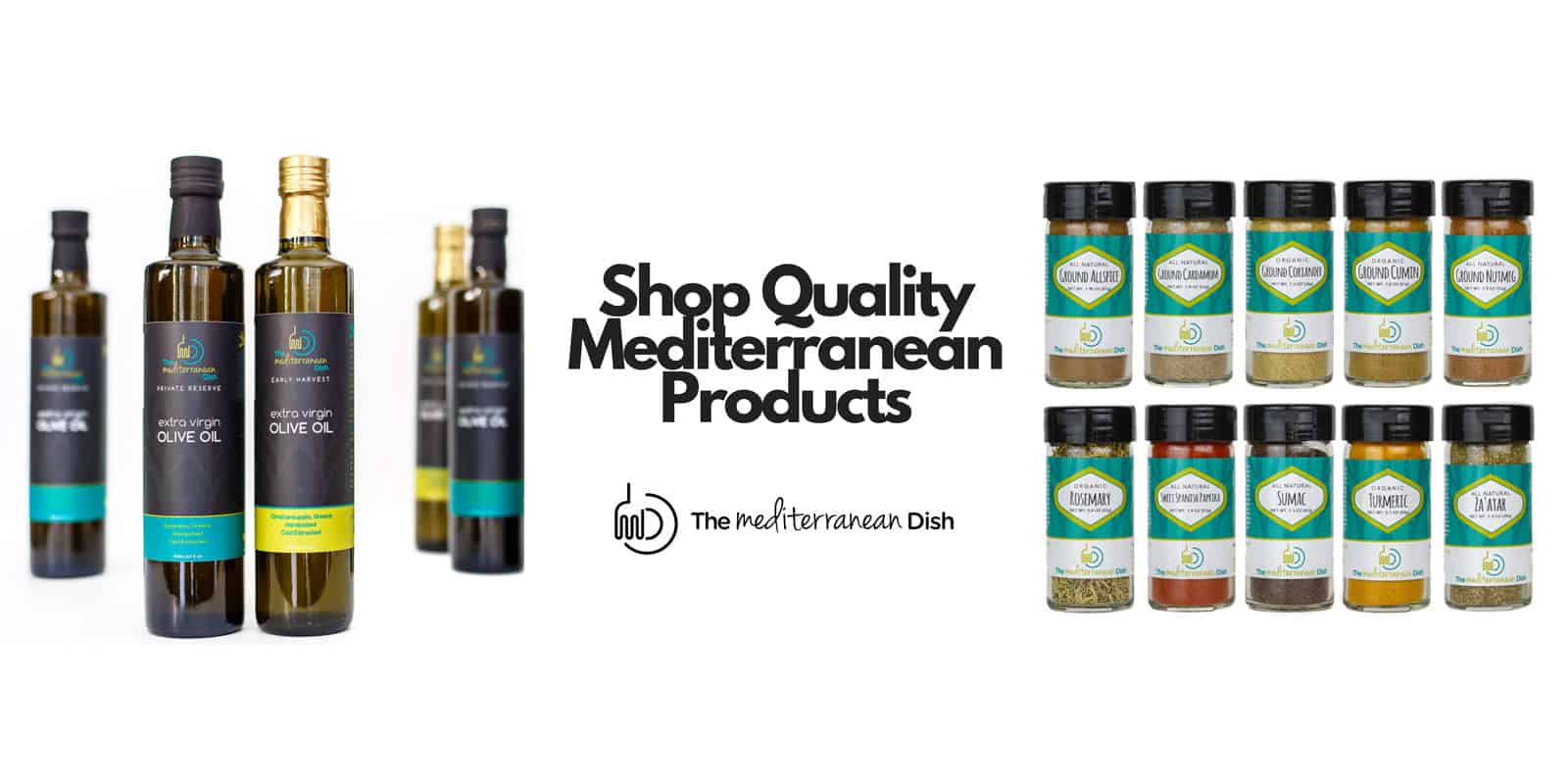 More Recipes to Try:
Shrimp and Zucchini Panzanella Salad