20 minutes is all it takes to make this delicious haddock recipe, prepared Mediterranean-style in a garlic-lemon sauce with artichoke hearts, tomatoes and olives!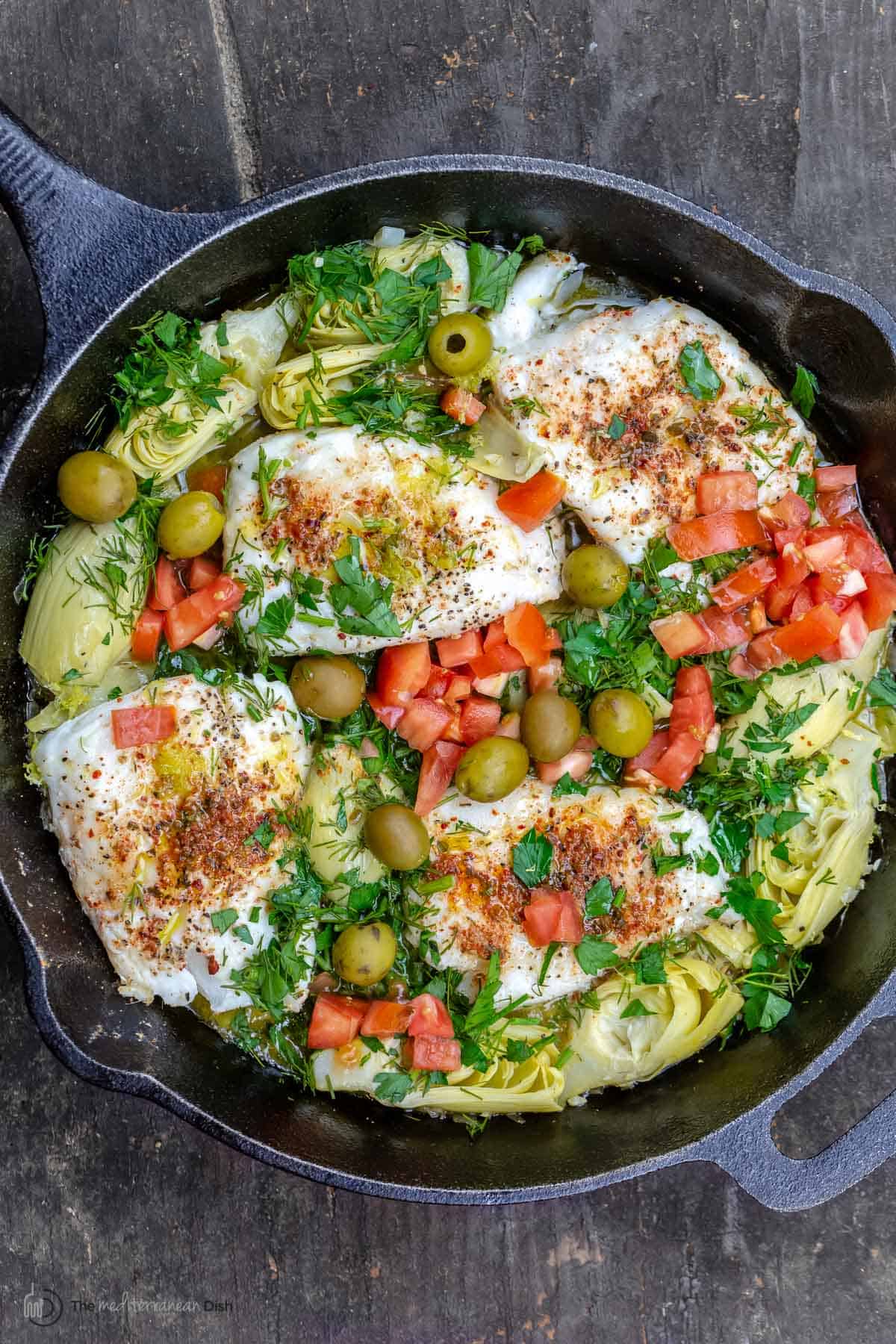 An Easy Haddock Recipe for the Fish Skeptic!
As someone who eats fish weekly as part of my Mediterranean lifestyle, I often get questions like, "I love fish but my family...not so much, what should I make that they might like?" Today's recipe is it! A fish recipe for the fish skeptics!
This is an easy one-skillet lemony, garlicky haddock recipe, jazzed up with a few Mediterranean ingredients that I love.
In this recipe, the mild-tasting haddock fillet (or similar white fish fillet), takes on a Mediterranean spice rub, then you quickly cook it (or poach it) a delicious, lemony sauce with garlic, shallots and artichoke hearts for about 4 to 5 minutes. to finish, throw in some fresh chopped tomatoes, herbs and green olives.
This haddock recipe is bright and flavorful, I've tried it on a few fish skeptics and they gave it thumbs up!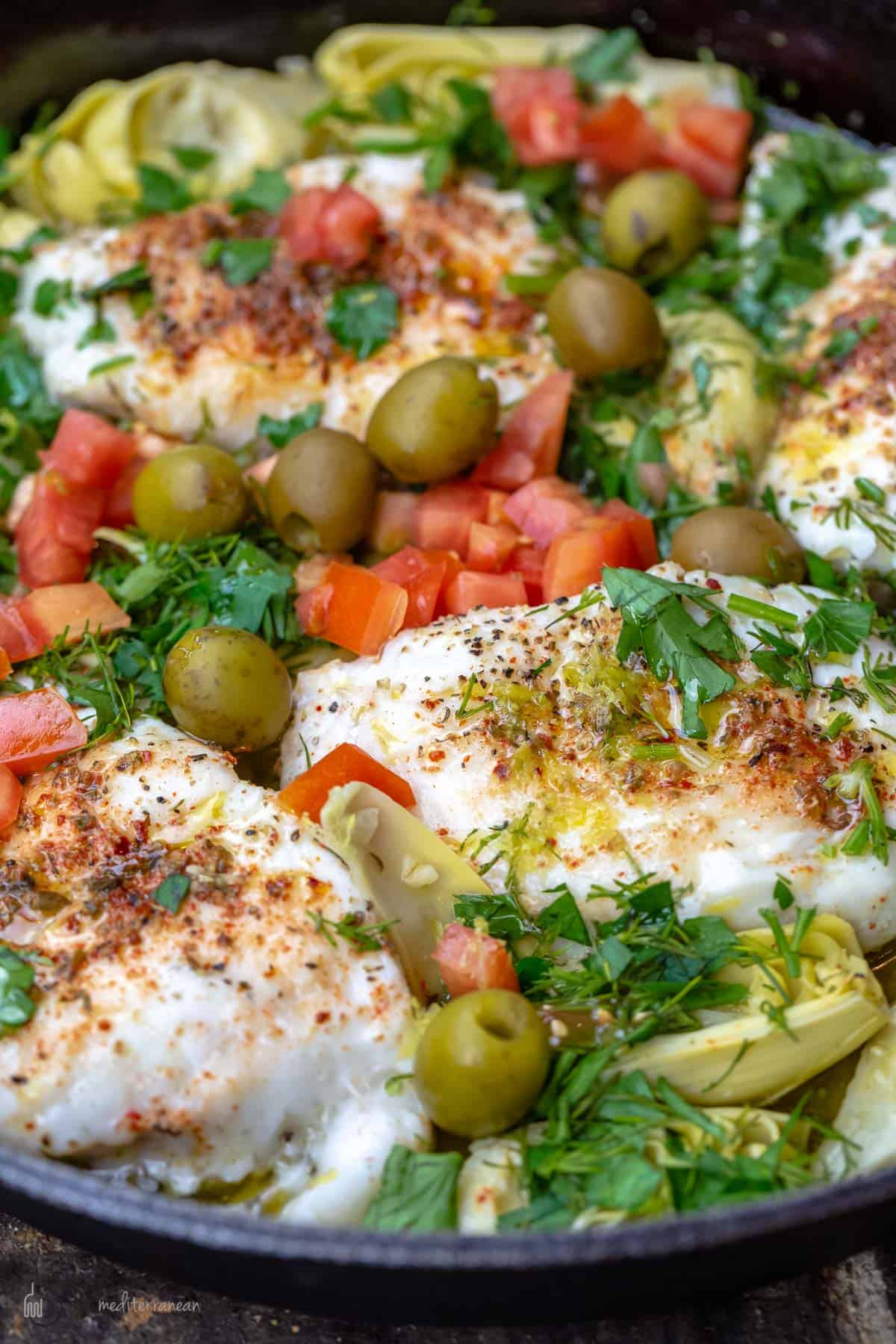 What is haddock & what does it taste like?
Haddock is a type of white fish, similar to halibut or cod. It's a northern Atlantic fish with a mild, slightly sweet flavor and somewhat firm texture that turns beautifully tender and flaky when cooked. Because of this, it is among the fish types I always recommend to people who aren't fans of fish but would like to incorporate it into their diet.
If you can't find haddock, you can use other white fish like cod or halibut fillet in this recipe.
Ways to cook haddock
In this recipe, the fish is essentially poached, and it takes no more than 4 to 5 minutes to cook in the delicious lemony sauce. But there are many other ways to cook haddock fillet including:
Fried. Haddock is great for frying and often used in fish and chips.
Baked. You can also bake haddock with a few of your favorite seasonings. It will work well in this baked white fish recipe.
Pan-fried. Pan-frying haddock is quick and easy. Be sure to put it skin-side down first.
Broiled. For a quick dinner, you can stick the fish under the broiler and watch it for a few minutes to char and cook through under the direct heat.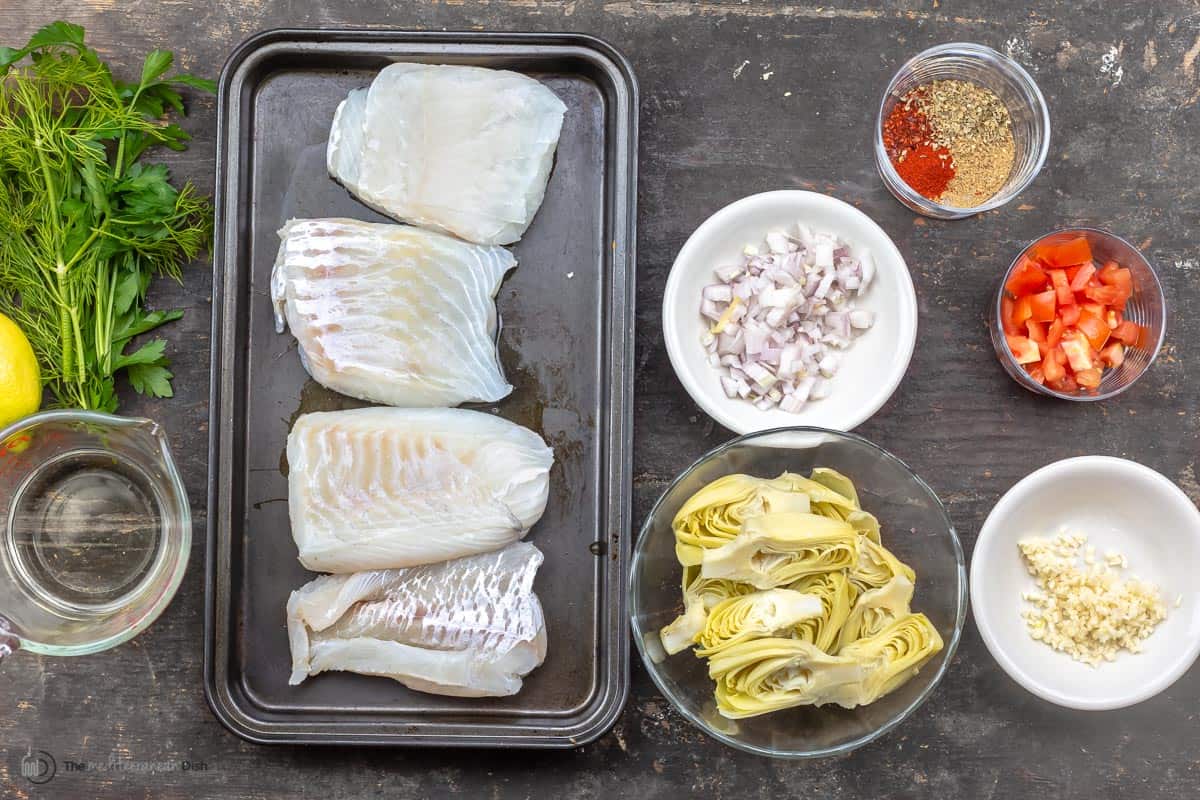 Ingredient's you'll need
This recipe uses traditional Mediterranean seasonings to season the haddock and a base of white wine and lemon juice for the sauce.
Haddock Fillet- If you're using previously frozen fish, it should be thawed completely before starting.
Seasoning- The halibut is seasoned with dried oregano, Aleppo pepper, coriander, paprika and a pinch of black pepper.
Extra virgin olive oil - You can see my favorite olive oils here.
Butter- Only 1 tablespoon, and you can omit it if you like
Garlic and shallots - These aromatics are sautéed to release flavor throughout the entire dish.
White wine - Any dry white wine such as chardonnay, pinot gris, or sauvignon blanc will work.
Lemon - It's essential to use fresh lemon juice for this lemon fish recipe!
Artichoke hearts - They should be rinsed and drained.
Tomato - I used a roma tomato to add a pop of color and flavor to the final dish.
Fresh herbs - Parsley and dill add a bright, fresh flavor to the halibut and work well with the lemon flavor.
Green olives - Added at the end for a variety in flavor and beautiful presentation.
How to make this haddock recipe
Making this one-pan haddock recipe is simple and takes just a few steps!
Season the fish. Combine the spices in a small bowl. Pat the fish dry and season with salt and pepper on both sides. Rub the spice mixture all over and set aside.
Prepare the sauce. Heat the olive oil and butter. Cook the garlic and shallot until softened. Add the white wine, lemon juice and artichoke hearts. Cook until the liquid is slightly reduced.
Cook the fish. Add the halibut to the skillet and reduce heat. Cover and cook for 4 minutes, until flakey and fully cooked.
Serve. Remove from heat and finish the dish with tomato, fresh herbs and olives. Serve immediately!
Tips for success
If this is your first time cooking haddock, here are a few things to keep in mind.
For best flavor, coat the fish with the spice mixture and allow it a few minutes. Seasoning the fish first and allowing it to rest while you prepare the lemon sauce helps to infuse every bite with extra flavor.How to tell when haddock is cooked. When haddock is fully cooked, it will flake easily. If you twist a fork in the center, it should not only flake easily but also be completely white, with no translucent color.
Frozen fish is okay! If you can't find fresh fish fillets, frozen wild caught haddock is perfectly acceptable to use! Just be sure to safely thaw it in the fridge before starting the recipe.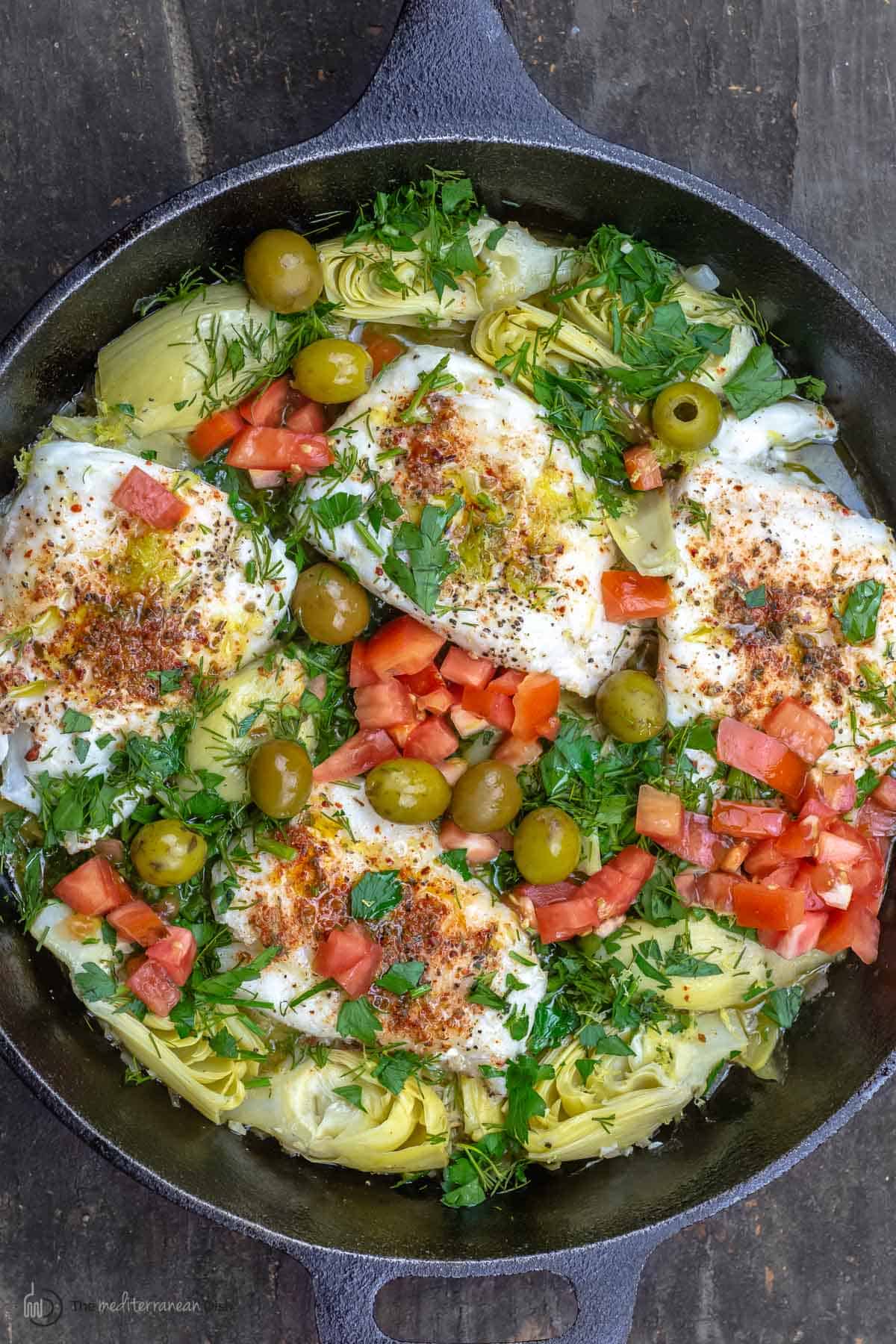 Serve it with
Serve this one-pan haddock recipe immediately while the fish is freshly cooked, tender and flaky! With such a beautiful presentation and vegetables already prepared with it, this fish does not need much else to go along. Try something simple like basmati rice or couscous.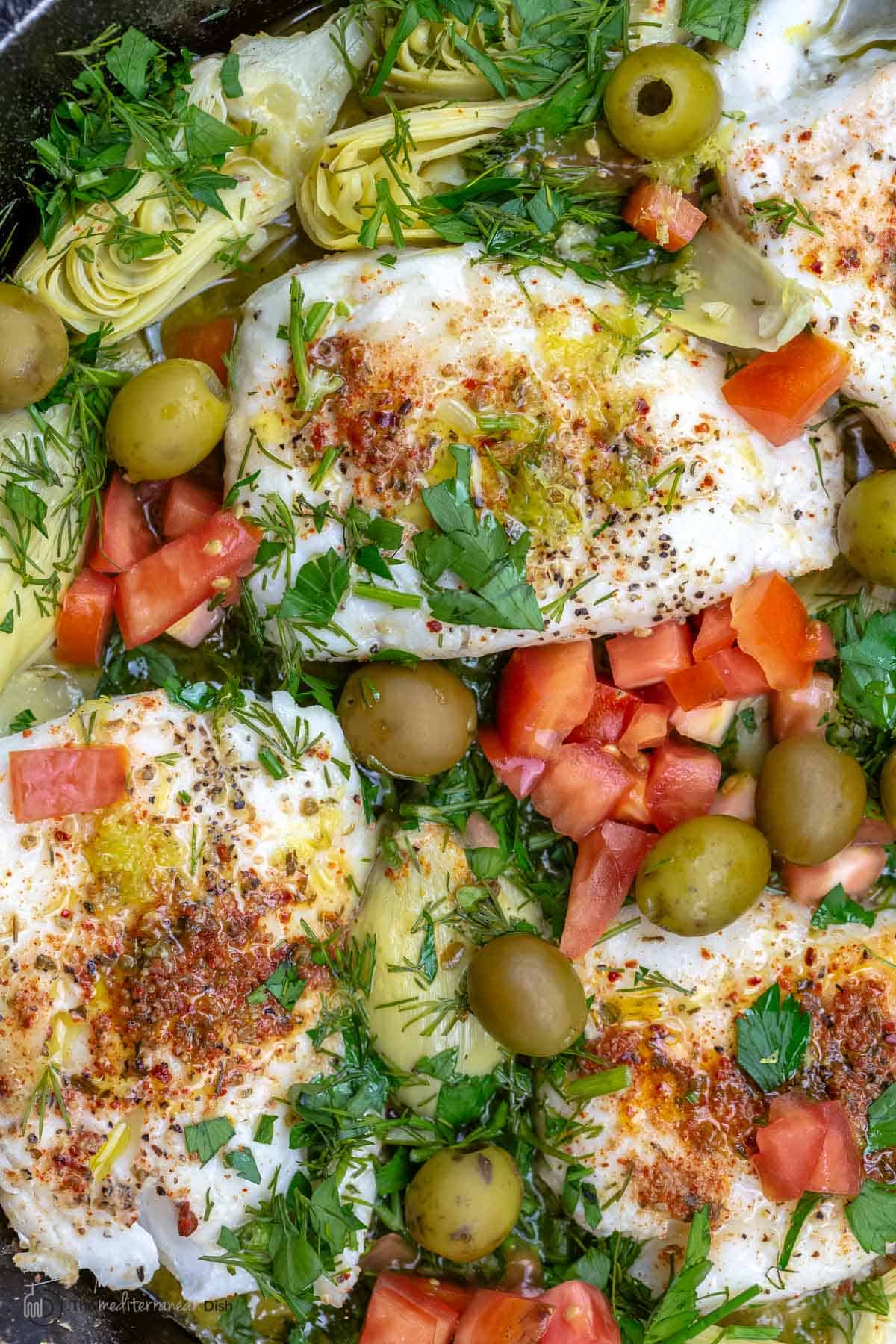 How to store leftovers
Leftover lemon haddock can be stored in the fridge for up to 3 days. Be sure to store in the sauce to avoid it drying out. I'm not a huge fan of reheating fish and will often enjoy leftovers at room temperature but in this case, you can easily reheat on the stove with the lemon sauce. It shouldn't dry out too much, just make sure to remove from the heat as soon as it's warmed through.
More easy white fish recipes:
Browse Top Mediterranean Diet Recipes. Browse all Mediterranean recipes.
Visit Our Shop.
One-Pan Mediterranean Haddock with Artichoke Hearts and Olives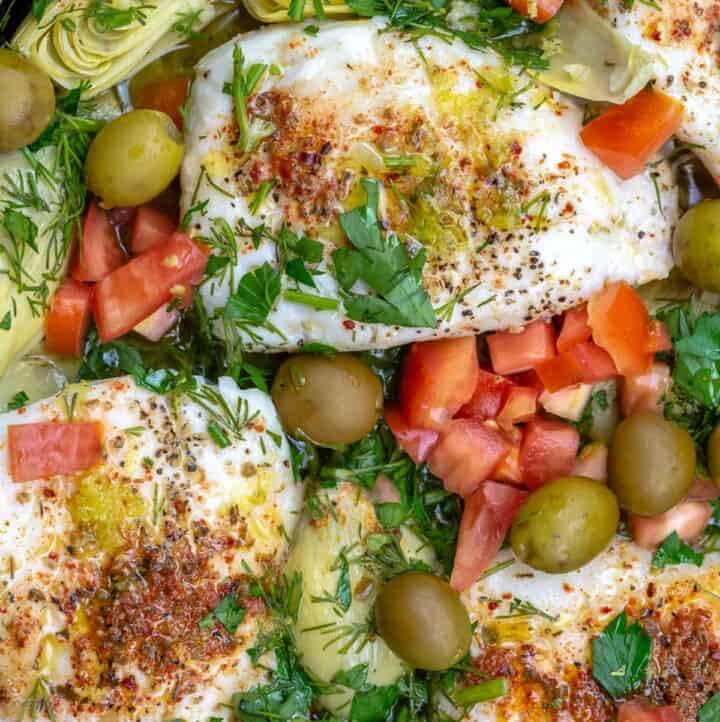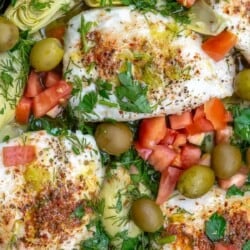 With bold Mediterranean flavors this One Pan Lemon Garlic Haddock with Artichoke Hearts, tomatoes and olives is the kind of fish dinner that people who don't love fish can enjoy! The fish itself is mild, flavored with a delightful lemon and garlic sauce, and served with artichoke hearts, fresh tomatoes and herbs.
Ingredients
1

teaspoon

dried oregano

1

teaspoon

Aleppo pepper

1

teaspoon

coriander

½

teaspoon

paprika

4

fillets

haddock

(thawed if previously frozen, 6 ounces each)

Black pepper

¼

cup

extra virgin olive oil

1

tablespoon

butter

3

cloves

garlic

(minced)

1

shallot

(minced)

Kosher salt

½

cup

white wine

1

lemon

(juice of)

15

ounces

artichoke hearts

(rinsed and drained)

1

roma tomato

(chopped)

¼

cup

fresh parsley

(chopped)

¼

cup

fresh dill

(chopped)

½

cup

green olives

(pitted)
Instructions
In a small bowl, combine the oregano, Aleppo pepper, coriander, and paprika. Stir to mix.

Pat the fish dry and season with kosher salt and black pepper on both sides, then rub the spice mixture all over the fish. Set aside for now.

In a large cast iron skillet, heat the olive oil and butter over medium heat. Add the garlic and shallot and cook for 3 to 5 minutes, stirring occasionally until softened (manage your heat so the garlic does not burn)

Add the white wine, lemon juice, and artichoke hearts and cook for another 5 minutes until the liquid is slightly reduced.

Add the fish to the skillet and turn the heat down to medium-low. Cover and cook for 4 to 5 minutes, or until the fish is flakey and fully cooked through.

When the fish is ready, remove it from the heat and finish with the Roma tomato, fresh herbs, and olives. Serve immediately!
Notes
To make sure your fish is cooked through, test it with a fork at the thickest part. Gently poke the fish and twist the fork, the fish should flake easily and should look white and not translucent grey. The internal temperature of cooked fish should be somewhere between 140 and and 145 degrees F.
Leftovers will keep in the fridge in a tight-lid container for up to 2 days.
Visit Our Shop for quality Mediterranean ingredients including extra virgin olive oils and spices.
Nutrition
Calories:
324.8
kcal
Carbohydrates:
11.8
g
Protein:
25.4
g
Saturated Fat:
2.5
g
Monounsaturated Fat:
11.9
g
Cholesterol:
77
mg
Sodium:
977.6
mg
Potassium:
608.2
mg
Fiber:
4
g
Sugar:
3.1
g
Vitamin A:
1112.8
IU
Vitamin C:
25.3
mg
Calcium:
68.3
mg
Iron:
1.6
mg