Saganaki is a very popular Greek appetizer of pan-seared Greek cheese served alongside lemon wedges. It's crispy on the outside and beautifully melted on the inside. Enjoy this traditional Greek dish at the beginning of a meal as a small bite to share around the table.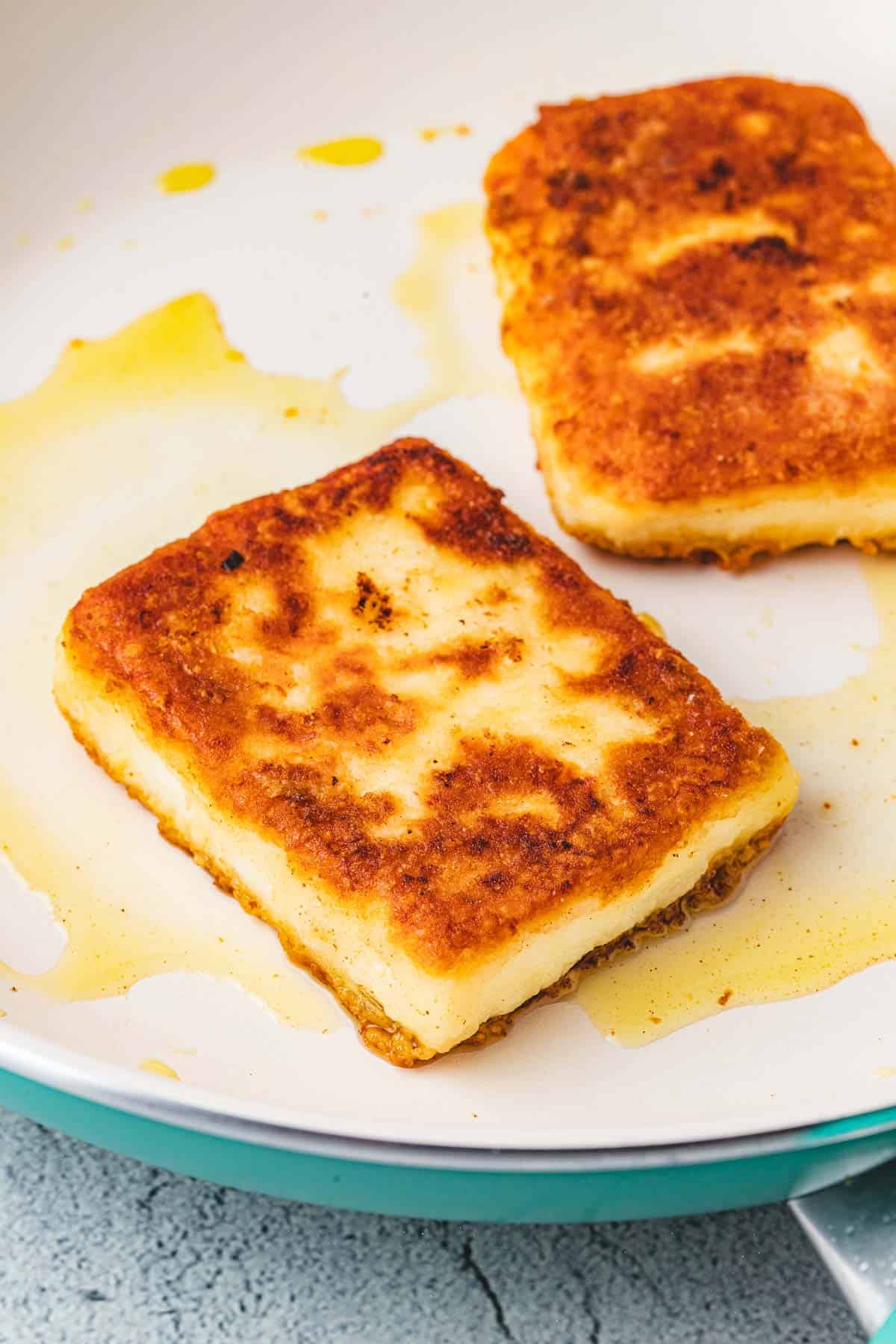 Saganaki is a showstopper at many Greek restaurants, where it often arrives at your table still sizzling in the skillet. The next step is rather dramatic, as the server proceeds to light it on fire, with the help of ouzo, just before serving. This last step in its presentation is what gives it the name "flaming Greek saganaki."
In this saganaki recipe, the table side show is totally optional but surprisingly easy to accomplish! I know this festive dish—the savory version of our beloved feta, honey, and sesame saganaki—will quickly become the top request at your dinner parties. If you love melted Greek cheese as much as I do, you may want to try them both!
Table of Contents
What is Saganaki?
"Saganaki" is a Greek word that refers to a certain method of preparation, as well as the pan itself. The dish is cooked in a traditional, shallow, heavy-bottomed frying pan with two handles, which is called "saganaki" in Greek.
There are a few other traditional Greek recipes cooked in this kind of skillet, which include shrimp saganaki (a shrimp, tomato and feta cheese bake) and mussels saganaki, which are both cooked in a similar way. The most popular version is, of course, this simple and delicious fried cheese appetizer, cheese saganaki.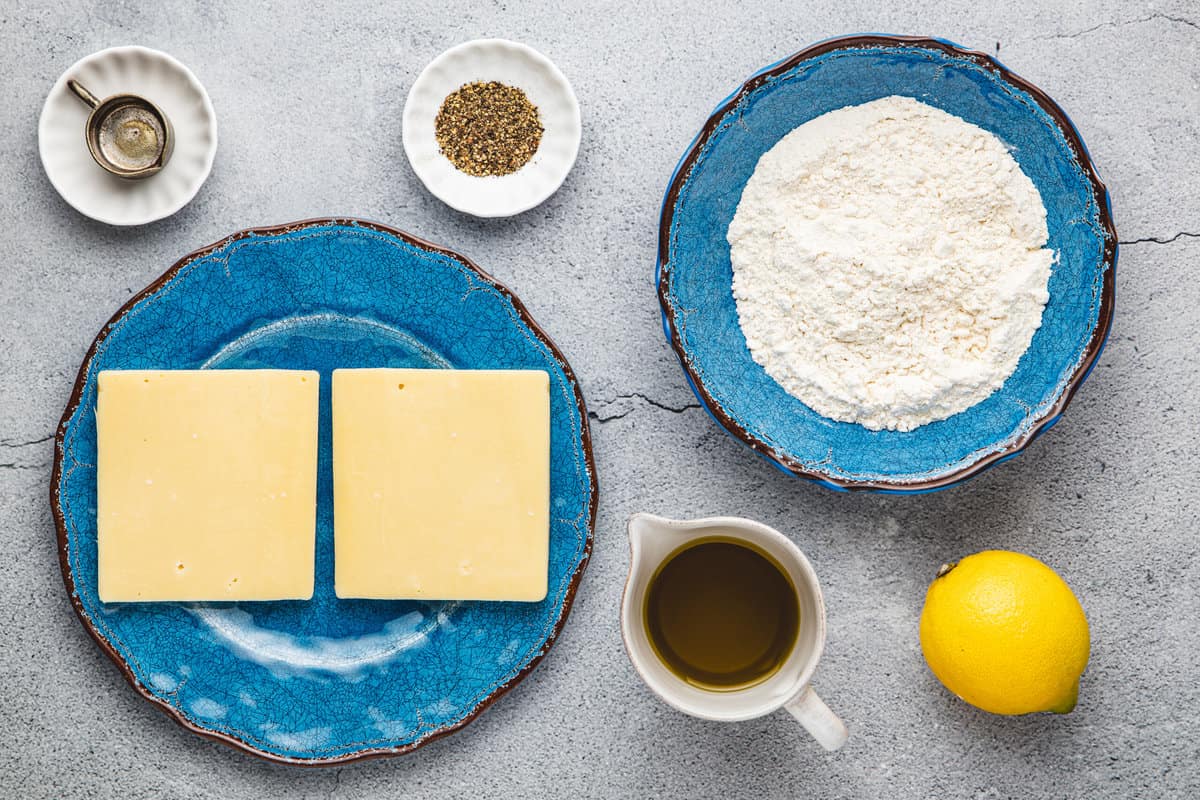 Ingredients for this Saganaki Recipe
One of the reasons that this saganaki recipe is so easy to make is its short list of ingredients. Besides a block of good semi-hard cheese, all you need is some olive oil, a lemon and flour.
Cheese: Kefalotyri, Graviera, or, Kefalograviera are the preferred Greek cheeses for this recipe. If those aren't available to you, you can substitute authentic Greek kasseri, feta cheese or halloumi. Just make sure to keep a close eye as it will melt more quickly.
Oil: Use a high quality extra virgin olive oil, like our Greek Koroneiki, for pan-frying. Do not use vegetable seed oil as it will distort the flavor.
Ground black pepper: Since the cheese is naturally salty, we only use pepper to season the flour.
Flour: Standard all-purpose flour coats the cheese, allowing it to get golden brown and crispy without falling apart.
Lemon: Fresh lemon wedges squeezed over the hot, melting cheese gives a delicious balance between bright, savory, creamy, and rich.
Spirit (optional): Use brandy or ouzo to give it the traditional flambé.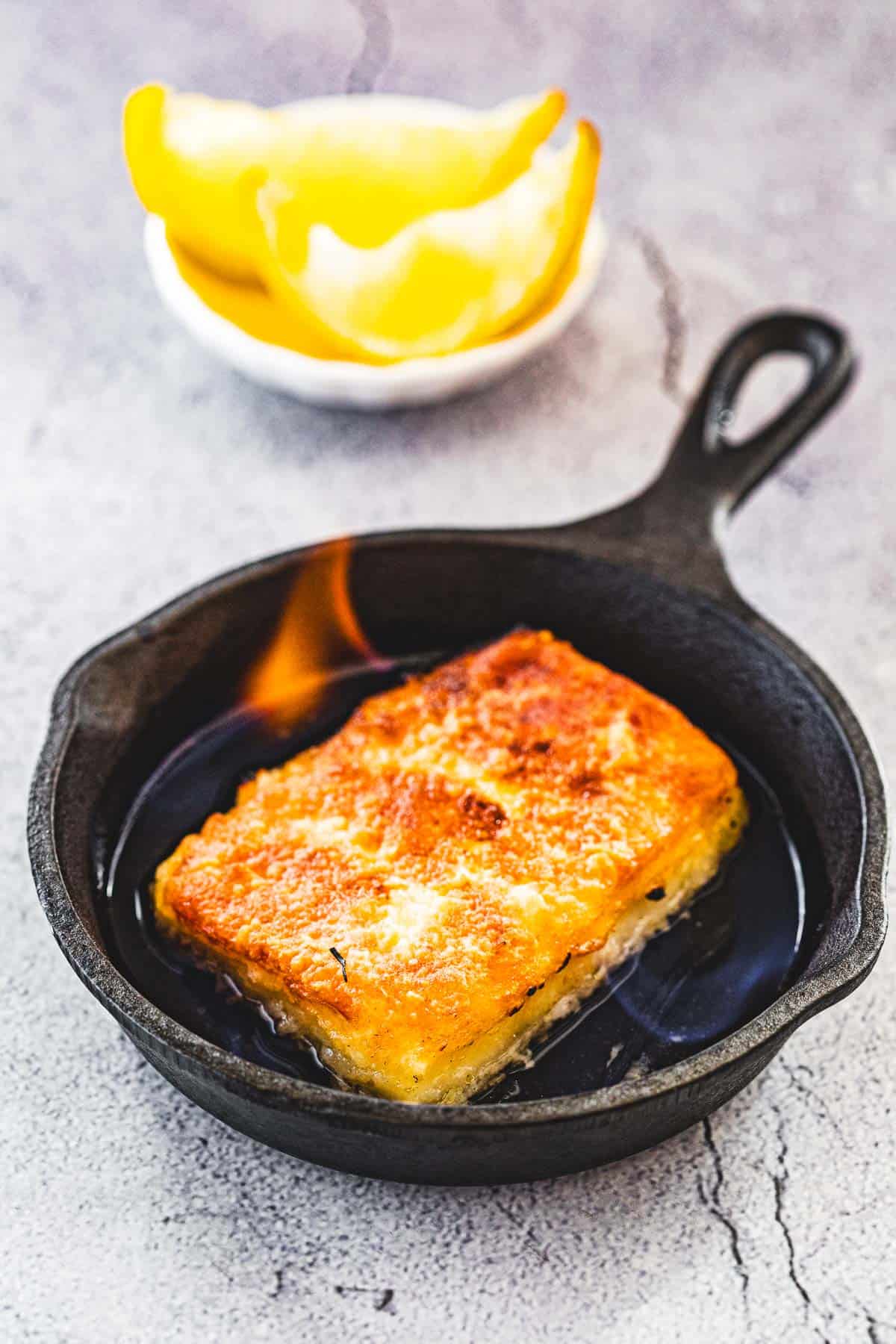 How to Choose the Right Saganaki Cheese
The key to a great Greek saganaki is to pick the right kind of cheese. It has to be firm enough to hold up to heat, but not so hard that it does not melt. The thickness of the cheese is also important—make certain to cut it into ½-inch thick slices.
Traditionally, the cheeses used in a saganaki recipe are semi-hard, dry Greek cheeses. These are mostly made from sheep's milk, such as kefalotyri, graviera, or, kefalograviera. Kasseri or even feta can also be used, but they melt quickly so you need to keep an eye on them as they cook. If you live near a Greek or Mediterranean market, they should carry most of these cheeses.
If you cannot find any of these cheeses, look for alternatives with similar textures and a mild, nutty flavor. A young pecorino or even a nice provolone cheese could work. The Cypriot halloumi cheese, which is much saltier than the Greek cheeses suggested in this recipe, would also be a good substitution.
How to Make Fried Greek Cheese
Saganaki is pretty simple. All you have to do is follow these four easy steps:
Prepare the cheese. Slice a (cold) 8-ounce block of cheese into two ½-inch wide pieces. Briefly run it under room temperature water and pat dry.
Coat the cheese in flour. Spread all purpose flour onto a rimmed plate and season with black pepper. Dredge each half in the flour and pepper mixture, shaking off any excess.
Pan-fry the cheese. Add ¼ cup of olive oil to a medium nonstick skillet. Set over medium heat. When the oil is hot (but not smoking), pan-sear the cheese slices until they're golden brown and bubbling on both sides, about 2 minutes per side. The cheese should form a nice thin crust with a soft, melty interior.
Serve: Squeeze on some lemon juice and serve the fried Greek cheese immediately. Or, flambé the cheese with the help of brandy or ouzo (see instructions below).
How to Flambé Cheese (Optional)
For a dramatic presentation, you can flambé the cheese. This never fails to provide some fun entertainment for your guests once your cheese saganaki is ready!
Add the alcohol. To flambé safely, first pull the hot skillet off the heat of the stove (and away from your face). Then, pour half a shot glass (about ½ ounce) of brandy or ouzo into the skillet.
Ignite! Carefully ignite the alcohol using long matches or a BBQ lighter. As soon as the "oohs" and "aahs" subside and the alcohol burns off, add a squeeze of fresh lemon juice and serve.
Do I Have to Flambée Saganaki?
If you are not keen on setting your pan on fire, do not worry. In most Greek households, including Greek restaurants, cheese saganaki is served without the flames. Just with a good squeeze of lemon juice is all the embellishment you need.
The flaming version of the cheese saganaki most likely did not originate in the Greek islands as it is commonly believed. It is mostly a Greek-American custom created in Chicago. This additional showmanship caught on and now can be found all over the world, including in some touristy tavernas in Greece.
Traditional or not, it is a lot of fun and a good way to get a party going. Tie up your hair and give it a try!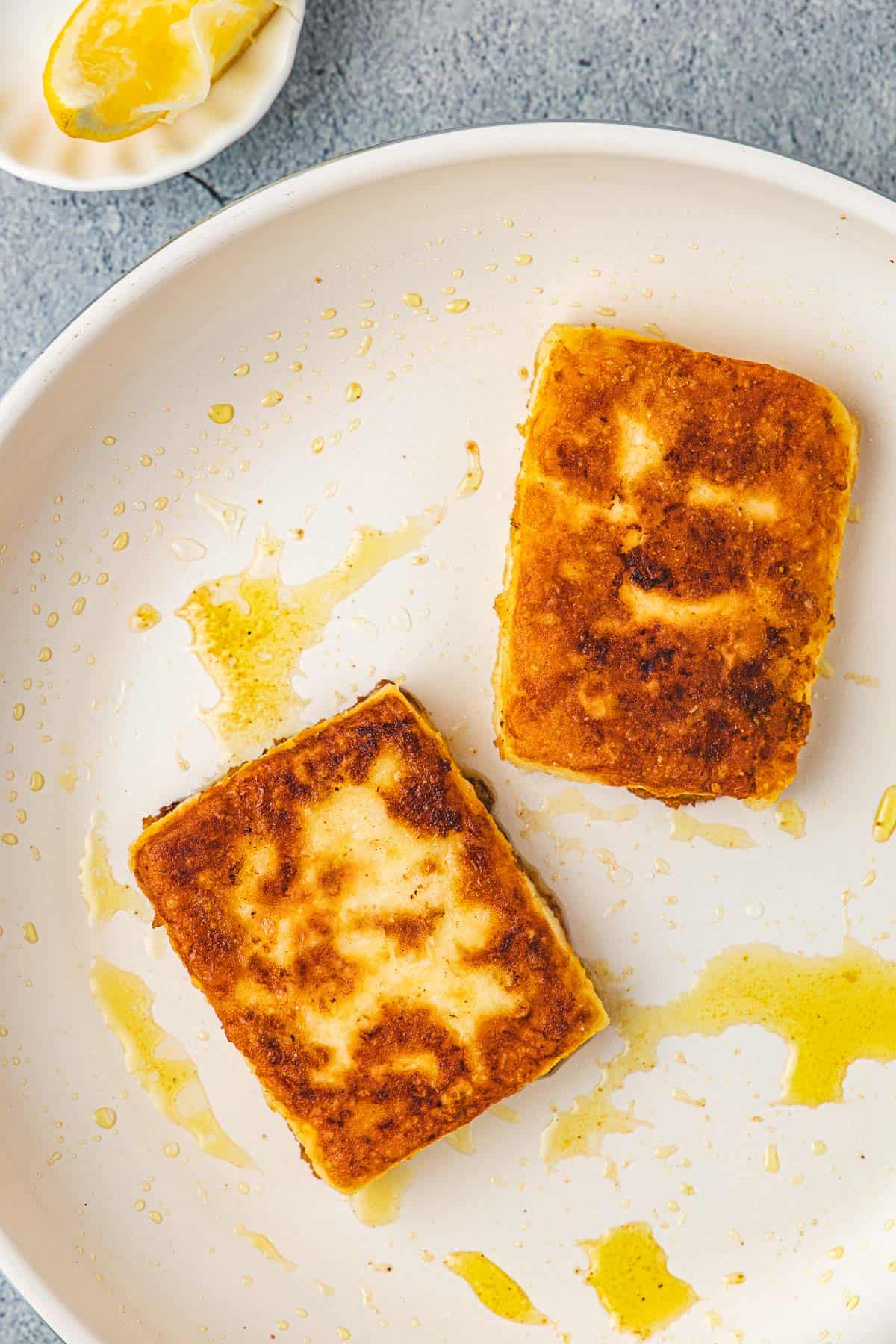 How to Serve Fried Greek Cheese
Enjoy this delicious traditional Greek starter with some crusty bread to mop up the delicious pan sauce naturally created by the oil and lemon juice.
Saganaki is always served as a starter. It's often part of a large mezze spread to share with everyone around the table before the main dishes come.
To round out the meal, serve this fried Greek cheese with other delicious regional treats like keftedes (Greek meatballs), dolmades (stuffed grape leaves), zucchini fritters, tzatziki, and spanakopita.

Throw in a nice seasonal salad like the peasant salad, traditional Greek salad, or a classic maroulosalata. With such an amazing spread of small plates to share, your guests won't miss the main course!
Browse all Mediterranean Recipes.
Visit Our Shop.
Try These Crispy Cheesy Delights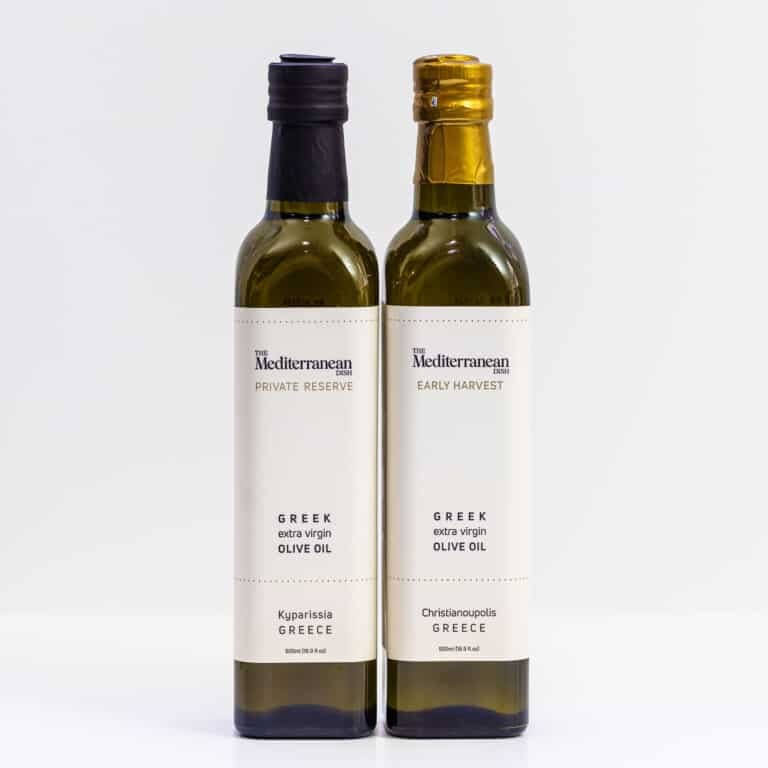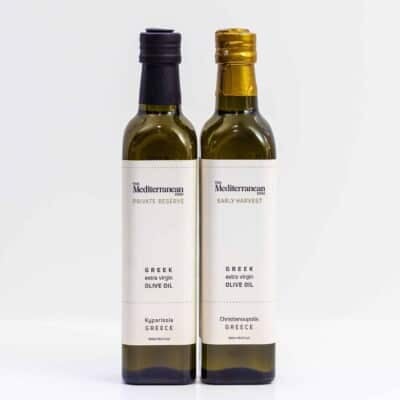 Greek Cheese Saganaki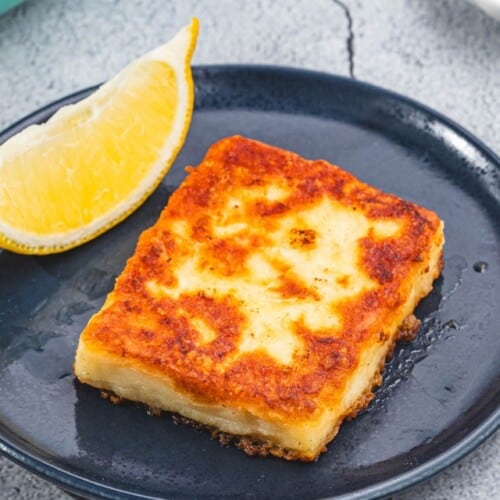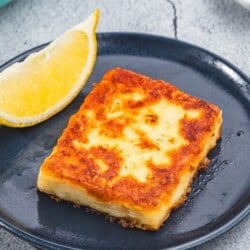 Saganaki is a beloved Greek appetizer that's easy to make at home. Simply fry cheese until it's golden brown and melted and serve with a squeeze of lemon. If you're feeling festive, treat your guests to a (totally optional) tableside flambé.
Ingredients
1

(8 ounce) block semi-hard cheese like kefalotyri, graviera, or pecorino (see note)

All purpose flour,

for coating

Freshly ground black pepper

¼

cup

extra virgin olive oil

1

small lemon,

cut into wedges

½

ounce

brandy or ouzo,

to flambé (optional)
Instructions
Prepare the cheese. Use a sharp knife to slice the cheese into two ½-inch-thick slices. Rinse each slice with room temperature water, then pat them dry slightly. (This will help the flour adhere to the cheese.)

Coat the cheese in flour. Spread flour onto a rimmed plate and season with black pepper. Dredge the two pieces of cheese in the flour, coating all over.

Fry the cheese. Heat the olive oil in a nonstick skillet over medium heat. When the oil is hot (but not smoking), carefully arrange the slices side by side in the skillet. Pan-fry the cheese for a couple of minutes, until golden brown on the bottom. Lower the heat slightly so it does not brown too fast. Flip the cheese and sear until the other side is golden brown.

Finish and serve. Squeeze some lemon juice over the cheese and serve at once. Or, to flambé the cheese, pull the pan off the heat. Pour the brandy into the skillet and carefully ignite it. Once the alcohol burns off, squeeze some lemon juice on top and enjoy!
Notes
You can use feta cheese, but it will cook more quickly. Make sure to keep an eye on things and take it off the heat as soon as it's golden brown.
Try to get a block of cheese (about 4x4-inches), instead of a wedge of cheese. This will allow you to cut it into two thick slices of even thickness. You can also ask the cheesemonger to cut the block for you into two, ½ inch-thick slices of cheese (4 ounces each). To make four individual portions, you can cut each slice into two triangles, for a total of four triangles.
Visit our shop to browse quality Mediterranean ingredients including olive oils, honey, jams and spices.
Nutrition
Calories:
136.3
kcal
Carbohydrates:
2.5
g
Protein:
0.4
g
Fat:
13.6
g
Saturated Fat:
1.9
g
Polyunsaturated Fat:
1.4
g
Monounsaturated Fat:
9.9
g
Cholesterol:
0.3
mg
Sodium:
3.8
mg
Potassium:
37.7
mg
Fiber:
0.8
g
Sugar:
0.7
g
Vitamin A:
7
IU
Vitamin C:
14.3
mg
Calcium:
9.8
mg
Iron:
0.2
mg