Bravas sauce (salsa brava) is easy to make with a few simple pantry ingredients like extra virgin olive oil, smoked paprika, and tomato paste! Perfect for drizzling atop hot fried potatoes to make delicious patatas bravas. But you'll find many uses for this delicious red sauce.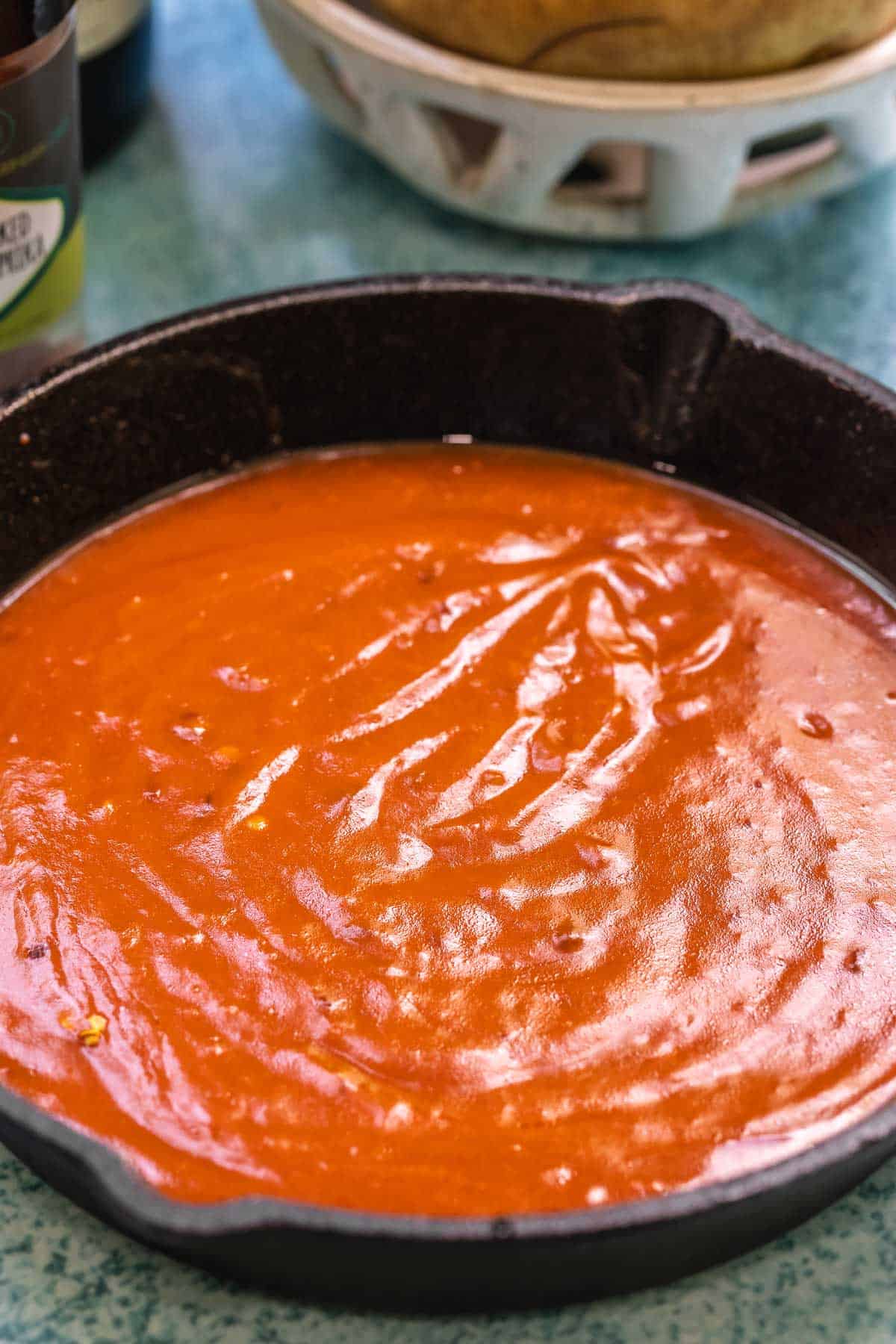 You might recognize bravas sauce from the popular Spanish tapa patatas bravas: olive oil fried potatoes smothered in a spicy red sauce known as salsa brava.

Classic bravas sauce from Madrid is bold, slightly spicy, garlicky, and smoky, thanks to a good bit of smoked paprika. You can make it at home with just a few simple ingredients you may already have in your pantry. And while bravas sauce is traditionally served over potatoes, you can drizzle this piquant condiment as a finishing sauce on chicken or fried fish, or even ground beef pita sandwiches for a little kick.
Trust me, once you try it, you will find other uses for this delicious sauce.
Table of Contents
What is bravas sauce?
Bravas sauce (or salsa brava) is a spicy condiment from Madrid, Spain. It is typically used over the popular tapa patatas bravas, which is ubiquitous throughout Spain (and, really, you won't go to a tapas bar in the US and not see it on the menu, either!). Patatas bravas consists of olive oil fried cubes of potato that are drenched in this vibrant bravas sauce.

To be clear, bravas sauce is not that spicy. But what gives it a bit of a kick and a deep smoky flavor is pimentón, which is smoked Spanish paprika. Often, both pimentón picante (hot smoked Spanish paprika) and pimentón dulce (sweet smoked Spanish paprika) are used in salsa brava recipes.

Bravas sauce should also be a smooth sauce: no chunks of garlic or shallots; rather, it should be creamy, not too runny, but still thin enough to drizzle.

Tomatoes are a point of contention in bravas sauce recipes. Some claim the sauce should contain tomatoes. Others say tomatoes have no place in the sauce, and that smoked paprika alone should give the sauce its color. For this recipe, I used a little tomato paste to help with the consistency of the sauce, as well as to add color and umami.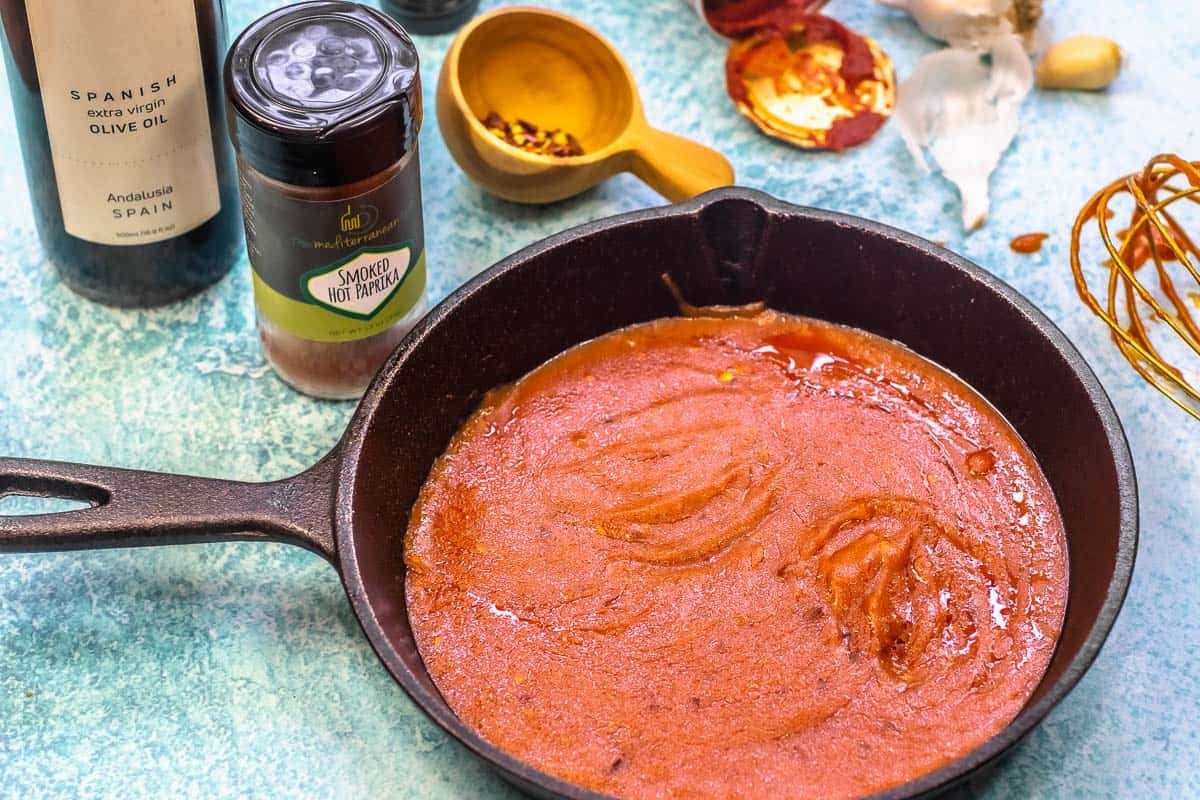 What do you need to make salsa brava?
Nothing fancy goes into this robust red sauce. You likely have all these ingredients in your kitchen already! Here's everything you'll need to make bravas sauce:
Extra virgin olive oil: EVOO is one of the most important ingredients in this sauce — we use ¼ cup of it! And it does affect the flavor, so try to use the best quality olive oil you can. Since this is a Spanish recipe, I opted for our Hojiblanca Spanish Extra Virgin Olive Oil. This fruity, bitter, slightly pungent oil works well in this recipe.
Garlic cloves: Slice up some garlic to cook in the olive oil and infuse it with garlicky flavor. You'll need to remove the garlic once it's cooked, which is why we slice, not mince, it here.
Tomato paste: While absent from some salsa brava recipes, you'll find tomato in most modern iterations of the sauce. Tomato paste not only adds vibrant color to the sauce, but it also adds some acidity and umami.
Smoked paprika: Another key ingredient in bravas sauce, smoked paprika acts as the main flavor-maker. It provides depth and a very subtle heat. I use our Smoked Spanish Paprika in this recipe, since most of the heat comes from red pepper flakes. However, if you're a fan of spicy foods, you could try our Hot Smoked Spanish Paprika in addition to the red pepper flakes for a stronger kick.
Crushed pepper flakes: I used a teaspoon of red pepper flakes, but you can use more or less depending on your preference.
Cornstarch: Cornstarch is a thickening agent, and is responsible for the drizzly-but-not-runny consistency of the bravas sauce. Note that the sauce will continue to thicken as it sits, so while you can add a little more cornstarch if the sauce is too runny, adding too much will give you a sauce that is far too thick (it might turn into more of a spread).
Vegetable broth: While an entire cup goes into the saucepan, you'll whisk it continuously to incorporate the broth, which will give you a delightfully smooth consistency after a few minutes.
Sherry vinegar or red wine vinegar: Vinegar adds acidity that instantly brightens the sauce. I used red wine vinegar.
How to make bravas sauce
Minimal prep required to make this flavorful sauce! Once you slice up a couple of garlic cloves, you're ready to start cooking! Here's how to make salsa brava:
Heat the olive oil and cook the garlic. Add ¼ cup extra virgin olive oil to a saucepan and turn the heat to medium, then add 2 sliced garlic cloves. Toss until the garlic is golden and the oil starts to shimmer. Make sure the garlic does not get browned; you are only looking for it to infuse the oil with some flavor. This will only take a couple of minutes. Using a slotted spoon or something similar, carefully remove the garlic and discard.
Make the sauce. Lower the heat and add 1 tablespoon tomato paste, 2 teaspoons smoked paprika, 1 teaspoon crushed red pepper flakes, and 1 tablespoon cornstarch. Whisk to combine, then slowly whisk in 1 cup vegetable broth until it is incorporated. As you continue to whisk, you'll notice that the sauce becomes smooth and somewhat creamy. Cook the sauce for about 10 minutes or so, watching for it to thicken a bit as you whisk, then add ½ to 1 teaspoon red wine vinegar. Whisk again and remove from the heat.
Store. If you're making patatas bravas, drizzle the salsa brava over the potatoes. If not, transfer the sauce to a mason jar. Let the sauce cool down before refrigerating.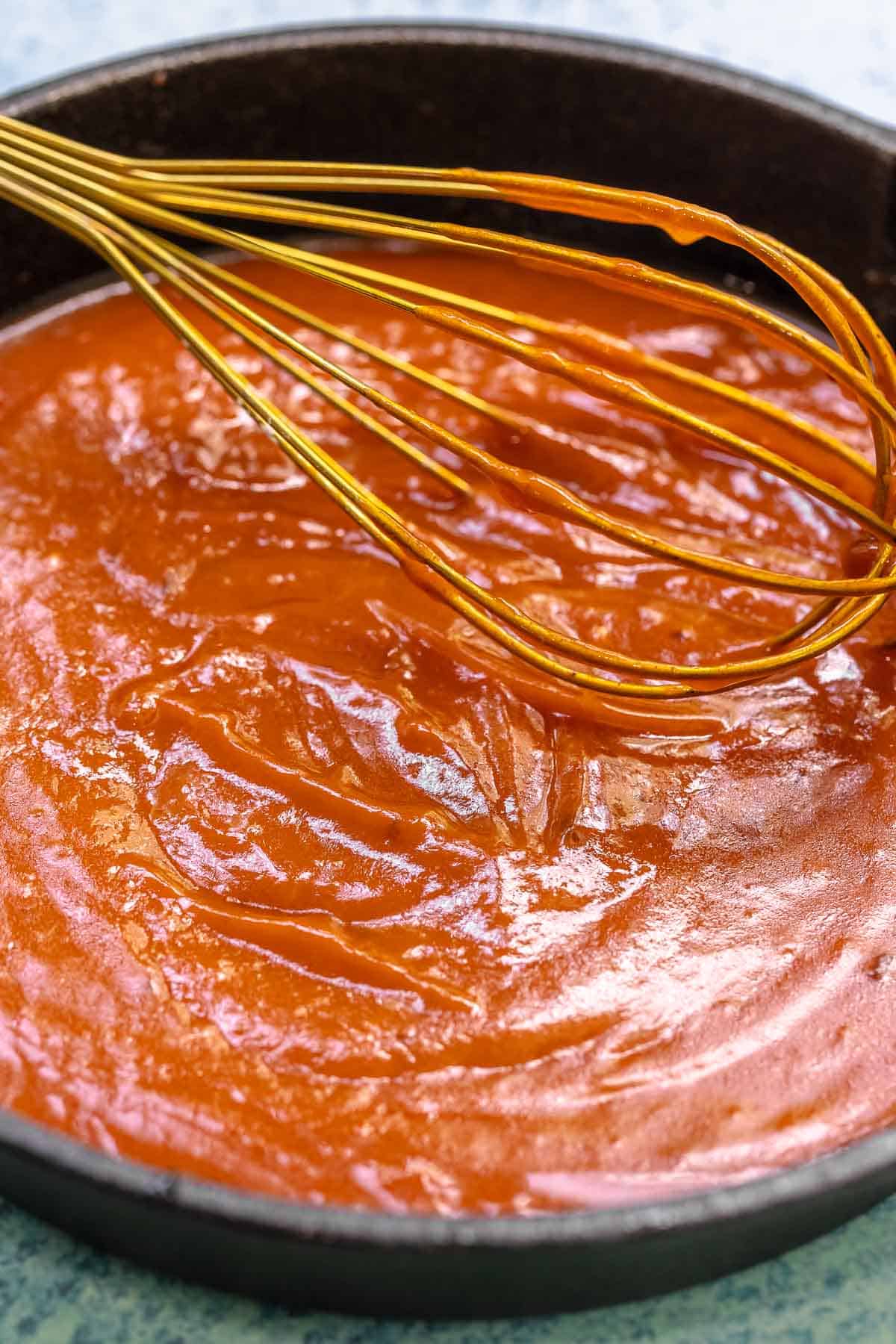 How to use it
To my knowledge, in Spain, you won't find bravas sauce used in many ways other than over patatas bravas. But I love the bold and smoky flavor of this sauce so much that I have found other uses for it.

You can drizzle it over meats, chicken, or even pan-seared salmon. You can also use it over veggies like my sauteed cabbage.

Salsa brava is also great to use as a dipping sauce, since it thickens a bit as it sits!
Tips for the best salsa brava
Keep these tips in mind to make the perfect bravas sauce recipe:
Remove the cooked garlic from the oil to keep the sauce smooth. There shouldn't be chunks of garlic in this sauce, which is a mistake many bravas sauce recipes make. Once you cook the garlic enough so the oil is infused with flavor, remove the garlic slices from the oil.
Whisk regularly to ensure perfect consistency. Whisking the ingredients helps to incorporate the cornstarch well so that the sauce thickens.
Do not use too much cornstarch to thicken the sauce. About 1 tablespoon of cornstarch (2 tablespoons at most) will give you a velvety, perfectly thick salsa brava. The sauce will continue to thicken as it sits. Too much cornstarch will give you a goopy mixture that you won't be able to drizzle.
Control the spice level by using smoked paprika and a dash of red pepper flakes. Bravas sauce is not meant to be fiery hot. If you haven't made it before, use smoked paprika and a teaspoon or so of red pepper flakes to start. For more heat, add more, or combine it with some of our Hot Smoked Paprika.
How to store and reheat bravas sauce
Bravas sauce will keep well in a tightly closed mason jar in the refrigerator for up to 4 days. It will thicken as it sits, so you will need to thin it out with a little broth or water when you reheat.
To reheat this sauce, pour it into a pan over medium heat and whisk in broth or water (1 tablespoon at a time) until you reach the right consistency.
Can you freeze it?
You can also freeze salsa brava. Once the sauce cools, transfer it to a freezer-safe container and freeze for up to 3 months. Defrost overnight in the fridge, before reheating it the same way I explained above.
More easy sauce recipes
Featured From Our Shop!
If you're looking for smoky, deep flavor and subtle heat, look no further than The Mediterranean Dish Smoked Paprika! Use it in sauces, dips, and to season meat and chicken.
Browse all Mediterranean recipes.

Visit Our Shop.
Bravas Sauce (Salsa Brava)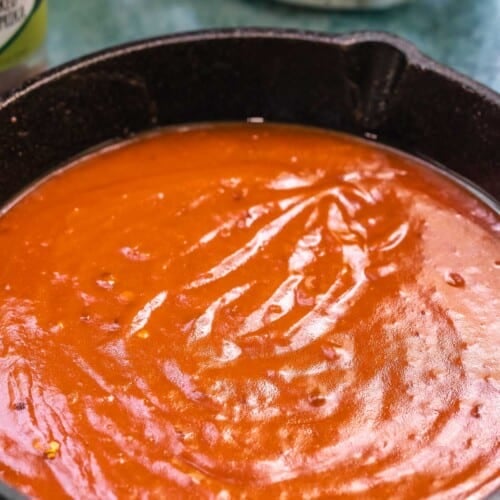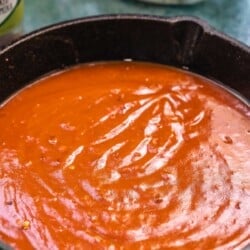 You might recognize bravas sauce from the popular tapa, patatas bravas: fried potatoes smothered in a spicy red sauce. What you might not know is that the sauce takes just a few ingredients, very little effort, and barely any time to whip up! And while it's traditionally served on potatoes, you can try this piquant condiment on so many things, like fish or even vegetables! This recipe will yield just over a cup of sauce.
Ingredients
¼

cup

Extra virgin olive oil

2

garlic cloves,

sliced

1

tablespoon

tomato paste

2

teaspoons

smoked paprika

1

teaspoon

crushed pepper flakes,

more or less to your liking

1

tablespoon

cornstarch

1

cup

vegetable broth

½ to 1

teaspoon

sherry vinegar or red wine vinegar,

I used red wine vinegar
Instructions
In a medium pan or skillet, heat about ¼ cup extra virgin olive oil over medium heat. Add the garlic slices and cook, tossing around until the garlic has turned golden brown and the oil is just shimmering (about a couple of minutes).

Remove the garlic from the pan and discard or keep for other uses.

Lower the heat and add the tomato paste, smoked paprika, red pepper flakes and cornstarch, whisk to combine. Slowly add the vegetable broth and keep whisking until the broth is incorporated and the sauce has a smooth and somewhat creamy consistency. Add ½ to 1 teaspoon red wine vinegar, whisk again, and remove from the heat.

Transfer to a serving bowl or drizzle over your patatas bravas or transfer to a mason jar to store. Allow the sauce to cool before transferring to the fridge.
Notes
This sauce is meant to be somewhat creamy but not too thick. And it will get thicker as it sits. If it is too runny as you are finishing it, you can add a little bit more cornstarch but be careful as it can get too thick.
For a less spicy option, use less red pepper flakes. For more heat, use more, or add some hot smoked paprika.
How to use bravas sauce: The traditional way to use salsa brava is when you make patatas bravas. But I like to use it on pan-seared salmon or sauteed cabbage as well!
How to store and reheat salsa brava: Store the sauce in a mason jar for up to 4 days. To reheat, transfer it to a pan and reheat over medium heat. It will have thickened in the fridge, so feel free to whisk in some water or broth (1 tablespoon at a time) until you reach the consistency you want.
Visit Our Shop for quality Mediterranean ingredients including extra virgin olive oils, spices, and grains.
Nutrition
Calories:
34.9
kcal
Carbohydrates:
1.2
g
Protein:
0.1
g
Fat:
3.4
g
Saturated Fat:
0.5
g
Polyunsaturated Fat:
0.4
g
Monounsaturated Fat:
2.5
g
Sodium:
69.1
mg
Potassium:
19.9
mg
Fiber:
0.2
g
Sugar:
0.3
g
Vitamin A:
206.8
IU
Vitamin C:
0.3
mg
Calcium:
2.1
mg
Iron:
0.1
mg