Tahini is an incredibly rich and creamy paste made from finely ground sesame seeds. This Mediterranean and Middle Eastern super ingredient is known for giving hummus a luxuriously smooth texture and nutty flavor. But you can also use tahini in smoothies, sauces, dressings, and even brownies.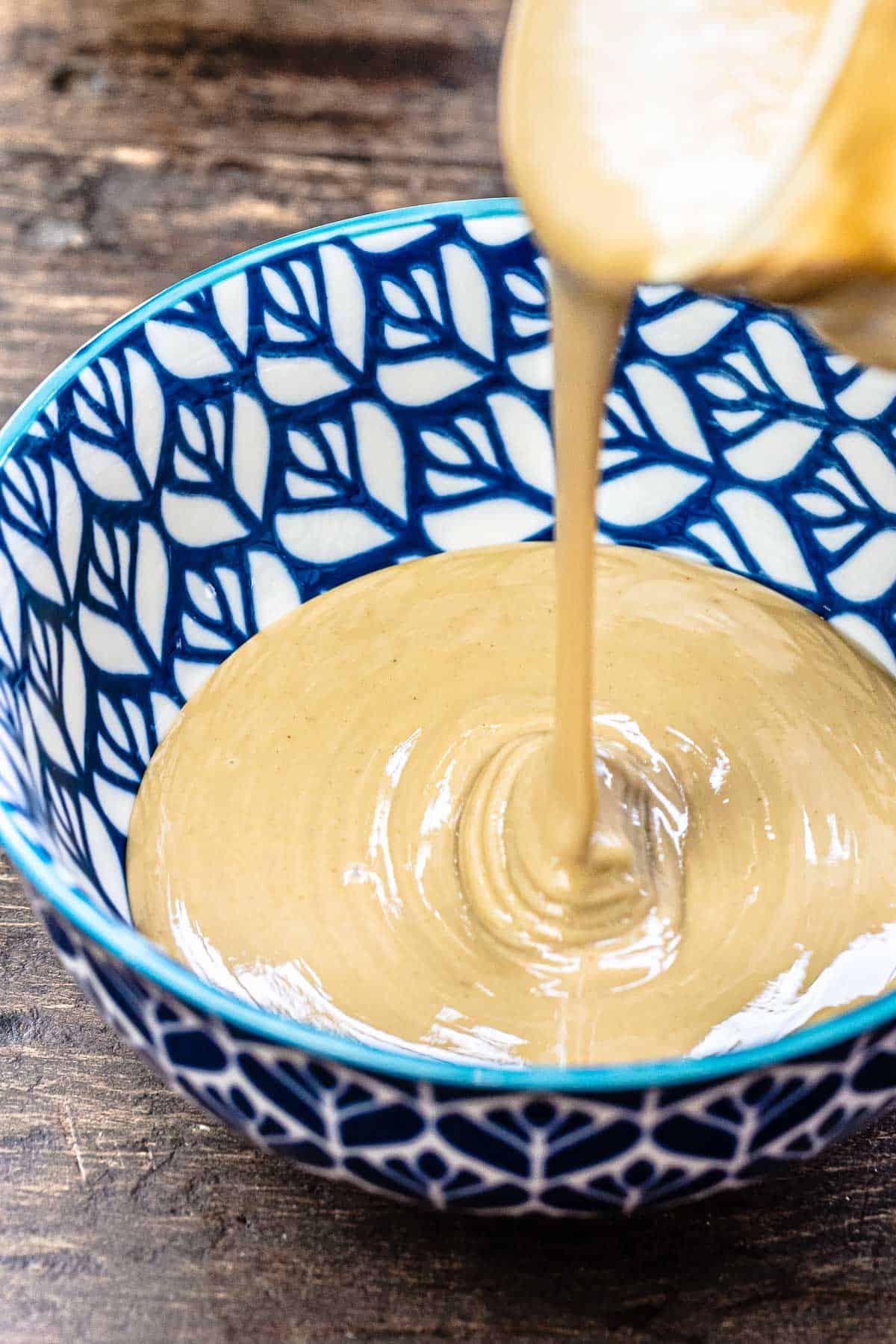 Tahini is a paste made from finely grinding sesame seeds until it creates a buttery, smooth, vegan paste used in both sweet and savory dishes. It's commonly used in Middle Eastern and Mediterranean cooking, but has become more commonplace throughout Europe and much of the U.S.

Even with the rapid growth and interest, it's important to remember not all tahini is the same. Good tahini should taste rich, nutty, and earthy. While the bad stuff tastes bitter and chalky. This guide to tahini will explain what to look for when buying it, how to store it, and how to use it. (Yes, it's great in hummus, but there is so much more tahini can do!)
Tahini is high in protein, low in carbs—just 2 tablespoons has 8 grams of protein, 4 grams of fiber and 5 grams of carbohydrates. Plus, it's a great swap for those who suffer from peanut allergies. Although I wouldn't use it in place of peanut butter on a PB&J sandwich you can (and should) add it to so many other recipes to create that nutty flavor.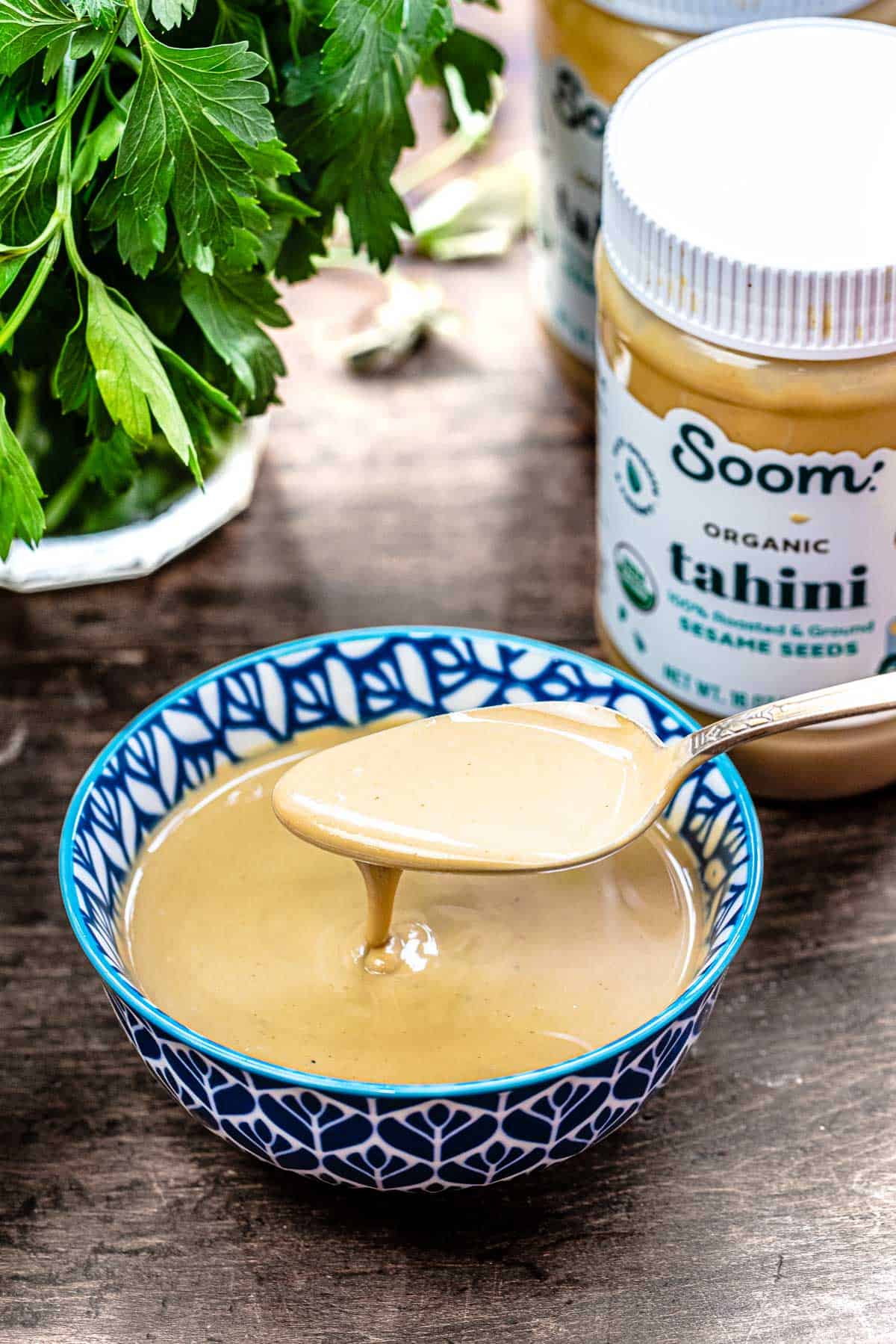 Table of Contents
What Is Tahini?
Tahini is made from stone-ground sesame seeds. Once ground the seeds and their natural oils create a paste known as tahini. It can be made with hulled white or black sesame seeds which are either roasted or unroasted.
A lightly roasted tahini with hulled white seeds is my personal preference, as it tends to be the smoothest. Some like a raw or black tahini for baking, as they tend to boast the strongest flavor (though they can be quite bitter).
Similar to peanut butter or almond butter, tahini can come plain or flavored. In our shop we sell plain, vanilla bean, and chocolate tahini.

When making most recipes on the site, I use Sooms' plain tahini then add my own variations with herbs and spices. But I do love chocolate tahini drizzled over strawberry frozen yogurt.
How to Buy Quality Tahini
Tahini is in the peanut butter or international food aisle of most grocery stores, but I had a difficult time finding high quality tahini in my local supermarkets which is why we started carrying Soom in our shop.
When shopping for tahini look for:
A homogenized, uniform paste. A little separation is normal—a thin layer of seed oil on the top is fine—just go ahead and stir it back together. If you've ever used natural peanut butter it's similar.
Check the sell by date if there is one.
If you've picked some up at the store and tried it and it's bitter in a bad way—like kale (sorry kale!) it's probably old or just not made well. I would try another brand. It should have a very slight, deeply toasted flavor.
As far as brands go, Soom is the best I've found in the US. It's made from the highest quality organic sesame seeds, lightly roasted and crushed. I use it so that's why I sell it. I'm not the only one who feels this way about Soom. Famed chef, Michael Solomonov, uses the same brand in his restaurants. You can find Soom in some well-stocked supermarkets, but you can also find it in our shop and we can ship it straight to your door.
What Does Tahini Taste Like?
Let's talk about what tahini should taste and feel like. It should be slightly thinner than peanut butter, but still have a creamy texture, and the flavor should be predominantly of toasted sesame. It should feel velvety, smooth and rich. The flavor should be savory and nutty. If it tastes bitter and chalky, it's not good tahini.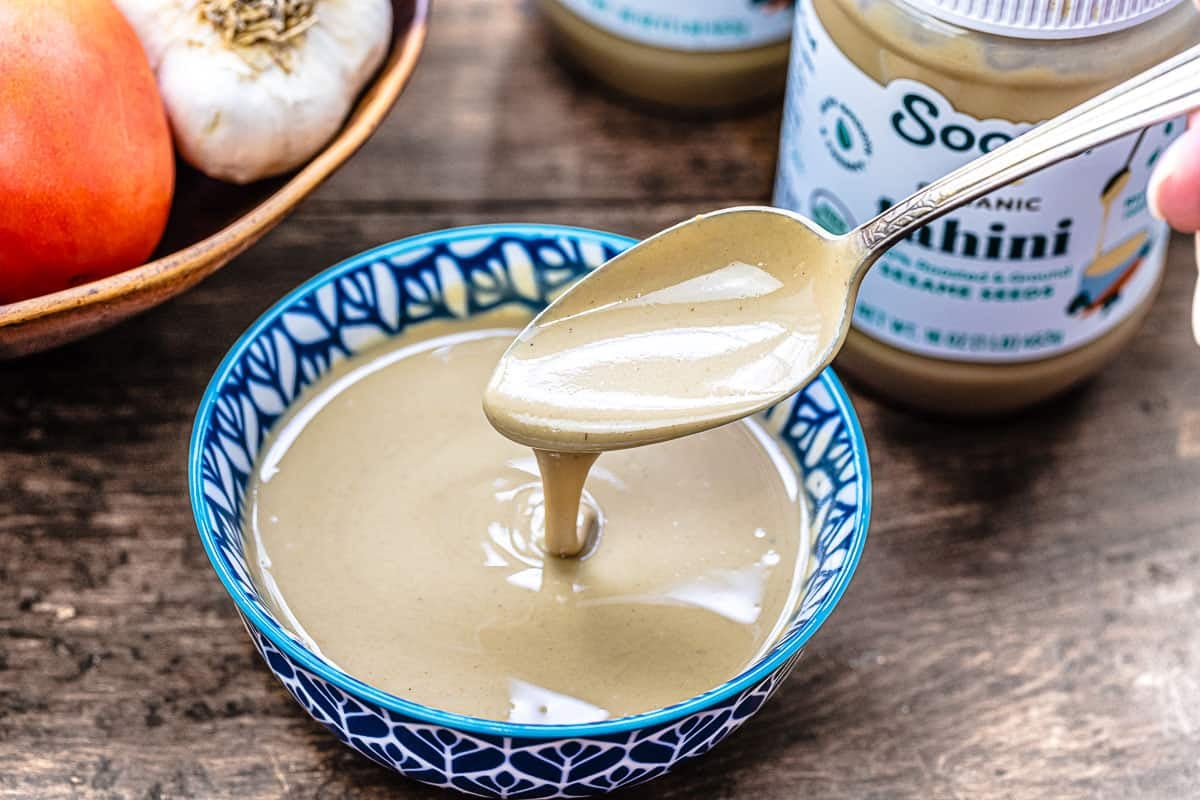 Tahini Recipes You'll Love
I use tahini in all of the recipes below and they are some of my favorites on the site, but get creative in your own kitchens.
How to Store
Storing tahini at room temperature ensures the smoothest consistency. I like to keep mine upside down in my fridge and give it a good stir with a clean spoon before using. Jars never last long in my house!
Before it's opened, store tahini in a cool, dry pantry.
Once opened if you don't use it very often, store it in your refrigerator so it stays fresh. Like any nut or seed with oils the oil can go rancid. Refrigeration helps to slow that process keeping it fresher for longer.
If it separates, try to stir it together with a spoon. If that proves too difficult, use a rubber spatula to scrape the jar into a blender. Blend until it's completely combined.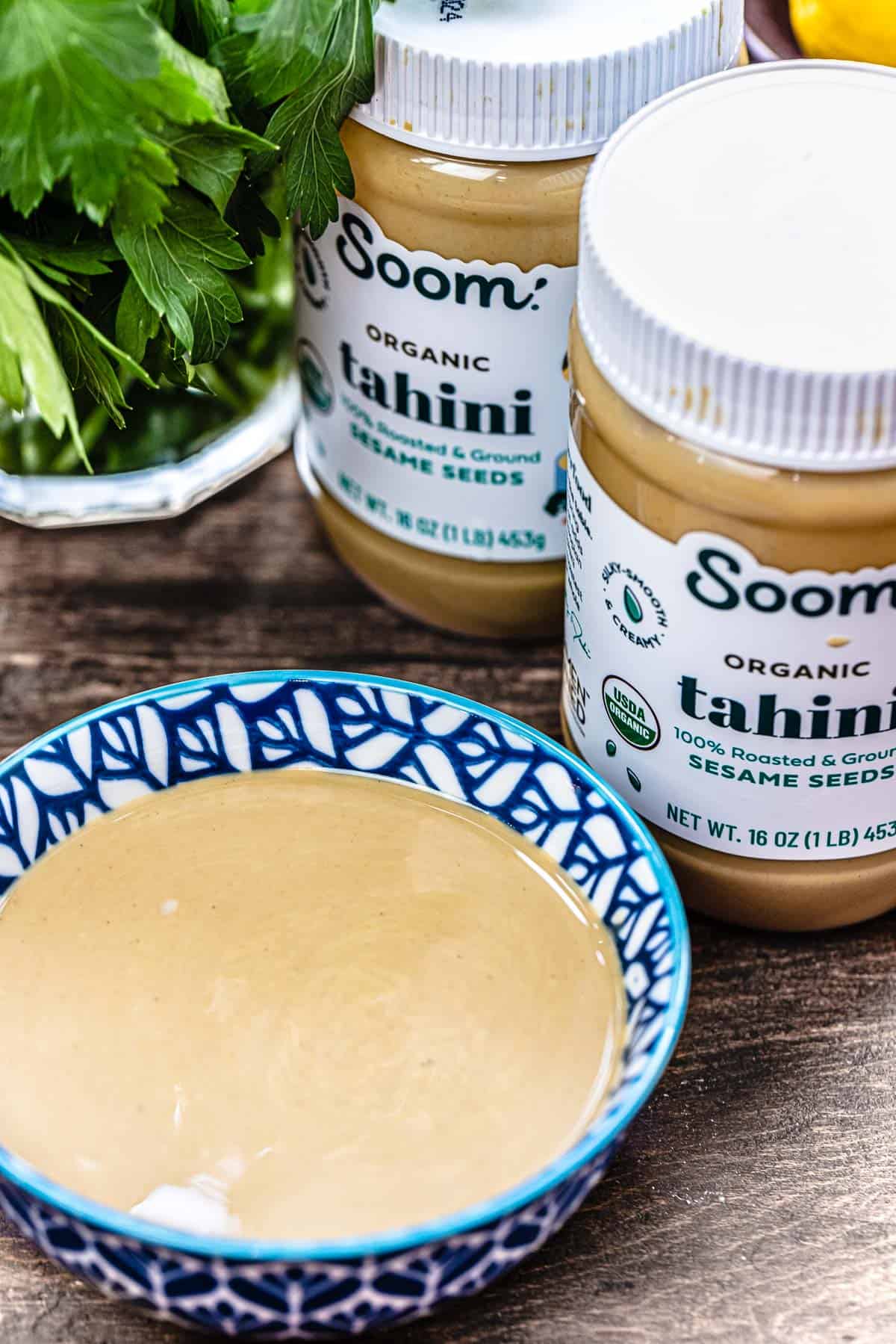 Bundle And Save
Try Soom's line of world-class Tahini. Vanilla Bean, Original, and Dark Chocolate with Sea Salt.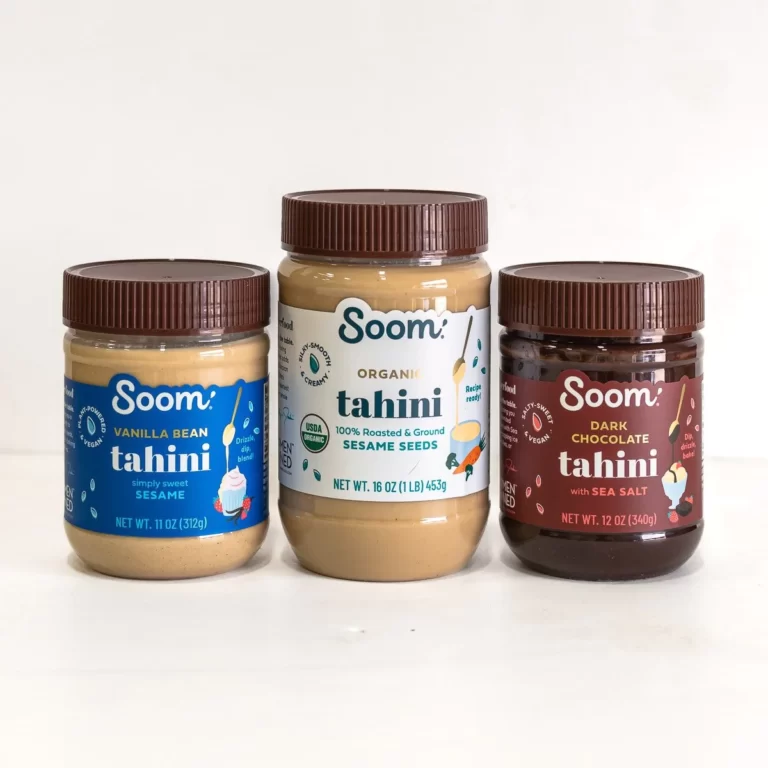 Sweet & Savory Recipes We Love
Browse all Mediterranean recipes.

Visit Our Shop.