Smooth, creamy Roasted Butternut Squash Soup, layered with subtly sweet and nutty flavors. It is so comforting, you won't believe it is vegan! Be sure to check out my tips for how to make butternut squash soup perfectly every time!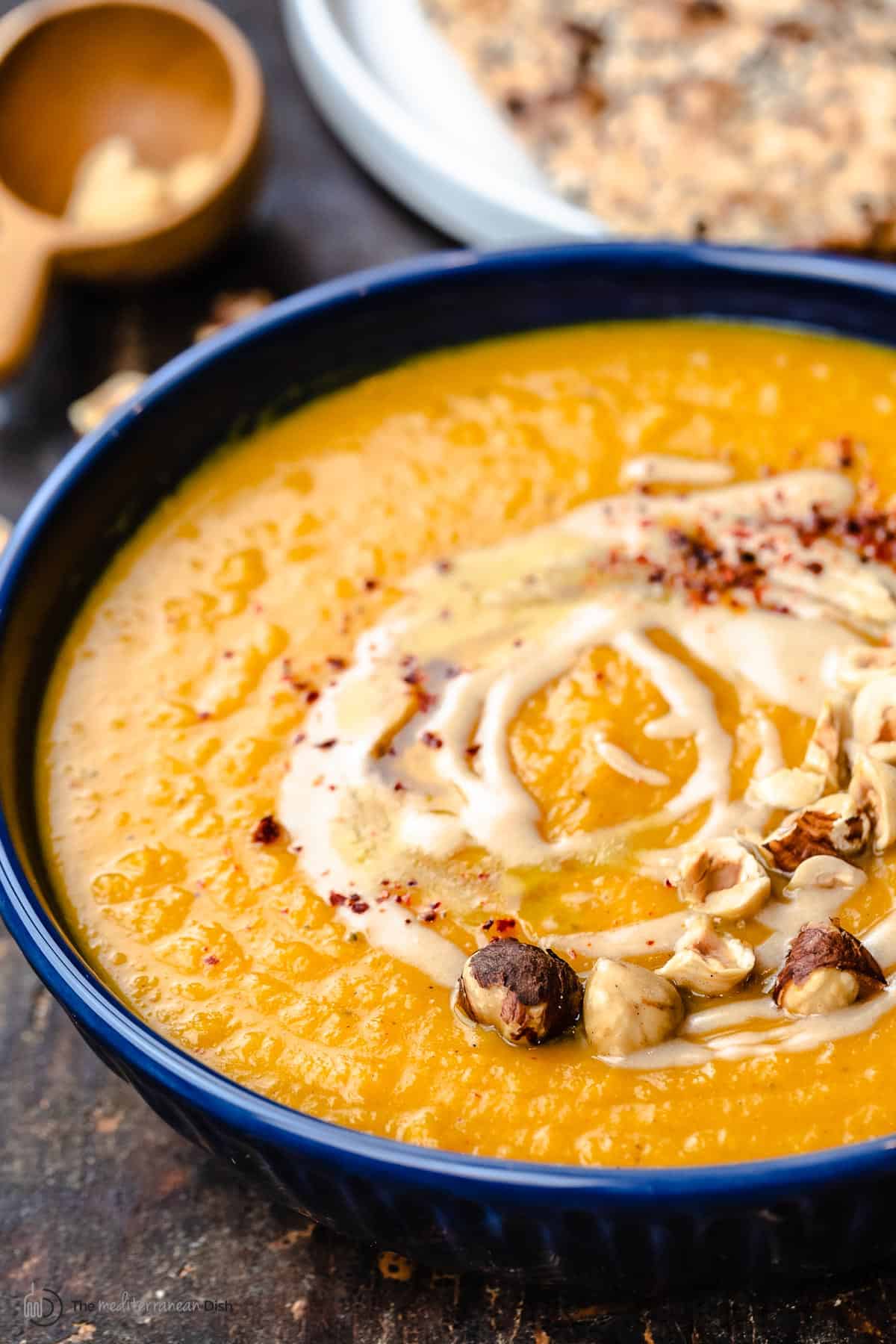 The secret to extra creamy vegan butternut squash soup!
This roasted butternut squash soup takes on a tasty Mediterranean twist, and it is extra creamy and comforting, you won't even know it's vegan!
This easy recipe builds flavor immediately by roasting the butternut squash with some red onions and garlic, coaxing out the veggies' natural sweetness. (I do something similar in my simple roasted butternut squash pasta recipe.) To season the soup, I use a blend of warm spices including nutmeg, cinnamon, Aleppo pepper, and a dash of turmeric. But there is one big secret ingredient that makes all the difference in this cozy soup: Tahini!
That's right! A stir of rich, nutty tahini paste (made from roasted sesame seeds) adds heft, creaminess, and nutrition, taking your average butternut squash soup to a whole new level of delicious! I promise you it will not change the flavor but will certainly enhance it!
I served this soup to a group of friends, with a garnish of chopped hazelnuts and more tahini that's been stirred with honey. Everyone loved it, and they were surprised that it was a truly vegan butternut squash soup.
If there was ever a soup meant to be enjoying during the cool fall months, this is it! Grab yourself a butternut squash and some of my favorite tahini and make this ASAP!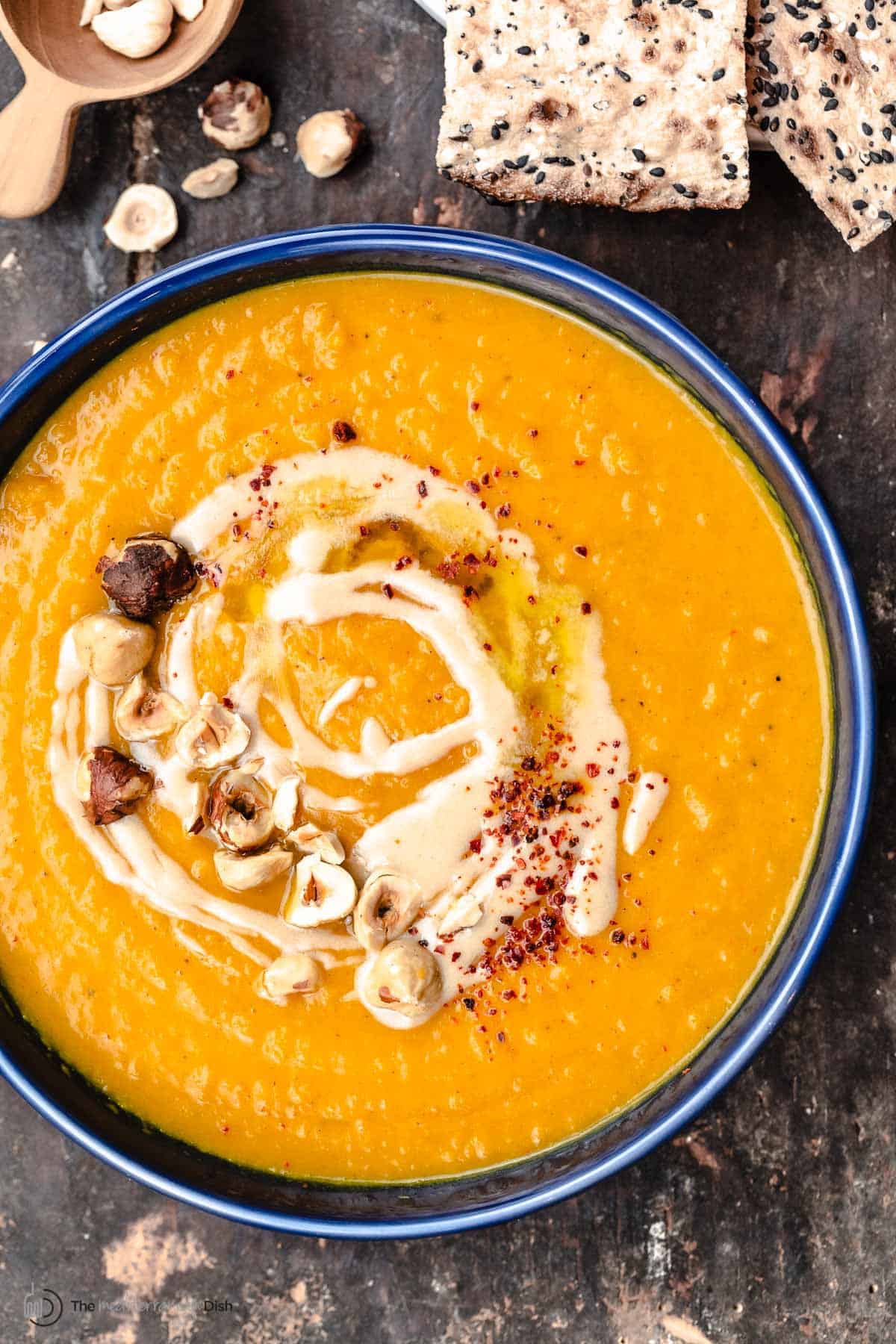 What you'll need to make this recipe
This vegan squash soup is made with just a handful of ingredients and a few warm spices.
Butternut squash - You'll want to choose a squash that's approximately 3 pounds for this recipe.
Red onion - Red onion is roasted with the squash to add a sweetness and depth to the flavor.
Garlic - Garlic is also roasted with the squash.
Salt and pepper
Spices - I used cinnamon, nutmeg, ground turmeric and red pepper flakes. Aleppo pepper can be used instead of red pepper flakes.
Tahini - Be sure to use a quality tahini, I like this one.
Honey - Look for a pure, raw honey. I used this Greek honey.
Hazelnuts - Lightly crushed for a garnish.
How to peel butternut squash?
Peeling and preparing a whole butternut squash for roasting is easier than most people think, and it will give you far better results than the frozen stuff. Here is what you need to do:
Trim the ends. Trim the ends using a good chef's knife. Stand the butternut squash on one of the flat trimmed sides on your cutting board.
Peel the butternut squash. The skin on butternut squash is thick and hard to peel, to make it easier, go ahead and poke the butternut squash all over with a fork, then stick it in the microwave for 2 to 3 minutes. Handle carefully as it will be hot. From here, use a sharp Y peeler and peel, working downwards from the top of the squash to the bottom (peel off long strips).

How to cut butternut squash into cubes?


For this recipe, you'll need to cut the butternut squash into small chunks or 1-inch cubes. Once you peel the squash, here is what you do to cut it:
Cut the squash in half. Stand the squash up on one of the flat cut sides and carefully cut down the middle using your sharp chef's knife. (If you followed my tip for microwaving before peeling, your knife should go through easily when you're ready to cut).
Seed. Grab a spoon and simply scoop out the butternut squash seeds (you won't need the seeds for this recipe, so you can discard them or roast them for a snack later).
Cut into cubes. You'll first slice the butternut squash into slices (like half moons) and then cut into chunks or cubes.
How to make roasted butternut squash soup
Once you prepared and cut your squash into cubes or 1-inch chunks, you're ready to make this easy vegan butternut squash soup. Here is how:
Roast the squash. Arrange the squash cubes and red onion chunks on a large sheet pan. Season with salt and pepper and a drizzle of olive oil. Spread evenly on the pan. Wrap the garlic in foil with a drizzle of olive oil. Roast for 30 minutes. The butternut squash should be tender and cooked through and charred in some parts.
Blend. Allow the squash to cool slightly then transfer to a food processor. Add about two cups of broth, taking care not to overfill the food processor. Blend until smooth.
Simmer. Transfer the mixture to a large pot. Add the remaining broth, spices and tahini paste. Simmer until fully warmed through.
Garnish and serve. In a separate bowl, combine a little more tahini paste with honey. Drizzle over the soup and add crushed hazelnuts. Serve!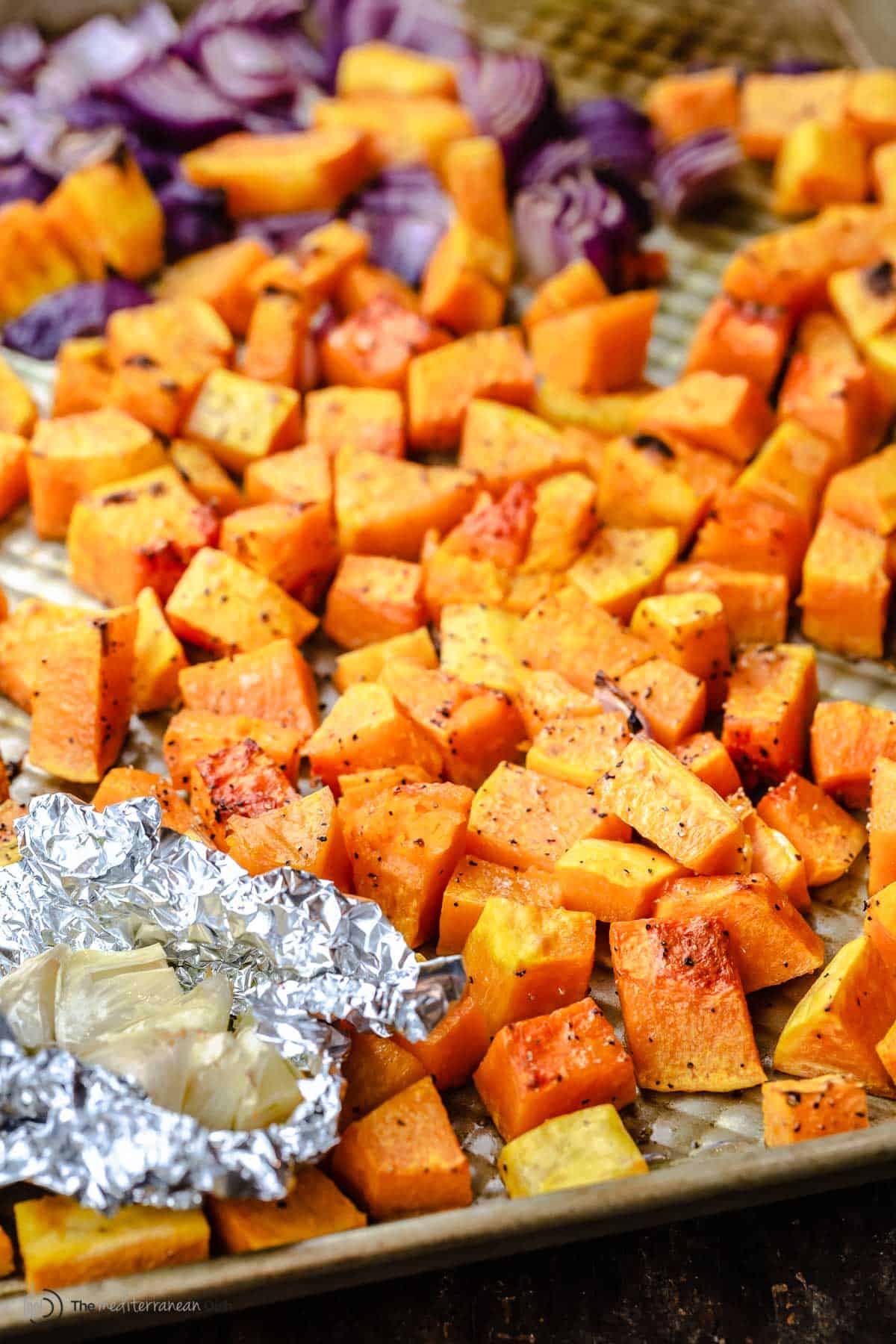 Tips for success
For perfectly flavored, creamy butternut squash soup here are a few things to keep in mind.
Allow the squash enough time to roast and char in some places. When roasting, don't be concerned if some pieces of squash char, this is actually ideal and adds more flavor to the soup.
Use a quality tahini. As I've mentioned in other posts, not all tahini is created equal and a poor quality tahini will definitely affect the flavor of this soup. I always use and recommend this tahini.
Make ahead. This butternut squash soup tastes even better the next day! If you need to, you can make the recipe a day in advance and refrigerate. Warm it over medium heat (you may need to add more broth, if the soup gets too thick in the fridge).
What to serve with this soup
With the tahini-honey topping and crushed hazelnuts, I don't find the need to anything else to this deliciously creamy vegan soup. It's ready to go as a starter or a complete meal on its own.
If you want to serve this roasted butternut squash soup with something more, you could always do some pita grilled cheese or a big salad!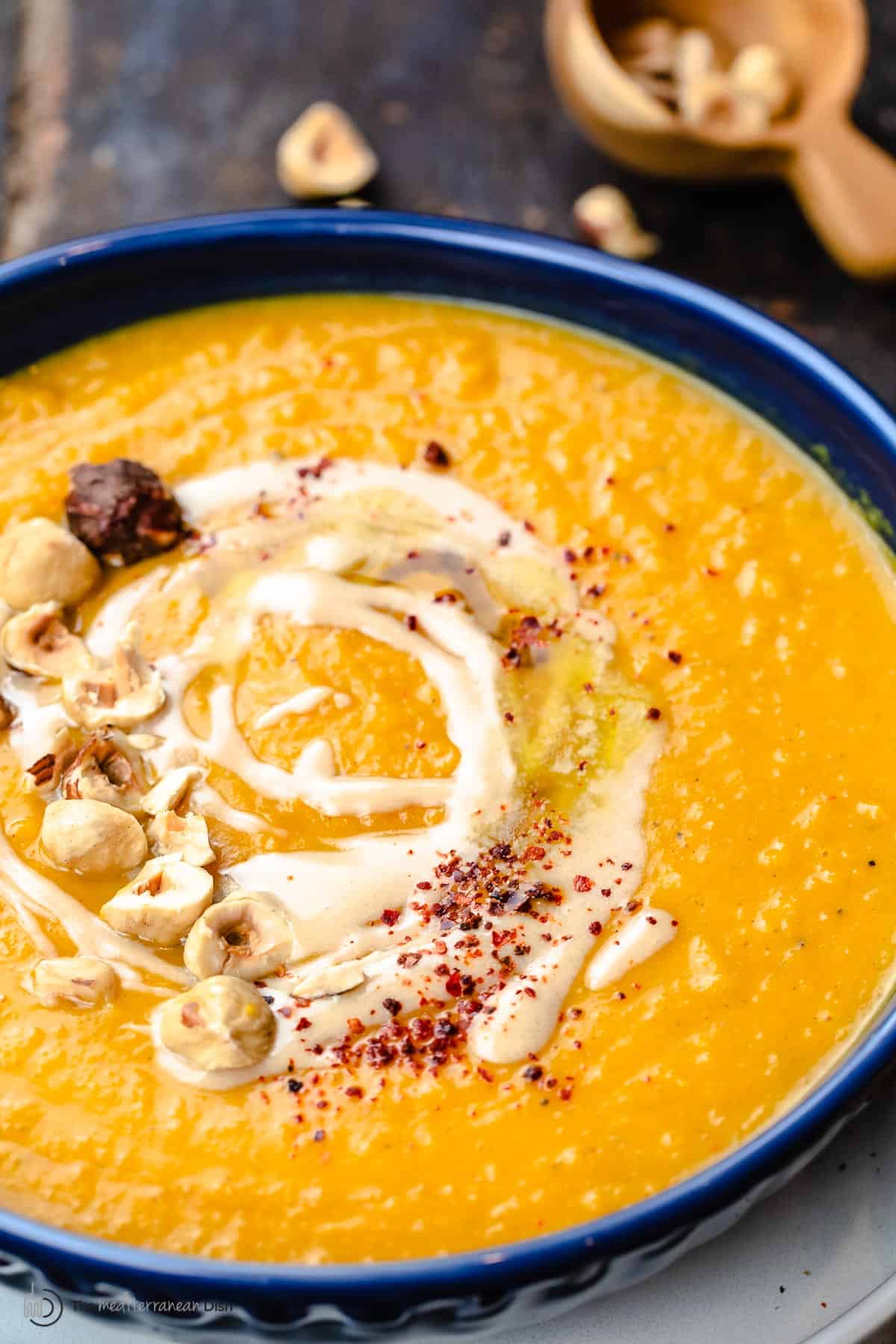 How to store leftovers
Leftover vegan butternut squash soup will last in the fridge for up to 4 days. You can also freeze your butternut squash soup, for up to 3 months!
Allow the soup to cool completely and then transfers to a freezer-safe containers. Thaw in the fridge and reheat on the stovetop over gentle medium-low heat (you'll need to add more broth as the soup will thicken as it is stored).
More butternut squash recipes
Browse all Mediterranean recipes
Visit Our Shop
Roasted Butternut Squash Soup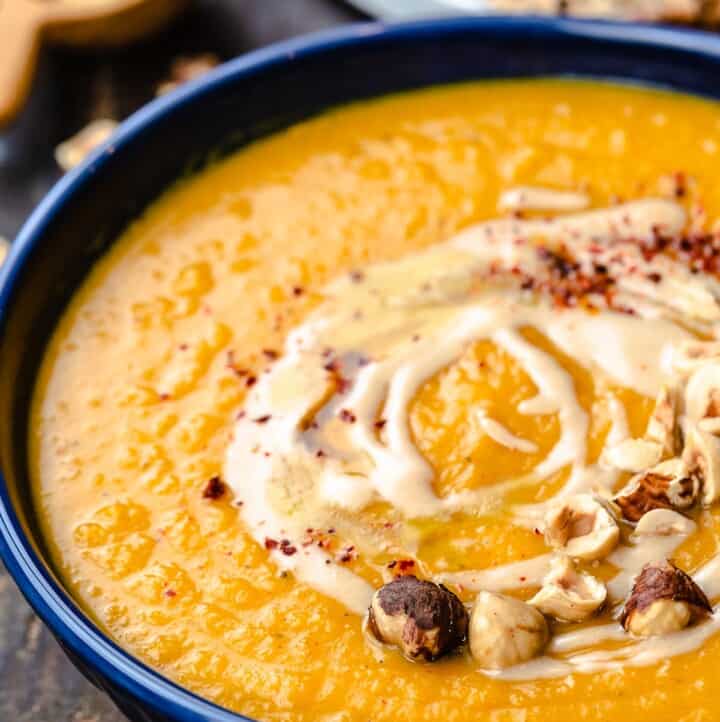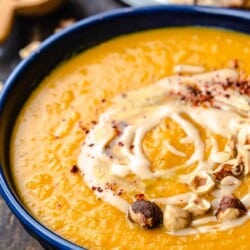 Made with rich nutty tahini and a few warm spices, this Roasted Butternut Squash Soup is all the comfort without the use of heavy cream! Smooth, creamy and a little nutty, you won't even know it's vegan!
Ingredients
1

butternut squash

(about 3 pounds, peeled, seeded, and cut into 1-inch cubes or chunks)

1

red onion

(large, peeled and cut into 1-inch chunks)

6

cloves

garlic

(peeled)

kosher salt and black pepper

4 to 5

cups

vegetable broth,

(low sodium, preferred)

¾

teaspoon

cinnamon

½

teaspoon

nutmeg

½

teaspoon

ground turmeric

½

teaspoon

red pepper flakes

(or Aleppo pepper)

6

tablespoons

tahini

(divided)

2

tablespoons

honey

⅓

cup

lightly crushed hazelnuts
Instructions
Heat the oven to 425 degrees F.

Arrange the butternut squash and onions in one single layer on a large sheet pan. Season with kosher salt and black pepper. Generously drizzle with extra virgin olive oil (about 3 tbsp) and toss to coat (make sure to spread everything out evenly on the sheet pan). Put the garlic cloves in a small piece of foil and drizzle with olive oil, then fold the foil shut.

Roast in the heated oven for 30 minutes or until the butternut squash is tender and fully cooked through and charred nicely in some parts.

Remove from the oven and allow to cool just a little bit, then carefully transfer to the bowl of a large food processor fitted with a blade. Add 2 cups of broth (or less, being careful not to fill the processor too much). Close the lid and blend until smooth.

Transfer the mixture to a large pot and stir in the remaining broth, spices, and 3 tablespoons of tahini paste. Simmer over medium heat, stirring regularly until the soup is fully warmed through (another 10 minutes or so)

In a small bowl, mix the remaining tahini paste and honey until well combined.

When ready to serve, transfer the soup to serving bowls and top each bowl with a drizzle of the tahini and honey mixture and a bit of the crushed hazelnuts, if using. Enjoy!
Notes
You can find tahini paste, spices, and olive oil used in this recipe via our online shop.
This soup will serve 6 (or more) as part of a larger meal. It will serve 4 as the main course with your favorite crusty bread.
Leftovers: Store leftover soup in the fridge for up to 4 days or in the freezer for up to 3 months (reserve the tahini and honey for later). Allow the soup to cool completely before transferring to the fridge or freezer.
Nutrition
Calories:
180.7
kcal
Carbohydrates:
26.8
g
Protein:
4.3
g
Fat:
8.2
g
Saturated Fat:
1.2
g
Sodium:
208.4
mg
Potassium:
560.4
mg
Fiber:
3.9
g
Sugar:
9.4
g
Vitamin A:
13348.5
IU
Vitamin C:
29.3
mg
Calcium:
95
mg
Iron:
1.8
mg