Sausage, peppers and onions is a low-carb, vegetable-heavy sheet-pan dinner that takes less than 20 minutes to make! Mediterranean diet- and keto-friendly.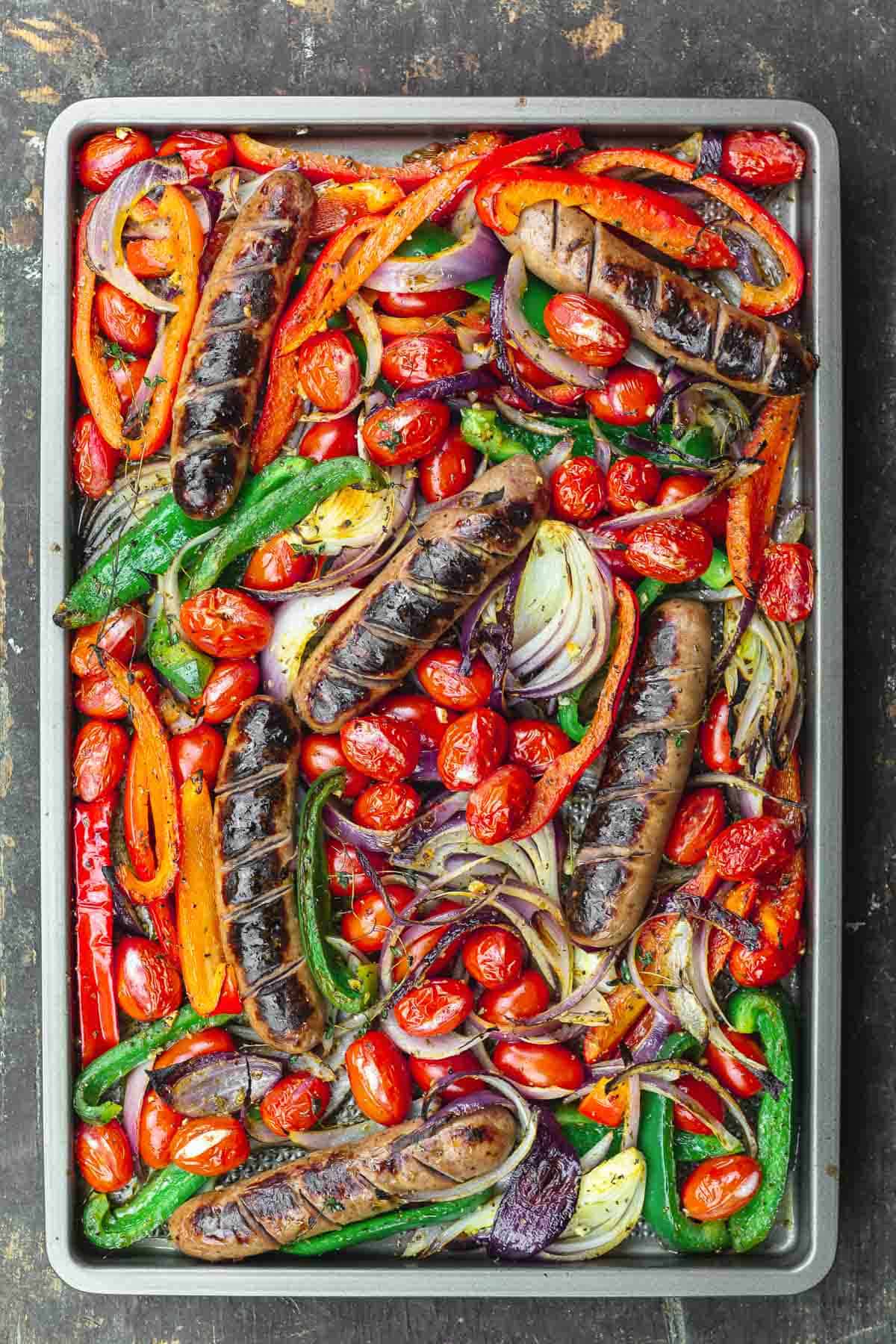 20-Minute sheet pan dinner!
Italian sausage, peppers, and onions is a classic combination everyone loves.
This quick, healthier sheet-pan option uses chicken sausage in place of the traditional Italian sausage and is packed with sweet peppers, red onions, and cherry tomatoes.
A quick sprinkle with fresh garlic, Italian herbs like thyme and dried oregano, and a drizzle of extra virgin olive oil just enhances the flavors of the sausage. If you're not into measuring out a bunch of spices, just sprinkle on some Italian seasoning to save even more time.

Making this couldn't be easier. All you have to do is arrange the sausage, peppers, and onions on a sheet pan and broil for about 8 minutes. Easy prep. Easy clean up. And less than 20 minutes start-to-finish!

If you're looking for a sheet-pan dinner that is Mediterranean diet, low-carb, and keto-friendly, this sausage and pepper recipe has your name on it!
Table of Contents
What's the best sausage to use?
Traditionally this recipe is made with pork-based Italian sausages, but I like to use chicken sausage instead because it's pre-cooked and I still get all of the flavor with less fat.
I used 6 fully cooked (or precooked) chicken sausage links. Feel free to choose your favorite sausage, like mild or hot Italian sausage.
If you happen to have leftover sausage from a weekend grilling extravaganza this recipe is a great way to use them up. Less than 10 minutes in the oven is all it takes to heat them through.
Whichever sausage you choose, just remember the package needs to say fully-cooked or pre-cooked to keep the cooking time down.
If you can't find fully cooked sausages, simply cook raw sausage links according to package instructions before adding them to the sheet pan.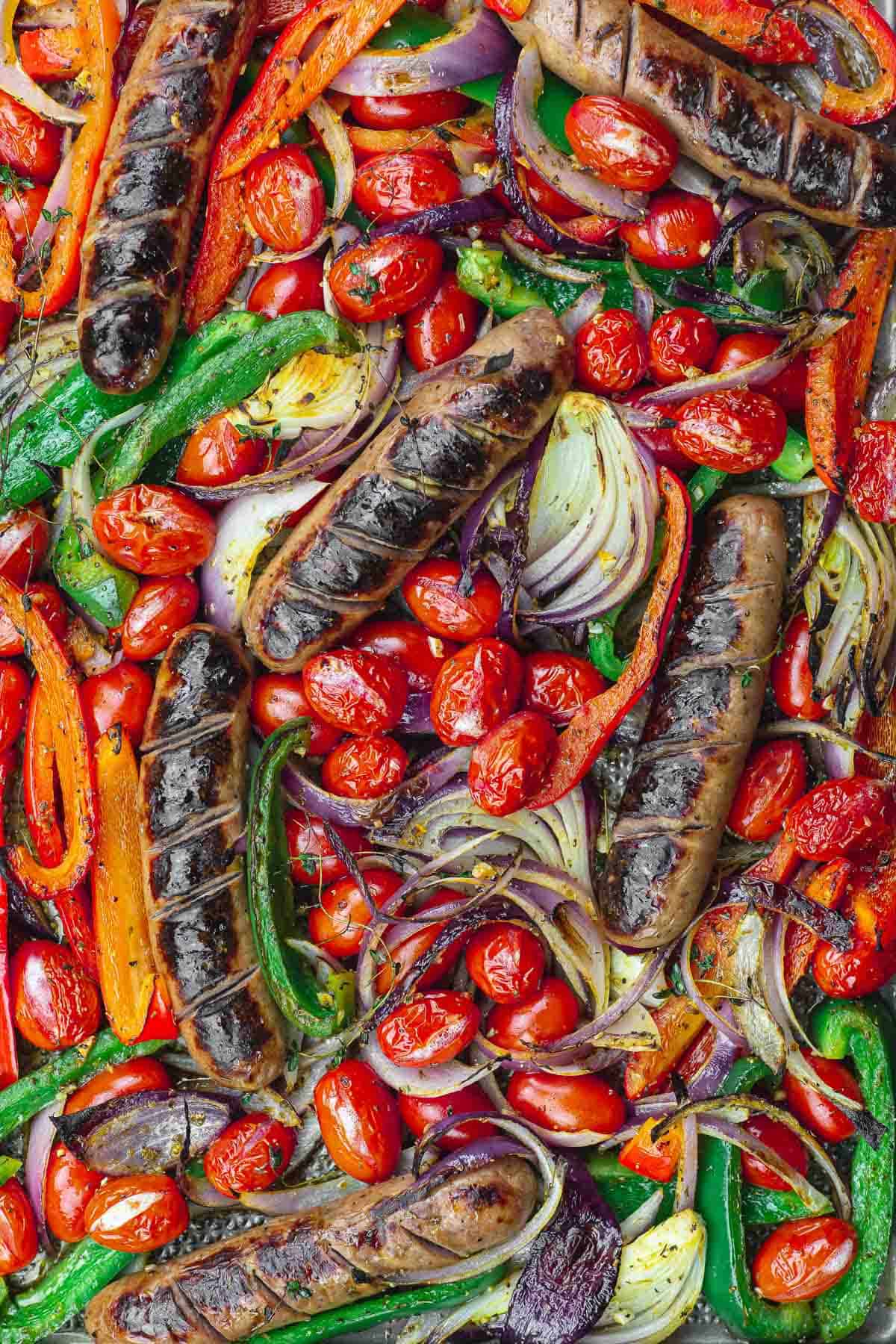 All about the veggies!
Sausage, peppers and onions are an easy way to add more vegetables to your evening dinner. The juices from the sausage along with a little help from olive oil (I prefer to use my Nocellara Italian Olive Oil), garlic, dried oregano, thyme, and a hint of sweet paprika give the vegetables loads of flavor and depth. Easy dinners can also taste good!
Bell peppers: I used red and green bell peppers, but orange and yellow bell peppers will work here too. Core them and thinly slice into strips.
Onion: You'll need 1 large red onion, sliced into half moons, but if you only have yellow or white on hand go ahead and use those.
Tomatoes: Use whole grape or cherry tomatoes. No heavy sauces involved here; these little tomatoes will soften in the oven, adding a little juice to every bite.
How to make sheet-pan sausage, peppers and onions
To make this recipe, dedicate about 5 minutes of time to slice the veggies and score the sausage. Once that's done all you have to do is season everything and toss on the sheet-pan. A few minutes under the broiler and dinner is served! Here's more details:
Score the sausages so they don't pop. Using a small knife, score the precooked sausages, making a few slits in different places. Do not cut all the way through.



Season the vegetables. To a large mixing bowl, add 2 sliced bell peppers, a sliced red onion, and 1 pound of cherry or grape tomatoes. Add minced garlic, 1 tablespoon dried oregano, a few sprigs of fresh thyme, and a little bit of sweet paprika (about ½ teaspoon). Season with a good pinch of kosher salt and black pepper. Drizzle generously with extra virgin olive oil and toss to make sure the veggies are well coated.



Arrange the veggies and sausage on a sheet pan. Transfer the vegetables to a large sheet pan and spread them out in one layer, then add the sausage links in between the veggies.



Broil and serve. Place the sheet pan on the top oven rack about 6 inches away from the heat source. Broil for about 8 to 10 minutes, watching closely for the peppers and onions to soften and the sausage to gain good color.


What to serve with sheet-pan sausage, peppers and onions
To me, this simple Italian sausage, peppers and onions recipe can stand on its own as a wonderful low-carb dinner. But if you're looking for different fun ways to stretch it out, here are a few:
Sausage and peppers sandwich night. Many people serve sausage, peppers, and onions in a sub, which makes a fun and casual meal. I like to use good crusty Italian bread. If you want, add bits of fresh mozzarella cheese and heat up the hoagies a bit so the cheese melts.
Italian sausage and peppers pasta. This is a good way to serve more people. Make a bit of pasta with homemade spaghetti sauce or your favorite store-bought sauce to go along.
Sausage and pepper pizza. I'm always looking for ways to use up leftovers. If you have some leftovers, use them to top tomorrow night's pizza dinner.
Need more veggie ideas?
Other quick-cooking vegetables would work great here! Here are some ideas:
Trimmed asparagus spears
Zucchini rounds or spears
Broccoli, cut into small pieces
Cauliflower, cut into small pieces
Sliced white or yellow onions
How to make it your own
Make this sheet pan recipe your own so you can serve it for different meals. Here's how:
For a quick breakfast: Instead of chicken sausage, try a sage-based pork sausage. You can add some small diced potatoes to the sheet pan as well to cook along with the other veggies.
For my spicy food lovers: Use spicy Italian sausage. We offer hot smoked paprika in our shop and it's one of my favorite ways to add a little heat to an old favorite. If you have red pepper flakes on hand it works well too.
If you have some time: Change up the veggies completely and use cauliflower, fennel, and halved campari tomatoes. Season and roast them for about 20 minutes, and then add the precooked sausage and broil for 8 to 10 minutes.
More sausage recipes
Browse all Mediterranean recipes.

Visit Our Shop.
Sheet Pan Sausage, Peppers and Onions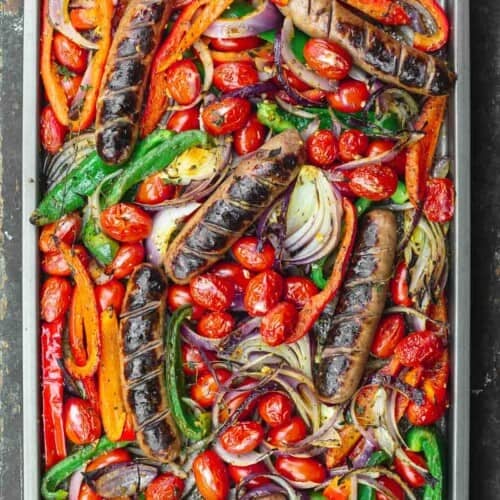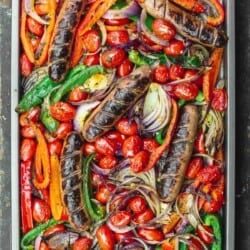 It takes less than 20 minutes to make this simple, lightened up sausage and peppers recipe! Chicken sausage, colorful peppers, onions, and juicy grape tomatoes with extra virgin olive oil, fresh thyme and oregano, all on one sheet pan. A family favorite that's perfect for busy weeknights. It's also gluten-free and Mediterranean diet- and keto-friendly!
Ingredients
1

pound

fully cooked chicken sausage links,

mild or spicy

1

large red bell pepper,

cored and cut into thin strips

1

large green pepper,

cored and cut into thin strips

1

red onion,

halved then sliced (half moons)

1

pound

grape or cherry tomatoes

3

garlic cloves,

peeled and minced

Few sprigs fresh thyme,

about ⅛ ounce

1

tablespoon

dried oregano

½

teaspoon

sweet paprika

Kosher salt

Black Pepper
Instructions
Set your oven to the broil function and arrange a rack about 6 inches or so from the heat source.

Score the sausage links in several places but do not cut all the way through.

Place the bell peppers, onions, and tomatoes in a mixing bowl. Add garlic, fresh thyme, oregano, paprika, a large pinch of kosher salt and black pepper. Drizzle some extra virgin olive oil (a generous drizzle of 3 to 4 tablespoon or enough to coat the veggies well), and toss to make sure the vegetables are well-coated.

Arrange the vegetables in one layer on a large baking sheet. Add the sausage, nestling the sausage links between the spread veggies.

Slide the baking sheet under the broiler for 8 to 10 minutes (watching carefully) until the veggies have softened and the sausage is looking nicely charred.
Notes
Best sausage to use: I like pre-cooked chicken sausage here, but use your favorite sausage. Just make sure it is fully cooked.
How to serve it: Make sandwiches, toss it with pasta and homemade spaghetti sauce, or pile it onto pizza crusts.
Other veggies you can use: Asparagus, zucchini, broccoli, or cauliflower.
Visit Our Shop for quality Mediterranean ingredients including extra virgin olive oils and spices.
Nutrition
Calories:
248.2
kcal
Carbohydrates:
11.5
g
Protein:
13
g
Fat:
18
g
Saturated Fat:
3.3
g
Polyunsaturated Fat:
0.9
g
Monounsaturated Fat:
5.1
g
Cholesterol:
53.4
mg
Sodium:
780
mg
Potassium:
303.6
mg
Fiber:
2.4
g
Sugar:
5
g
Vitamin A:
1693.3
IU
Vitamin C:
54.8
mg
Calcium:
32.1
mg
Iron:
1.5
mg
*This post was recently updated with new information for readers' benefit.